Valdo Prosecco hosted a contest to win a trip to Venice with a day at Valdobbiadene vineyards and I won! This is an overview of my time in Venice (day trip to the vineyard to follow).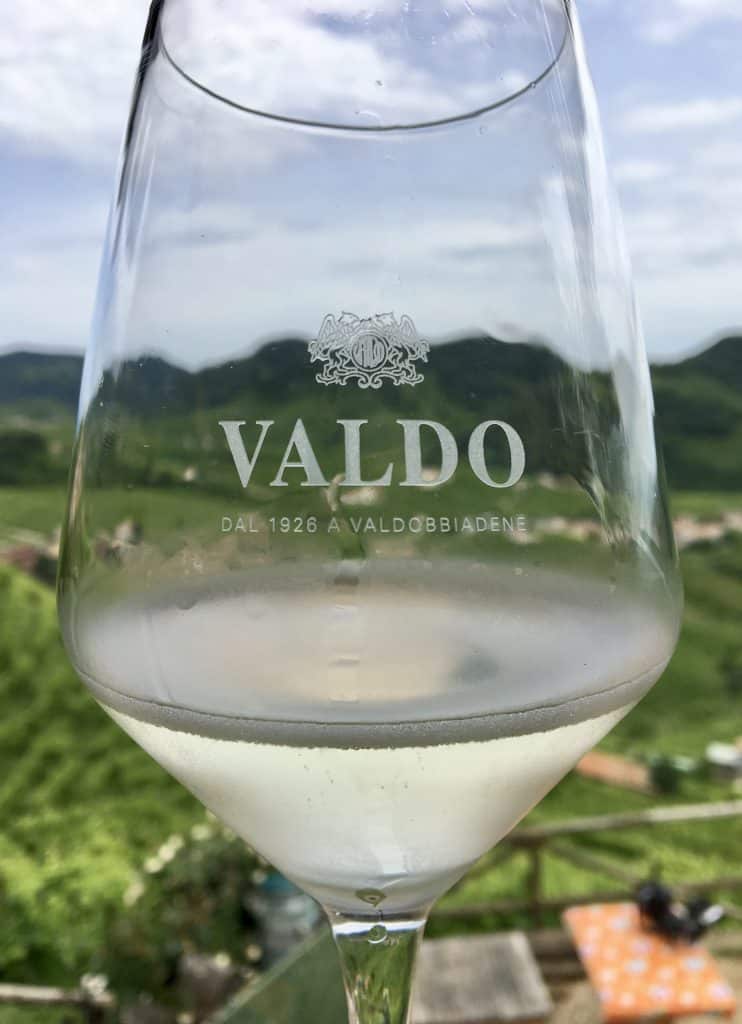 Valdo Prosecco Contest
If you follow me on Facebook, you may recall me asking your advice last year for a Valdo Prosecco photo contest. Well, I took the advice of the majority of you on which photo to enter, and won the contest! The prize was a trip to Venice, Italy for two! Thank you to those of you who voted as this trip was absolutely brilliant!
My husband was going to join me on this trip as my mother came to France and Italy with me last September. However, his work schedule wouldn't allow it. Don't you feel sorry for my poor mother? 😎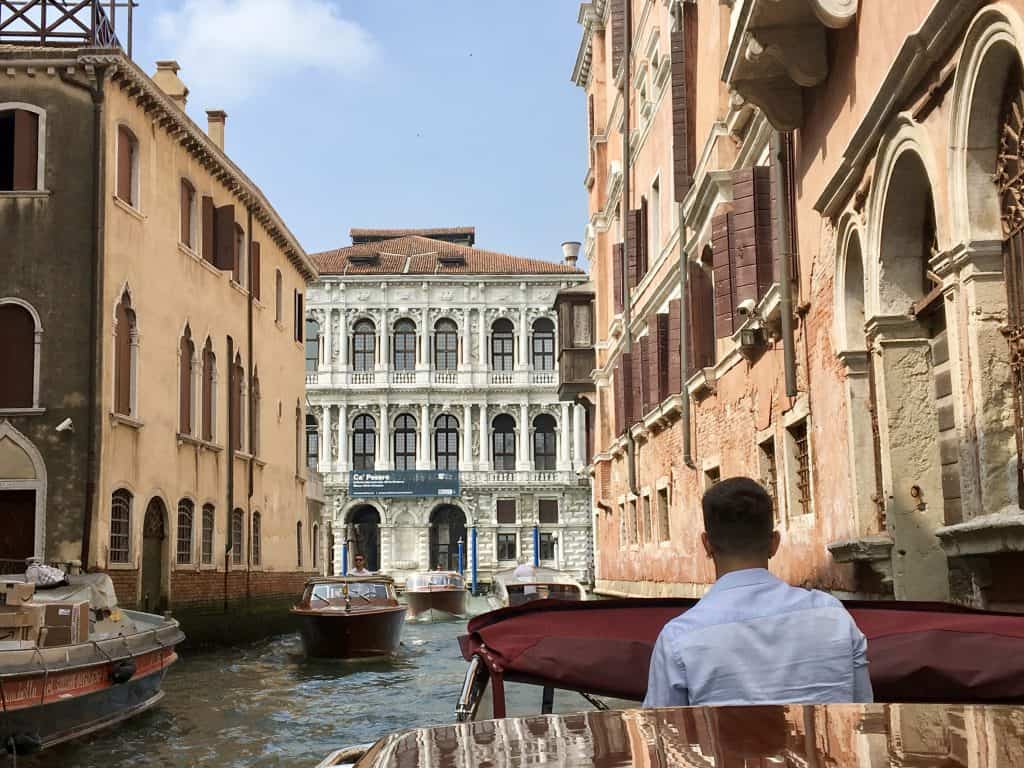 The trip I won included three nights at the upscale Palazzina Hotel. It was very modern and stylish (designed by Phillipe Starck) and in a fantastic central location. St. Mark's Square was only a 10 minute walk away.
Valdo actually held two contests. The other winner was Chloe B. Arnold (Beyond Blessed) from New York who traveled with her husband, Caleb, and new baby, Cayson.
Palazzina Hotel in Venice & Valdo Prosecco
We were all welcomed at Hotel Palazzina with a glass of Valdo Prosecco upon our arrival. Well, except for baby Cayson!
And look at what greeted us in our room: special edition bottles that say, "Valdo for Life Lovers"!
Mum and I didn't sleep on the plane (which is a good thing on a long flight as the risk of DVT is higher), so we took a very short nap, then headed out into the sunshine to try to adjust to the new time zone.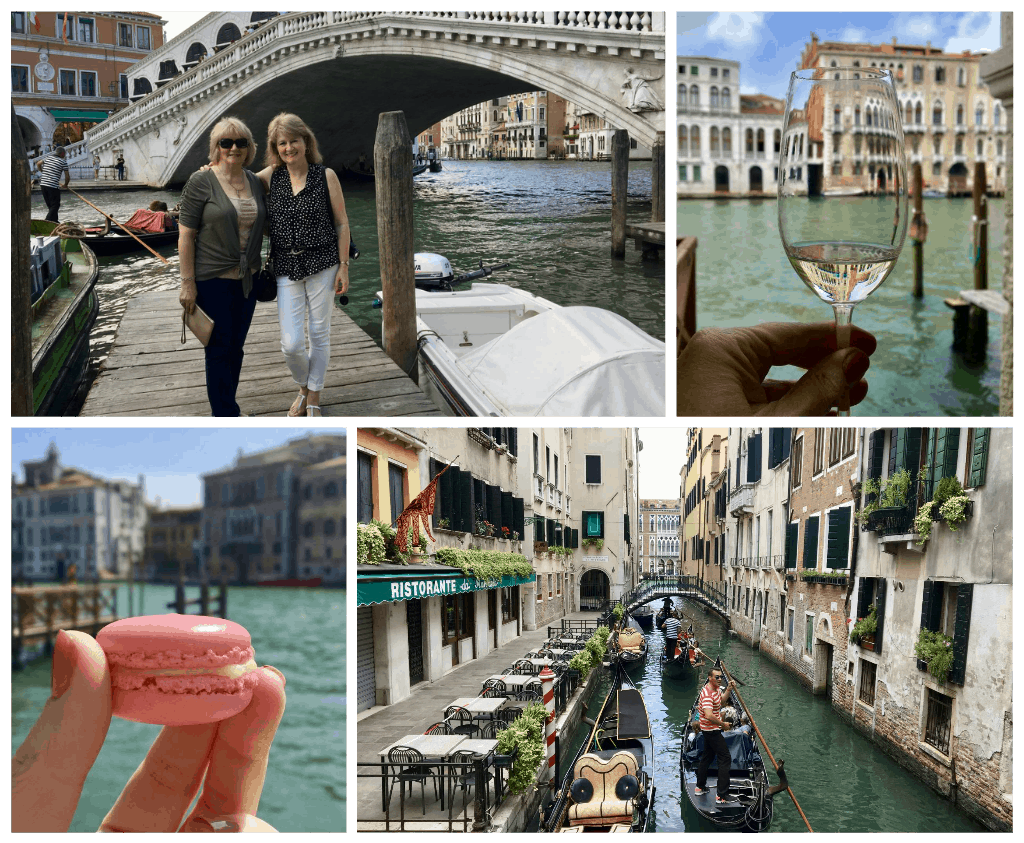 In retrospect, we probably should have flown in a day earlier to adjust as we completely forgot to eat breakfast and lunch that first day! Don't even ask–I wouldn't believe it myself if I hadn't done it!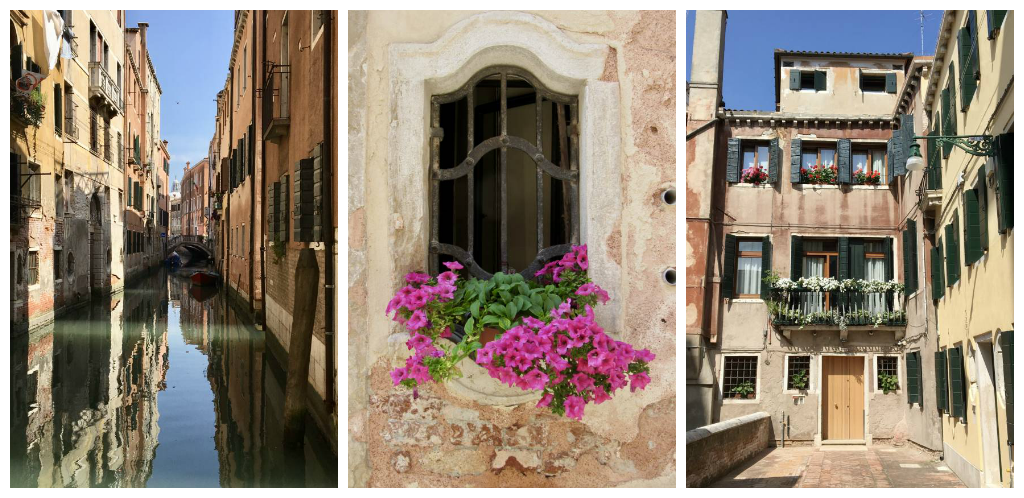 Walking Tour of Venice
Later that afternoon, Valdo had arranged a walking tour for us to learn more about the amazing city of Venice. Our guide was so knowledgeable and took us on a fantastic tour. We didn't even get lost, once! If you've been to Venice, you'll understand. It's almost impossible not to get lost at some point.
We were told about the history of the city, current feelings of the newest generation of Venetians, and taken to some absolute hidden gems like this old bookstore!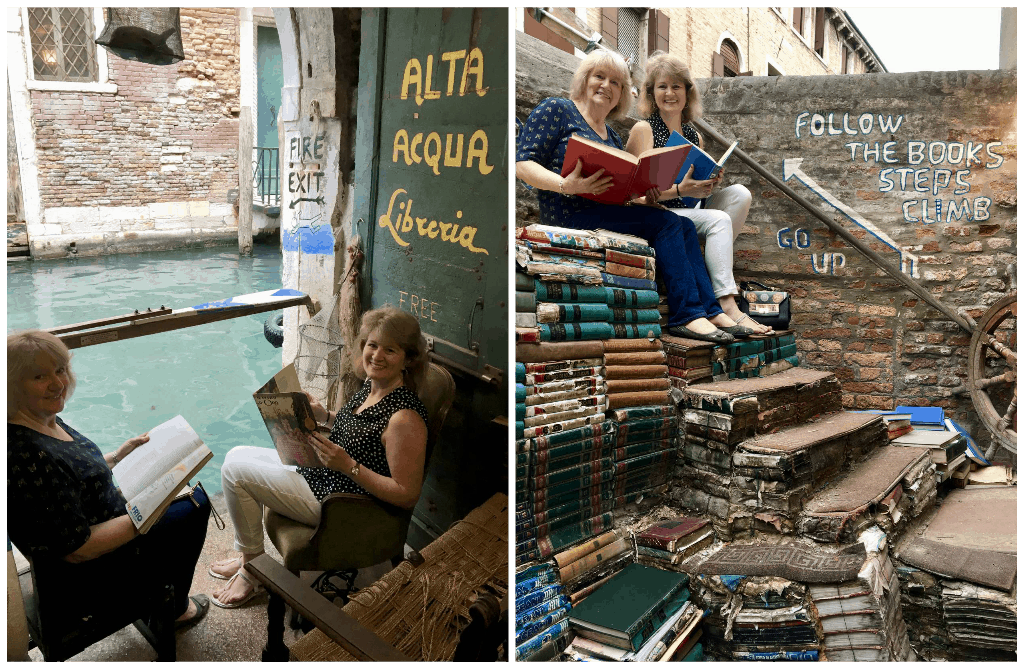 Of course, we also visited St. Mark's Square.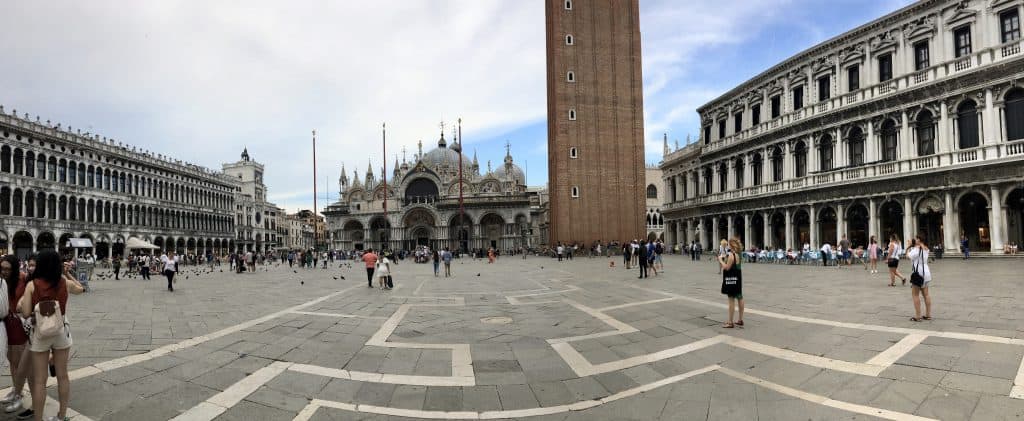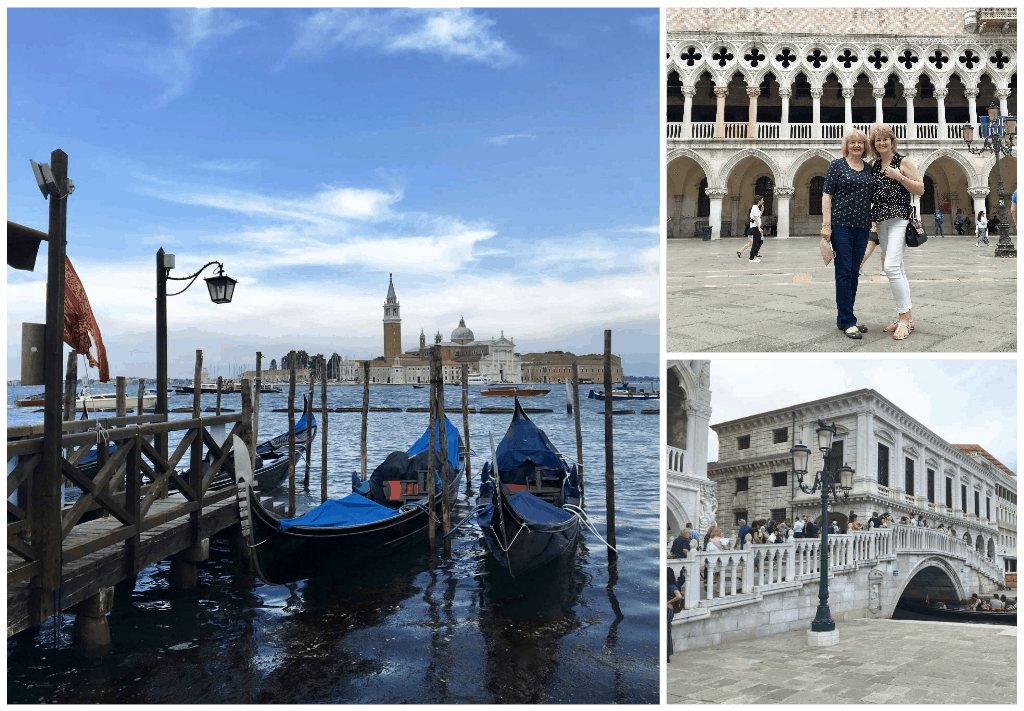 Harry's Bar, Venice
Our first dinner was at Harry's Bar, home of the famous Bellini cocktail! If you haven't heard of Harry's Bar, I'm surprised as it's one of the most well-known bars in the world (if not the most well-known). It has a colorful history: from its beginning to its most famous patrons over the years, including Ernest Hemingway, Charlie Chaplin and Alfred Hitchcock.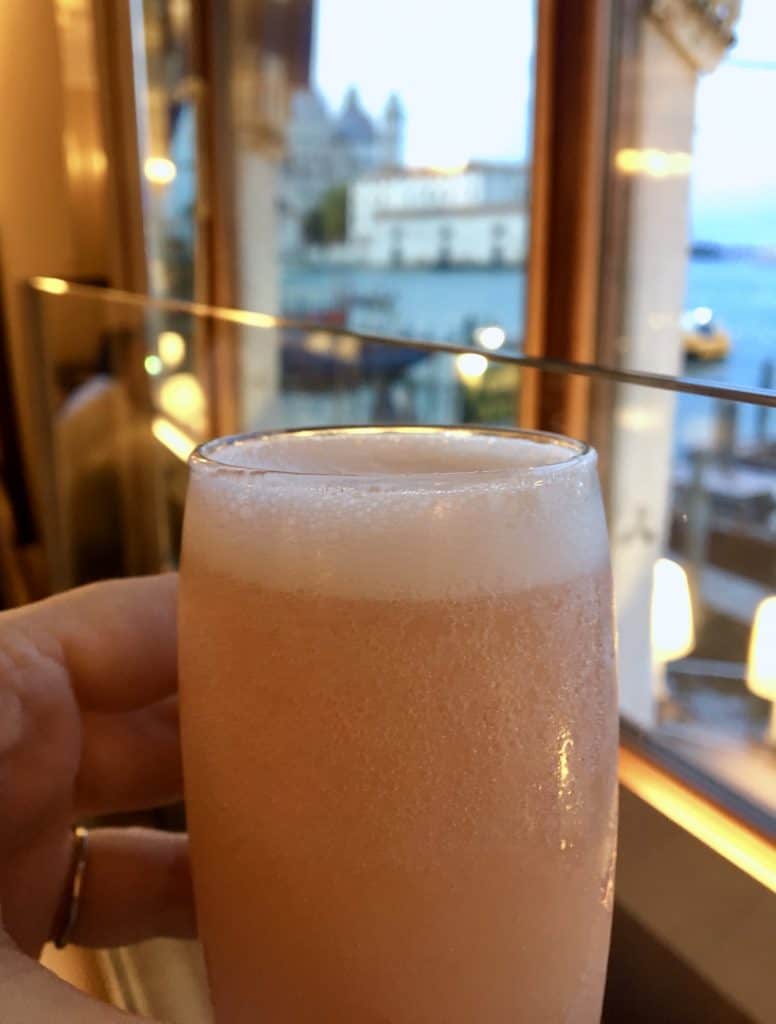 I'm going to be completely honest: because of this famous reputation, I really didn't have very high expectations regarding the quality of the food and what we'd be served. However, I was very wrong: this was my favorite of the three restaurants we went to in Venice. The service was top notch here, too; professional, yet very friendly and fun! We had a lovely evening at Harry's Bar. Of course, our glasses were always filled with Valdo Prosecco!
Note: don't expect a fancy restaurant, in fact, I couldn't believe how plain it was inside.
I had the squid ink risotto: marvelous! Chloe and Mum preferred the risotto primavera, but both were cooked to perfection. We had a lovely John Dory topped with tomato and capers, and then dessert: oh my! All of us were full, but we were served a rather large slice of this meringue topped cake which was simply heavenly! So simple, too. I hope I can recreate this one for you!
Early the next morning, we were picked up at our hotel by water taxi. We were off to visit the Valdo winery and Valdobbiadene, the home of the best Prosecco sparkling wine. Suffice it to say that it will be a day to remember, and if you are going to Venice, I'd highly recommend taking a day out to visit this area.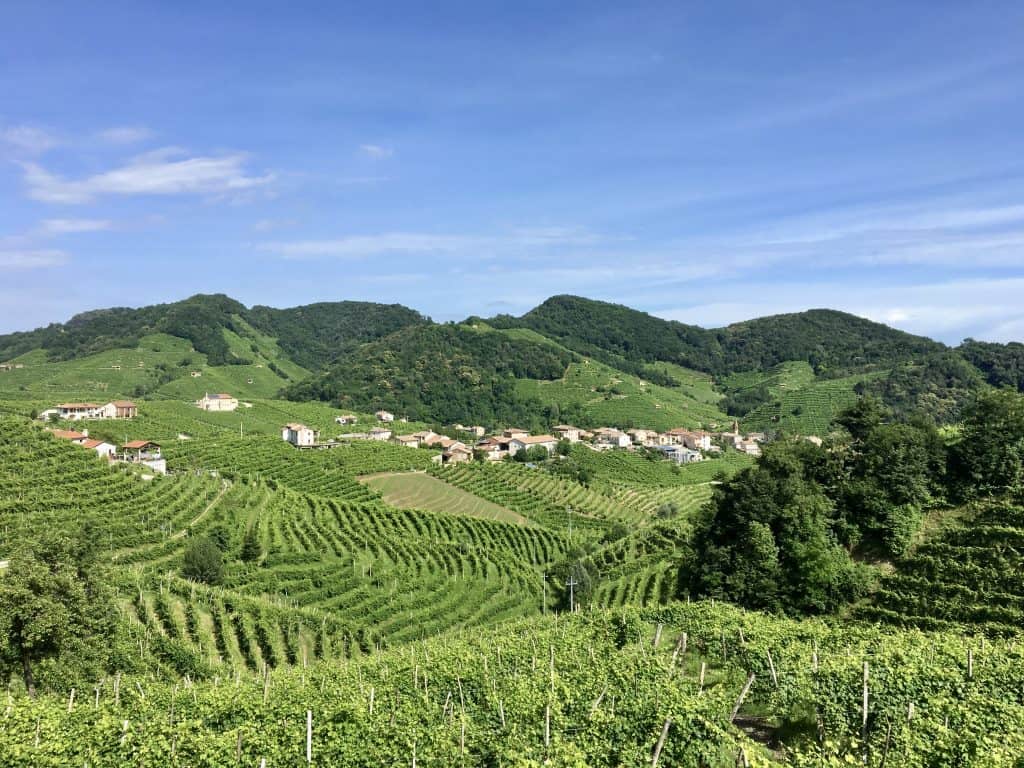 When we returned from Valdobbiadene, we had a some time before our dinner reservation at La Terraza at Hotel Daniele. It just so happened that my friend, Janice, from Farmersgirl Kitchen, was also in Venice. We met for a drink, and I'm happy to say that I introduced her to the famous Aperol Spritz!
Restaurant Terrazza Danieli
Dinner at Terrazza Danieli was lovely. It was very leisurely, with a wine pairing with each course. One thing that can't be beat is the view from this terrace restaurant.
We were spoiled with choices. Our meal included risotto, lobster, and of course, more Valdo Prosecco.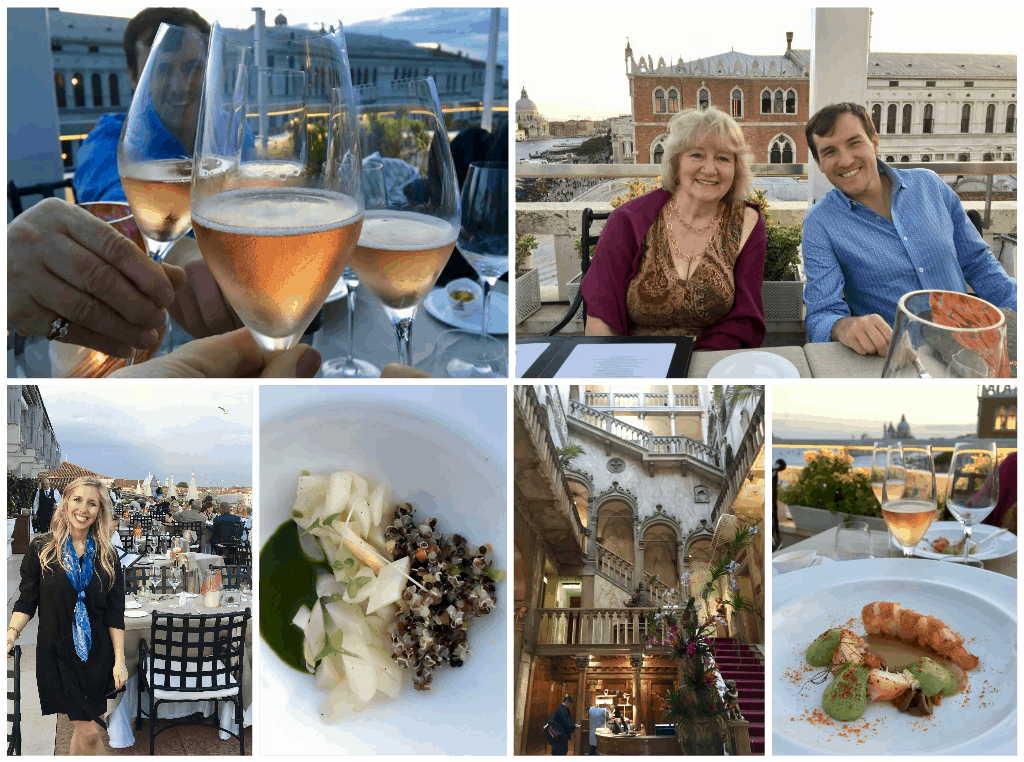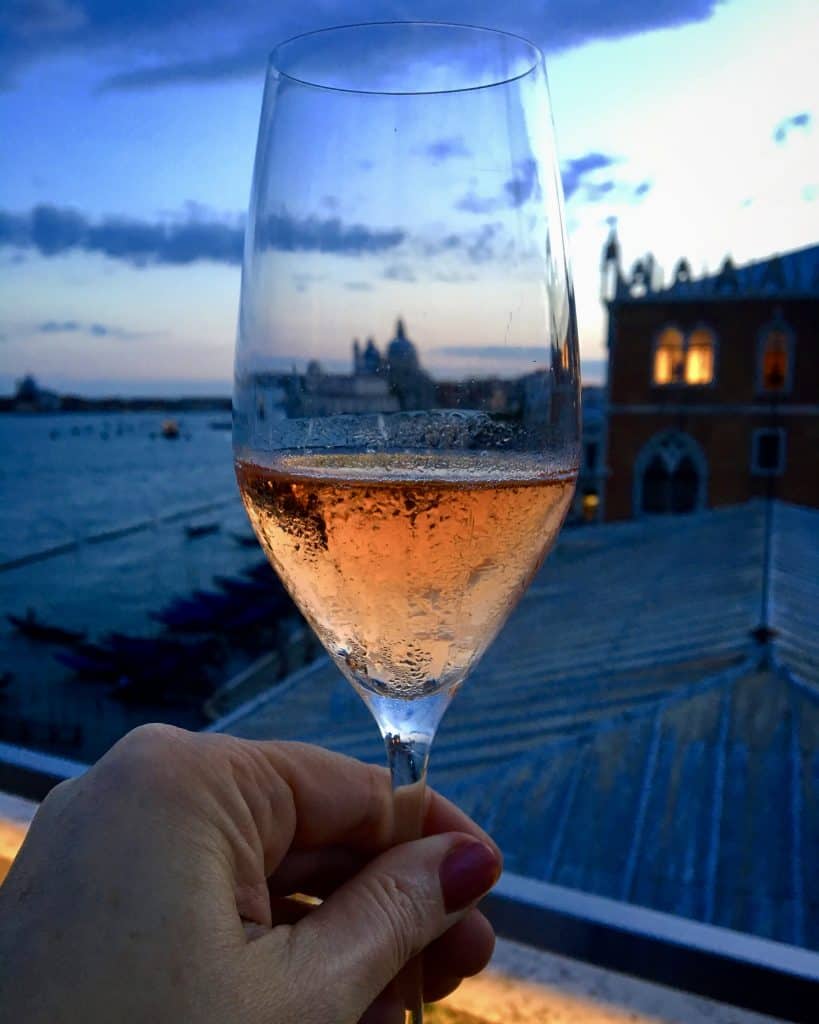 Venice is almost more enjoyable at night. It's obviously much more peaceful and calm.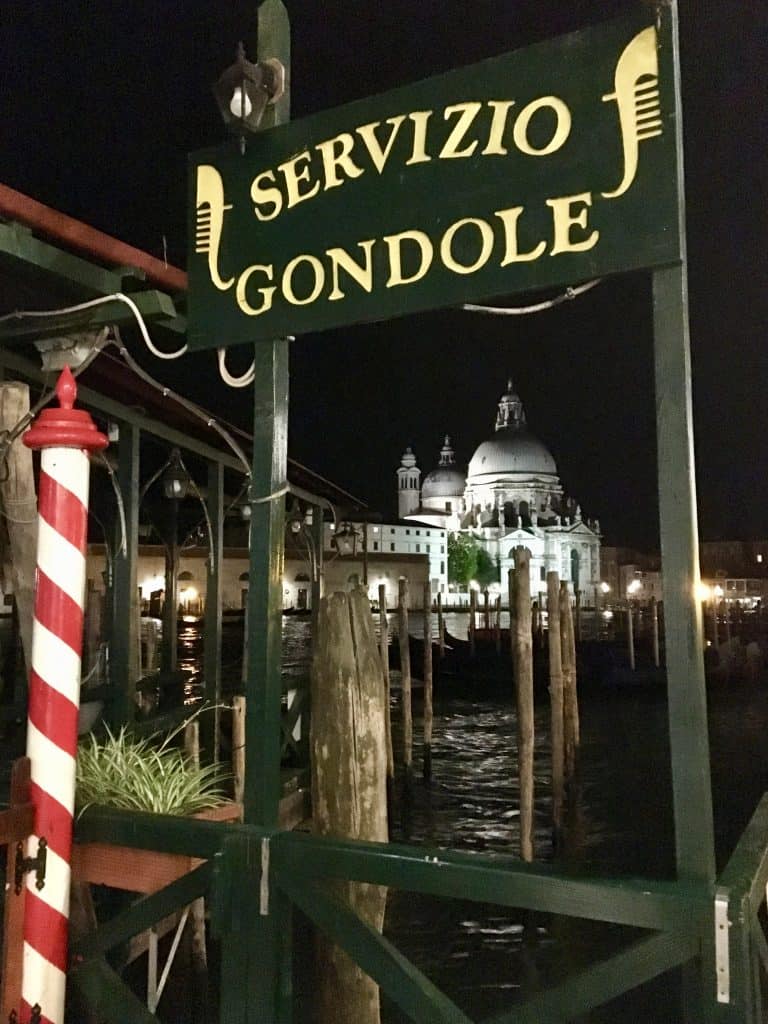 Exploring Venice on Foot
Our third and final day in Venice was at our leisure. We did part of a tour, but it didn't end up being something I could recommend to you. Consequently, I won't be sharing it here. Mum and I toured Venice on our own for a few hours, then went back to the hotel to relax before preparing for dinner that evening.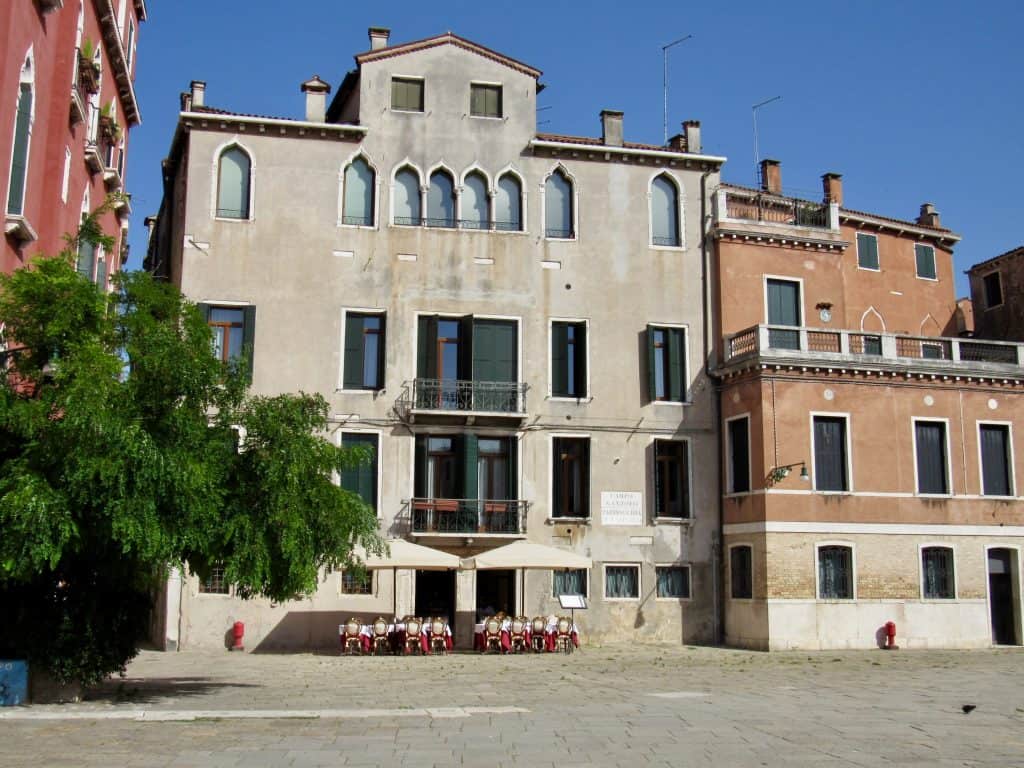 I will add that the last time I had been in Venice was in 1990 on our honeymoon. I honestly wasn't that impressed. Given all the stories I'd been reading about the crowds from cruise ships and unruly tourists in Venice, I was a little concerned about what I'd find on my return trip. I pictured hordes of tourists, and cramped streets, but it wasn't that way at all.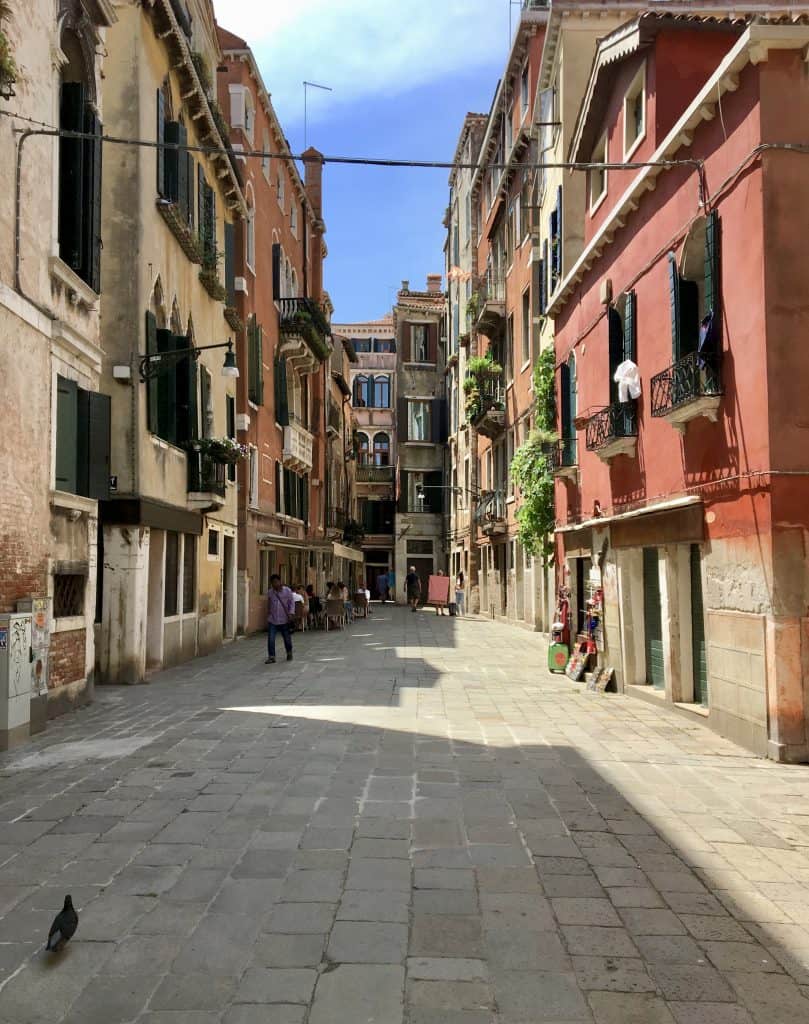 Yes, near the Rialto Bridge and the more touristy spots, there were more throngs of tourists, but did we get lucky? Were we there when there weren't any cruise ships? Are there even days when this happens? I don't know, but I felt more congested and stressed in Florence last year than I did here in Venice. I'd happily return.

A Gondola Ride!
About an hour and a half before our dinner reservation, I decided I wanted to take a gondola ride. It was very spur of the moment, but I took a chance and contacted Janice to see if she and her husband, Brian, wanted to join us. Fortunately, Janice responded immediately and asked where to meet! What luck!
A certain gondolier location had been recommended to us, so that's where we went. It was a wonderful experience, especially since our gondolier, Fabio, was so amicable!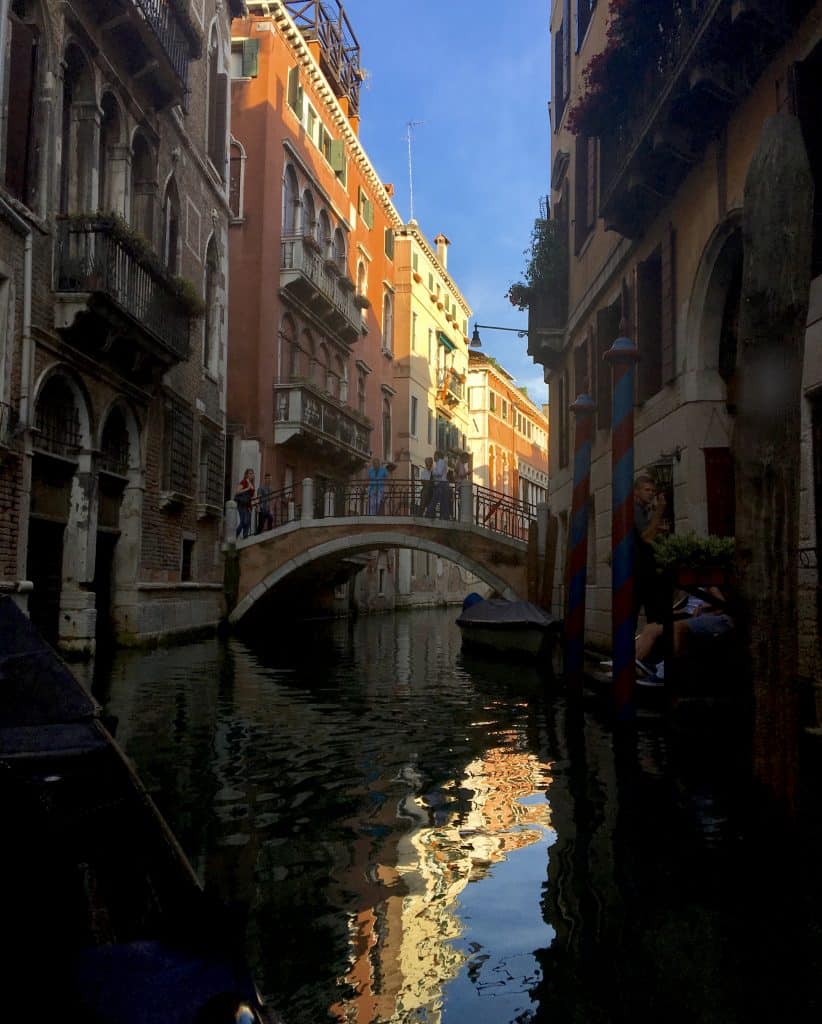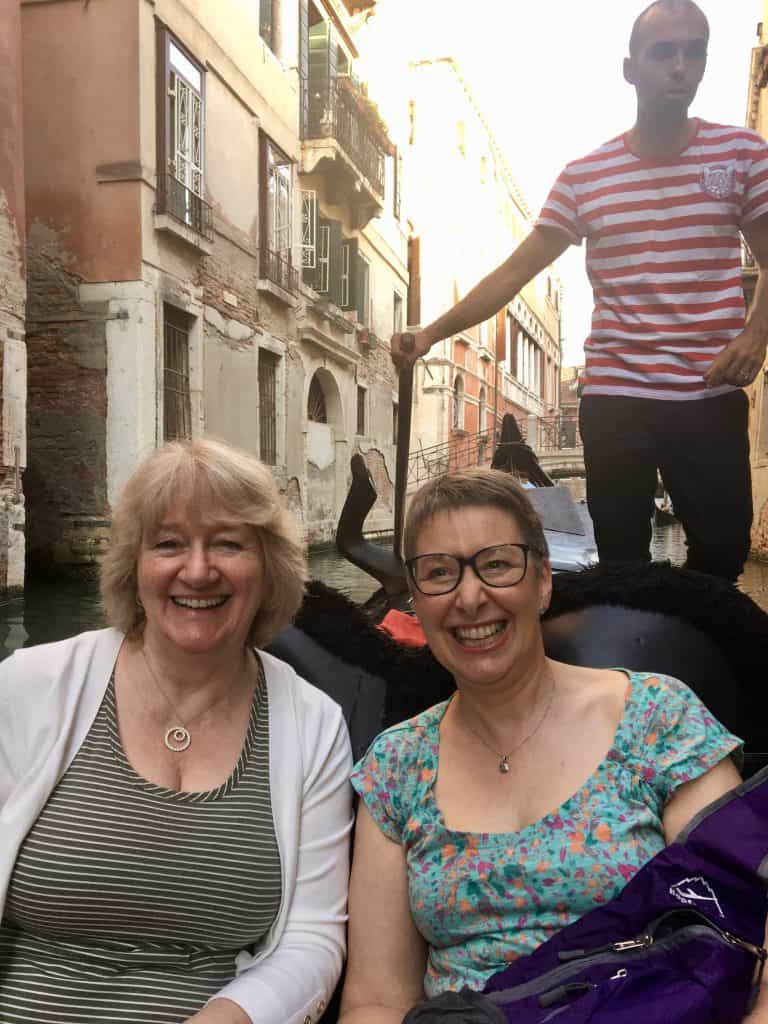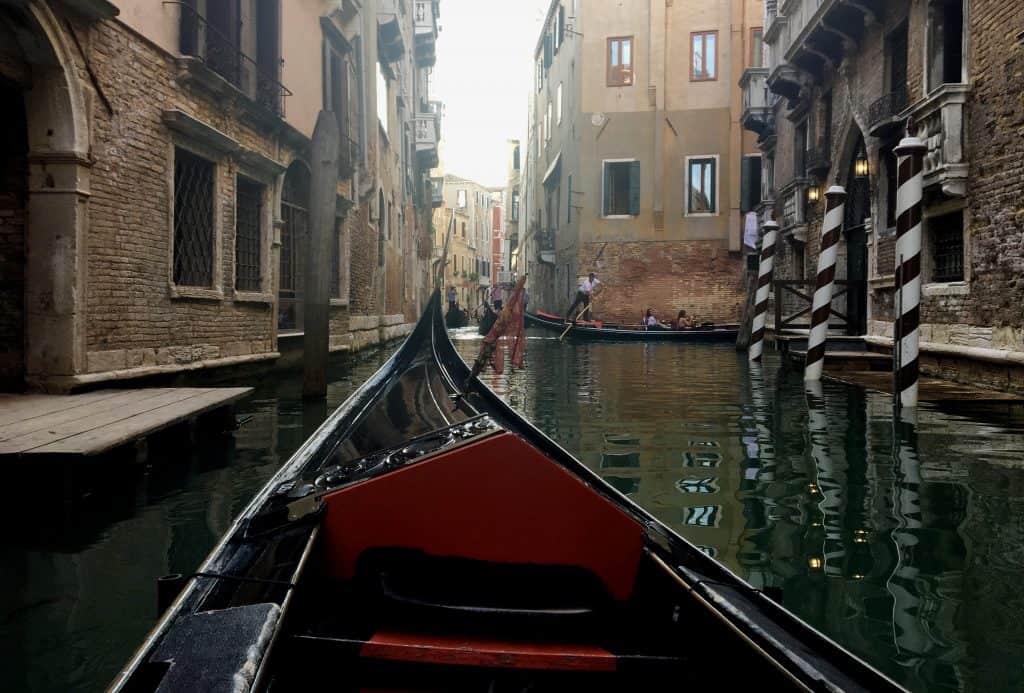 Certainly, I would recommend taking a gondola ride, but it's even more fun, and less expensive, if you share the experience with friends!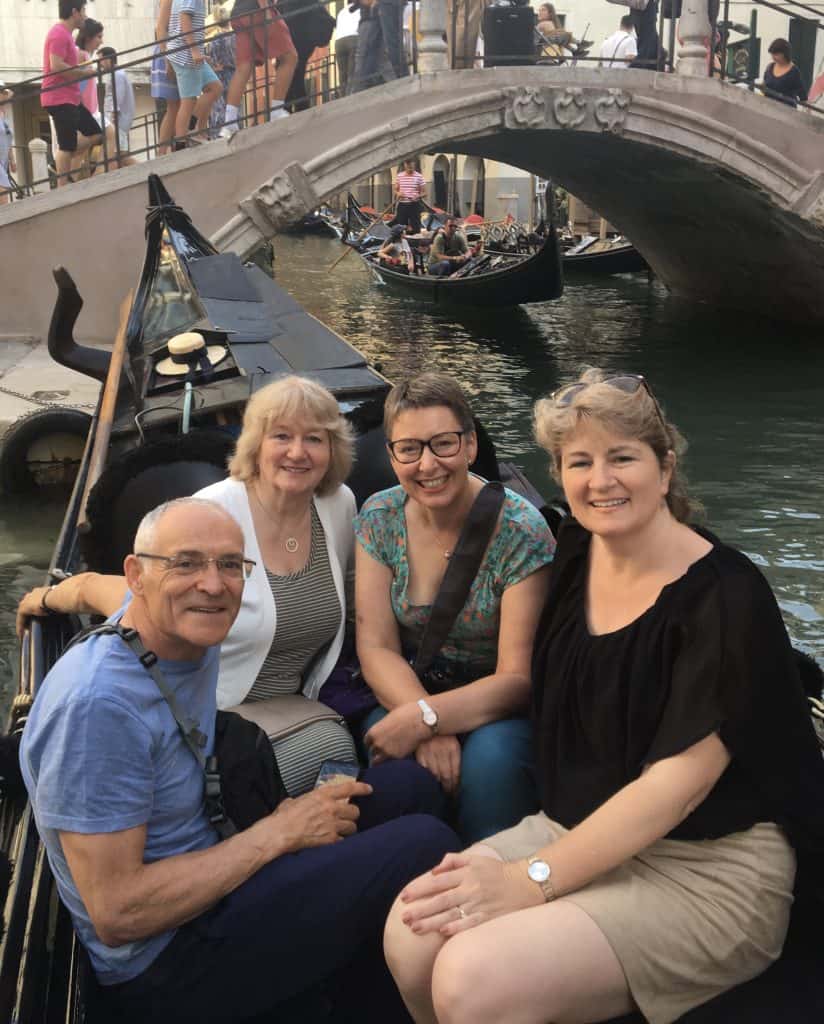 Il Ridotto & Valdo Prosecco
Our last evening's dinner was at Il Ridotto which has been awarded a Michelin star each year since 2013. This is a family run restaurant with Chef Gianni Bonnacorsi and his son Nicolò. With only 9 tables, it was an intimate atmosphere, and the service was very attentive.
We began our meal with Valdo Prosecco (surprise)! I wish someone would appear and pour me a glass of Valdo Prosecco every night!
It was difficult to get good photos due to the lighting, so please excuse the the poor quality of the following shots. We started with a single baby artichoke which was so artfully prepared with strawberries, and so incredibly decadent that I must admit, I really would have loved another one (or two)!
Next came focaccia with goat cheese, anchovy and caper, mussel in creme brulée, and millefoglie with cod, all beautifully styled on a long plate.
Carrot, scallop and smoked black tea was one of my favorites as the scallop simply melted in my mouth.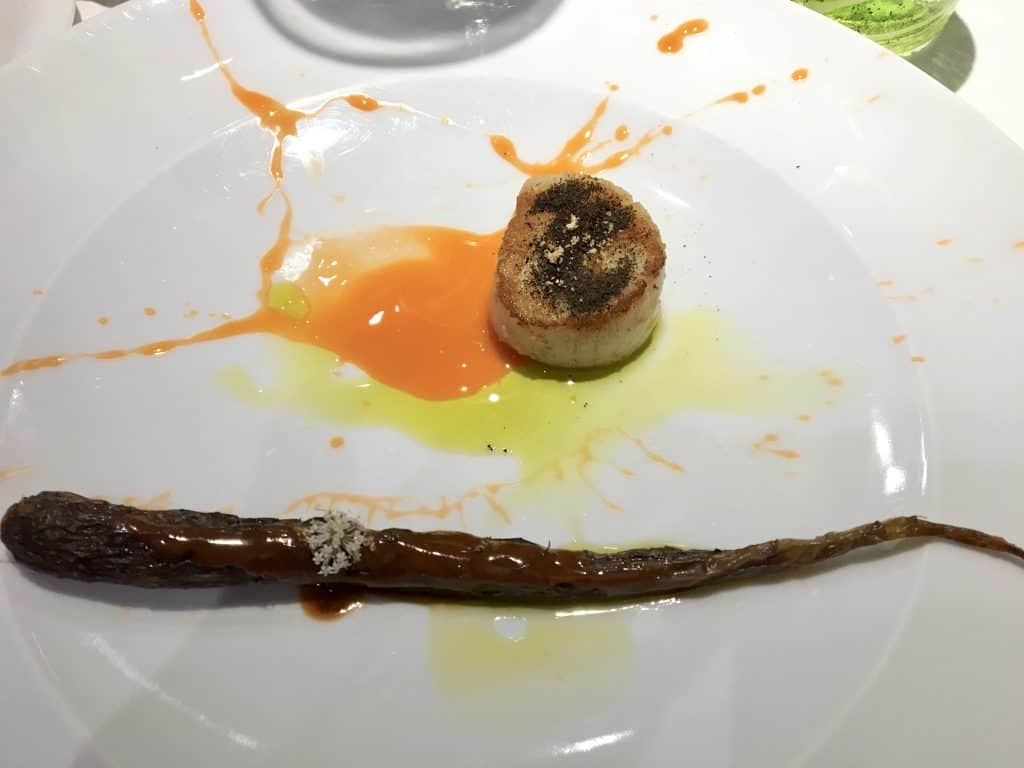 Other dishes included a fresh greens risotto which I truly enjoyed, except for one flavor that escaped me (and no, it wasn't cilantro). I had to take a photo of Caleb's steak tartare which looked beautiful. I chose the pork belly as my main course which was sublime.
The bay leaf ice cream with candied olives and strawberries was the only dish that we all agreed we could skip. The bay flavor was simply too strong. However, our wait staff was so lovely that they replaced our dessert. We were served a ricotta cream (like gelato) with pistachio, and an orange hot chocolate drizzle. Now that was a winner!
It was a lovely meal and evening to end our trip to Venice, thanks to Valdo! Walking back to our hotel, we had a final night view of St. Mark's Cathedral where we went back to the next morning for mass.
Arrivederci Venezia!
Chloe and her family were heading south to Sorrento by train, but Mum and I were renting a car and were going to be spending a night on Lake Garda. Once again, I didn't tell my mother where we were going. I just like surprising her!
We were given a personal send off by Palazzina's manager; maybe he was happy to see us leave? Ha ha!
The water taxi took us to the train station where our rental car was waiting for us. I couldn't resist one last gondola shot, though.
Continue with our exceptional day trip to Valdobbiadene! You're going to want to put it on your bucket list, trust me.
Thanks again to Valdo Prosecco for holding this contest and choosing my photo as one of the winners!
My mother and I will never forget our time in Venice!
What's your experience with Venice? Have you been recently? How did you find it? Pleasantly surprised as I was, or deeply disappointed or somewhere in between? Let me know in the comments below.
NB: I won this trip and am under no obligation to share any of this trip or information with you. I simply choose to do so because my site is about sharing my experiences, and places and products that I love, in hopes that you will too.