Palazzo Belmonte (Belmonte Palace) is a historic residence in Southern Italy that I simply fell head over heels for. I feel it is best described with the term, "rustic luxury;" it is a place like no other.
Where do I even begin? There's so much I want to tell you about Palazzo Belmonte and the area of Santa Maria di Castellabate! I only hope I can appropriately convey a fraction of how I feel about this little slice of heaven on earth.
Disclosure: I was graciously hosted at Palazzo Belmonte for three nights, although I stayed in the area for five consecutive nights. As always, all opinions are my own.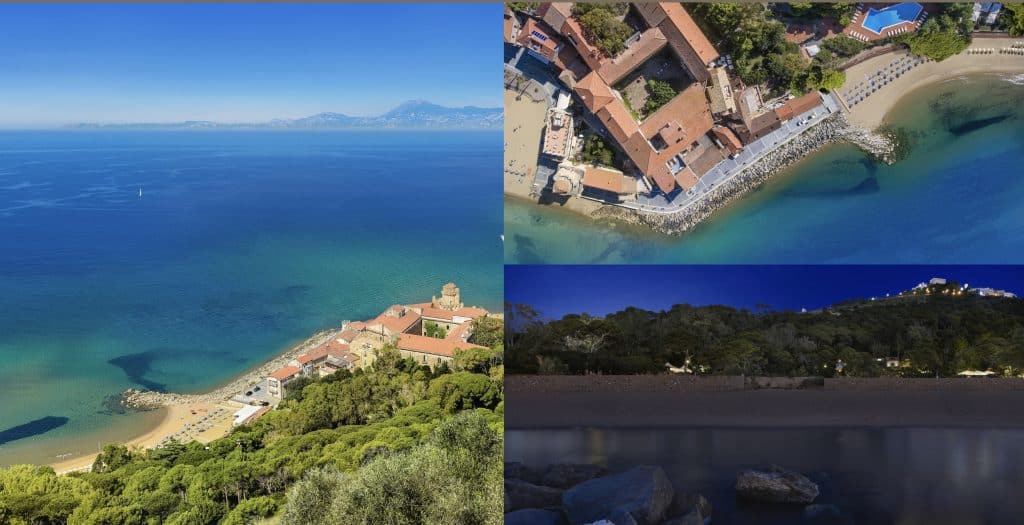 How did I find Palazzo Belmonte?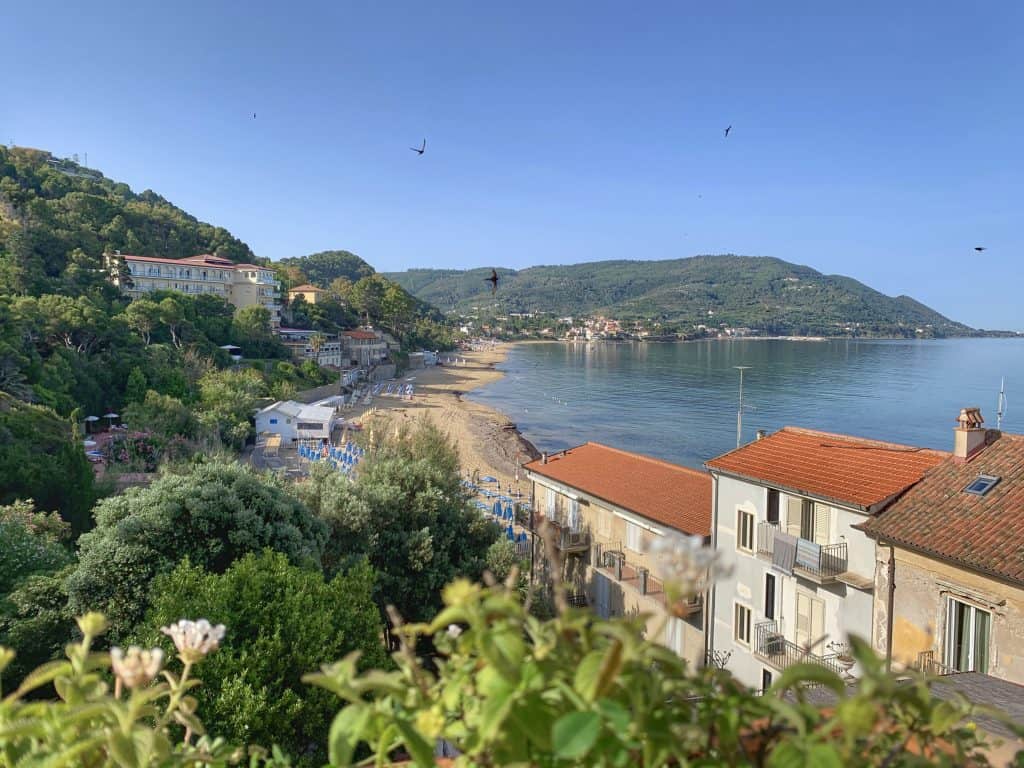 Last year, my friend, Nadia, (who is more like a cousin to me as we grew up together in Scotland) invited me to her wedding which was being held in Santa Maria di Castellabate. I did a quick search for accommodations in the area and was immediately smitten when I landed on the site for the palazzo!
I couldn't get the images from the website out of my mind, especially knowing that this undiscovered gem is only about an hour south of the massive hordes of tourists on the Amalfi Coast.
Why did the Bride and Groom Choose Santa Maria di Castellabate for their Destination Wedding?
Back in Scotland, Nadia's sister had a friend of hers show Nadia photos from her wedding in Santa Maria di Castellabate. So last year, Nadia and her fiancé, Mark, decided to check it out. They flew from Scotland to Naples, drove south, and fell in love–not with each other, they'd already done that–with Santa Maria di Castellabate!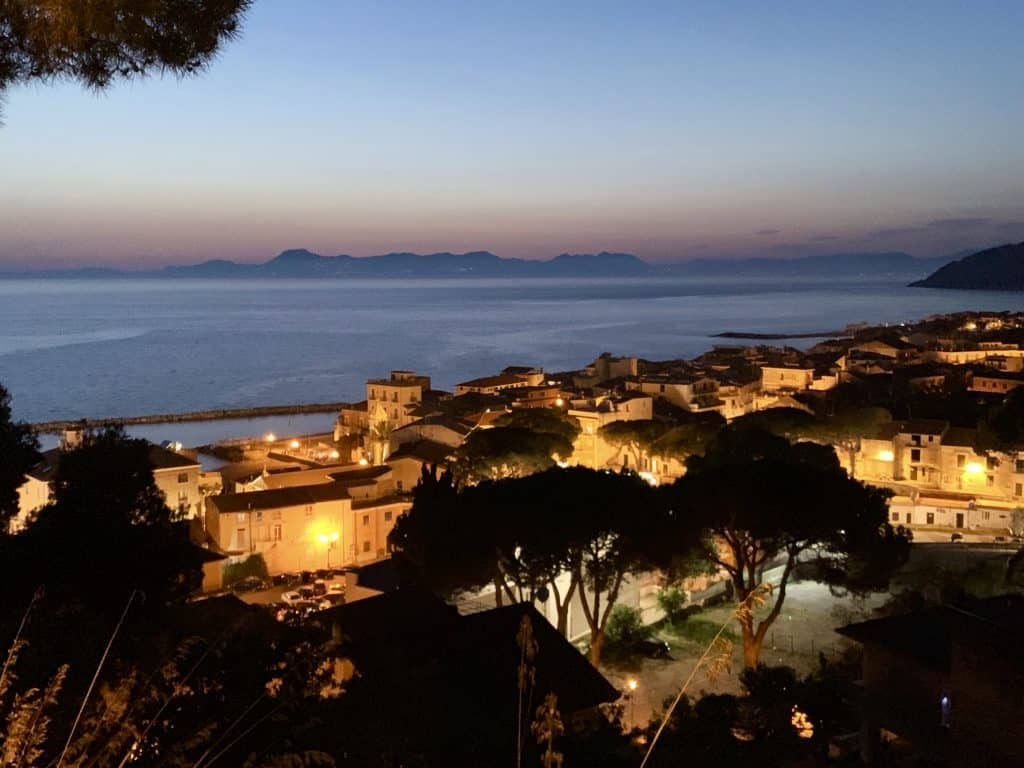 Where is Palazzo Belmonte Located?
The 17th century historic residence is located in Santa Maria di Castellabate, Salerno, Campania. Here's a map that shows where the town/hamlet is in relation to Naples (at the very top). It's about an hour south of the Amalfi coast.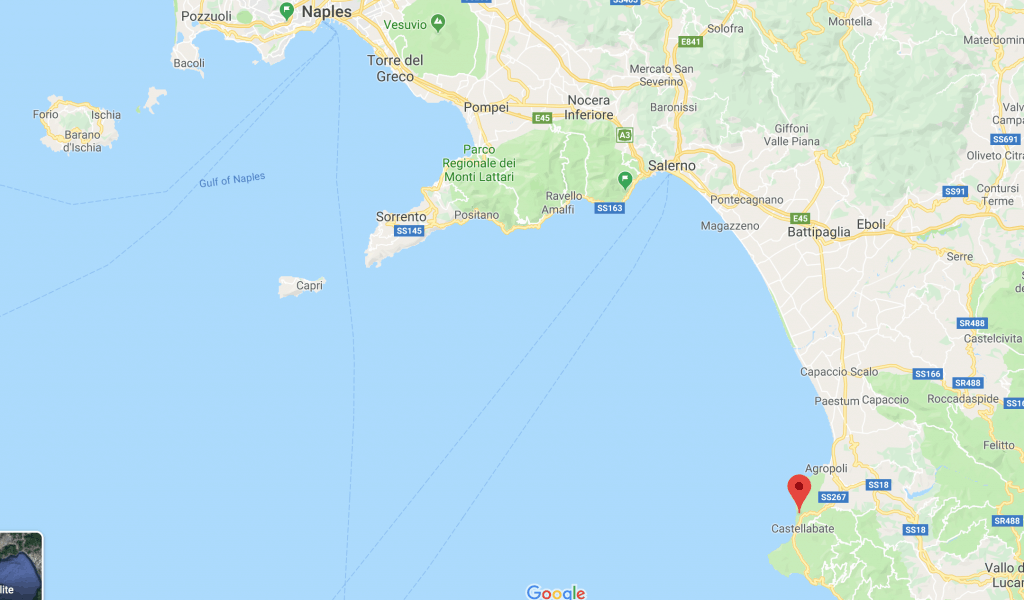 I rented a car in Naples (yes, I really did!) and it was less than a two hour drive to Palazzo Belmonte. I would recommend having a car here as there are so many beautiful places nearby and there is no train station in town.
Paestum is only half an hour away, and the area is absolutely filled with bufala mozzarella factories! Although, if you simply want to stay and "chill," and walk into town for dinner and drinks every night, it's absolutely perfect.
Arriving at Palazzo Belmonte
It was very easy to find the large black gate to the property, and soon, I was driving along the private driveway to the historic residence. Palazzo means "palace" in Italian, and in fact, the prince still resides here in part of the building. It was getting dark so I checked in with the loveliest lady at the front desk. My bags were taken to my room and I was all set.
After walking up to my room and being absolutely gobsmacked by the suite, terrace and view, I spent some time just taking it all in. Although I was meeting Nadia and Mark with other friends and family members and was already late, I simply had to soak in the incredible view from my terrace.
I finally peeled myself away and got ready to find the others in town. Although there's no restaurant at Palazzo Belmonte, you won't have a problem finding really good food in town. That evening, I had gnocchi alla Sorrentina at a restaurant which is literally less than a 5 minute walk from the palazzo.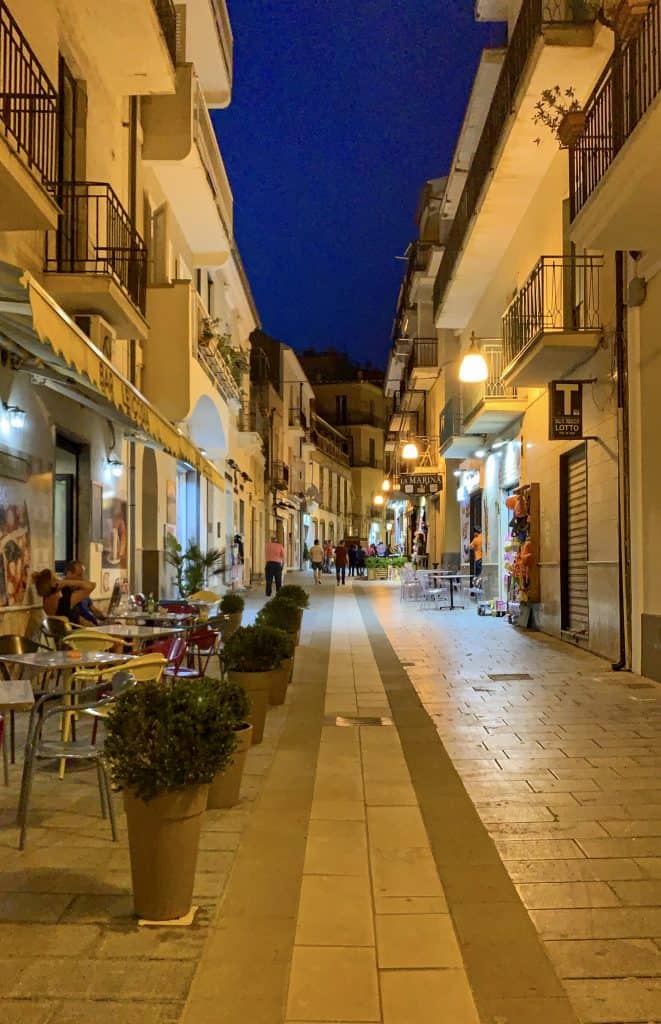 My Suite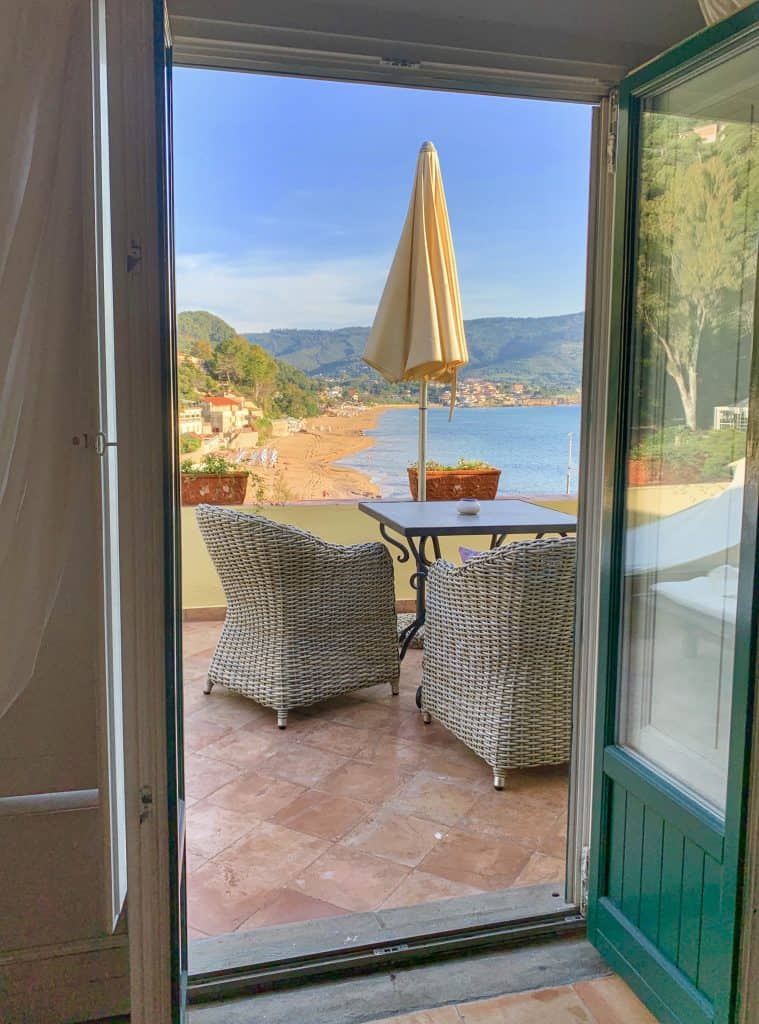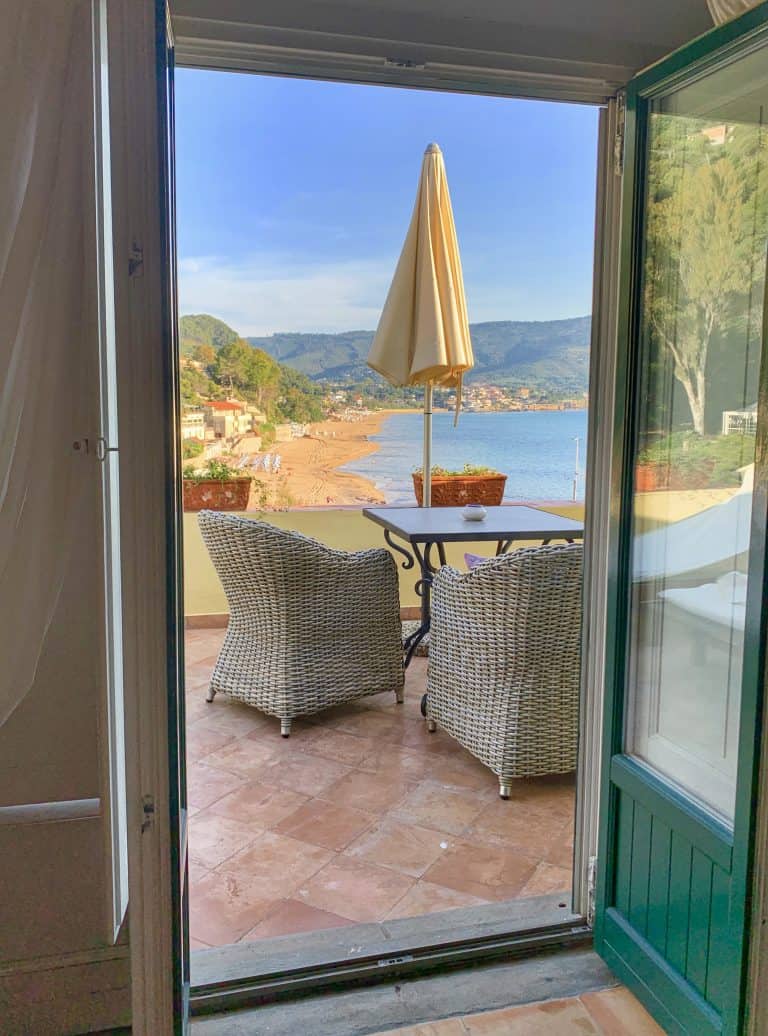 I think you'll probably believe me when I tell you I didn't ever want to give up this suite!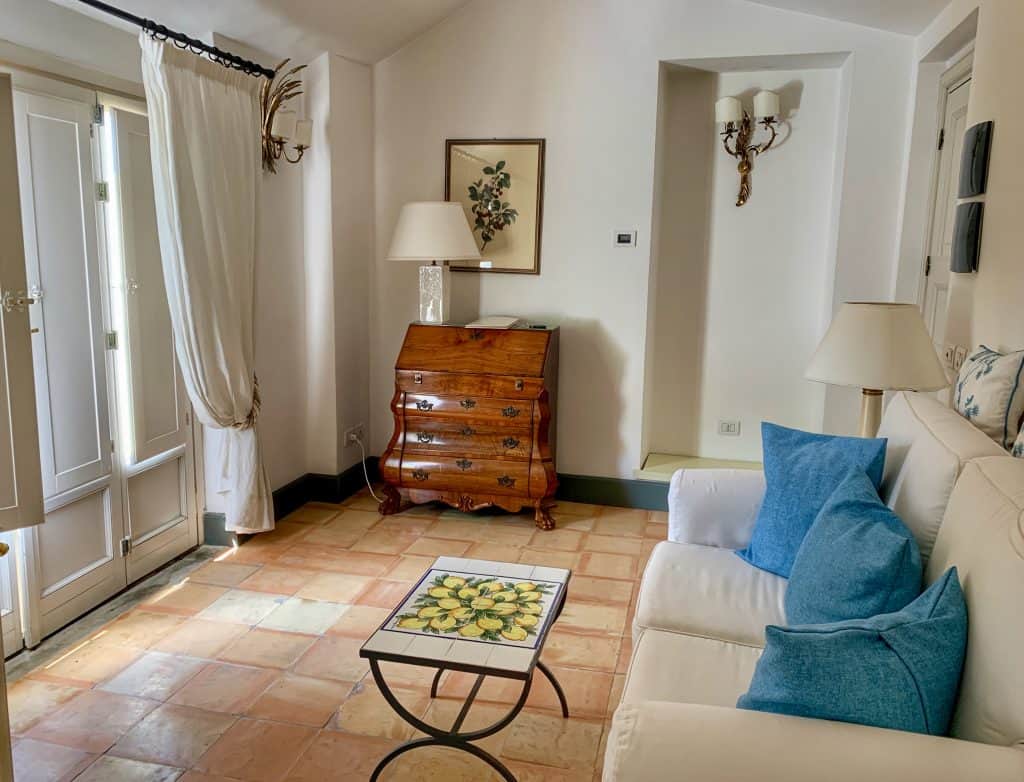 The bathroom was incredible. I think it would win a "best view from a bathroom" contest!
I was dying to use the beautiful bathtub, but alas, too many late nights with the Scottish wedding guests and I never did!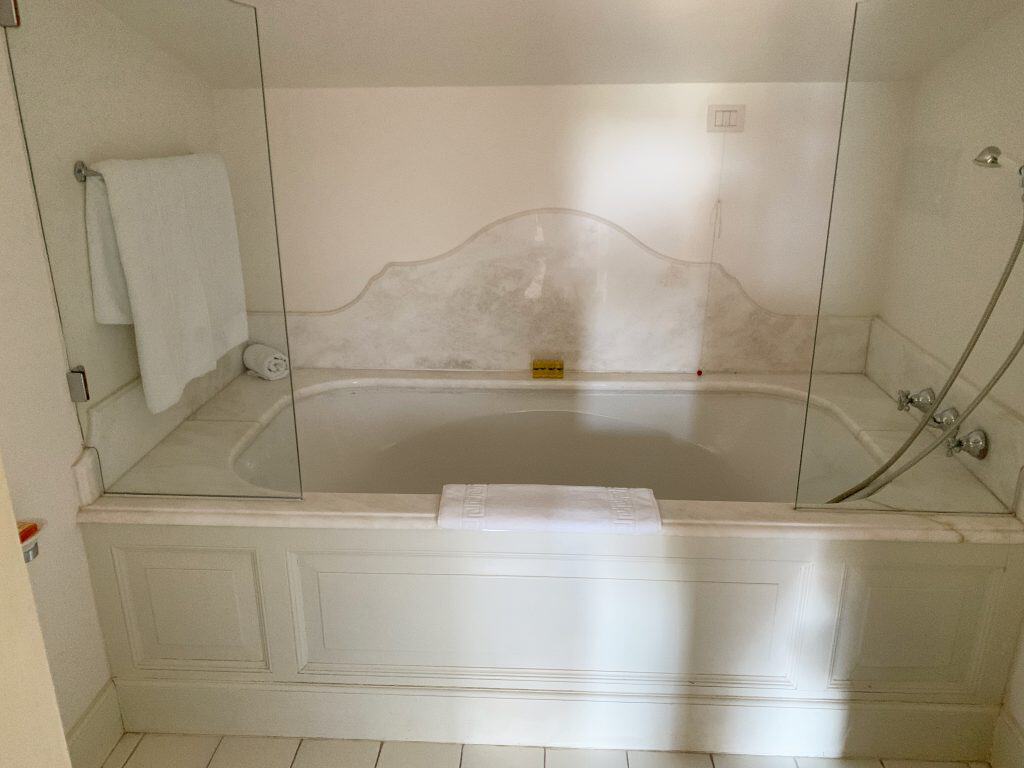 The terrace was a favorite feature and I did use it, thank goodness. One evening I almost fell asleep on the lounge chair; it was so peaceful and the temperature outside was perfect! I also brought my breakfast up one morning.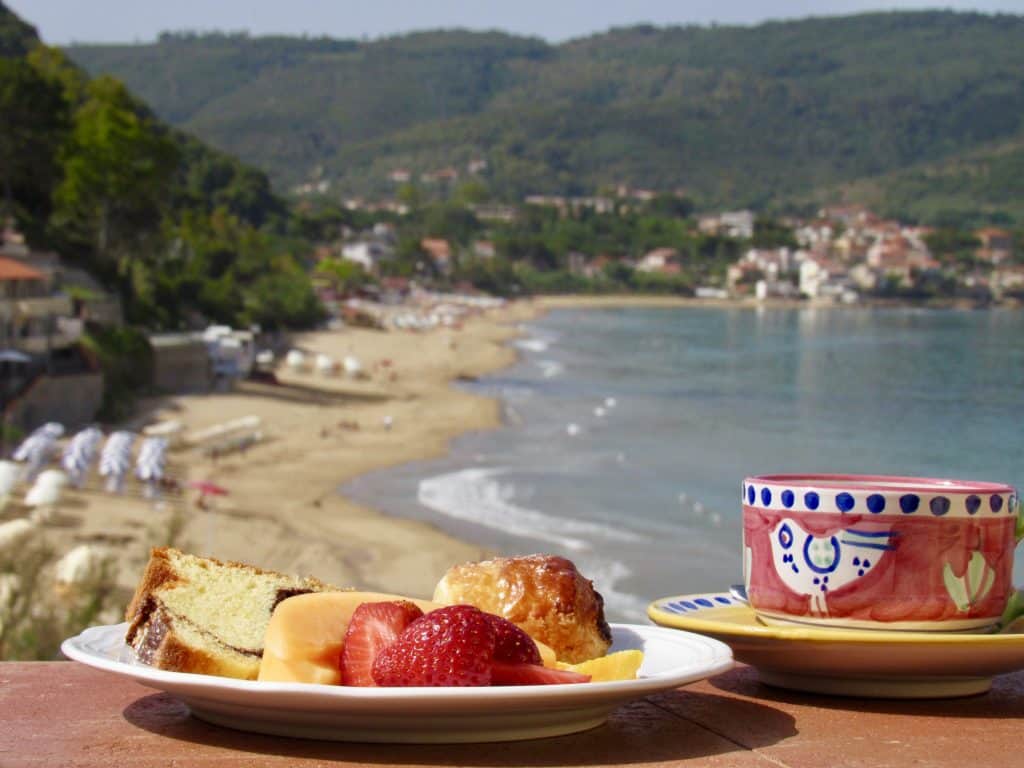 I loved the attention to details such as the embroidered tissue box cover, fresh flowers and the beautiful tile top table featuring lemons. Of course the robe, and safe were much more useful, too.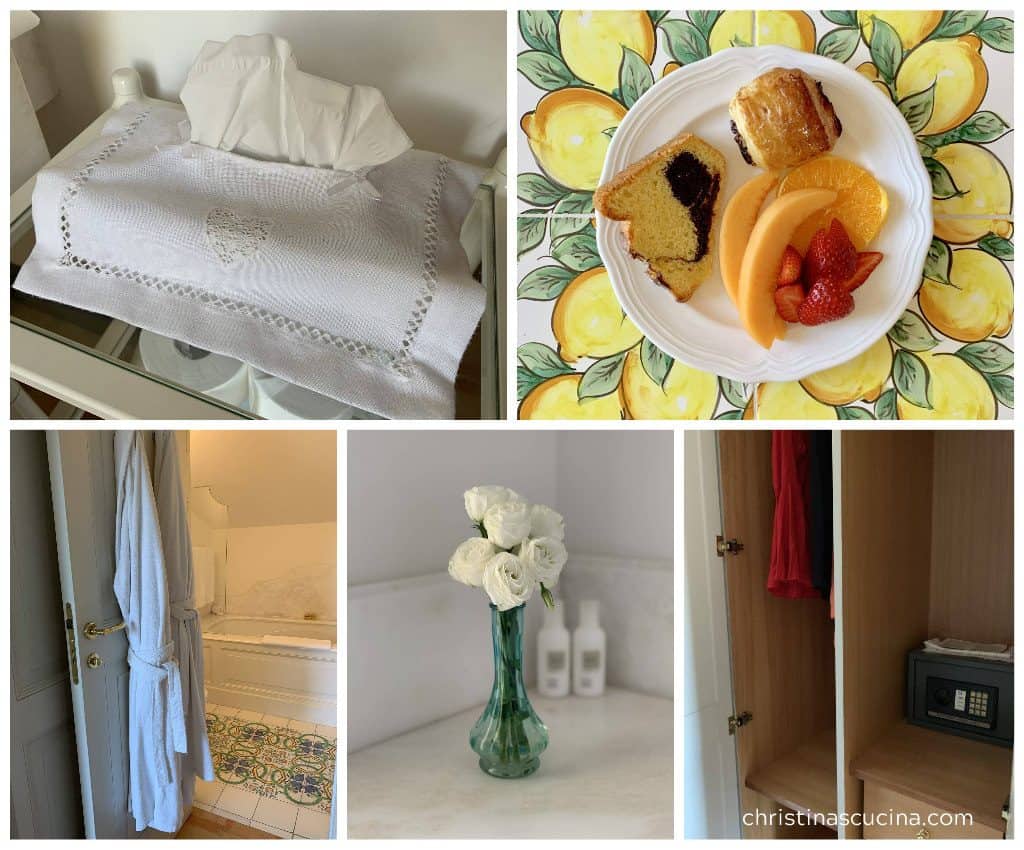 The Gardens, Public Areas and Pool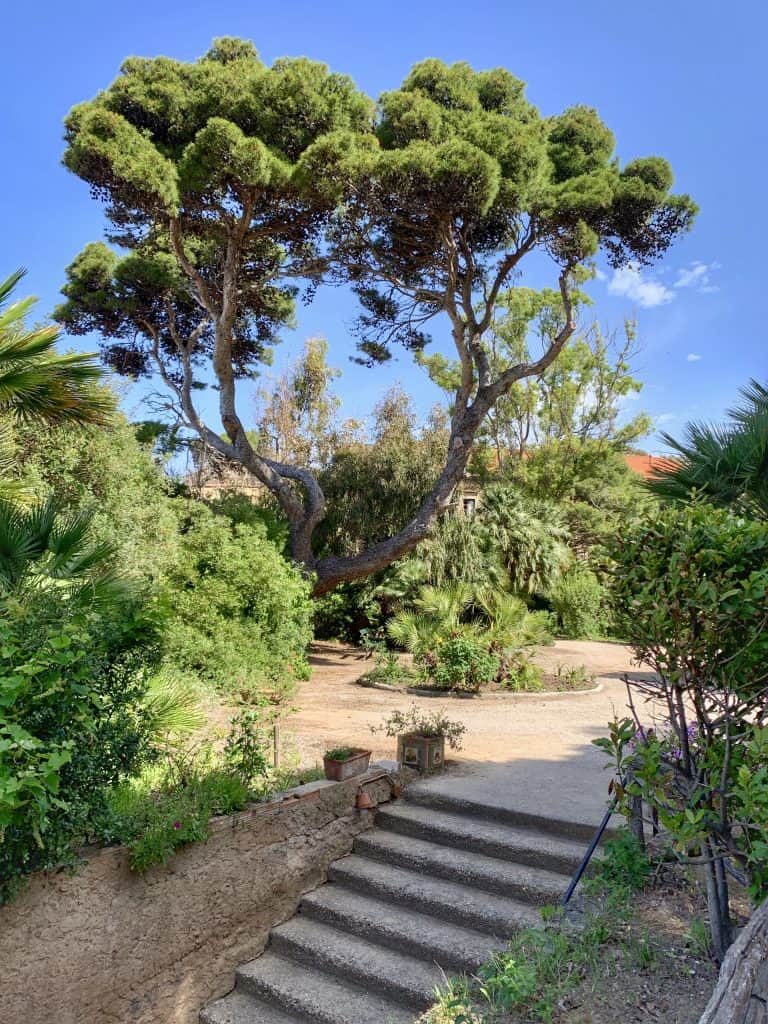 One of my favorite features at the residence was the peacefulness of the setting and size of the 5 acres of private, historical gardens. I loved the charm and atmosphere in parts of the garden which appeared to be more natural and not perfectly manicured.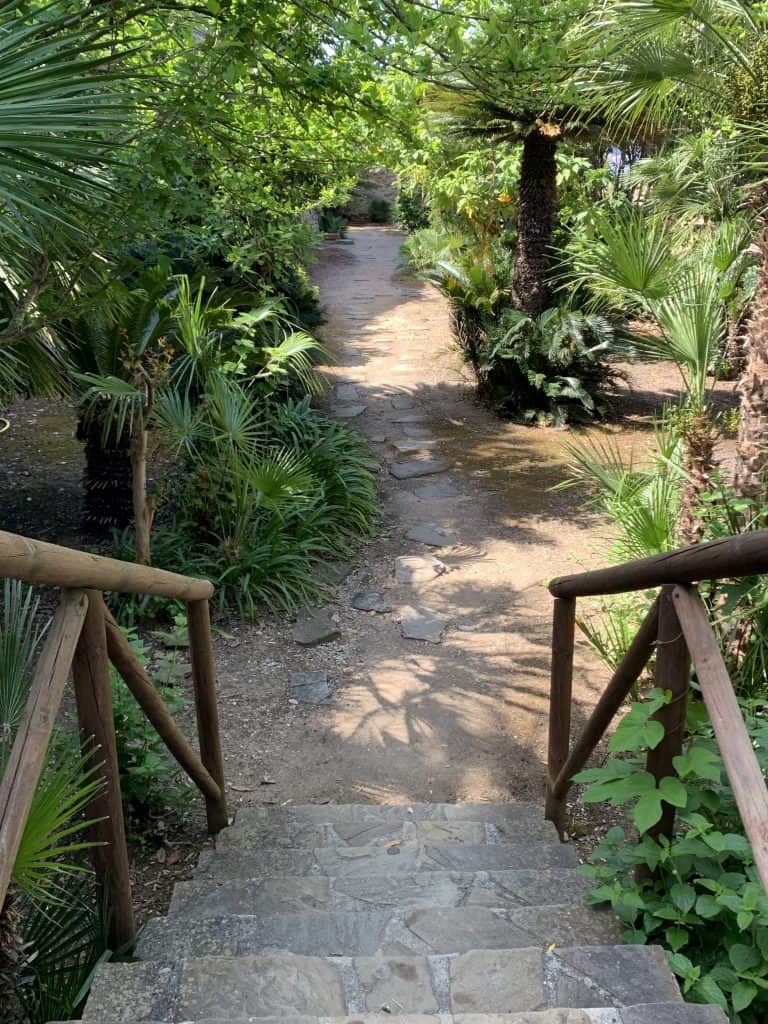 From pines to palms, the dense greenery and lovely flowers throughout the property reminded me of botanical gardens I've visited.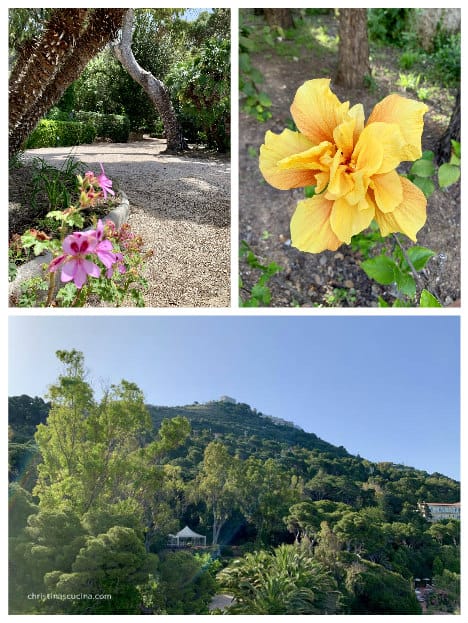 The pool, bar and breakfast area are set within the lush gardens.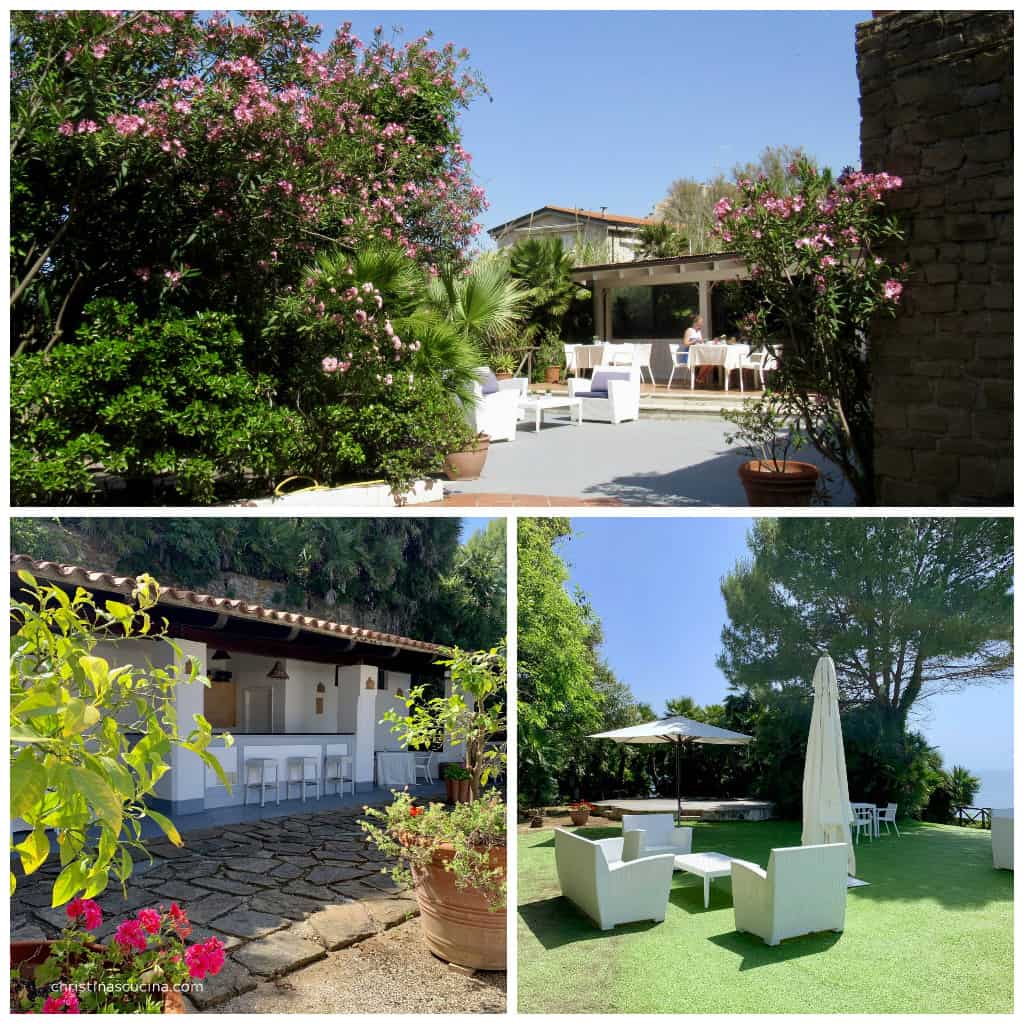 Here's a cocktail the bartender made for me; his own concoction, and it was very good!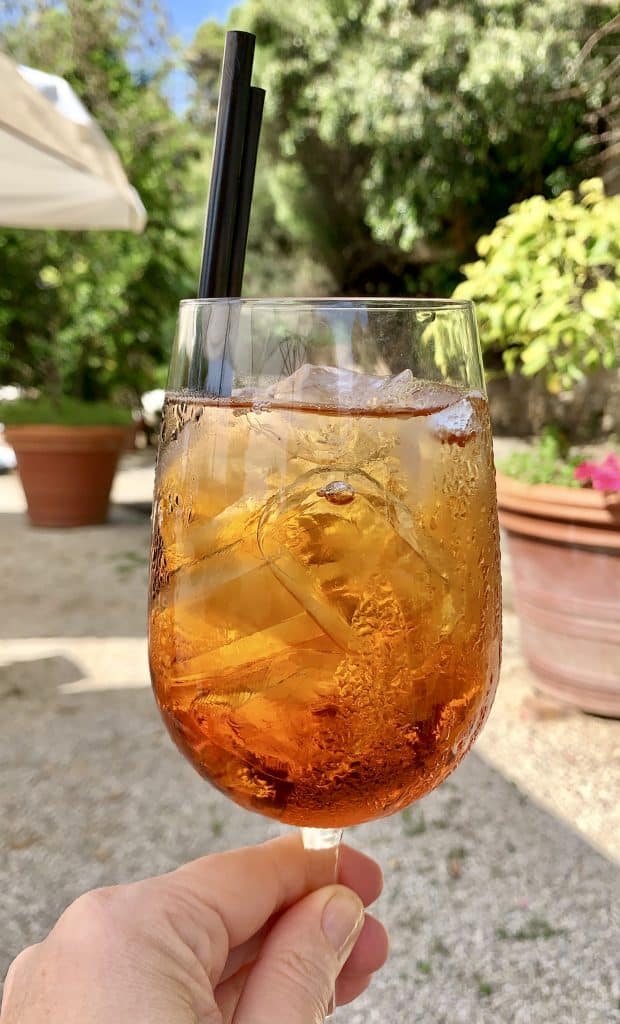 The views are stunning all over the property.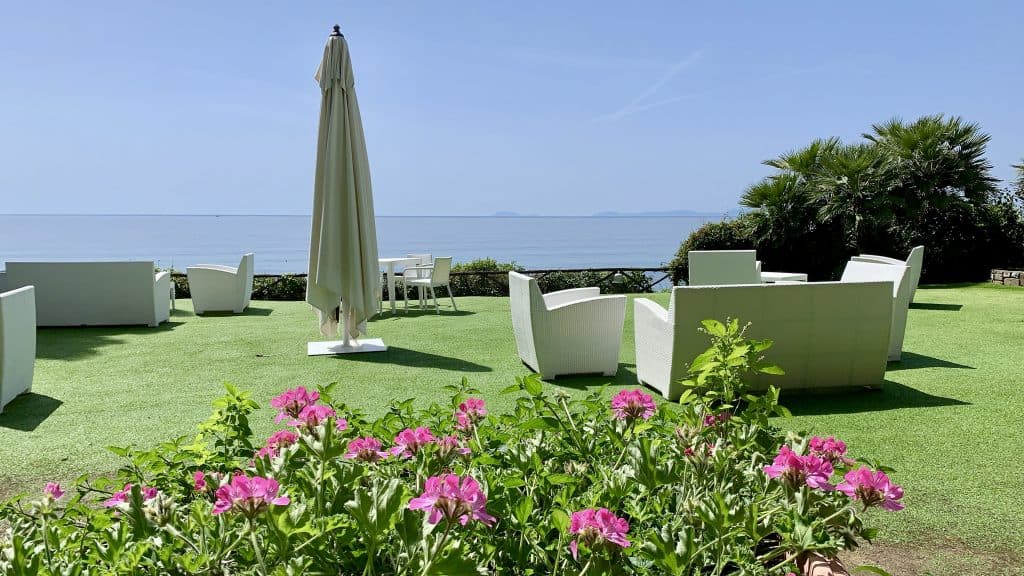 However, this was one of my favorites!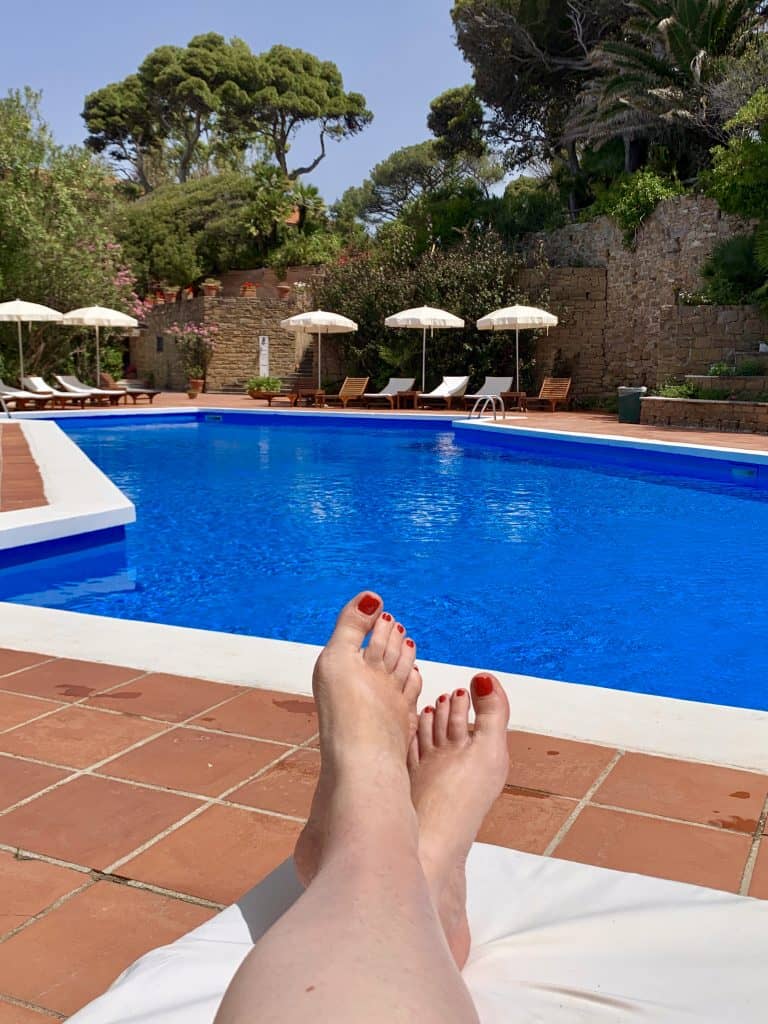 The Beach at Palazzo Belmonte
This is the entrance to the beach through the gardens. Isn't it enticing?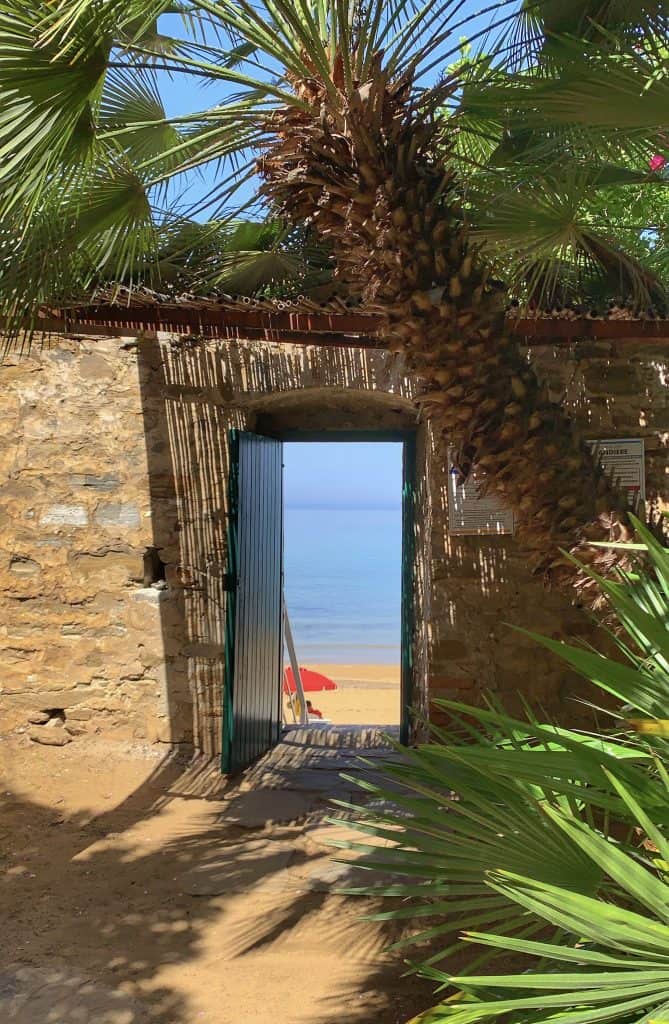 There are changing rooms and an outdoor shower near this entrance.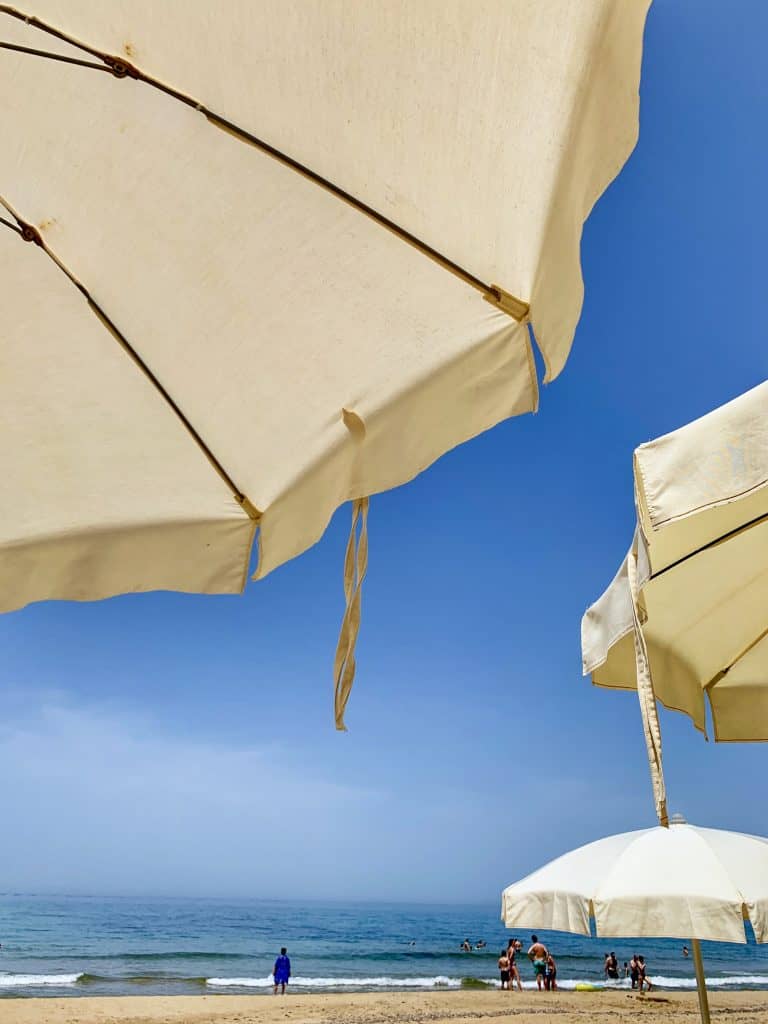 The water on the Italian coast is warm (compared to LA, it's really warm), and the water is beautifully clear. This beach actually received top honors for the best beach in Italy just this past June! I'll add an article below, which is in Italian, but hopefully you can have google translate it for you.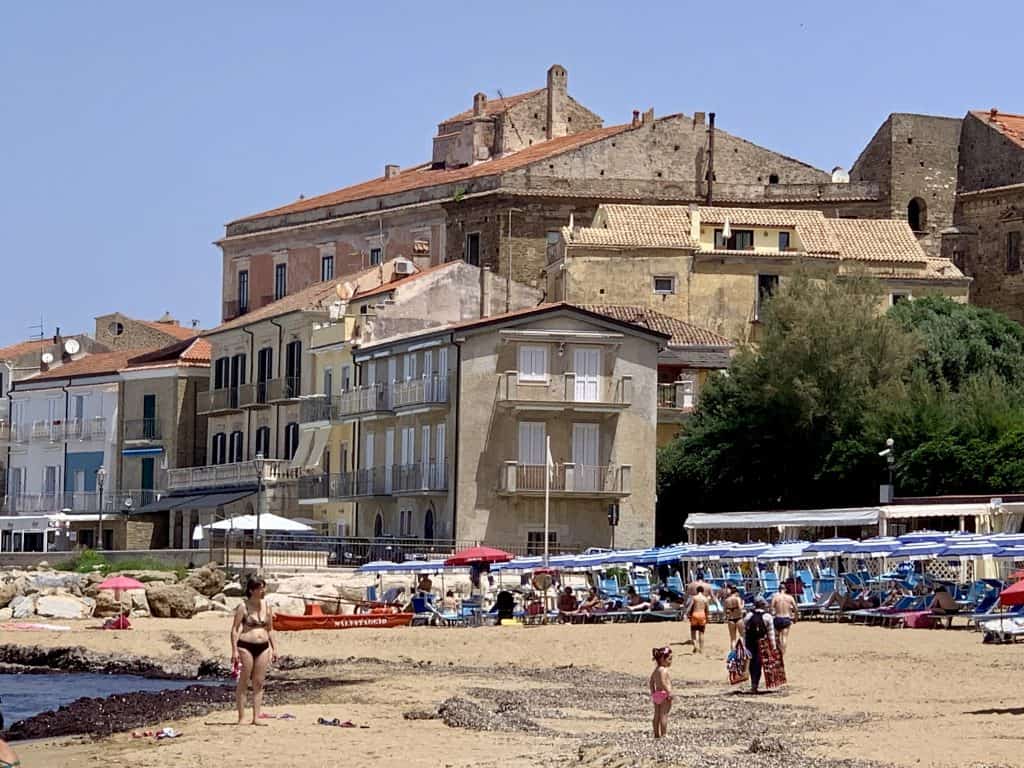 Breakfast at the Palazzo
Breakfast is very typical of an Italian "prima colazione". You will find fresh fruit, hard boiled eggs, bread rolls, cakes, pastries, granola, yogurt, meat and cheese (including some lovely spicy cheese).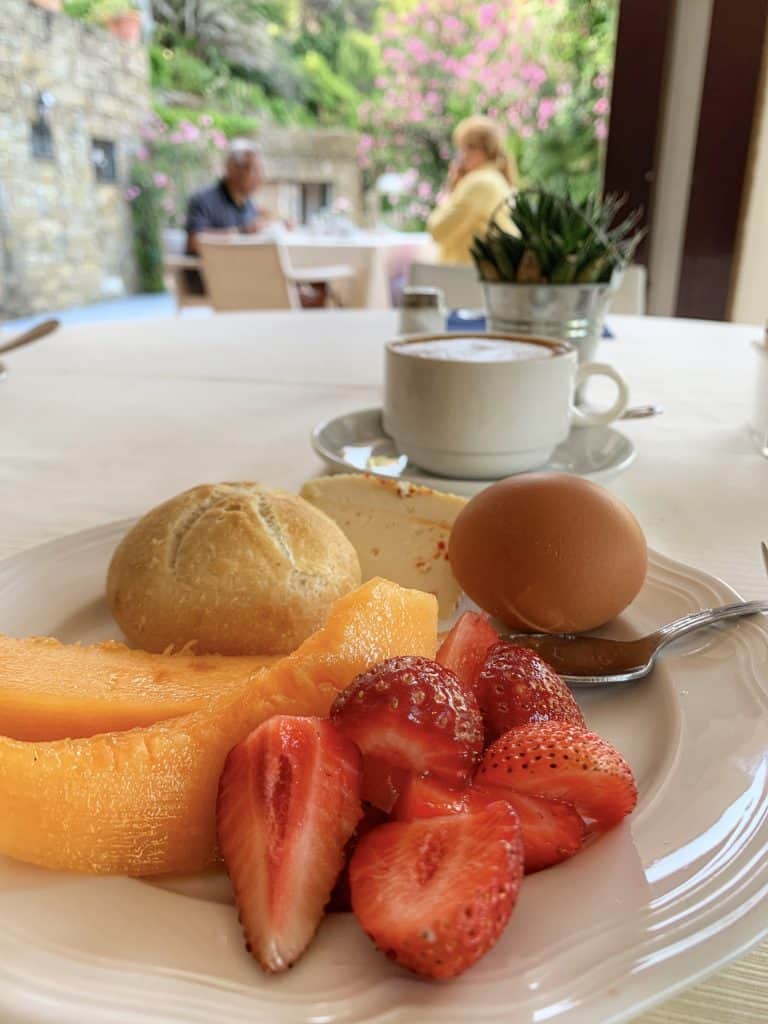 The server will take your drink order and bring you your hot beverage, such as cappuccino. There's definitely something for everyone.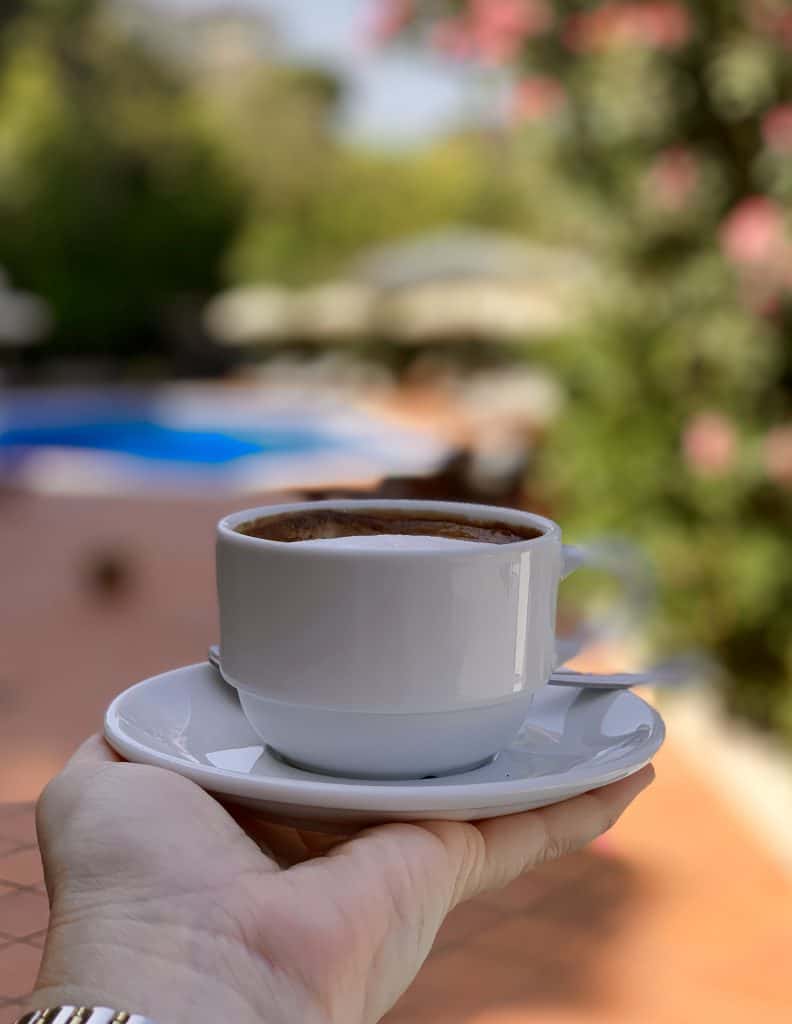 What to Expect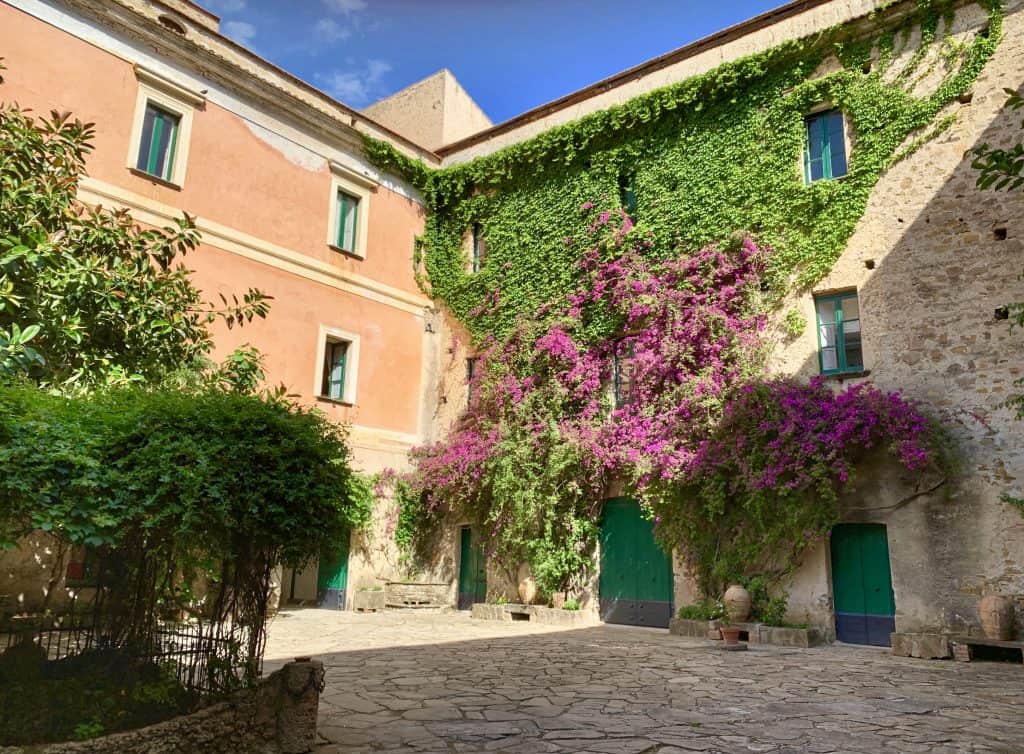 If you've been to Italy, you'll already be aware that some things are done differently in this country. Honestly, that's part of the charm, but can also be frustrating at times. For me, knowing things ahead of time, makes them much less frustrating. So here's what you can expect at the Palazzo:
Peacefulness and privacy. If you enjoy these features in your accommodation, you will love it here. The historic residence requires a gate to be opened for car entry, and you'll have to unlock a smaller metal door (yourself) to gain entry to the grounds if you leave on foot. This was a non-issue for me, but if you expect someone standing at the gate to let you in, you'll be disappointed.
No elevators. This is normal in much of Italy as so many buildings are (literally) ancient. If you cannot walk on uneven ground or climb stairs (there are stairs in the buildings and in the gardens and down to the beach), this is probably not the best place for you.
Rustic luxury and oodles of charm. Luxury is subjective. What is luxury to one person, may be standard, everyday normality to another. I would consider Palazzo Belmonte to offer "rustic luxury". The grounds are stunning, the views are out of this world, but you won't have someone waiting on you hand and foot as they would in a 5 star hotel.
Breakfast is served. As noted, a lovely breakfast is included with your stay, which is not often the case at 5 star hotels.
No restaurant, spa or ironing boards/irons. Know that you'll have to go into town for lunch or dinner. There is no shortage of options for restaurants, pizzerias, small bites and gelato, all walking distance from the Palazzo. There is a bar on site for cocktails, Prosecco and such, however, there is no spa and no irons or boards.
Beach chairs and umbrellas included. You may or may not know that in Italy, many places will charge you to to to the beach. You also have to pay for using the lounge chairs and umbrellas.
Room rates to fit most budgets. Despite what you might think, there are many options for accommodations and prices at the Palazzo.
Your international adapter that is supposed to work for Europe/Italy, may not work in Italy. Yes, I've had this issue in Italy (and even once in Switzerland). The adapter is a teeny tiny bit different and just won't work in the outlet. Have no fear if this happens to you at Palazzo Belmonte because there's a little shop in town (walk out the gate, turn left and walk past the piazza down the street) on the right hand side as you are walking which sells adapters (which work) for 5 Euros.
Walking and hiking trails. Punta Licosa, part of the UNESCO National Park of the Cilento is only 4km away and offers many varied walks and paths along the coast.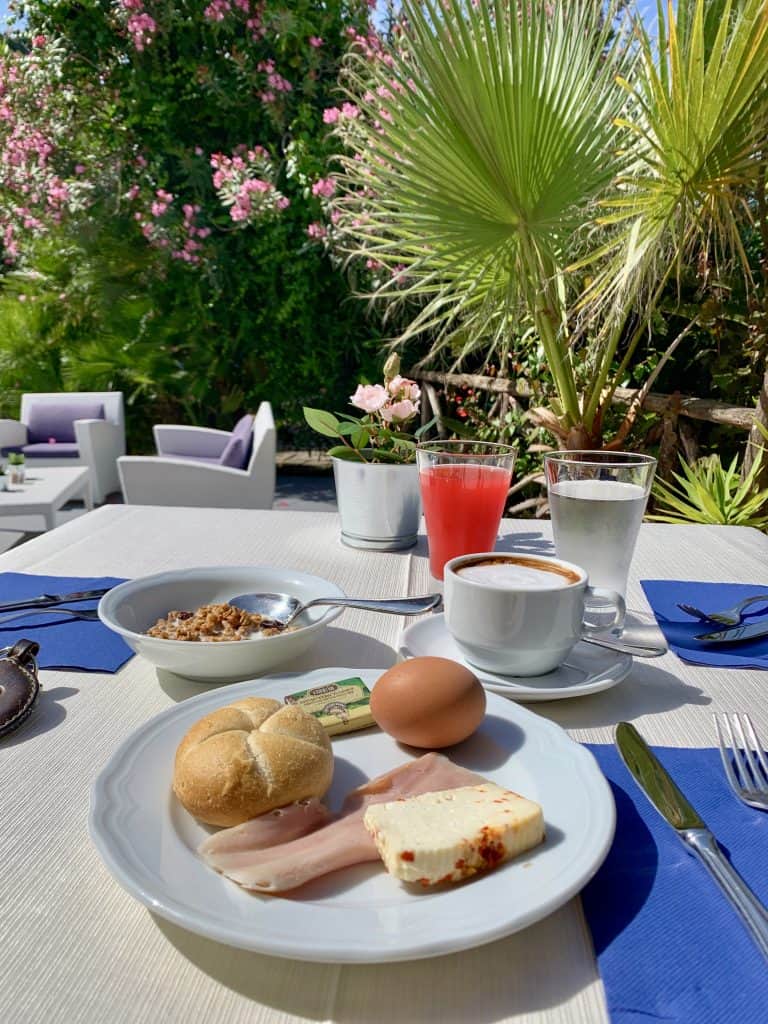 Santa Maria di Castellabate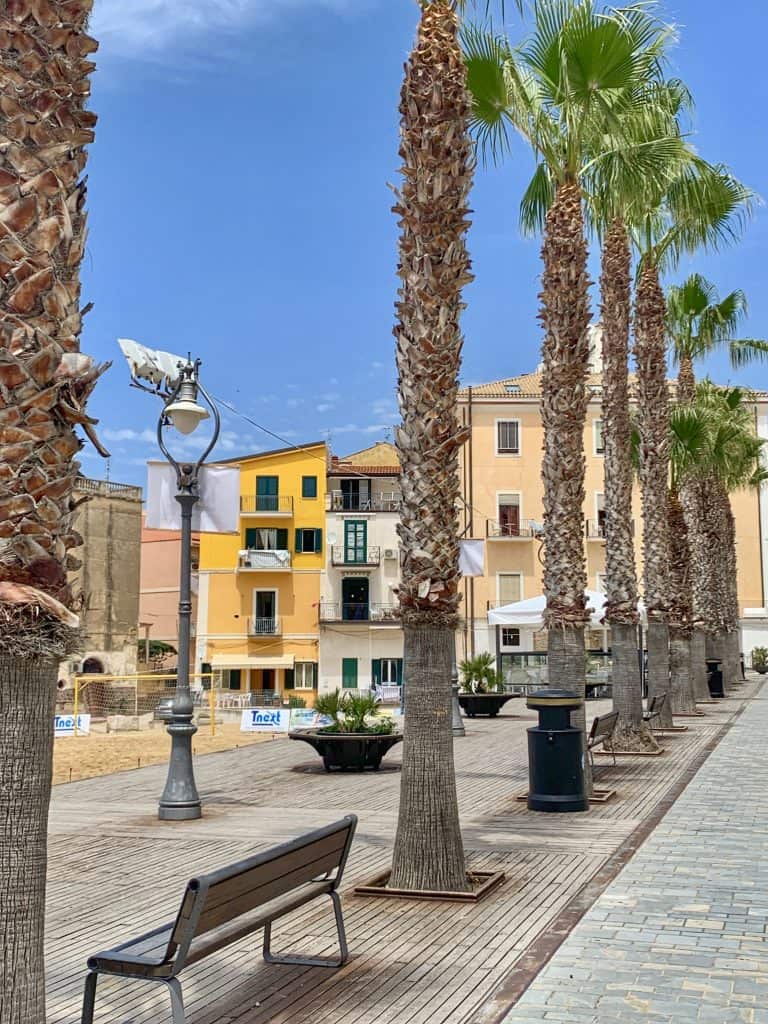 The town is very small and clean. There are not many tourists here at all, which is a lovely bonus! At night is when the town really comes alive. There was a soccer game on at 11 pm on the beach the first night I was there. It's a lovely place to walk both during the day and in the evening.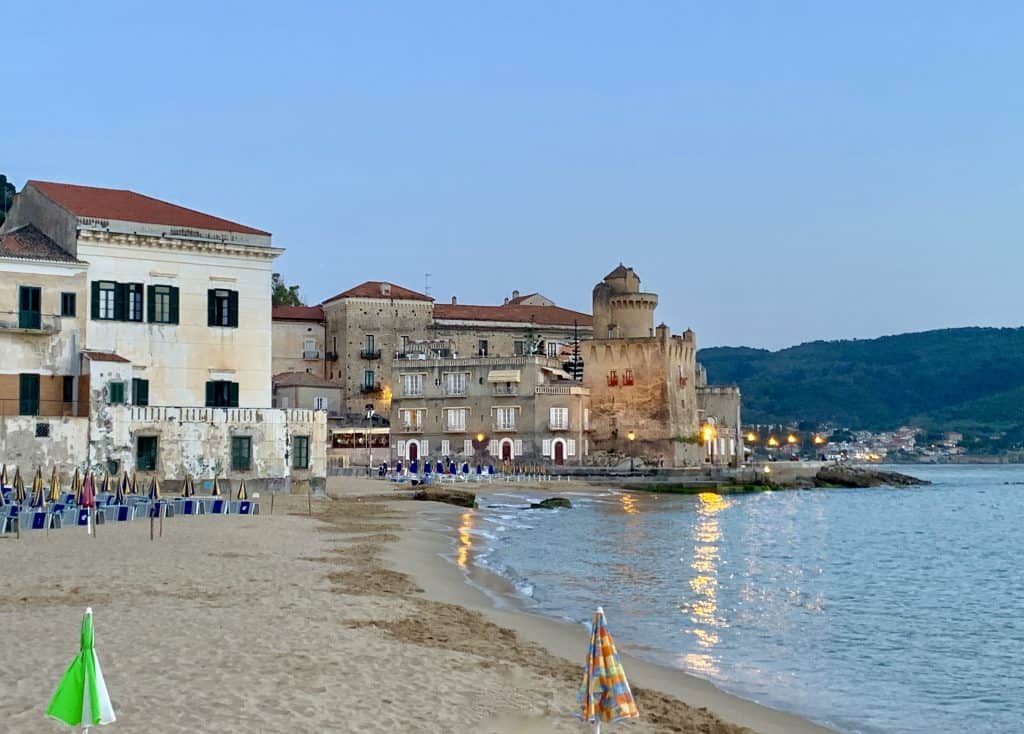 I felt very comfortable walking alone at night, mostly because it's a small town, but there were always other people out enjoying the evening.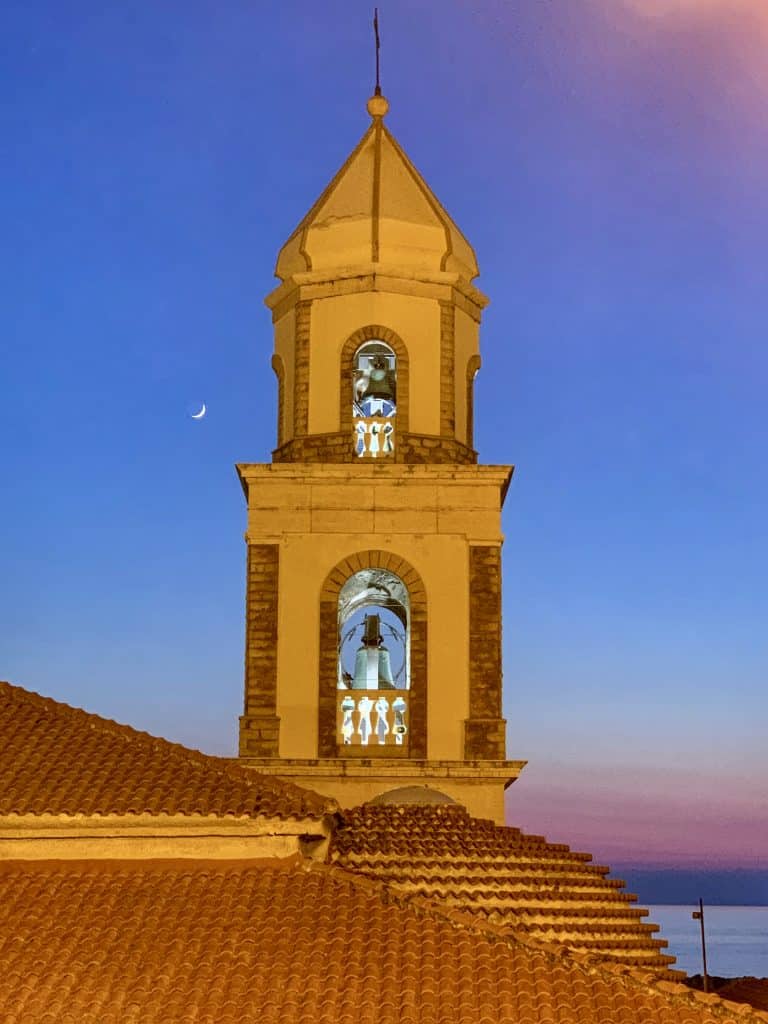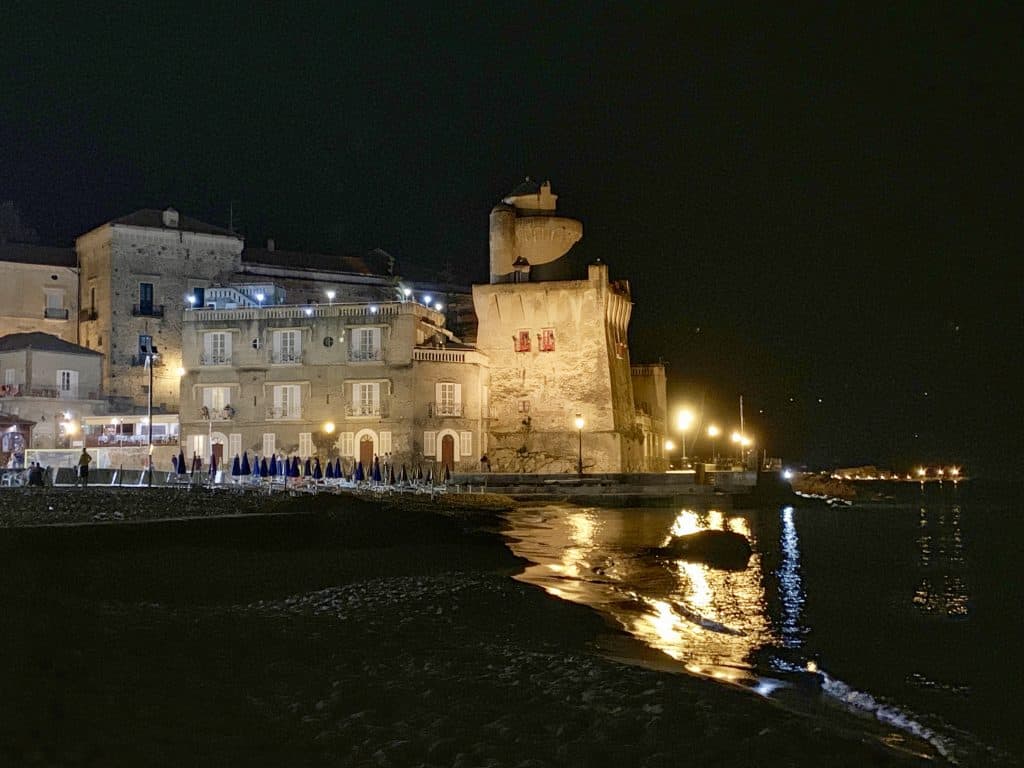 Dining and Nightlife
As you can see, I didn't starve. The view here wasn't bad, either. :)
As I said, there are so many restaurants, bars and options for food and drinks in town, I honestly think most anyone would be very pleased. In addition to the places in town, you can walk down the beach and choose from lots of restaurants on the beach. In fact, Nadia and Mark's reception was held in one of these open air restaurants. I ate at La Tartaruga (The Turtle) one day for lunch. The seafood was so fresh, I really enjoyed my pasta.
I'd recommend a limoncello spritz while you're in the area where limoncello is king!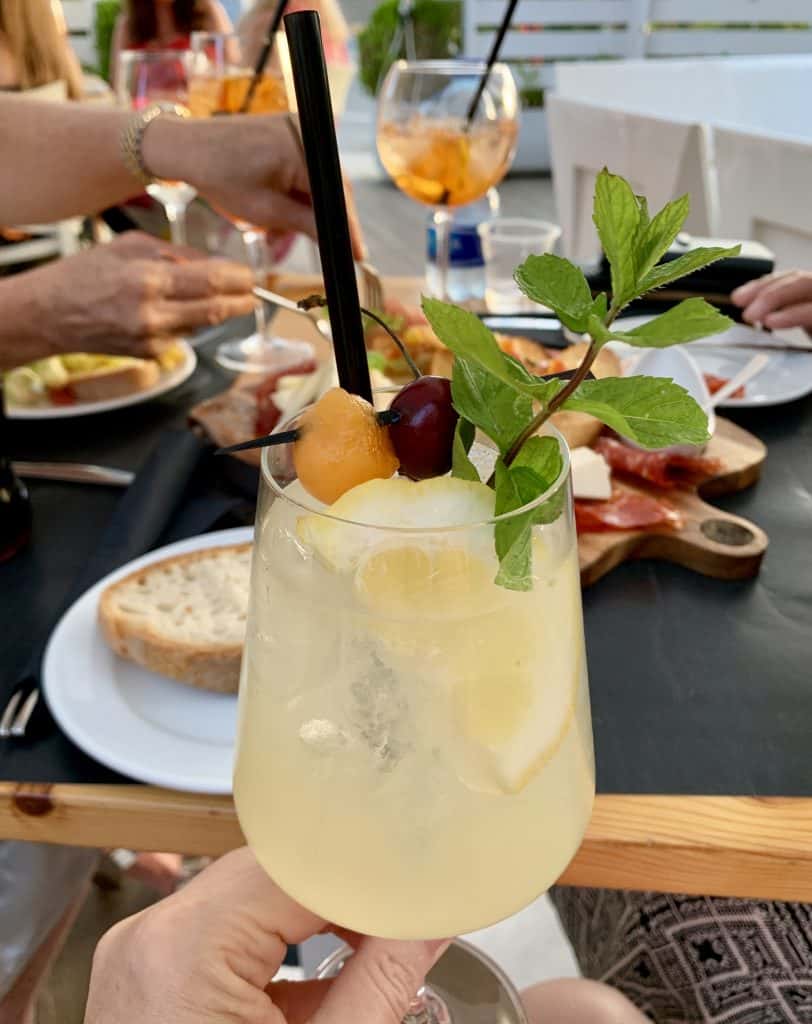 It's also the land of Caprese. In fact, you can see Capri from Santa Maria di Castellabate! Please note: no vinegar or balsamic or glaze in sight–only olive oil!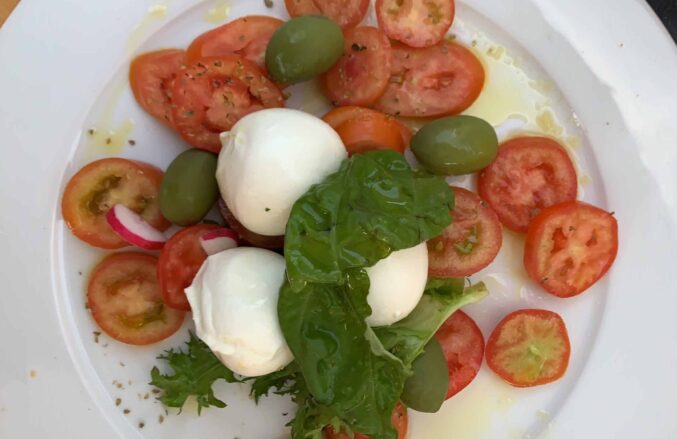 Of course, you don't want to go to Italy and not have at least one Aperol Spritz!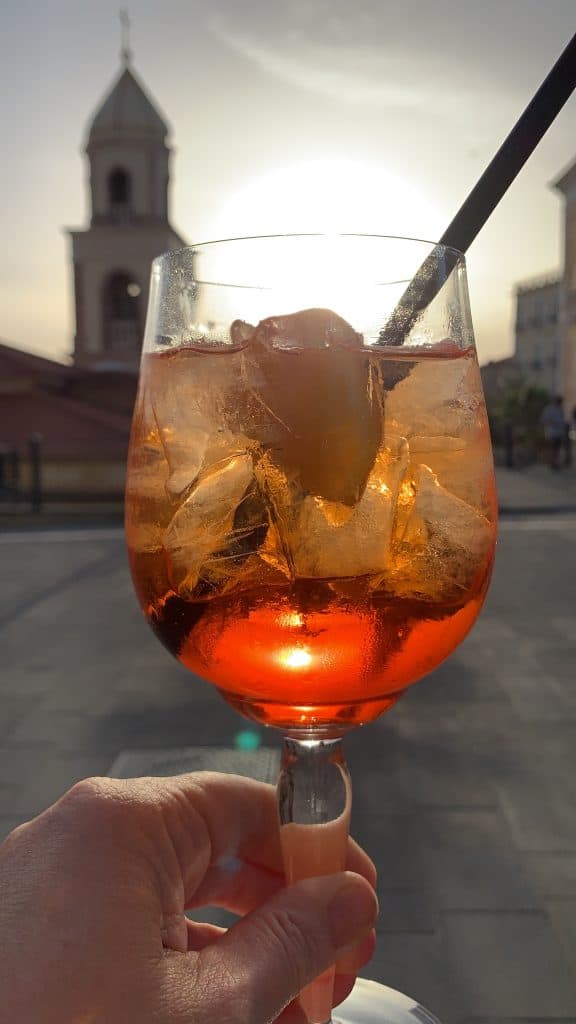 This is the soccer game on the sand that I mentioned, meanwhile others are having dinner at the restaurant overlooking the town where I had pizza for lunch.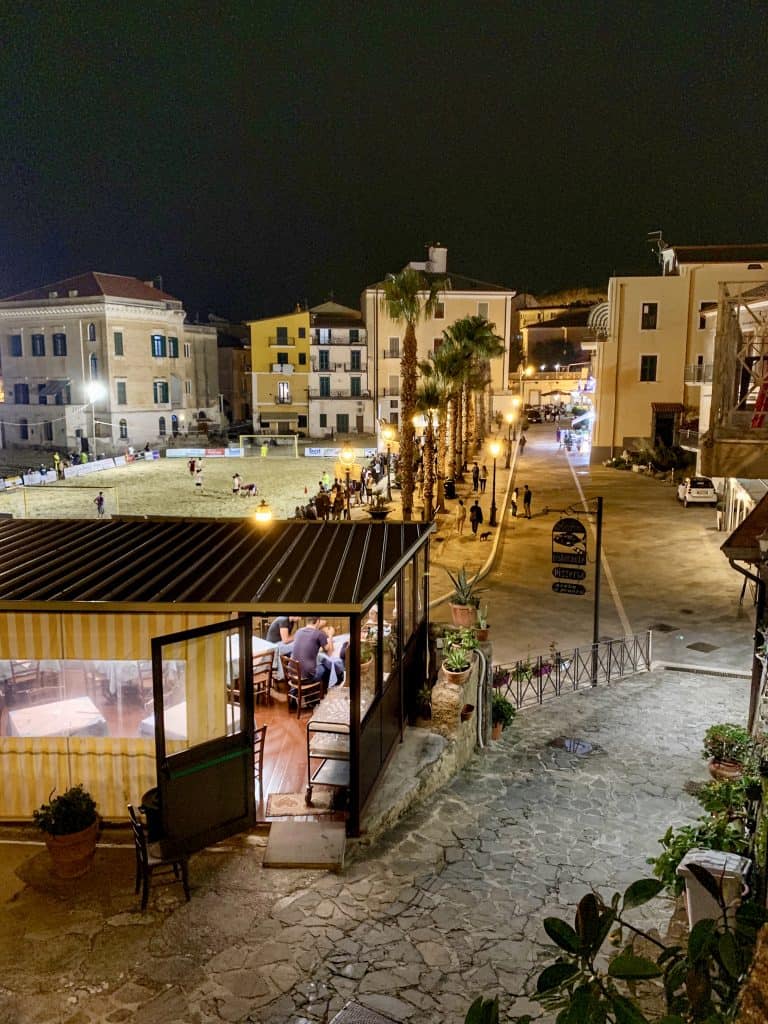 Although all the places we went treated us well, the Cliff Feel Good Bar was our favorite. Francesco was a gem! See, he even sported a tartan scarf for us!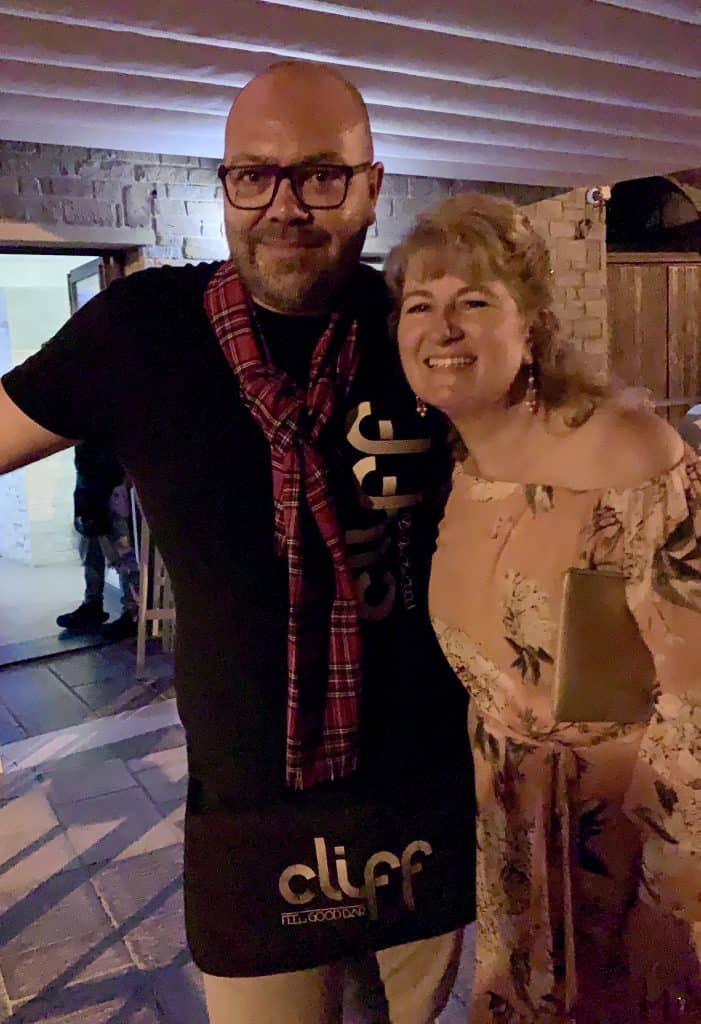 My Experience Staying at Palazzo Belmonte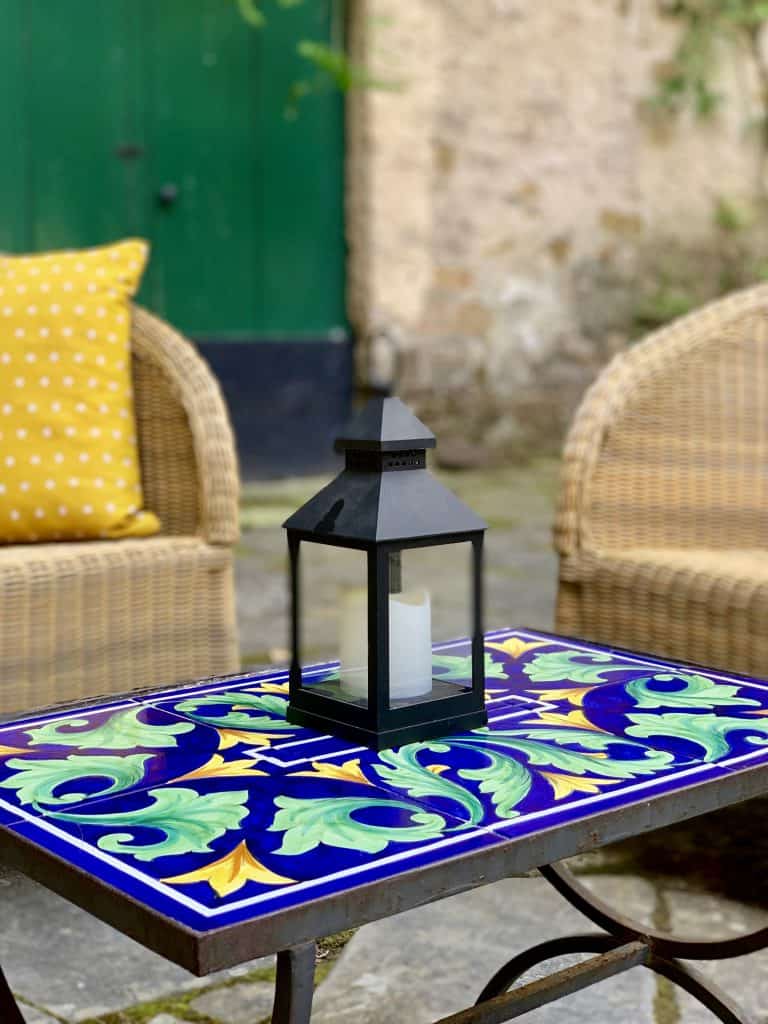 My stay at the Palazzo was magical. For a vacation which includes rest and relaxation, good Italian food and a no-stress atmosphere, this is the place. I think I got the message across on my Instagram stories because my cousin from Toronto messaged me a few weeks ago saying, "I couldn't stop thinking about your story when you were at Palazzo Belmonte. I've booked 2 nights!" She was much like me and the website images!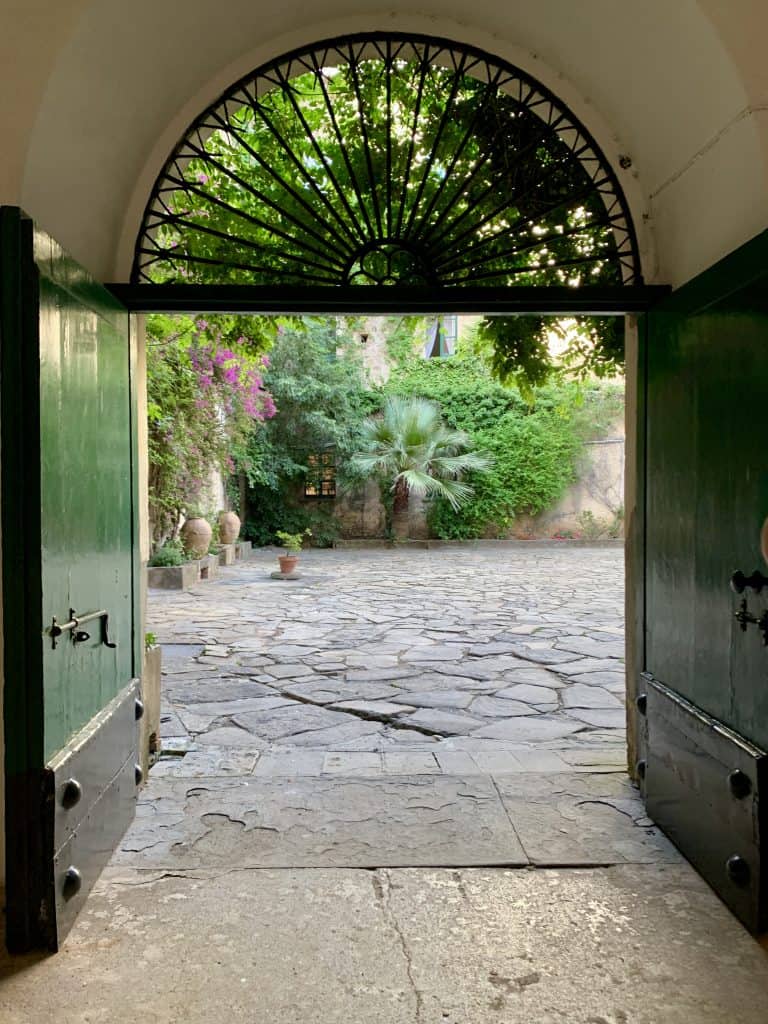 Staying here was actually very like the quote on the Palazzo's website, "an oasis in a modern world". As soon as I stepped through the door, I felt as though I was in another place, or another time. The sounds of the town were gone and I felt a sense of serenity. The crunch of gravel underfoot and the swallows and other birds singing and chirping as they swooped about were the only sounds I heard. I could happily have stayed for a very long time.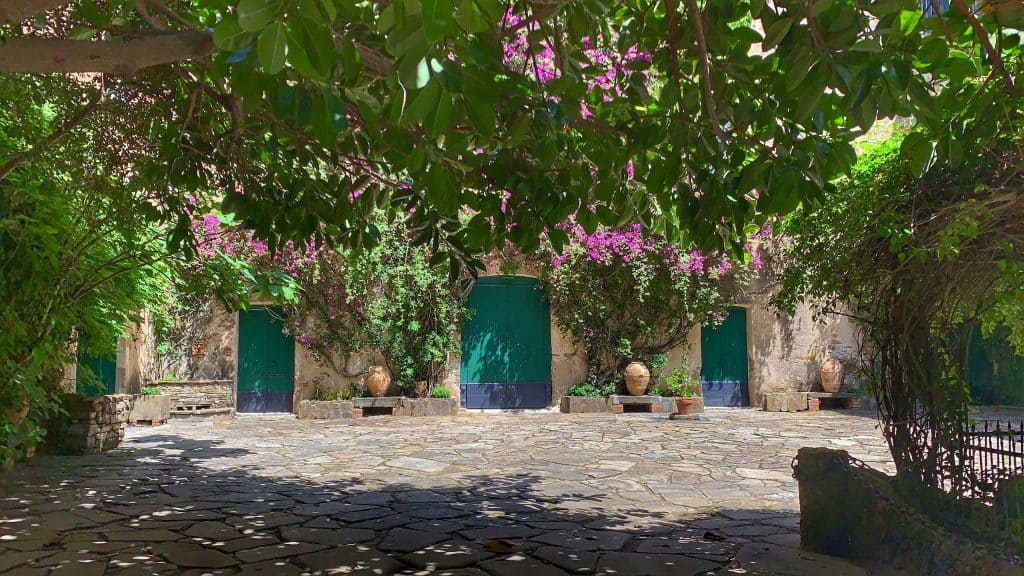 Click for more information about Palazzo Belmonte
Next week, part 2 will feature more options on where to stay on property at the historic residence, and also Punta Licosa, the sister property nearby. I'm going to share a few wedding photos and I'll also tell you about a hilarious film that was filmed in Castellabate and Santa Maria di Castellabate, so if you haven't already done so, sign up for my FREE subscription!
Once you enter your email address, choose to receive my
RECIPES, or TRAVEL POSTS or BOTH. ✔️
Thank you to Palazzo Belmonte, especially the lovely Beatrice, for graciously hosting me for my stay. It was beyond anything I'd expected and I hope to return again, soon. There were no terms on posting a positive review or feedback. I am sharing this in accordance with FTC regulations.