Limoncello spritz is a fabulous cocktail! Try this limoncello based beverage which has only three ingredients, and enjoy a refreshing summer drink that will transport you to the south of Italy!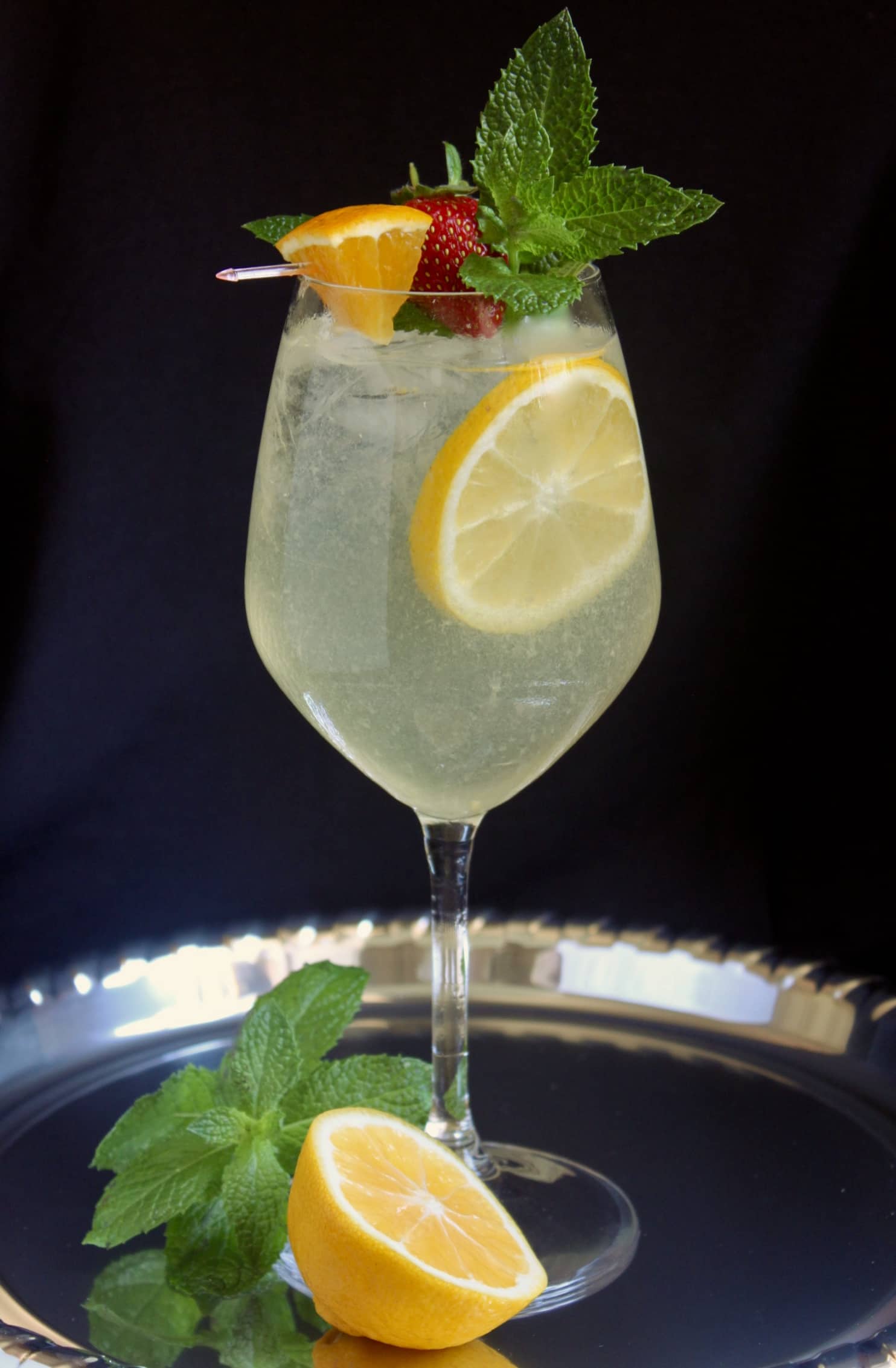 As an Amazon Associate I earn from qualifying purchases.
You may remember that I flew to Italy to attend a Scottish-Italian wedding for my friend (practically relative!) Nadia, in June of 2019. This is where I discovered the wonderful limoncello spritz, or as many know it, albeit incorrectly, the lemoncello spritz!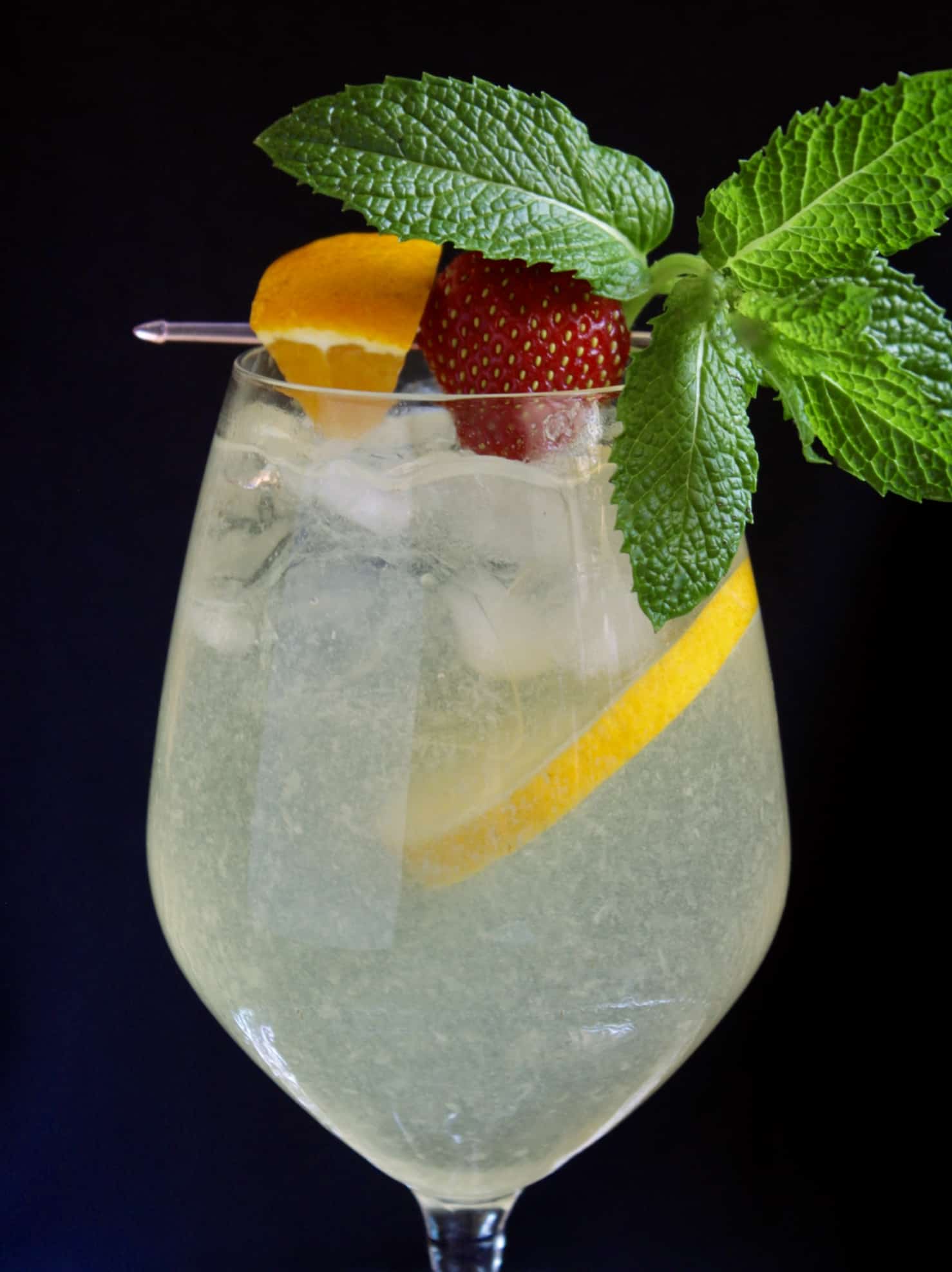 The Scottish-Italian wedding was held in Santa Maria di Castellabate, Italy.

This beautiful town on the Cilento coast is about two hours south of the Amalfi region (where lemons reign supreme) and everyone is ordering and enjoying limoncello or limoncello cocktails!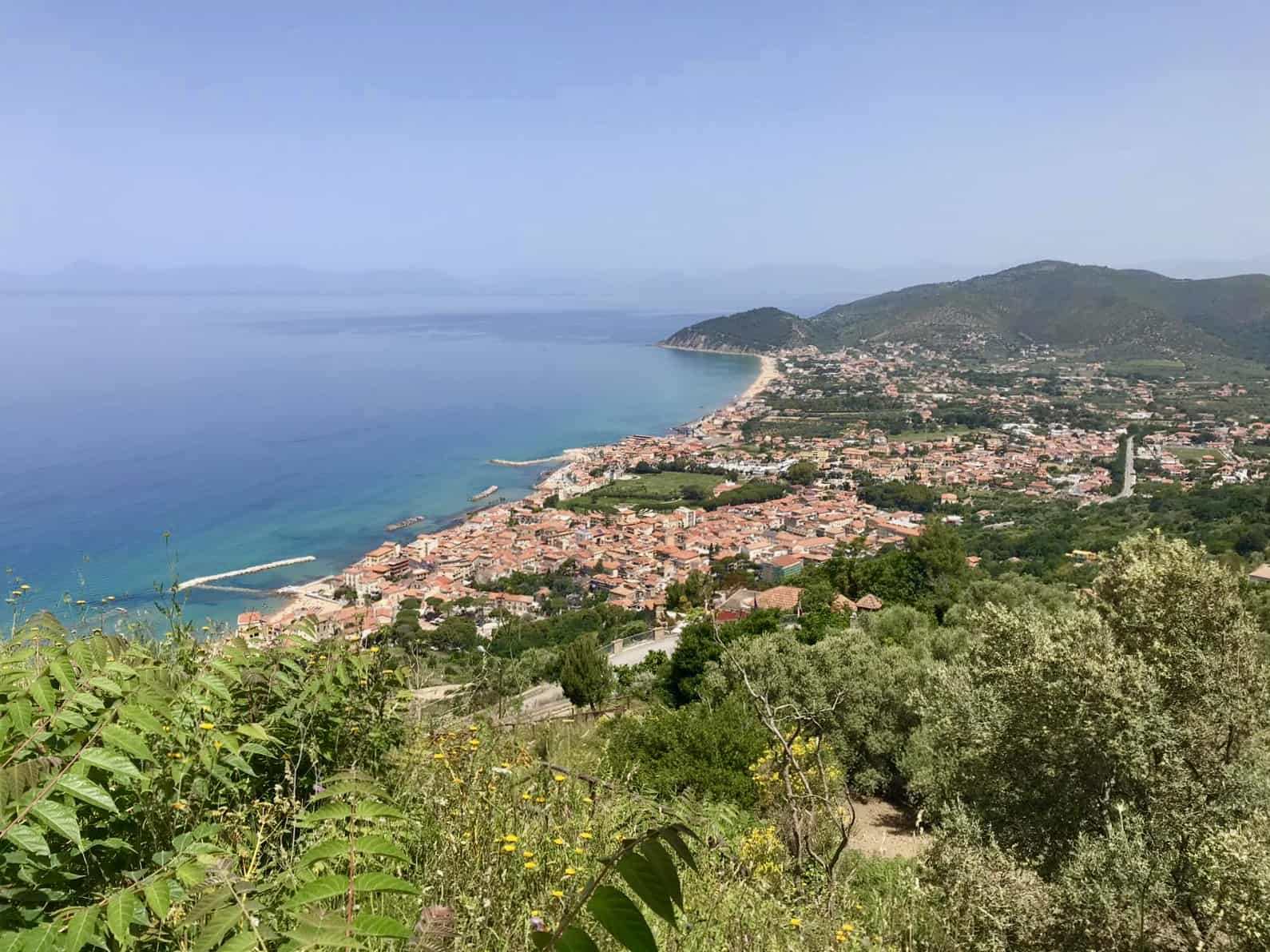 The evening before the wedding, there was a Kilts and Tiaras party at a local trattoria, which spilled onto the beach for photos. Did you spot the Aperol spritz in the background of the photo below? Another favorite of mine!
Honestly, you can't imagine that you'd spot this many Scotsmen in kilts in Southern Italy; it was pretty hilarious especially with some of them drinking limoncello and spritzes!
Well, I was also taking photos of my limoncello spritz. I'd never had one before and I was immediately hooked!
How to Order a Limoncello Spritz in Italy
Are you going to Italy? Want to fit in and sound less like a tourist? As silly as it may sound to you, if you order a "lee-mohn-CHEH-LLaw spreetz" (say it just like that), you'll be a star! Just know that lemon chello is not actually a term or word, so if you order a lemoncello spritz or cocktail in Italy, you just may get an, "Ooooh, un limoncello spreetz?"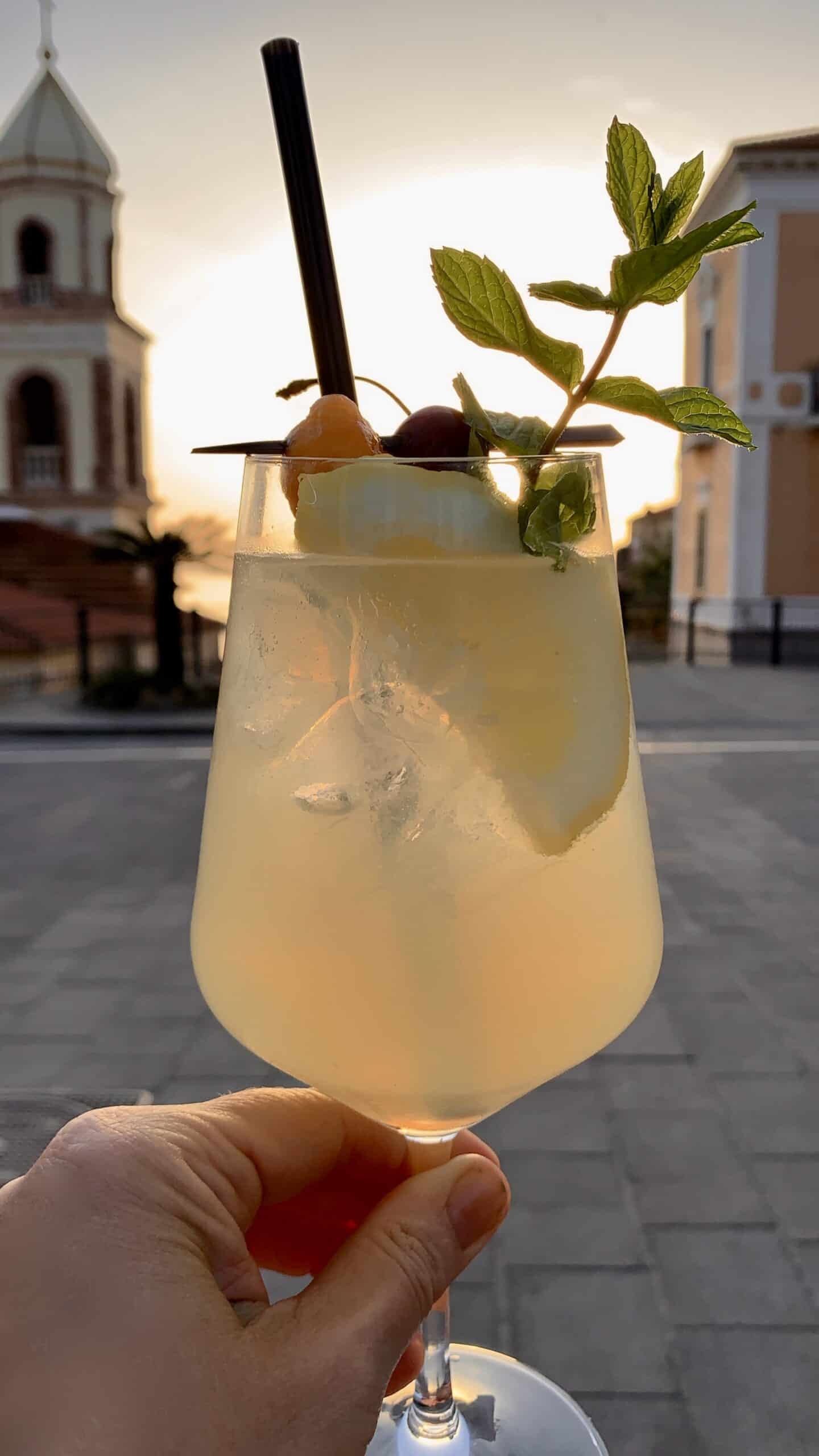 My limoncello spritz was so light and refreshing! It's the perfect summer cocktail. Just be sure to use normal limoncello for this drink (you don't want to use a creamy limoncello). However, note that you can make clear limoncello using my 24 hour limoncello recipe by switching the milk for water.
Limoncello lover? Try this limoncello cheesecake!
Is it Limoncello or Lemoncello?
Definitely, 100% LIMONCELLO! Lemoncello or lemon chello, is just a mispronunciation and misspelling by English speakers who are using the word, "lemon" instead of the Italian "limone". So next time you say it, pronounce the "i" as "ee" and you'll sound like a pro! It's lee-mohn-CHEH-LLaw.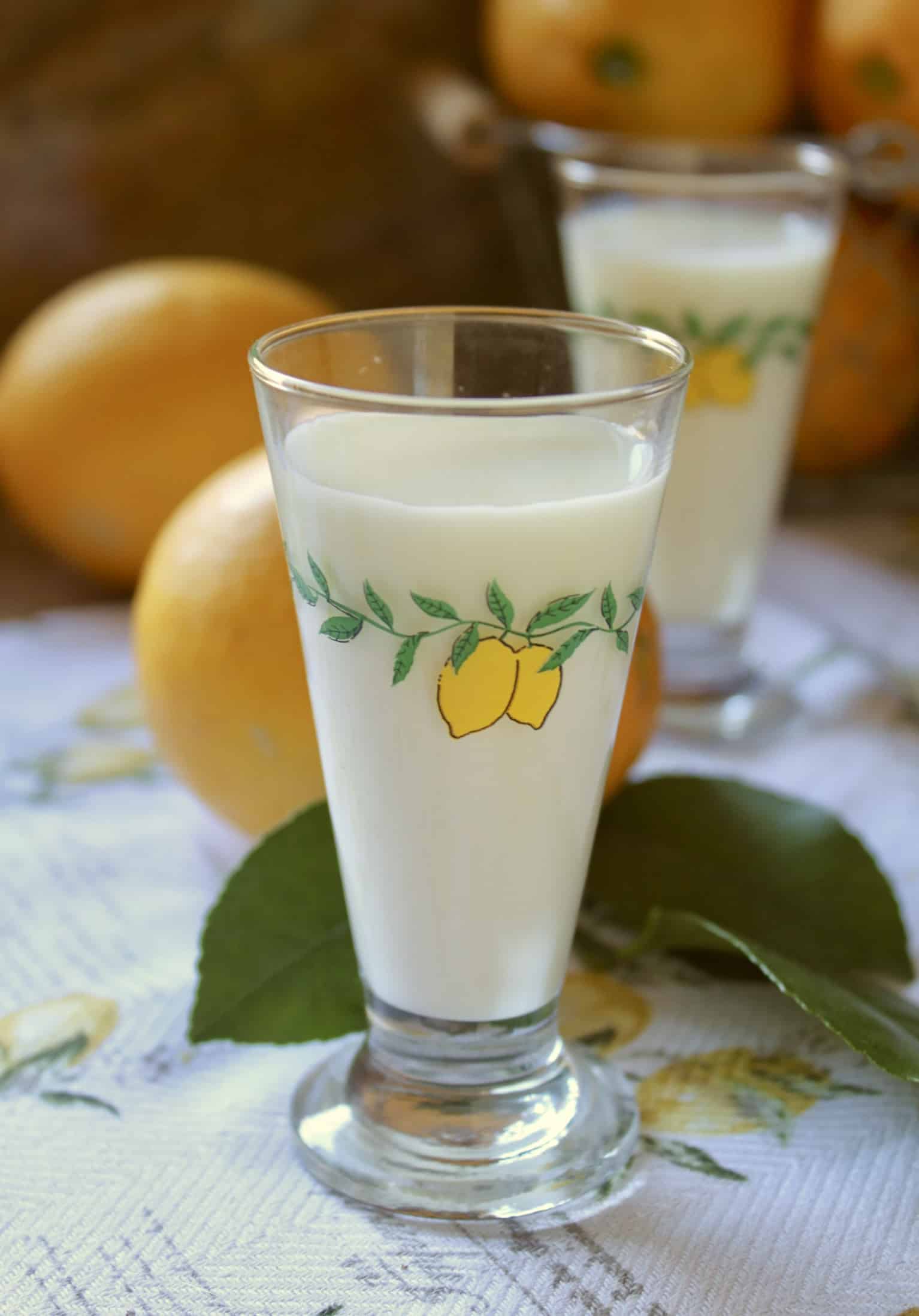 You can try this easy, no-bake limoncello tiramisu, too!
My Italian limoncello spritz was served with half a lemon slice, a cherry and ball of cantaloupe, and sprig of mint, but honestly, use whatever you have handy. As you can see, I used a piece of orange, strawberry and sprig of mint (with a whole lemon slice in the drink as my lemon was quite small). You can slide a lemon slice onto the edge of your glass, like this frozen lemon drop martini slush.
Or just garnish with half a lemon slice on the edge of the glass as I did on this lemon drop martini. And if you haven't heard of a sgroppino, that's another amazing lemony beverage that's part dessert! A wonderful treat for summer!
Last, but not least, you will want to know about a Hugo spritz, which is another cocktail you'll see on menus across Italy. If you like elderflower flavor, this one's for you!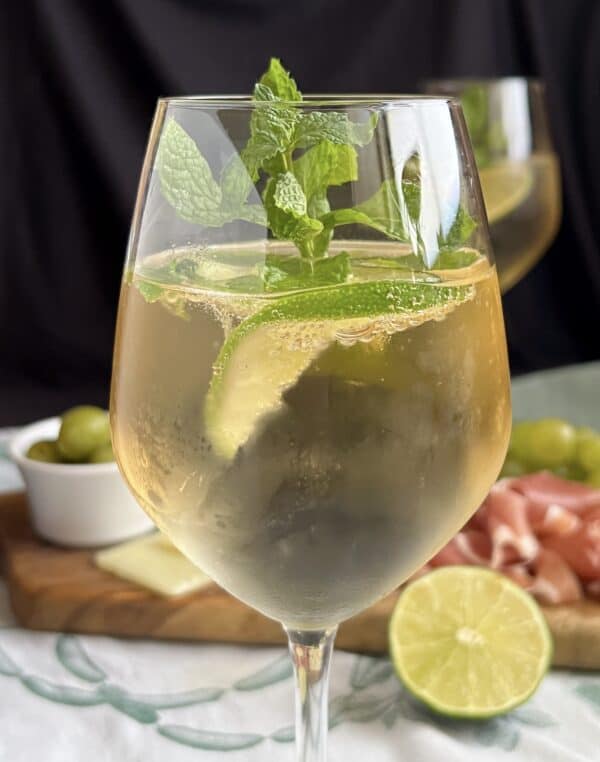 But for now, let's make a limoncello spritz!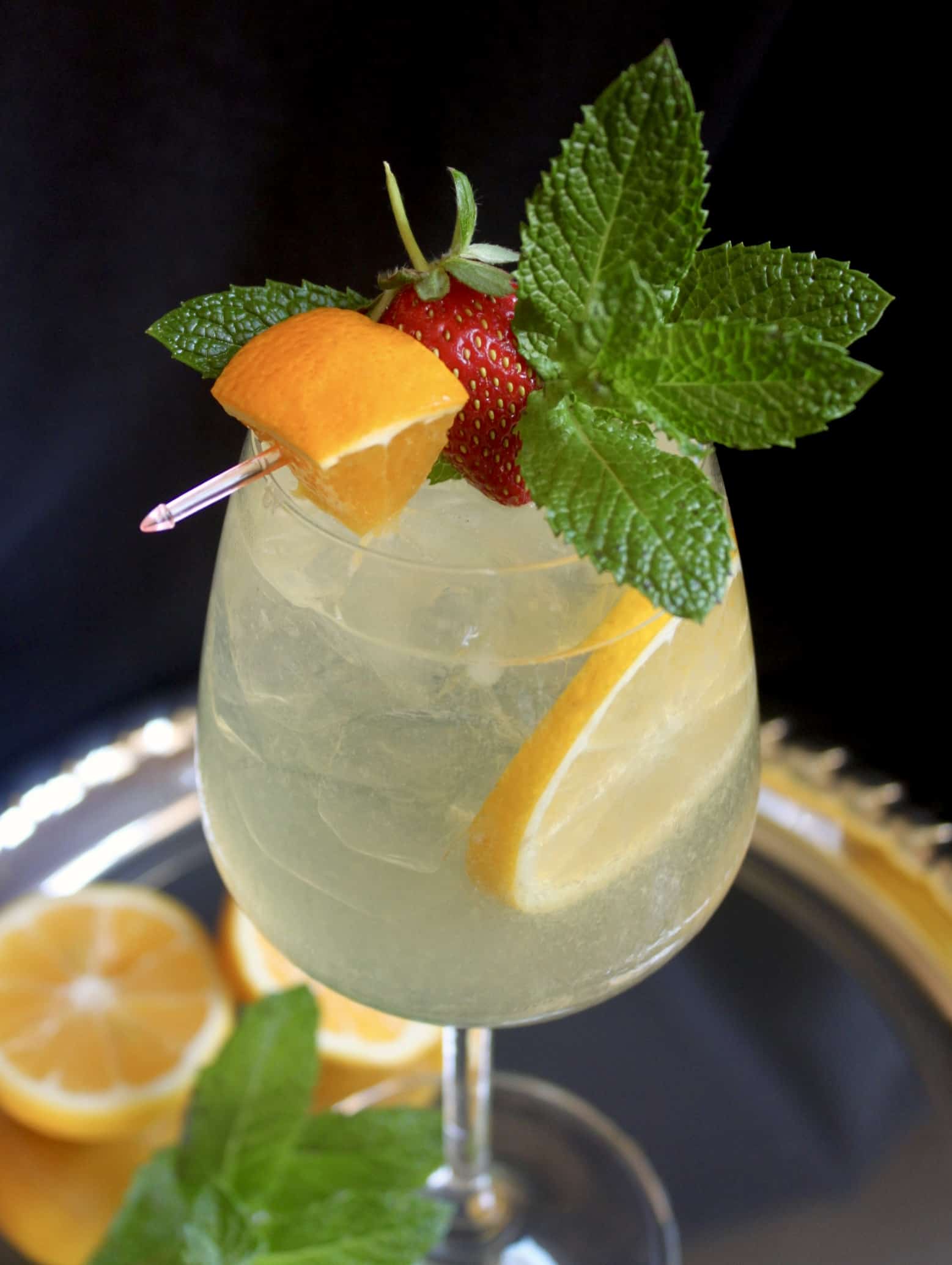 Limoncello Spritz
(Italian Limoncello Cocktail Recipe)
recipe by Christina Conte makes 2 beverages
FULL PRINTABLE RECIPE BELOW
Special equipment: two 12 or 14 ounce wine glasses (preferably tulip shaped).
Pour crushed ice into the glasses, about half full.
Add the limoncello liqueur.
Then pour in the Prosecco, and a splash of sparkling water.
Add a slice of lemon to each glass, and garnish as desired.
Cin cin! (Pronounced cheen-cheen!)
I recently bought a clear ice ball maker and just LOVE it! I crushed the clear ice to make these cocktails.
Limoncello Cocktail (Italian Limoncello Spritz Recipe)
A refreshing, light and lemony cocktail originating in Southern Italy.
Ingredients
crushed ice
4 oz limoncello
12 oz of prosecco
2 splashes of sparkling water (optional)
2 lemon slices for garnish
fruit and mint sprigs to garnish, if desired
Instructions
Pour crushed ice into the glasses, about half full.
Add the limoncello.
Then pour in the prosecco, and if desired a splash of sparkling water.
Add a slice of lemon to each glass, and garnish as desired.
Nutrition Information:
Yield:

2
Serving Size:

1
Amount Per Serving:
Calories:

300
Total Fat:

0g
Saturated Fat:

0g
Trans Fat:

0g
Unsaturated Fat:

0g
Cholesterol:

0mg
Sodium:

10mg
Carbohydrates:

32g
Fiber:

0g
Sugar:

29g
Protein:

0g
Nutrition information is only estimated.
Christina's Cucina is a participant in the Amazon Services LLC Associates Program, an affiliate advertising program designed to provide a means for sites to earn advertising fees by advertising and linking to Amazon.com.