Sgroppino is an incredibly refreshing lemon cocktail and/or dessert which was created in Venice. It will quickly become one of your favorite summer drinks!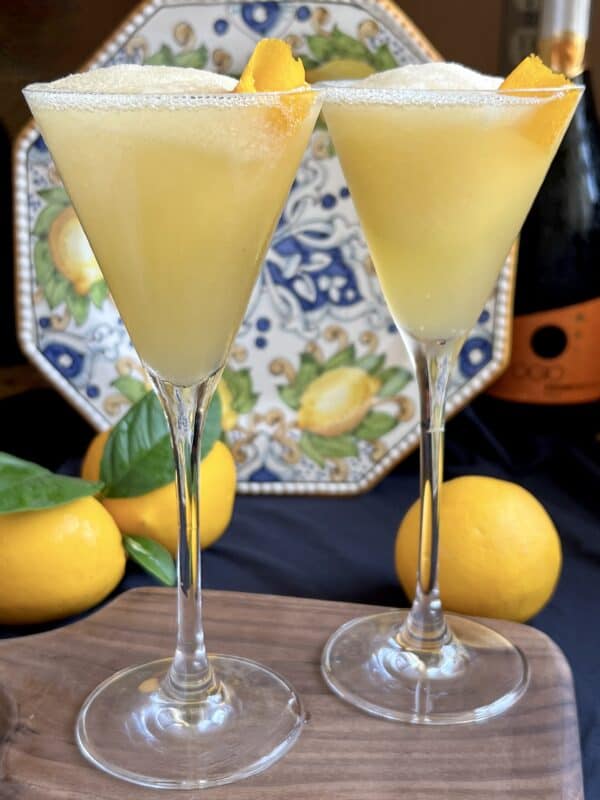 If you've never heard of a sgroppino, that's okay, just do yourself a favor and try one, ASAP!
As an Amazon Associate I earn from qualifying purchases.
You only need three ingredients and a blender, and you're all set. Even if you don't have a blender, you can still put this sgroppino together with perfect results.
This is a sgroppino I had in New York City before heading off to Italy this summer. Although the way of serving this is great for photos, it's not practical, so I wouldn't recommend filling the glass above the rim. The sorbet melts quickly so it makes a sticky mess (tip: serve with a spoon). Note the Aperol spritz in the background.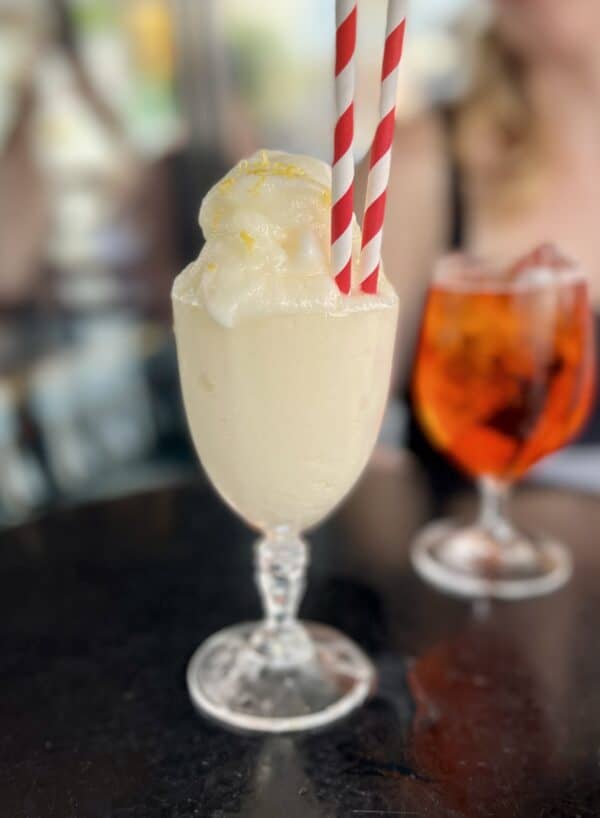 Pronounced "S-groh-PEE-noh"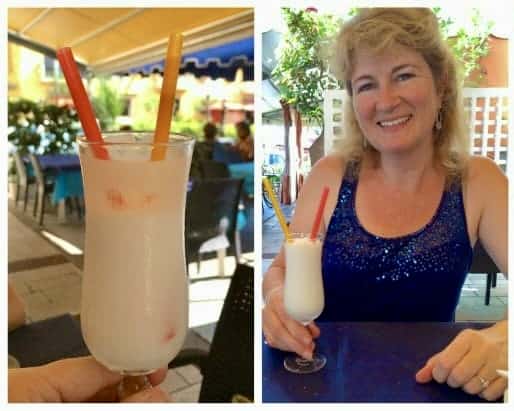 What Does Sgroppino Mean in Italian?
Sgroppino is simply the name of this slushy lemon cocktail/dessert. However, the name apparently is derived from the Italian verb sgroviliare which means "to unwind". This eludes to the fact that it is a post-dinner drink (digestivo) which helps digestion. It is also a great palate cleanser when served in small dishes in between courses. I have another slushy lemon cocktail (frozen lemon drop martini) that I shared years ago.
History of This Frosty Lemony Beverage
The creation of sgroppino is difficult to assess as I've discovered through scouring the internet on both English and Italian sites. One thing that sounds plausible to me is that grappa was originally used instead of vodka. Given that grappa is an Italian spirit makes so much more sense, however, now vodka is the chosen tipple.
The biggest problem is that almost no one credits their sources so that nothing is reliable (imho) so I'm not going to pass along misinformation. Simply because others have shared something doesn't mean it's correct or true.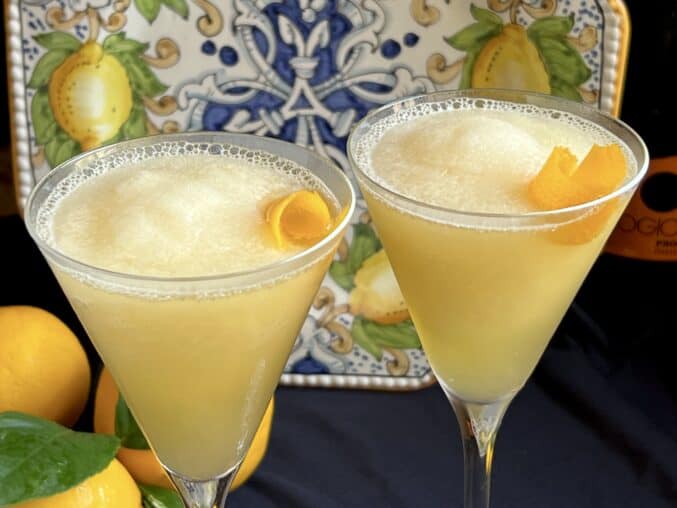 For example, I discovered a lot of US bloggers were sharing a recipe for a shandy which was completely and utterly wrong. Clearly, someone had shared how to make a shandy, not having had one in the UK, and got the lemonade part wrong because they didn't know what lemonade is in Great Britain. Ugh. So then everyone else copied this misinformed person's directions (I have no clue who shared first), and the internet was rife with misinformation about this beer beverage until I posted how to make a proper shandy.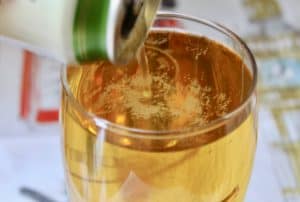 When Should Sgroppino be Served?
As noted above, sgroppino is a digestivo, or after dinner drink, which can also double as dessert. However, it's a lovely afternoon treat on a hot summer day, too. Since it's a bit sweet, it's not a great option for an aperitivo (before dinner drink).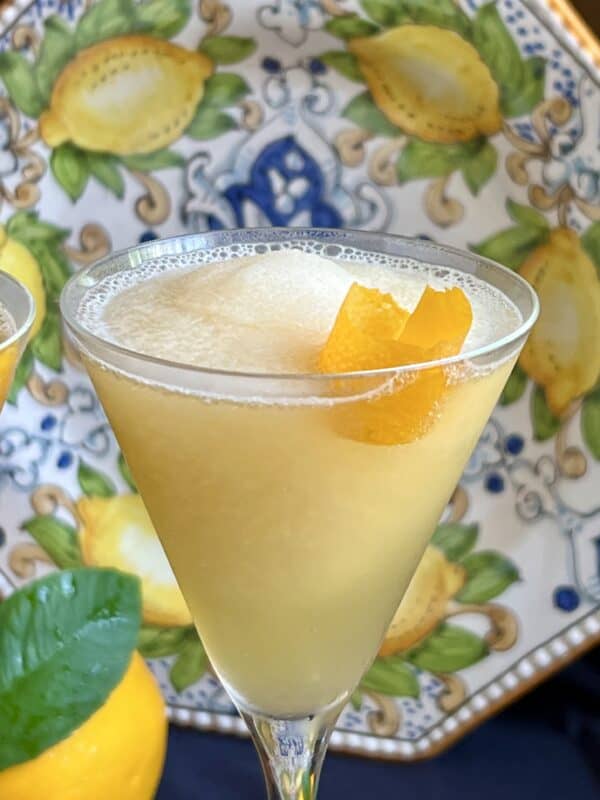 How to Make Sgroppino (Easy Recipe)
by Christina Conte (originally created in the Venice region) Makes 2 servings
FULL PRINTABLE RECIPE BELOW
Ingredients
lemon sorbet (here is a recipe for lime sorbet – just use lemons instead of limes)
vodka (or grappa)
Prosecco (preferably DOC or DOCG)
(optional: lemon curl or zest to garnish)
Be sure the sorbet isn't too hard (if your freezer is set very cold) then put the scoops into a blender or cold metal bowl, if mixing by hand. Pour in the vodka/grappa and the Prosecco and blend until frothy and smooth. Use a whisk in the metal bowl until the proper consistency is reached.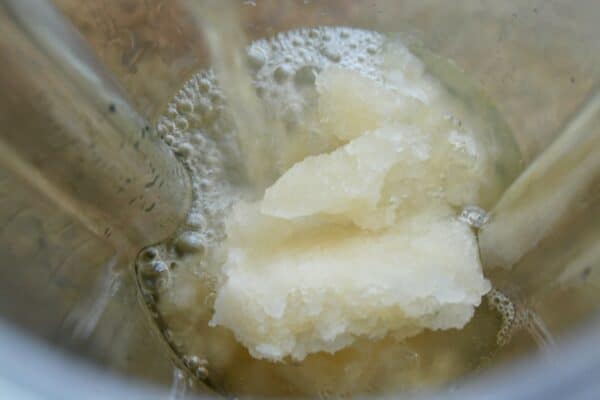 Pour into a cocktail glass, or any glass you like (it's not served in a specific shaped glass as far as I know) with a spoon, if desired, and garnish.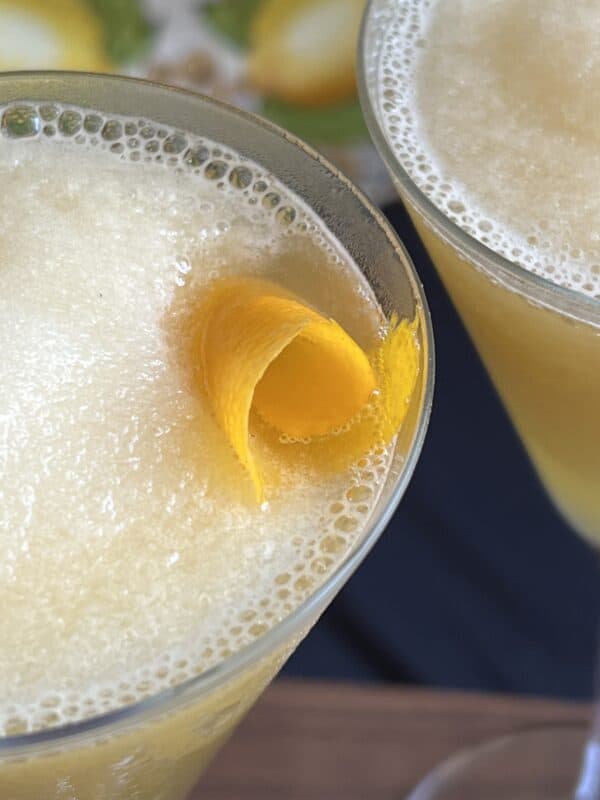 The drink or dessert should be in between a sorbet and a beverage, like a slushie, for lack of a better term.
Cin cin! (pronounced cheen-cheen)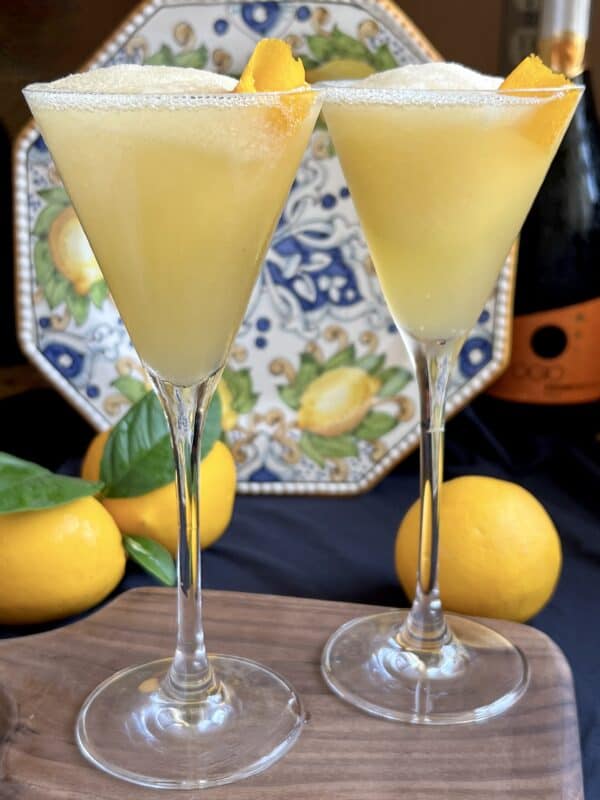 NOTE: The measurements aren't critical in this concoction and you can almost eye the ingredients to get the desired consistency, so it's a no-stress cocktail!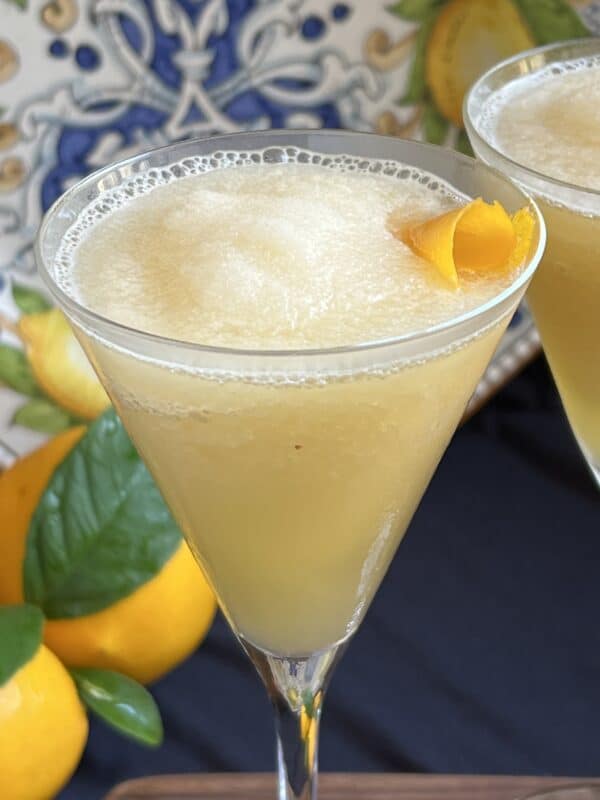 Sign up for my free subscription and never miss another recipe!
Sgroppino, a Refreshing Italian Lemon Cocktail or Dessert
A refreshing, icy lemon cocktail which can also be served as dessert. First created in Venice, Italy.
Ingredients
4 scoops of lemon sorbet (ice cream scoop sized)
1 oz vodka (or grappa)
2 or 3 oz of Prosecco (DOC or DOCG if you can source it)
(optional: lemon curl or strip to garnish)
Instructions
Add all of the ingredients to a blender and blend until frothy.
Pour into desired glasses.
Serve with garnish, if using.
Notes
Make sure the sorbet isn't rock hard before using.
If you don't have a blender, put all the ingredients into a cold steel bowl and whip until frothy. Serve.
Nutrition Information:
Yield:

2
Serving Size:

1
Amount Per Serving:
Calories:

338
Total Fat:

0g
Saturated Fat:

0g
Trans Fat:

0g
Unsaturated Fat:

0g
Cholesterol:

0mg
Sodium:

25mg
Carbohydrates:

64g
Fiber:

1g
Sugar:

59g
Protein:

0g
Nutrition information is only estimated.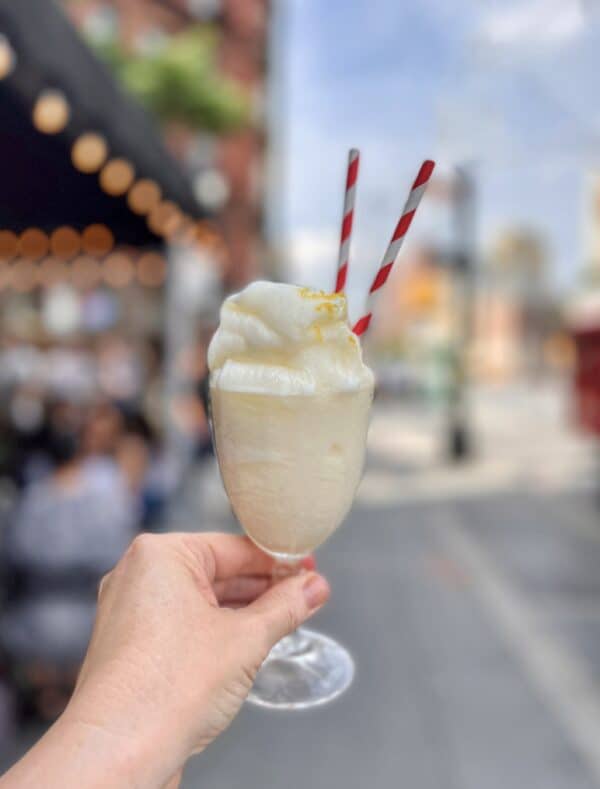 Christina's Cucina is a participant in the Amazon Services LLC Associate Program, an affiliate advertising program designed to provide a means for sites to earn advertising fees by advertising and linking to Amazon.com.