A traditional British Shandy has had little problem with translation in crossing the pond. The difference in what you will be served in an American bar, as opposed to a British pub, if you ask for a Shandy may surprise you.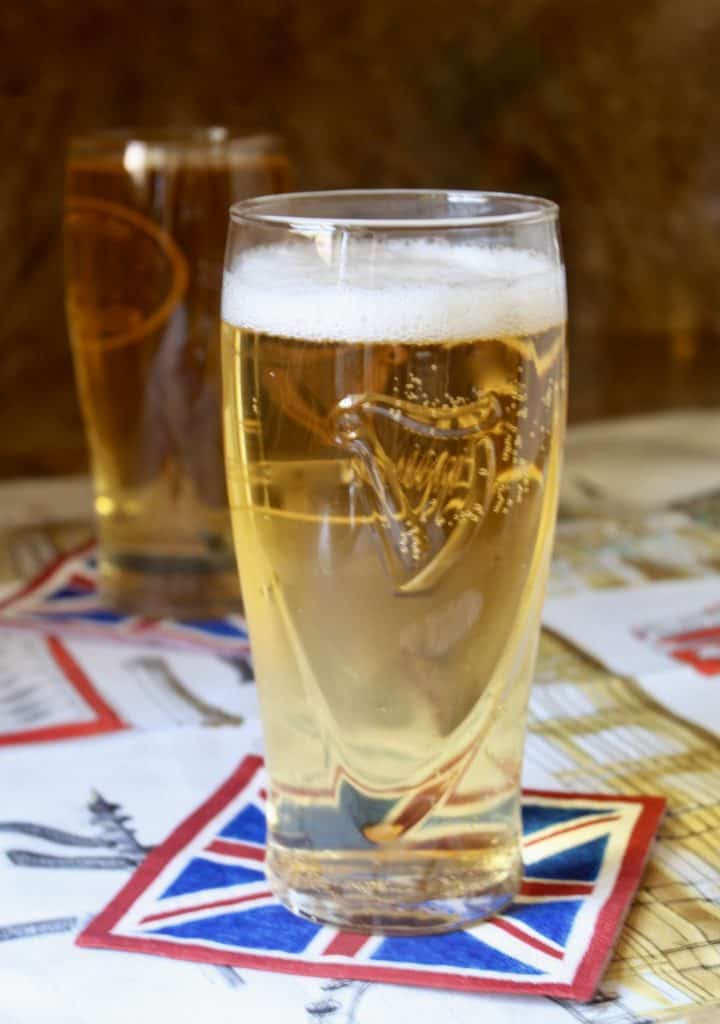 With England advancing to the semi-finals in the World Cup in a few hours, I think this is a very timely post!
If it's hot where you are, this would be the PERFECT beverage to serve to watch the game. (As long as your time zone cooperates if you're watching it live.)
This post may contain Amazon affiliate links for your convenience, at no added cost to you.
I discovered something last year when I was out with a friend for a drink and nibbles. As we sat at the bar of the restaurant here in LA, we were watching the bartender and talking to him, as you do. At one point, a Shandy came up as an order and I don't exactly remember how it happened, but I realized he was going to make it with beer and lemonade (as in, lemon, sugar and water type lemonade)! I was shocked because this is not a Shandy as I had known it.
Immediately, it all clicked: in the UK, lemon-lime soda (like 7UP) is what is referred to as "lemonade" and so there was a lack of translation when this drink crossed "The Pond"! I explained this to the bartender who was curiously surprised. Instead of adding the US version of lemonade, he made the Shandy with lemon-lime soda. No complaints from the guest!
If you watch this video where James Corden is bartending in Liverpool, the lady asks for a lemonade, and you can see that she gets a clear sparkling soda, not a cloudy, pale yellow lemonade as we know it in the US.
What is a Shandy?
A traditional British Shandy is a mixture of beer (usually a lager) and lemon-lime soda, most commonly a 50/50 ratio. If you like more beer, you can add less soda and vice versa. (Thanks to my niece, Chrissie, who worked as a bartender in the UK (amongst other places), and happens to be living in Sweden now, for the details on a Shandy.)
I'm adding this due to a comment from a reader after posting this: if you're in France, you can order a Panaché (what a Shandy is called in French)! Thanks to my pal Jill at Mad About Macarons for that tidbit. :)
Is Shandy alcoholic?
Well, yes–technically it is as there's beer in it, however, compared to a cocktail, it's very low in alcohol.
Shandy: A Refreshing Summertime Drink!
As I'm not a beer drinker, my biggest experience with Shandy was my dad drinking them in summer. He'd love to have one after he'd been out cutting the grass for hours in the heat and humidity. Dad would come inside and pop open a lemon-lime soda and whatever beer he had, and mix them together (about half and half). He'd always say how thirst-quenching they were.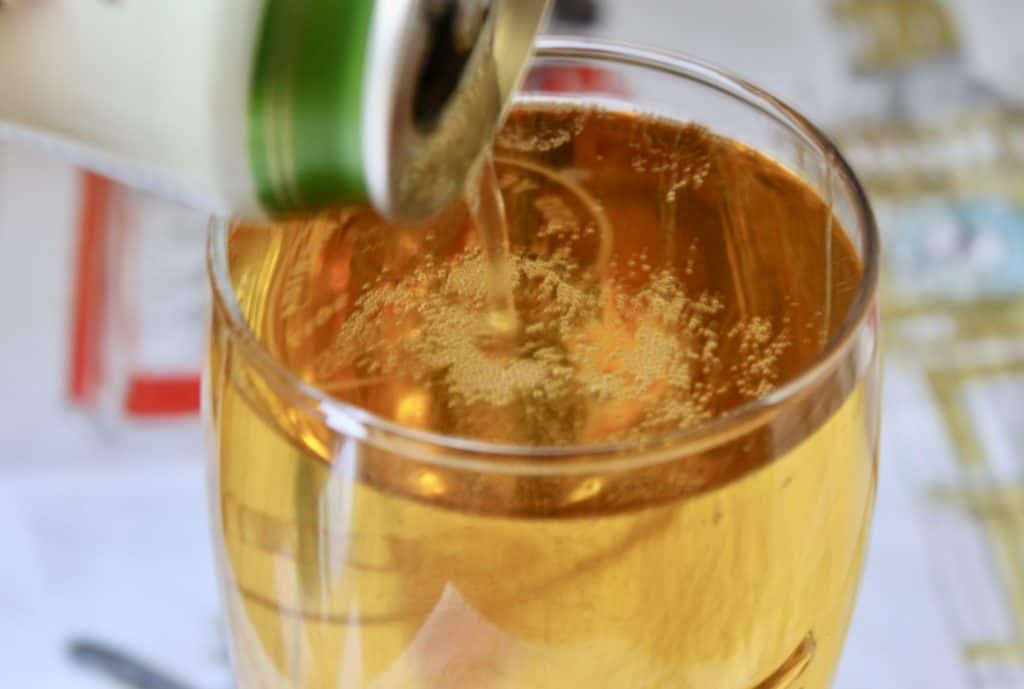 I remember being SO jealous that he liked beer because his Shandy always looked so refreshing. It'd never fail: he'd ask me to taste it, but I have never even liked the smell of beer.
For a hot summer's day, you can try this white wine sangria spritzer recipe~or even a Pimm's Cup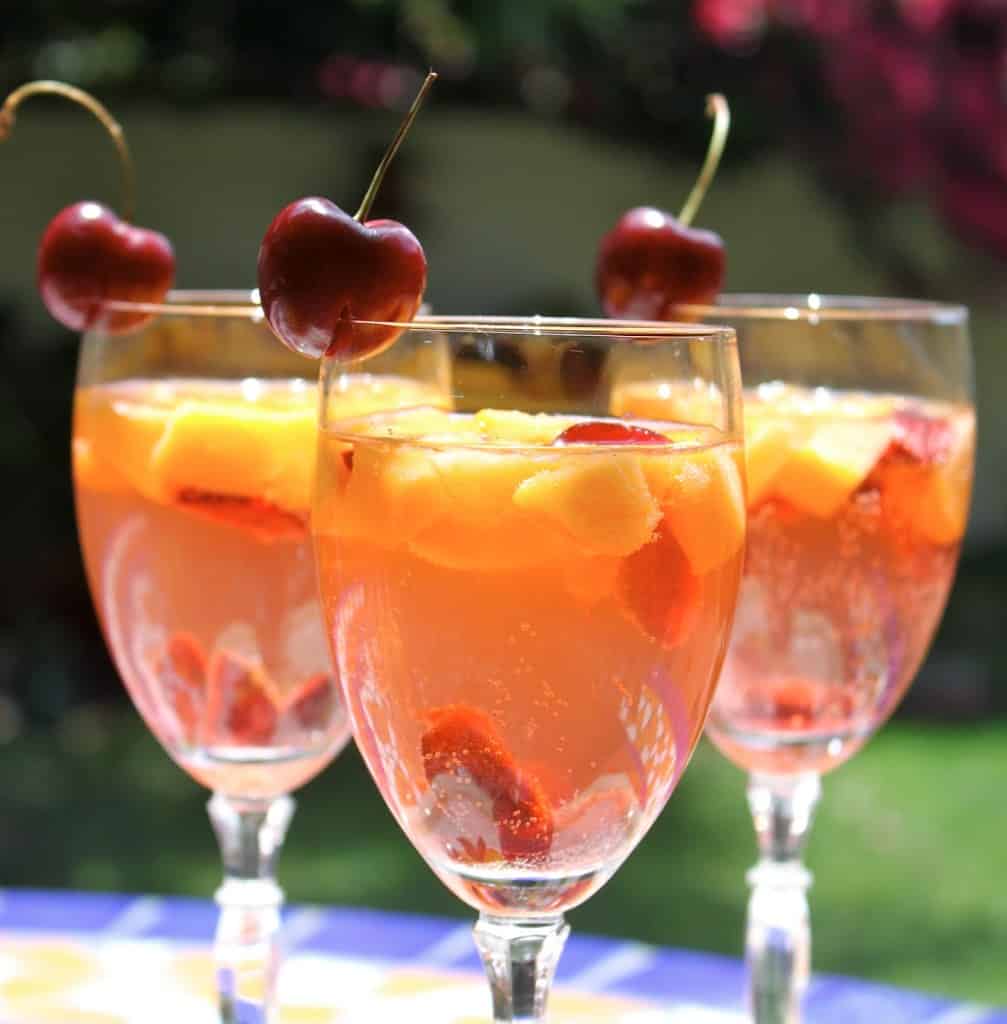 When I told Dad about the lemonade mix up with the Shandy, he couldn't believe it. I suppose now it's too late to get the message out as all of the Shandy recipes I found online are for the wrong type of lemonade! This is much like the ricotta recipes I've seen flooding the internet: 90% of them aren't for ricotta! Ricotta means "cooked twice" so it's a specific way it's made. Most of the recipes all are making cheese, NOT ricotta–ugh.
Unfortunately, people copy too many things off the internet (without proper research or giving credit) and so misinformation floods the web. After a certain point, it's too late to fix it, but in this case, I'm trying my best!
Without further ado, here's the simple, yet traditional British way to make a Shandy.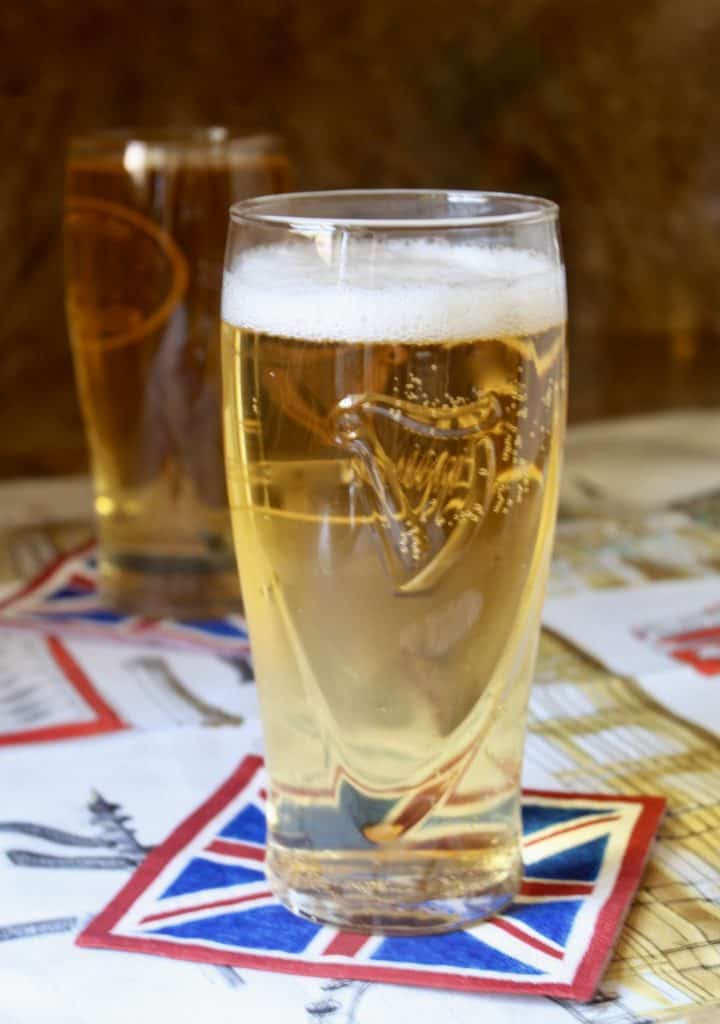 How to Make a Proper Traditional British Shandy
makes one (or two, depending on the size of the glass)
-your favorite lager (chilled is best if it's hot)
-your favorite lemon-lime soda (I recommend using one with sugar, no corn-syrup or sweeteners), chilled
Special equipment – tall beer glasses
Pour half of each beverage slowly into one or two tall beer glasses. It really doesn't matter which you pour in first, just tip the glass to the side when you pour.
Btw, there's no ice in a proper Shandy! I saw recipes that instructed ice to be added! Egads!
Enjoy. And good luck to England's National football team! (As long as Scotland and Italy aren't in, I'll back England 😎)
Like the Union Jack cocktail napkins? Find them HERE.
Check out my Amazon page for lots of my recommendations all in one place.
Yield: 1 or 2 drinks
How to Make a Traditional British Shandy (with Beer, the RIGHT way)
All about a shandy, what it is and how to make it properly (without confusion about a translation from overseas)!
Ingredients
your favorite lager
your favorite lemon-lime soda (I recommend using one with sugar, no corn-syrup or sweeteners), chilled
Instructions
Pour half of each beverage slowly into one or two (depends on the size) tall beer glasses.
Enjoy.
Nutrition Information:
Yield:
1
Serving Size:
1
Amount Per Serving:
Calories:

162
Unsaturated Fat:

0g
Cholesterol:

0mg
Sodium:

0mg
Carbohydrates:

39g
Fiber:

0g
Sugar:

0g
Protein:

0g