This authentic Jamaican jerk chicken recipe is the recipe you've been looking for. Thanks to Chef Dwight Morris for sharing his family recipe so that we can be transported to Jamaica with our tastebuds!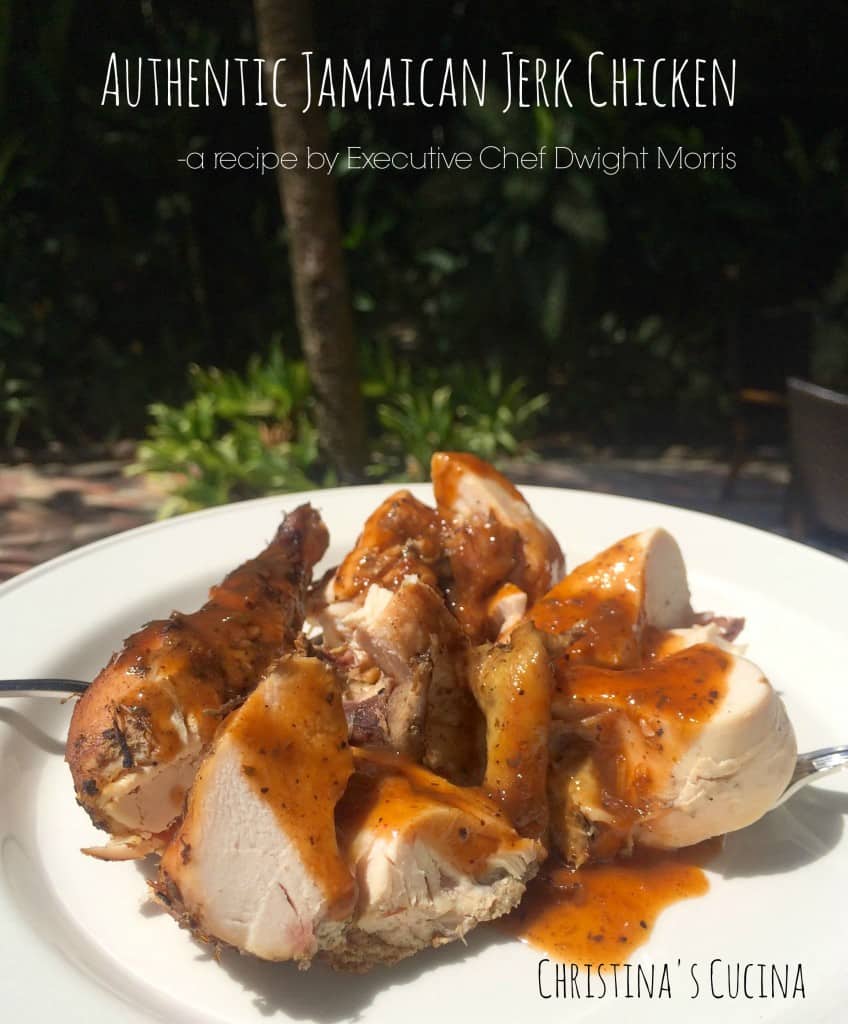 I am not an authority on Jamaican cuisine, but last month I met someone who was. He was kind enough to share his exceptional authentic jerk chicken recipe with me, and I couldn't be more grateful!
As an Amazon Associate I earn from qualifying purchases.
Chef Dwight Morris, Executive Chef at Sunset at the Palms Resort, Negril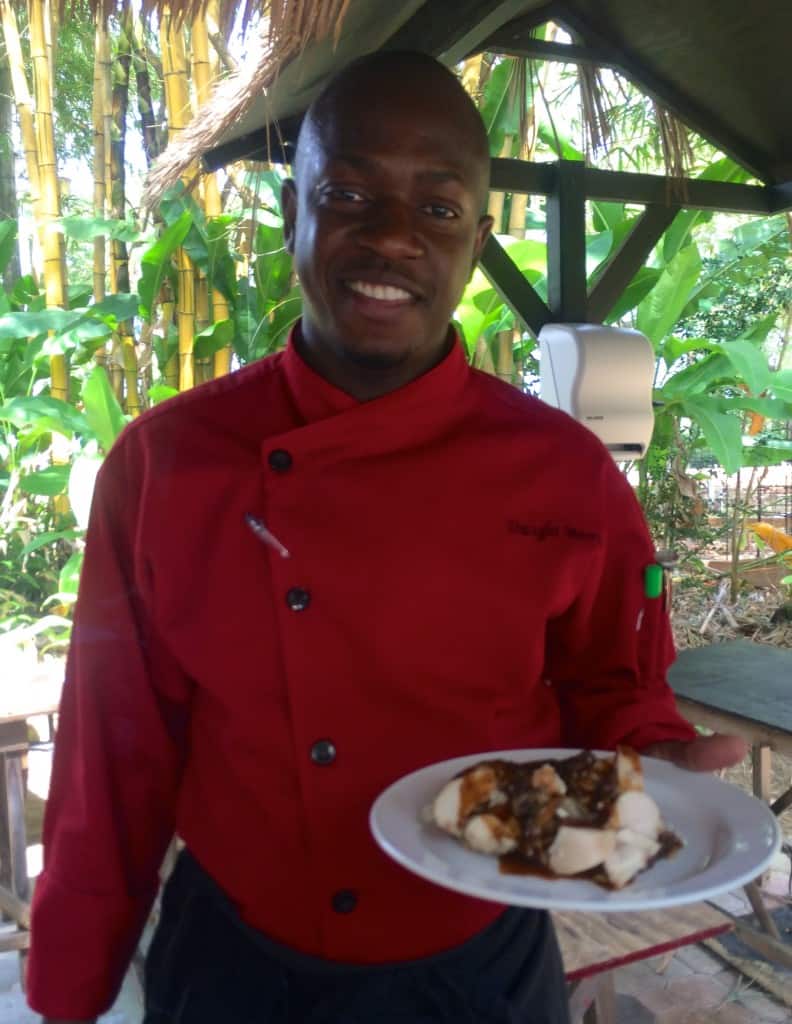 Chef Dwight Morris is the executive chef at the phenomenal Sunset at the Palms Resort in Negril, Jamaica. This is where my husband and I recently had the pleasure of staying for a week. You may recall that I actually won the trip from BevMo! Yes, airfare and accommodations at the Sunset at the Palms all-inclusive resort (food, drinks, and activities)! It was surreal. Just take a look at our beach; this tells you more than I ever could in words.
For those of you who don't believe that anyone wins those sweepstakes giving away dream trips, I will tell you that if it's an honest and reliable company, they absolutely do. BevMo! and the Jamaican Tourist Board gave us the trip of a lifetime! It just so happened to be our 25th anniversary this year, too, so it was perfect timing!
It was our first trip to the Caribbean, and we were awed by Jamaica's beauty.
I have so much I want to tell you, but my post would be much longer than it already is. So I've decided to add another one for first time travelers to Jamaica. I will include helpful tips and things that we did, which you might want to add to your itinerary. SUBSCRIBE to my emails (free) if you don't want to miss my future posts and recipes. Scroll after the recipe for more on the Sunset at the Palms all inclusive resort in Jamaica.
Authentic Jerk Chicken Recipe
By Chef Dwight Morris makes enough base and sauce for 6
FULL PRINTABLE RECIPE BELOW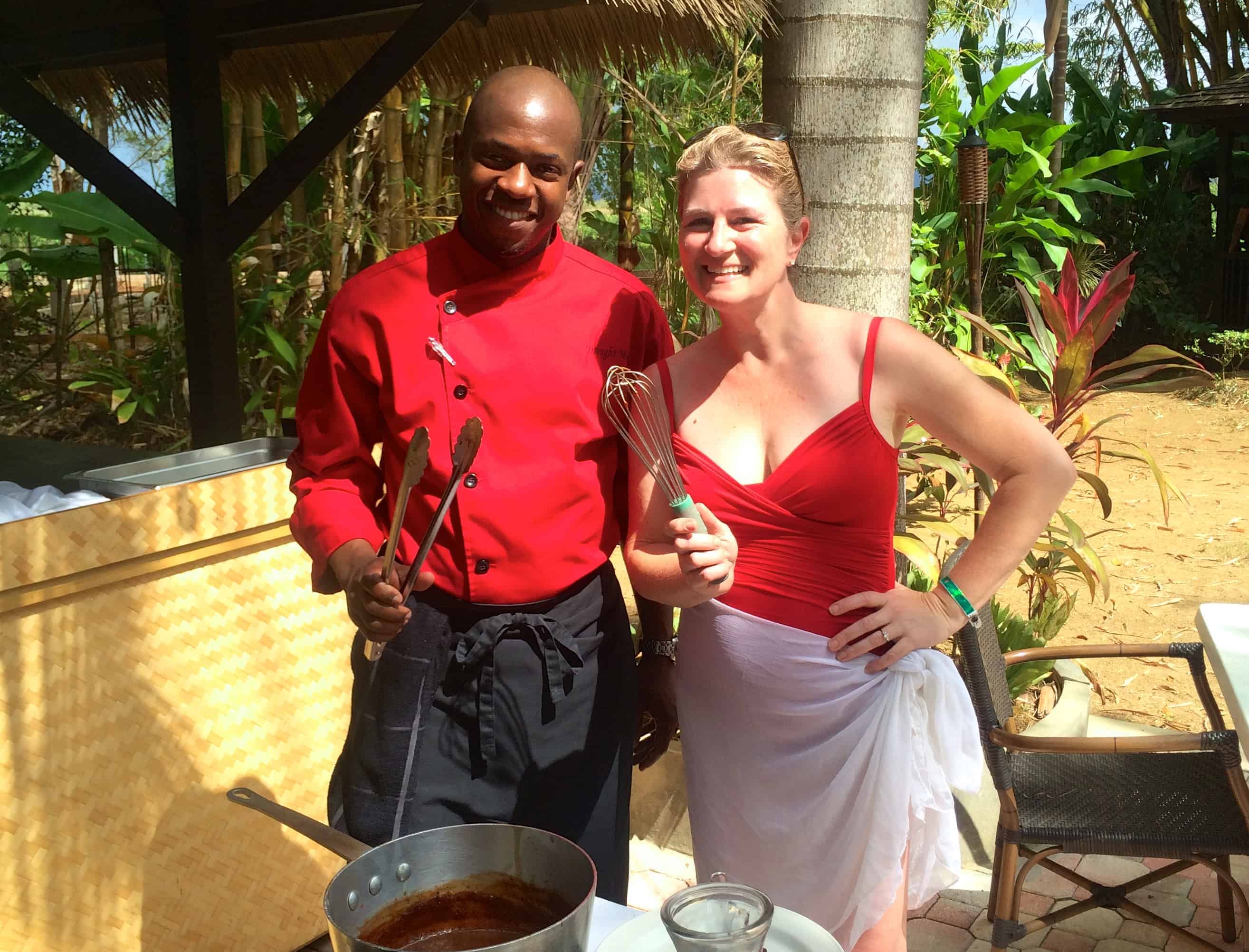 Chef Morris had already prepared half a chicken the night before. It was necessary as the chicken needs to have the jerk sauce rubbed on and left for a few hours before grilling. He then put the prepared chicken on the barbecue grill. While it was cooking, he showed me how the authentic jerk sauce is made.
How is Jamaican Jerk Chicken Cooked?
All the ingredients which are blended to make the jerk base were arranged on the table in front of the cooktop. This jerk seasoning (which ends up like a paste) is rubbed all over the chicken as a marinade before it is cooked on an outdoor grill over allspice wood. It is also the base for the actual authentic jerk sauce which is served over the chicken. I was so excited to be learning this new recipe, but especially in the beautiful outdoor kitchen!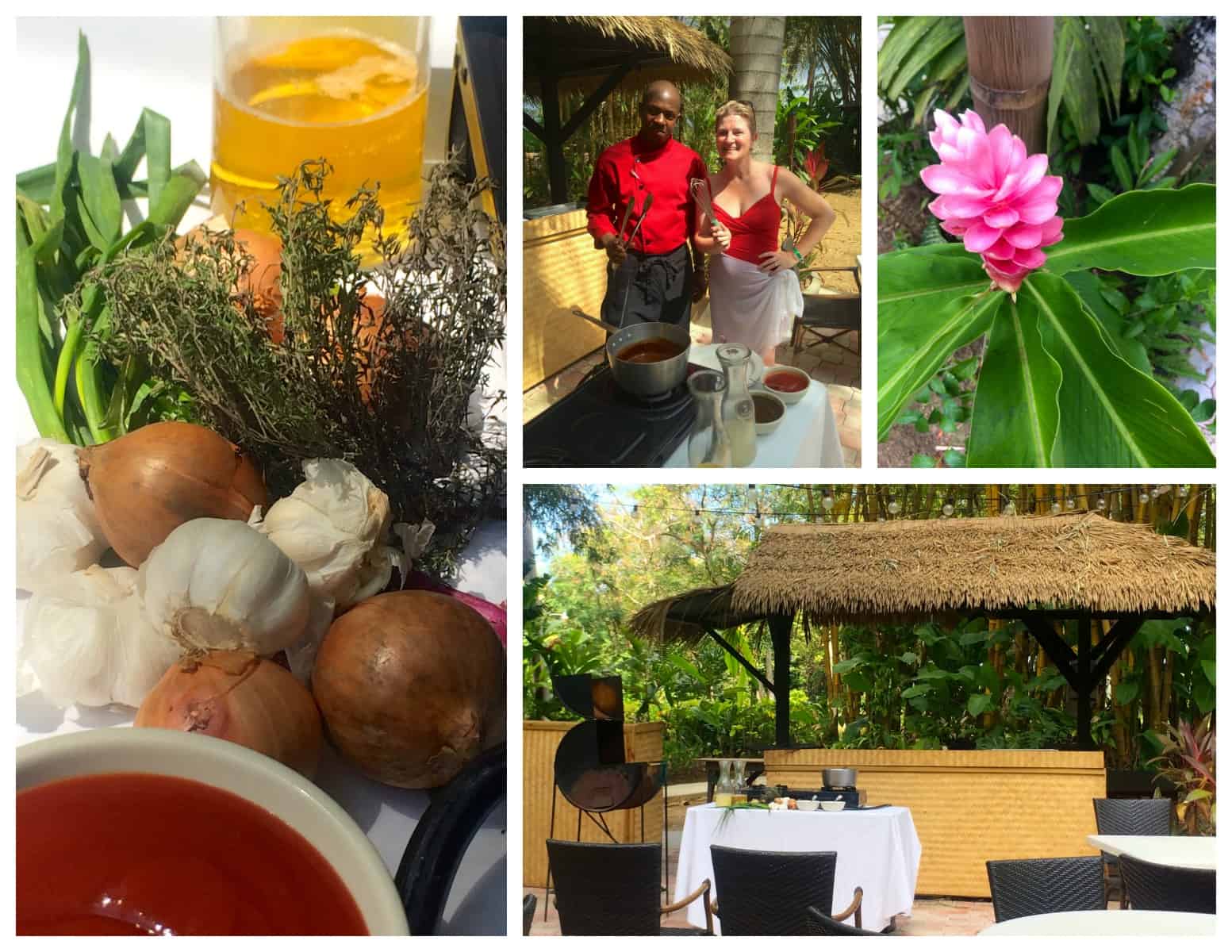 Next, Chef Morris put some of the blended jerk seasoning into a pot, added Red Stripe Beer, pineapple juice and ketchup to make the sauce. He explained that more liquid can be added to make it thinner. Alternately, it can be simmered longer to thicken it (30 minutes to an hour). The aroma from the jerk sauce was making me salivate!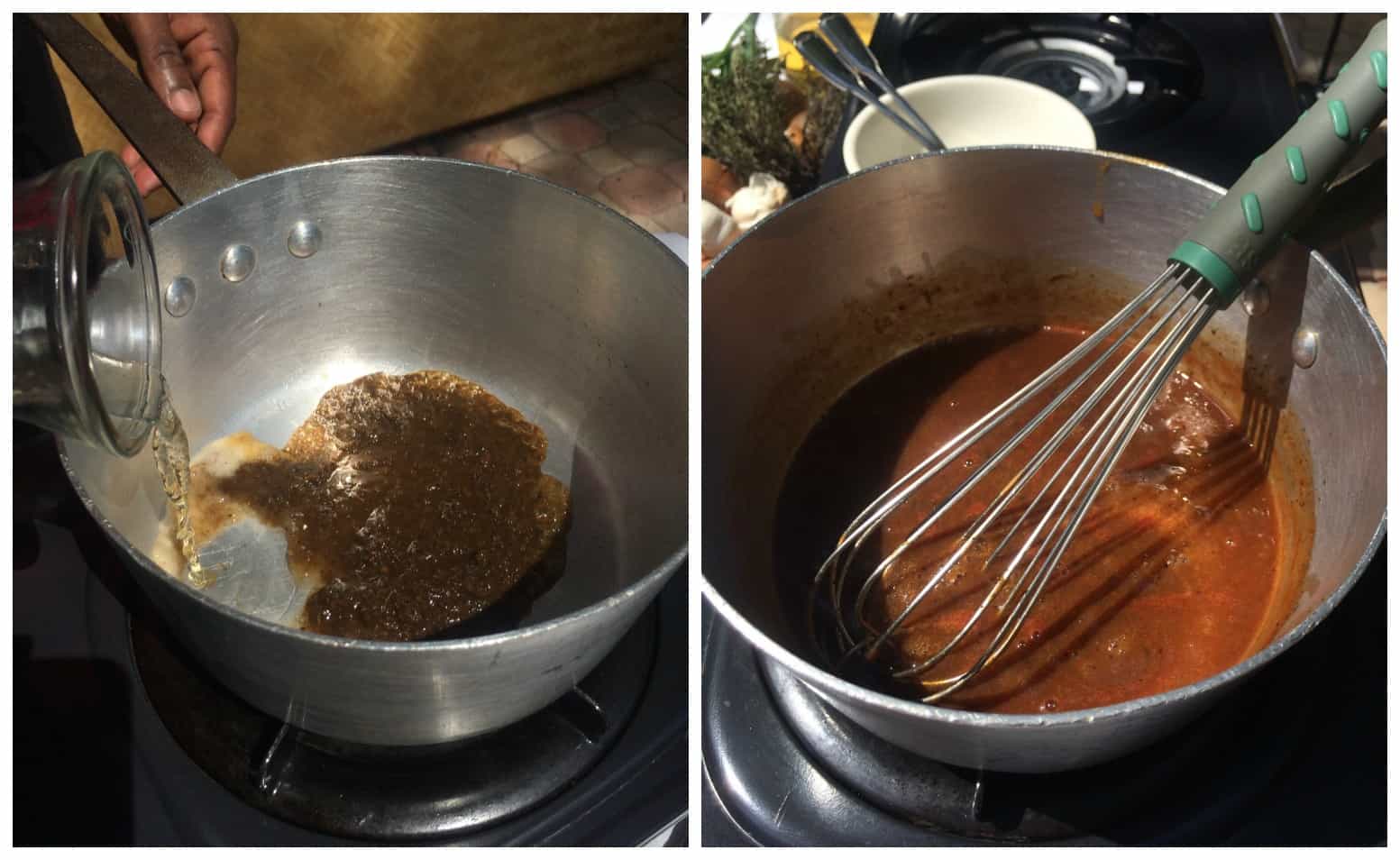 How to Serve Authentic Jamaican Jerk Chicken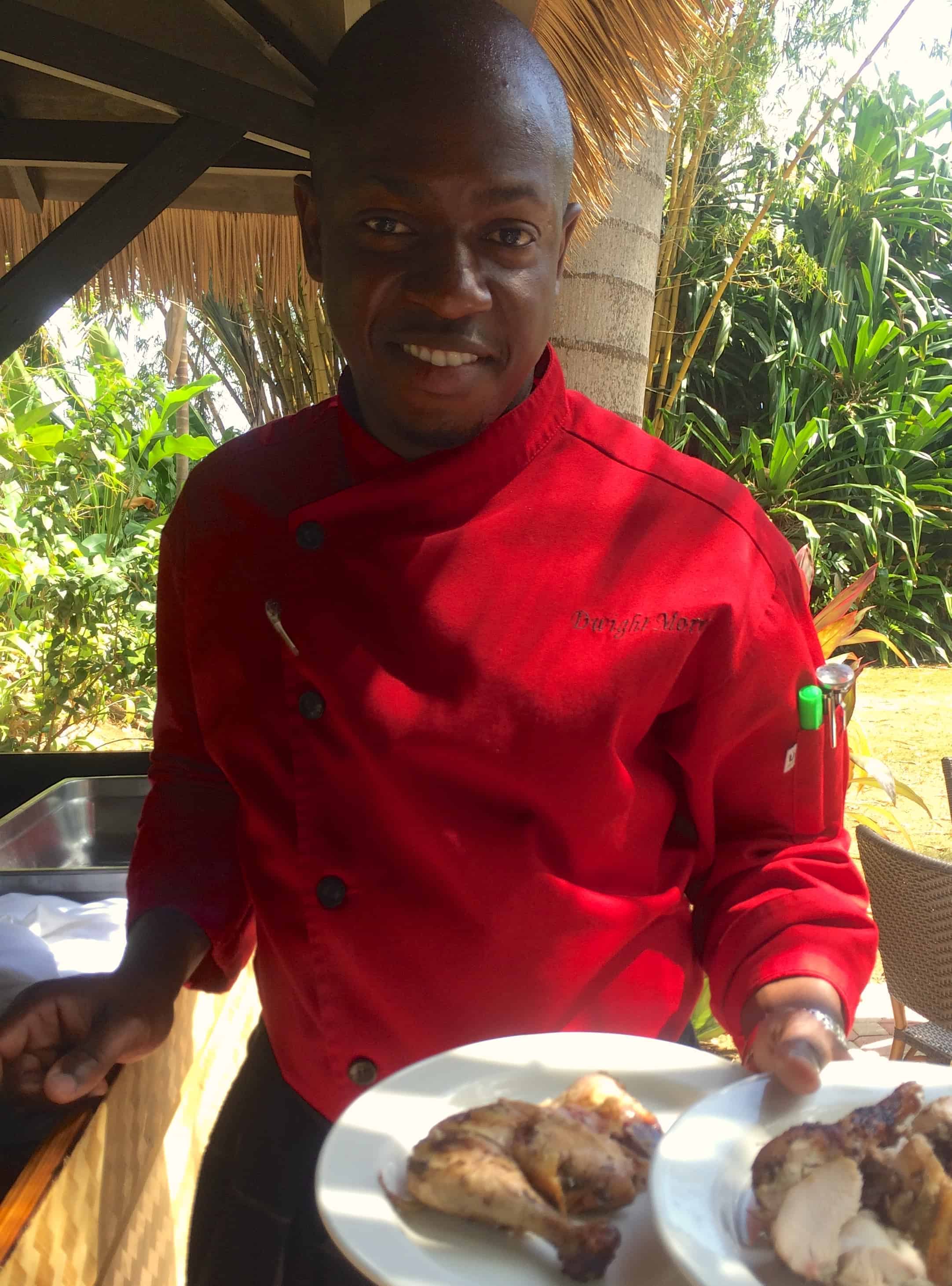 Once the chicken was ready and the jerk sauce had simmered for a while, Chef Morris chopped the chicken into smaller pieces and spooned the sauce over the top. I patiently awaited my first taste!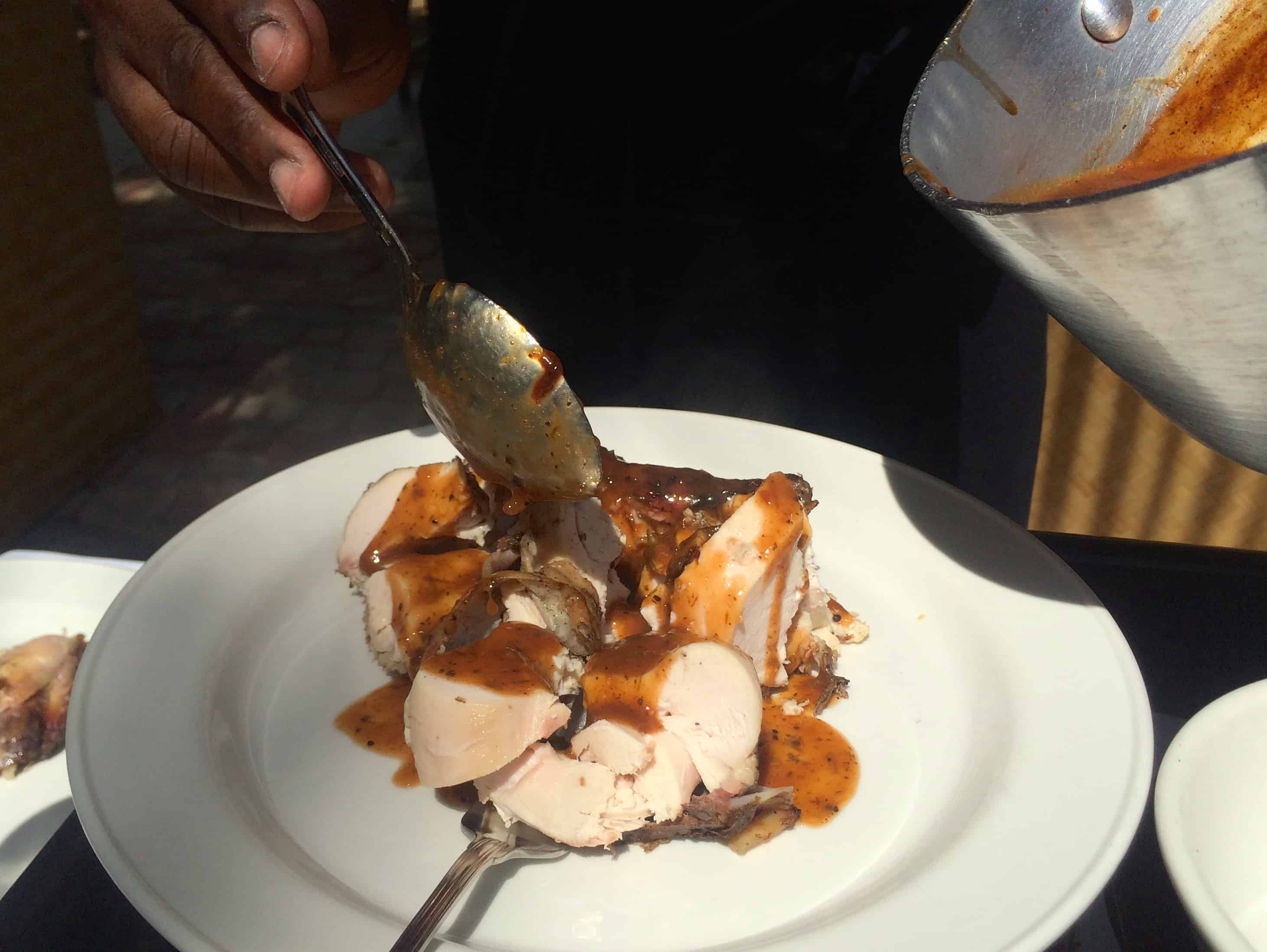 When I tasted the Jamaican jerk chicken, my tastebuds were dancing (I believe I was too)! The combination of ingredients and the spicy flavors were beyond what I was expecting.
I told Chef Morris about a post I once wrote. In it, I pondered about how many different dishes there are in the world that I'd never tasted before, but would love. When I exclaimed that this was one of those dishes, I think that made his day. However, I truly meant it. Talk about finger licking good!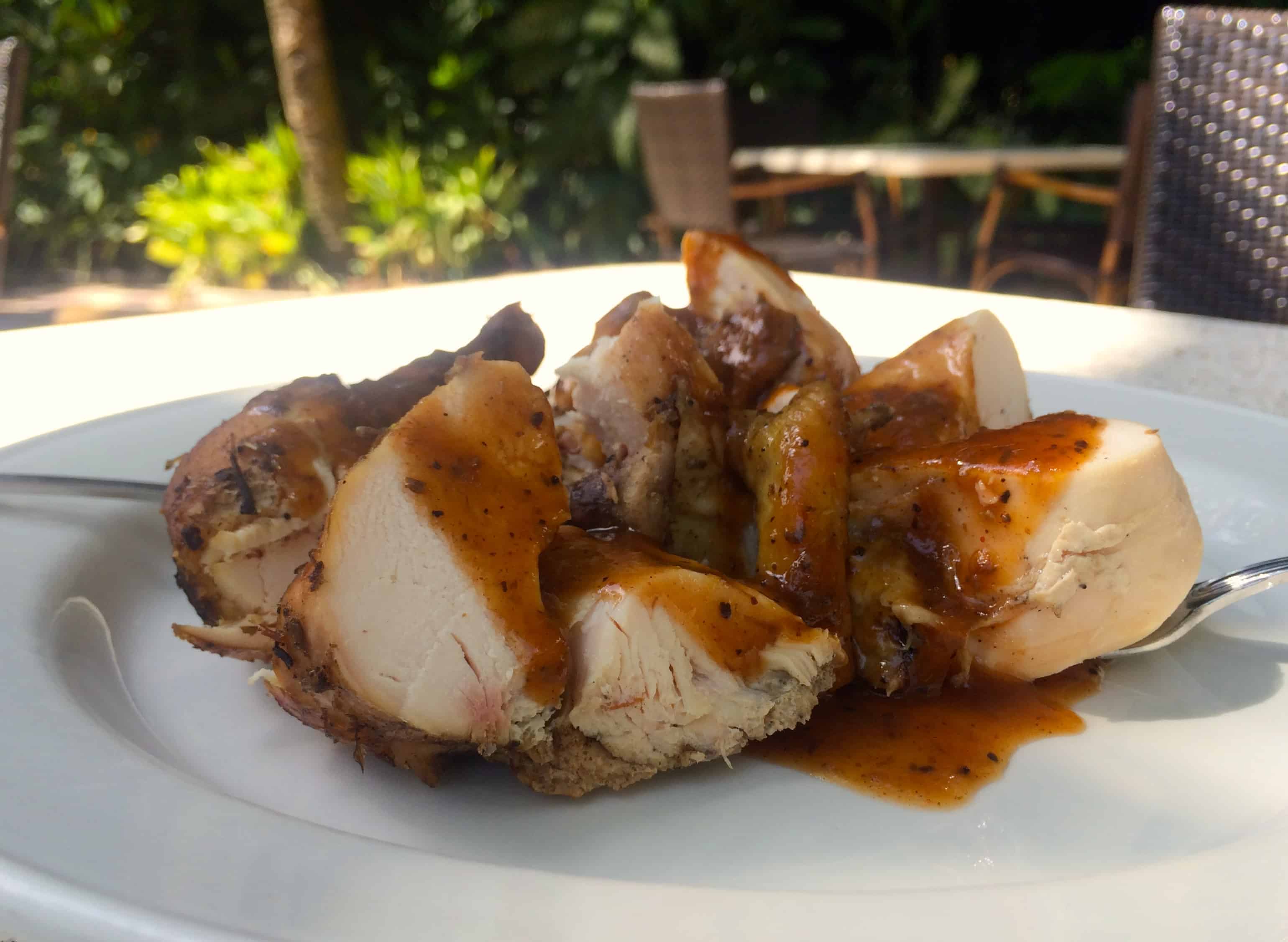 Just as I was tasting the chicken, my husband and friends arrived. They were just in time to sample Chef Morris' wonderful dish, too. Everyone agreed that the chicken was absolute perfection. The sauce had such a great kick to it, as Chef Morris had added a bit more Scotch Bonnet pepper than he usually does. I was so happy to have the chance to learn how to make this iconic Jamaican dish while I was in Jamaica. However, it was extra special to learn to make the authentic jerk chicken recipe from such a wonderful teacher.
Making Authentic Jamaican Jerk Chicken at Home.
I have now made this authentic jerk chicken recipe a few times. In my opinion, it's very close to the version Chef Morris made, so I'm extremely happy. (Printable recipe in box below.)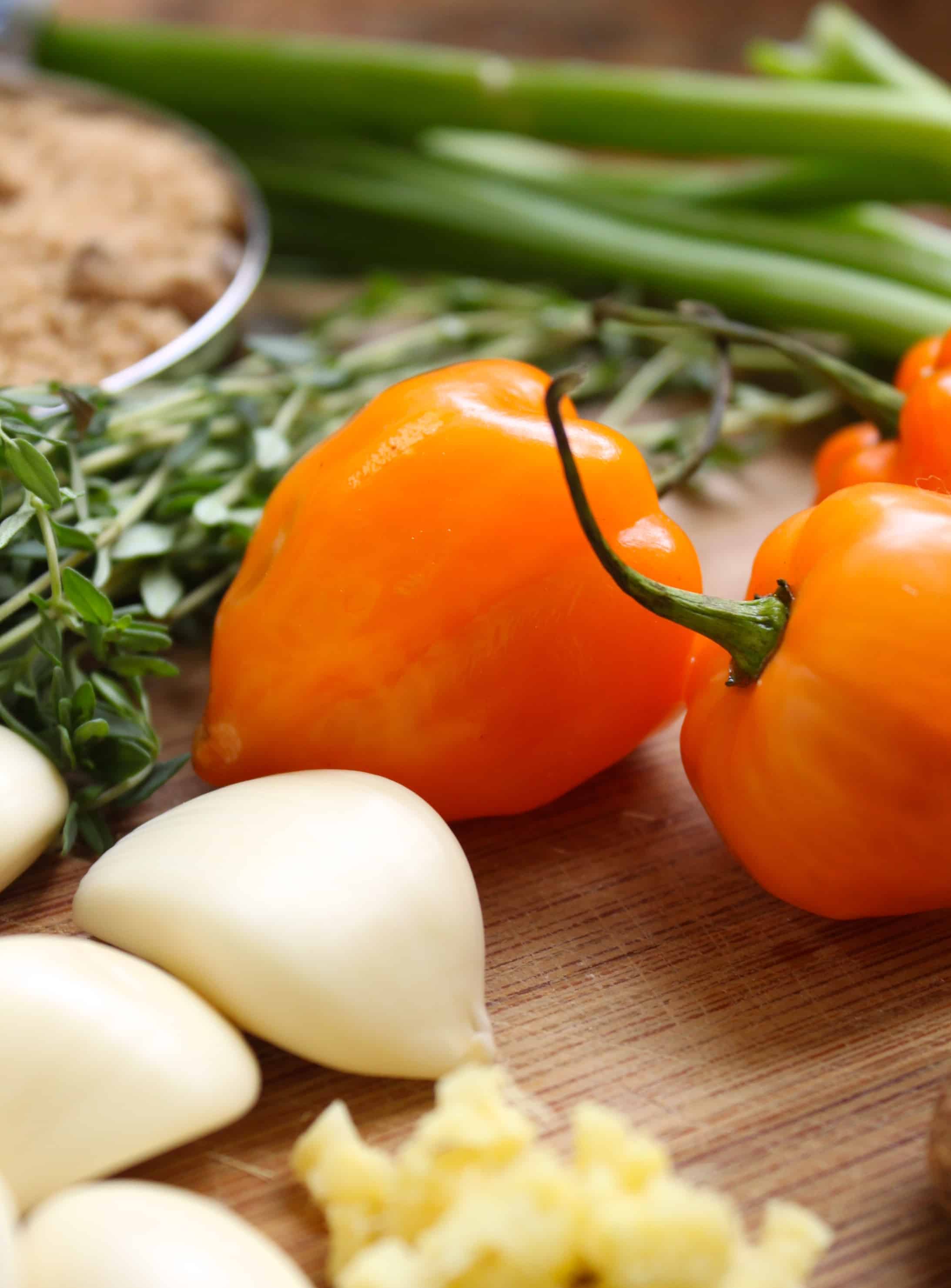 TIP: I made the sauce too thick the first couple of times. Take a look at how you can see the chicken through the sauce in the photo above as it is rather runny.
Authentic Jerk Chicken on the Grill
If you really want the authentic flavors of Jamaica, you can buy pimento wood to fire up your grill, and give it that Caribbean Island flavor! If not, just grill the chicken as you would normally grill chicken on the barbecue.
How do You Make Jamaican Jerk Chicken in the Oven?
I realize that many of you don't have the Jamaican or Southern California weather. This means you won't to be able to grill this on the barbecue many months of the year.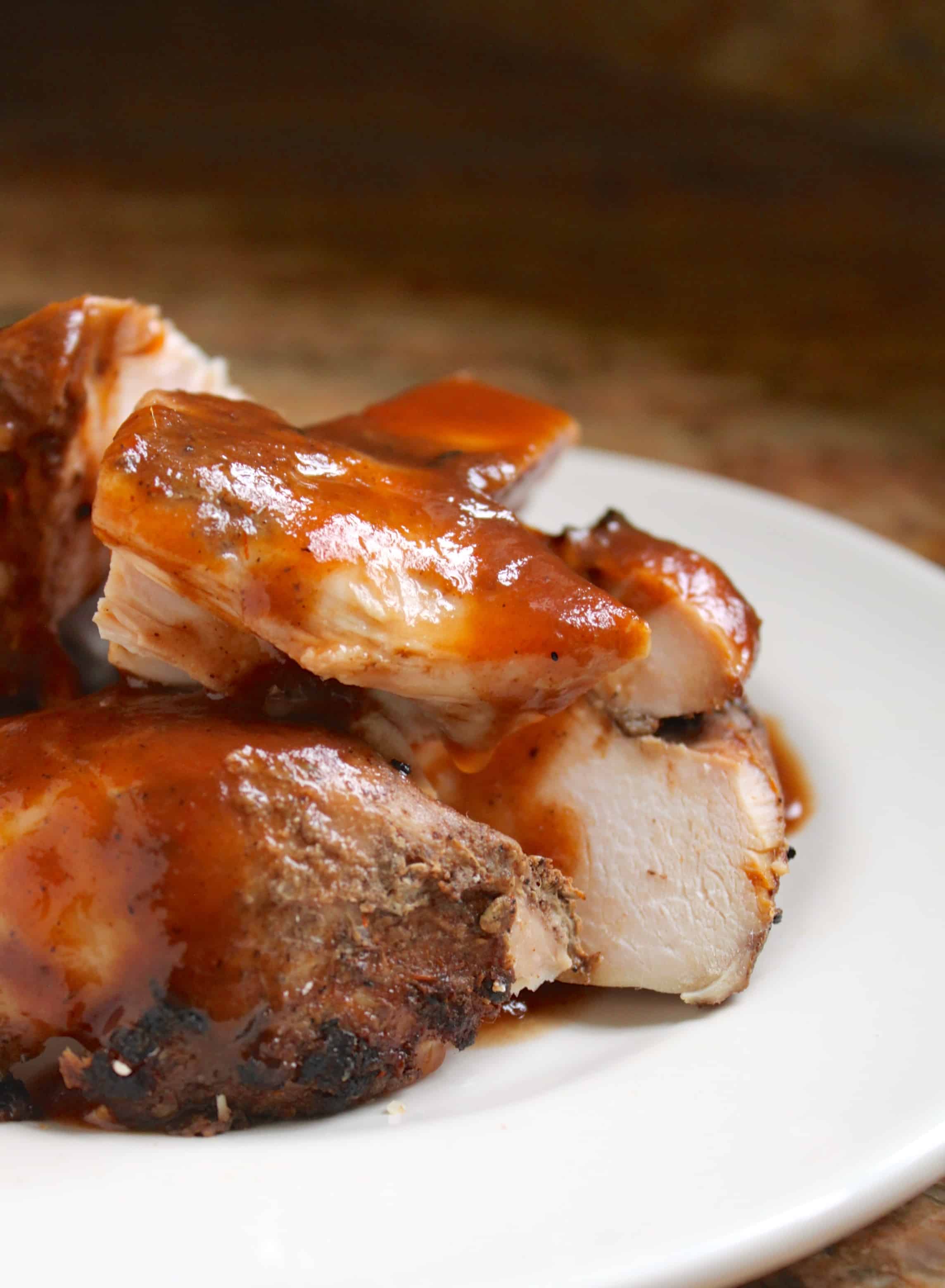 Although it wouldn't be "authentic", you can still make this authentic jerk chicken recipe and cook the chicken in the oven. Roast it as you would a regular roast chicken after covering it with jerk base. Give it a little touch of authenticity by finishing it off with a minute under the broiler/grill, if you like. Don't forget to baste with the beer as you would on the grill.
Sunset at the Palms Adult All-Inclusive Resort in Negril
Sunset at the Palms is an intimate, adults-only, tropical resort located in Negril. This beachside town is on the western coast of Jamaica, about a one and a half hour drive from Montego Bay. Once we arrived, we understood why TripAdvisor named Sunset at the Palms "one of the top ten most romantic resorts in the Caribbean".
From the moment we arrived, we were smitten with the property and location.
Accommodations
One of our favorite features was the treehouse style huts. If you have ever stayed in a hotel, I don't need to tell you how even the most well-meaning guest can be a nuisance with slamming doors or showers running at 4 am. There was a separate, but adjoining hut across from us. However, we never heard or saw the guests once, even though the resort was full and we were there for an entire week.
Despite this, we still met so many fun and interesting people and even made some friends when we were at the pool, having dinner or lounging at the beach.
Activities
My husband admitted at the end of our trip that when we arrived he had wondered to himself, "What in the world will we do here to keep occupied for an entire week?" In the end, he was amazed at how much we had done, and how quickly the week flew by.
Dinner at Sunset at the Palms
Now let's get to the food! I first met Chef Morris at the Chef's Table Dinner one evening. After introducing myself, I asked if he minded if I took photos while dinner was being prepared. Chef Morris was extremely friendly and more than obliging.
When I spoke to him after the wonderful meal, he mentioned a cooking lesson on the beach the next day. I was crestfallen! We had made plans for a day trip to YS Falls and a short cruise down the Black River. I was going to miss the cooking lesson! Chef Morris was so kind that he offered to give me my own private cooking lesson at another time. He must have seen my total look of despair!
Of course, I was elated, but when he told me he'd show me how to make his authentic jerk chicken recipe, I was ecstatic! I had never tasted any jerk dish before visiting Jamaica, but had fallen head over heals in love with the resort's jerk chicken since arriving.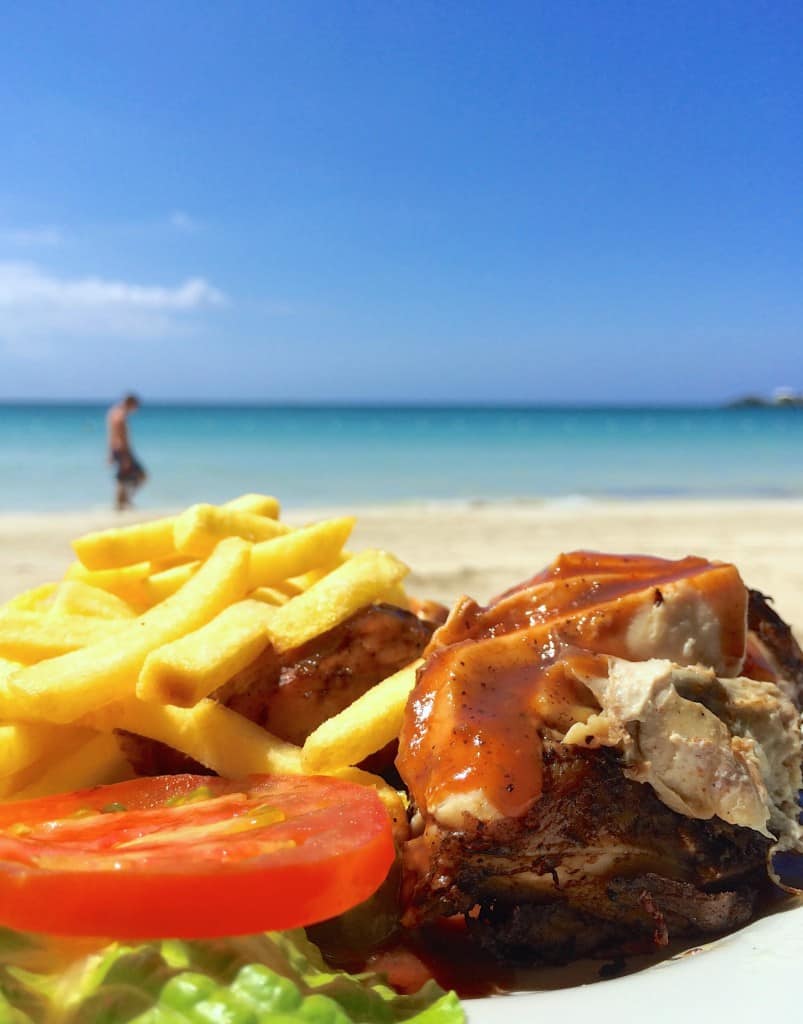 The morning of the day I was to have the Jamaican jerk chicken recipe lesson, my husband and I decided to go sailing with a couple we'd met at the resort.
Unfortunately, the wind died down and we were stuck out at sea and it appeared as though I was going to be late for my lesson. We decided to try to make it to the closest beach and I would walk/run back to the resort which would be faster than waiting for the wind to pick up.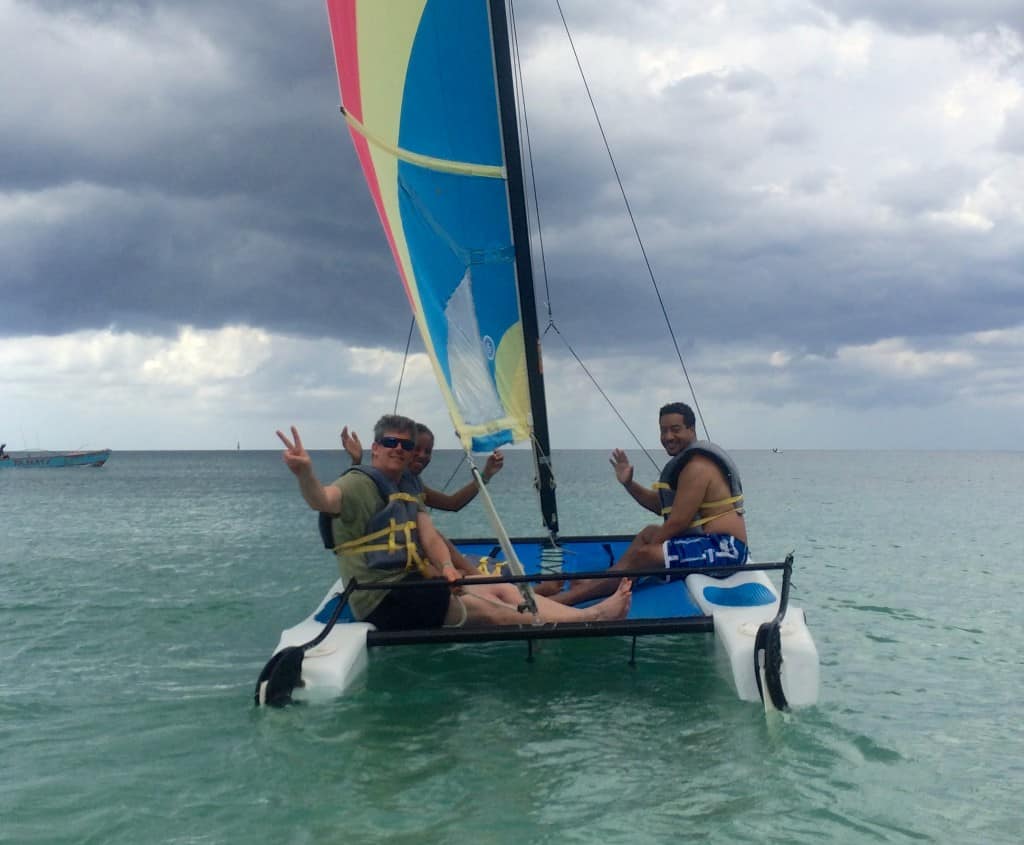 Once I got back to the resort, I realized that my husband had the key to our room so I couldn't change into proper clothes–oops! I just had to add this bit of information to explain why I'm wearing a swimsuit for my cooking lesson (at least we matched).
To Chef Morris: I cannot thank you enough. Whenever I make your Jamaican jerk chicken recipe I will think of you, and it will be often, I assure you!

A Taste of Jamaica: Authentic Jamaican Jerk Chicken - A Recipe by Executive Chef Dwight Morris
Yield:
enough sauce for two chickens
The most authentic Jamaican jerk chicken recipe you'll find without traveling to Jamaica.
Ingredients
JERK BASE
1 tbsp ground thyme or 2 tbsp thyme leaves
1 or 2 Scotch bonnet peppers (Habanero if you cannot source Scotch bonnet, but it won't be authentic) BOTH ARE EXTREMELY HOT!
1/2 teaspoon nutmeg
1/2 cup packed brown sugar
2 tbsp soy sauce
1-2 bunches green onions (6 to 12)
salt and pepper to taste (at least 1 tsp Kosher or sea salt)
1 teaspoon cinnamon
1/2teaspoon ginger minced
2 tsp allspice
6-8 garlic cloves
JERK SAUCE
2 tbsp Jerk paste (above)
2/3 cup (5 oz) pineapple juice
3/4 cup (6 oz) ketchup
6 oz Red Stripe beer (you can find it at BevMo!)
one chicken, cut up into pieces (preferably organic)
Instructions
Directions for Jerk Base
Place all ingredients for base in a blender or food processor and process until smooth.
Use to marinate chicken for at least 4 hours, but preferably overnight, before cooking on the barbecue.
Grill on the barbecue until fully cooked.
Directions for Jerk Sauce
Add all ingredients listed for the Jerk sauce to a pan over low heat and allow to simmer for 30 minutes to an hour, stirring often. Add more juice or beer to thin the sauce, alternatively, simmer longer for a thicker sauce.
Spoon this sauce over the cooked jerk chicken, serving extra for those who want a little more.
Notes
In order to be authentic Jamaican, Scotch bonnet peppers have to be used.
Nutrition Information:
Yield:

4
Serving Size:

1
Amount Per Serving:
Calories:

208
Total Fat:

3g
Saturated Fat:

1g
Trans Fat:

0g
Unsaturated Fat:

2g
Cholesterol:

20mg
Sodium:

567mg
Carbohydrates:

36g
Fiber:

2g
Sugar:

28g
Protein:

7g
Nutrition info is estimated.
If you will be visiting Jamaica for the first time, I have some tips for you HERE.
You can also visit the Jamaican Tourist Board or Sunset at the Palms
Don't miss another post! Sign up for my FREE subscription below.
I won the trip to Jamaica in a random drawing. Therefore, I am under no obligation, whatsoever, to write about my trip.
Christina's Cucina is a participant in the Amazon Services LLC Associates Program, an affiliate advertising program designed to provide a means for sites to earn advertising fees by advertising and linking to Amazon.com.