A year ago, I was going to Jamaica for the first time, and soon after, I was sitting on the beach eating Jamaican Jerk Chicken with a cocktail nearby.
How I wish I could be back there now! It was my first time in the Caribbean, as it was for my husband. We were there because I'd won an all-inclusive trip to Sunset at the Palms resort in Negril by entering a BevMo! Facebook contest. Yes, it's true: people actually do win these contests!
I had planned to write this follow up post last year, after sharing Executive Chef Dwight Morris' recipe for authentic Jerk Chicken, but time got away from me and before I knew it, I was off on my Culinary Tour of Europe.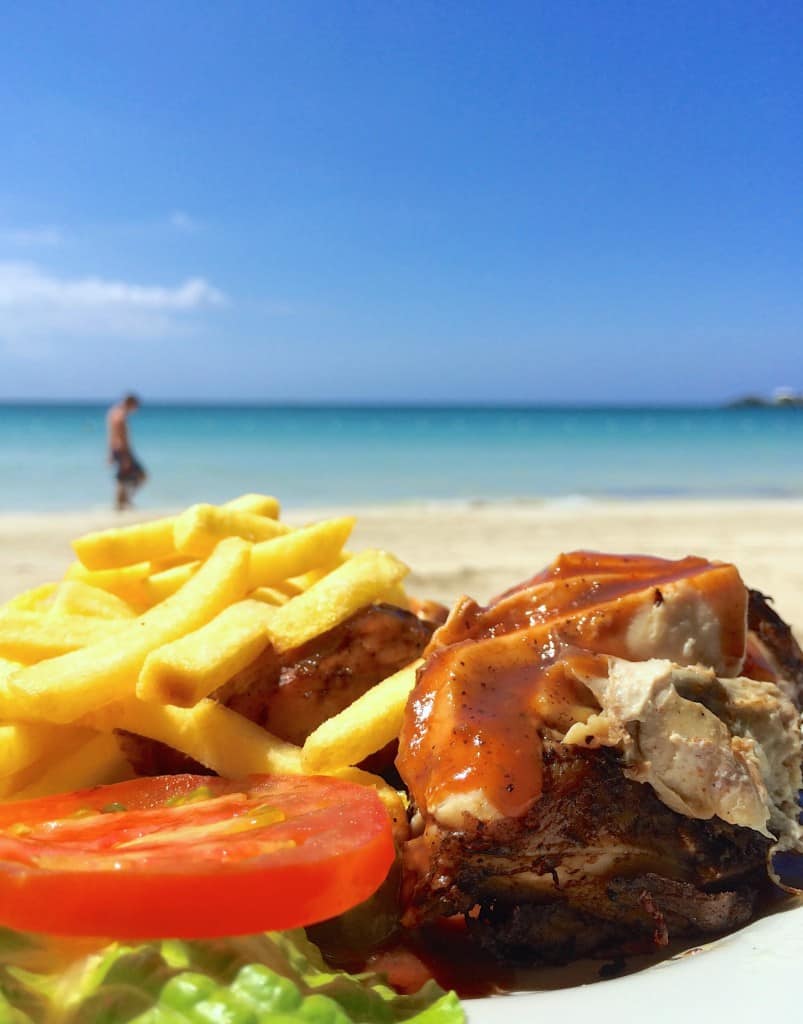 I wanted to write another post because I learned some things which I wanted to share about traveling to Jamaica for the first time (some will apply to other islands in the Caribbean). Some I knew about, and others I didn't know until I got to Jamaica, however, all of them are truly great to know beforehand. Here is the list, in no particular order.
7 Great Things to Know Before
Traveling to Jamaica For the First Time
1 ~ CLUB MOBAY ~The first thing I want to tell you about is a service I never thought would be something I'd use or enjoy, but am completely sold on, now. Upon our arrival at the airport in Montego Bay, we were met by a Club Mobay representative who whisked us past the long lines at immigration and customs. We were then taken to a VIP lounge for arrivals, and served a superb rum punch by friendly staff, and told to relax, freshen up and help ourselves to the sandwiches, finger foods and snacks! What a welcome, and the prices are truly reasonable (see the link below for more info.) The following is a detailed explanation of the Club Mobay (or Club Kingston) program:
With our VIP Arrival "Meet and Greet" Service you will be:
-Greeted upon disembarking the plane by a dedicated representative with a personalized paddle
-Escorted and expedited through immigration and customs
-Accompanied to our arrival VIP Lounge that provides amenities such as unlimited complimentary Wi-fi, snacks & beverages, private restrooms, newspapers and magazines all while you wait for your ground transportation.
2 ~ 3 RUM PUNCHES + 1 LONG TAXI RIDE = YIKES! If you do take my advice and sign up for Club Mobay, don't drink too many rum punches before the long, and sometimes bumpy (but beautiful) taxi ride to Negril (your bladder will not be happy!)
3 ~ USD ARE FINE ~You DO NOT NEED TO CHANGE US CURRENCY to visit Jamaica. I was worried about not having local currency a few days before our departure, until I spoke to someone who often travels to Jamaica. She informed me that American dollars are used at all the resorts and shops. Who knew?
4 ~ MOSQUITOES ~ Prepare yourself in advance for the mosquito problem in the evenings. I had read about the mosquitoes and had even purchased DEET wipes (which had such a noxious odor and almost made my husband and me pass out when we used them, despite them not even being effective!) The resorts spray each evening around dusk, but I would rather they didn't as it didn't seem to have any effect. We always planned to be at the beach when they sprayed the property. That said, the mosquito problem wasn't as bad as say, Michigan, but there are certain mosquito-borne illnesses which can be passed onto humans in the Caribbean. Wearing long sleeves and pants may be your best bet.
5 ~ DO TAKE A TOUR ~ I had no idea there were alligators and mangrove trees in Jamaica! We went to a beautiful waterfall and our guide made sure we were there in the morning before anyone else arrived–it was brilliant! Another of my favorite activities in Jamaica was snorkeling. If you've never done it, don't miss it! I've snorkeled in Hawaii and Mexico, too, but each experience is different.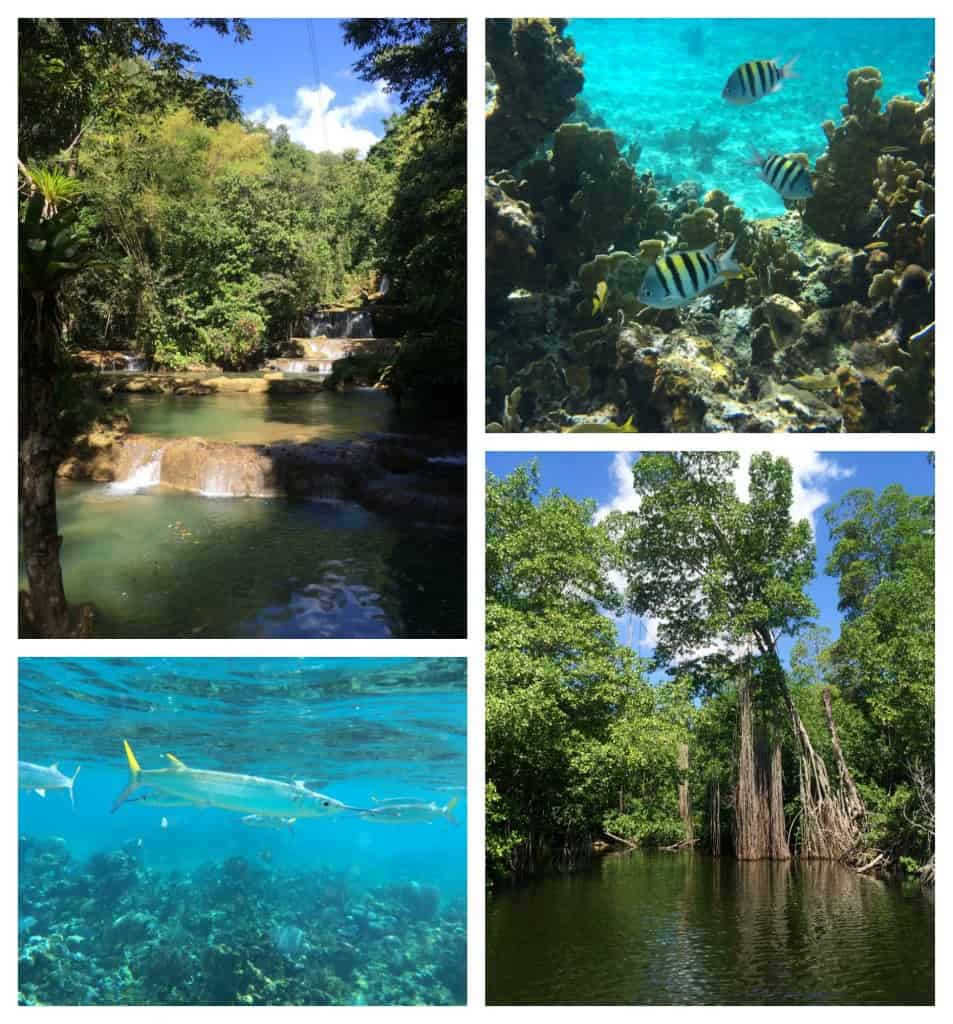 6 ~ RICK'S CAFE IS JUST OKAY ~ We went with some friends we met at the resort, and honestly, it's in a beautiful location, but is probably the biggest tourist trap I've ever visited. Go if you feel you want to say you've been, but unless you're in your 20s, if you choose not to visit, you truly haven't missed much.
P.S. If you don't like crowds, you're really better off skipping it.
7 ~ CLUB MOBAY VIP DEPARTURE LOUNGE ~ Yes, I'm listing it twice because that's how strongly I feel about it! Here's the thing: my husband and I were thrilled with the service at arrivals, but you absolutely cannot miss the VIP lounge, food and drinks upon your departure (it is a different location from the arrivals.) If you have to choose between arrival or departure service, definitely go with the departure. I'll add a few photos below which will help you to understand why I'm so smitten with Club Mobay!
You know me and food, and I couldn't believe how delicious all of it was, especially the pumpkin soup! I asked what sort of pumpkin was typical in Jamaica and chef brought one out to give to me! I had to decline as I knew it would have been taken away at customs, but he was very sweet to offer.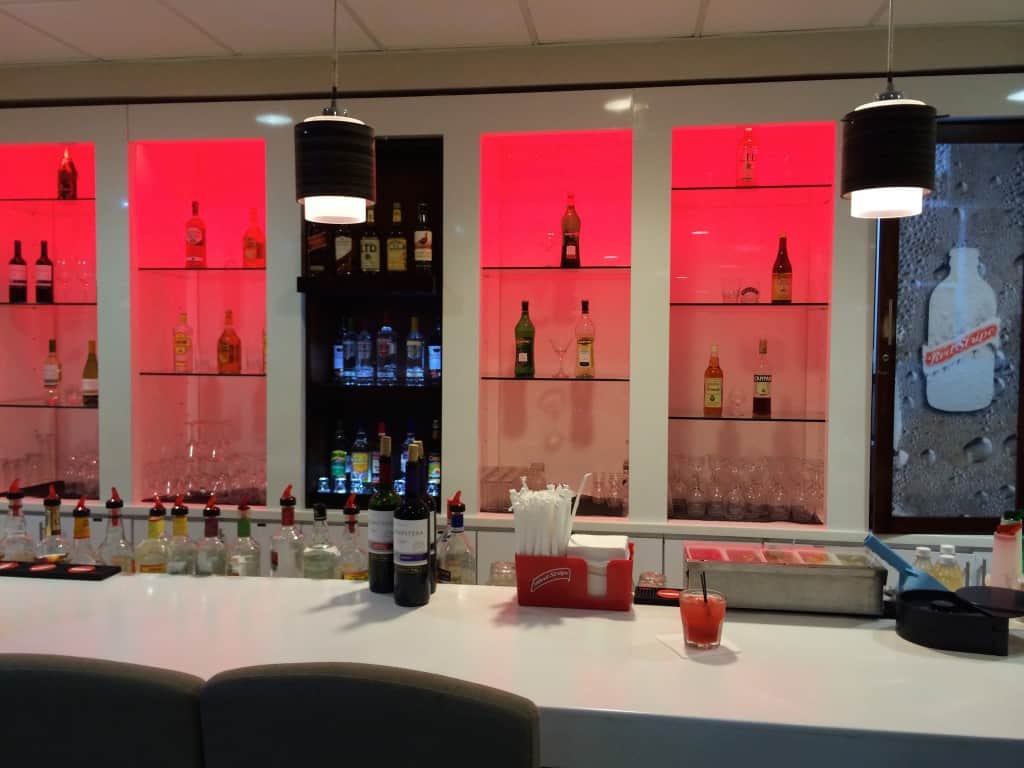 You may just want to get to the airport very early to take advantage of the Club Mobay VIP departure lounge. There's nothing like having a relaxing time before boarding a flight, versus running to catch one that you might possibly miss! Unfortunately, I've had too many of the latter experiences! This is what you want to look for when you go to the lounge.
Don't miss another recipe or travel post; sign up for my free subscription below.
(I promise not to sell or share your info, ever!)
I won this trip from BevMo! and the Jamaican Tourist Board and am under no obligations whatsoever to post about Club Mobay or make any disclosures. I am so pleased with the service I received that I have chosen to write about it and share with my readers. I know you'll feel the same way and enjoy traveling to Jamaica for the first time!