Punta Licosa Estate is the sister property to Palazzo Belmonte Historic Residence, both are located in Cilento. These properties are absolute gems and worthy of a special trip to Southern Italy.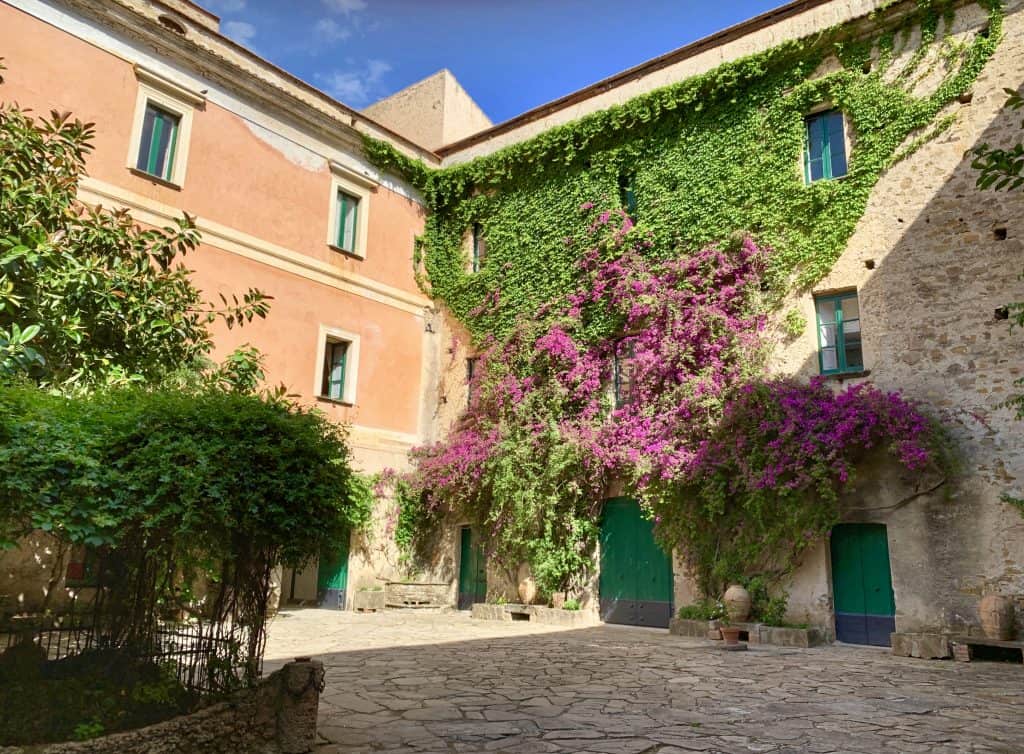 This is a two-part post, continued from here, where I introduced you to the wonderful Palazzo Belmonte in the Salerno region of Italy.
Disclosure: I was graciously hosted at Palazzo Belmonte for three nights, although I stayed in the area for five nights. As always, all opinions are my own.
There was simply too much to share about the Palazzo and the surrounding area to put it all into one post. You can refer back to the original post for the location and basic information if you are seeing this first.
More Options on Accommodations at Palazzo Belmonte
If you happen to be traveling with a group or have a family trip planned, Villa Sofia or Villa Francesca are great options. Situated on a foothill on the Palazzo property, hidden within the gardens, with view of the sea, these accommodations are another alternative to staying at the historic residence. Link to the site, below.
Attached to the Palazzo residence are even more options: the apartments and studios of La Galleria and Casa Edoardo. These were some of my favorites as they were spacious, included kitchens and overlooked La Torre Perrotti and the sea!
This bedroom is on the second floor of the duplex, and is truly a simple yet luxurious apartment.
I was absolutely smitten with Casa Edoardo and La Galleria. How could you not be? Just look at these picturesque views!
You may remember from my last post that the reason I was in Santa Maria di Castellabate was for my friend's wedding? Well, Nadia and Mark were married on top of Torre Perroti's rooftop terrace, which you can see here. It was a beautiful spot overlooking the town and sea. (I'll add some wedding photos below.)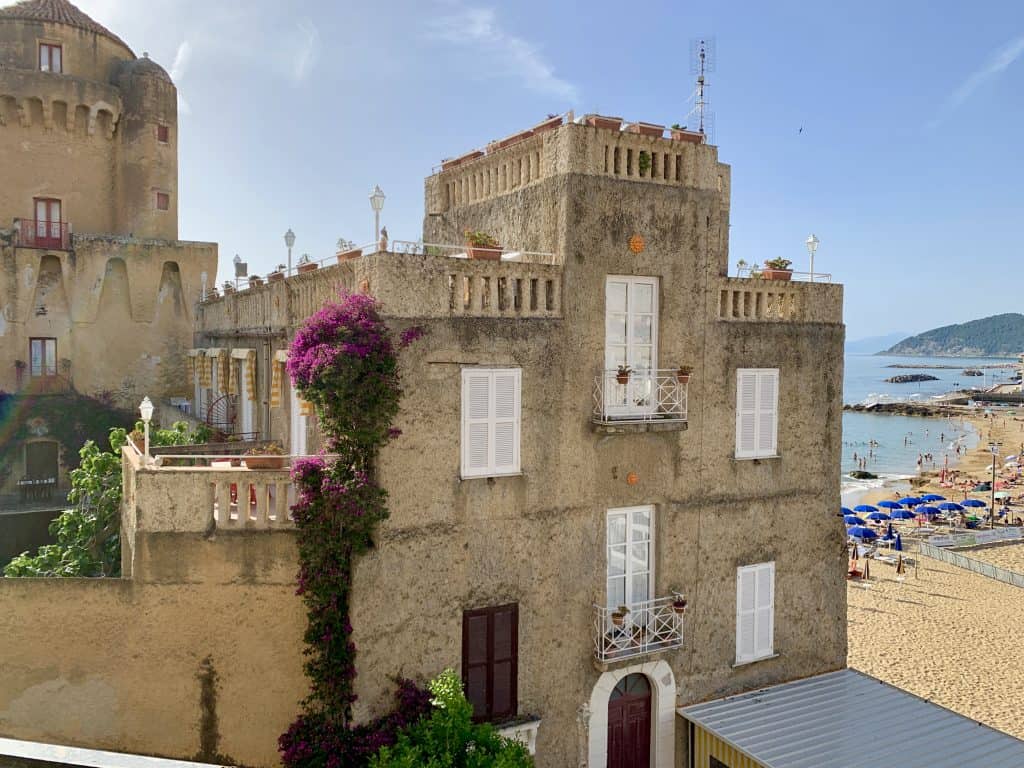 While I was at Palazzo Belmonte, the lovely Beatrice asked if I'd like to visit Punta Licosa private estate, the Palazzo's sister property just a few miles away. Of course, I did, so I met her in the Palazzo's reception area and followed her to the other property.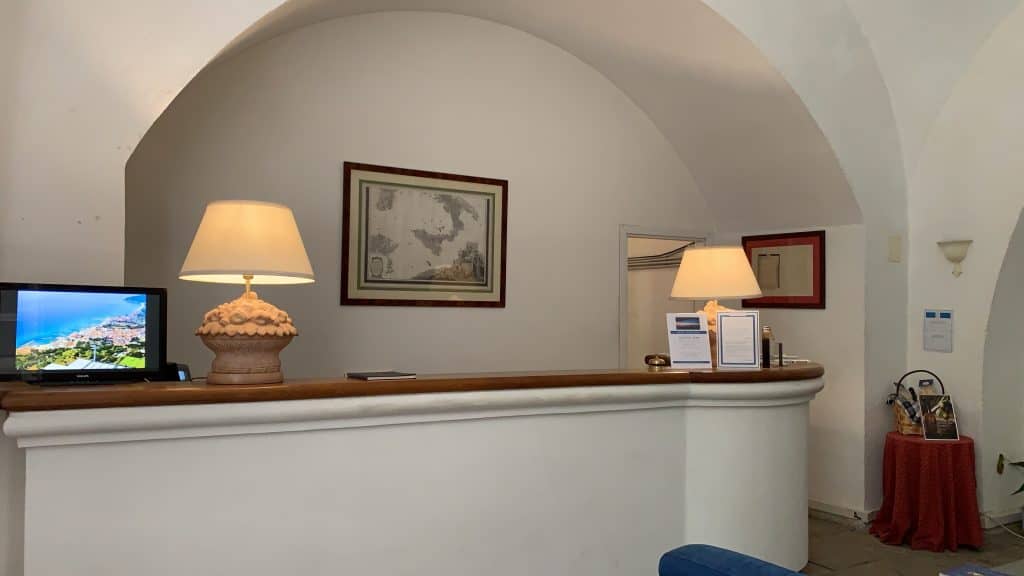 Punta Licosa Estate
The gates open to a private road which divides olive groves (they produce their own olive oil) and forest land before arriving at the the impressive eighteenth-century castle.
Beatrice had told me in advance that there were preparations underway for a large event at the estate that evening.
I was in awe of the beauty all around: the castle, the chapel, the lighthouse on Isola Licosa (Licosa Island) which belongs to the estate, but especially the views!
There's even a swimming pool complete with Roman ruins nearby!
Punta Licosa Estate also has a large house on site. This property isn't solely for events like the one that evening, although it is an absolute stunner for a wedding.
Villa Sirena is available to rent for vacations. It was too dark for me to take photos, but I was given a tour and the house would be perfect for a family reunion or larger party of friends. It has 7 spacious bedrooms to accommodate 14 people.
Again, there's so much that I want to share with you, but it's simply impossible without writing for days! I have included the link for the Punta Licosa Estate below so you can read much more about it and see many more photos, too. Here are a few pictures from the impeccably perfect event that evening.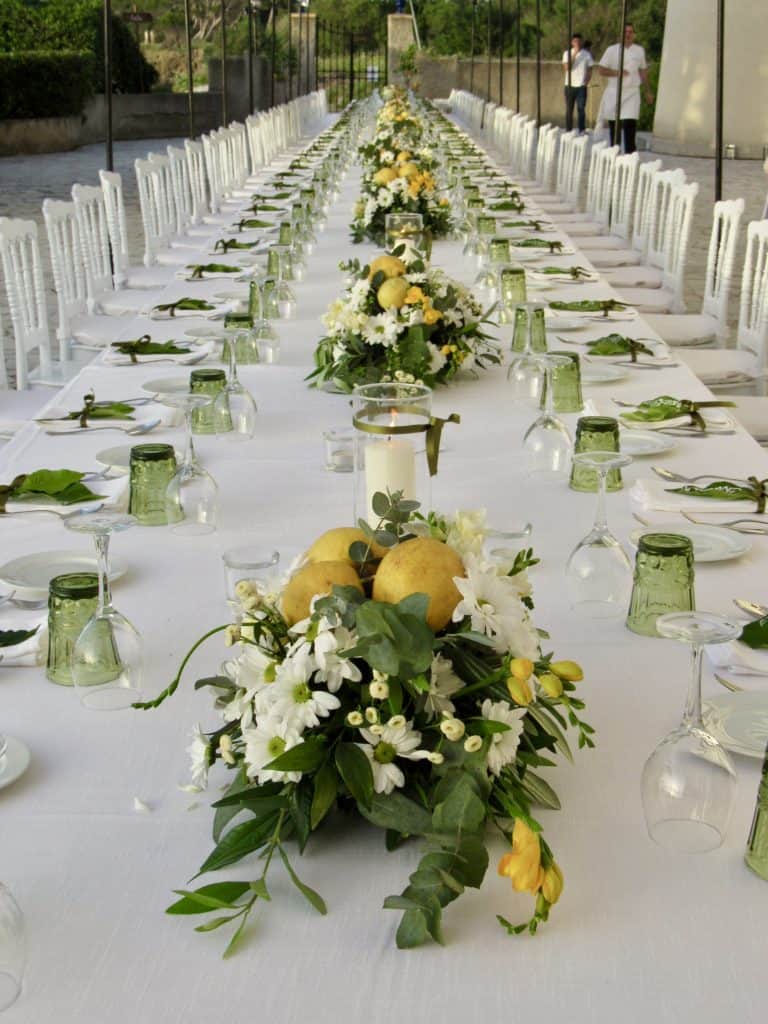 This is the entrance to the main building: the castello.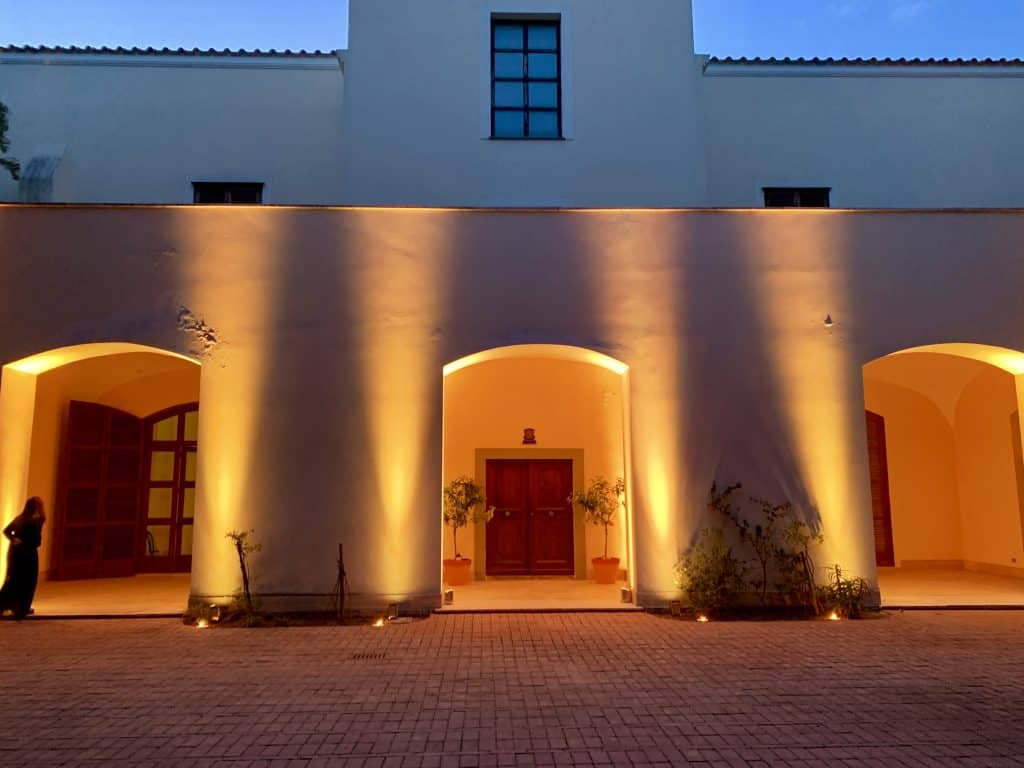 The grounds and views were phenomenal.
I left the estate after getting a tour of Villa Sirena, and drove up to Castellabate for dinner (which I'll share in another post), but suffice it to say, I had worked up an appetite touring the Punta Licosa Estate and seeing all the beautiful food that was ready to be served at the party!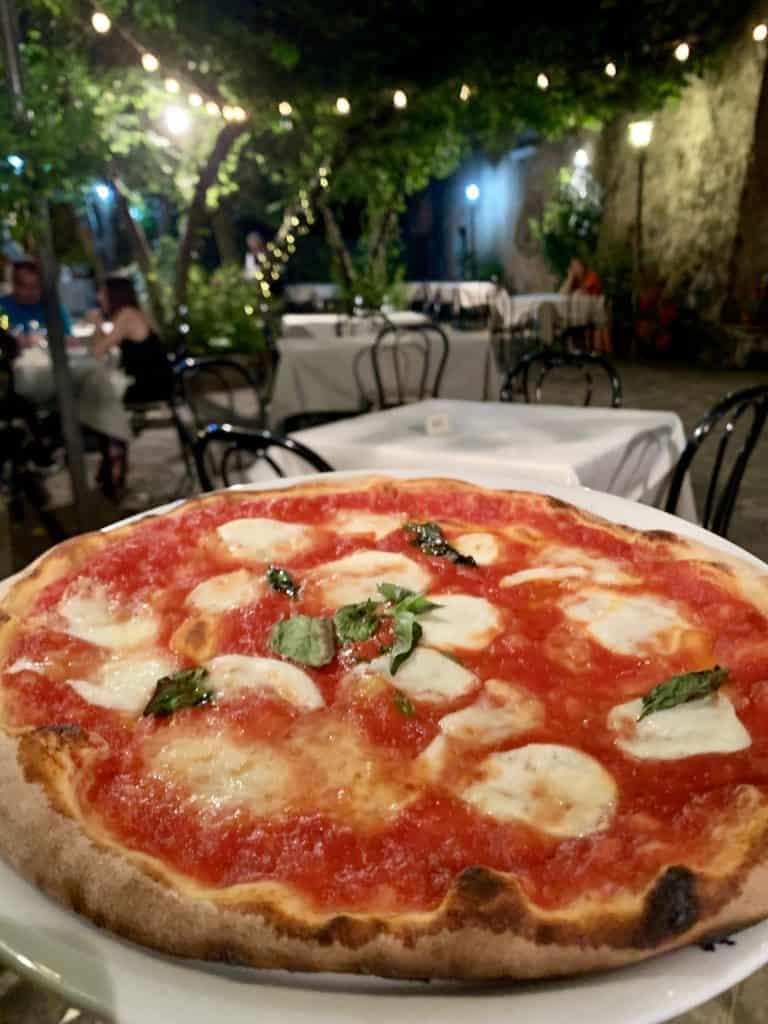 If you can, try to get your hands on a movie called Benvenuti al Sud. Not only is it shot in Castellabate and Santa Maria di Castellabate, but it's also absolutely hilarious! You'll need the one with English subtitles if you don't understand Italian and Napoletano dialect. I was over the moon with seeing all the places I recognized from the area!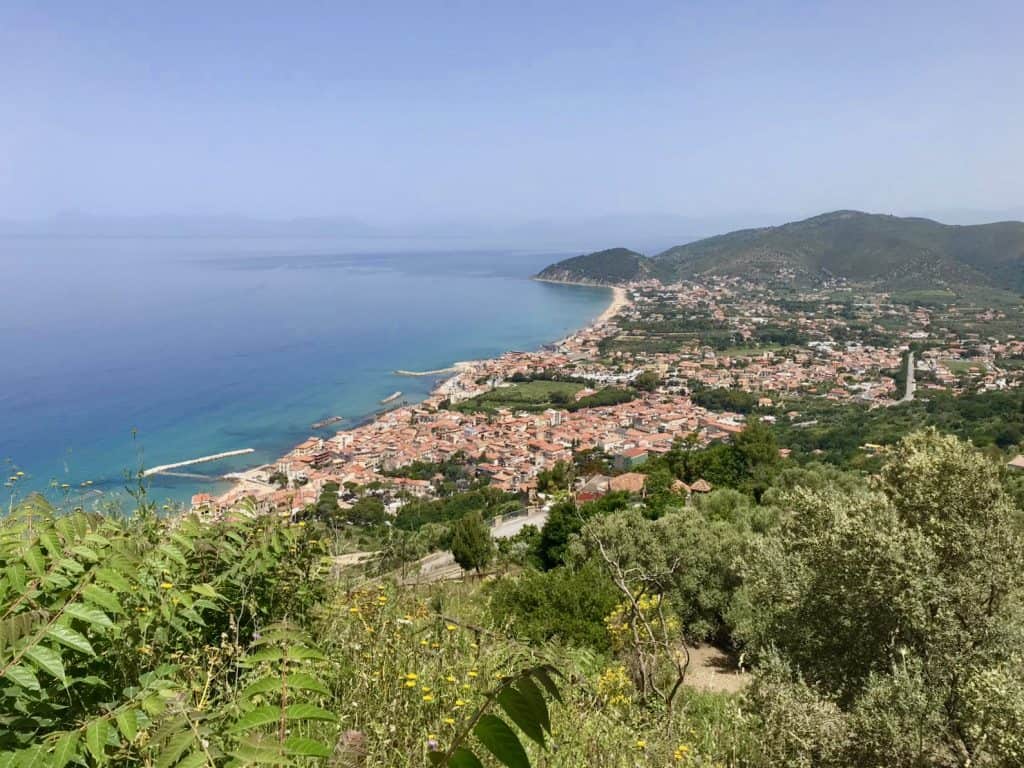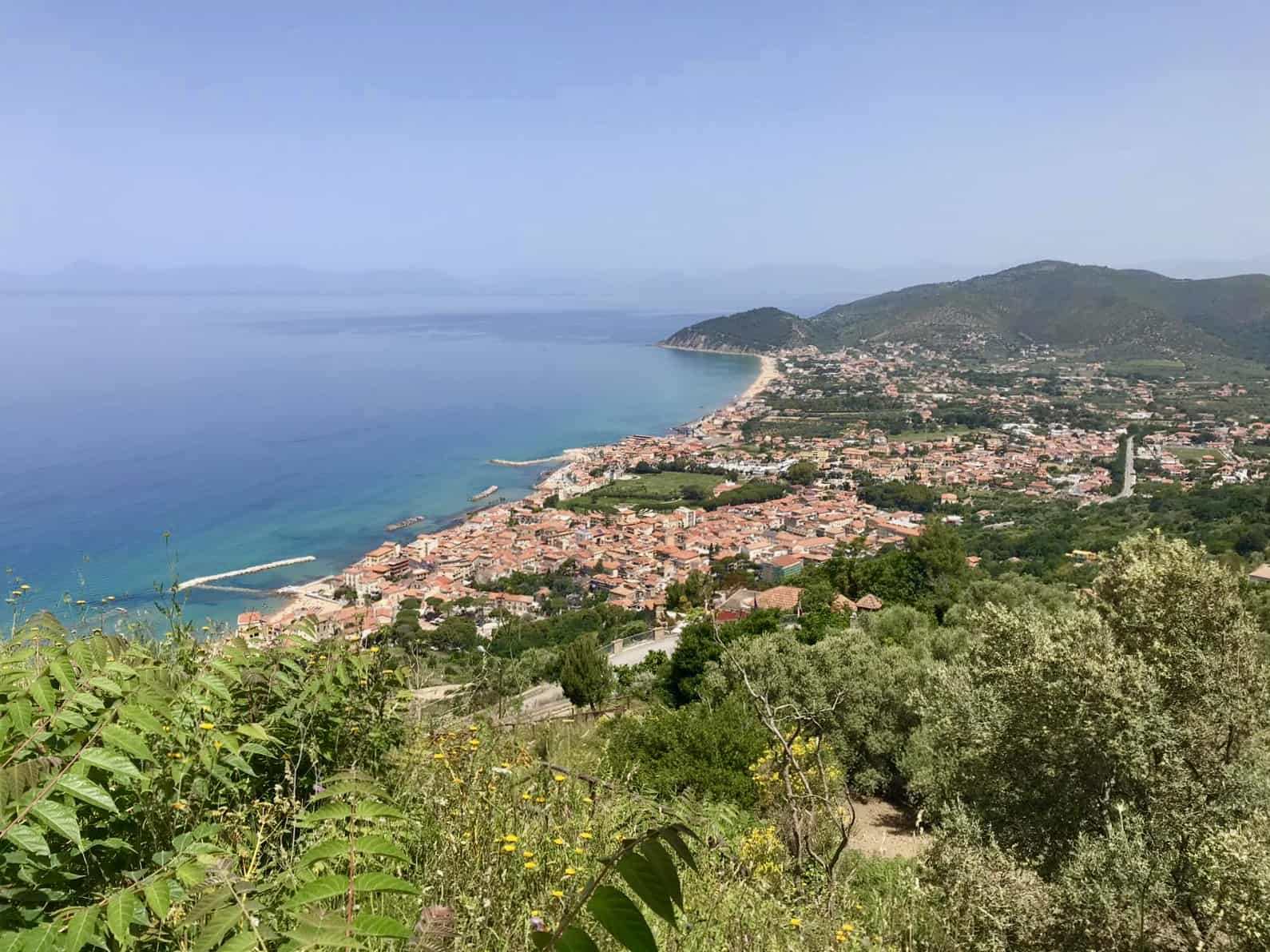 The Wedding in Santa Maria di Castellabate
As promised, I want to share a few photos from Nadia and Mark's wedding in Santa Maria di Castellabate. As I explained in my last post, all the guests (except for me and two friends from Australia) flew in from Scotland. So the "Kilt Night" is probably something that really intrigued the locals!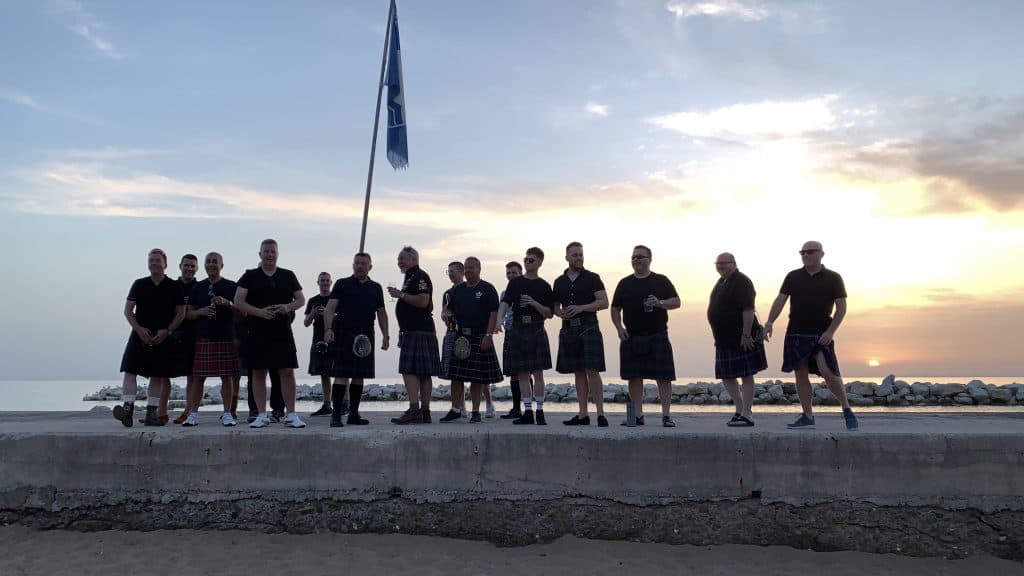 The afternoon of the wedding, guests awaited our cue at a local bar in the center of town. (It sounds much worse than it really is–bars are very different in Italy!) When it came, we took a five minute walk to Torre Perrotti, where the venue was decorated and ready for the ceremony.

This is one of the views from the rooftop terrace.
We were asked not to take photos during the ceremony, so these are a few from afterwards. It was a lovely wedding from beginning to end!
The reception was held at a restaurant on the beach in Santa Maria di Castellabate.

Just so you realize how much everyone enjoyed the weeklong wedding celebration, Nadia and Mark have already booked their tickets to fly back to Santa Maria di Castellabate for 2020 to celebrate their one year anniversary! They have invited everyone to join them (including me), and I believe some guests have already booked their trips, too!
Cheers, and maybe I'll run into you in Santa Maria di Castellabate!
And remember I told you my second cousin had booked to stay at Palazzo Belmonte for a mother-daughter trip? Well, she adored it! When I asked if she loved it as much as I did, she wrote, "How could I not love SMC…it's stunning 💕"
Thank you to Palazzo Belmonte, especially the lovely Beatrice, for graciously hosting me for my stay. It was beyond anything I'd expected and I hope to return again, soon. There were no terms on posting a positive review or feedback. I am sharing this in accordance with FTC regulations.