Taking a trip to Rome? Want to know some do's and don'ts and tips for visiting one of the most incredible cities on earth? I've been visiting for years, so read on.
My daughter had just arrived in Rome at the Fiumicino airport to meet my mother and me, when I left off on my previous post.
As an Amazon Associate I earn from qualifying purchases.
It was Mothers Day in Italy as it was in the US, so the three of us were happy to be spending it in Rome. We usually take the Leonardo Express (train) to and from the airport to the main train station of Termini, but I noticed the price had gone up to 14 euros (about $17 at the time).
It was a silly price for a such a short ride, that I looked into bus options. It didn't take much to convince us the bus was our answer, and we hopped onto the Terravision bus for only FOUR euros, saving us 30 euros in total.
We checked into our hotel directly across from the Basilica of Santa Maria Maggiore which is walking distance from the train station. Although the location is fantastic, I cannot recommend the Mecenate Palace Hotel for several reasons which I won't list here. However, the view from the top of the hotel (see the cappuccino photo above) is marvelous, and you don't have to be a guest to go to the bar or restaurant there). Here is a B & B I highly recommend: Biancoreroma. The hosts were wonderful!
Having been to Rome countless times, the following is a list of some of my own
~ DO'S* and DON'TS for your trip to Rome ~
DO have antipasto, bread and wine with your meal. Or even as your meal!
DO walk the city at night.
DO take multi-generational selfies in front of landmarks.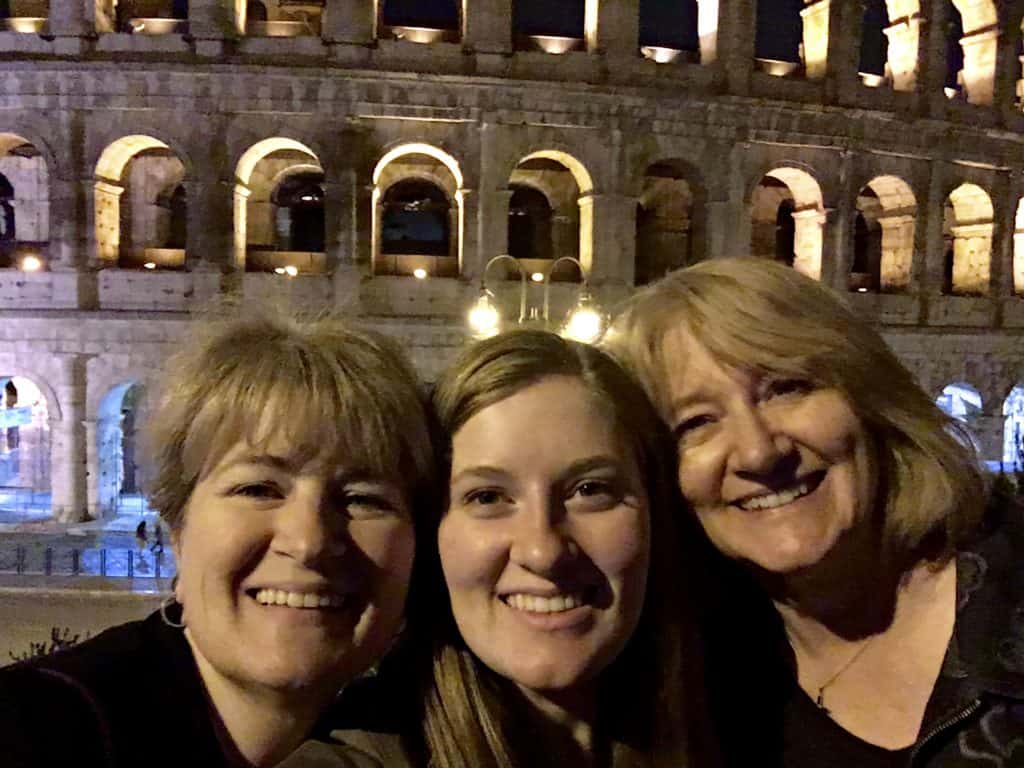 DON'T miss the opportunity to pose in front of the Colosseum if it happens to be lit up in your favorite color!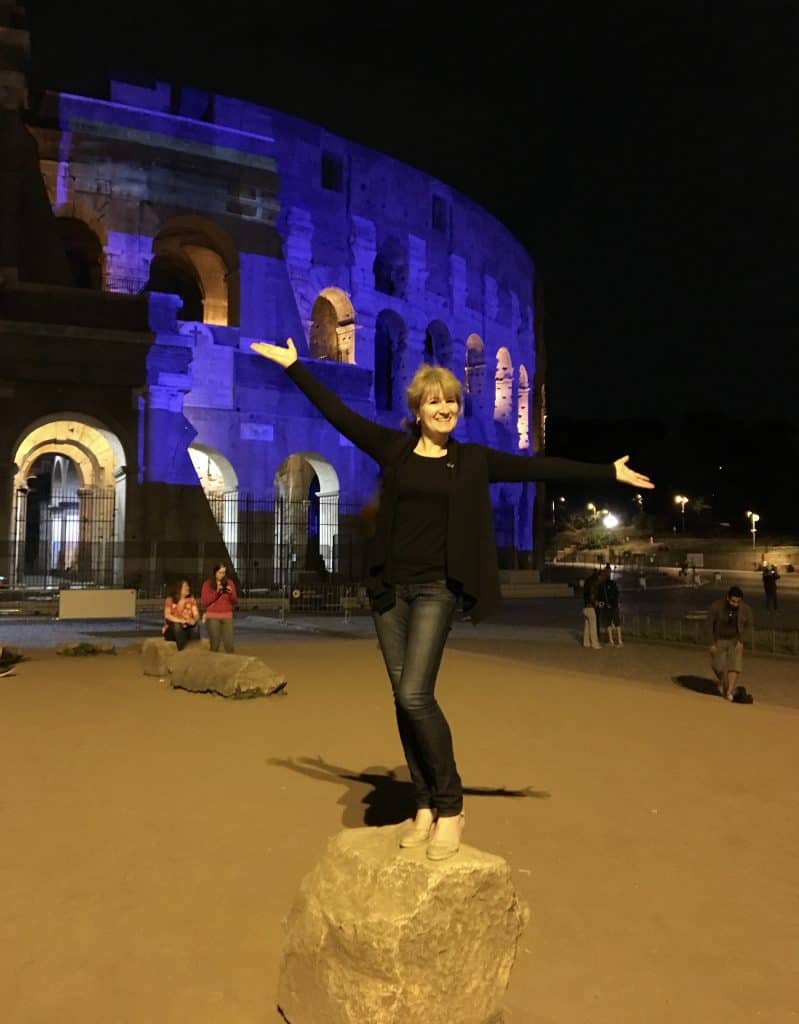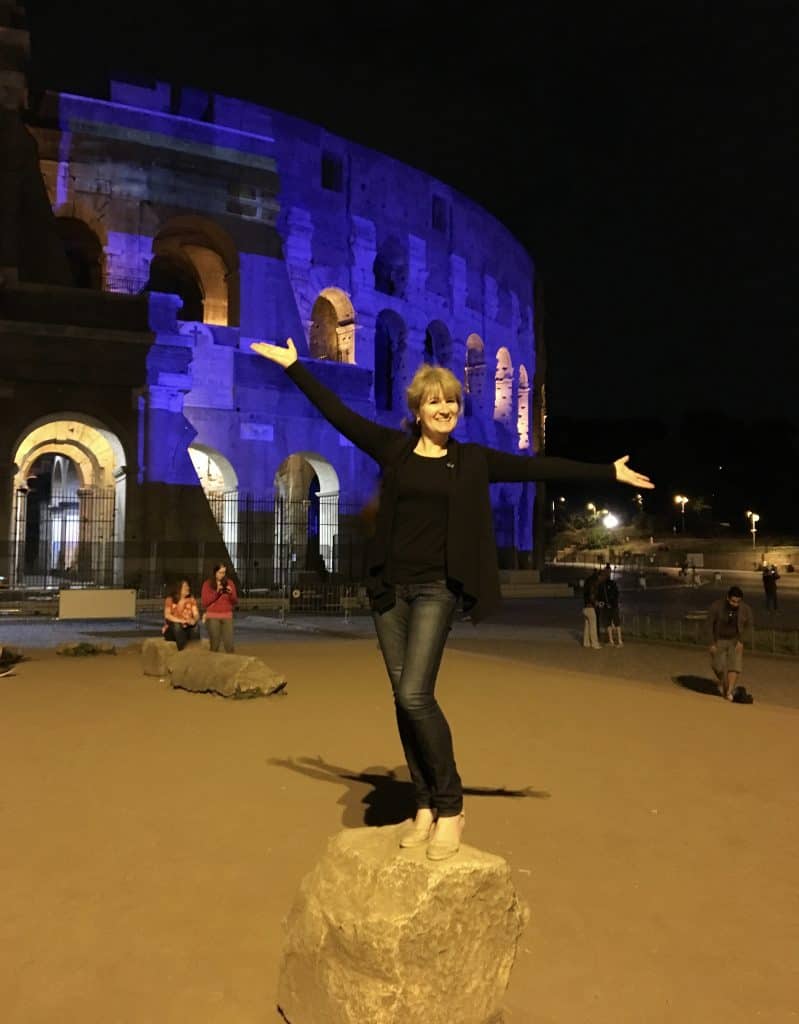 DO try a hot chocolate (but DON'T order a cappuccino in the afternoon or evening).
DO make sure you know the back of a building from the front so that you can actually go inside. Because–what you thought was the front for years and years, was actually the back (!) And you always thought it wasn't open to the public, so you were never able to go inside to admire the Basilica of Santa Maria Maggiore. (Not that I'd know anything about this 🙄)

I love my Priority Pass membership!
DON'T wear shorts or tank tops to churches. If you do, most times you won't be allowed to enter. For many of us, it's a long way to travel on a trip to Rome, only to be denied entry at the last second for something that's easily avoidable.
DO look for typical Italian scenes, which offer great photo opportunities, in mundane places.
DON'T miss walking into any and/or all churches in Rome. Each one is more awe-inspiring than the last.
DO still visit the touristy places and sights, especially if you've never seen them before.
DON'T forget your sunglasses!
DO look for a different perspective at popular landmarks.
DO stay hydrated in summer and drink from the public fountains (refill a water bottle). The water is fresh and cool!
DON'T miss stopping by Antica Salumeria in front of the Pantheon, even if you don't want to buy anything, it's an experience just popping into this shop.
When I walked in, it was like cheese and salumi heaven. I floated towards the back of the shop while my mother was magnetized by packages of dehydrated porcini mushrooms (I think she bought all they had). I entered another room with more cheese and prosciutti hanging from the ceiling, and bottles and bottles of wine on a nearby wall.
In Italian, I confessed to the adorable man behind the counter, "I don't ever want to leave! Close the door, lock it up, and throw away the key!" To which he erupted into laughter, and replied, "Ha ha ha! There is no door!"
I learned his name was Cosimo and he invited me behind the counter for a photo. Who could resist this?
I'd be this happy if I worked here, too!
Oh, they also have bread and pizza! Everyone in this shop was lovely; DON'T miss it!
Speaking of pizza, DO pop into Pizzeria Via Florida, located between Campo dei Fiori and the Roman Forum, for a slice (or three) of incredibly tasty pizza!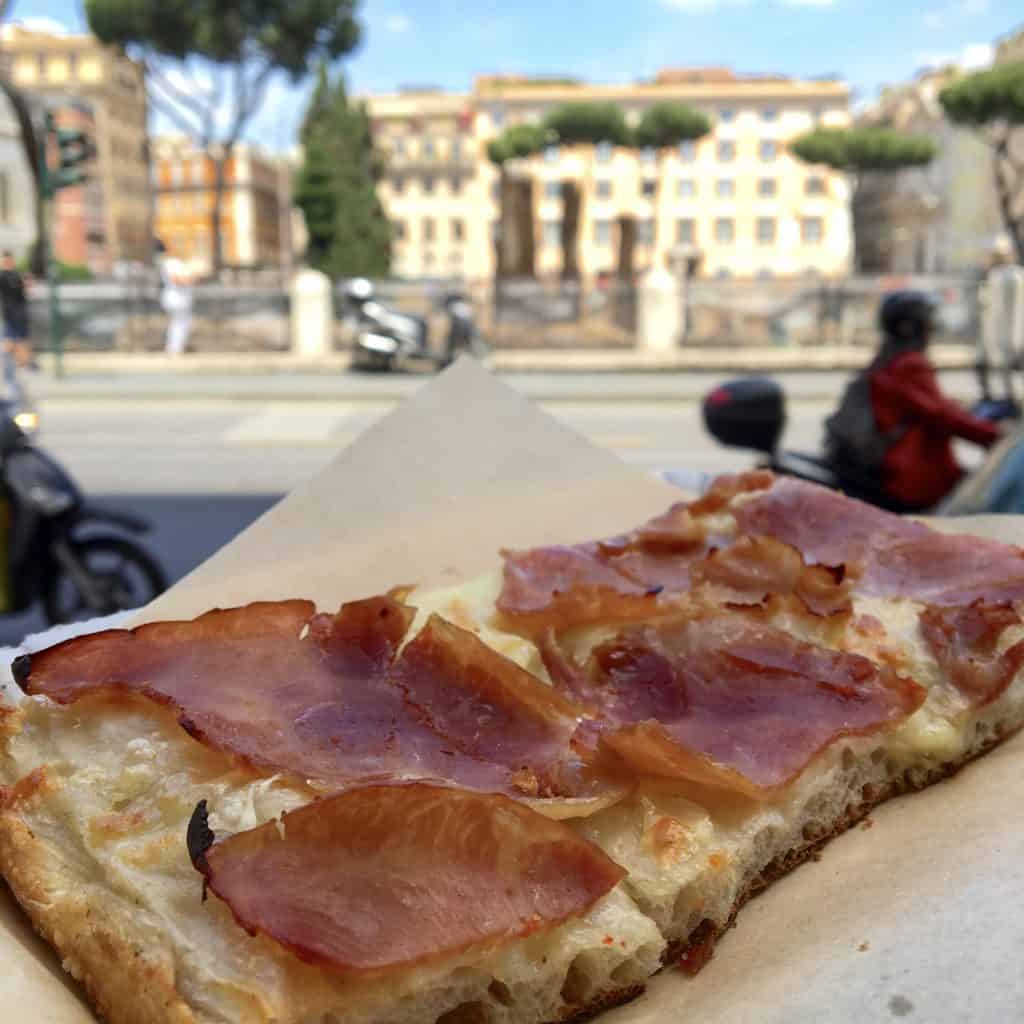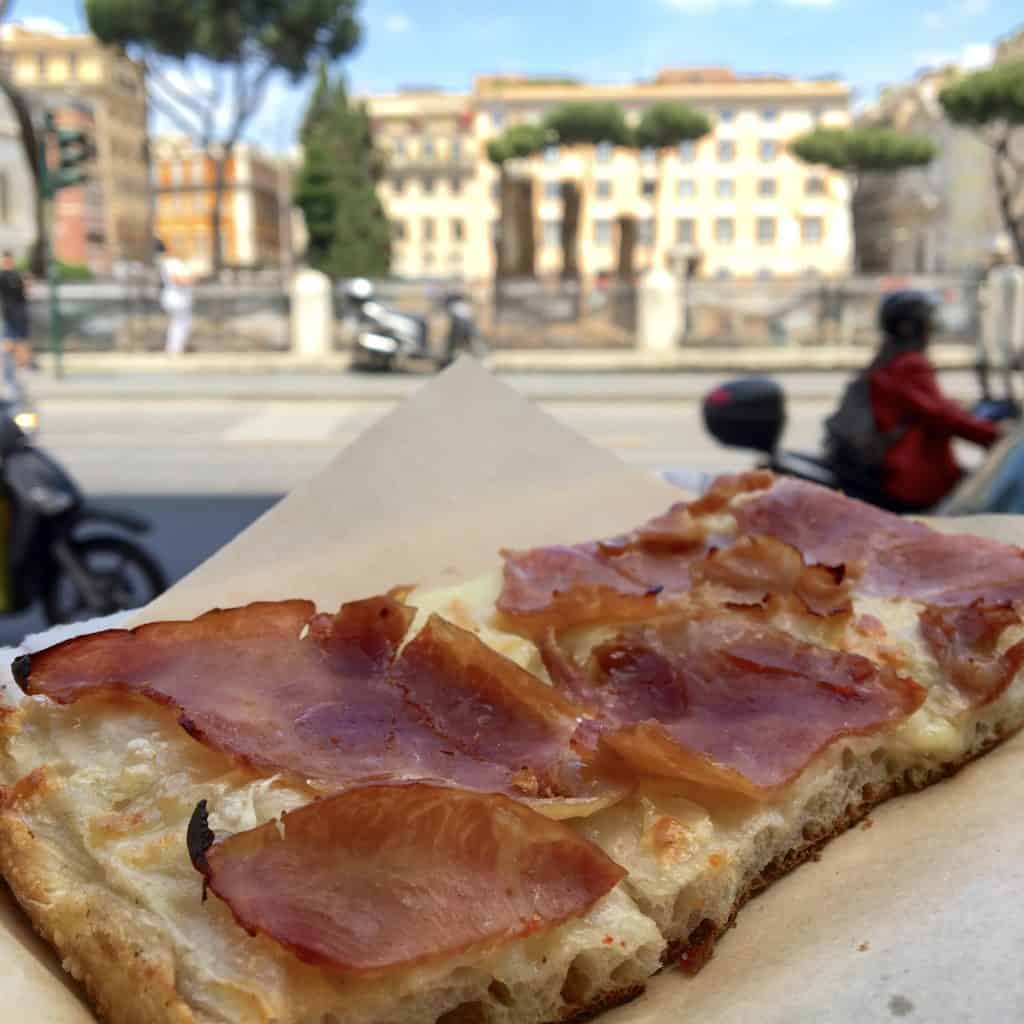 DO stop by Campo dei Fiori for a fresh fruit snack.
DO stop by Ricami Veronica, right next to Campo dei Fiori, for the cutest personalized and useful gifts such as bathrobes, children's clothing, aprons, and kitchen linens.
Sabrina is very talented and has a great sense of humor! Click her photo below to see her in action.
DO stroll along the Tiber River (Il Tevere, in Italian).
DON'T forget to eat gelato! When searching for a gelateria, avoid any that are near to any tourist attraction, public transportation depot, or monuments. DO look for shops which serve gelati from closed containers versus ones which "show off" their rainbow colored gelati in high mounds in the windows, including bright blue Smurf gelato. Ugh.
DO walk as much as possible in Rome (if you are able) as you will see much more, but DON'T wear uncomfortable shoes.
DO make a reservation at La Carbonara (on Via Panisperna) for great pasta and wine. Of course, I had to try their Spaghetti alla Carbonara and it was marvelous!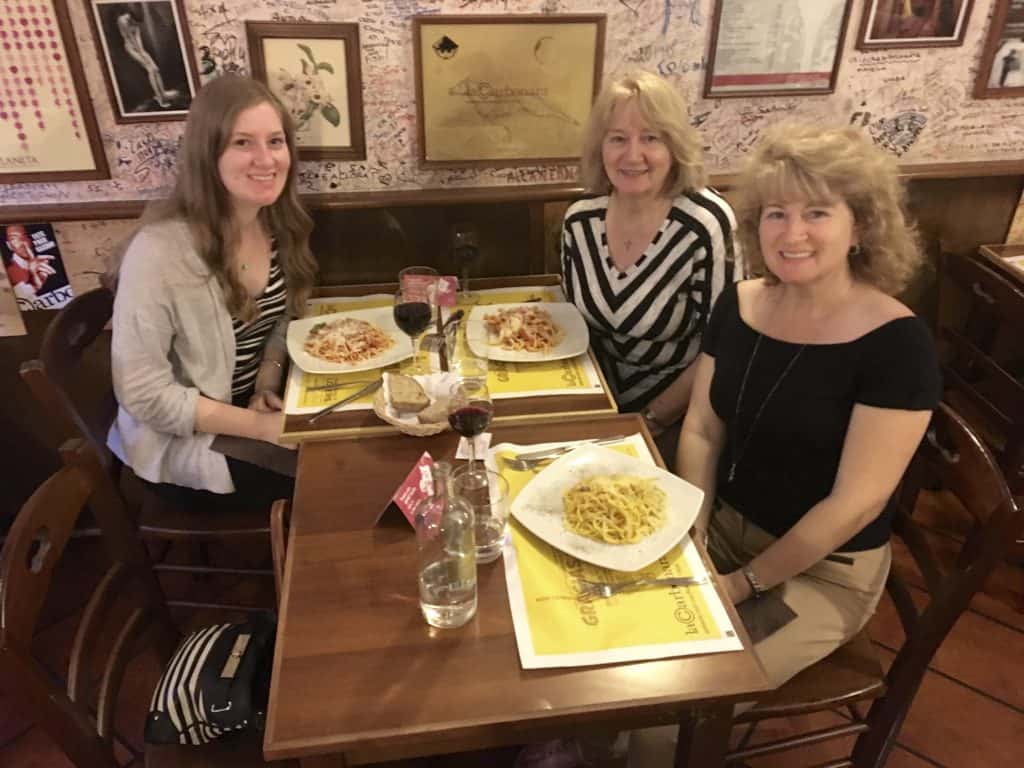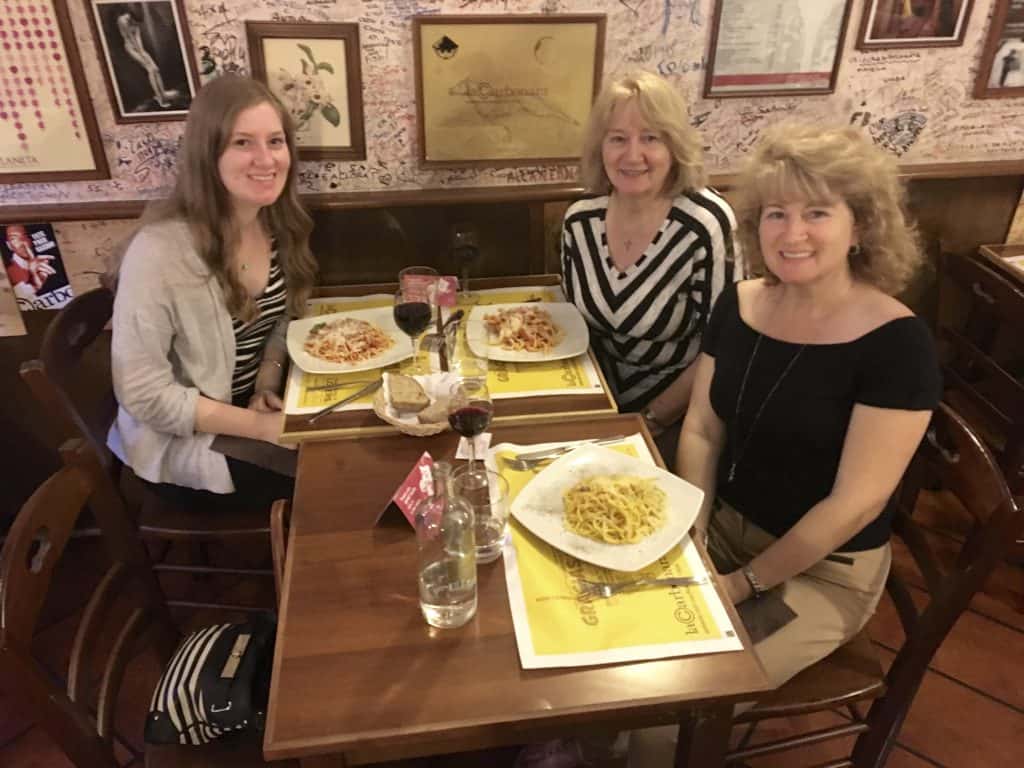 Even Robert De Niro approves.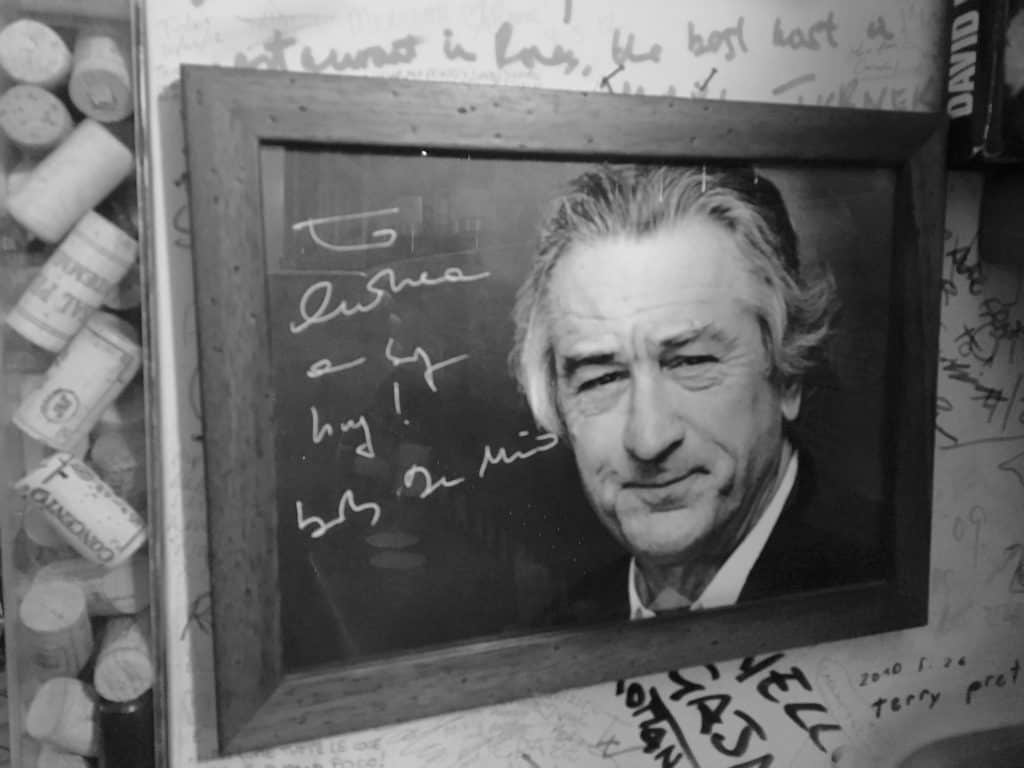 DON'T be impatient when taking photos. Wait for people to move and traffic to clear. It's worth it.
(PLEASE) DON'T eat at McDonald's (or Subway, or Starbucks, or–you get my drift) when there is so many phenomenal options for really good food in Rome.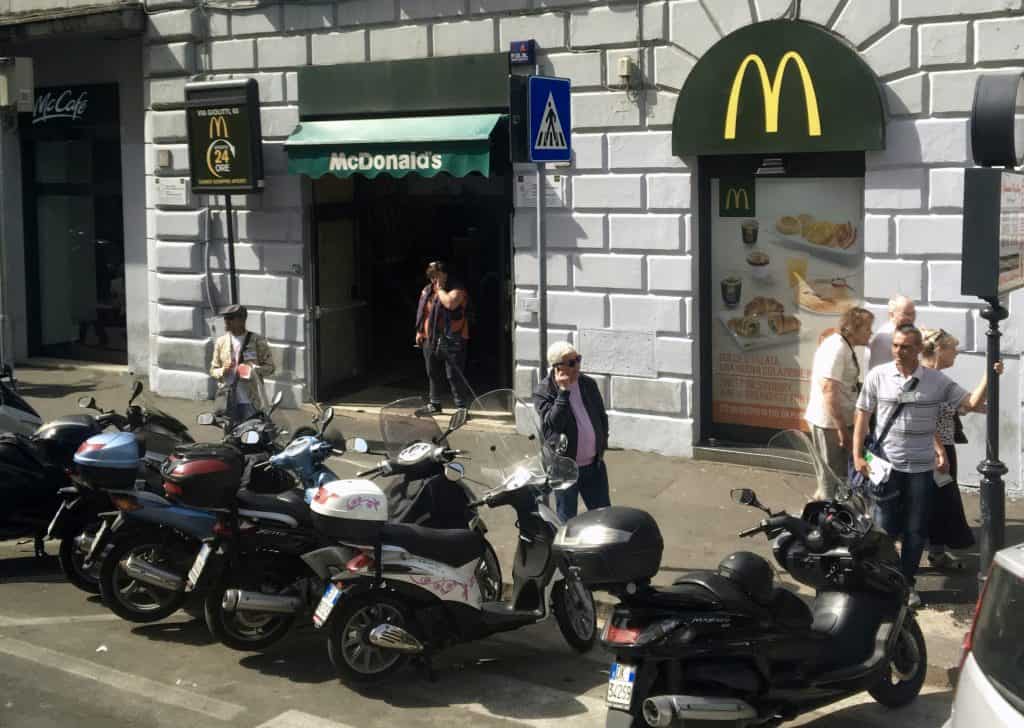 DO rent a car and explore more of Italy on your trip to Rome.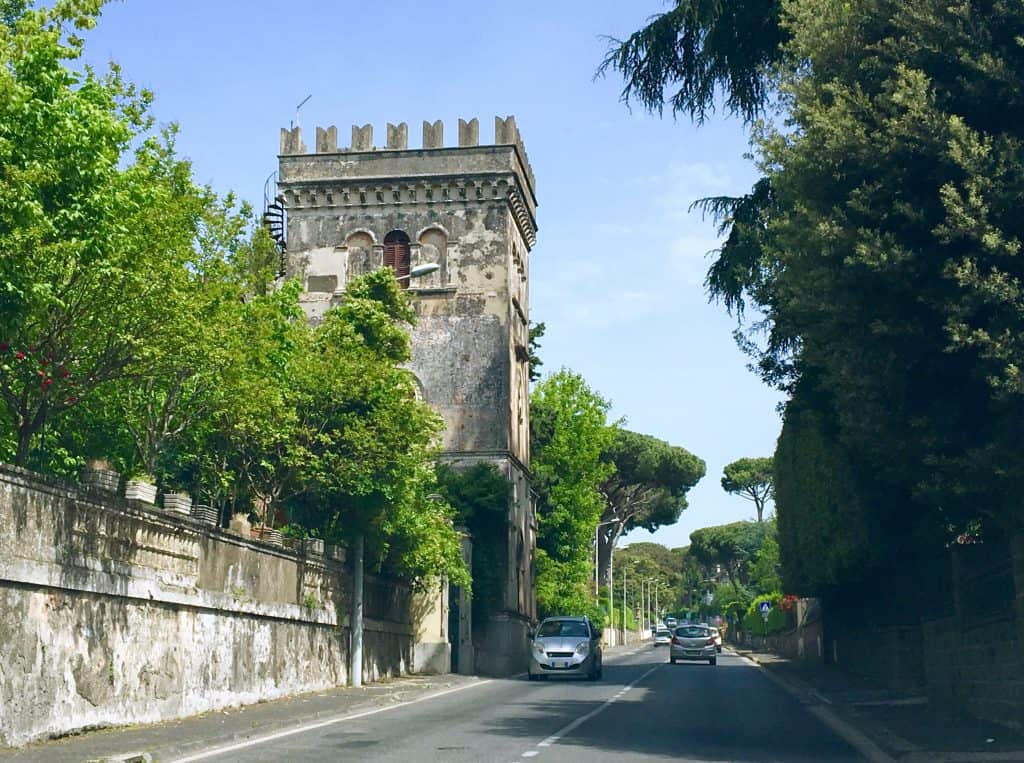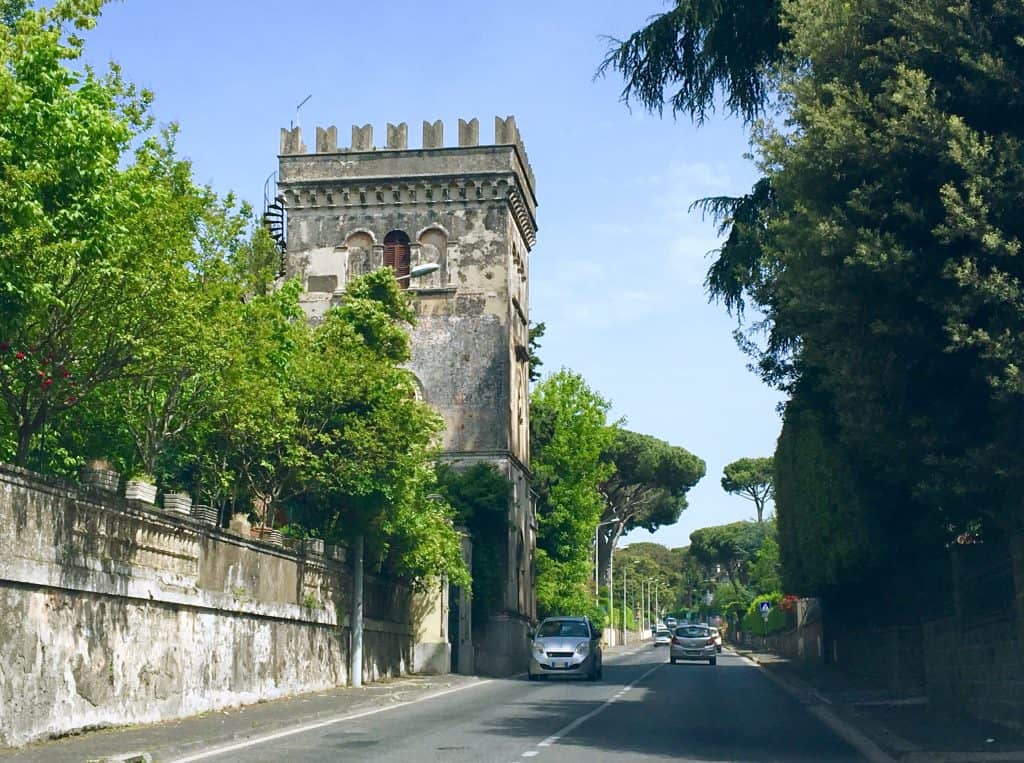 However, DO NOT drive in Rome; I can attest to how nerve-racking it is! Besides other reasons, there is now a central zone where you will be ticketed without a proper pass.
NEXT POST ~ Driving in Lazio: Frascati, Sora and Gaeta
This is not a sponsored post. I paid for all of our accommodations, meals and purchases.
*FYI, if you are a punctuation "nazi", then please note that I realize that DO'S should actually be written as DOS. However, as you can see, I think it's too confusing not to have the apostrophe (it looks like the number two in Spanish). The Associated Press and others recommend using the apostrophe in this case, so that's why it's there.
Christina's Cucina is a participant in the Amazon Services LLC Associates Program, an affiliate advertising program designed to provide a means for sites to earn advertising fees by advertising and linking to Amazon.com.
Don't miss another recipe or travel post, sign up for my free subscription below!
trip to Rome