These Italian street food options are absolutely a MUST when in Italy. If you're looking for a list of what to eat in Italy, you've come to the right place!
You probably already know that my mother was born in Italy, right?
As an Amazon Associate I earn from qualifying purchases.
And given that I've been going to Italy since I was born, I am rather familiar with it too, so I'd like to share some of my favorite Italian street food with you. Granted, some of these snacks will keep you going for hours (like the porchetta panini), but these would never be considered a meal by Italian standards!
Here they are in no particular order~
Italian Street Food (What to Eat in Italy)
1. Pizza con Patate (Potato Pizza)
You may think that pizza with potatoes wouldn't taste very good. But you'd be wrong. If you won't be popping over to Italy anytime soon, you can make this in your own kitchen with the recipe I linked to in the previous sentence.
2. Foccacia (or Panino) con Salame (Salami Sandwich)
What I love about sandwiches in Italy is their simplicity. No mayo, mustard, pickles, bacon, etc., to hide tasteless fillings and cotton wool bread…just fabulous tasting cured meats and incredibly good bread. Done.
3. Cornetti con Panna (Cream Filled Croissants)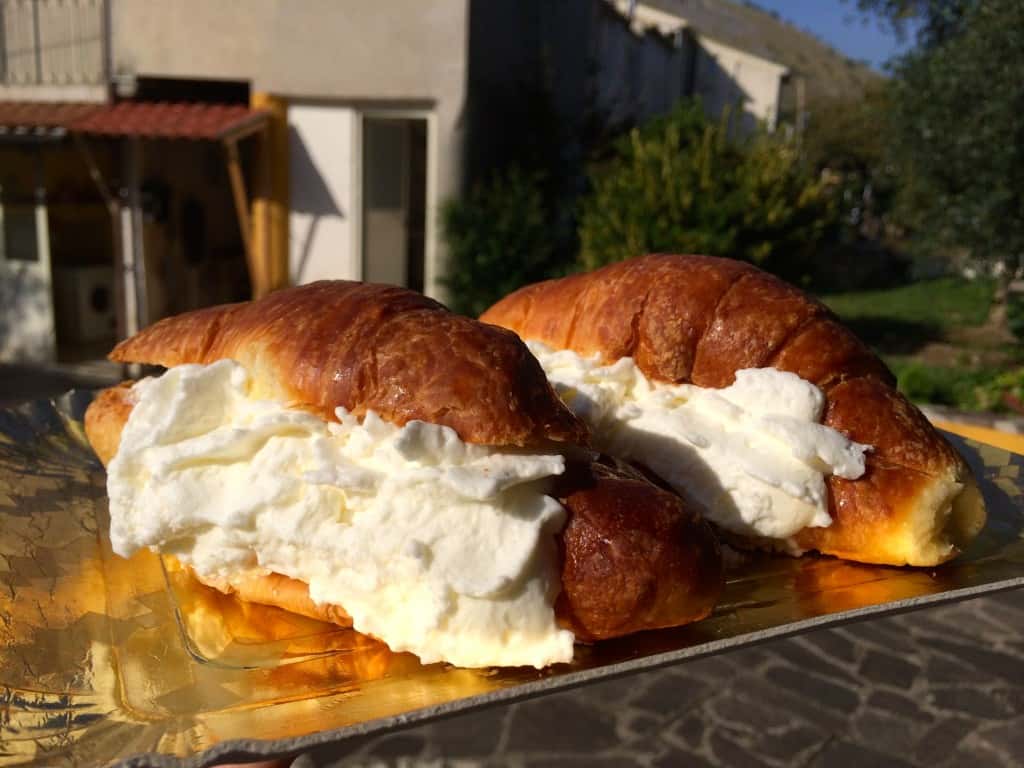 These are one of my cousin Gianfranco and my favorites! In fact, he drove into town to buy these the day before, but the shop was closed, so I picked up a couple the next day. I would like these even more if the cream was sans sugar, but when I asked the shop owner about it, he thought I was crazy: "Panna senza zucchero? Non essiste!" Which totally cracked me up, "Cream without sugar? It doesn't exist!"
4. Pizza al Taglio (Pizza by the Slice) is Italian Street Food
Do I even need to comment here? Once again, if you don't see yourself booking an Alitalia flight anytime soon, check out this pizza recipe.
5. Ciambelle (Italian-Style Pretzels?)
These beauties are a sort of large Italian pretzel, or a cross between bread and a pretzel. Rather chewy and with fennel seeds throughout, ciambelle are incredibly addictive and are best eaten the first day, which is not usually a problem. One of the best handheld snacks in Italy (found in the Lazio region).
6. Panino con Mortadella (Mortadella Sandwich)
I don't enjoy mortadella unless it's sliced super thinly. Unfortunately, even in Rome we had to ask if they could slice it paper thin; so don't take for granted that they'll do so. This is one of my mother's very favorite things to eat when she returns to Italy.
7. Gelato (Ice Cream, similar) A Must have Italian Street Food!
I don't care what flavor you choose, you cannot go wrong. I kept eating nocciola (hazelnut) and Nutella gelati whenever I got a chance, and I am so not an ice cream girl! While not an authentic gelato, you should try my lemon ice cream recipe which is made in a blender! I also have an orange ice cream recipe, and they are both delicious! I can recommend Gelateria La Romana as a specific gelato shop which you'll find even outside of Rome!
8. Panino con Rapini (A sort of Greens Pizza)
I ate this on the bus in Rome on the way to pick up our rental car. You just have to try this because the flavor is fantastic and it's full of vitamins and folic acid! How often do you eat greens when you travel? Not enough, right? So this is perfect to get some tasty greens into your system, via a pizza! Check out a basic way to make rapini. I also have a rapini pasta recipe which is similar to Stanley Tucci's signature dish.
9. Panino con Porchetta (Roast Pork Sandwich)
Porchetta is pork. But it 's super tasty pork. Put it in a panino and eat it as you walk along the street at an Italian market, and it's the best! Once again, super simple: pork + bread = awesome. I have the best porchetta recipe (given to me by a butcher in Orvieto)!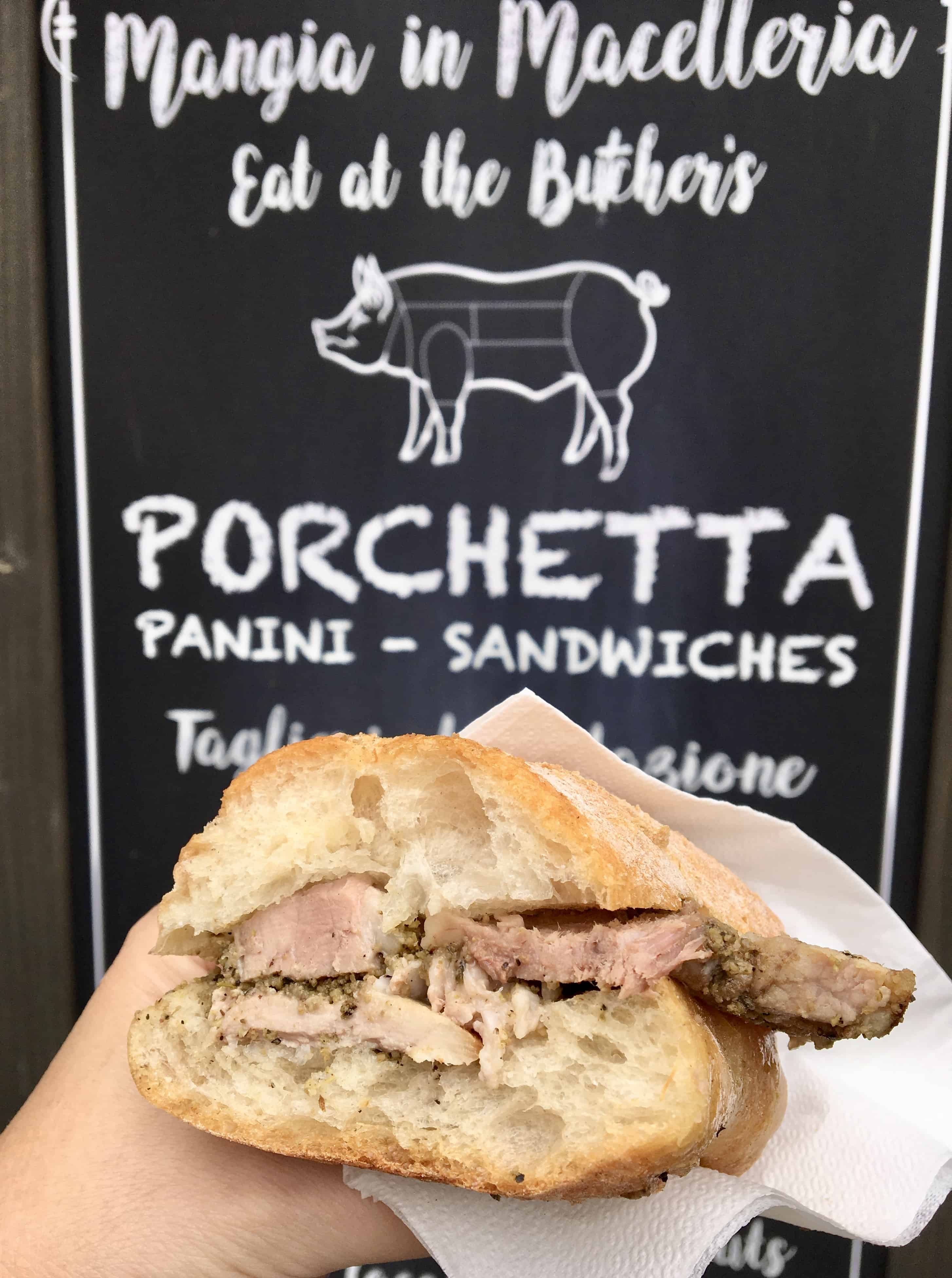 So that's my nine suggestions for handheld snacks that you should not miss when you pop over to Italy next time. Have you been to Italy and if so, have you eaten any of these snacks? Let me know what you think in the comments below…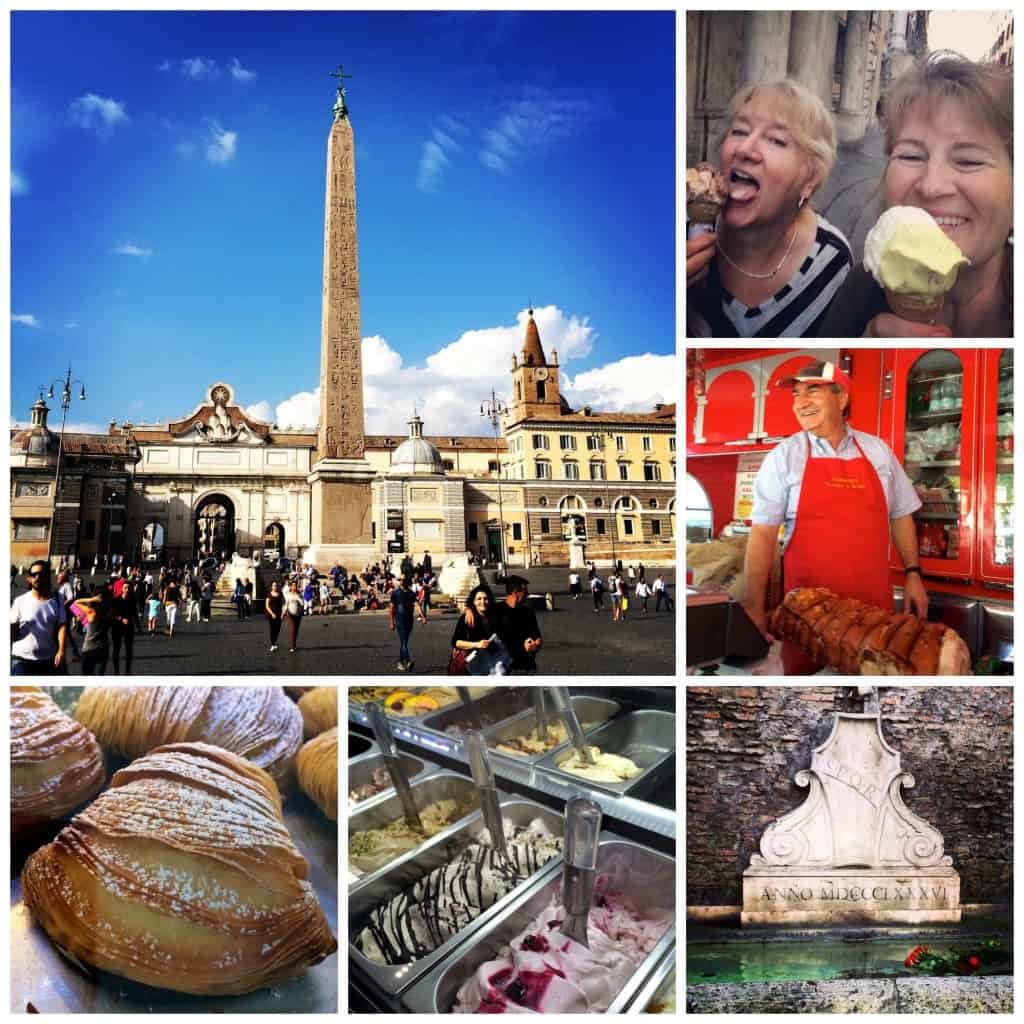 P.S. the shell shaped pastry above is another one of my mother's favorite foods in Italy: sfogliatelle are filled with a sweetened ricotta (often with candied fruit) filling. They are famous in Naples.
Don't miss another post! Sign up for my free recipe and travel subscription below.
Christina's Cucina is a participant in the Amazon Services LLC Associates Program, an affiliate advertising program designed to provide a means for sites to earn advertising fees by advertising and linking to Amazon.com.