Edinburgh Castle is definitely a "do not miss" if you visit Scotland's capital city. The views alone are worth a visit, but the history and stories it holds will seal the deal.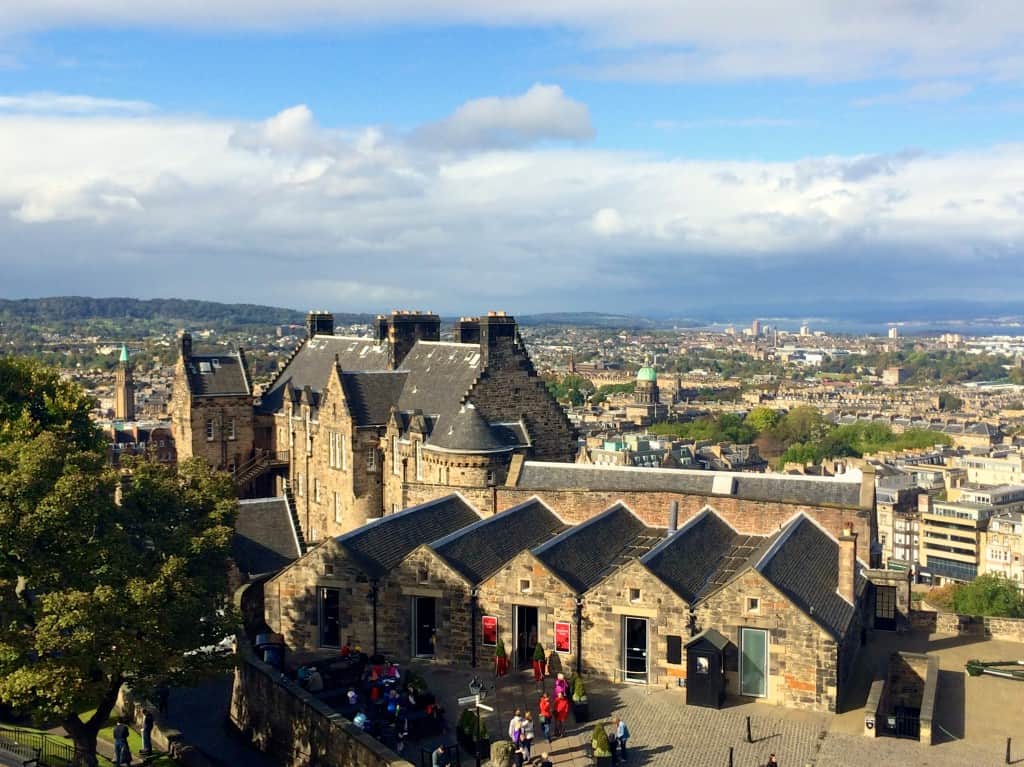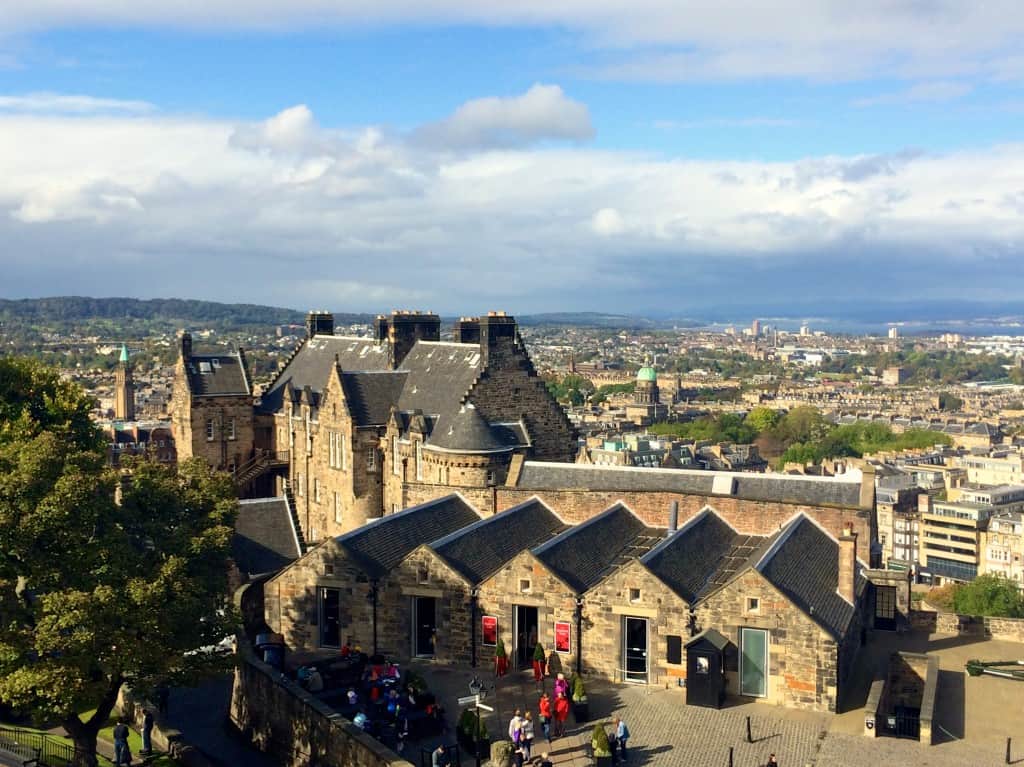 If you've ever been to Scotland, I'm guessing that you visited Edinburgh Castle, am I right?
As an Amazon Associate I earn from qualifying purchases.
For three years in a row, Edinburgh Castle has been the most popular (paying) attraction outside of London, welcoming 1.4 million visitors just last year alone! So if you haven't been, and I tell you it's really worth visiting, trust me on this one.
I was given two media passes to visit Edinburgh Castle, but all views are entirely my own. I also received some products from Heritage of Scotland.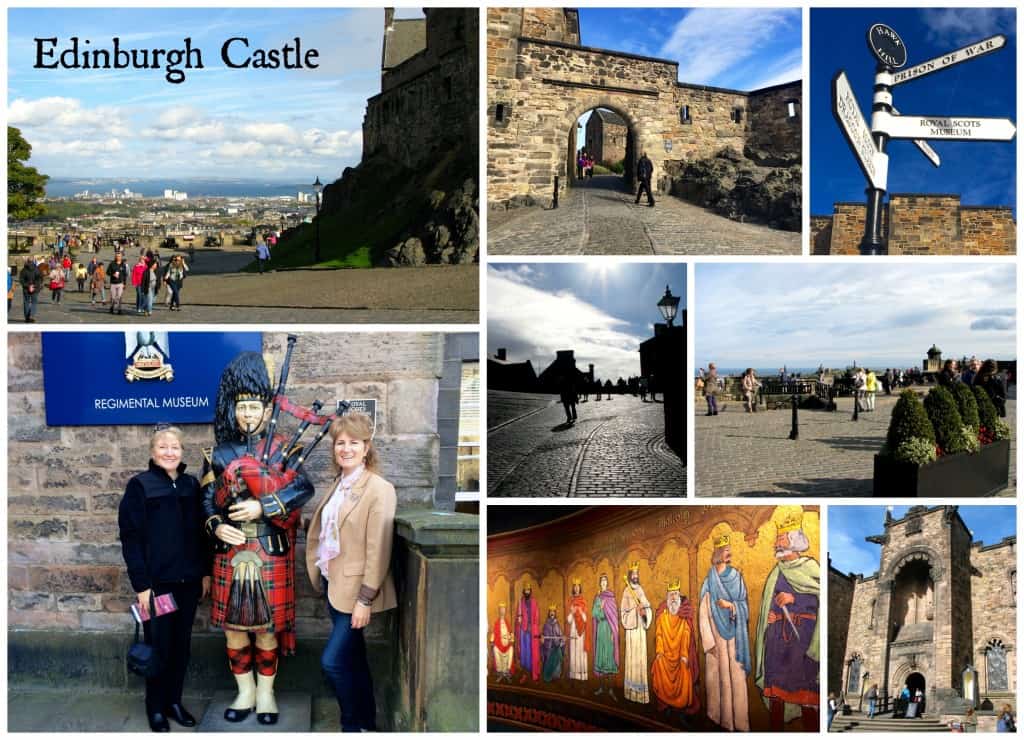 After judging the Scottish Baking Awards Competition at Mar Hall, and before competing in the World Porridge Making Championships in Carrbridge, I drove from Glasgow to Edinburgh for the day. I had gone to Edinburgh Castle with my husband on our honeymoon, but I wanted to take my mother to see this amazing edifice since she'd never been.
Edinburgh is only a 45 minute drive from Glasgow, as long as you don't go during rush hour, so there's no excuse to miss to the castle.
Before I go any further, in case you don't know, Edinburgh is not pronounced "edin-burg", but "edin-burrah".
It was drizzling and overcast when we left Glasgow, and was still cloudy when we reached Edinburgh. This is what it looked like when we were making our way up to the castle (we parked at metered parking on a street below, but there are parking lots nearby, too).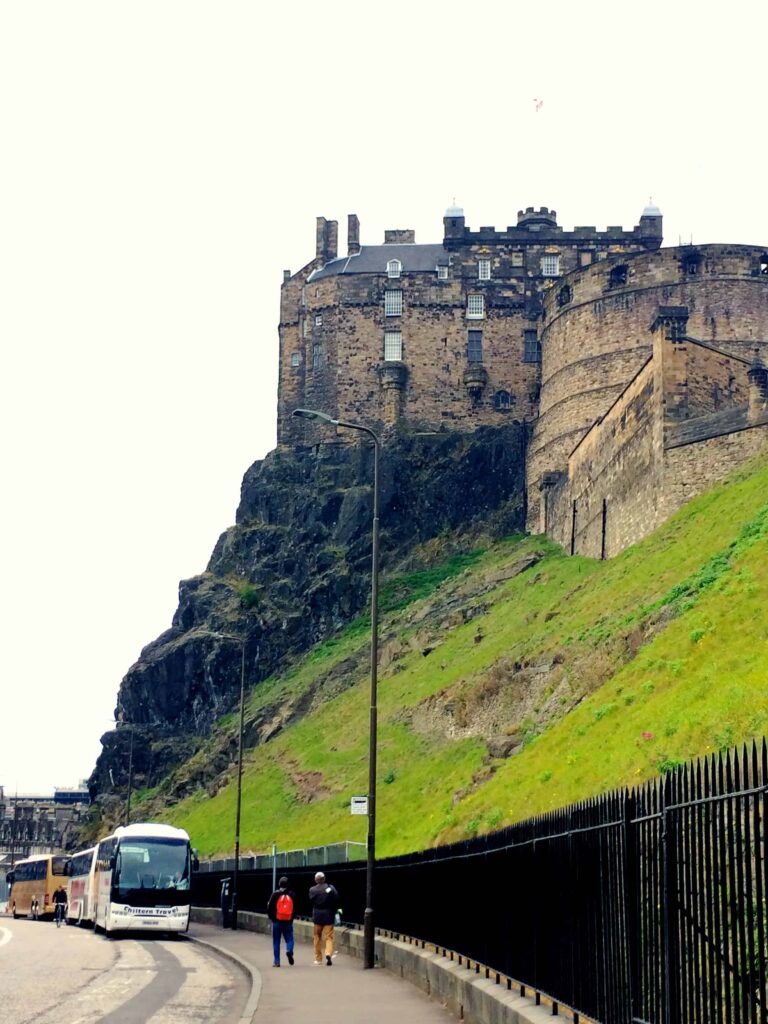 However, my good luck kicked in, and a few minutes later when we made it to the castle, the sun appeared and almost of the clouds disappeared!
The views of the city from the castle are unsurpassed. As with almost every castle, from its vantage point, it's obvious why the castle was built on this rock–one can see for miles in every direction. For example, Arthur's Seat (the hills) is one of the primary views and believe it or not, was formed by an extinct volcano.
Each direction we turned, the sights were simply stunning; like the world-famous Princes Street and Scott Monument…
and Calton Hill.
It was difficult to leave the views and head inside the castle, but I knew there was simply too much to see in a few hours. Just a few of Edinburgh Castle's highlights include the firing of The One O'Clock Gun, which we sadly missed because we were inside viewing Scotland's crown jewels. Of course, the crown jewels are another highlight, but no photos are permitted which is why you won't see them here, but they were spectacular.
Another "don't miss" is St. Margaret's Chapel: the oldest building in Edinburgh.
The Great Hall was awe-inspiring and the Prisons of War made us realize how lucky we truly are.
Audio guides are available, as well as guided tours given by Stewards, or you can just wander with a map at leisure. My mother and I were shocked when we realized that we'd spent over 3 hours at the castle, as the time passed so quickly, but there is so much to see that you could easily spend an entire day here.
We visited The Royal Scots Regimental Museum, the Argyle Tower and Battery, Mons Meg (a cannon), the National War Museum and the Royal Palace, among other places in the castle.
There are also three lovely gift shops, (I know because I visited all three) and two cafés: one is self-service and the other serves afternoon tea and traditional Scottish fare.
Each year in August, the Edinburgh Castle hosts The Royal Edinburgh Military Tattoo, in fact tickets for 2015 will go on sale in less than a month. It is extremely popular, and at the same time, the world's largest arts festival takes place in the city at the Edinburgh Festival Fringe. I hope to attend both events in the next year or so, as I have never been (bucket list items)! This area in front of the castle is where the Tattoo takes place.
My mother and I truly enjoyed being able to step back in time and get a taste of Scotland's history, and see so many incredible sights, relics and objects. Apparently, the exact date of Edinburgh Castle's construction is not clear, however the future St. Margaret died there in 1093 and the history which follows is incredibly interesting.
Edinburgh Castle's website holds a wealth of information including photo galleries, a timeline, maps, and much more. If you go to Scotland, you honestly won't want to miss the fabulous experience of visiting Edinburgh Castle, or if you live in the UK and haven't gone, put it on your calendar or you'll never go!
If all of this talk of Scotland and Scotland's history has given you the "Scotland-bug", do not fear…I have a cure and I think you may thank me because Christmas and the holidays are next month. Heritage of Scotland has so many fabulous Scottish gifts, from kilts to keyrings and mugs to musical instruments.
When I returned from Scotland, I had a lovely package of Scottish items waiting for me and it was like Christmas!* These are top quality products, many of them made in Scotland! I'll talk more about them soon, but go check out their website because they really could solve a lot of your gift-giving dilemmas this year. Oh, and they have a reward program so you can also earn free merchandise!
And only a mile away from the castle, you can find some of the best chocolate you've ever tasted at The Chocolate Tree. Ali and Freddi actually make their own chocolate from cocoa beans, then turn it into the most incredible chocolates, bars, hot chocolate, spreads and cakes, like this one which Freddi made for the Scottish Baking Awards. Isn't it stunning?
So many wonderful people and things come out of Scotland that it's hard for me not to tell you about them!
Don't miss another recipe or travel post, sign up for my free subscription below!
I promise not to share or sell your email address, ever.
Christina's Cucina is a participant in the Amazon Services LLC Associates Program, an affiliate advertising program designed to provide a means for sites to earn advertising fees by advertising and linking to Amazon.com.
*I received several items from The Heritage of Scotland at no cost, however all opinions are solely mine.