Hotel Columbia in central Rome is a great place to stay when you're sightseeing in the city. Read on and I'll give you some tips on finding authentic Italian cuisine, too.


My cousin Denisa and I arrived by bus at Stazione Termini, which is the main train station in Rome, and walked to Hotel Columbia, only minutes away.
Disclosure: I was hosted by Hotel Columbia for one night. As always, all opinions are solely mine.
Although it's extremely convenient to stay close to Stazione Termini, there are certain areas nearby which aren't the best for tourists. Last year, I learned the hard way, that some hotel owners/managers just don't bother about taking care of their establishments or guests.
Checking into Hotel Columbia
This is definitely not the case at Hotel Columbia (in a very safe area near Termini), most likely because it's family-run. Eleonora and her mother make sure that everything is as it would be for family. The staff are welcoming and helpful, and nothing is out of order. It's so lovely to arrive at a place that's clean, tastefully decorated, and comfortable, especially after navigating Italian streets and autostradas (last post).
The Rooms at Hotel Columbia
We were checked into our classically decorated, air-conditioned room right away. You can see just how lovely it was with its elegant window treatments, high ceilings, and chandelier. All guests are offered "pillow menus" so they can choose the pillow that best suits them. I often cannot sleep comfortably when I travel due to an uncomfortable pillow, so I was particularly appreciative of the options.
Denisa and I were quite happy with the pillows we had, but it was nice to know we had choices.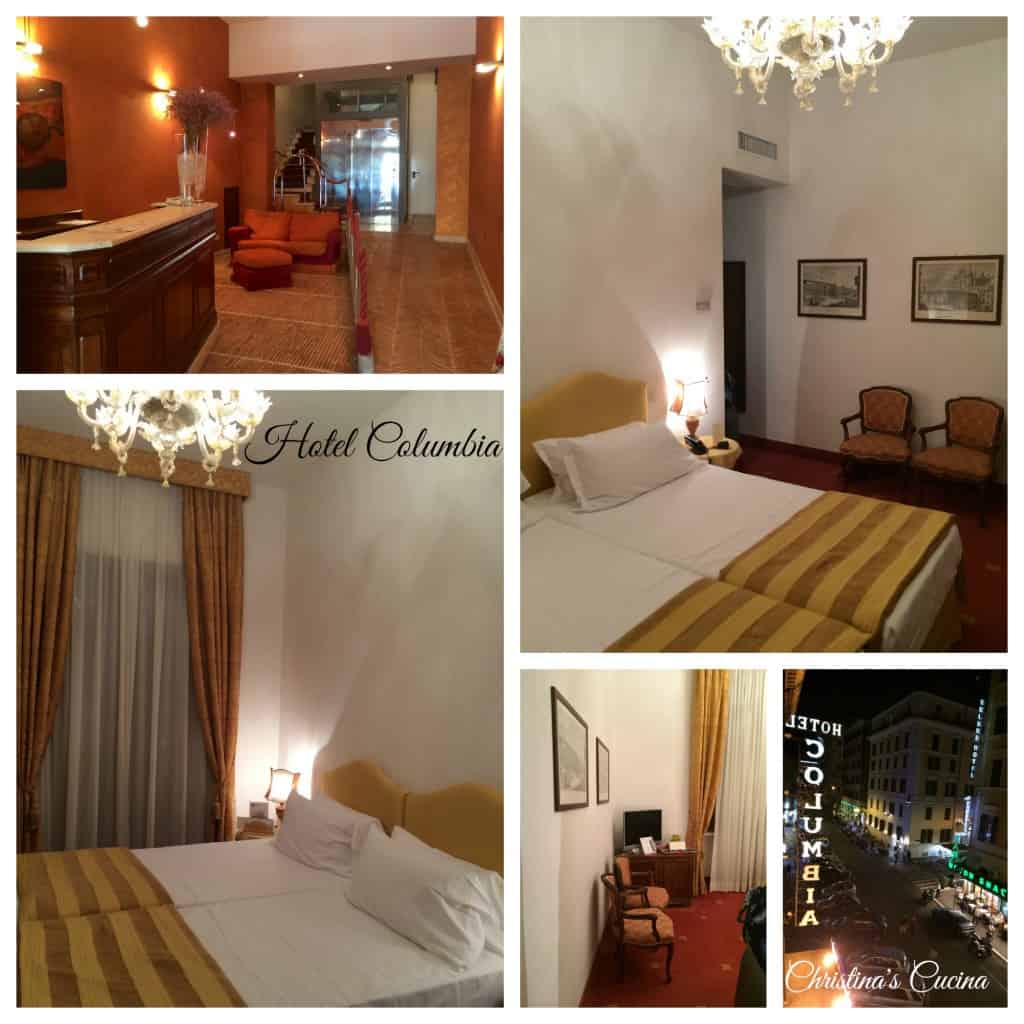 Our room overlooked the street and we had our own private terrace (photos later)! I admit I was concerned about street noise, but it wasn't an issue at all, especially when the windows were shut.
If you stay at Hotel Columbia and don't get a private terrace, there's always the lovely rooftop terrace that's available to all guests.
How to Find Authentic Italian Food in the Most Touristy Parts of Italy
We hadn't eaten anything since our gelato in Frascati so both of us were quite hungry. It was getting late and so we set off in search of authentic Italian fare. You might think that if you are in Italy, anywhere you eat would be "authentic Italian fare", but you would be sorely mistaken.
Near touristy spots and the Stazione Termini area, it is often especially difficult to find proper Italian cuisine. This is due to what I'll call the "tourist effect": tourists may not like dishes made the Italian way, restaurants who cater to many tourists realize this, they also realize that changing the menu (using inferior quality ingredients) is cheaper, so they cater to their clientele and offer "menu turistici."
Denisa and I know this and did not travel all the way to Rome to eat from a "tourist menu," so we started making our rounds, trying to move away from the station in hopes of finding a menu with authentic Italian cuisine.
We passed the Teatro dell'Opera, which is just down the street from Hotel Columbia. Most eateries appeared very inviting, but if the menus didn't pass inspection, we moved on.
What were we looking for? Menus that had items that we knew wouldn't appeal to most tourists. If all that was on the menu were dishes like spaghetti Bolognese, lasagna, fettucine Alfredo and pizza, we would keep walking. Some waiters would entice us to sit down to eat at their establishments. If talking to them felt like conversing with a used car dealer, we'd also keep walking. Another tip is to avoid restaurants where the majority (or all) of the guests appear to be tourists. It's not hard to tell.
Denisa and I finally came upon a menu that looked appealing. Unfortunately, the restaurant was shut! We began to think that it just wasn't our night to find a decent place, but as Denisa started to walk away, I noticed a sign stating that the entrance was at another address. We realized that were at back of the restaurant, so we walked around to another street and found Gallo Matto, which means Crazy Rooster.
Ristorante e Pizzeria Gallo Matto near Hotel Columbia
We perused the entire menu, pointing out different dishes to each other that gave us the idea that this ristorante may be a good bet. A waiter came to speak to us, so we explained that our mothers were born nearby, and we were looking for authentic Italian food. He gave all the right answers, and highly recommended the homemade ravioli (coming across as genuine; not as if he was delivering a sales pitch), so we sat at a table outside. Finally, we could eat!
We were immediately served a complimentary antipasto of pickled eggplant, which we loved, given that this is something we both make at home.
We ordered some wine, then decided on two appetizers: olive ascolane (deep-fried, breaded olives stuffed with a meat filling) and fiore di zucca (zucchini flower filled with anchovies, battered and deep fried). These were two of the menu items which had encouraged us to put our faith in Gallo Matto, and we were not disappointed. I'm not an anchovy lover, but the stuffed flower was fabulous.
Denisa ordered the homemade cheese ravioli and I had the penne all'arrabiata. They used De Cecco pasta, which was another good sign, and both dishes were delicious! We were so happy we came to Gallo Matto. And if the food, wine, and great service wasn't enough, they served us two glasses of limoncello (each)!
I would definitely recommend Gallo Matto if you find yourself near Stazione Termini in Rome (it's actually even closer to the Basilica of Santa Maria Maggiore. Gallo Matto, Via Cavour, 107). We paid the bill, and decided to go for a walk before going back to Hotel Columbia.
Here are my tips on finding authentic Italian food, not just in Rome's tourist-heavy spots, but anywhere in Italy.
Look at the menu. Do you recognize every dish and item on the menu? Does it say "menu turistico" or "tourists welcome"? If one or both of these answers is "yes", move on. (Note: sometimes there is no menu (for example, at an agriturismo), this is usually a good thing, but doesn't necessarily ensure good food).
The next tip might be difficult, especially since many well-meaning Italians from great restaurants will also sound as though they're giving you a sales pitch. Go with your gut- do you like the person who's trying to bring you into their restaurant, or do you feel like they're just doing their job to fill up tables?
Do most of the diners look like tourists? Keep going. Are the diners mostly speaking Italian and look like locals? This is probably a good option. It's usually pretty easy to spot tourists vs. locals.
My friend Suzanne, from The Travelbunny, has more tips on eating like a local in Rome.
Rome by Night
There are a few benefits to seeing Rome at night. There are significantly fewer people; seeing the monuments and attractions lit up at night is stunning, and much different than seeing them by day; if you're visiting during the summer and temperatures are high, it's much cooler.
We headed back to Hotel Columbia after one of the most scenic walks we've ever had. When we were just around the corner from our hotel, Denisa happened to spot the word EATALY on a door. I had no idea there was an EATALY in Rome! It was almost midnight, but it was still open so we popped in. It was smaller than the EATALY in New York City, but it was nice to be able to show Denisa what I'd told her about when I was in NYC.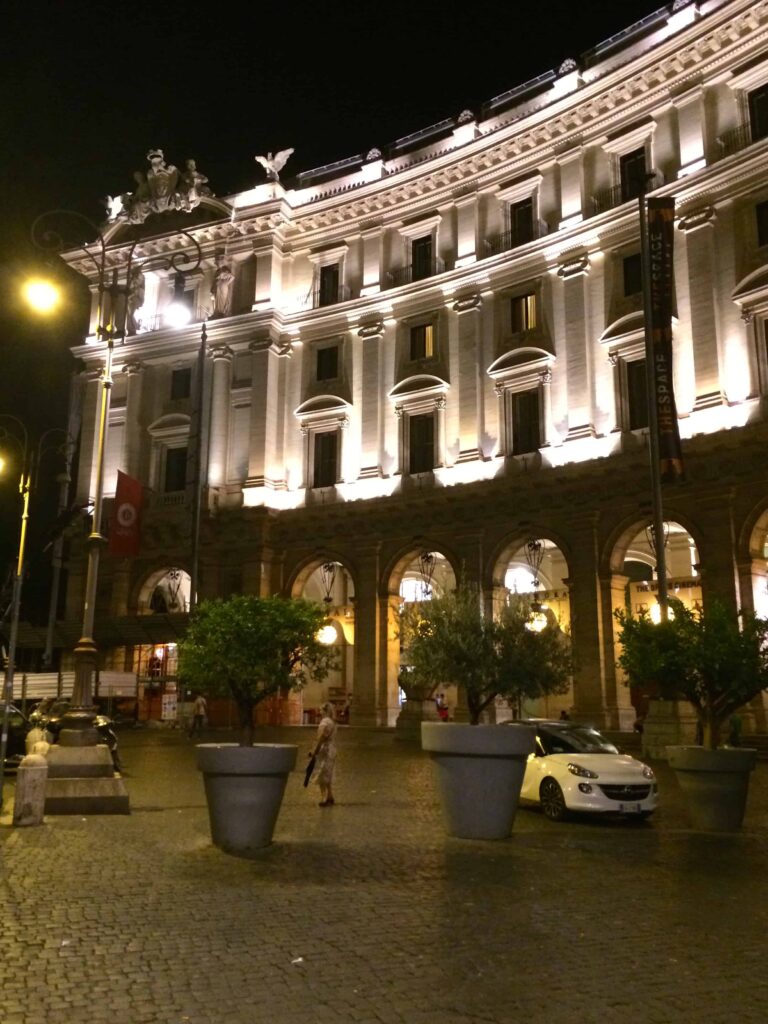 Breakfast at Hotel Columbia
We slept like bricks at Hotel Columbia, and did not get up bright and early. We'd both been to Rome several times before, so we were not on a frantic, "need to see as much as we can in a few hours" kind of schedule.
We could have eaten breakfast on our private terrace, but after our showers, we headed up to the rooftop terrace instead (breakfast is included in the price of the room, as is wi-fi). Menu items are purchased through the Fair Trade Network, which, to me, says a lot about the proprietors. There was so much to choose from: meats and cheese, yogurt, fruit, cereals, bread, pastries and more. Need I even mention the wonderful cappuccini? We slept in, so we missed the crowd!
My breakfast!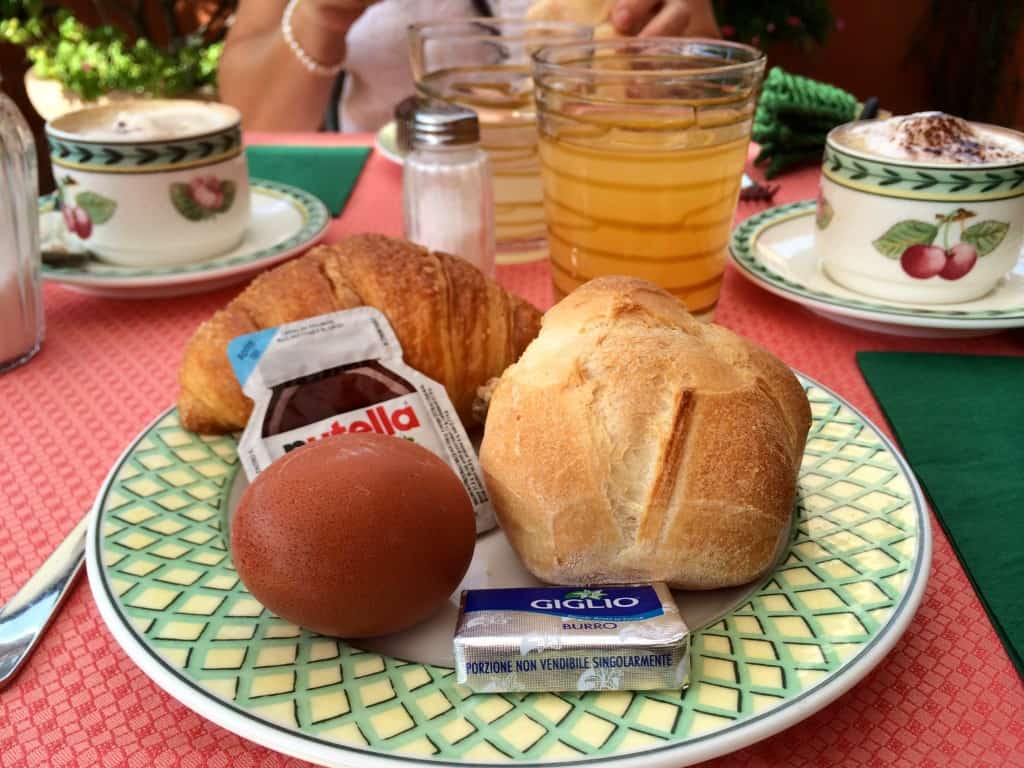 Sightseeing in Rome
After our tasty breakfast, we were off to explore Rome. Denisa and I took a day trip to Rome once before, when we were very young. We could hardly believe so many years had passed (see the photos at the Spanish Steps below to see just how many years)!
We brought a small map from the hotel, having a few places in mind that we wanted to see, but it was to be a casual, stress-free day. Denisa and I planned to walk the entire day, but the easily navigable Metro and buses in Rome are always options (Hotel Columbia is only three minutes from the nearest metro stop).
One place neither of us had ever visited was La Bocca Della Verità, so that was our first stop. As one walks in Rome, there are many distractions and hazards along the streets, known as shoe shops, bars, pasticcerie (bakeries that specialize in pastries), jewelry shops, gelaterie (gelato shops)–just know that you've been warned. I'm not talking about regular bars, but Italian bars, which are not just places to hang out at night and drink. Apparently, Castroni is a chain and it has a bit of everything, including a specialty grocery store downstairs where I did a bit of shopping last year.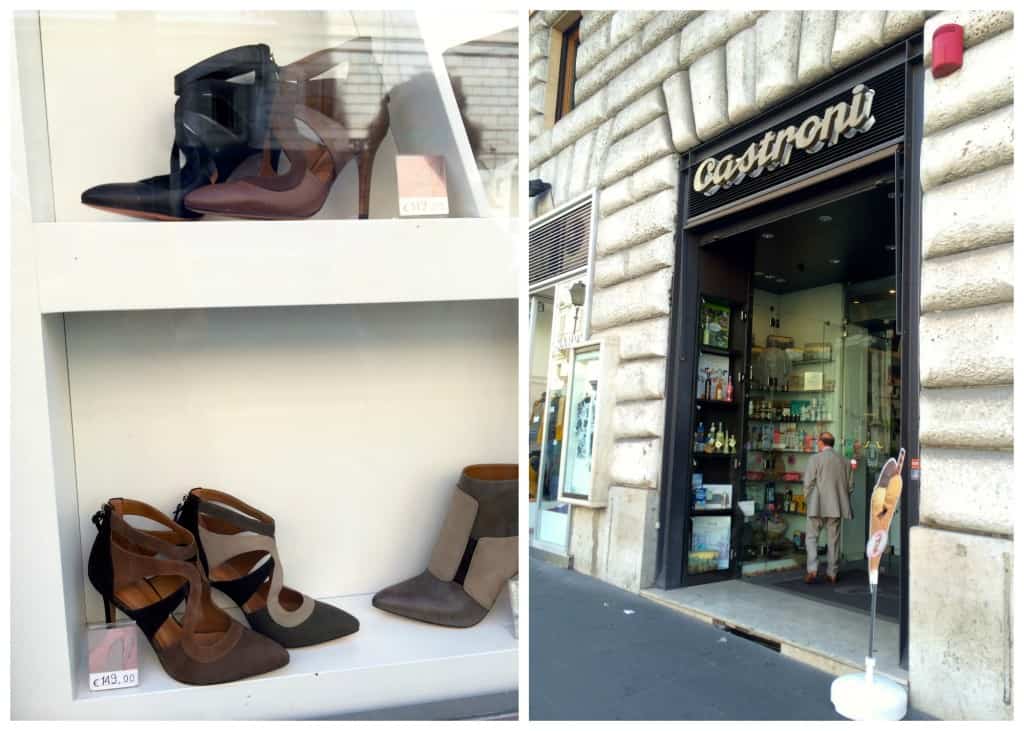 By the way, Via Nazionale is a good choice for those of us who can't afford to shop on Via Condotti (Gucci, Versace, Bulgari, etc.).
Churches in Rome
Another thing that's difficult when you're trying to get somewhere in Rome, are churches. Somehow, it's really difficult to pass by a church without at least having a good peek inside!
Each one is more phenomenal than the last, and the more you look, the more you want to see. They truly are incredible, but if you've got a destination in mind, keep an eye on your watch as the time adds up. I have no idea which church this was; it's just one of the many we popped in to see.
We eventually made it through all the distractions of Via Nazionale and were back at the Victor Emmanuel monument, where we'd been the night before. Luckily, I managed to get this postcard shot with no other people in the foreground except for an Italian woman who looked like she could have fit in 2000 years ago!
Although we'd both been by the Roman Forum several times before, we just had to take it all in again. There are many, many distractions in Rome.
La Bocca Della Verità
We finally started to get close to La Bocca Della Verità (the Mouth of Truth), but had to ask a passerby where it was, as we just couldn't find it. This is because it's kept in the portico of the Santa Maria in Cosmedin Church, and (surprise, surprise) there were no signs.
The myth of "la bocca" is that it will bite your hand off if you tell a lie (obviously, while your hand is in its mouth). We realized, as we walked closer, that there was a long queue of people waiting to take pictures with "la bocca", and neither one of us are really into queues. I waited until the right moment and got my shot. I was completely content with this photo, and I didn't get my hand bitten off.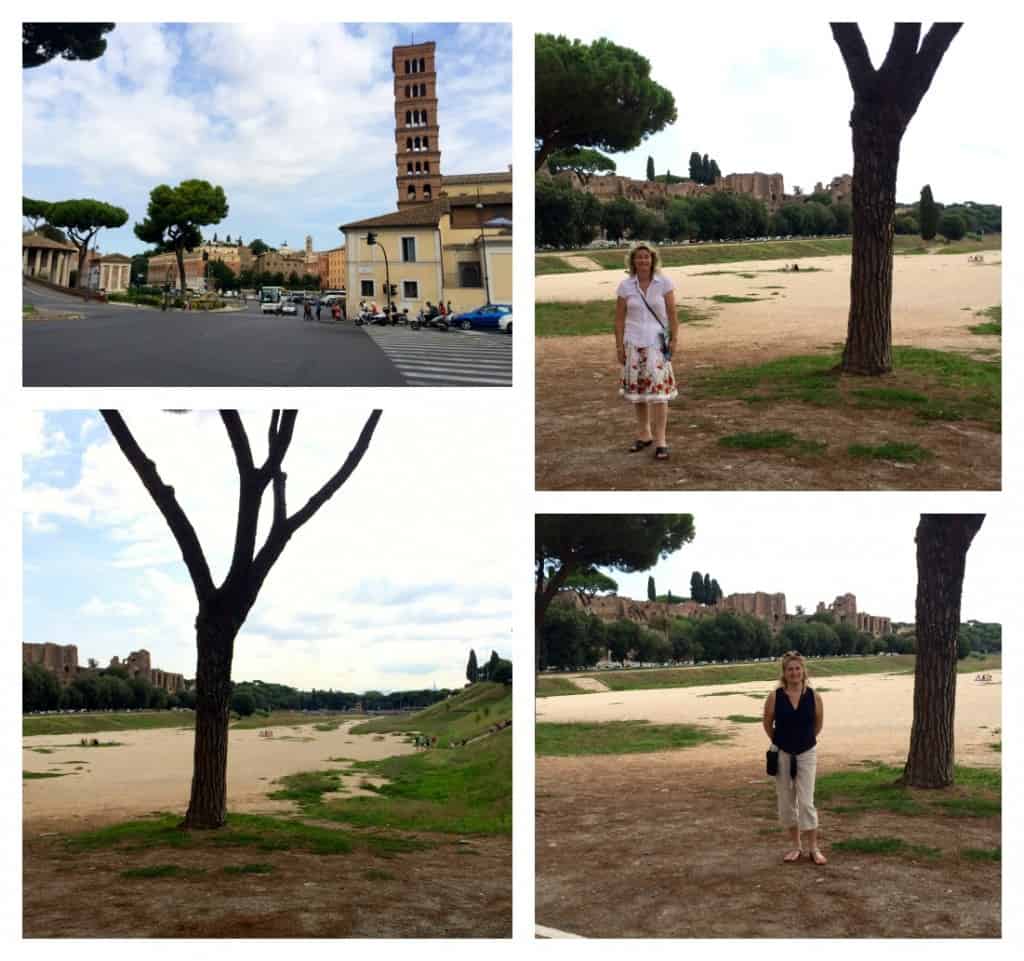 Circus Maximus is in very close proximity to La Bocca della Verità, and neither of us had been there, so we checked another sight off our lists.
Asking directions in Rome
I asked a policeman who was sitting in his car where Campo dei Fiori was, as I'd only been there once and it wasn't on our map. He told me it was on the other side of the Tiber River, which confused me, as I thought it was on the side we were already on. However, I assumed he knew what he was talking about (my mistake: I usually never assume anything in Italy), so we crossed over a bridge.
Once we were on the other side of the Tiber, I just felt that we were in the wrong area, so I asked a young man serving coffee at a bar if he could direct us to Campo dei Fiori. He told me to go down three bridges then cross, "sempre diritto" and we'd be there. When I told him that the policeman had told me it was on this side of the river, he had some choice things to say about the police in Rome.
I've had the same thing happen to me in Paris, and I just cannot understand why anyone, especially police officers, would willingly give tourists misinformation. It's truly quite sad; however, I did get some nice photographs, so it was fine.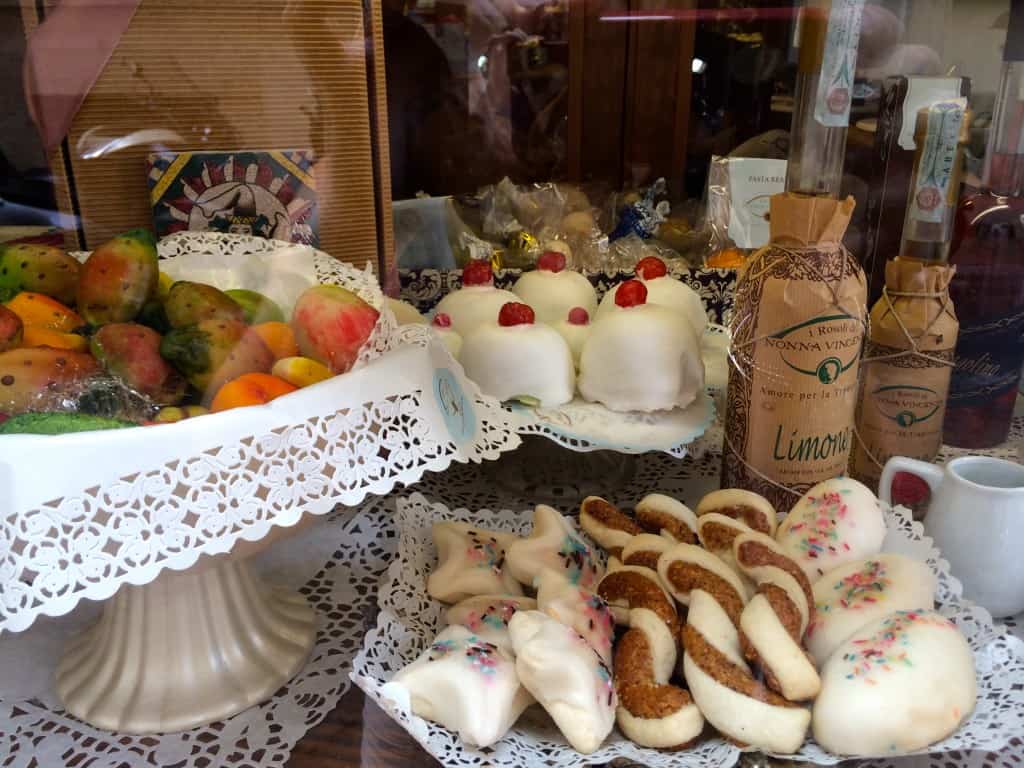 We arrived at Campo dei Fiori, and Denisa bought some things to bring home. I showed her an amazing salumeria, and a few other places I'd discovered last year.
Pizzeria Florida
I wanted to take Denisa to the same little carry-out pizza place where Mum and I had eaten fantastic pizza a year ago. It was called Pizzeria Florida and after tasting it, Denisa said, "I bet we found the best pizza in Rome!" I think it was even better than last year's pizza!
The bottom was crispy, the dough was so tasty and had great texture, and those toppings were to die for, especially the potato pizza! Perfection. We even went back so that Denisa could bring some back for her family and since we were there, I ordered another piece, which we shared (it was another flavor that we hadn't tried)! Don't we look happy?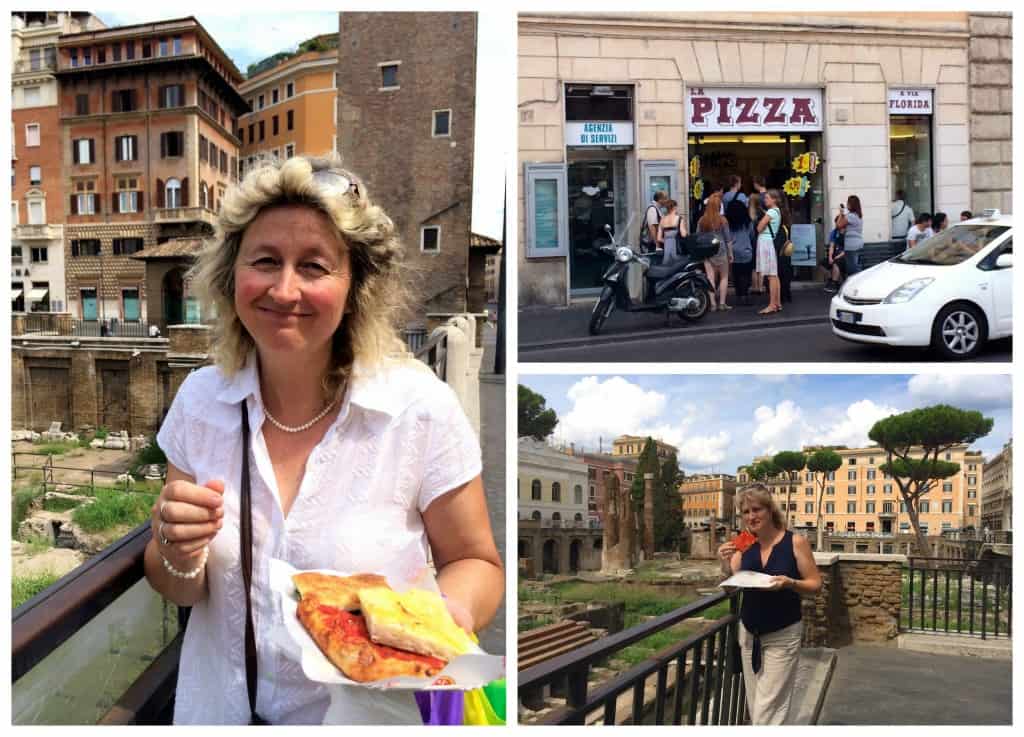 Sufficiently full, we made our way towards the Trevi Fountain, which incidentally, was still covered in scaffolding from last year (I think I've seen it under scaffolding and behind fences, more than without)!
Just north of Trevi, are the Spanish Steps and our plan was to walk back through Villa Borghese, which is very close to the Steps. As promised, here are photos of Denisa and me from the 1980s and from this trip.
We had some great views of the city from the edge of Villa Borghese.
I'd never been to Villa Borghese before, and neither had Denisa. It was similar to New York's Central Park in many ways. A refreshing and green respite from the rest of the city.
Checking out of Hotel Columbia
After a leisurely walk through Villa Borghese, we returned to Hotel Columbia to pick up our bags and go to the train station. Eleonora had graciously given us a late check out, so we could get cleaned up before catching our flight.
We were so grateful for this, as it had been another hot day, so it was a relief to be able to use our own bathroom to shower and clean up.
Shortly afterwards, we checked out and had one last look at our hotel. It would have been lovely to stay for longer, and explore more of Rome's wonders. In addition to the other features, Hotel Columbia is such a reasonably priced, 3 star hotel, that a week at this charming spot is truly feasible for many travelers.
Stazione Termini to Fiumicino Airport
When we had almost reached the train station, Denisa asked me,
"Why are you rushing? We're here."
Once again, I knew that we didn't have our tickets for the Leonardo Express to Fiumicino airport yet, so I was not relaxing until we had them in hand (we were flying back to London). I've learned to expect hurdle after hurdle when trying to do the most mundane things in Italy.
Attempt to buy tickets #1
We'd been told to buy our tickets at any vendor selling magazines and cigarettes, which seemed strange to me within the train station (this is normal outside of stations). So, while Denisa stood by with our cases, I waited in line, and when it was my turn, I asked for two tickets for the Leonardo Express. The lady said she didn't sell them, but she didn't volunteer to tell me where I could buy them. I had to ask. She pointed behind herself, to another tabacchino, so I went around to ask there.
Attempt to buy tickets #2
I waited in line, and again, asked for two tickets for the Leonardo Express; same response,
"I don't sell them."
Déjà vu.
"So where do I buy them?" I asked in Italian, and he pointed behind me–to a travel agency!
Attempt to buy tickets #3
What? Oh my God, there was a long queue, and just one person serving everyone! I just pictured the woman being helped at the counter planning her round the world trip, while I would be at the end of the line wanting two train tickets for a train that was leaving in less than ten minutes! I started to panic, as I pictured us missing our flight and the problems that would ensue.
Attempt to buy tickets #4
It didn't take much to realize that if I waited in the travel agency line, we'd miss our train, so I told Denisa that I was going to try a kiosk (anything automated in Italy is also a bit of a nightmare from my experience). I immediately found the Leonardo Express tickets on the touchscreen menu, but it was so hard to make the selections as the screen wasn't working correctly! It was agonizing to try to press the selections because half the time it would activate the wrong selection.
I was sweating at this point as our train was leaving within a few minutes and I was still fighting with a machine. Denisa stood by, cool, calm and collected (how does she do it?)
Finally, I arrived at the screen to pay, but couldn't find a place to buy two tickets instead of one! I was going to have to do it all over again! Quickly, I inserted my credit card, error, it wouldn't take my card as it didn't have a chip! I turned to Denisa and said, "Hurry, I need your credit card and pin!" She swiftly handed it to me and whispered her pin to me, and I in turn whisked it into the machine–too late, the system had timed out! It had literally been seconds! I'd never seen anything 'time-out' so quickly in my life.
Attempt to buy tickets #5 (success)!
I was truly frustrated by this point, and I think Denisa was finally getting worried, too. I eventually managed to get the stupid machine to spit out two tickets, and we were off literally running through the station!
We were headed to one of three platforms from which the airport train leaves. Of course, it wasn't on the schedule, so we asked someone which "binario" was for the Leonardo Express, and ran to it as fast as we could–we had three minutes! We immediately stopped running when we both saw the sign above the platform which read, "in ritardo". In true Italian fashion, our train was late!
Here's the worst (now, it's possibly the funniest) part of the entire situation: when we were walking down the platform, there was a tiny yellow ticket booth, with a little man inside, and the only job he had was TO SELL TICKETS FOR THE LEONARDO EXPRESS! Aaaargh! (See any familiarities between the end of my last post and this one? Traveling in Italy can be extremely frustrating.)
Updated Sept. 4, 2017: The bus from Termini is much easier and cheaper, and not much longer.
On the train to Fiumicino
Thankfully, our train ride to Fiumicino was uneventful. However, at the airport, there were no gate announcements or schedules listed. Without asking someone, one would never know which security area to use (for example, for Gates A/B or C/D). After Denisa asked the British Airways agent, we went through the correct security area for our flight.
Once we were through, we checked the departure board and although flights were listed with gates, ours wasn't among them. I asked at the information desk and was given our gate number so we went to sit and decompress at our gate. After about half an hour, we'd finally relaxed a bit (I think the adrenaline had finally left our systems). I happened to look at the gate information; it now read, ABU DHABI. We were sitting at the gate for a flight to Abu Dhabi instead of London! I told Denisa,
"Hurry, we have to go, this isn't our gate!"
We checked the monitor information, and our BA flight was finally listed. We ran to the new gate and it was, in fact, our flight to London which was just starting to board!
For more information or to book a room at Hotel Columbia.
Thank you to Hotel Columbia for hosting my cousin and me for a wonderful one night stay. All opinions are always my own.
Don't miss another post! Sign up for my free subscription