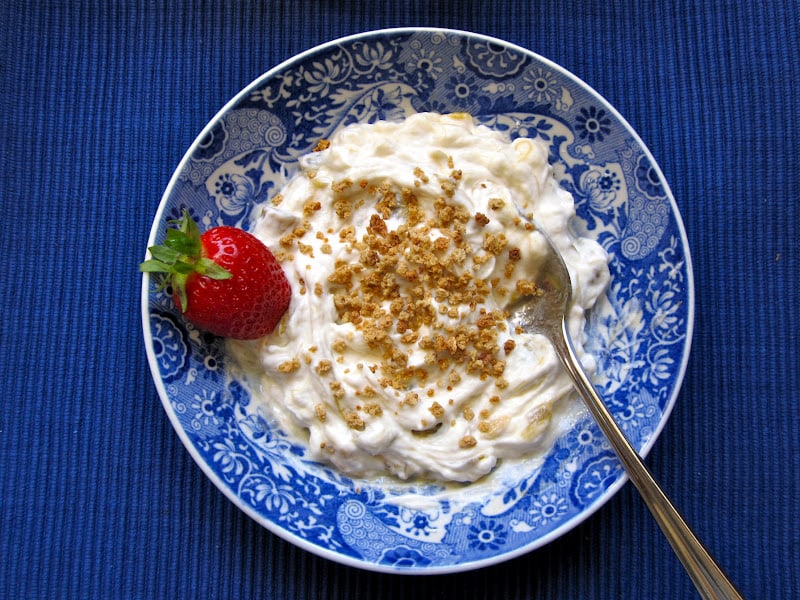 One of things I really miss about Scotland is rhubarb.
There are certain fruits and flavors that just haven't been such a hit on this side of the pond, like blackcurrants, gooseberries, and rhubarb. Besides Strawberry-Rhubarb pie, I would guess most Americans haven't really ventured into any other rhubarb concoctions, and it's a shame as rhubarb has many health benefits, including cancer fighting properties.
When I go back to the UK to visit, one of the first things I buy at the grocery store is rhubarb yoghurt (one cannot eat a fried British breakfast every morning!)
If you've never tried rhubarb, it is a difficult flavor to describe. The stalks are sour, and it has a very unique flavor. I can't say that it tastes similar to anything else I've tasted.
I don't know how many people actually eat it raw (Brits, help me out here?) However, when I was a little girl, my mother would pull a stalk out of the garden, give me a little bowl of sugar and I would dip the end into the sugar and eat the stalk, one sugar-dipped-bite at a time. I loved it, and still do to this day. When cooked, the stalks almost disintegrate and become very soft (see pic below.)
If you're buying rhubarb at the store, look for firm, red, fresh looking stalks.
I have some rhubarb plants, but California isn't the best climate for growing rhubarb since the plants do incredibly well in the British climate. However, I did cook my small, thin stalks to make my own Crunchy Rhubarb Yogurt!
Where's the crunch in the yogurt, you ask? I like to add some Grape Nuts cereal or granola to my yogurt–it makes it more satisfying, since there's a bite involved, versus the feeling of  eating baby food. This breakfast is super simple to make, and you can cook the rhubarb ahead of time and keep it in the fridge, or even freeze it to use later.
I'm adding this recipe to the Great British Rhubarb Recipe Roundup hosted by the fab British bloggers
~Karen at Lavender and Lovage and Janice at FarmersGirl Kitchen~
Go see what other delicious rhubarb recipes they have featured on their sites!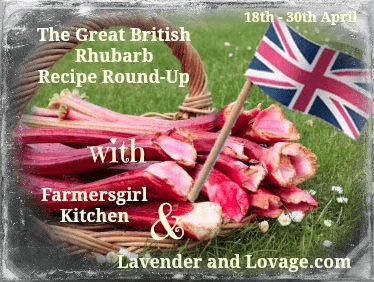 Crunchy Rhubarb Yogurt
rhubarb stalks
sugar
your favorite plain yogurt (regular, Greek, or even labne)
Post Grape Nuts (or any small crunchy granola type cereal, if desired)
Cut the rhubarb into bite size pieces and add some sugar (don't add too much as you can always add more.) For a rough idea: with about 4 stalks of rhubarb, start with 1/3 cup sugar.
Cook until soft, and looks like the picture above. Add more sugar to taste, if needed.
Let cool.
Place yogurt in a bowl and spoon some rhubarb on top.
Mix well, then sprinkle with cereal or granola.
This is truly one of my very favorite breakfasts. If you've never tried rhubarb, I hope you'll give it a try!
You could also cook some strawberries with the rhubarb, for another delicious variation!
Don't miss another recipe or travel post, sign up for my free subscription below!
I promise not to share or sell your email address, ever.