Strawberry rhubarb pie filling is classic for pie, cobbler, crisp, and more. Use this easy recipe to make the best strawberry rhubarb pie filling you've ever had, either raw, or a quick 5 minute method!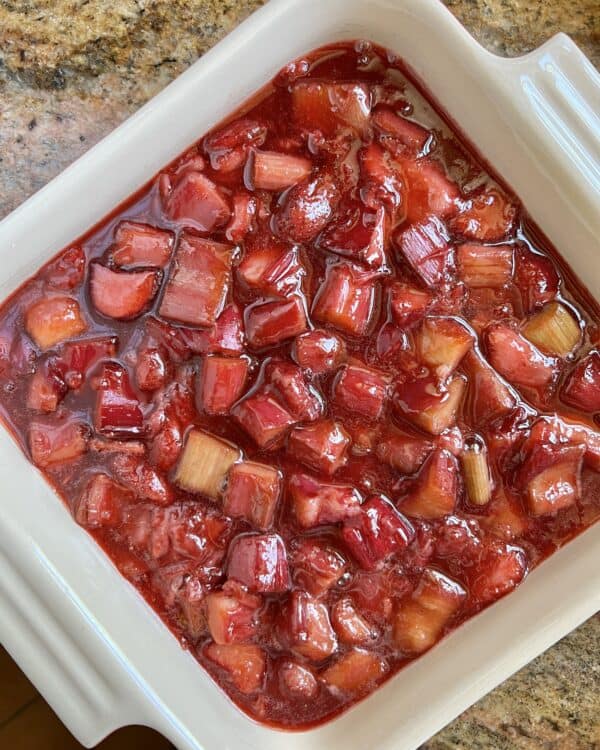 Have you used a strawberry rhubarb pie recipe that has made you cook the fruit until it resembles jam?
As an Amazon Associate I earn from qualifying purchases.
Well, I am glad you're here because now you can make the most delicious strawberry rhubarb pie filling with my easy recipe! Did you know that you don't even need to cook it beforehand if you're using it for a baked dessert? It's true, just mix the filling as directed and you're ready to add to your pie crust, or use for your cobbler or crisp! It will give you the perfect strawberry rhubarb pie!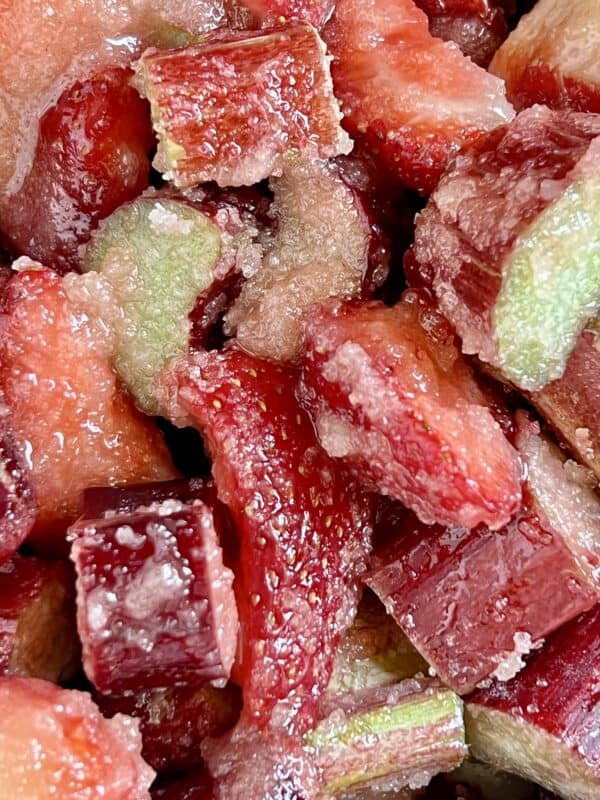 The end result will leave you swooning as it's just perfect! You'll still have recognizable chunks of fruit, not a jam filling like other recipes will give you. It's also not too sweet, without a thick, gluey consistency.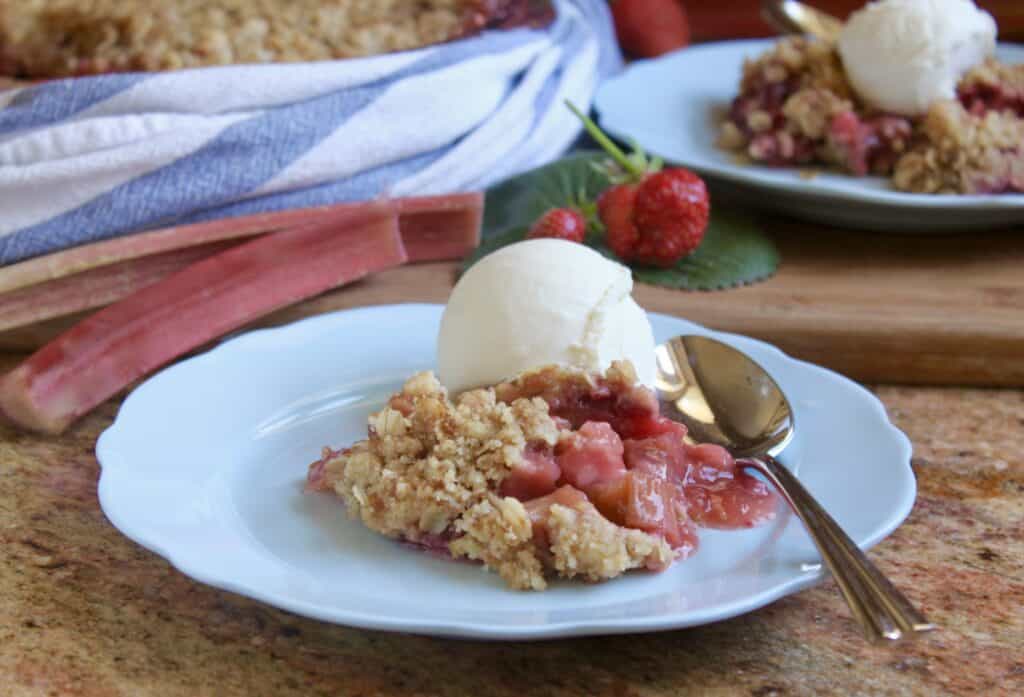 It's made the same way as my other fruit fillings, like my cherry pie filling which has been receiving rave reviews for years! Doesn't it look luscious?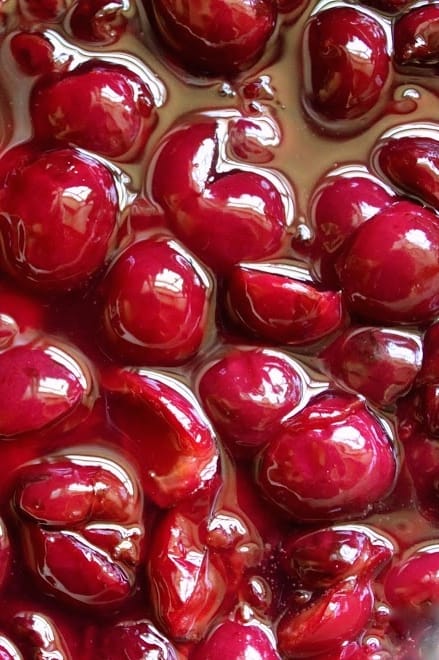 How do you Keep Strawberry Rhubarb Pie Filling from Being Runny?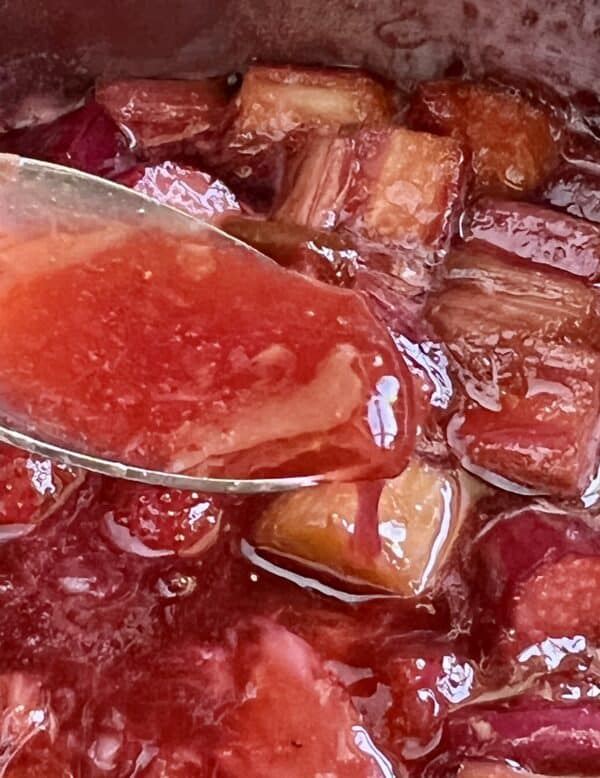 Avoiding a runny strawberry rhubarb pie filling is easy when you have the right recipe. Just follow the ratios given for fruit, sugar, lemon juice and corn starch and you'll have a perfect filling!
Don't miss out on this strawberry rhubarb crumble, too!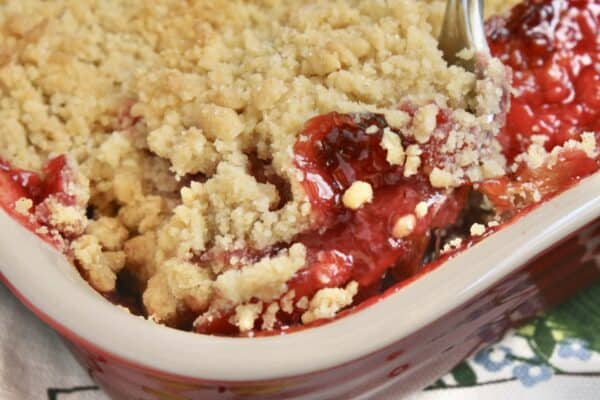 Do I Have to Cook the Strawberries and Rhubarb Before Using it in Pie Filling?
As mentioned above, there's no need to cook the filling first! This is a beautiful thing, because it is much quicker and easier than many other recipes you'll find that tell you to cook the poor fruit until it resembles jam more than a pie filling. Follow the recipe below for perfect results.
Without further ado, here are two ways to make no fail strawberry rhubarb pie filling.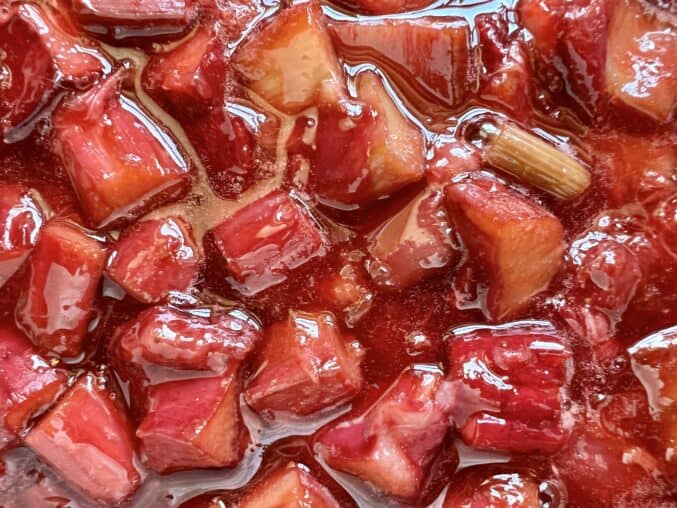 NOTE: I always recommend weighing ingredients when baking. Depending on the size of your fruits, it will fill a cup differently and therefore won't be an accurate measurement and give you less than stellar results.
How to Make Strawberry Rhubarb Pie Filling
Recipe by Christina Conte Makes enough for one 8″ or 9″ pie
FULL PRINTABLE RECIPE BELOW
Ingredients
rhubarb
strawberries
sugar
corn starch
lemon juice
Raw Method – use when baking pies, cobblers, etc.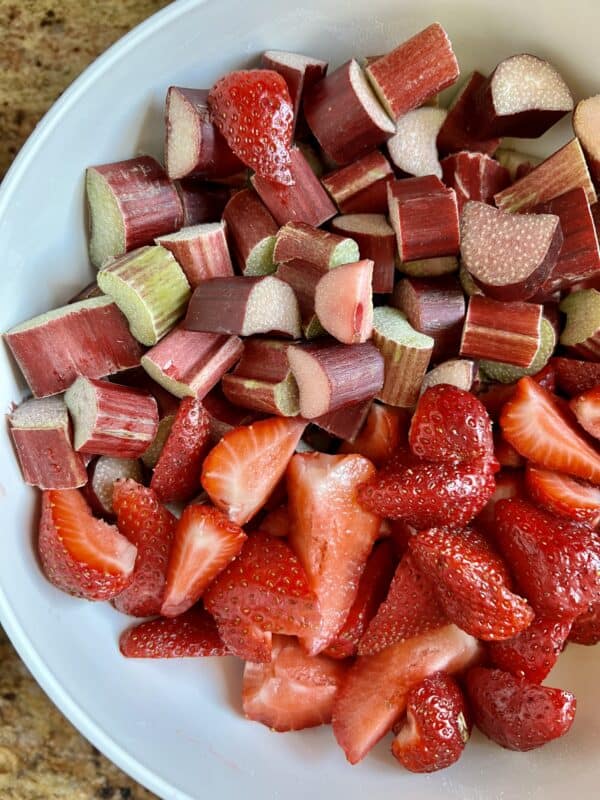 Put the fruit into a large bowl.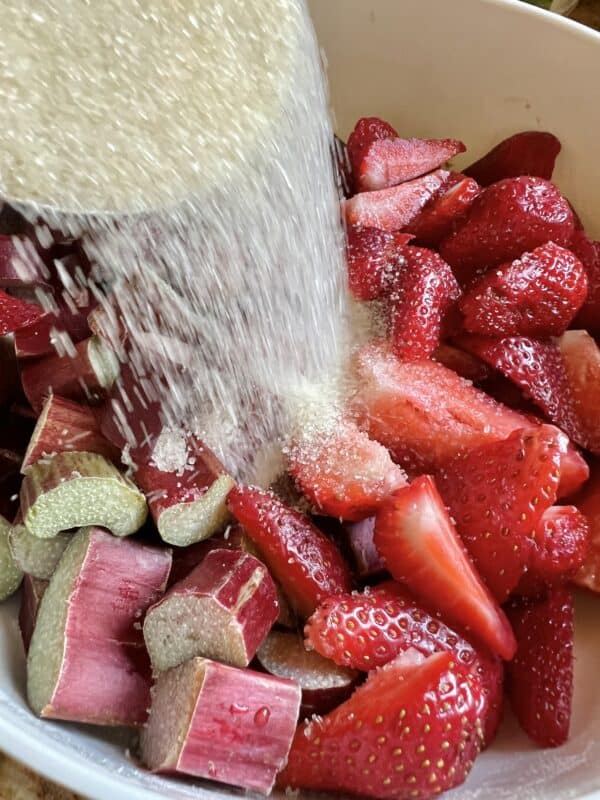 Mix the cornstarch with the sugar and pour onto the chopped rhubarb and strawberries in the bowl.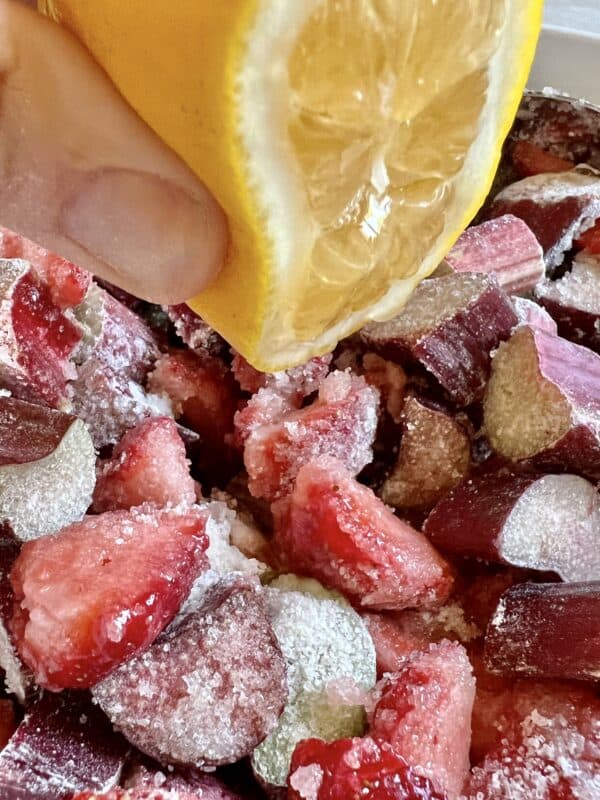 Toss or stir gently to combine evenly.
Your pie filling is ready to use in your strawberry rhubarb pie, cobbler, crisp or crumble! Wasn't that easy? Continue below for the cooked version.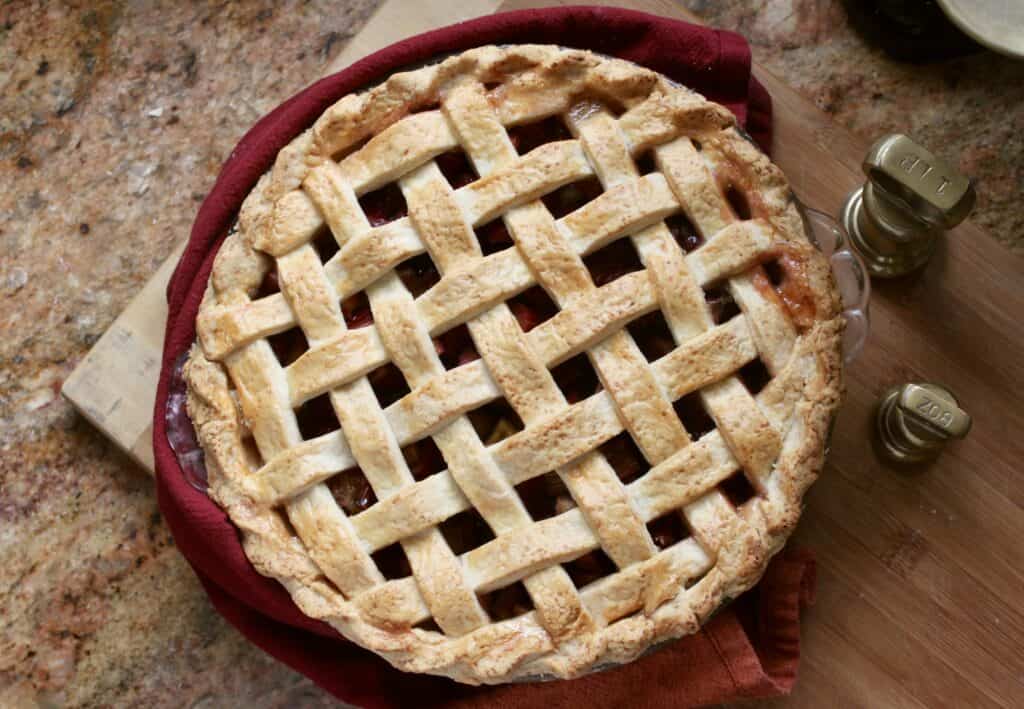 Cooked Method – use as a topping for waffles, pancakes, desserts, cheesecake, etc.

Can also be used in pies, cobblers, etc.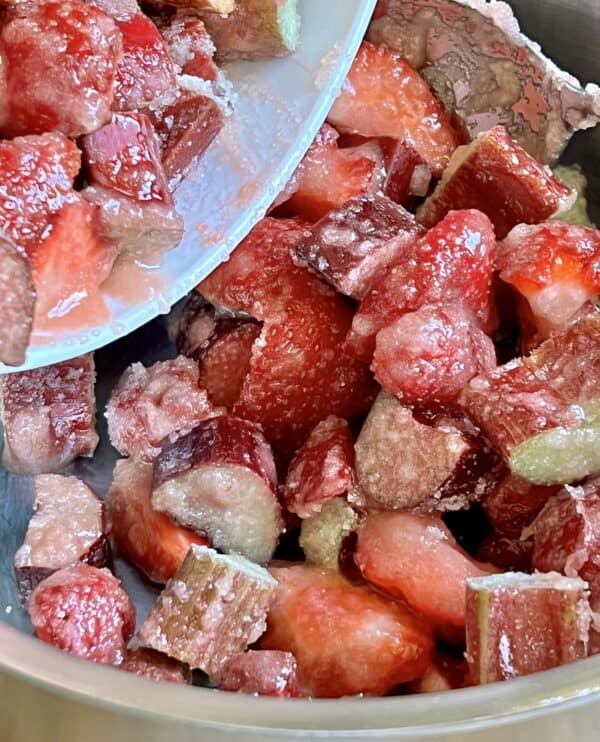 Put the sugar coated fruit in a pot over medium heat.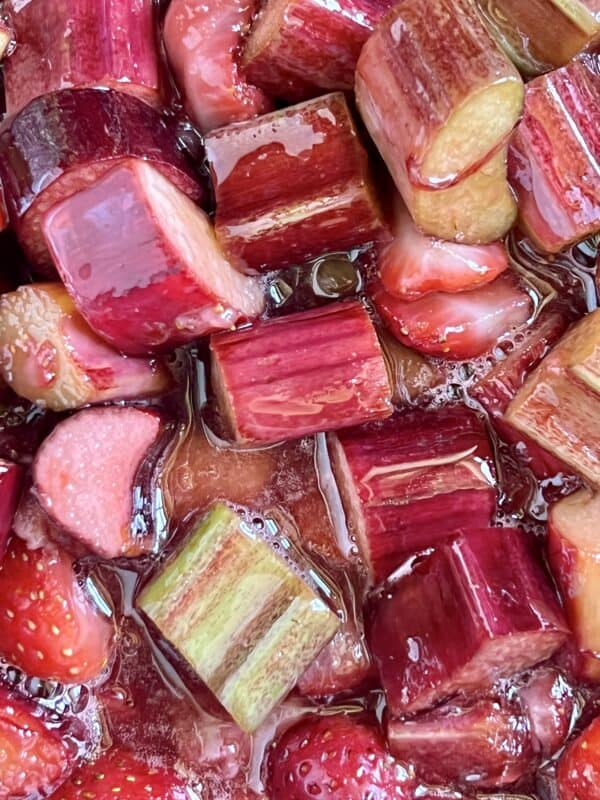 It will quickly form a syrup. Increase the heat to bring to a boil.
Only simmer long enough for the corn starch to thicken the syrup then remove from heat. Don't cook for more than a few minutes.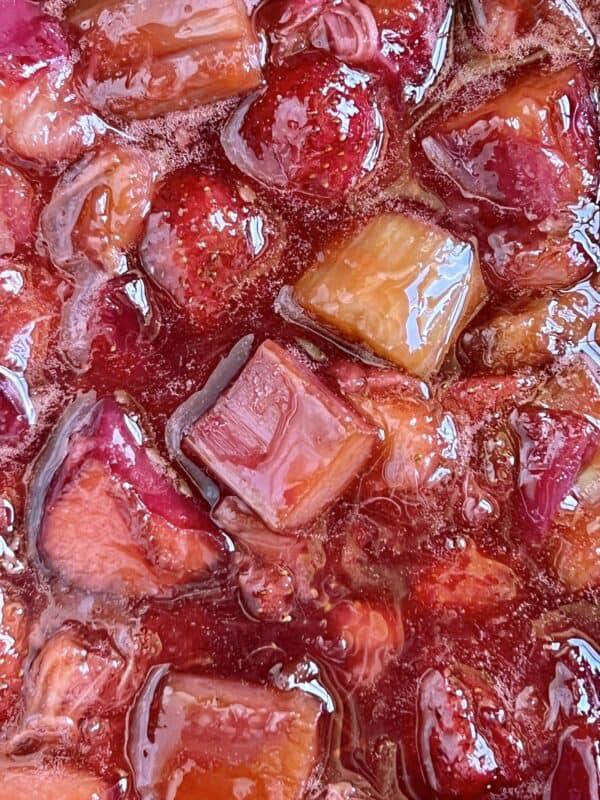 It will look glossy and pieces of fruit will still be intact. If the syrup seems too runny, it will thicken as it cools. If you want to use it immediately, and while hot, use a little more corn starch.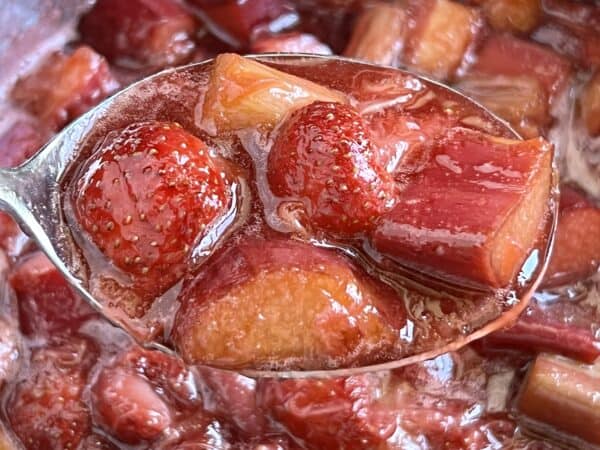 Pour into pie crust or baking dish. If using later, cool completely then refrigerate.
If you use this recipe, please do let me know which method you used and how you like it in the comments or reviews below. Please note: I can only respond to comments.
Try my strawberry rhubarb pie recipe, including an easy homemade pie crust.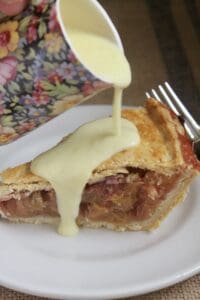 Strawberry Rhubarb Pie Filling (2 Ways: No-Cook and Easy 5 Minute Cooked Recipe)
A foolproof recipe for strawberry rhubarb pie filling that's lightly sweetened, and not too thick or too runny.
Ingredients
114 g sugar (about ⅔ cup) more or less as desired
3 tsp corn starch
1 lb (about 4 cups) (454 g) chopped rhubarb
1 lb (about 3 cups) (454 g) hulled, whole strawberries and cut into pieces about the same size as the rhubarb
1 Tbsp lemon juice
Instructions
RAW STRAWBERRY RHUBARB PIE FILLING
Put the chopped fruit into a large bowl. Mix the corn starch and sugar in a small bowl.
Toss the sugar mixture into the chopped strawberries and rhubarb along with the lemon juice.
Use as required in your pie, cobbler, crisp, crumble or other baked goods. (CONTINUE BELOW FOR COOKED FILLING RECIPE.)
COOKED STRAWBERRY RHUBARB PIE FILLING
4. Place the mixture into a pot over medium heat, then increase as the fruit begins to cook.
5. Bring to a boil and stir gently until the corn starch thickens the sauce and then remove from heat immediately. Do not cook for more than a few minutes.
6. Use as desired, such as a topping for pancakes, desserts, cheesecake, ice cream, etc. Refrigerate any leftovers.

Notes
Adjust the sweetness by increasing or decreasing the sugar.
Nutrition Information:
Yield:

8
Serving Size:

1
Amount Per Serving:
Calories:

89
Total Fat:

0g
Saturated Fat:

0g
Trans Fat:

0g
Unsaturated Fat:

0g
Cholesterol:

0mg
Sodium:

4mg
Carbohydrates:

22g
Fiber:

2g
Sugar:

18g
Protein:

1g
Nutrition information is only estimated.
Christina's Cucina is a participant in the Amazon Services LLC Associate Program, an affiliate advertising program designed to provide a means for sites to earn advertising fees by advertising and linking to Amazon.com.