This simple kale salad with goat cheese will impress your guests, but more importantly, your own taste buds. It's perfect in between meetings, as a packed lunch, or lazy days in your own home.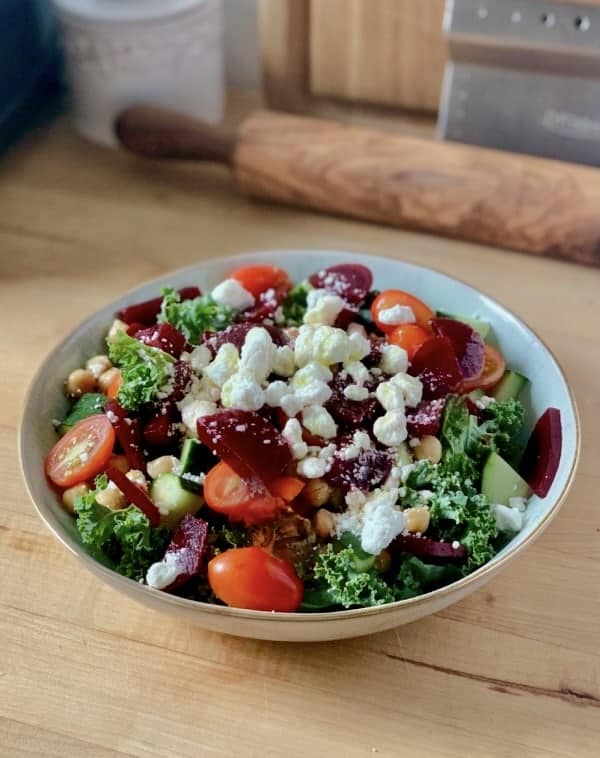 As an ex-kale hater, I now give a testimonial on this kale salad with easy, no-fuss dressing, with my hand on my heart!
As an Amazon Associate I earn from qualifying purchases.
Here's why I was intrigued in the first place: my daughter Denisa, who now lives in New York City, sometimes sends me photos and calls me when she is walking through Central Park. It just so happened that when she was going for a walk one day, she announced, "I can't wait to get home and have my kale salad!" I thought, "Who is this, and what has she done with my daughter?!"
I have only ever used kale in minestra, but as far as eating it in a salad? That's was a big "no thank you." That is, until I visited Denisa last August and she made me her favorite kale salad. This is the photo of the actual salad she made for me on that summer day. Clearly, she wasn't doing it for a photo op, but I can't tell you how delicious it was, and how much I enjoyed that salad! I shall now pass the reins over to Denisa for the recipe.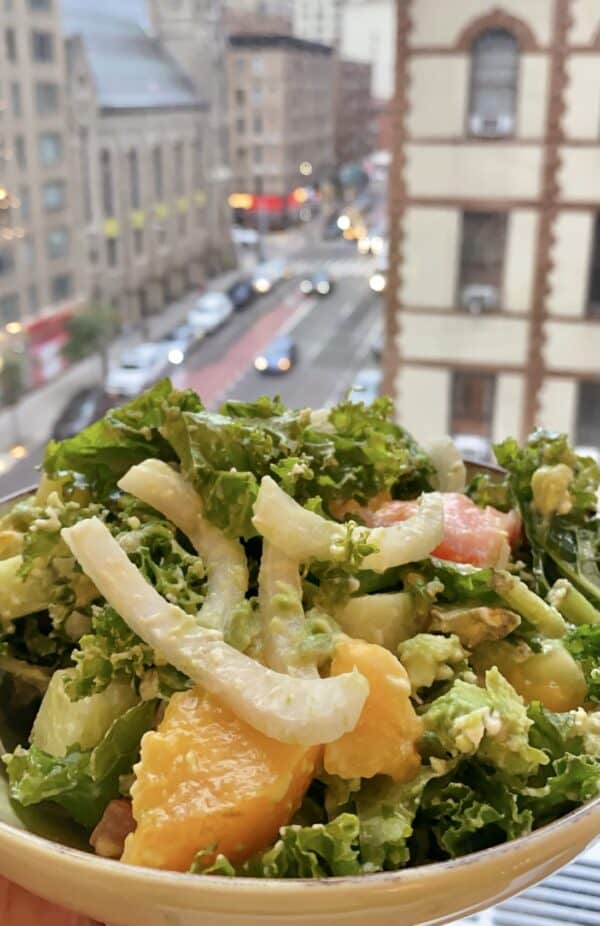 Guest post by Denisa
Born out of necessity, the perils of cooking for one, and usually not having enough time to cook, this salad is now my go-to weekday lunch, or Sunday evening light meal after a weekend of indulging. It's really inspired by the Sweetgreen salads I would order at work about three times a week (a modified farmhouse Caesar salad, but with balsamic-so good). However, in the comfort of my own home, and without the company card, I wasn't too keen to rack up $16 every time I wanted this salad.
My mom's favorite goat cheese copycat salad recipe from an LA restaurant.
When I first started making this salad, it looked a bit different. I used to use a spring mix, and add grilled chicken as my source of protein. The problem here was that due to the long hours of my job, the number of times that I was able to cook were few and far between.
My meal planning was erratic at best—often I'd be at work through dinnertime, and after days of this sort of schedule, I'd find myself throwing out half-full bags of wilted lettuce. I also didn't have enough time to prep the chicken, therefore forfeiting my source of protein. Cue *KALE.*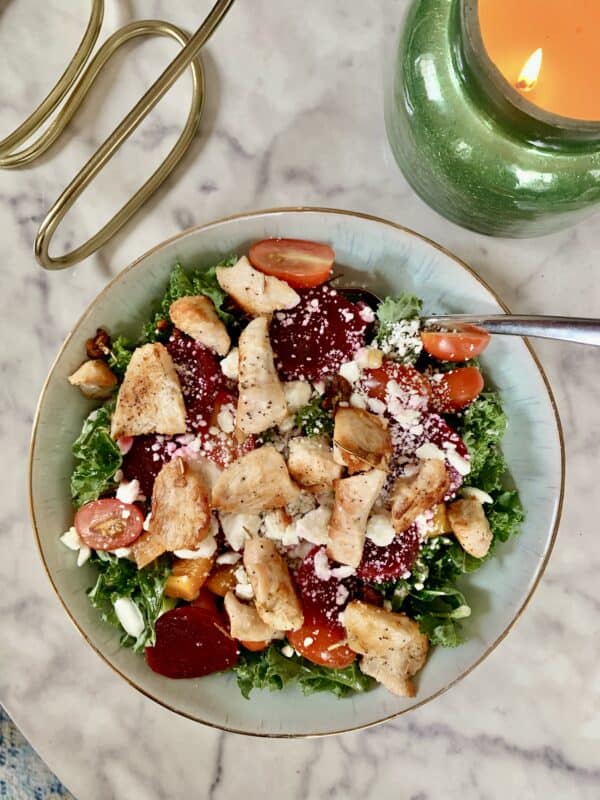 Why Kale?
Now I know this leafy green had its 5 minutes of fame back in 2014 or so, but even though the fad has died down, it's still a tried and true source of vitamins and minerals. Kale holds up much better than a less firm lettuce, like romaine, spinach, or arugula.
I tend to keep my kale in the fridge for a little over a week now. It doesn't get slimy, so even if some leaves start to yellow, you can easily enough pick out to get your full use out of the bag. No more wasted food or money!
Try this beet and goat cheese salad, too!
No Time to Prep Chicken? Are you Poor, Vegetarian or Vegan? This is for YOU!
My new source of protein? Chickpeas!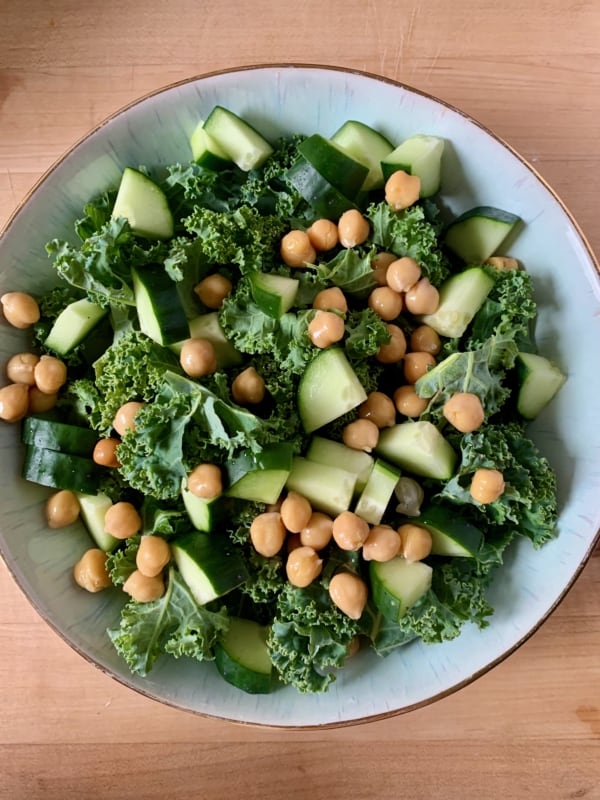 Chickpeas (garbanzo beans) are inexpensive and surprisingly versatile. I don't even bake them, I just take them straight out of the can, mostly because I don't have time to cook legumes from scratch. Really, this recipe can incorporate whatever vegetables you have in your fridge—depending on the week.
I'll add or omit ingredients based on my grocery list. and budget. I've even incorporated tuna before (it was fine, but I like this better). You can add onions, avocado, quinoa, tortilla strips, or swap feta for the goat cheese—it doesn't matter. The real star of the show is the kale and the dressing.
It's a simple red wine vinegar and extra virgin olive oil combo, sprinkled with sea salt. The flavors blend together with this salad and create a sort of creamy dressing when combined with the goat cheese. It's absolute perfection.
Here is my recipe—I hope you love as much as I do!
Kale Salad with an Easy, No-Fuss Dressing
Recipe by Denisa W. inspired by SweetGreen Serves 1
FULL PRINTABLE RECIPE BELOW
Ingredients
chopped kale
cucumber
chickpeas (canned are fine)
cherry tomatoes or heirloom tomato
beets (canned or packaged are fine)
goat cheese
extra virgin olive oil
vinegar
sea salt
Assemble the Kale Salad
Add kale (I use curly, not baby or Tuscan—I don't like those as much but whatever floats your boat), cucumber, chickpeas, tomatoes in a large-ish bowl.
Next, add the beets.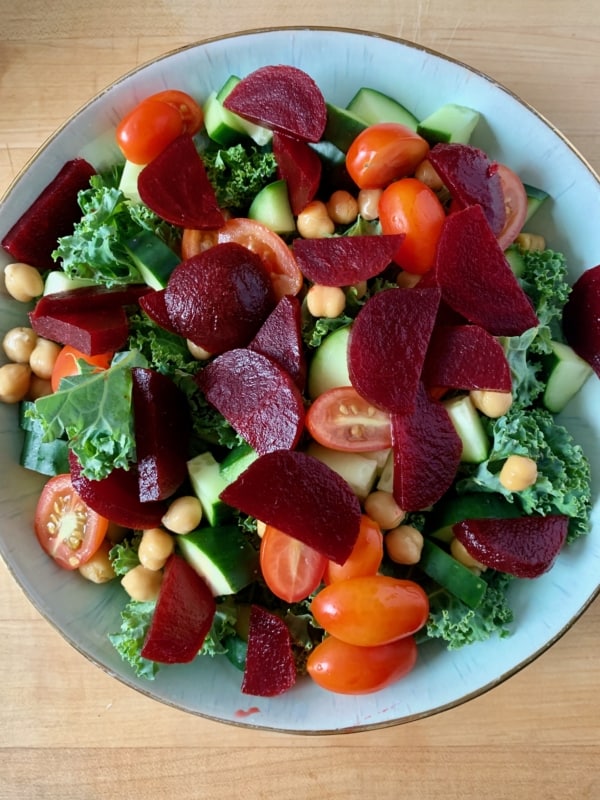 And then toss in the goat cheese. Next the simplest salad hack ever: extra virgin olive oil, red wine vinegar, and salt. Trust me, it'll be your new go-to as soon as you taste it. You don't have to add it to a jar or bowl to combine, pouring right into the salad is perfect, and actually tastes better than pre-mixing!
I like to add a slice of bread to dip in the dressing at the end, and also to help soak up some of the acidity of the vinegar (when it comes to vinegar, the more acidic, the better—mine is 7.5%)!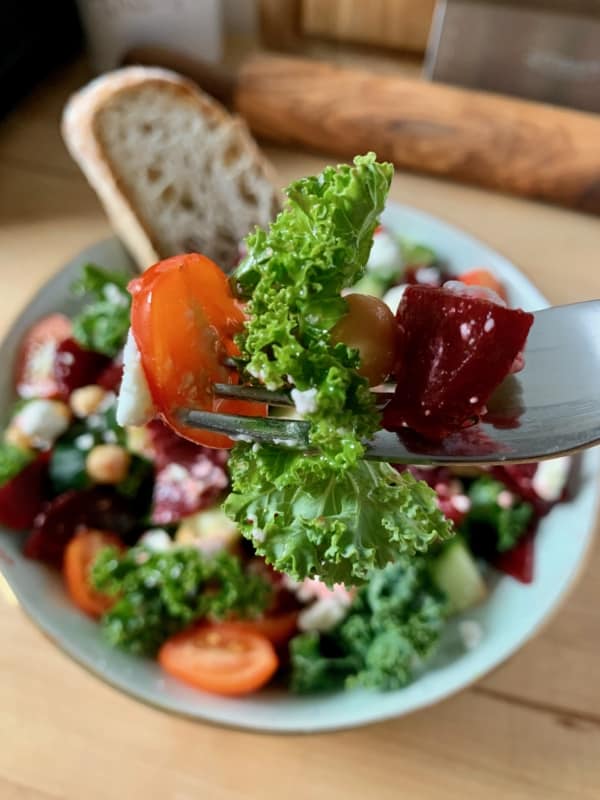 That's it; enjoy! Let mom and I know what you think in the comments below!
Kale Salad with Easy, No-Fuss Dressing
An easy and super delicious and customizable kale salad with a no fuss dressing.
Ingredients
2 handfuls of chopped kale
1 Persian or 1/4 of an English cucumber
1/3 cup chickpeas (canned are fine)
5 cherry tomatoes or part of an heirloom tomato
1/2 cup sliced beets (canned or packaged are fine)
2 Tbsp goat cheese crumbles
2 Tbsp olive oil
1 tsp to 1 Tbsp vinegar (to taste)s
sea salt, to taste
Instructions
Chop the cucumber, tomatoes, and beets.
Combine the kale, cucumber, chickpeas, tomatoes, beets, and goat cheese in a bowl.
Add the oil, vinegar, and salt.
Toss and enjoy with a slice of bread!
Notes
Customize this salad by adding onion, avocado, cooked chicken or tuna, switching the goat cheese for feta cheese and more.
Nutrition Information:
Yield:

1
Serving Size:

1
Amount Per Serving:
Calories:

519
Total Fat:

35g
Saturated Fat:

8g
Trans Fat:

0g
Unsaturated Fat:

26g
Cholesterol:

13mg
Sodium:

819mg
Carbohydrates:

40g
Fiber:

11g
Sugar:

17g
Protein:

16g
Nutrition information is only estimated.
Christina's Cucina is a participant in the Amazon Services LLC Associate Program, an affiliate advertising program designed to provide a means for sites to earn advertising fees by advertising and linking to Amazon.com.