Tuna and cannellini bean salad is a protein packed meal or side dish that will have everyone asking for more. It's that tasty!
Not only is this tuna and cannellini bean salad chock full of protein, it's so surprisingly tasty that I hope the photo doesn't dissuade you from trying it.
As an Amazon Associate I earn from qualifying purchases.
You must admit, it's not the most appetizing thing you've ever seen, but if you try it, you won't be disappointed. There's also the fact that it's not a beautiful and artfully arranged creation (like the photo that was on the label that was the inspiration for this salad-you'll see it below).
Let me back up for a moment as I want to explain the reason for my extended absence here on my site. You may already know that earlier in January, I was in the UK for two weeks. I accompanied my daughter to her study-abroad program in St Andrews, (I actually left her in Edinburgh for the orientation).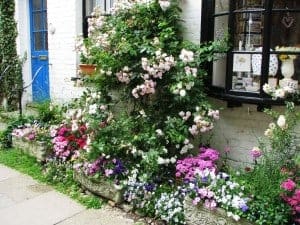 I then took the train down to England for a week and froze my toes and fingers off! Goodness, I am so not used to the frigid temperatures anymore having lived in California for almost 30 years!
Anyway, I had high hopes of posting at least one recipe while I was gone, but I truly didn't have any free time. I visited lots of family and friends, ate tons of incredibly delicious British food, and did some sightseeing, so I hope you'll forgive me. I'll try to catch up with my Spain posts (from my visit in December) and many more travel tips and recipes that I have in store for you.
Now, back to the tuna and cannellini bean salad recipe. Remember when my family and I flew to Toronto last March to surprise my dad for his 80th birthday?
While we were there, Mum and I stocked up on as much Italian tuna as we could because we just love it. It's so much more flavorful than the regular brands of tuna that we buy here in the US. Well, one of us accidentally grabbed a tin of this, thinking it was just tuna, when in fact it was a tuna salad. It turned out to be very a serendipitous purchase.
The can was in my pantry for months, as I honestly didn't want to eat it, and my mother felt the same way. However, when we were doing a pantry clean-out in December, Mum decided that we had to open it at some point. Lo and behold, it actually looked good (not quite as perfect as the photo on the cover; remember I told you about that "perfect salad" photo?)
One of my favorite brands of tuna: Callipo from Italy.
My husband, my parents and I tried this tin of tuna salad and each one of us was so surprised at how good it tasted! There were no unknown ingredients, and simply tuna, cannellini beans, garbanzo beans, extra virgin olive oil, olives and veggies. I kept the packaging as I wanted to recreate this wonderful salad, and I did.
The main difference between my tuna and cannellini bean salad and the Rio Mare brand's salad is that I used extra virgin olive oil and they use corn oil (for cost effectiveness, I'm sure). I also like it with a generous splash of strong wine vinegar.
Another Italian salad recipe you may enjoy.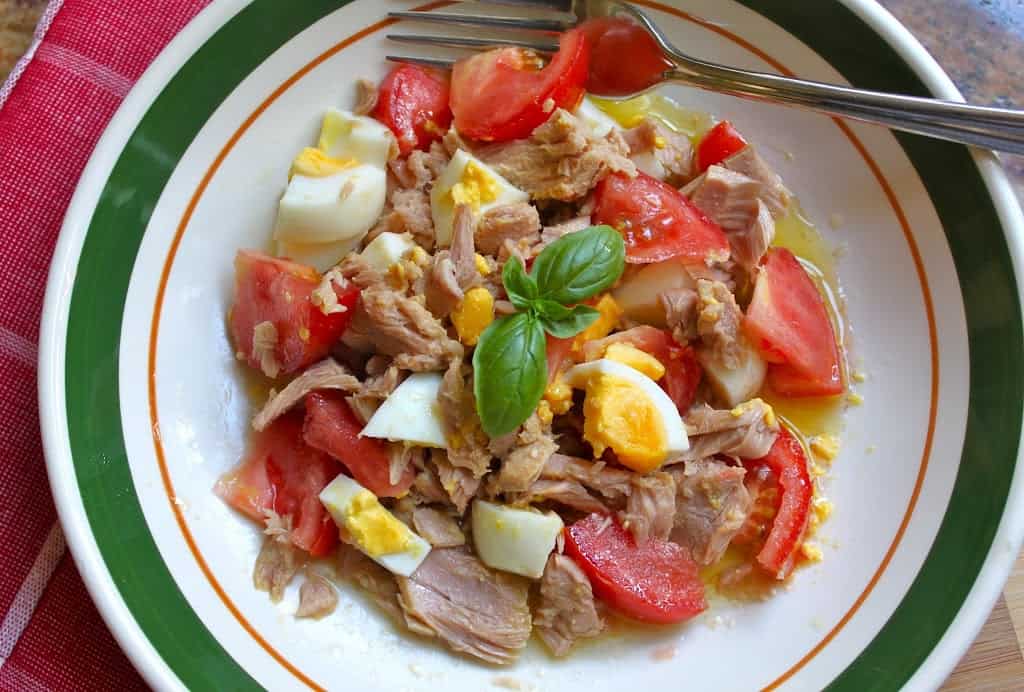 You really don't have to measure anything as you can make this according to your own personal taste. However, I've added measurements to give you a rough starting point, and so you can taste what the "original" tastes like.
This is such a great sandwich filling and could be packed up in a lunch bag, too.I do hope you try it as its flavor is so much better than its appearance!
Protein Packed Tuna and
Cannellini Bean Salad
inspired by Rio Mare's Insalatissime Tuna Salad serves 2
(ounce measurements are by weight, not volume)
Ingredients
cannellini beans
canned tuna (preferably an Italian or Spanish brand)
garbanzo beans
sweet, red pepper,
carrot
black olives
salt
wine vinegar (optional)
Place all the ingredients into a bowl.
Add the oil, vinegar and salt.
Toss, then taste, and add more oil, salt and/or vinegar if needed.
Spoon into serving bowl and serve with crusty bread, or as a side dish.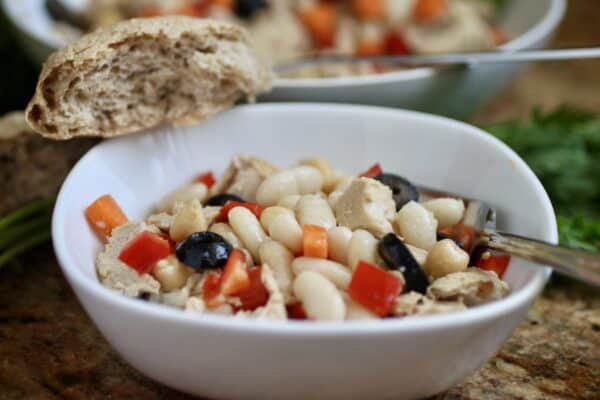 Don't miss another recipe or travel post; sign up for my free subscription!
Protein Packed Tuna and Cannellini Bean Salad
A nutritious and delicious tuna based salad.
Ingredients
1 cup (6 oz) cooked cannellini beans
3/4 cup (5 oz can) tuna (preferably an Italian or Spanish brand)
¼ c (1.5 oz) cooked garbanzo beans
⅓ c (2 oz) sweet, red pepper, diced
2 Tbsp diced carrot
4 or 5 black olives, sliced
3 Tbsp extra virgin olive oil
a dash of salt (to taste)
(optional: wine vinegar, to taste)
Instructions
Place all the ingredients into a bowl and toss together. Taste, and add more oil, salt and/or vinegar if needed.
Spoon into serving bowl and serve with crusty bread, or as a side dish.
Notes
Feel free to add and omit similar ingredients to make the recipe your very own.
Nutrition Information:
Yield:

2
Serving Size:

1
Amount Per Serving:
Calories:

398
Total Fat:

22g
Saturated Fat:

4g
Trans Fat:

0g
Unsaturated Fat:

20g
Cholesterol:

34mg
Sodium:

320mg
Carbohydrates:

28g
Fiber:

7g
Sugar:

2g
Protein:

30g
You'll love this Italian potato and roasted red pepper salad.
Christina's Cucina is a participant in the Amazon Services LLC Associates Program, an affiliate advertising program designed to provide a means for sites to earn advertising fees by advertising and linking to Amazon.com.