For cooking lessons in Barcelona, I have a great place for you to go to: Cook & Taste. And if you're traveling to Spain for the first time, read on!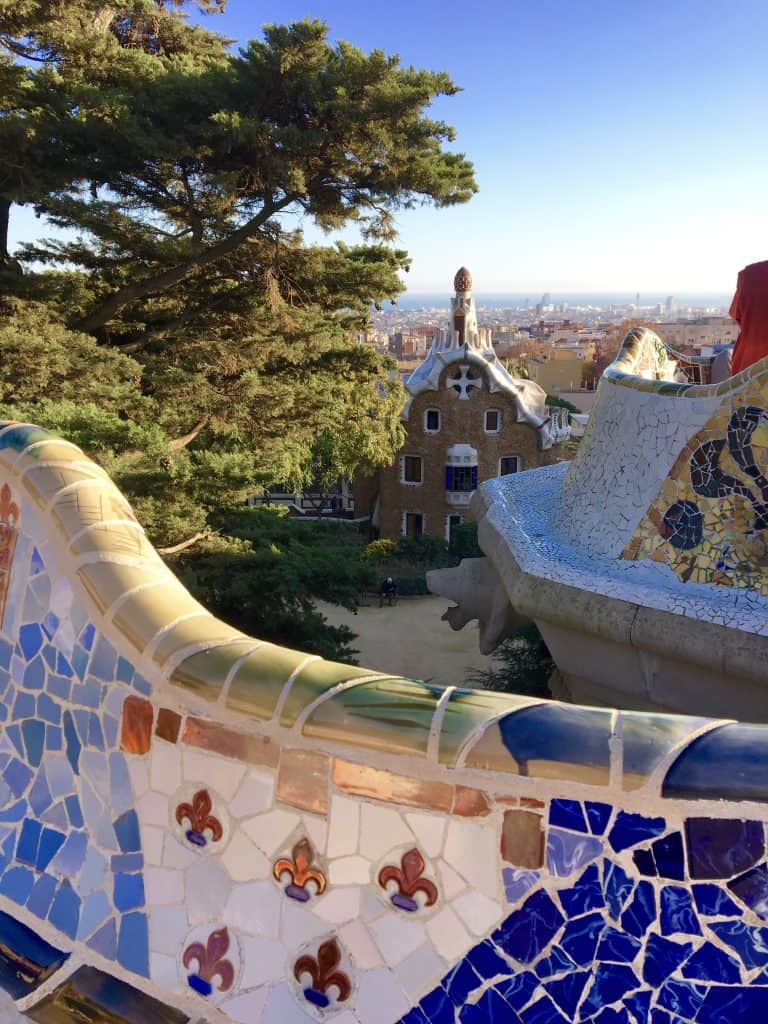 In November, I had no idea I'd be heading to Spain for the very first time. Who knew I'd be learning how to cook paella in Barcelona, being mesmerized by Gaudí's architectural genius, and frequenting the incredible Boqueria market.


Yet before Christmas, I had gone and come back already. If you were following along three years ago, this may sound familiar. My husband, an audio engineer, had an unexpected job pop up in Cologne, Germany in early December in 2013. He'd texted me, "How about Christmas shopping in Germany?" which I'd initially ignored as I thought he was texting in some code. If you're interested, this is the post I wrote before going and after returning.
Disclosure: I was hosted for a cooking lesson by Cook & Taste in Barcelona. All opinions are my own.
For all the information you need to organize and plan a trip to Barcelona, including cooking lessons, visit:
I booked my flight with a stop in London, met my husband there and took our next flight to Barcelona together. I had a short layover, but it was long enough to have a British breakfast at Heathrow.
A BIT OF ADVICE IF YOU'RE TRAVELING THROUGH HEATHROW – SKIP THE BRIDGE BAR & EATING HOUSE (you can skip this paragraph if you just want to read about Barcelona).
Arriving in Barcelona
We made it to our hotel from the airport in no time, checked in and then went in search of something to eat. My husband had some tapas dishes, but I just had jamón and a glass of Cava. I do believe that's the right way to start a trip to Spain!
The city was really dressed up for Christmas. I miss seeing city lights for the holidays as we always used to go to see them in Glasgow when I was a little girl.
Cooking lessons in Barcelona
My husband left for work early the next morning, and I too, had somewhere to be because I'd booked cooking lessons in Barcelona! I had arranged to take a Spanish cooking class at Cook & Taste in the Gothic Quarter of Barcelona. It's located right behind the amazing Barcelona Cathedral.
After looking on a map, I decided the 45 minute walk would be a great way to see a bit of the city. It was just over 2 miles away from our hotel.
The Gothic Quarter
The weather was sunny and temperature was the same as we'd been having in LA, in the 60s (high teens in celsius). I had no problem getting to the Gothic Quarter, but when I was trying to find the actual location of Cook & Taste, I went around in circles a couple of times.
Turns out, it wasn't just me who did this. Cook & Taste is rather hidden if you have never been there before. What a fabulous location though, in the heart of such a historic part of the city!
I arrived a bit early for the cooking lesson, so I poked around a bit. Since it was so close to the Barcelona Cathedral where there is a courtyard and gardens, that's where I went. I thought it was so funny to hear a rooster crowing on the cathedral grounds!
Cooking lessons in Barcelona at Cook & Taste
When I went back to Cook & Taste for the half-day cooking lesson, I noticed the door handle was a rolling pin. What a cute idea!
I was greeted by Marta when I arrived who took me into the kitchen where we'd be cooking. There were 7 of us that morning and we were introduced to Carlos, who would be our cooking instructor. After washing our hands and donning aprons, we introduced ourselves and got started straight away.
What to expect.
The cooking classes are conducted in English and the majority of us were from the US. One of the things that was really impressive about Cook & Taste was their cleanliness, and style and decor of their kitchens and space. I felt really comfortable cooking in their kitchen and the dining area was gorgeous.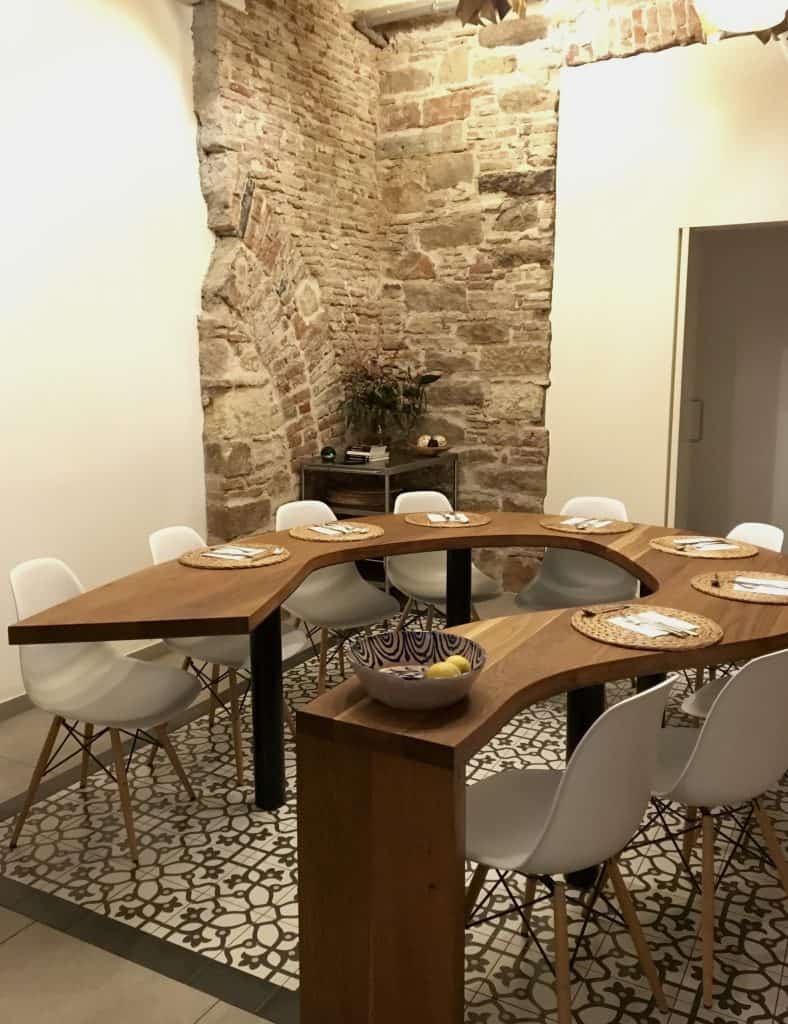 Carlos explained how he teaches and gave an outline of what to expect, then handed out recipes for each of the dishes we were going to make: two different tapas, a main dish and a dessert. I loved that Carlos included a bit of history about each dish along with regional differences on how to make them. Click on the photo below to hear Carlos teaching.
Wine bottles were opened, and later we would also sample two kinds of jamón to discover the difference between Jamón Serrano and Jamón Iberico, which was intriguing to me.
We were in the smaller of the kitchens so it was intimate, but we didn't feel crowded. As I really didn't know anything about Spanish cuisine, I was really excited about this lesson, especially since we'd be making some classics like pan con tomate (bread with tomato), paella and crema catalana.
In addition to these dishes, we were to make flatbreads which we'd top with salt cod (a very popular ingredient in Spanish cuisine) and we were going to learn to make Romesco sauce.
Crema Catalana
We first made the Crema Catalana as it needed time in the fridge to set. Of course, I volunteered to help since it was dessert!

Carlos was very organized, and clear, but also rather laid back, letting us do a lot of the cooking and being hands-on; in short I thought he was an excellent instructor.
Here are some of the photos I took throughout the class (unfortunately, the lighting wasn't the best for pics).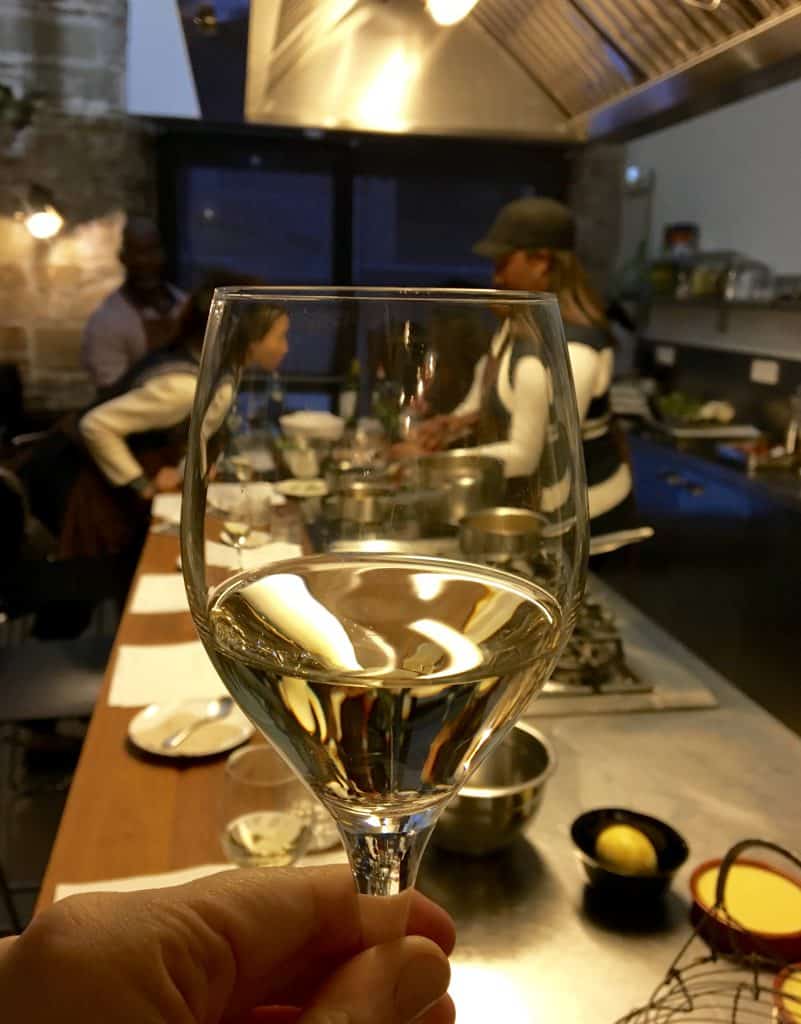 We not only learned a lot about several Spanish dishes, but all of us agreed that taking the class was a lot of fun! Everyone would take turns doing one task or another, to prepare the meal that we would enjoy at the end of class.
Paella
The paella making was the highlight of the class, and we actually made two kinds. We made chicken paella and a vegetarian paella. I can't wait to try making it at home now that I've learned how to make it in Barcelona!
Just before we ate, we finished of the Crema Catalana by caramelizing the sugar. Carlos showed us the proper method (click the photo below to watch the short clip). I wanted to take his torch home as it worked so much better than mine!
Here are the rest of the finished dishes that we all prepared together at Cook & Taste, before we devoured all of it!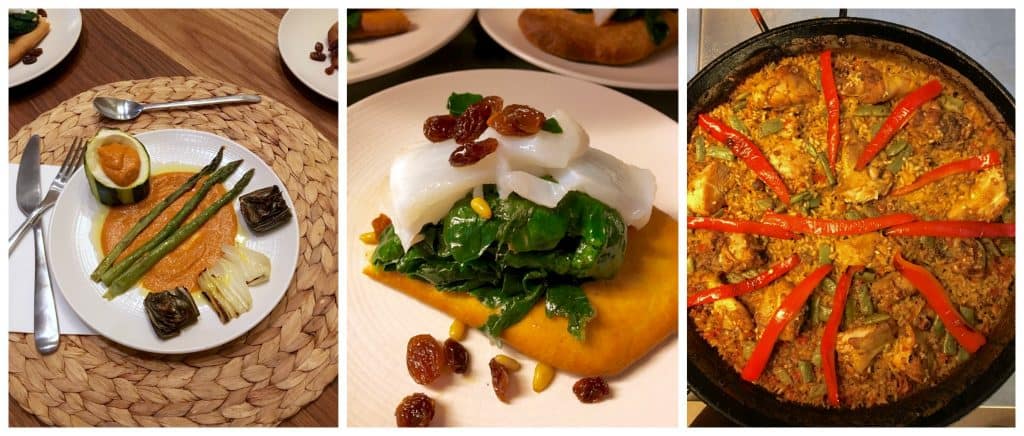 Unfortunately, our timing wasn't the best for visiting Barcelona as the day I had the cooking lesson was a national holiday. Incidentally, two days later was also a national holiday, meaning that many places were closed at minimum on those two days. Some were closed for three or the entire week! The reason I bring this up is that I had also wanted to sign up for the trip to La Boqueria market. Cook & Taste offers this option in conjunction with its cooking lessons. However, due to the holiday, many vendors were closed at the market. I did go there afterwards and it was a skeleton compared to when it's open on a normal day.
Included in the half-day cooking lessons in Barcelona
Class fee (65€)
– Iberian ham and olives snack
– Selected red and white wines from distinguished Spanish wine regions
paired with the menu
– Unlimited water
– Use of apron
– Booklet of recipes
– Optional market visit, supplement of 13€
Regardless of when you go to Barcelona, I'd highly recommend signing up for a cooking lesson at Cook & Taste! A cooking class is so much better than buying lots of souvenirs that will collect dust and eventually be sold in a garage sale. Click the link below for more information or to register for a class.

Follow Cook & Taste Facebook and Instagram
For more information about visiting Barcelona, and the Catalonia area
Don't miss another recipe or travel post, sign up for my free subscription below!
cooking lessons in Barcelona