Tuna, Egg and Tomato Salad will become a favorite in no time after you make this the first time. Not only pretty, but so nutritious and a perfect dish for Lent.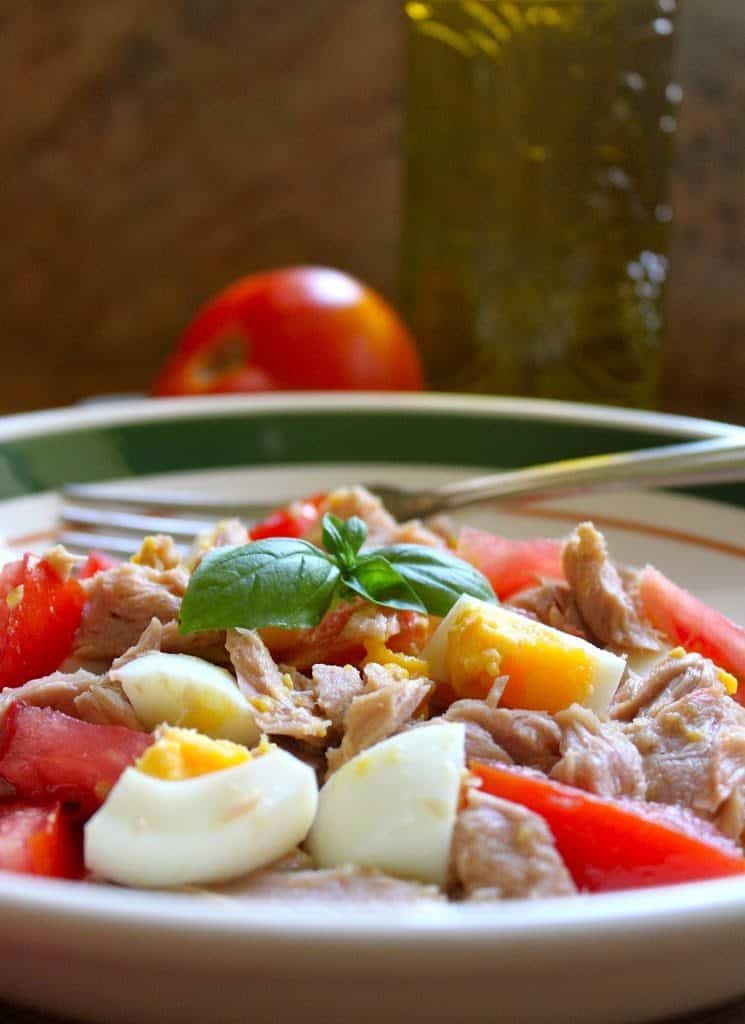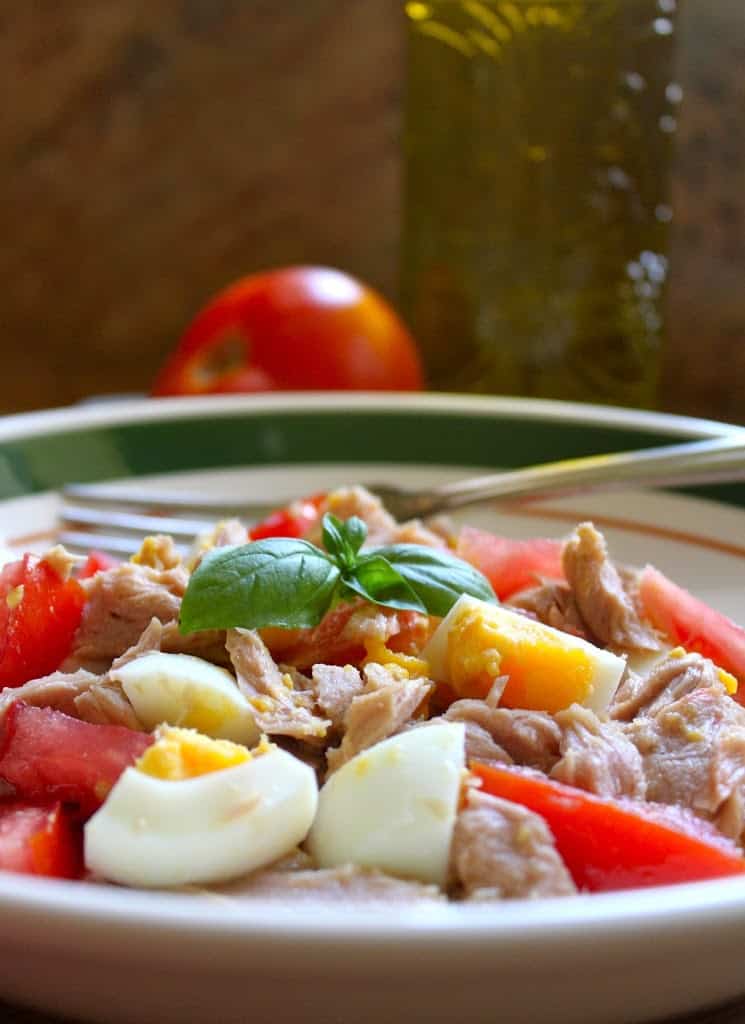 Originally published August 30, 2013.
My mother has six sisters who live in Italy, the UK and Canada, and each one is, simply put, an outstanding cook.
Zia Maria is my mother's eldest sister, and is one of her two sisters who has lived in Italy her whole life. I remember going to the village to visit each summer, and seeing how hard everyone worked in the fields and in their homes, but Zia Maria was the quintessential hard-working Italian woman, with her long dark hair always braided and tied up underneath a  handkerchief, usually walking with a basket on her head or kneading massive amounts of bread dough!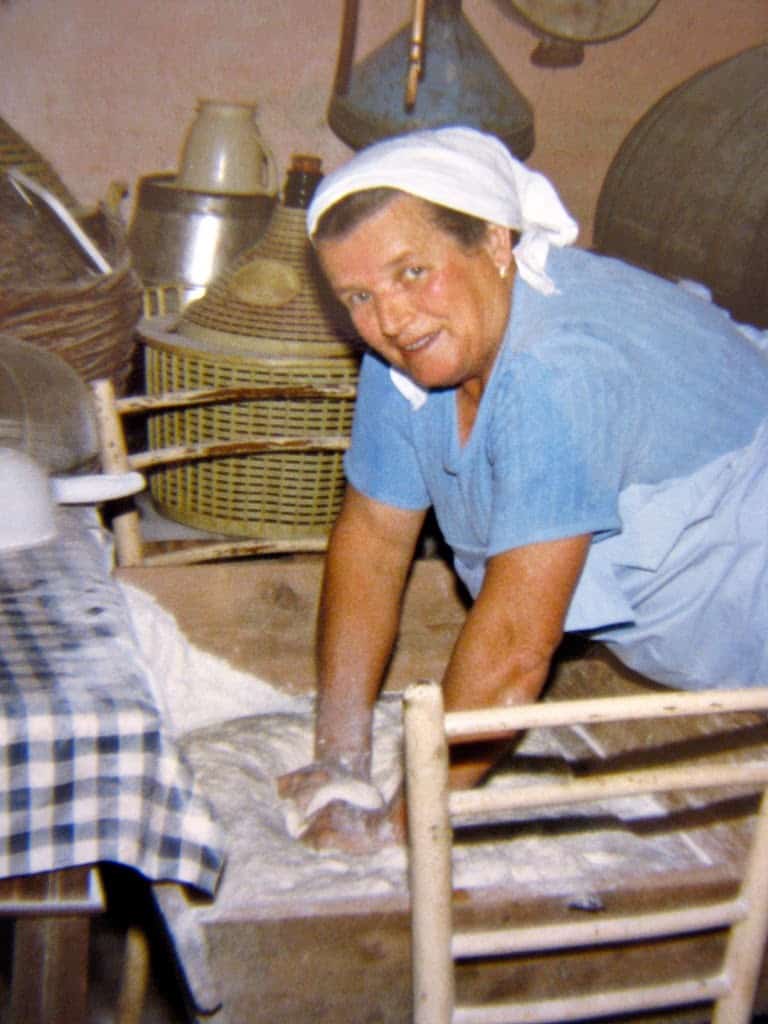 It was rare not to see her working hard, or cooking something, and it was always something fabulous (I loved when she made pizza)!
So years ago, when I was watching my Zia Maria putting together this tuna, egg and tomato salad, I wondered what had happened to her cooking skills! I had always loved tuna and tomato salads, but the addition of hard boiled eggs was making me question her judgment, and I actually voiced my opinion to my aunt, saying something to the effect of, "I don't think I'm going to like this!" I don't recall what she responded, but she did make me try it and I was stunned–it was impossibly delicious! How something I thought would taste horrifically bad, taste so good? Truly, I was puzzled!
I remember being very excited to make the tuna, egg and tomato salad for my father when I came home. He loved it too, so here's hoping you feel the same way!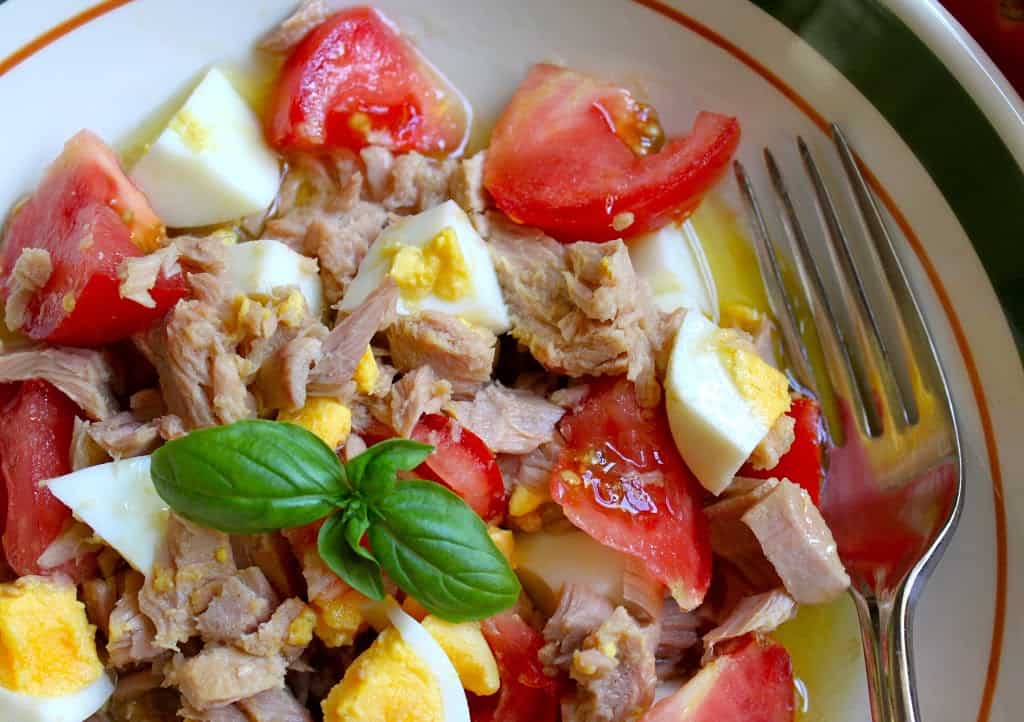 Zia Maria's Tuna, Egg and Tomato Salad
serves 2
Ingredients
1 can of good quality tuna with olive oil
1 or 2 organic tomatoes
2 hard boiled, free-range eggs, cut into bite-sized pieces
2 tbsp good quality extra virgin olive oil
1 tsp strong wine vinegar (I use at least 6% acidity)
Kosher or sea salt, enough to salt the tomatoes and eggs
Empty the tuna into a bowl and add the hard boiled eggs.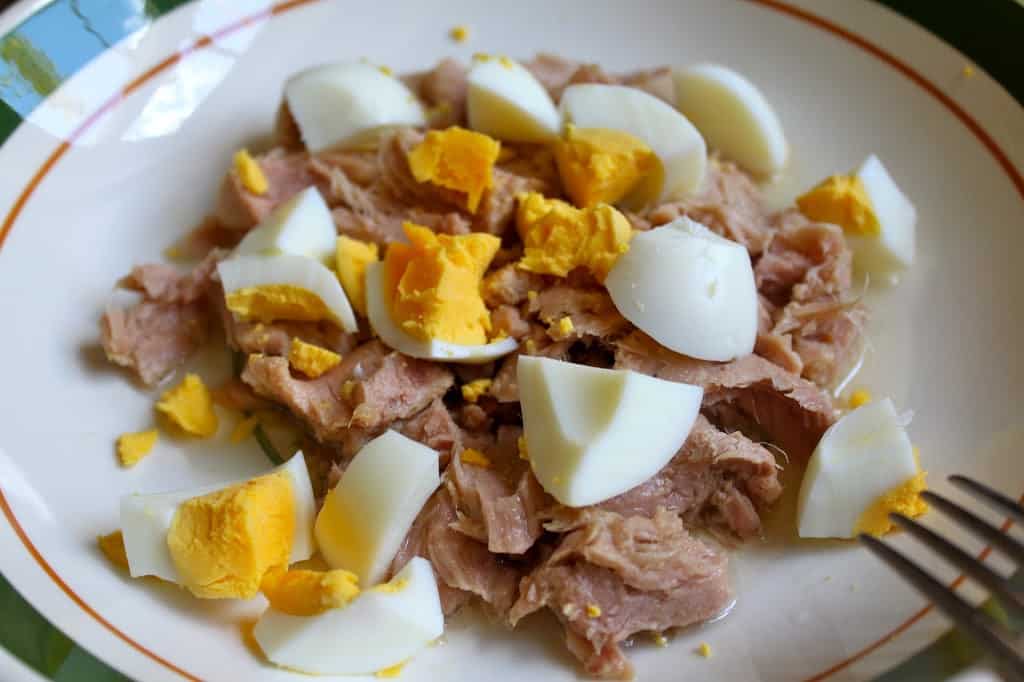 Cut up the tomatoes and add to the salad.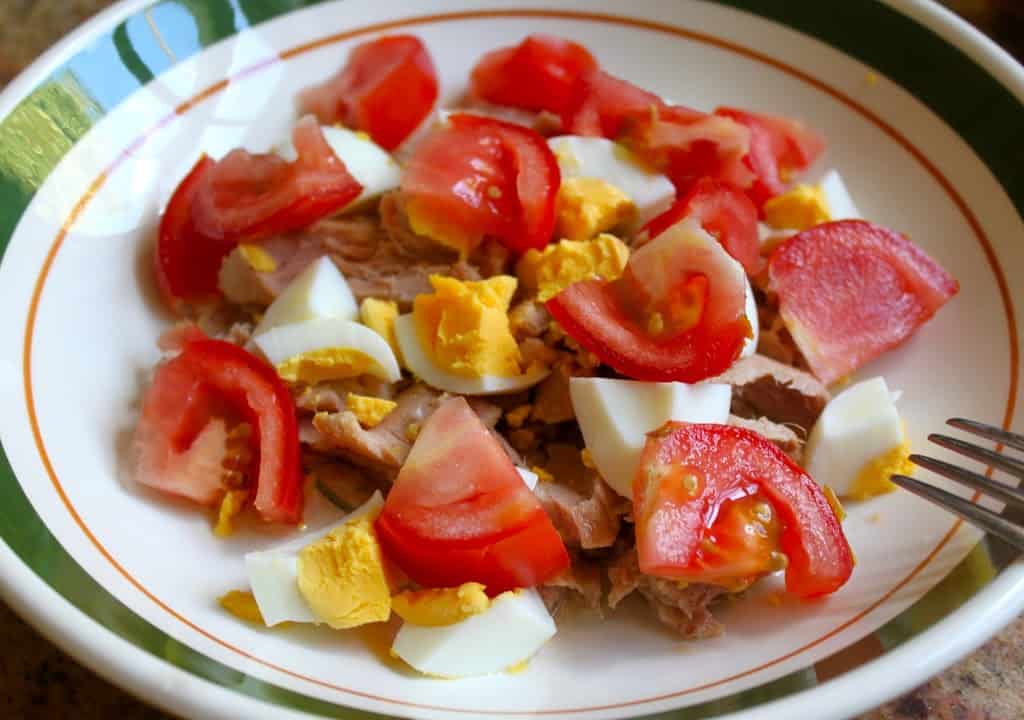 Drizzle the olive oil and vinegar over the salad and add  salt.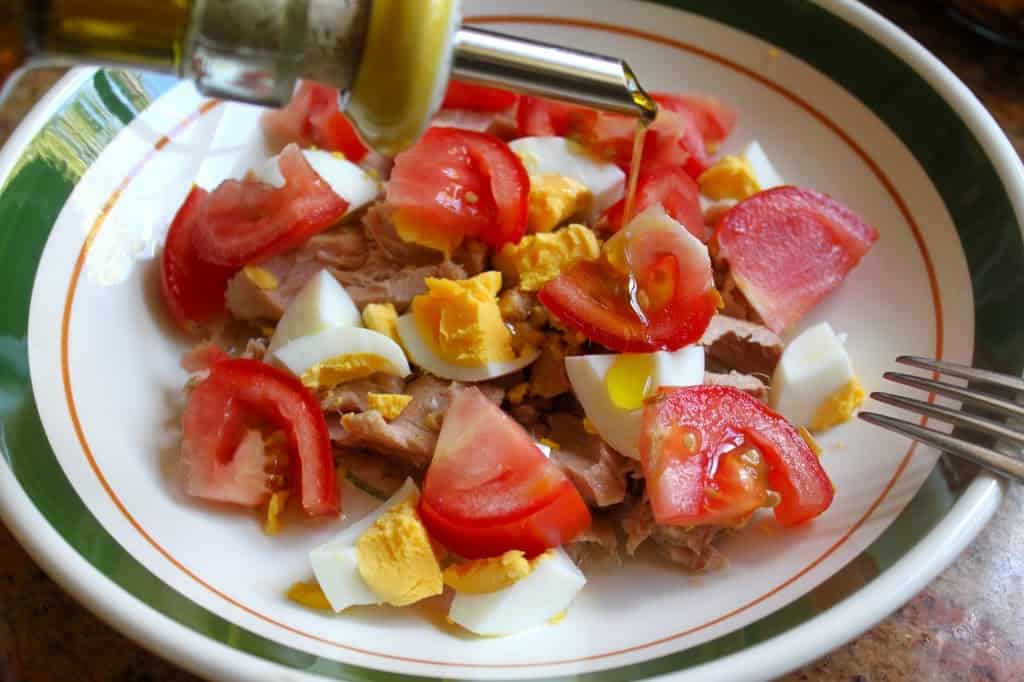 Garnish with a sprig of basil, for a splash of color, if desired, and it's ready to serve with some crusty, Italian bread or rolls.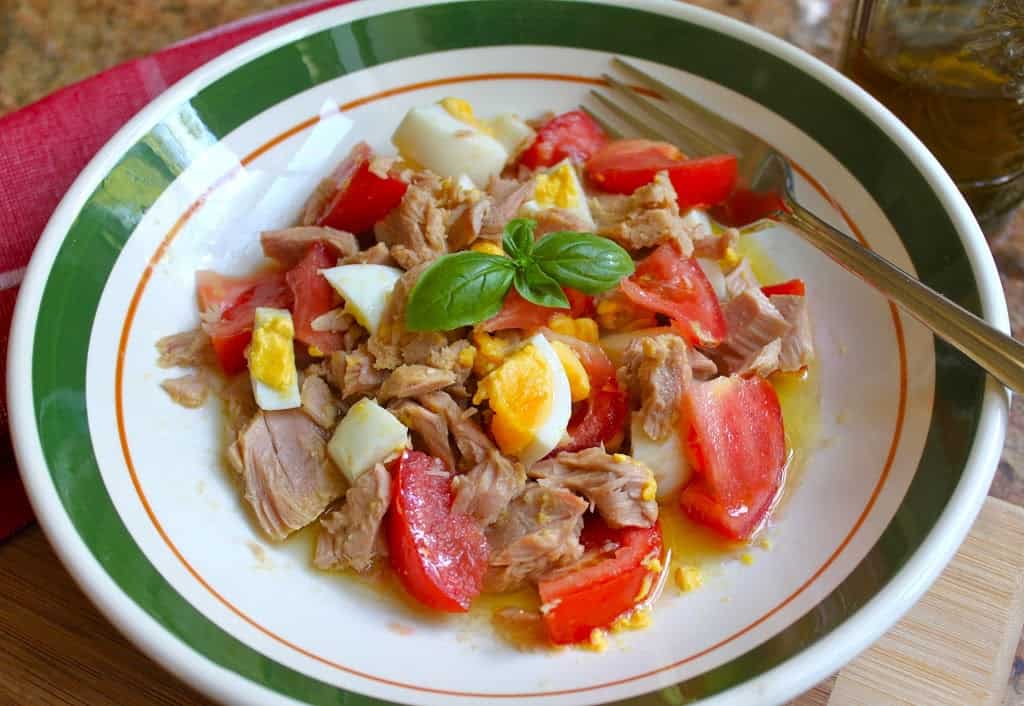 My cousin Ada, Zia Maria's daughter in Italy, is able to read English, so please feel free to send comments to my Zia Maria, below, and Ada will read and translate them to her.
Another fish dish you may enjoy, Insalata di Baccalà.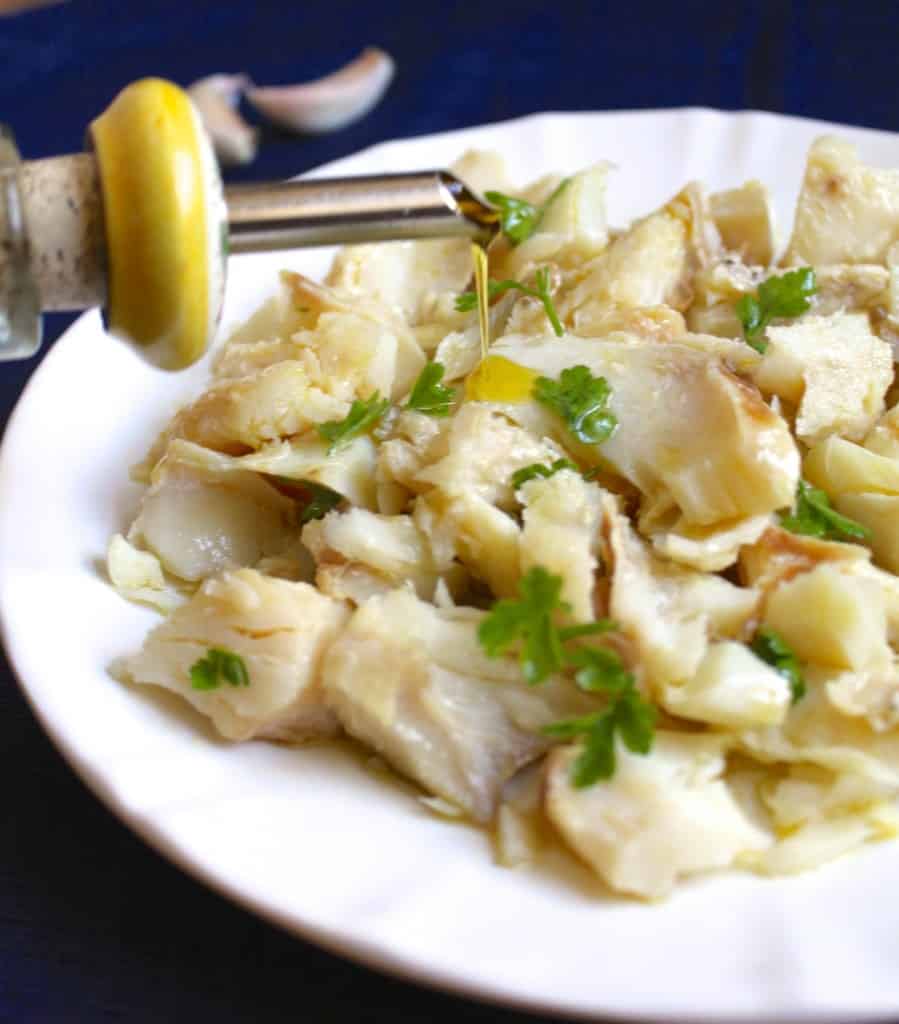 I'm sure she'd be overjoyed to hear them!
Don't miss another travel or recipe post; subscribe to my free subscription below!
I promise never to share or sell your information.