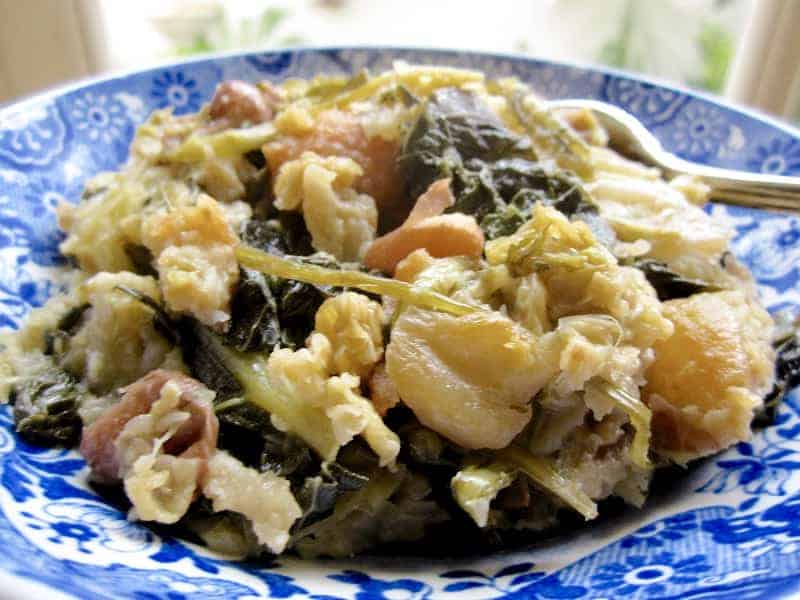 This has to be one, if not the most awful looking dish, of all the things I regularly cook.
There's nothing else quite like minestra*, both in looks and taste. I don't know of any British or American dish which I can compare and contrast it with, so you'll have to go out on a limb and trust me that it's not just healthy, but very tasty! It's also vegetarian, vegan and gluten free. Beans provide the protein, so it's also a well-rounded meal. You can find canned beans without any added ingredients, but I prefer to cook my own. If you don't know how, you can learn how easy it is to do here.
I remember coming home from work one day when I was pregnant with my first child, and being so happy that my cousin, Denisa, who was visiting from England, had made minestra for dinner! I suppose it's a type of Italian "comfort food", but definitely not one you would feel guilty about eating. The combination of different greens is delicious; the sweetness of the Savoy cabbage softens the flavor of the slightly bitter dandelion.
I won't get into the kind of dry cured sausage which is typically used in this Italian dish, as most of you would probably not be interested. I can't buy it here in the US, so I just skip the entire sausage/meat ingredient. This particular sausage has fennel seeds in it, so to mimic the flavor of the sausage, I throw in some fennel seeds and it works quite well.
Minestra is one of those meals which is even better the next day.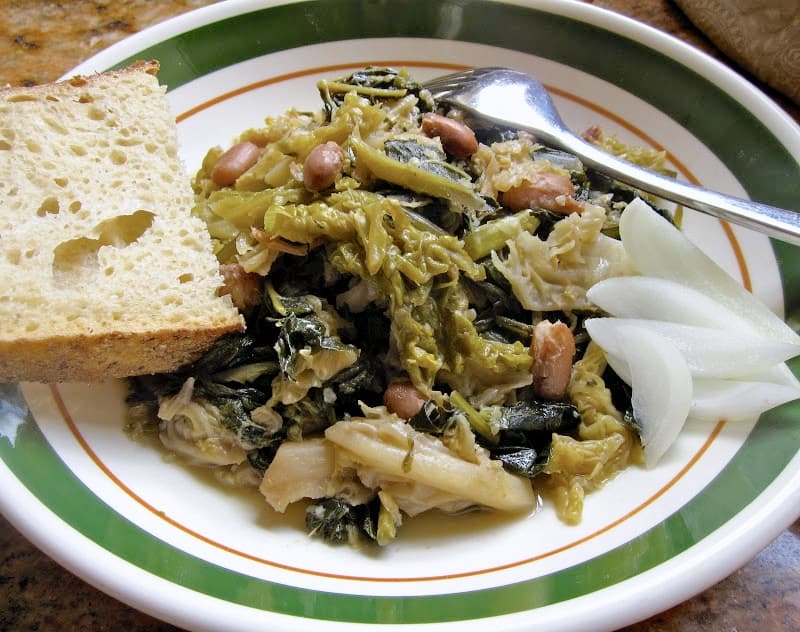 Freshly made, it's lovely when eaten with pieces of sweet onion and crusty Italian bread to soak up the juices (see photo above). However, the next day, it tastes completely different when reheated with more extra virgin olive oil and pieces of dried crusty bread–it's crazy-good!
Just don't give it marks based on looks. I'm going to show you how to make minestra, and reheat the leftovers and all I hope is that you're brave enough to give it a try. My neighbor tasted it a while ago and was smitten, and now makes it often; in fact, she brought a dish of it for a Thanksgiving dinner side-dish last November!
Feel free to mix and match greens, if you like chard or kale, add some; my mother doesn't like spinach in hers so she doesn't add it. It's a greens "free for all!"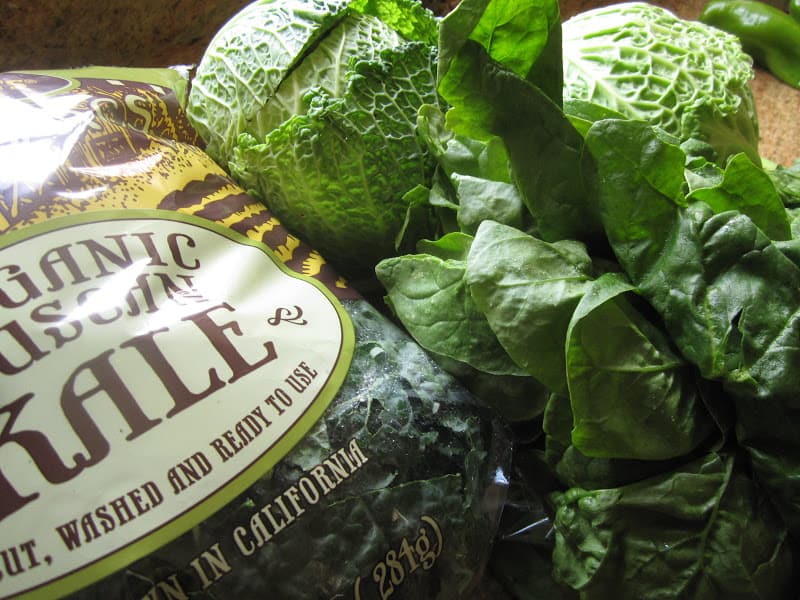 Minestra
Ingredients:
all greens should be washed before cutting
6 tbsp extra virgin olive oil
2 1/2 cups (20 oz) of water, or more if needed
4 cloves of fresh garlic, crushed
one large or two small Savoy cabbages, preferably organic, cut into chunks
one bunch of dandelion leaves, organic, trim off bottom inch, then cut in half
(one bunch of kale, or chard, organic, cut…this is optional, I usually don't add it)
one bunch of spinach, organic, trim off bottom part of stems, cut in half
1/8 tsp dried fennel seeds
Kosher or sea salt
black pepper, freshly ground
12 oz or more, cannellini or borlotti beans, cooked (how to cook your own dried beans)
Place oil, water and garlic in a very large pot; heat over medium high heat.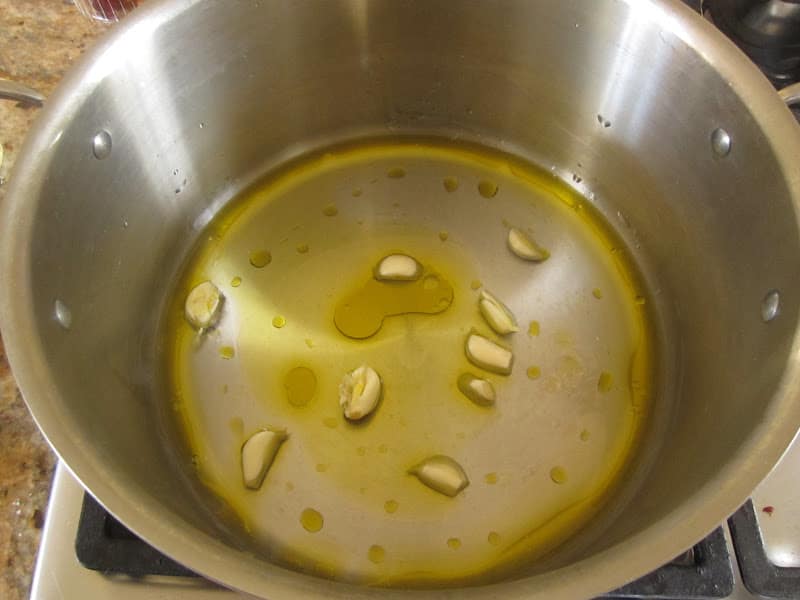 First add the chopped Savoy cabbage and cover with the lid.
After about 5 minutes, stir (add the kale if using) and cover again. Let cook for another 5 minutes, then stir once more. You'll start to think that everything won't fit in the pot, but it will.
Now add the dandelion greens, and continue to cook over medium heat, covered, stirring now and then, for about 10 minutes. Add salt, pepper and the fennel seeds. Check to make sure the liquid has not dried up, if so, add more water.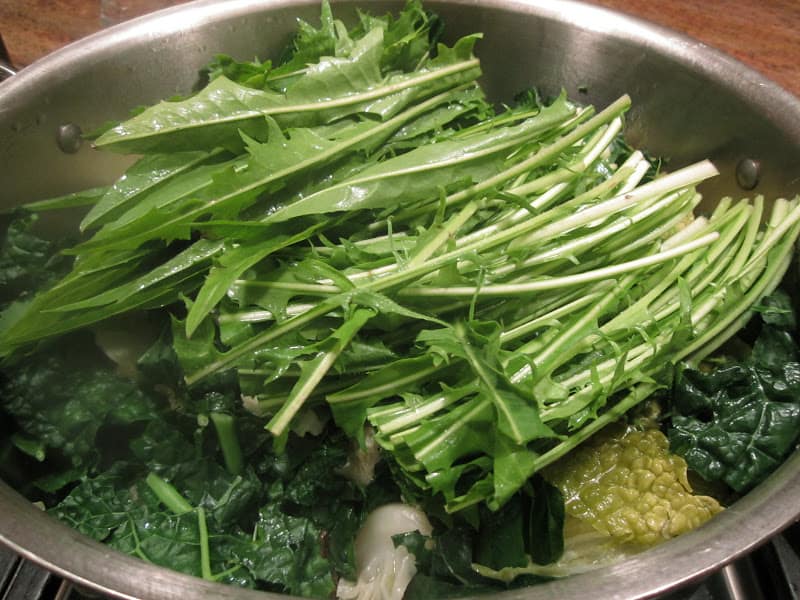 Last greens to go in is the spinach, then cook for another 5 minutes or so.
At this point, the minestra will look something like this:
Now add the beans and mix well into the minestra.
Taste for salt and pepper, and continue to cook for just a few minutes until the beans are heated through, and that's it.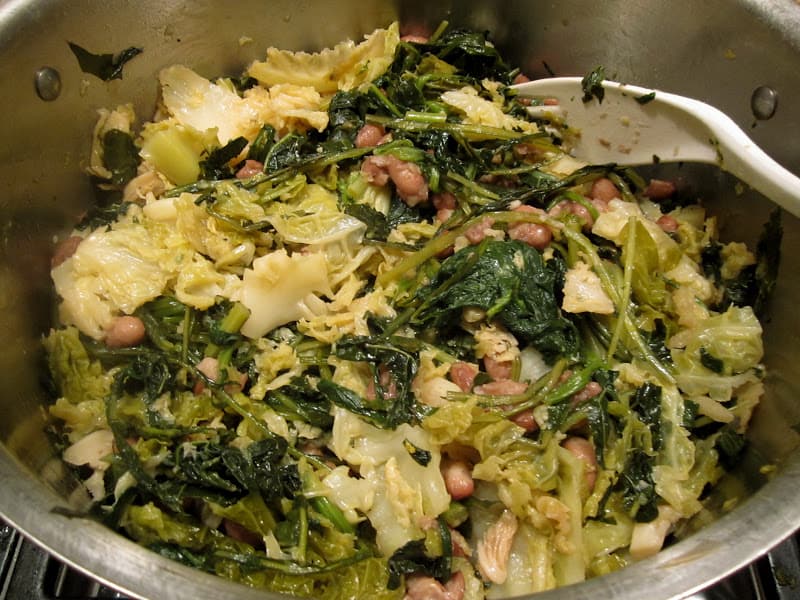 Serve hot with homemade bread and slices of sweet onion! YUMMY!
Leftover Minestra
cooked minestra with liquid (if it's too dry, add a little water)
3 to 4 tablespoons of extra virgin olive oil (for about 4 cups of minestra)
stale, crusty Italian bread, torn into bite size pieces
In a nonstick frying pan over medium heat, put about 2 tablespoonfuls of olive oil, add the minestra and the torn pieces of bread, and drizzle about 1 or 2 more tablespoons of olive oil on top.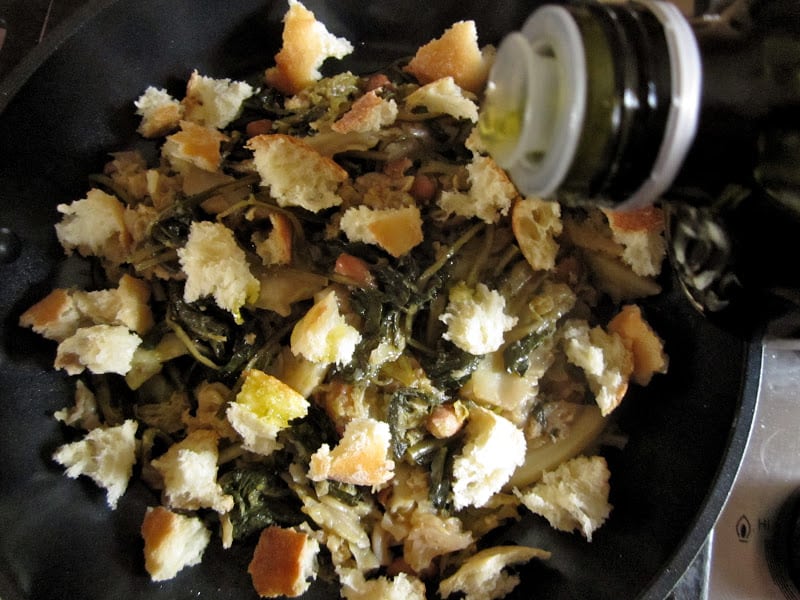 Cook, stirring frequently, until the bread has absorbed the liquid and softened,  and everything is heated through.
Serve hot, with slices of sweet onion, if desired.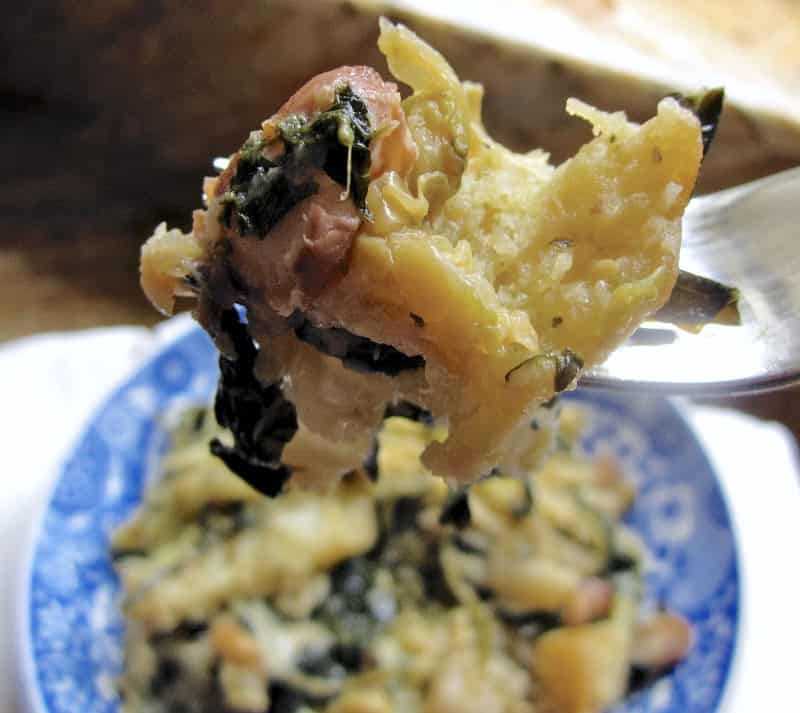 Please let me know what you think of this type of Italian "peasant food" recipe: good or bad; I'd love to hear what your opinion is and if you will try it? Will you never look at my blog again?
*For clarification purposes, "minestra" is what my family and people in the area where my family is from, in Italy, call this dish. Minestra is usually more of a soupy dish, however, each area of Italy has different names for sometimes similar dishes. Although my minestra has a lot of liquid, it's definitely not a soup.
Don't miss another recipe or travel post, sign up for my free subscription below!
I promise not to share or sell your email address, ever.