Cucina povera refers to an old peasant style form of cuisine which is based on local and seasonal ingredients. This is the original fork to table movement!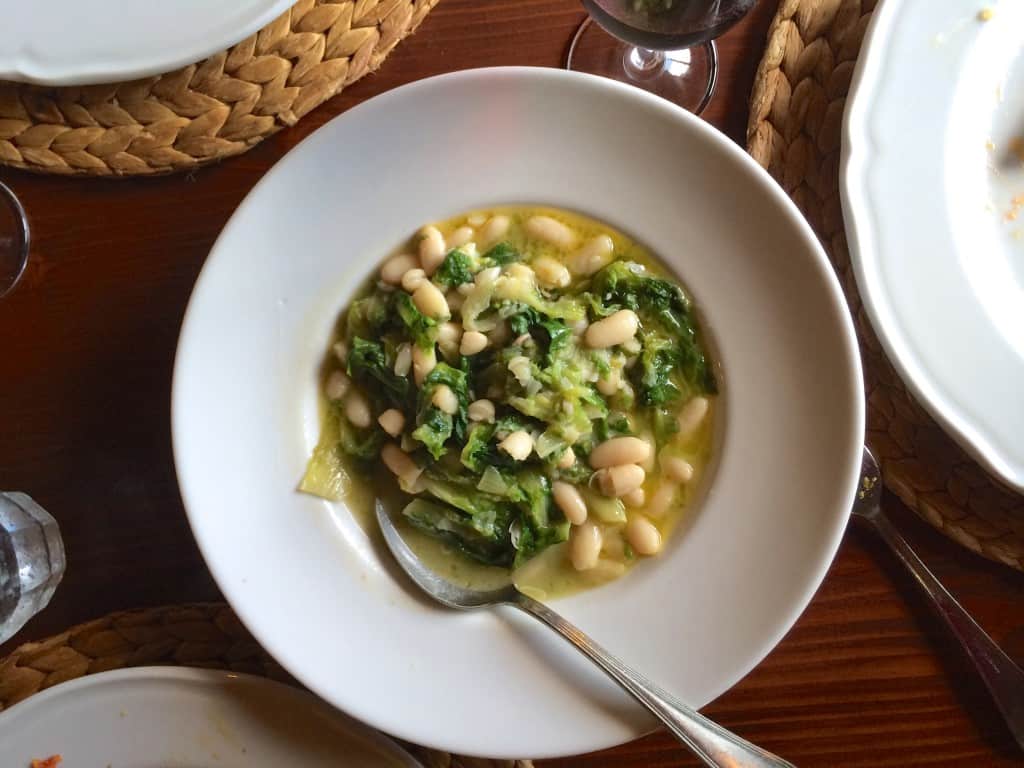 Before I describe our cucina povera experience at this agriturismo, I want to continue to share my journey with you.
As an Amazon Associate I earn from qualifying purchases.
My cousin Denisa and I left our friends in Terracina after we had a lovely breakfast and were given a tour of their eggplant/aubergine farm. It's run by Giacinta's (my mother's friend who she met when she was living in Paris) and Carmine's daughter, Valerie.
I had brought a large galette sablée from France which we ate together. It was broken from being in my bag, but it is meant to be broken and eaten, so it wasn't a problem.
As you can see, Valerie has her work cut out for her, growing and harvesting these beauties to local distributors who sell them at the markets. I'm sure her husband, Sergio loves to help, though! They also had fig and pomegranate trees, as well as some ornamentals. Everything grows so incredibly well in this part of Italy!
After our garden tour, we bid this warm, welcoming, and lovely family a fond farewell and started off down the coast road again. We had to stop to enjoy the scenery, only minutes from Terracina.
Even the road itself was scenic!
It was another hot day and one thing both Denisa and I wanted to do is take a walk along the beach. These are the beaches of our childhood. Our families would drive from Britain to Italy each summer, and this is where our beach days were spent. The sand is soft, and the water is warm, and we still love it.
After stopping and walking past countless sunbathers and swimmers, we decided we'd go back to the car and put on our bathings suits too! We just couldn't resist a swim in the sea! So that's exactly what we did. Let's just say we were creative with our "dressing room".
Gaeta
After our swim, we were off to Gaeta. It would have been lovely to stop at Montagna Spaccata, which literally means "split mountain". That is exactly what it is: the mountain is split in two and one can walk down steps to the bottom, but we had gone swimming instead! If you are ever in Gaeta, put it on your sightseeing list (I'm recommending it because I've been there).
By the time we reached Gaeta, it was almost 2 pm and in Italy, most businesses, including many restaurants close until the evening, when they reopen. We spotted a pizzeria that sold take-away slices, but alas, the owner was locking the door as soon as we got there! He told us of a little alimentari (grocery shop) down the street where we could get something to eat.
Lunch in Formia
Although the pizza wasn't the same as getting it at a pizzeria, we had absolutely no complaints. We were especially pleased with a little ricotta (which was indescribably good) and mortadella panini!
Villa Latina
After filling our tummies, we hit the road once more and decided we'd go to visit our Aunt Virginia and Uncle Fred near Atina, first. This is the view from their backyard; it's a beautiful area.
We visited with Uncle Fred and Aunt Virginia, then stopped by my Uncle Phillip (my father's cousin) and Aunt Teresa's house nearby. Of course, conversation turned to food and both Denisa and I were so interested in an agriturismo that Uncle Phillip and Aunt Teresa had been to recently. Plans were made to go the next day and we were so excited!
Dinner in Ponte Melfa
We went to a nearby pizzeria for proper pizza that evening. Again, no disappointment, and yes, we ate it all!
And then gelato! (Pasticceria Gargaro in Ponte Melfa not only has great gelato, but pastries, too!)
We headed back to Uncle Fred's to find Aunt Virginia watching the Italian version of The Great British Bake Off! It was so funny, especially since they apparently tried to find an Italian version of Paul and Mary!
The next morning we planned to go to the market in Cassino, then meet our relatives at 11 am where we would all go to Il Contadino Agriturismo in Caianello (pronounced: kai-AH-nello). I don't know how to explain to you what going to the market in Cassino means to Denisa and me.
We always go to the Saturday market in Cassino when we are in Italy. We especially loved it as teenagers because of the shoe market! Beautiful Italian made shoes as far as the eye could see!
Now we love it just as much for the food market. However, in the morning, we were awoken by the loudest crashes of thunder, flashes of lightning, and pouring rain! We were so disappointed!
After about an hour of horrible weather, the thunderstorm seemed to pass and it stopped raining, so Denisa and I decided to drive to Cassino to see if the market was on.
Monte Cassino viewed from Cassino, below.
Saturday market in Cassino
We were in luck, but we had so little time before having to meet everyone at 11 am! Here's a sample of why we love to go to the Cassino market.
We needed a cappuccino before hitting the shoe market and this beauty was just one euro (about $1.10), and it tasted fantastic! And did you know that my cousin Gianfranco, had no idea what Starbucks is? No wonder!
Isn't this the coolest umbrella! And look at all those shoes! Sorry, I'm getting excited all over again.
We had to rush to get back to our car to meet everyone for lunch, but on the way we just happened to run into my Zia Francesca and Zio Carmine from Canada who were with my cousin Gianfranco!
Before I go on, I want to tell you that there is so much to see in and near Cassino, but the highlight is Monte Cassino, the Benedictine monastery at the top of the hill, overlooking the surrounding land. It played a very important role during WWII and the entire area is steeped in history.
The woes of parking tickets in Italy
Just be careful where you drive (limited center of town driving) and park. I was issued a parking ticket last year because I didn't see any signs or the pay and display machines about half a mile down the street (I had to ask these lovely ladies where we'd had a coffee what the ticket was for)!
Not to mention, when I called the police station to complain about the lack of signs, especially for tourists, an officer told me to come in to discuss it, and he'd try to help me. The only problem was that he was gone when I arrived at the time he told me to come to see him! I was furious, especially since I was afraid I'd get yet another parking ticket!
His name was Gianni, and Gianni was a jerk. His colleagues were no better, giving me a huge run-around and making me return the next morning, yet again, for nothing! These are the perils of traveling (and living) in Italy, but I still think it's worth it.
We made it to meet Uncle Phillip and the gang and were only five minutes late! Caianello is about a forty minute drive, south of Cassino. One might say it's a bit off the beaten track, but not far off a main road in town.
Il Contadino (Cucina Povera Agriturismo)
The front entry greets guests with their recent harvests and there is a cooking area there, too. We were the first ones to arrive, and although the inside of the restaurant was a rustic beauty, it would have been lovely to sit under the pergola outside. However, everything was wet due to that morning's thunderstorms.
One thing you should know about eating at a typical agriturismo restaurant is that there is often no menu. It's sort of like going to have a meal with family or friends, and you just eat what they've made. By law, they must use local ingredients, so the food is all very fresh, meaning everything tastes better.
Our meal at Il Contadino was one of the best that we had, and my whole family was in awe of all the different dishes that continued to be brought out, one after another.
Their menu focuses on the "cucina povera" cuisine, which is basically peasant-style cooking; I feel that what it lacks in beauty, it makes up for in taste. We started with cianbotta, a typical southern Italian type vegetable stew. Everyone loved it.
Cucina Povera Meal
Next came pickled pumpkin with extra virgin olive oil and oregano, similar to pickled eggplant, then a dish similar to my family's minestra, but with potatoes. We couldn't believe how flavorful such simple ingredients could be. Then came pizza araganata, and green beans, also made the way I make them!
Although I was in heaven with every bite of each dish, I could have eaten bowlfuls of the beans with escarole!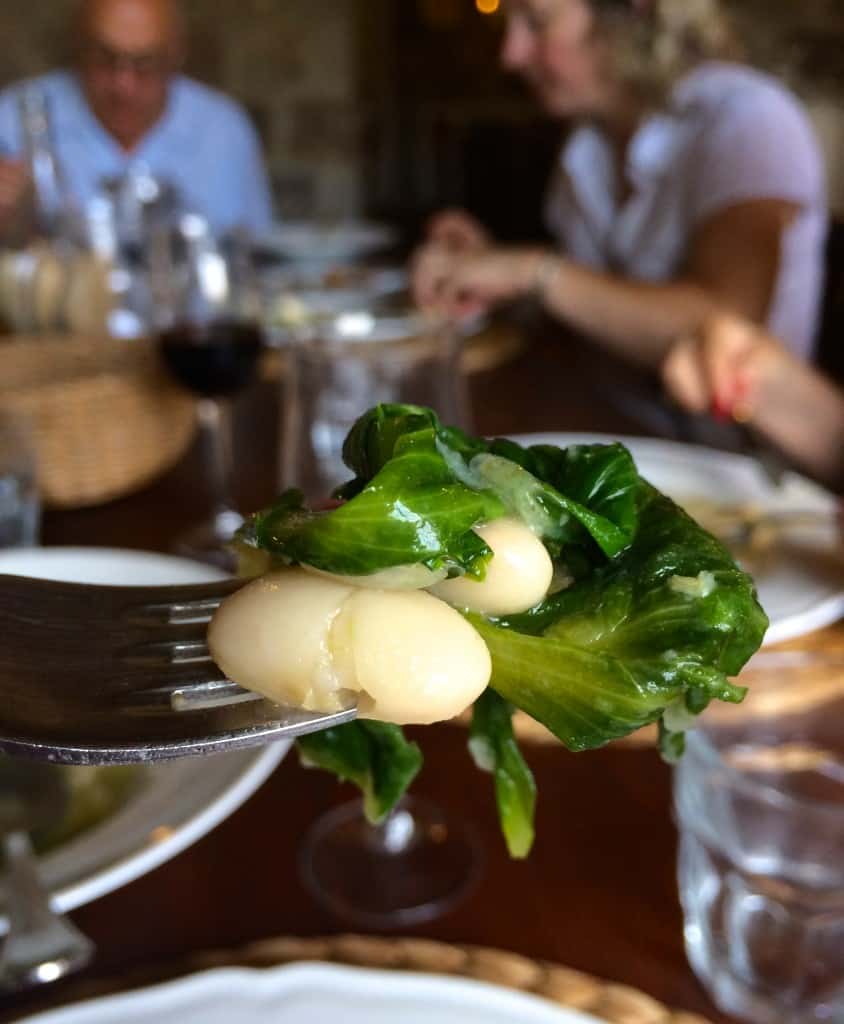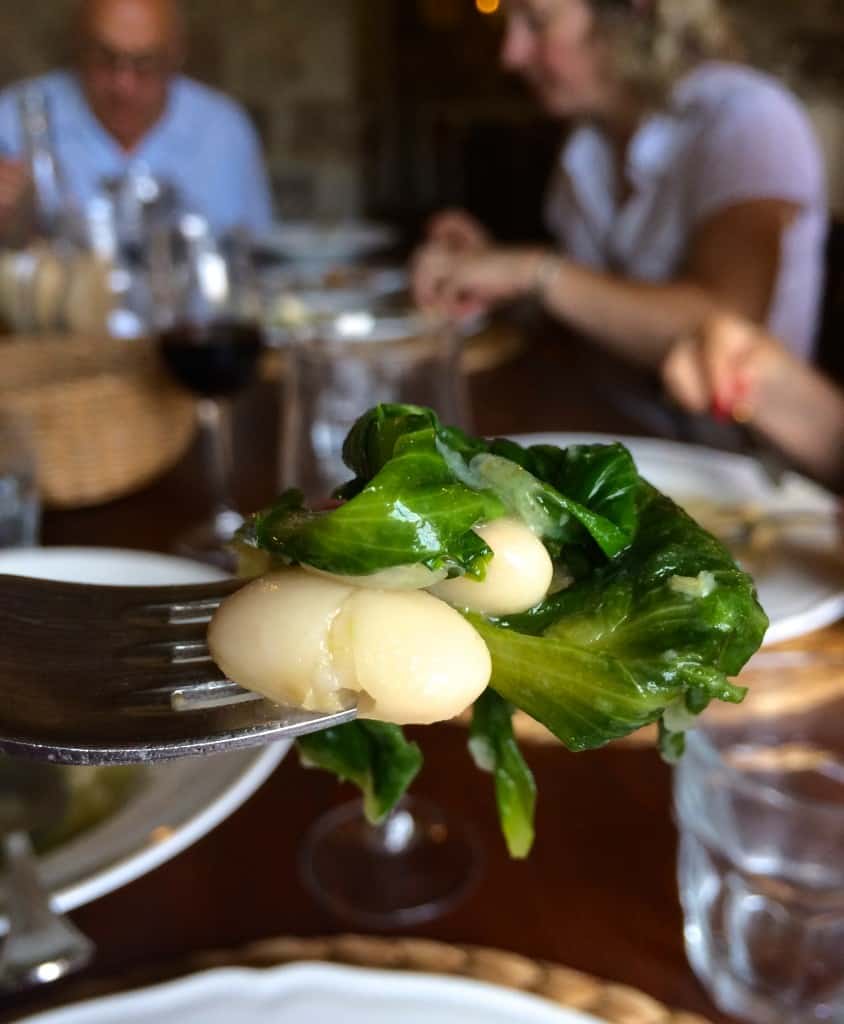 Then came more! Delicious panzanella, followed by a peasant-style egg and toast soup that workers would bring into the fields long ago, called "uovo a suscillo". After that, we tasted pasta with a simple sauce, and chicken made with tomatoes and served alongside potatoes. Honestly, every dish was simply superb. This is simply typical of cucina povera dishes.
And let's not forget the wonderful house made wine and homemade bread! It wouldn't have been the same without them. To me, cucina povera could compete with Michelin star dishes any day as far as flavor. They may not look as pretty, but there is nothing lacking when it comes to the taste.
The last item on the menu, was eggplant parmigiana. I'm not crazy about eggplant/aubergine unless it's pickled, so this was my least favorite dish. It looked beautiful though.
Chef's words of wisdom about cucina povera.
Before we left, I had a moment to speak to the chef who talked to me about the different cucina povera dishes. He explained that quality of ingredients is the top priority (sound familiar?) He also stated that they cook and eat according to the seasons.
When food tastes this good, something is definitely being done right. If only the US would follow suit, instead of the American fast food diet permeating the rest of the world.
We headed back to our car and then Denisa and I went to our mothers' village (Nalli) where we went to see Zia Iolanda and Gianfranco, who were just sitting down to dinner with Zia Francesca and Zio Carmine. You'll never believe what they were having–hamburgers! That's a different type of cucina povera!
The Canadians have arrived! 😂
My journey continues going to a festa, Frascati ,and and the perils of driving in Rome.
Don't miss another post! Sign up below for my recipe and travel posts.
I promise not to sell or share your info, ever.
Christina's Cucina is a participant in the Amazon Services LLC Associates Program, an affiliate advertising program designed to provide a means for sites to earn advertising fees by advertising and linking to Amazon.com.
This was not a sponsored post. All opinions are solely mine.
cucina povera