Peaches and cream with cognac is a super summer dessert! So easy to make, and perfect for enjoying with friends and family at the end of a hot day.

Originally published July 22, 2012
You may have noticed that I've posted pictures of relatives along with recipes, and that's because almost everyone in my family loves to cook. UPDATE: since this original post, I've added many more recipes from family.
As an Amazon Associate I earn from qualifying purchases.
After all, we're Italian–it goes with the territory!
My cousin, Gianfranco, who lives in Italy, has a serious sweet tooth and loves to bake and make desserts. However, there's usually one common ingredient in everything he makes: some type of liquor (see proof below!)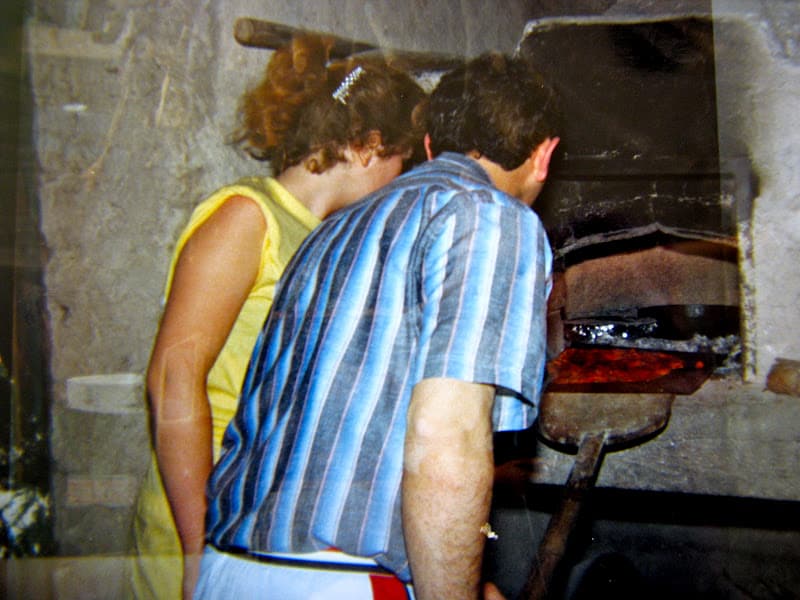 Once, when I was at Gianfranco's house, I noticed him slicing peaches and pouring cognac over them. He then put the dish in the fridge and told me it was his dessert for later! What a fabulous treat!
You may also like this peach dessert recipe.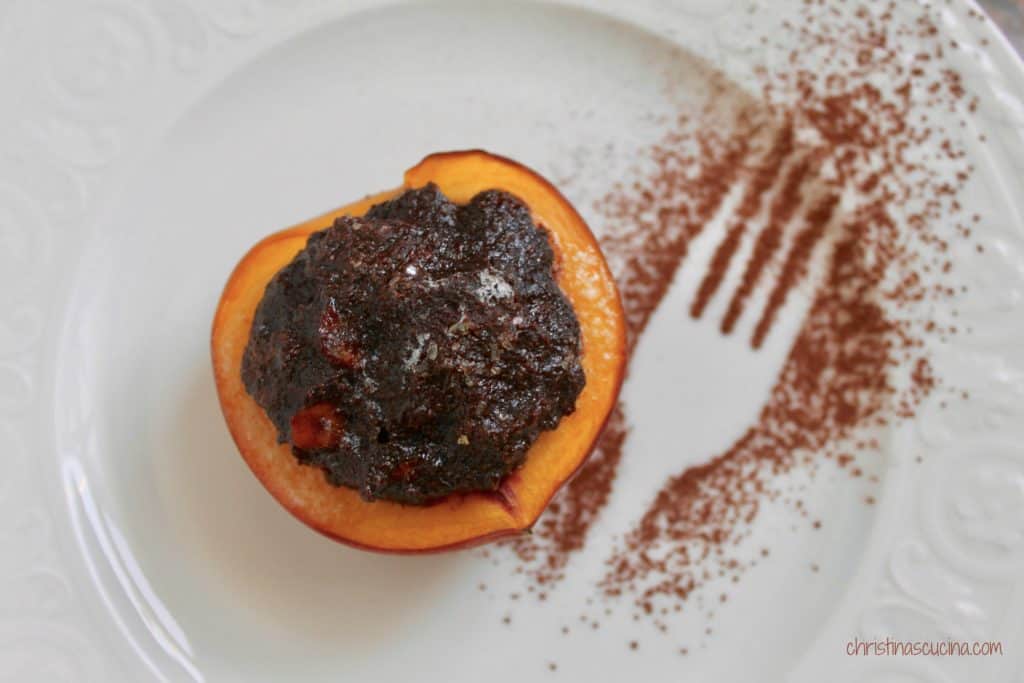 Of course, being from Britain, I had an idea to make it even better–cream! Peaches and cream go together like cheese and wine, so here's my version of Gianfranco's superb fresh peaches and cream and cognac dessert.You can make it his way, as it's much less fattening and healthier, but I must say, I like the British-Italian version the best!
NOTE: if you are serving this to children or anyone who doesn't want the added alcohol, just add a squeeze of lemon to the peaches to keep them from going brown, then toss. Serve with the cream.
Peaches and Cream (and Cognac)!
fresh, ripe peach (or peaches – 1 small peach per serving)
good quality cognac, or brandy
fresh cream (double cream in the UK, in the US, beat lightly for a thicker consistency)
Cut the peach(es) into slices and place in a serving bowl. Then, pour some cognac over the fruit (as much or as little as you like).
REFRIGERATE FOR AT LEAST HALF AN HOUR to let the fruit macerate. (If your peaches aren't very sweet or flavorful, add a tiny sprinkle of sugar).
When you're ready to serve, just pour some cream on top of the peach slices.
Delizioso!
Peaches and Cream (and Cognac!)
Additional Time:
30 minutes
A simple boozy peach dessert that's great for summer.
Ingredients
1 oz fresh cream (double cream in the UK, in the US, beat lightly for a thicker consistency)
1 fresh, ripe peach (or peaches - 1 small peach per serving)
1/2 oz good quality cognac, or brandy
Instructions
Cut the peach(es) into slices and place in a serving bowl. Then, pour some cognac over the fruit (as much or as little as you like).
REFRIGERATE FOR AT LEAST HALF AN HOUR to let the fruit macerate. (If your peaches aren't very sweet or flavorful, add a tiny sprinkle of sugar).
When you're ready to serve, just pour some cream on top of the peach slices
Nutrition Information:
Yield:

1
Serving Size:

1
Amount Per Serving:
Calories:

541
Total Fat:

23g
Saturated Fat:

14g
Trans Fat:

1g
Unsaturated Fat:

7g
Cholesterol:

67mg
Sodium:

55mg
Carbohydrates:

52g
Fiber:

8g
Sugar:

46g
Protein:

7g