Grilled Camembert on the barbecue is going to change your life. Seriously, it's that good! When I first tasted this in a vineyard in France, I thought I'd died and gone to cheese heaven! Learn about the Vis Ma Vigne experience.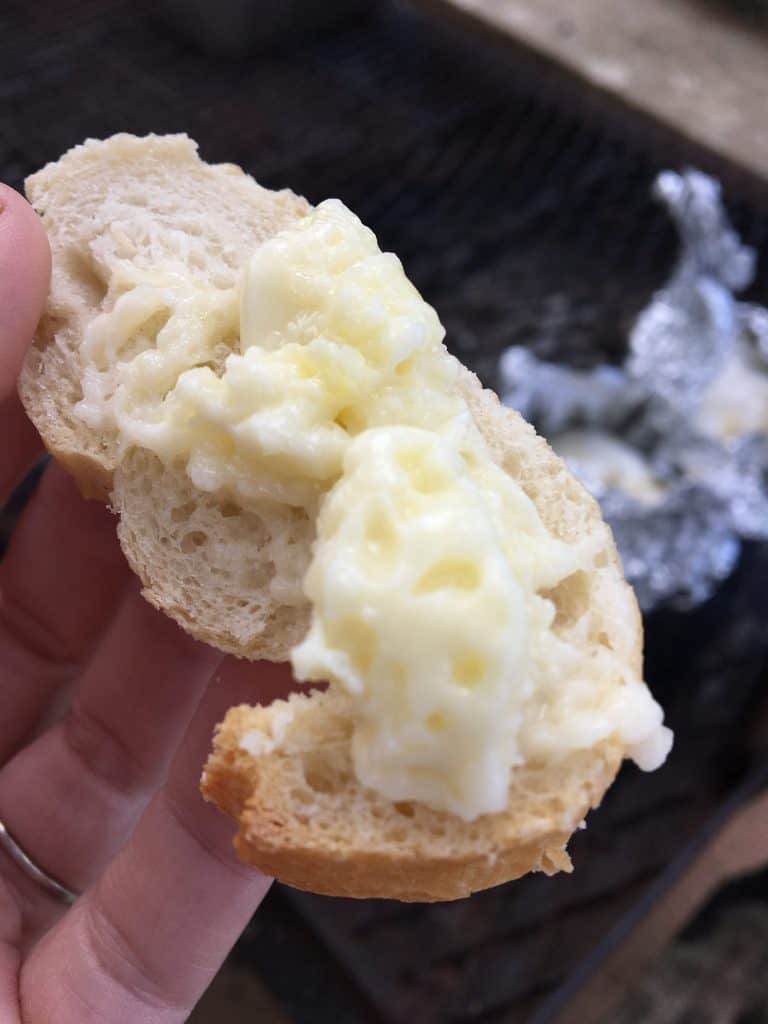 Last September my mother and I flew to Lyon (courtesy of Air France) and were hosted there by Sofitel Bellecour in the heart of the city.
As an Amazon Associate I earn from qualifying purchases.
You may recall that I had won the Sofitel Wine Days contest earlier in the year with this photograph.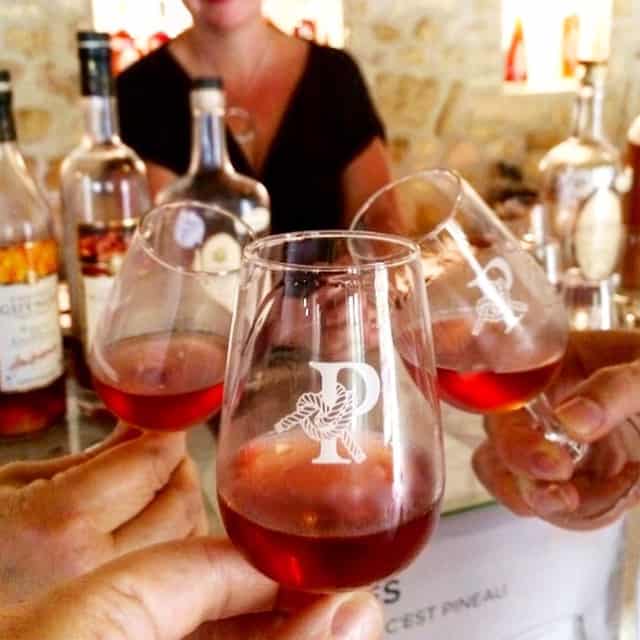 Part of the prize was a day in a vineyard as part of the "Vis Ma Vigne" program with Agamy Winery. Vis Ma Vigne essentially means "live my vineyard", and it is a way for anyone to become involved with the wine-making process. One is involved from the grape-growing, to the final production of the wine, as a one year sponsor of a part of a vineyard. It makes a great gift for a wine lover!
You can read more about it if you are interested (I'll leave a link at the bottom of this post). In the meantime, I want to tell you about our day in the vineyard, and of course, the incredibly delicious grilled Camembert cheese! It was such a fun and memorable day in Sarcey (the Rhône region of France)!
At first, we arrived at the wrong vineyard about 45 minutes away from the vineyard where we were supposed to go! Not a problem for Mum and me as we just adored seeing more of the French countryside. It was a bonus for us!
As you can see from the photo above, the weather wasn't very cooperative that morning. It had been threatening rain, and just as we arrived to the village where we were meeting for a ride to the vineyard, it began to sprinkle.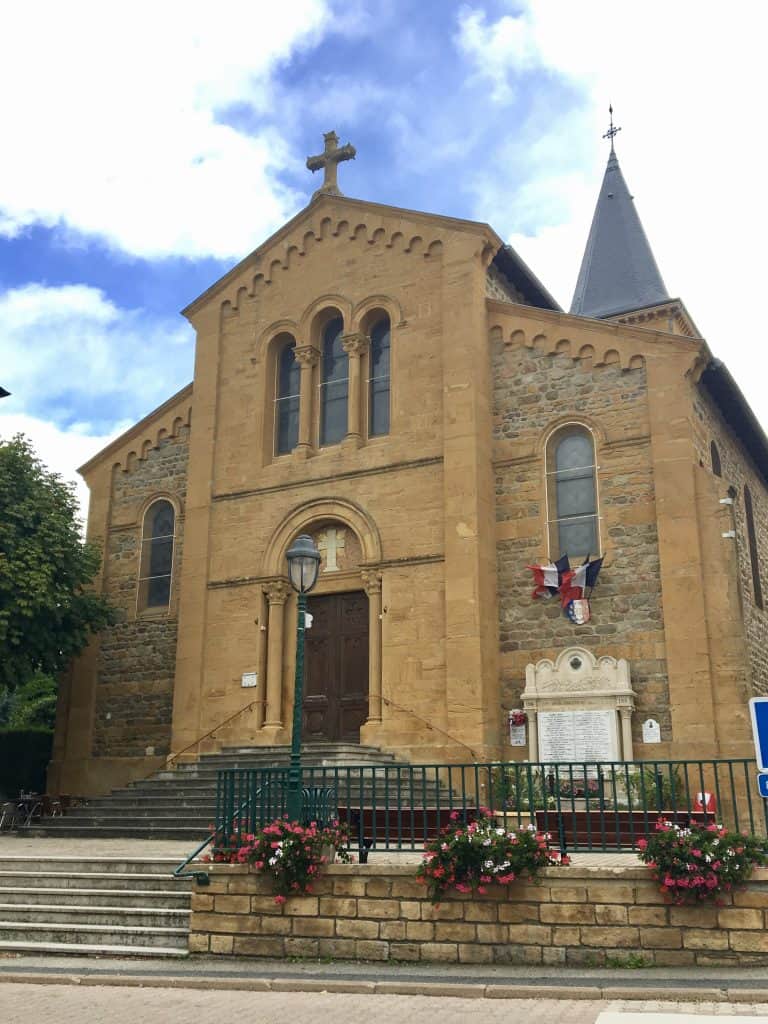 Nicolas from Agamy Wines was waiting for us in the village. We drove the short distance to the winery and the heavens opened! It really started to pour and Mum and I were so disappointed as this would mean no grape picking or picnic in the vineyard! Since we were late, a small group had already started picnicking, but had retreated into their van. Nicolas got out and told us to wait as we'd be going to plan B: having lunch in the winery instead. 😭
About three minutes had passed when Nicolas returned to the car. He got in and announced that the rain and wind would pass and we were going to stay! Mum and I looked at each other as if to say, "How in the world does he know that?" Nicolas gave my mother a waterproof jacket and after a few minutes the rain did start to dissipate and we ventured outside.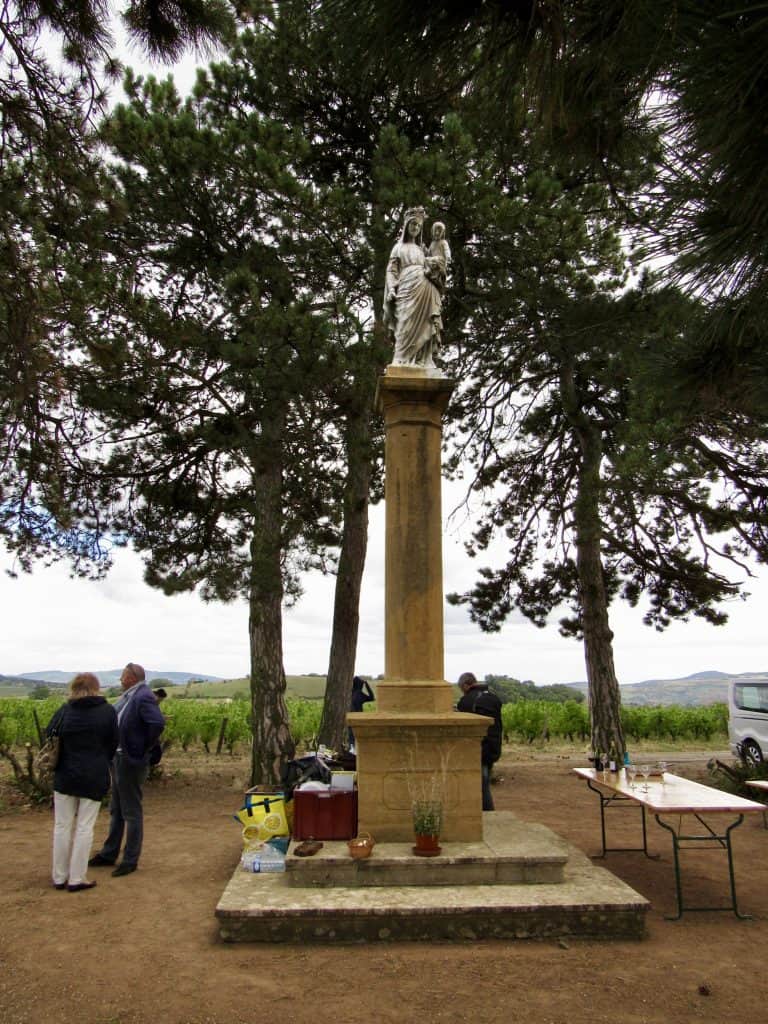 It did actually start to clear quite quickly.
The vineyard workers had been cooking on the barbecue and we were offered lunch. Mum and I had never tried Andouillete, and it was actually quite good. We both enjoyed it, but I'll let Wikipedia explain what it actually is!
Andouillette (French pronunciation: ​[ɑ̃dujɛt]) is a coarse-grained sausage made with pork (or occasionally veal), intestines or chitterlings, pepper, wine, onions, and seasonings. Tripe, which is the stomach lining of a cow, is sometimes an ingredient in the filler of an andouillette, but it is not the casing or the key to its manufacture. (Courtesy of Wikipedia.)
I didn't take a photo, but even if I did, it truly isn't a dish that is visually appealing. However, I would encourage you to try it if you go to this region of France where it is popular. Of course we had wine, too!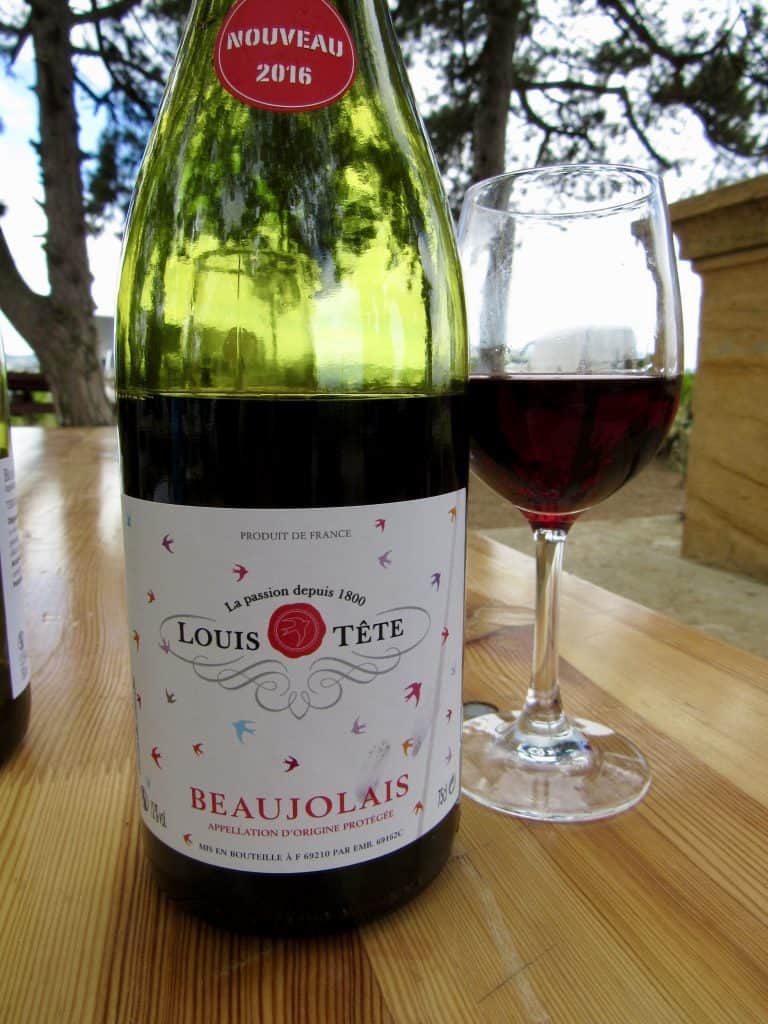 After our Andouillette came the most incredible surprise: grilled Camembert on the barbecue! I cannot put into words how much I loved Camembert this way! I mean, I love Camembert cheese any which way, but this is now by far my favorite! Just take a look at this. Is this heaven, or what?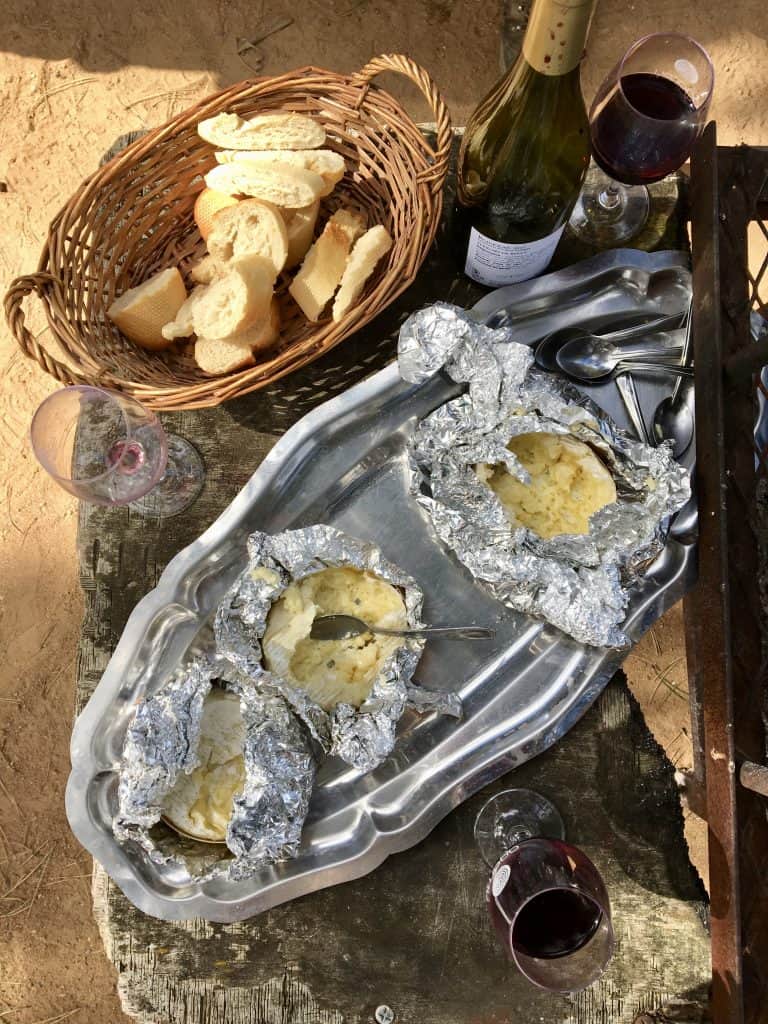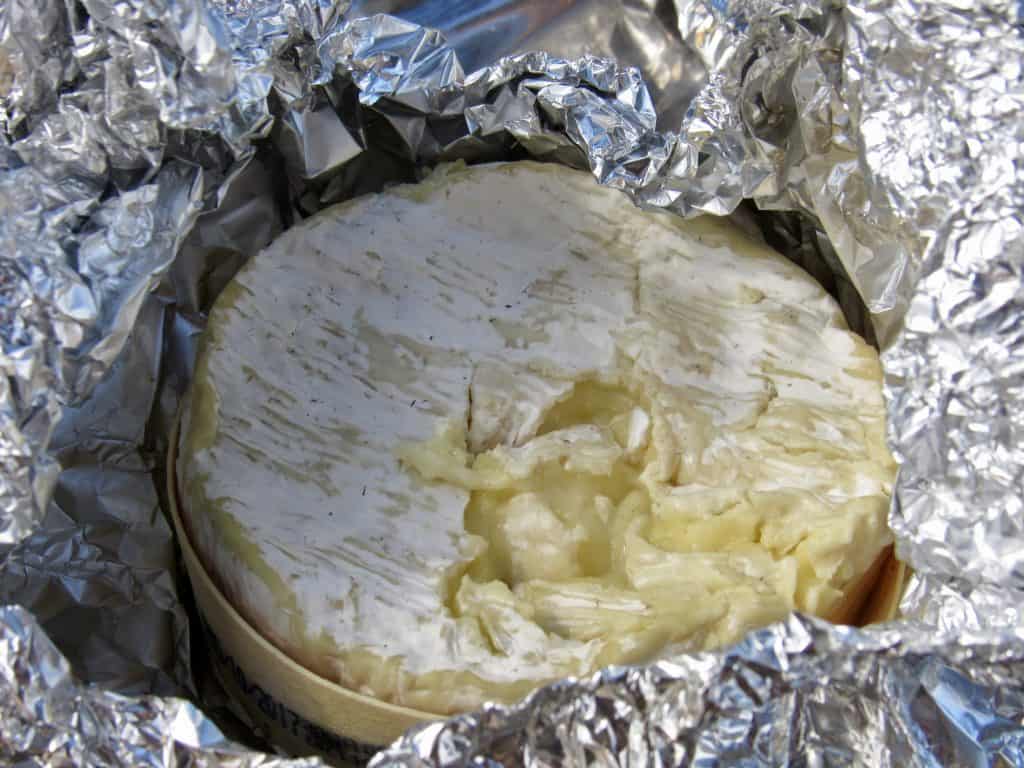 I'll share the "how to" below as it's not truly a recipe, but if you like cheese, you're going to fall in love with grilled Camembert whenever you barbecue!
Here are the master cheese-grillers and vintners! They were just so lovely, and although I can't remember the man on the right's name, he was also our "tractor-taxi-driver" (more on that below)!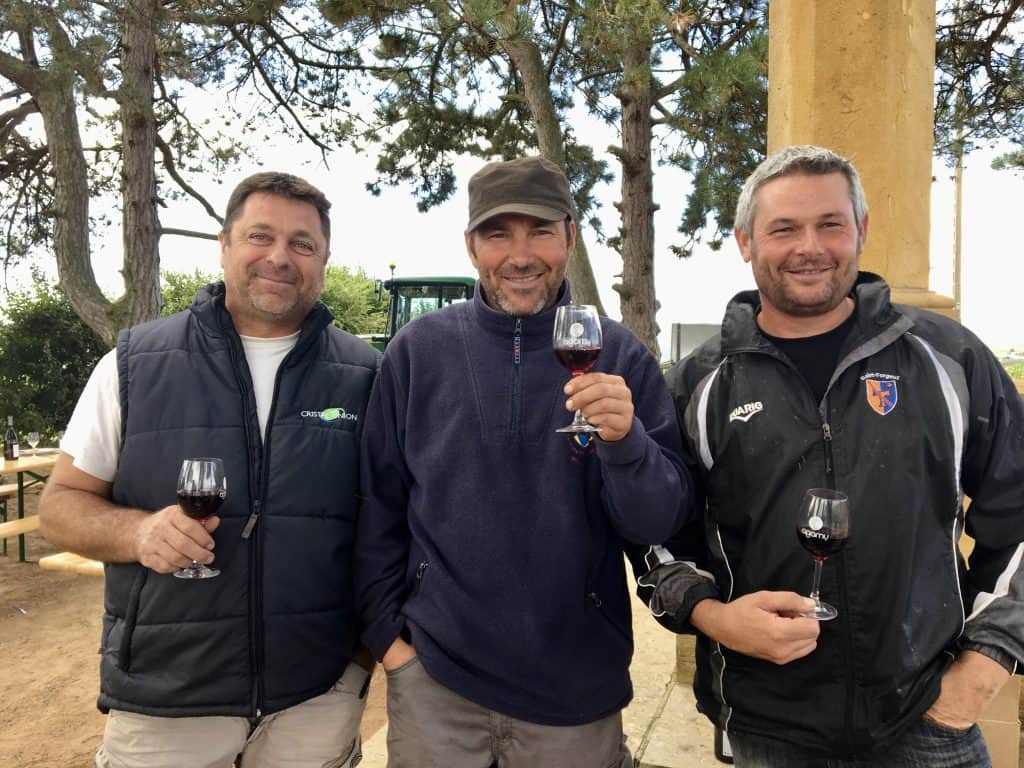 After cheese heaven, it was time for photos and grape picking!
It was unbelievable how the weather was clearing up so quickly! Nicolas had been right!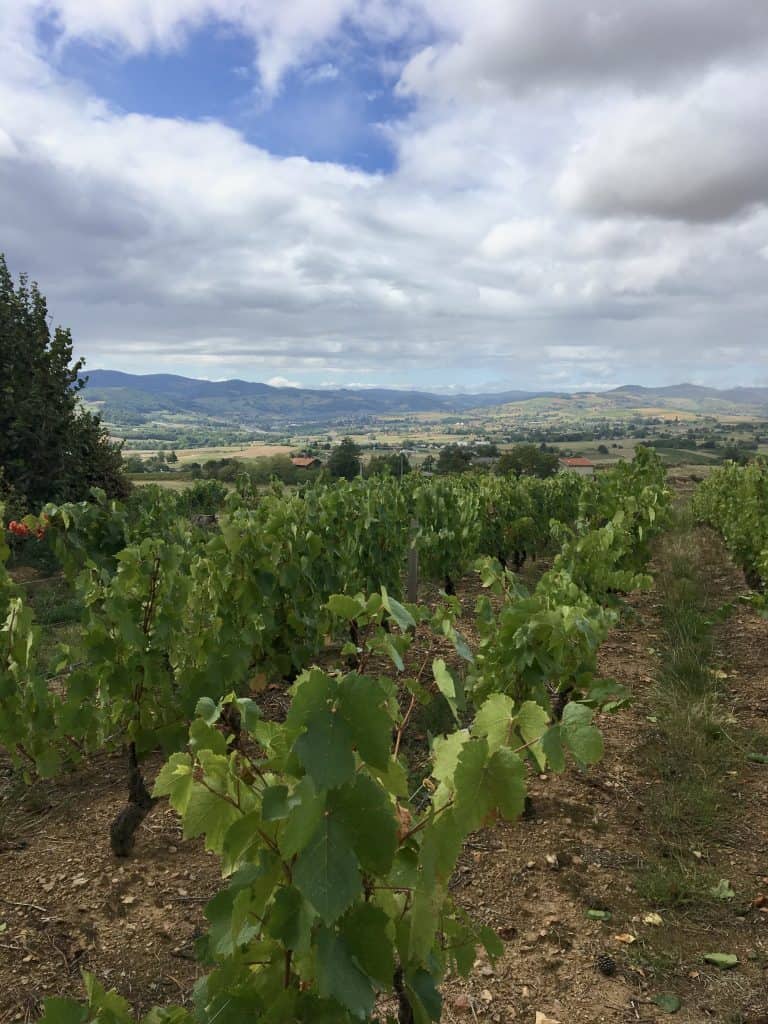 My mother absolutely adores grape-picking! It reminds her of when she was a little girl in Italy, so she couldn't wait to get started.
Nicolas cut a few bunches, but then Mum took over.
He wanted to hire her after seeing her zeal for the job! We picked Gamay grapes (for Beaujolais) if you're wondering.
After putting them in pails, we dumped them into a large container that one of the men wore on his back.
He would then walk up some steps to a trailer and dump the grapes in. It was hard work, but he made it seem effortless!
I picked grapes too, and then it was time to visit the Agamy winery about a mile away.
A lady who worked at the winery had driven over and asked my mother if she wanted to ride to the winery in her car. However, we'd also been asked earlier if we wanted a ride in the tractor. When I heard my mother agree to go in the car, I couldn't help but reprimand her!
I asked, "How many times will you get the chance to ride in a tractor in a vineyard in France!?"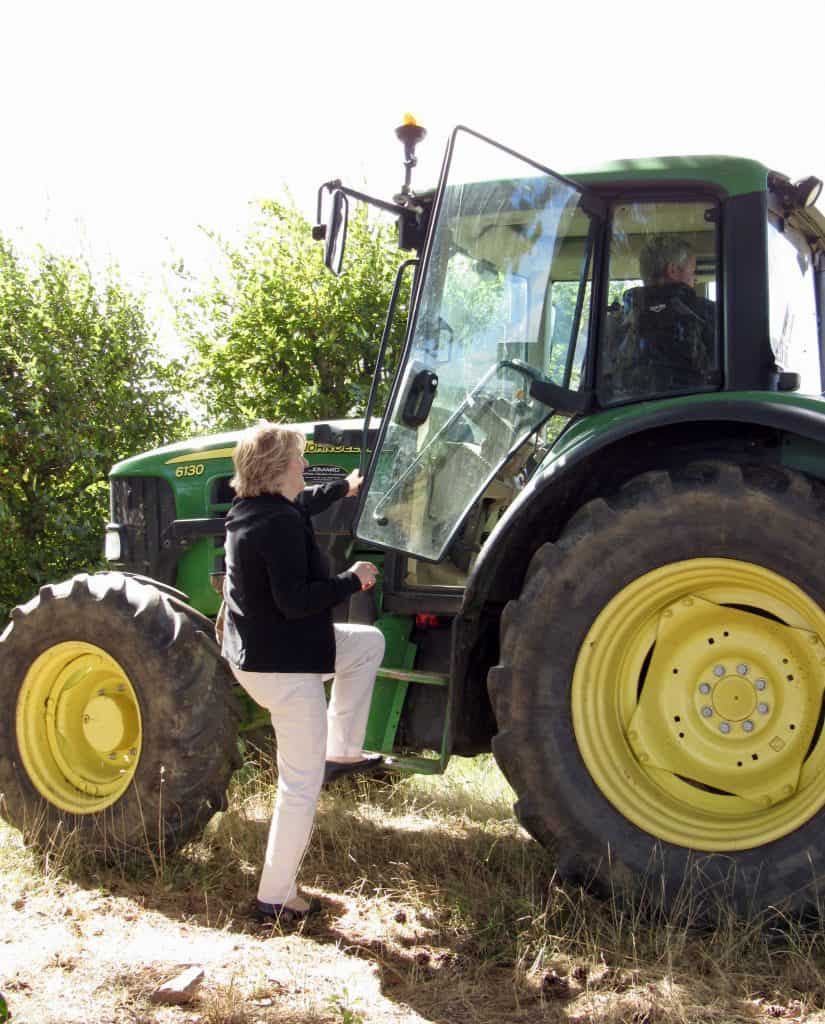 Mum actually thought to ask how many of us could fit, and honestly, I think there was a communication breakdown as Nicolas wasn't there to translate. THERE WAS ONE SEAT IN THE TRACTOR, but three of us rode back to the winery in it! Don't even ask, but it was so hilarious, especially with my mother squealing each time we went down a hill! She really though we were going to roll over!
I was laughing too hard to take pictures and was also trying not to crush my mother who was in the middle! Our tractor driver didn't speak English and we don't speak French, but we had so much fun riding back to the winery. This was our selfie once we arrived. We kept joking that he was going to be our "taxi-driver" the rest of our trip!
We enjoyed more wine upon our arrival and before our tour of the winery. This time, a lovely sparkling rosé.
Next was a tour of the winery, and it was fabulous! We were able to taste four different tastings, from grape juice to fermenting wine.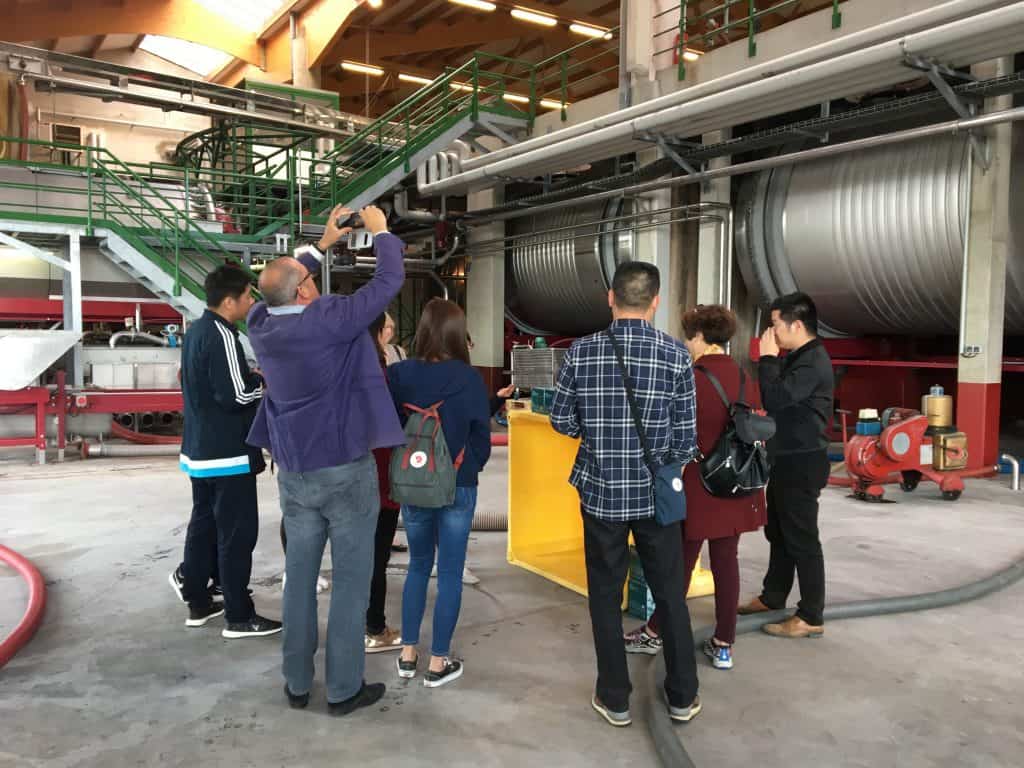 Nicolas was the best tour guide throughout the day, explaining the wine-making process and more about the Vis Ma Vigne program. When we went outside, the smell was incredible (in a good way)! This was a "hill" of grape stems and seeds which are repurposed for many beauty products and other uses.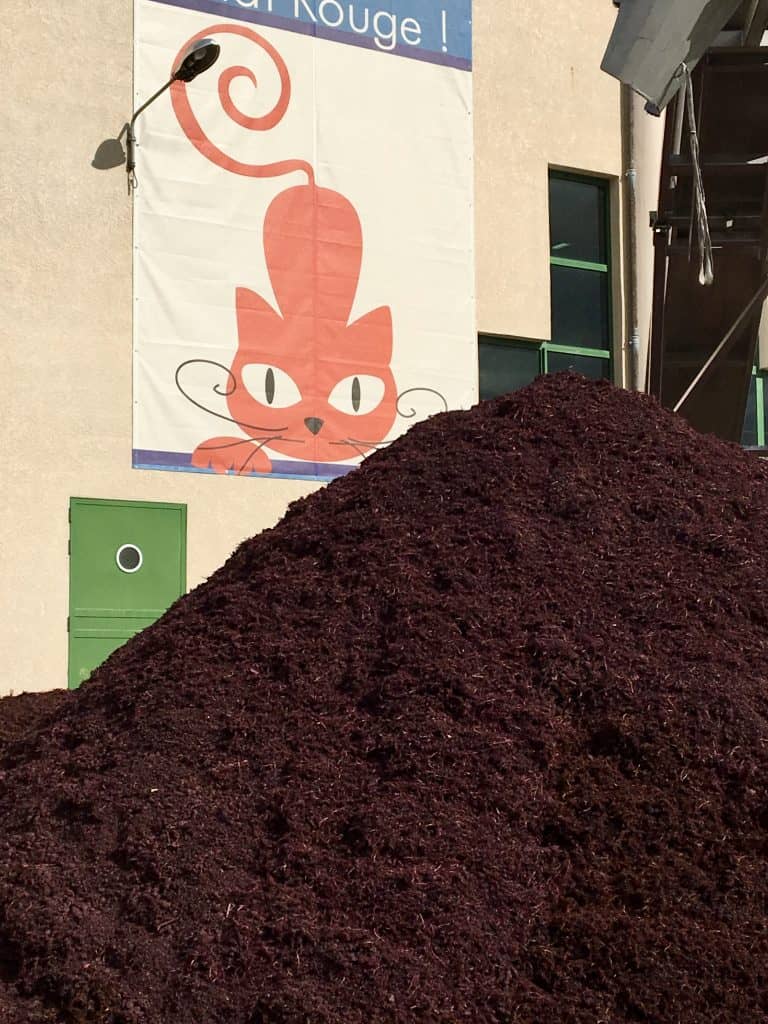 Once the tour was over it was time to head back to Lyon. This truly turned out to be such a memorable day!
And fear not, I haven't forgotten about the grilled Camembert recipe!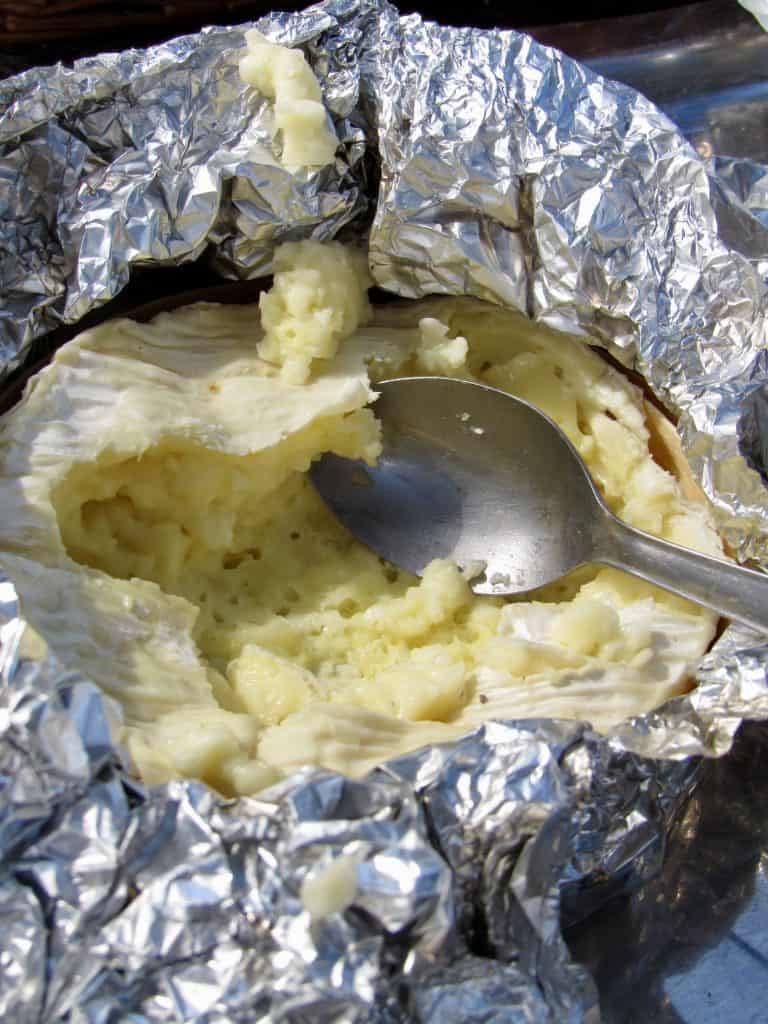 Grilled Camembert on the Barbecue
a typical French recipe shared by the Agamy vintners we met Serves 4
FULL PRINTABLE RECIPE BELOW
Ingredients
the best quality Camembert you can buy
a very good quality white wine (like a Beaujolais)
Special equipment: aluminum foil
Prepare the Camembert for the Grill
Take the lid off the Camembert cheese but keep the bottom. Cut a little hole in the top of the cheese and pour in a little white wine (half a small glass).
Wrap the entire cheese in aluminum foil.
Put the Camembert on the Barbecue
Heat the wrapped cheese on the grill until it has softened and the wine has been absorbed into the Camembert.
Serve with lots of slices of crusty French baguette!
Note: recently, I was discussing this with Loreto di Cesare (who I met at an Italian event here in LA). He told me that they do the same thing in Italy, except they add roasted garlic to the Camembert! No words.
Enjoy and let me know what you think in the comment section below!
French Camembert on the Barbecue (with White Wine) and Vis Ma Vigne
Turn Camembert into an even more dreamy cheese with this simple recipe. Serve with pieces of fresh, crusty baguette .
Ingredients
8 oz Camembert (best you can buy)
2 oz good quality white wine (like a Beaujolais)
Instructions
Take the lid off the Camembert cheese but keep the bottom. Cut a little hole in the top of the cheese and pour in a little white wine (half a small glass). Wrap the entire cheese in aluminum foil and warm on the grill until the cheese has softened and the wine has been absorbed into the cheese.
Serve with lots of slices of crusty French baguette!
Notes
Be sure to use the best quality cheese and wine or this will not taste as spectacular as the one I had in France.
Nutrition Information:
Yield:

4
Serving Size:

1
Amount Per Serving:
Calories:

101
Total Fat:

2g
Saturated Fat:

1g
Trans Fat:

0g
Unsaturated Fat:

1g
Cholesterol:

5mg
Sodium:

62mg
Carbohydrates:

1g
Fiber:

0g
Sugar:

0g
Protein:

1g
Nutrition information is only estimated.
I won this trip to Lyon with a day trip to Agamy's vineyard and winery and am under no obligation to promote any company in this post. I am writing about my trip from a travel perspective to share my experience with my readers, and no disclosures are necessary. A special thank you to Nicolas for taking such good care of my mother and I on this marvelous day.

Christina's Cucina is a participant in the Amazon Services LLC Associates Program, an affiliate advertising program designed to provide a means for sites to earn advertising fees by advertising and linking to Amazon.com.