The Lyon City Card is a great way to see more of Lyon, while saving money! Read on for my full review of this city card, along with details of things to do and see in Lyon, France.
Last September my mother and I flew to Lyon, France courtesy of Air France and Accor Hotels as I'd won the Sofitel Wine Days photo contest! You can read Visit Lyon for Pralines, Bouchons and Traboules, Oh My!
Disclosures: I received two 3 day Lyon City Cards from the Visit Lyon Tourism office. All opinions are my own.
This post contains an Amazon affiliate link for your convenience at no additional cost to you.
Lyon City Card
NB: Given that we had a 3 day pass, there are many activities and places we weren't able to do and see, so this is not an inclusive review of all that is offered with the Lyon City Card. This is simply a review of what my mother and I chose to do in the time that we had in Lyon, in no specific order.
Guided Walking Tours via Lyon City Card
-Highly recommended for everyone.
You never are fully able to appreciate a city or town until you are given a tour by a local, don't you agree? Wouldn't you be able to point out things in your hometown that visitors would never have known?
Our guide gave us a brilliant walking tour of Lyon's "Old Town". She taught us all about traboules (hidden passageways) and we went "trabouling"! We were given so much history on Lyon and the silk and fabric industry that was vital to this city and so much a part of what it is today. Although it was raining during our walk, we were protected inside the traboules for a part of it.
We also visited the 12th-century Gothic cathedral of Saint Jean Baptiste which has impressive stained glass windows.
Museum of Gallo Roman Civilization
-Highly recommended for history buffs.
This was one of the highlights of our trip to Lyon for both my mother and me. The artifacts, displays and excavated outdoor area were all incredibly interesting. Notably, the museum was a spectacular and impressive building in and of itself, as you can see above. The museum houses a collection of Roman, Celtic and pre-Roman material.
Museum of Textile and Decorative Arts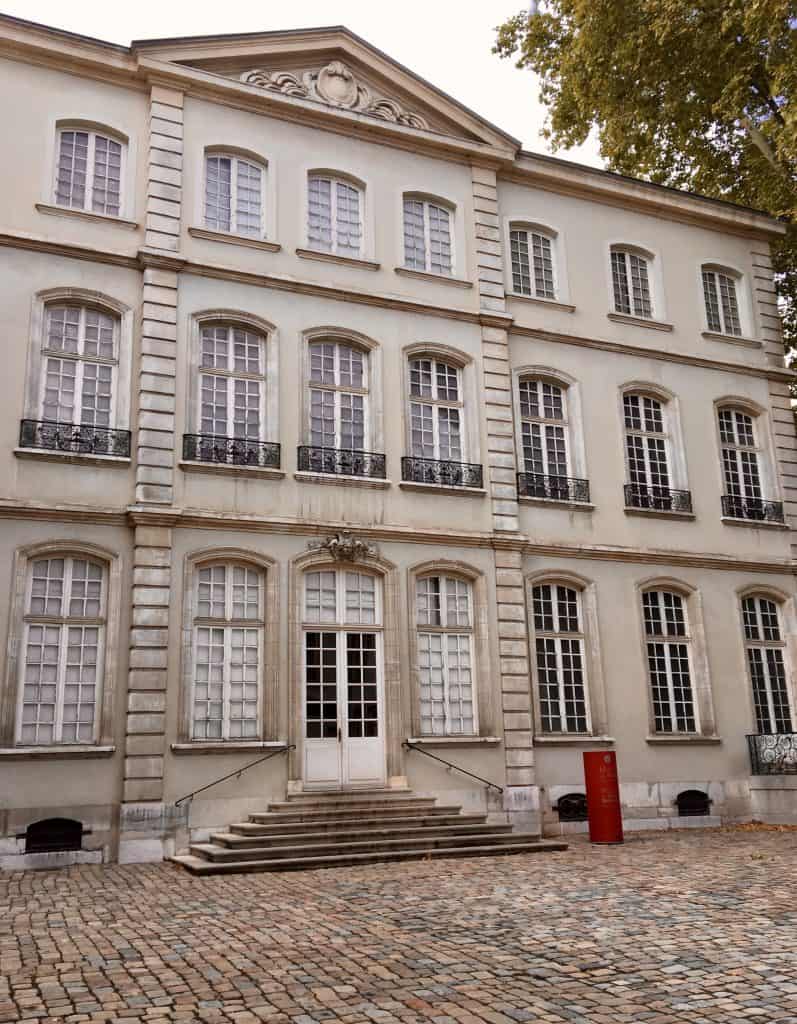 -Recommended if you are interested in fabric, decor, the history of Lyon, and museums.
Mum and I enjoyed this museum and all the fabric, clothing and more that is on display. However, if you don't have a lot of time, put this one lower on your list. It's not the first thing you want to do when you arrive in Lyon. Unfortunately, there is no photography allowed in the museum, so I have no photos to share with you.
Cruises on the Saône and Rhône Rivers
-Not recommended
Both Mum and I agreed that the Saône river cruise wasn't our cup of tea. I've done short river cruises like this one in places like Bruges, Amsterdam and on the Rhine, and really enjoyed those, but this one was unimpressive. We cruised past the newly refurbished area of Lyon and it was mostly contemporary buildings like the one in the photo above.
Once we got to the confluence of the Saône and Rhône Rivers, we simply turned around and went back. It was a short, and rather boring cruise, in my opinion, which is why I don't recommend it. However, if you're in Lyon on a super hot day and just want to get out on the water for a break, it's included in the Lyon City card, so go for it!
Le Petit Musée de Guignol via Lyon City Card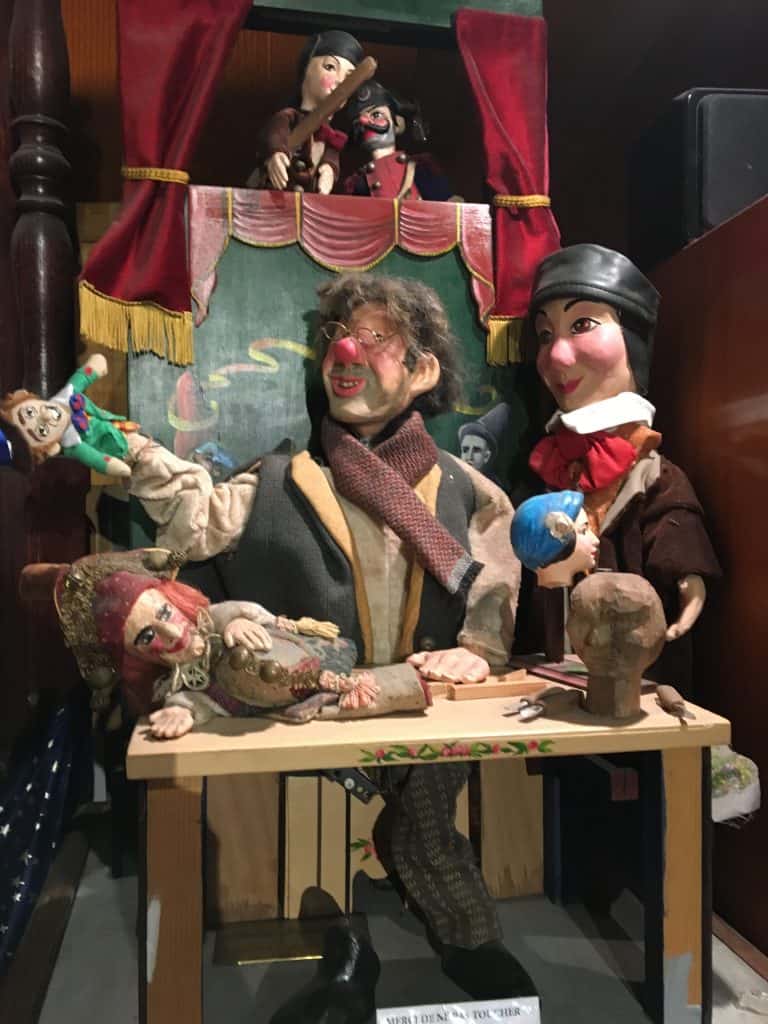 -Recommended for puppet fans, but NOT recommended for those who dislike clowns, puppets and dolls, etc.
My mother and I went through this little museum in about five minutes. Not only is it small, but I think this sort of place truly appeals to a small percentage of visitors. In fact, I have friends who I know would run a mile from this sort of attraction as they really dislike old dolls, puppets, and clowns. I think we thank the movies for that!
However, there is another larger and "less creepy" puppet museum which is included with the Lyon City Card, the Gadagne Museums: history of Lyon and puppets of the world.
International Museum of Miniatures and Cinema Sets
-Highly recommended for everyone!
We spent hours in this museum as both the cinema and miniature sections were so incredibly interesting. It was a lovely surprise to find a little bit of Hollywood in Lyon and while we were in this part of the museum, I kept thinking I was back home in LA! There were movie sets, costumes, thousands of props, figures and so much more to see on the cinema floors.
Most of our time, however, was spent in the miniature museum. Both my mother and I have a penchant for all things cute, tiny and made in miniature form. (Remember the Lilliput Lane brand?)
The miniatures are mainly from the talent of Dan Ohlmann who founded this museum. The attention to detail in every single item on display was nothing short of phenomenal. These are an example of the tiny world we saw, many of which have been used in films. Do you recognize any of the mini sets?
A Visit to the Roof of the Basilica of Fourvière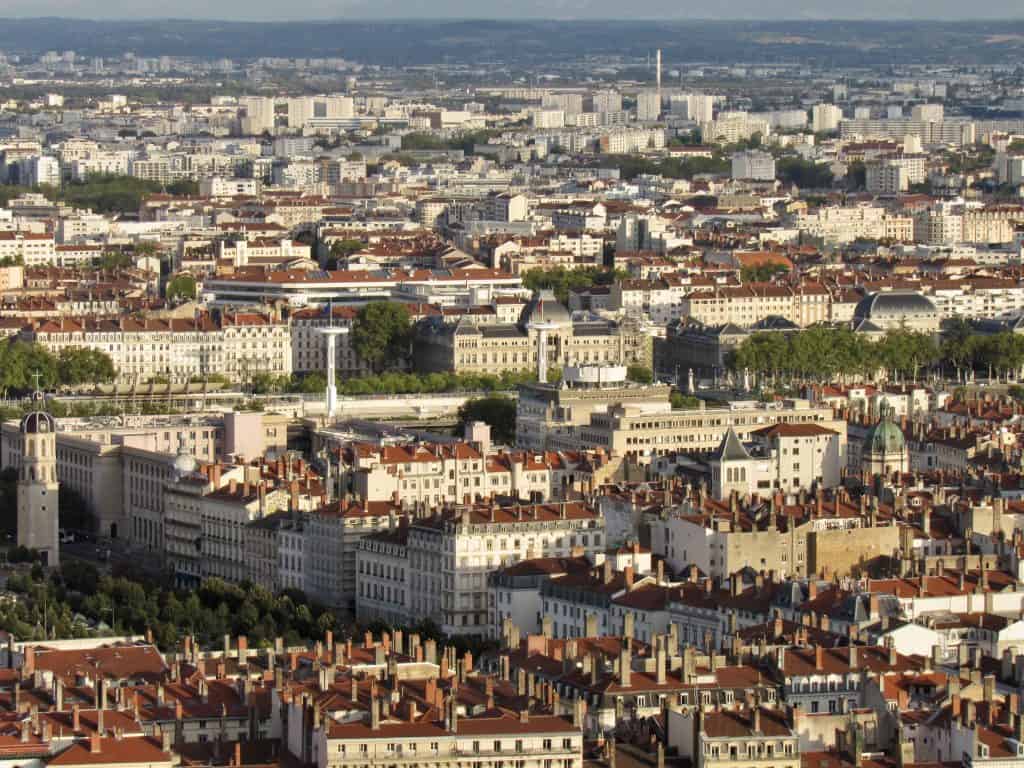 -I'm going to recommend this even though I didn't go to the roof.
Unfortunately, there are specific times when you can visit the roof and we didn't manage to meet that schedule. However, Mum and I went to the Basilica and the views from next to it were so fantastic, I can only imagine what an unobstructed view from the top would be like! (There is no charge to visit the basilica, but if you do not use the Lyon City Card, there is a fee to go onto the roof.)
Remember, these are simply a smattering of things to do and see from the entire list for the Lyon City Card. It also includes public transportation and discounts on shows, bike rentals and more.
Click for more information or to purchase the Lyon City Card
(I do not receive anything from your visit or purchase).
✧
~Things to do in Lyon for FREE
without the Lyon City Card~
Lyon by Night
Many of Lyon's buildings and towers are lit at night, which makes it the perfect place for a nighttime stroll. One word of warning though, watch your step: most of the lovely residents of Lyon don't embrace picking up after their poodles (and all other breeds, unfortunately).
Les Halles de Lyon – Paul Bocuse
Sadly, the great Chef Paul Bocuse passed away recently, but you can visit his food halls just north of the Rhône River in Lyon (his restaurants are in and near Lyon, too). They are nothing short of a food-lover's heaven!
Love French pastries? Make these passion fruit and lemon meringue tartlets in your own kitchen!
You'll feel like you stepped into a French bakery!
Visit Churches and Cathedrals
As noted above, the Basilica of Notre-Dame de Fourvière has some fabulous views, however, the interior of the cathedral is simply stunning. The detail throughout the basilica is enthralling.
Mum and I popped into many churches in Lyon, and we were not disappointed in any of them. They are truly architectural masterpieces to be seen.
~Where to Eat?~
These are just a few places where my mother and I ate and where I would return. (I don't usually do this, but I will add, stay away from Un, Deux, Trois as they served me gritty escargot and my mother's French onion soup was a clear broth with a couple slices of uncaramelized onion, served with grated cheese and bread on the side!)
Chabert et Fils – typical Lyonnaise bouchon with good food.
Pralus Bakery – don't miss their famous praline brioche!
La Tassée (CLOSED) – for a bit of a fancier meal without breaking the bank. Very good food and excellent service.
Café Comptoir Abel – a lovely café with typical Lyonnaise dishes and great service. My mother still talks about their bread; it's worth going just for that!
Aux Merveilleux de Fred – my friend Jill from Mad About Macarons recommended this bakery to me and I will recommend it to you! Beautiful creations which you can watch them making in the window, given in gorgeous pastry boxes taste as good as they look!
I hope this helps you plan your trip to Lyon!
My friend, Jill from Mad About Macarons, has some in-depth information and recommendations on Lyon as well.
Don't miss another travel or recipe post; subscribe to my free subscription!
Christina's Cucina is a participant in the Amazon Services LLC Associate Program, an affiliate advertising program designed to provide a means for sites to earn advertising fees by advertising and linking to Amazon.com.