Passion Fruit and Lemon Meringue Tartlets are a quintessential Parisian pastry seen in so many patisseries! You can make them in your own kitchen, though, with the help of Jill from Mad About Macarons!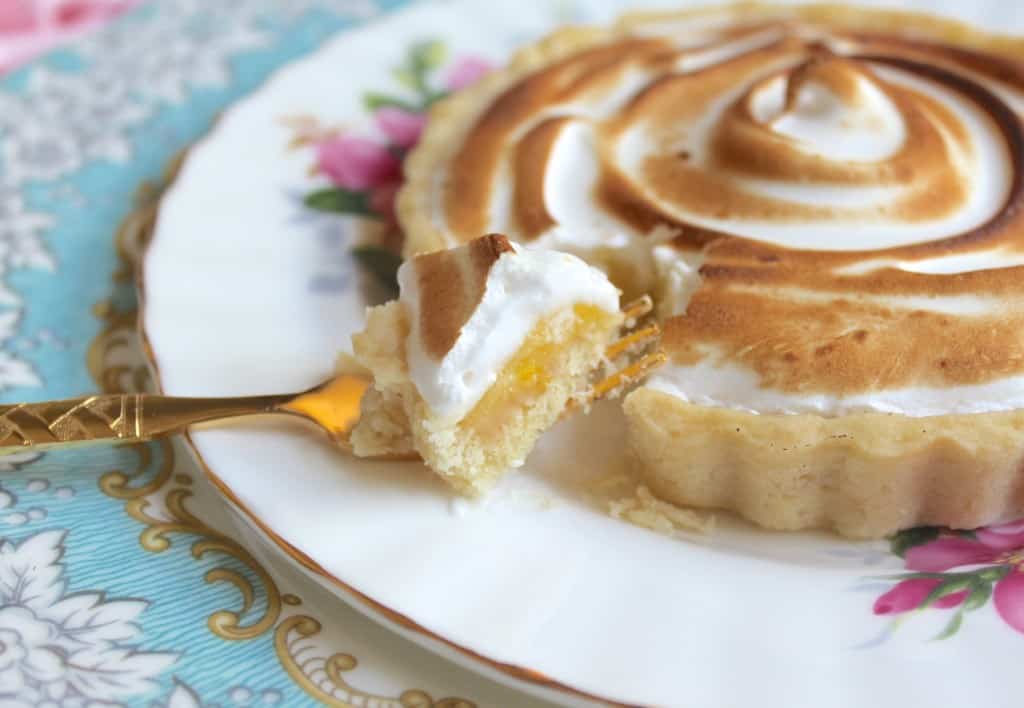 Before you think these are too difficult or complicated or you to make, please read the step by step directions. You'll see that breaking it down into little parts makes it so much simpler!
This post includes Amazon affiliate links for your convenience, but at no additional cost to you.
I recently wrote about the numerous friends I've met online through blogging. One of those newfound friends is fellow Scot, and cookbook author, Jill Colonna who now lives in France.
Besides writing cookbooks, she leads walks around Paris from pâtisserie to pâtisserie, sampling the most amazing pastries, chocolates and macarons, while staying slim and trim. This would be reason enough to dislike her, but I don't know how anyone could ever dislike Jill because even through written correspondence her perky personality and joyful nature come through loud and clear.
I can't wait to meet her in person, but in the meantime, I'm going to make do with a copy of her latest, lovely cookbook, Teatime in Paris! A Walk Through Easy French Pâtisserie Recipes. Jill's publisher has allowed me to share her Passion Fruit and Lemon Meringue Tartlets recipe with you.
Disclaimer: I was given a copy of this book for review purposes and some passion fruit from Frieda's Produce, however, all opinions are my own.
Essentially, this is an entire book of foodporn: page after page of delectable desserts, pastries, cakes and of course, macarons. This is actually Jill's second cookbook; her first one is named, Mad About Macarons, and as you would surmise, focuses on the art of making macarons like the French.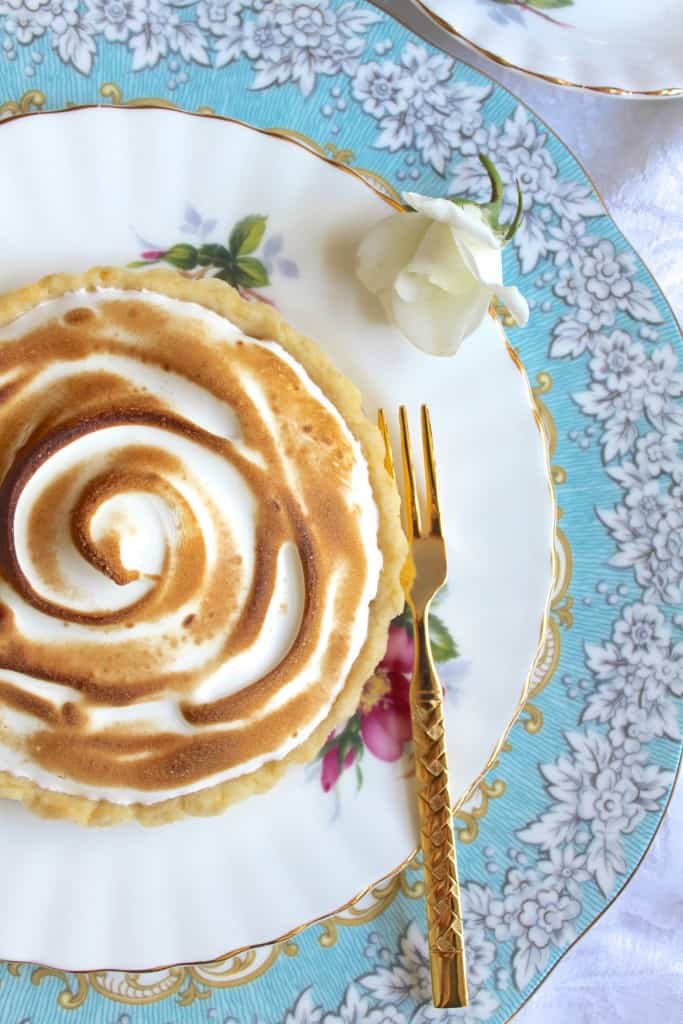 Jill's book is exactly what I look for in a cookbook: beautiful photos of each recipe (so you know what the end result should look like), and clear and concise, step by step instructions (and photos), for fail proof results.
Case in point, my tartlets look just like Jill's photo in her book! Success! Frieda's Produce provided me with the lovely passion fruits so I could make this creation and it was my first time tasting and baking with them! Verdict: I love passion fruit, and of course they're good for you. Check them out here at Frieda's Produce.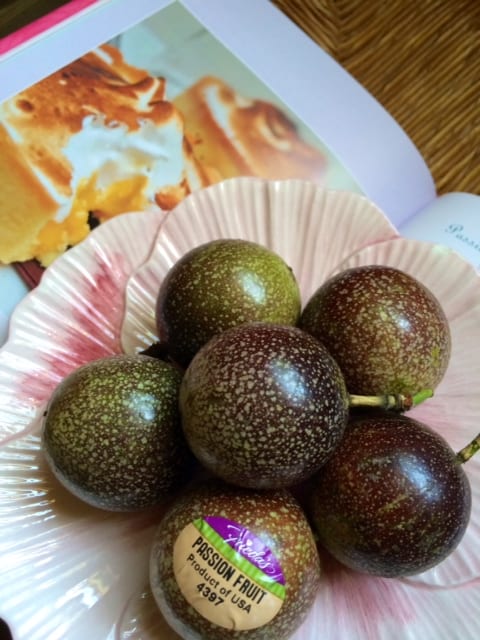 I would love to make almost every single recipe in Teatime in Paris (I spotted a fig tart; you know me and figs)! This is really a feat in a cookbook as many times, I end up putting them back on the shelf when I am considering buying one, as there just aren't enough recipes that appeal to me. Well, Teatime in Paris is a book I would buy; and many of my friends have perused the book and loved it, too.
Jill and her publisher have been kind enough to offer a Teatime in Paris cookbook to one of my lucky readers, so enter on the Rafflecopter widget at the very bottom of this post, and good luck to you (this contest is actually open to US and UK residents this time)! CONTEST HAS ENDED.
Note: as I have stated on previous recipes, baking is a science, and baking and cooking French pastries requires a scale, or you will be sorely disappointed. Weighing is so much more precise than using cups, and scales are now so slimline (I keep mine in a small drawer) and readily available in stores like Bed Bath and Beyond, or even on Amazon, (this is similar to the one I use) at very reasonable prices. You'll thank me in future!
Jill's book is a treasure trove of demystified French pastries, from éclairs and cream puffs to tartlets, madeleines and even ice cream, ensuring there will be something for everyone.
I honestly can't wait to make more of Jill's creations from Teatime in Paris, but first I'd love to share her Passion Fruit and Lemon Meringue Tartlets recipe with you. Her recipe is impeccable, and I must say, I was very impressed with the results, and so was everyone who tried the tartlets. The passion fruit is tart, much like a lemon, but imparts another lovely, almost floral flavor to the pastries. This won't be the last time I make these beauties!
Passion Fruit and Lemon Meringue Tartlets
recipe by Jill Colonna from Teatime in Paris (slightly adapted by me, for US bakers)
makes 8 tartlets
Ingredients
Sweet Pastry
125g good quality butter (I use Kerrygold), at room temperature
75g confectioner's (icing) sugar
1/2 tsp salt
1 egg
1/2 tsp vanilla extract
240g all purpose flour, sifted
Filling
zest of one lemon (unwaxed, preferably organic)
juice of 2 passion fruits and 1 to 2 lemons to make up 100g of juice
100g sugar
2 eggs
90g cold butter, cut into pieces
3/8 tsp powdered gelatin
Meringue topping
2 egg whites
90g sugar
Special equipment: tartlet molds/tins, and a kitchen torch is recommended, but not necessary
A note about passion fruits: the fruit in the photo above are unripe, after a day or two, they will begin to wrinkle, indicating that they are ripe. You can then cut them in half and scoop out the seeds to eat or use.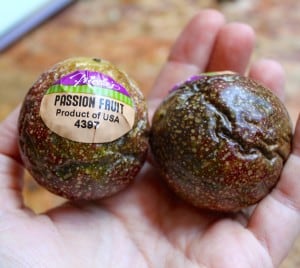 Make the pastry by placing the butter, sugar and salt in a stand mixer, and beat until pale and creamy. Gradually add the egg, vanilla and flour until well-mixed, then stop. Form into a ball, wrap in cling wrap and chill for at least an hour.
Remove from the fridge and preheat the oven to 325°F (160°C) convection (fan assisted). Regular ovens temps will be 350°F (180°C).
Roll the pastry out to 1/8 to 3/16″ thickness using a rolling pin and turning regularly on a lightly floured surface (not too much flour or it will affect the pastry).
Cut around each tart mold a little larger, so that the pastry will overhang when placed inside; press the pastry into the mold, then press the rolling pin over the top, to make a clean edge.
Prick the base of the tartlet with the tines of a fork.
Repeat the process with the remaining dough to make 7 more shells. Bake for 10 to 15 minutes, depending on your oven or until the pastry just starts to turn golden brown. Remove from oven and allow to cool, then remove from molds and set aside.
Make the filling for the Passion Fruit and Lemon Meringue Tartlets by first, juicing the passion fruits. Cut in half, scrape the seeds into a small sieve and push with the back of a teaspoon to remove the juice from the seeds. Add the juice of a lemon or two to make 100ml of juice, total. There won't be a lot of juice, but don't be afraid, the flavor comes through.

Mix the gelatin with a tablespoon of water and set aside.
Place the passion fruit/lemon juice mixture into a small saucepan with the sugar, zest and eggs and whisk over medium heat until it boils and thickens. Remove from the heat, strain to remove the zest then whisk in the gelatin and butter.
Pour the filling directly into the tartlet shells and place in the fridge until just before serving.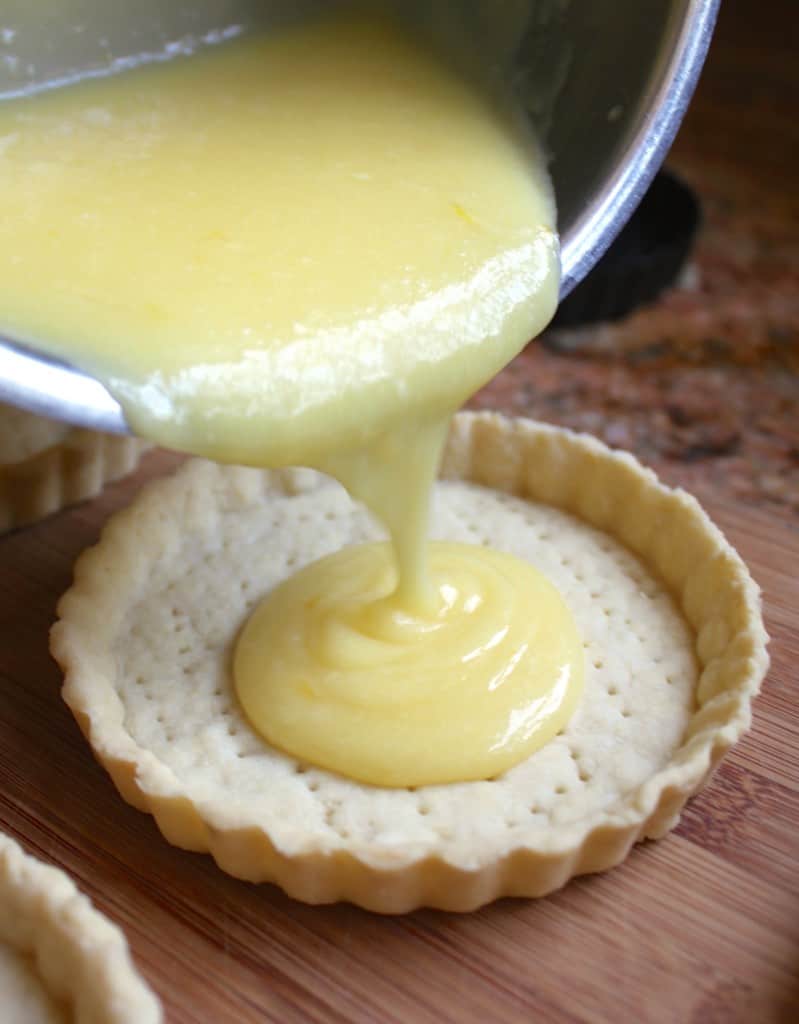 When ready to serve, make the meringue topping. Whisk the egg whites at medium-high speed in a stand mixer and gradually add the sugar when the whites begin to froth. Increase the speed to high, and continue adding the sugar until the meringue forms strong, glossy peaks.
Spoon or pipe the meringue onto the top of each tartlet, spreading it evenly over the entire filling.
Jill says to use the back of the spoon to make little cones, or peaks to decorate the topping.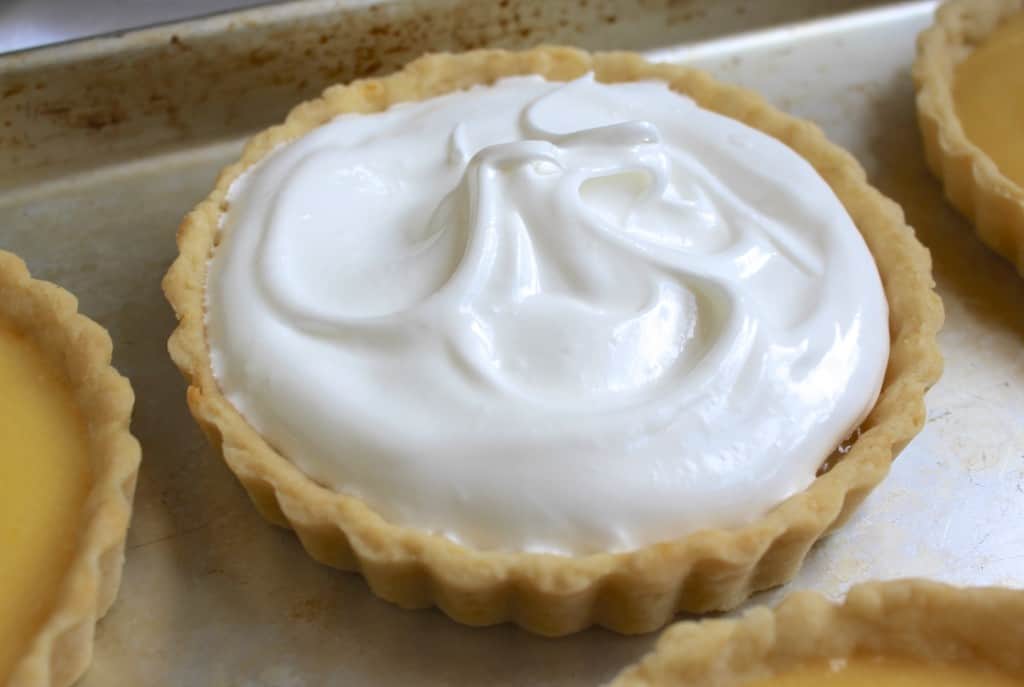 When all the Passion Fruit and Lemon Meringue tartlets are topped, bake in very hot oven, 400°F (200°C) for about 5 minutes. (Alternatively, brown with a kitchen torch, which is what I did.) Remove from oven and chill until ready to serve.

Variations: You can just use lemon juice (100ml), rather than adding the passion fruit; you can serve these without the meringue and topped with fruit, or make a chocolate pastry instead.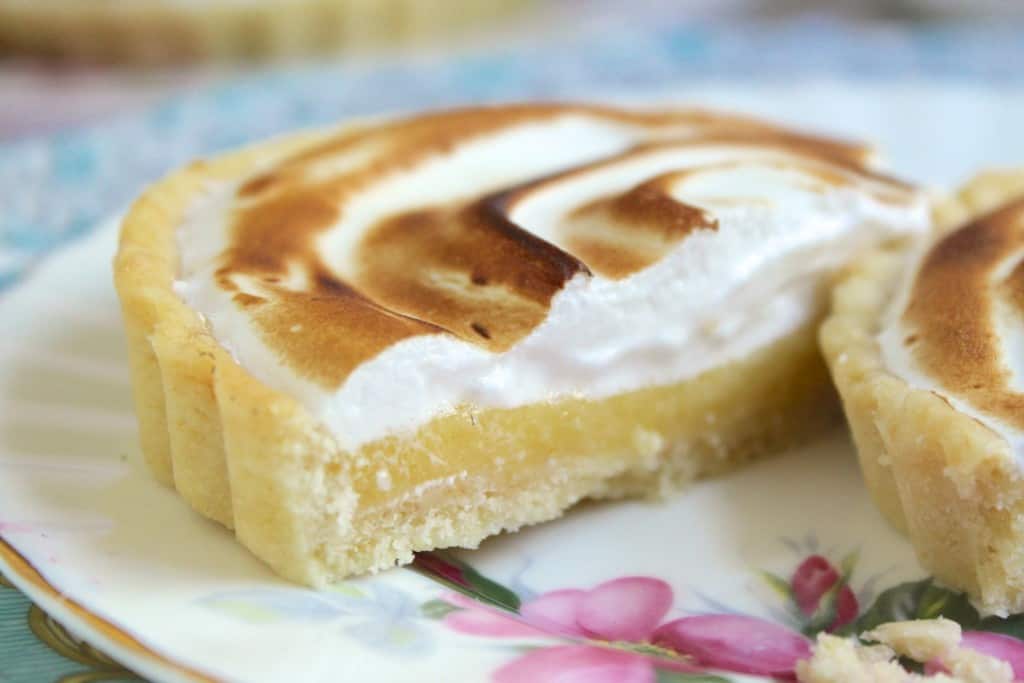 Jill suggests serving Passion Fruit and Lemon Meringue Tartlets with Ceylon or gunpowder teas. (I'll have to google the latter!)  Bon appétit!
You'll find Jill's social media pages at the bottom of her site, Mad About Macarons; go follow her!
Don't miss another recipe or travel post; sign up for my FREE subscription below!
(I promise not to sell or share your info, ever!)
Christina's Cucina is a participant in the Amazon Services LLC Associates Program, an affiliate advertising program designed to provide a means for sites to earn advertising fees by advertising and linking to Amazon.com, however, there is no additional cost to you.