If you're deciding which dishwasher to buy, read my Miele dishwasher review (and my love affair with it). You won't have to mess with any dirty pans from stuck on pasta anymore. READ ON TO SEE WHY THE LOVE AFFAIR IS OVER.
It's truly hard to believe that I have been using my Miele Futura Diamond dishwasher for a year, as of today. (Scroll down for the recipe for Ricotta and Spinach Stuffed Pasta Shells.)
As an Amazon Associate I earn from qualifying purchases.
UPDATE: over two years later and not one problem, ever! I'm still in love! (Sept. 3, 2016)
UPDATE: over three years later and no issues! Still in dishwasher heaven! (Aug 29, 2017)
UPDATE: another year, and still in love! (August 30, 2018)
UPDATE: six years on and still going strong! I'm noticing some of the enamel is coming off the racks, so I need to call Miele and will update with the outcome. (October 29, 2020)
UPDATE: SEVEN YEARS IS AS LONG AS THE RACKS WILL LAST AND THEN START TO RUST. ZERO CUSTOMER SERVICE AND TO REPLACE THE RACKS COSTS $800! SUCH A SCAM. I still love how my machine runs and it still washes the dishes perfectly, but what a situation to be in to have to pay more than the price of a new dishwasher after only 7 years. I'm not happy.
One year later with my Miele Futura Diamond dishwasher: an updated Miele dishwasher review.
I have used it almost every single day that I've been at home, and often times it has been run twice a day. As most of you know, I cook and bake more than most avid home cooks and bakers. My parents stay with me for about four months out of the year, so there are often five adults in my home.
Disclosure: Last year, Miele agreed to provide me with a dishwasher so that I could write about my experience and share with my readers. As always, my opinions are solely my own.*
So what has my experience been like this past year? I can honestly say, without any reservation, that I'm still on honeymoon with this amazing machine. I am in dishwasher heaven (I know all about dishwasher hell), and cannot tell you how much I appreciate having a reliable dishwasher that is still doing such a fabulous job, no matter what I put in it. One of my favorite things has been this third rack; I just love it! (8/29/17 still feel the same!)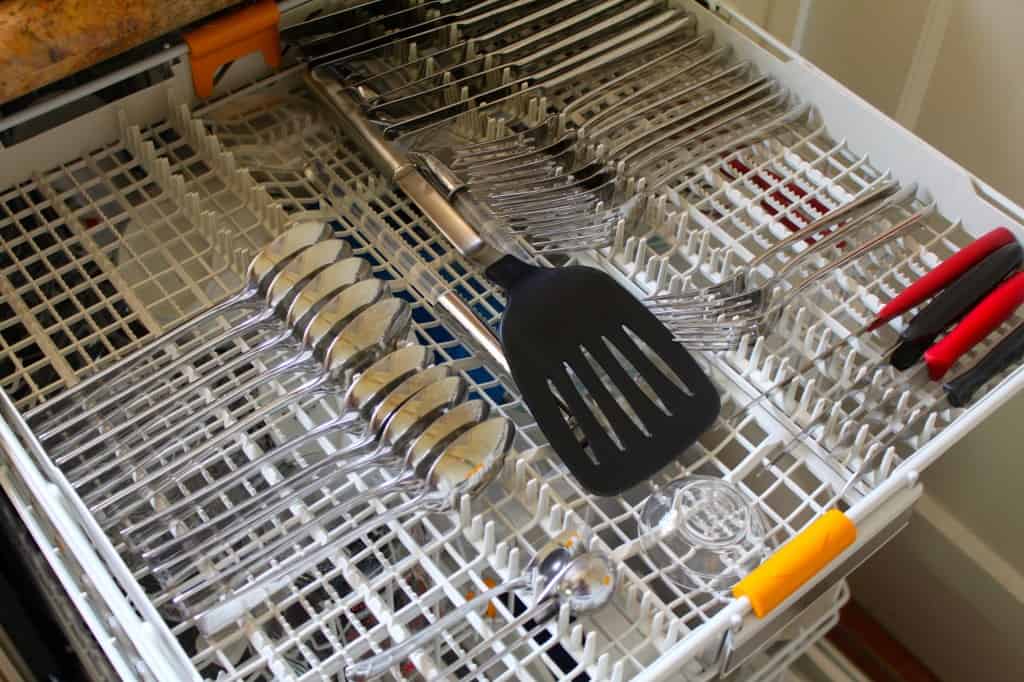 These are a few photos of what my previous dishwasher was doing to my dishes. I apologize for the really disgusting shots, but some of those dishwasher photos show what had built up within two days after I had cleaned them completely. See what I mean about dishwasher hell? (8/29/17 I have a bit of PTSD when I see these pics. My Bosch was an absolute nightmare.)
You can imagine why I was almost in tears after 11 years of dealing with a dysfunctional dishwasher. This was what I was getting in the last year of its life. I cannot begin to tell you how upset I was, but to go from having such horrible results, to having these results (photos below)–well, you can just imagine how elated I was/am!
There is no way for me to prove to you that Miele's dishwasher actually washed these without me pre-scrubbing or soaking, but it did. I completely understand that these before and after shots just seem to good to be true, as I am still amazed to take dishes out of the dishwasher and see how sparkling clean they are! I do not take this machine for granted at all and am so happy every time that I use it.
Another major factor I want to address in my Miele dishwasher review, and an incredible bonus, is the water that we save. (Added July 8, 15: David Lebovitz shared this today.)
As you have probably heard, California is currently in the worst drought since records began being kept; we are on restrictions and our water rates have jumped tremendously. It's truly a terrible situation. Just to show you how bad it is, this is a before and after shot of my lawn. Pretty sad, isn't it? And the bottom photo is with our sprinklers still watering our "lawn"!
Anyone who needs a to buy a dishwasher and is affected by this horrific drought, or just wants to save money, should really consider this brand. Miele eliminates the need to pre-rinse your dishes. This alone saves an estimated 3500 gallons of water a year! I cannot recommend it enough. Not to mention the fact that I'm always being asked if the dishwasher is running, because no one can hear it. It's a good problem to have.
Miele has recently added new models, and they have so many to choose from, in fact, you can have a look. My dishwasher is a Futura Diamond, in case you want to know the model that I'm so in love with!
What else have I discovered over this past year that I can add to my Miele dishwasher review, besides the fact that this machine seems too good to be true? Honestly, there hasn't been one problem. The only time I've pulled out a dish that wasn't washed properly, has been because someone didn't load the item correctly (human error)!
I have had the dishwasher beep at me during the beginning of the wash, and discovered that she's telling me what the problem is! I wouldn't know about a spray arm being blocked with my Bosch dishwasher until the cycle was complete and an entire rack of dishes would need to be re-washed.
My Miele dishwasher also tells me whenever I need to add rinse aid. It's like having a dish-washing assistant! My mother no longer complains about dirty dishes coming out of the dishwasher or that I should call the manufacturer to tell them about all the problems with my old machine, which is a huge relief.
Now I understand why Miele was willing to invest in giving me a dishwasher to review, because they stand behind their name of quality, (unlike what I've experienced with other companies). I think it speaks volumes that a company is willing to have their product undergo the microscope publicly, and without any form of insurance (i.e. requiring a positive review).
The stress of knowing I'd have to hand wash and re-wash loads of dishes (and wasting water) is now gone. I can basically make and bake whatever I want, like these ricotta and spinach stuffed pasta shells with homemade pasta sauce, stress-free.

I love this basic vegetarian filling as it can be stuffed into manicotti tubes or to fill ravioli, as well. Sometimes I add shredded mozzarella cheese to the filling, too.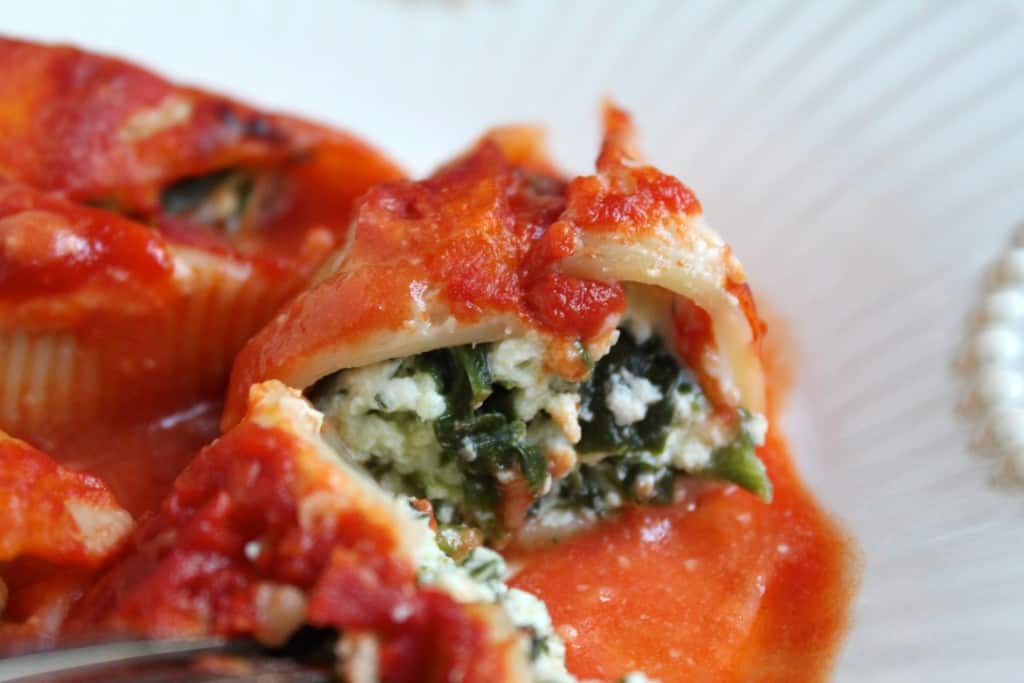 Click this link for the recipe~
I love being able to think more about what I'm cooking and baking, than cleaning up the mess of dishes, pots and pans afterwards. Thank you, Miele!
Don't forget that Miele dishwashers last about twice as long (20 years) as their competitors'. Please keep this in mind when you check prices and compare models. If you have any questions, please don't hesitate to ask me in the comments below, and you'll also find my other posts about Miele below. You can also go directly to Miele USA.
Don't miss another recipe or travel post, sign up for my free subscription below!
I promise not to share or sell your email address, ever.
*Miele agreed to provide me with a dishwasher in exchange for my review and posts on my site. All thoughts and opinions are mine alone, and as always, I only recommend quality products and services that I truly believe in and would purchase and use myself. There have been no conditions stating that the reviews must be positive; I am disclosing this in compliance with the FTC's regulations.
Christina's Cucina is a participant in the Amazon Services LLC Associates Program, an affiliate advertising program designed to provide a means for sites to earn advertising fees by advertising and linking to Amazon.com.