Keukenhof Gardens in the Netherlands is definitely one of the highlight excursions on AmaWaterways Enchanting Rhine River Cruise! Book in the spring to see them in all their glory!
Our Enchanting Rhine River cruise on the stunning Amacerto began on King's Day, April 27th, when the entire city of Amsterdam (and the Netherlands?) essentially shuts down to party!
As I explained in my last post, my mother and I were to embark on a river cruise from Amsterdam to Basel with AmaWaterways, which has been one of my mother's dreams for many years. We had arrived two days earlier to explore Amsterdam as neither one of us had ever visited before. Although the weather was unseasonably cold and it rained, we both loved the city!
Disclosure: my mother and I were hosted for an Enchanting Rhine river cruise courtesy of AmaWaterways. No conditions were made for a review and as always, my opinions are solely mine.
AmaWaterways Enchanting Rhine River Cruise – Day 1
The dock was extremely easy to find and very convenient: adjacent to the main train station in Amsterdam. We arrived at the ship with our luggage and were only within sight of the AmaWaterways check-in tent, when two crew-members came to us to help us with our luggage and welcomed us at the same time! The graceful AmaCerto awaited us nearby, and we eagerly made our way to the ramp and onto the ship.
We were greeted so warmly upon our arrival, not just by the staff who were there to greet us, but by everyone we encountered.
Check-in was so quick and painless that it allowed us to begin enjoying the ship immediately. Mum and I were elated when we saw our stateroom–it was so elegant and beautiful! When my daughter was browsing through my photos after our cruise, she commented, "That's a nice hotel room." I looked to see which hotel it was, as we had continued traveling after the cruise, and saw it was our stateroom and told her, "That was our stateroom on the ship!" Her response was the typical teenage, "WHAAAT?!"
There was a large closet with plenty of space and shelves (including a safe), desk and Apple TV/computer, which was fantastic. Not only is complimentary high speed internet and WIFI included throughout the ship, but AmaWaterways offers the industry's most comprehensive information and entertainment experience, known as Entertainment on Demand. With all the beautiful scenery outside the windows, I don't know how many people are going to be watching movies, but it's available for those who want it. In the evenings, Mum and I would either be socializing with other guests in the lounge, or out in the town where we were docked.
The bathroom was spacious, especially for a stateroom, and the shower itself was very roomy, as you can see. One of the highlights of our room was our twin balconies with inside seating and a small table: it was lovely to have the option to be able to sit inside at the window in colder weather, or outside on our deck when it was warmer. Here is the floor plan of our 210 sq. ft. stateroom, just to give you a better idea of our quarters.
You can see much more detailed information on the ship, its amenities, and staterooms on the AmaWaterways site.
Once we settled in, we went into the main lounge for a light meal of soup, sandwiches and mini desserts. The lounge was bright and airy, with large windows throughout for the best views while cruising.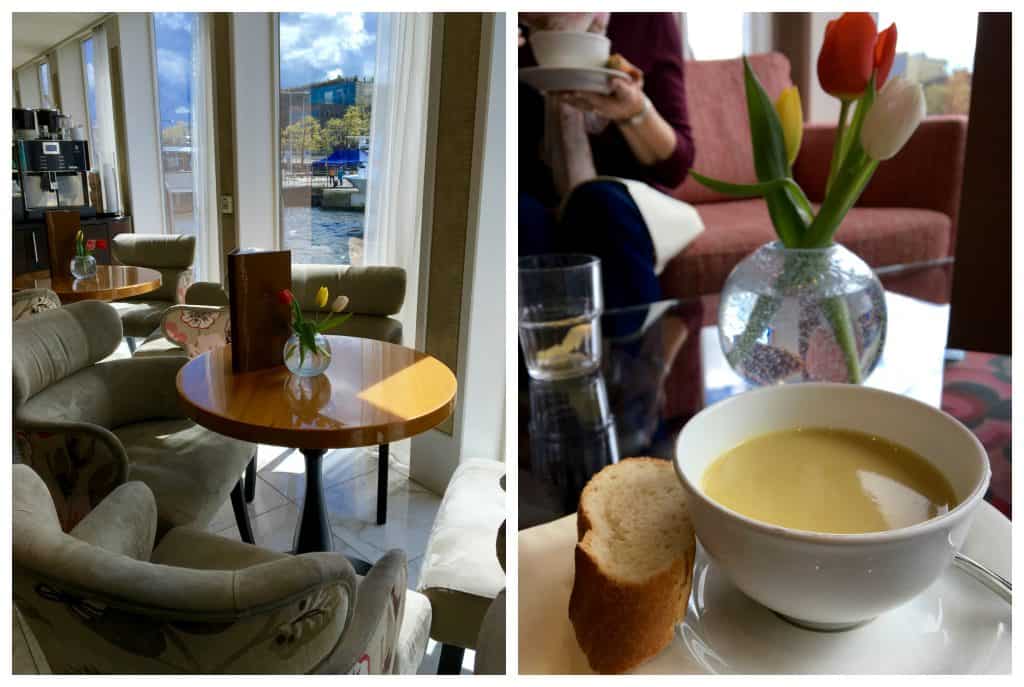 In honor of King's Day, the decor and flowers were a brightly colored orange!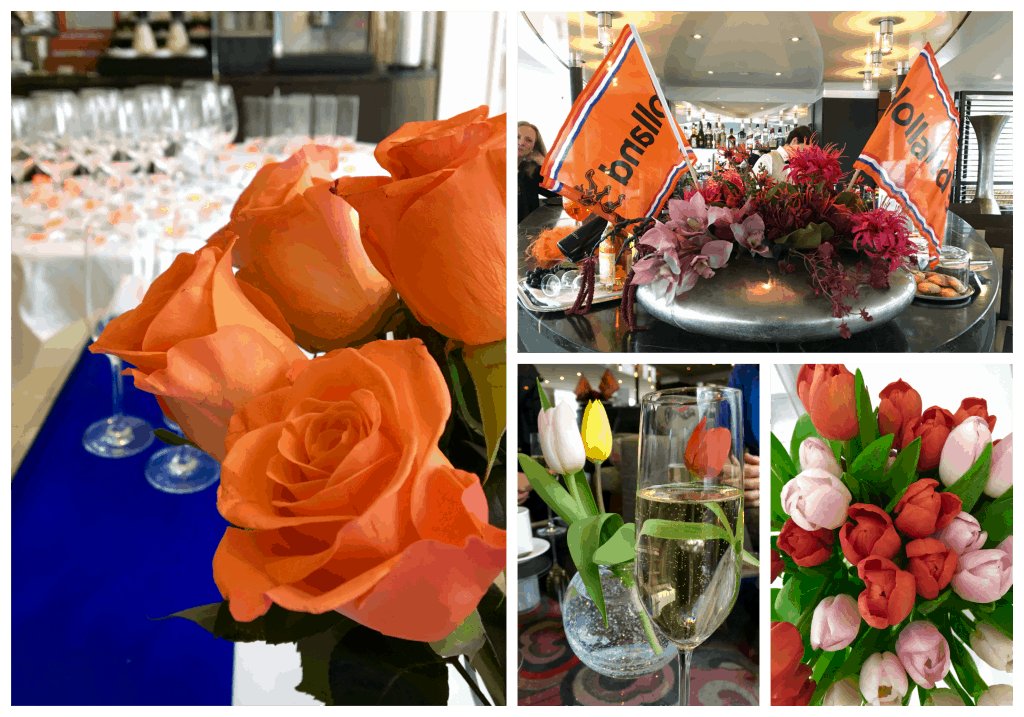 When all the guests had arrived, we were formally greeted and introduced to the crew and staff, along with a flute of Champagne and some nibbles. All the ladies also received a red rose as a welcome aboard!
Later that evening, we had our first on board dining experience. Many of you know how high my standards are when it comes to food, right? AmaWaterways was a perfect match, simply because of their standards and values in their food preparation. Here is what Berlitz says about their cuisine:
AmaWaterways spends more on its food and wine and on its food service training than almost any other river cruise company. -Berlitz
AmaWaterways is also a member of the Chaîne des Rôtisseurs, an "International Association of Gastronomy now established in over 80 countries bringing together enthusiasts who share the same values of quality, fine dining, the encouragement of the culinary arts and the pleasures of the table." – Chaîne des Rôtisseurs. Amawaterways is also the only river cruise line invited to join this prestigious culinary organization founded in 1950 in Paris. Every AmaWaterways vessel cruising in Europe is an official member of La Chaine des Rotisseurs.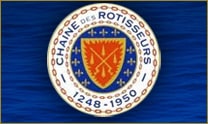 The menus always had many choices, including the "Chef's Recommendations" and an "always available" section for those with less adventurous palates. Our initial meal was fabulous, both Mum and I truly enjoyed every dish, from beginning to end. I wish I could share every single food photo that I took on board, but you can imagine that it might be a bit too much! However, I do want to share some of these photos with you, beginning with our first dinner.
We began with a lovely amuse bouche of Lobster Brûlée, then I chose the Apricot cocktail with Cointreau, and Mum had a lovely fruit and vegetable salad with an orange-sherry dressing and crispy fried onion rings. Next, was a wonderfully flavorful Beef Consommé with Dutch Semolina Dumpling, and then came the main course: Whole Roasted GOP Striploin, Sauce Choron Cauliflower, Vichy Carrot and Potato Gratin.
Both Mum and I are not big steak lovers, but we do enjoy it when it's good quality and this was perfectly tender and delicious. I had a Dutch Meringue Pie, which was the perfect ending to the meal and my mother chose Peach Melba. You can see the care that is taken in preparing the dishes in the photos above–everything was well-orchestrated and our servers were excellent. Wine is offered and available at every meal and there is no extra charge.
When Mum and I went back to our room that night, we slept so well because the beds were incredibly comfortable, and there was virtually no sound; it was such a change from the past two nights in a party atmosphere! It was our first good night's sleep since we had arrived in Amsterdam and it was well needed.
Day 2
This was the day for the Keukenhof Gardens excursion which we had chosen. Others were going into Amsterdam for a canal and city tour, which we had already done. Unfortunately, the weather looked grim. Breakfast was like a ray of sunshine, though! Just look at one part of the spread.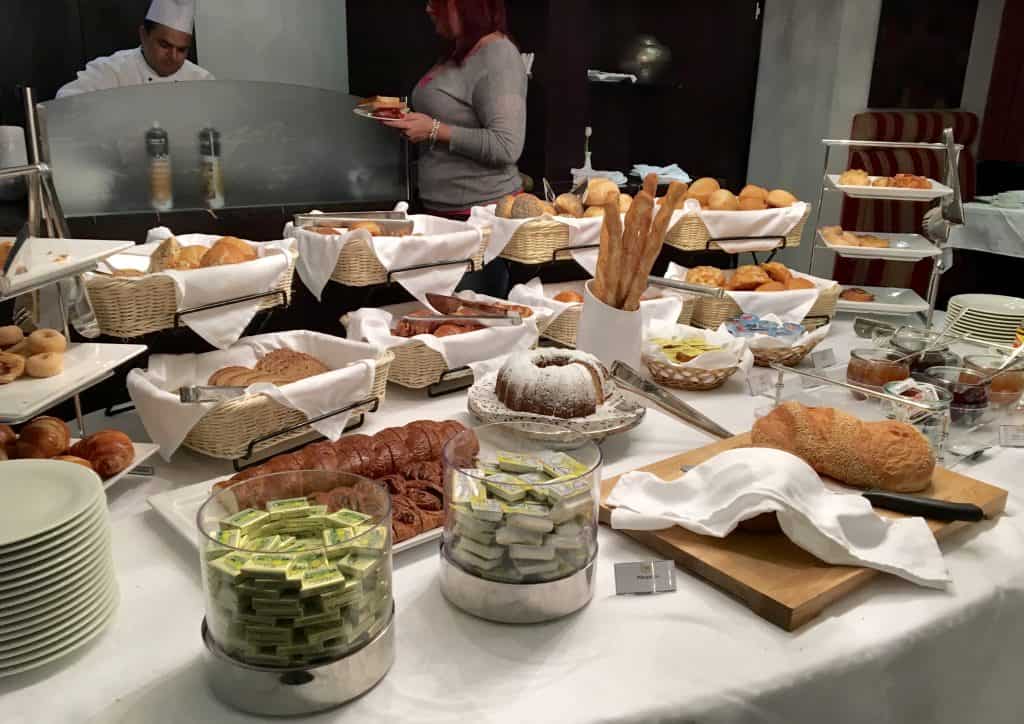 In addition, there was so many hot foods to choose from such as bacon, scrambled eggs, but also other European and American-style choices. One thing I did have every single morning on the cruise was a beautiful croissant with Nutella! I definitely indulged.
After breakfast, we met in the reception area to leave for Keukenhof Gardens. At this point, Mum and I had already met so many other lovely guests and the atmosphere of the cruise was completely different than a large ocean cruise. Of course it was a much smaller ship, but with a maximum occupancy of only 164 passengers, it feels friendlier and less commercialized.
One of the things I disliked about the ocean cruise my husband and I took was the fact that it seemed as though everything had an extra charge, from excursions to non-alcoholic beverages! We had been accustomed to going to all-inclusives and this was rather annoying, to say the least.
We disembarked and were on the bus in minutes (another huge difference from the ocean liners) and on our way to Keukenhof Gardens, the world's largest display of tulips, with our own brilliant, private tour guide who told us the history behind the gardens and tulips (it was so intriguing)!
Tickets to the Keukenhof Gardens were included. It was raining when we arrived, but it was sporadic and there were pavilions/greenhouses that we could escape to when it did rain. I think the best explanation of our visit is simply to show you in photographs. We could only imagine how much more spectacular the displays would be when the weather wasn't quite so dismal! Our guide gave us an introduction to the Keukenhof Gardens and then let us explore on our own.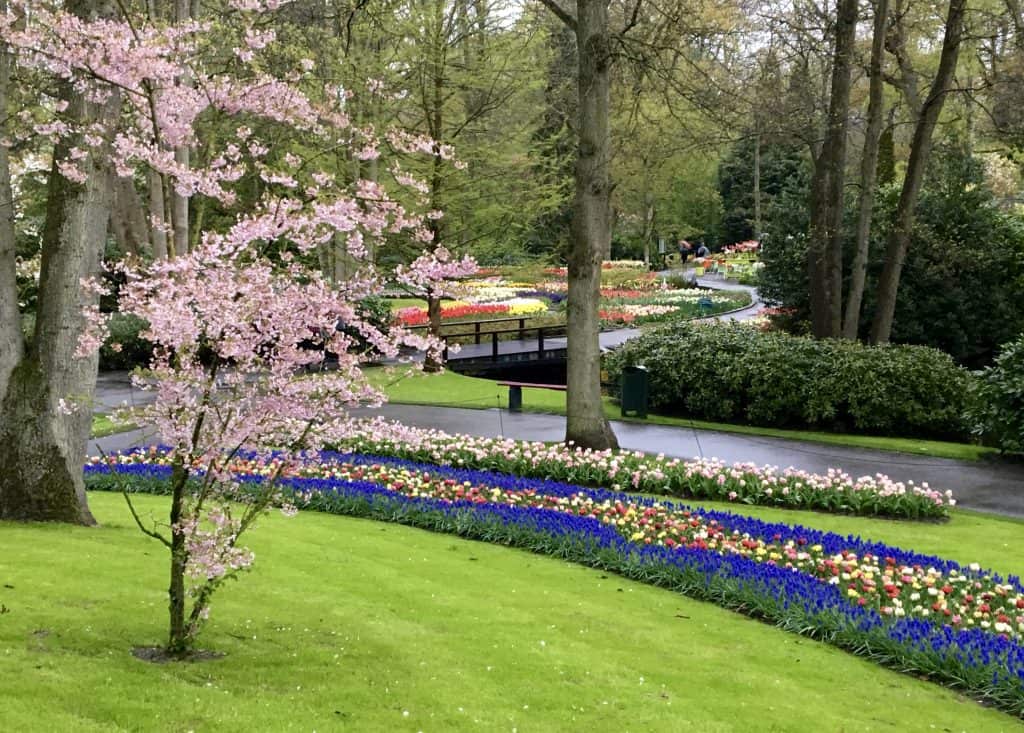 By the way, nothing has been photoshopped, everything looks this vibrant and perfectly manicured. The splendor of nature combined with human creativity is an amazing sight to behold, especially given what we had just learned about the history of the tulip.
The following photos were taken inside the Willem-Alexander Pavilion at Keukenhof Gardens.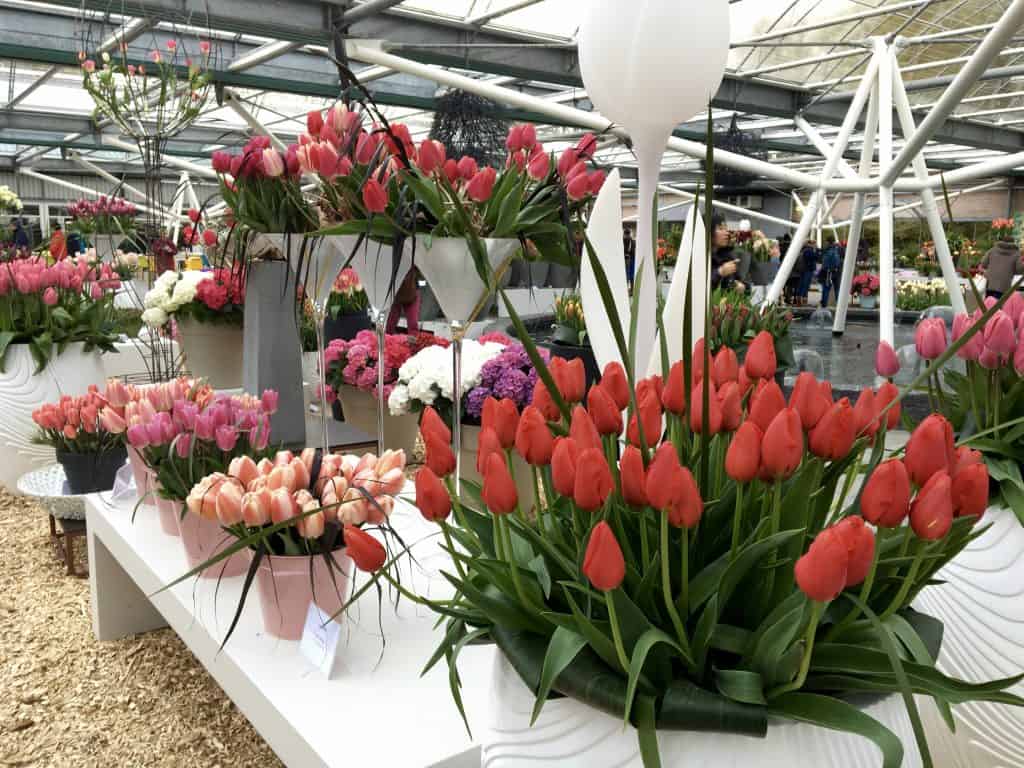 Next we ventured outside again to see the windmill, the view of the tulip fields and more gardens.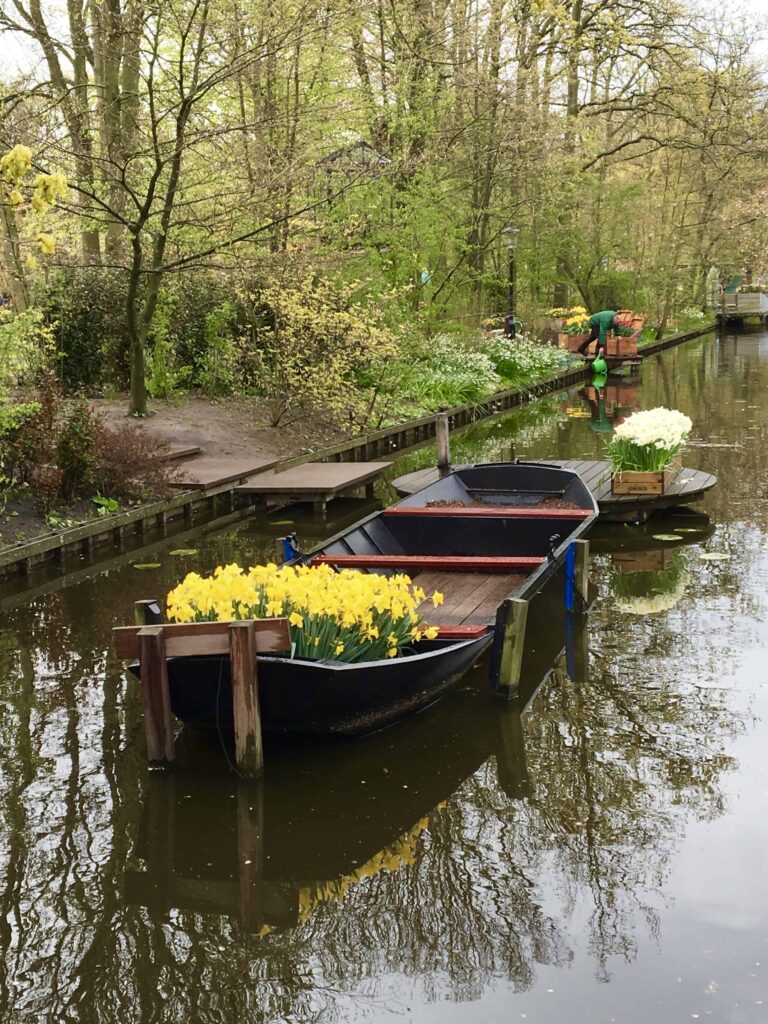 The Beatrix Pavilion had a stunning orchid display–just look at this!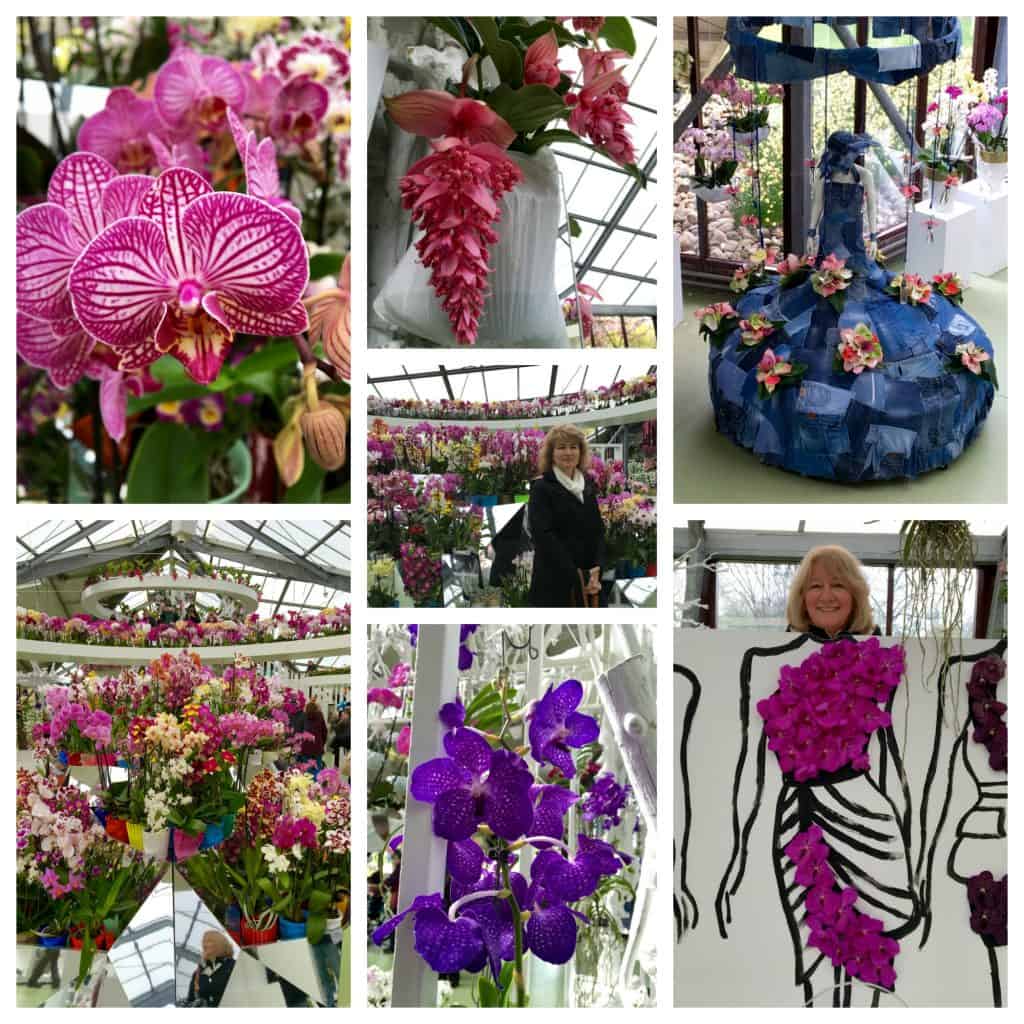 After a few hours, we made our way to the entrance to meet our guide and board the bus back to the ship, however, we weren't going back to Amsterdam, but meeting the AmaCerto along the river nearby.

Leaving the Keukenhof Gardens, we were able to see some of the Dutch countryside and even some neighborhoods on the way.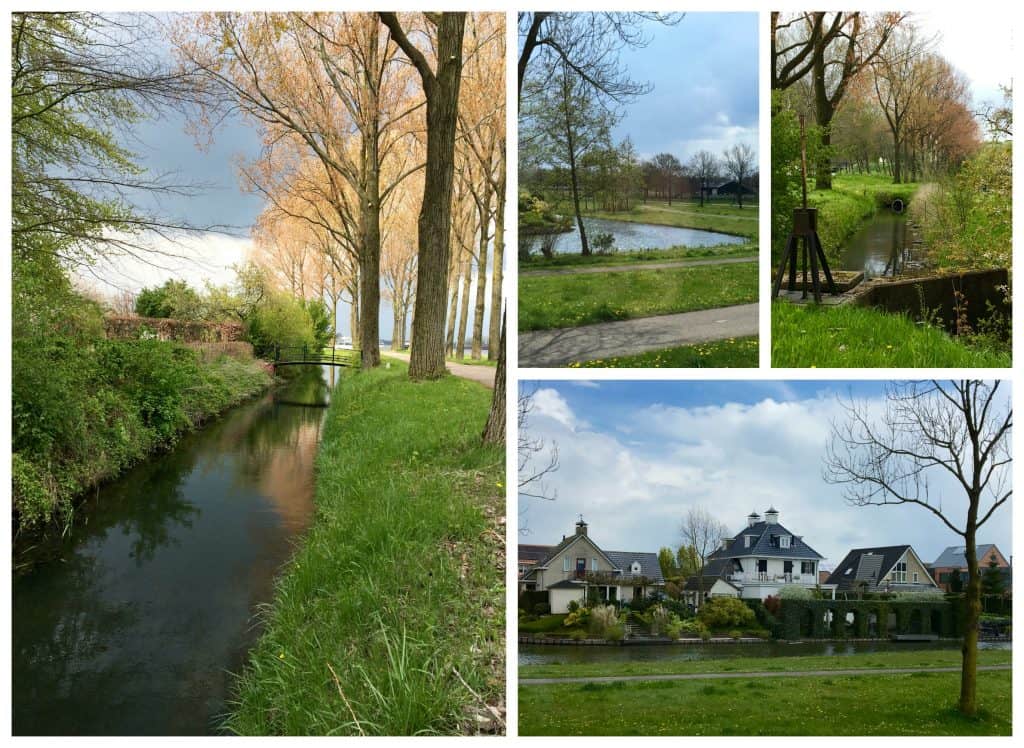 I must say, we really felt like VIPs having the ship come to us as we were waiting with the bus! And once we got on board, we were in time for a late lunch. The spread was gorgeous, and having been out in the cold all morning, the pho that was prepared was heaven-sent!
Of course, there was much more to choose from, including Swedish Meatballs. I also have to note that the chips/French fries that were served on the ship were fantastic–it was hard not to order them at every meal!
My mother and I relaxed in the lounge and in our room before dinner, but one of the interesting things we saw during the cruise was when we passed through the locks in the Rhine River. It was hard to take a photo to show what was happening, but this was the best I could manage: going through a lock in the Netherlands.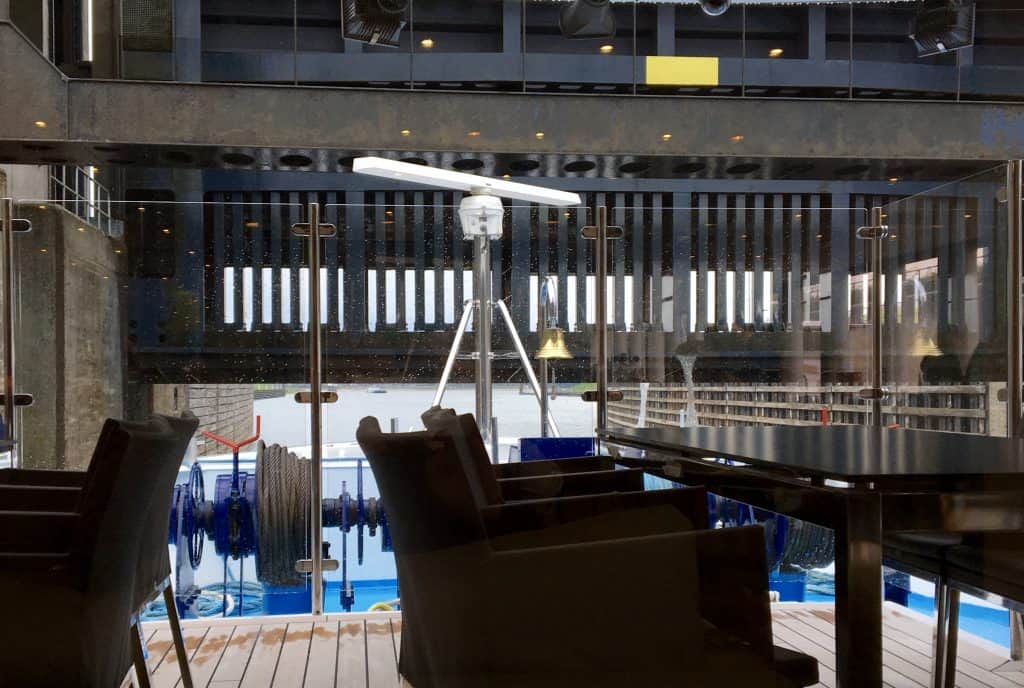 Later that evening, we had a reservation for the Chef's Table dinner which is held in an intimate dining room at the back of the ship. It's a more formal dinner, than in the main restaurant, and of course there is a limit to how many people can dine at one time, therefore the need for a reservation.
The Chef's Table Dinner
Wine Recommendations (descriptions from the menu)
White – Reisling Laugel Vin D'Alsace (France) Characteristics – pale yellow, fresh; bouquet is elegant with delicate fruity and white flower aromas.
Red – Louis Eschenauer Cabernet Sauvignon (Bordeaux, France) Characteristics – hint of earthiness, blackcurrant, typical Cabernet Sauvignon (this was my choice)
Chef's Welcome ~ Marinated Heirloom Tomato, Watermelon and Caramelized Goat Cheese
Those of you who know me, know that if there's goat cheese involved, I'm there. This was gorgeous.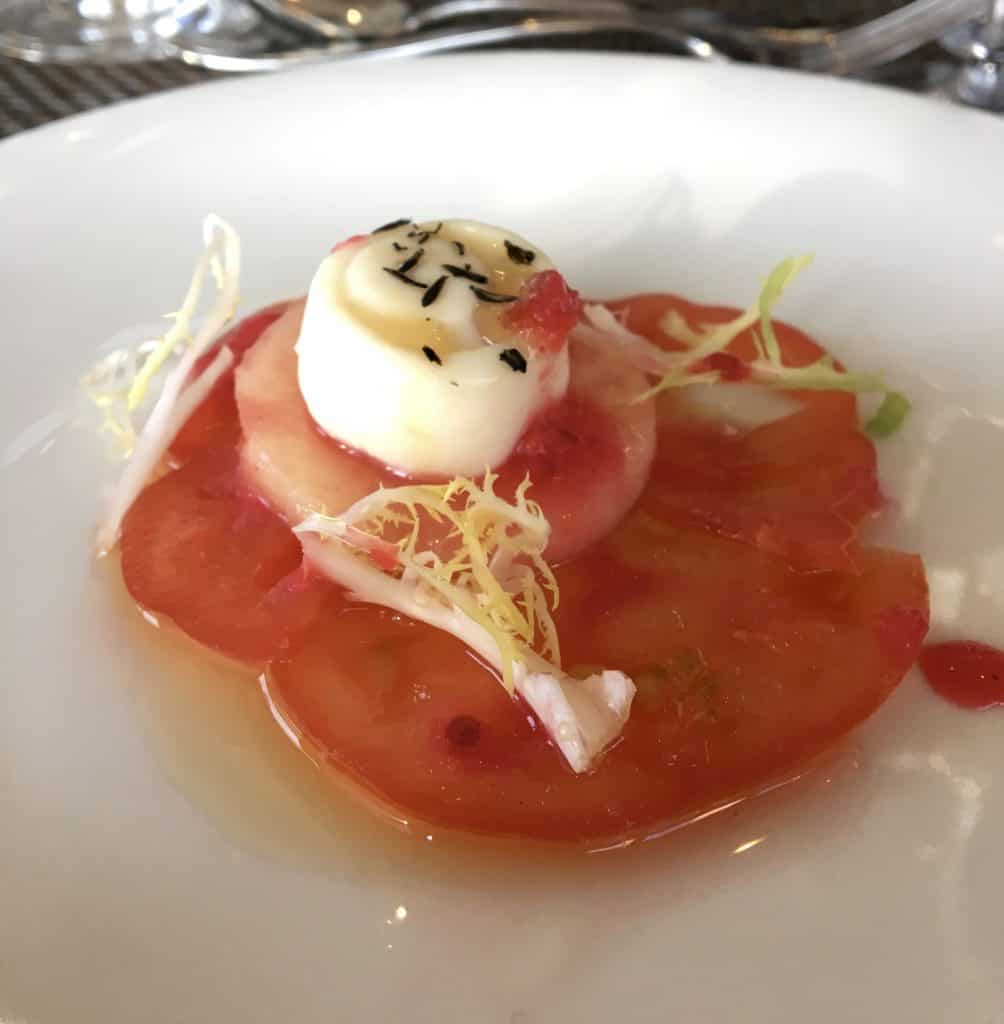 Appetizers ~ Marinated Salmon Trout, Papaya Salsa, Scallops, Carrot Miso Cream (other choice: Apple Beetroot Celery Salad)
Lovely combination of flavors with the ingredients used in this appetizer dish, and delightfully styled.
Soup ~ Parsnip Cream Soup, Beef Pastrami, Mustard Dill & Pear Sherbet with Champagne
The soup was very good (Mum ordered it), but can I tell you I loved the pear sherbet and champagne? We had also been served prosecco with peach syrup earlier which had a beautiful, light, Bellini-like flavor.
Main Courses ~ I chose the Japanese Grilled Sirloin, Cauliflower Mash, Quinoa and Broccoli (other choices: Porcini Ravioli, Nut Flavored Chive Butter & Vegetable Pearls or Grilled Pike Perch, Spinach-Nettle, Crayfish)
Once again, the meat was tender and had the perfect texture. I tasted the quinoa, and had fully intended not to finish it as I've never tasted quinoa that my taste buds approved of, but I was truly taken by surprise at the flavor of this preparation! Kudos to the chef–I loved it and finished every last bite.
Desserts ~ I chose the Dessert Variation: Chocolate Truffle Cake, Brûlée Cheese Cake & Yogurt Ice Cream (other choices: Fresh Fruit Platter or European Cheese Selection & Biscuits)
Each dessert was top-notch, flavorful and I couldn't have found fault with any of them if I had to. We had eaten dinner with another couple and all four of us were completely satiated and truly impressed by the quality each of the dishes; it was another fabulous meal.
This was our view as we were just finishing dinner. It was a perfect ending to a most phenomenal day.
Edward arranged for a wonderful classical trio, "La Strada" to perform in the main lounge later that evening. They played some beautiful, classical pieces. It was wonderful to have them come onboard to entertain us. In addition, Orlin, the ship's keyboard player was also a key part to the passengers' cruise experience. There would often be dancing in the evening, and even those who weren't dancing enjoyed watching the dancers.
For more information about the beautiful AmaCerto or AmaWaterways CLICK HERE
Don't miss another recipe or travel post; sign up for my free subscription below!
I promise not to sell or share your info, ever.
Continue to DAY 3: Cologne and Koblenz
______
Disclosure:my mother and I were hosted for an Enchanting Rhine river cruise courtesy of AmaWaterways.
No conditions were made for a review and as always, my opinions are solely mine.
I am posting this in accordance with FTC regulations.