AmaWaterways Enchanting Rhine River Cruise is a fabulous way to explore several central European countries in a most relaxing, delicious and luxurious manner.
We cruised on the Rhine after being picked up near the Keukenhof Gardens the day before, and awoke the next morning to this gorgeous view from our stateroom.
Disclosure: my mother and I were hosted for an Enchanting Rhine river cruise courtesy of AmaWaterways. No conditions were made for a review and as always, my opinions are solely mine.
Edward, our wonderful cruise manager always kept us updated with what was on the itinerary for the day, even though we'd been sent a fantastic pocket-sized travel guide specifically for the cruise we were on. Each evening, we'd also find a copy of "The Daily Cruiser", a two page pamphlet which would give an overview of the next day's coming events with important information. Edward did a phenomenal job of organizing everything throughout our cruise, especially the excursions and entertainment.
The AmaCerto was heading for Cologne, where we would dock for an outing to see the city and famous cathedral. Both Mum and I had been to Cologne before so we were really looking forward to seeing it again. The last time I had visited was during the Christmas markets and as you can see, just for the food, I highly recommend going to the Christmas markets in Germany!
Guess what? AmaWaterways offers a Christmas Market cruise with the same itinerary as the Enchanting Rhine (this one I'm writing about) or one you can choose another on the Danube! The atmosphere at the Christmas markets is just so festive and magical!
Back to our current Enchanting Rhine River cruise: after our bountiful breakfast (there was always so much to choose from at the buffet and we could also order off the menu), we got ready for our disembarkation to visit Cologne. The weather looked very promising!
As I mentioned before, disembarking for an excursion was quick and easy because of the small number of guests on board, compared to a large, ocean cruise ship. AmaWaterways offers a state of the art audio headset for every passenger which allows everyone to hear the tour guide without him/her having to yell, and the guests having to stay very close and huddle around.
Here's the part where I give you my honest opinion on the tour guide part of the cruise experience. Since I've always traveled with my family, friends or on my own, and not part of a tour group, I truly thought I wouldn't enjoy having to follow someone around where they decide where to go, and listening to them rattle on about the attraction, historical monument, or exhibit.
Well, I was wrong. Very wrong. Both my mother and I actually enjoyed the sights and attractions so much more! We had an increased appreciation for everything we saw–whether it was an old building that we walked past in a village, which had an interesting story behind the family that lived there, or facts about how life was lived in an ancient city.
The local tour guides were so well-versed and amiable (and even funny) that we just enjoyed the outings so much more than if we'd gone on our own. I also think it's different to be a part of a smaller tour group, versus a very large one. These excursions are all included on the Enchanting Rhine River cruise, or any of the other AmaWaterways cruises.
We just had to walk a short distance from the ship and I already knew where we were (I'd spent a week walking around Cologne three years ago) which was not too far from the Cologne Cathedral.
Cologne's Old Town is a wonderful place to meander, with its cobblestone streets and colorful old houses, and I mean, old houses. The numbers on the buildings represent the year they were built!
There are lots of pubs and restaurants, too.
Soon, the cathedral, or Kölner Dom, as it's called in German, was within view. It is truly an outstanding display of Gothic architecture, and I am always in awe of the fact that these unbelievably impressive buildings were made before cranes and modern day equipment. (I know what you're thinking: Stonehenge, the pyramids and Rome! Crazy, isn't it?)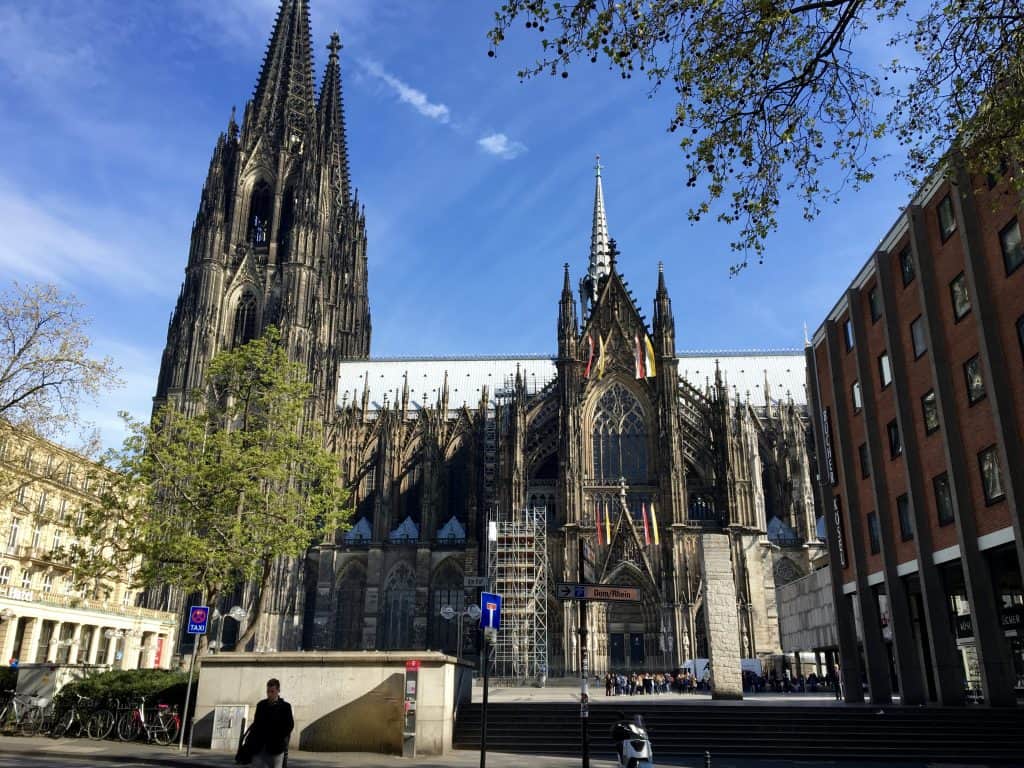 Our tour guide took us inside and gave us historical details about the amazing cathedral. As I said, although I'd been to the cathedral in the past, I learned so much more during this visit. Although the current building's construction began in the 1200s, the location had been the site of a Christian church since the 4th century. The cathedral was finally completed in 1880, 632 years after the work initiated (and I thought our kitchen remodel took a long time!)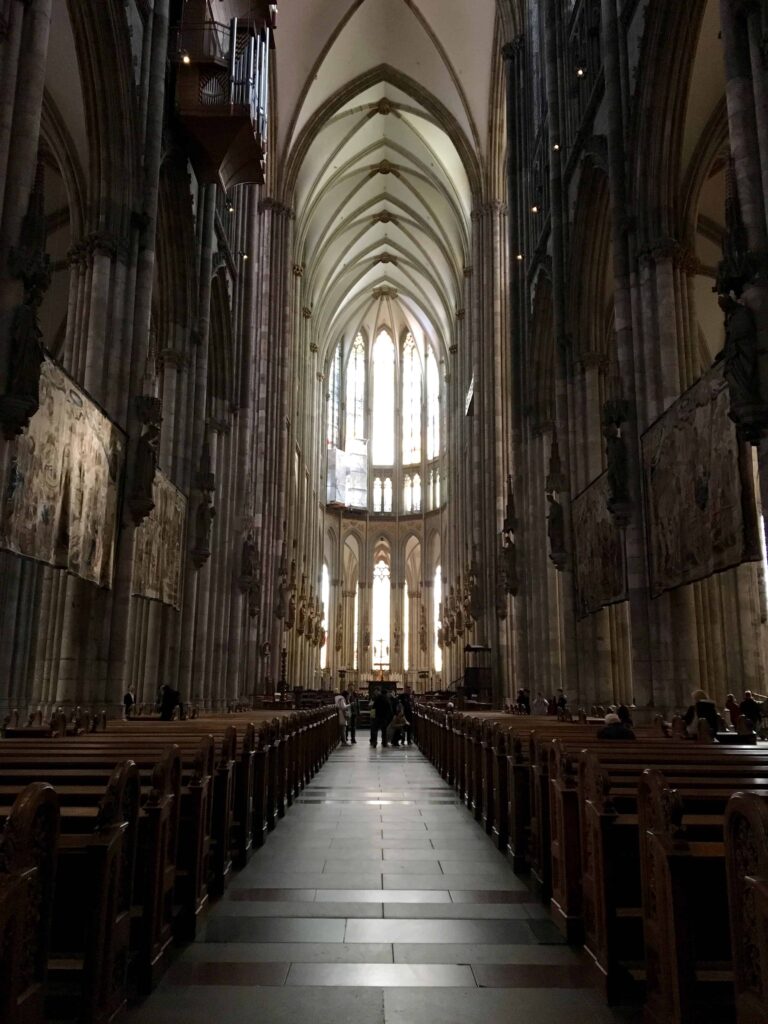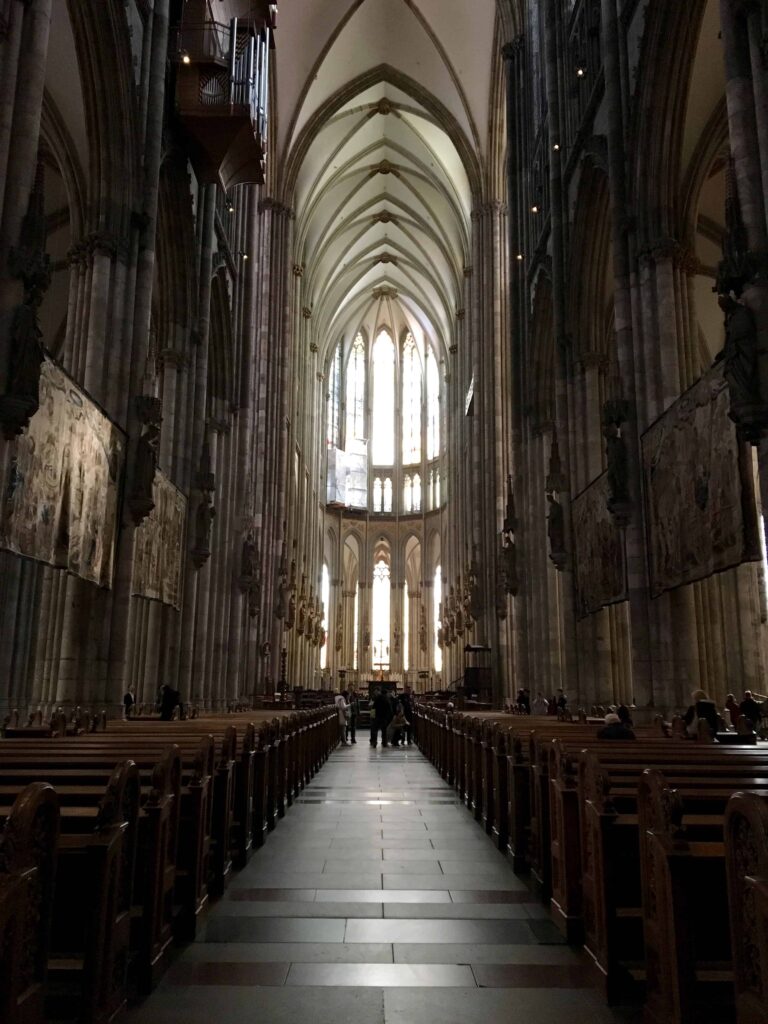 The stained glass windows had all been removed during World War II to protect them from the bombings, and have since been replaced. Each one is more awe-inspiring and stunning than the next.
There is one very unique window which has been recently been placed into the cathedral, replacing plain glass since the original was damaged during the war. It was a computer designed pattern by Gerhard Richter (hmmm, shouldn't the computer get the credit?) The 11500 pieces of glass are meant to resemble pixels.
The cathedral also has some treasures such as the Shrine of the Three Kings which is said to contain the bones of the Three Wise Men, and detailed mosaics in the floor and old tapestries which were hung on display.
Last time I was in Cologne, I walked up all 533 stone steps to reach the top of one of the towers and was afforded spectacular views of the city (and I got my workout for the day.) Mum wasn't signing up for that.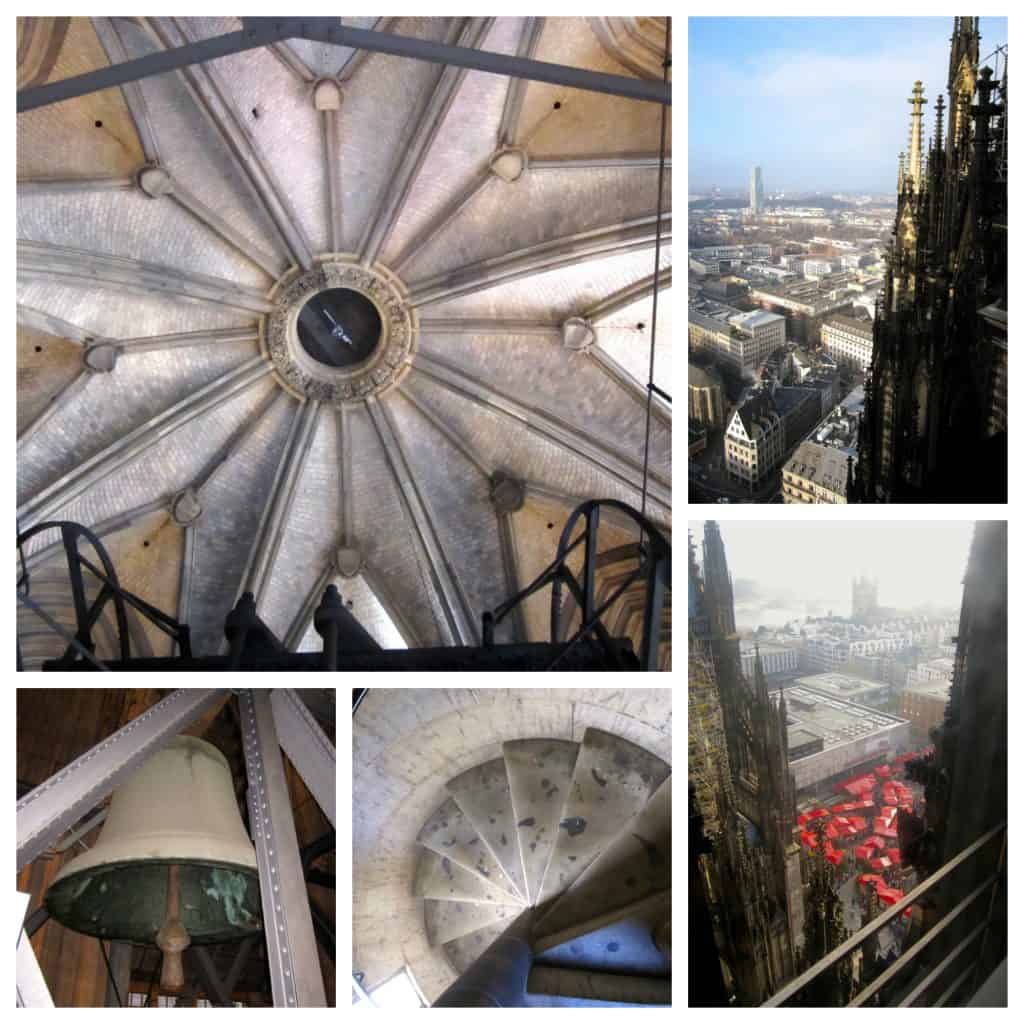 After our tour, we had time to wander the streets of Cologne on our own, so I took my mother to where all the shops and bakeries were (surprise!) We were shocked at how quickly the weather had changed, as the pure blue sky had turned very cloudy.
We weren't disappointed in the pastries though! I spotted a rhubarb one, and of course, Berliners are a must so Mum ate one and I saved one for later.
We walked back through old town and I showed my mother where one of the Christmas markets had been. It looked so different during this time of year!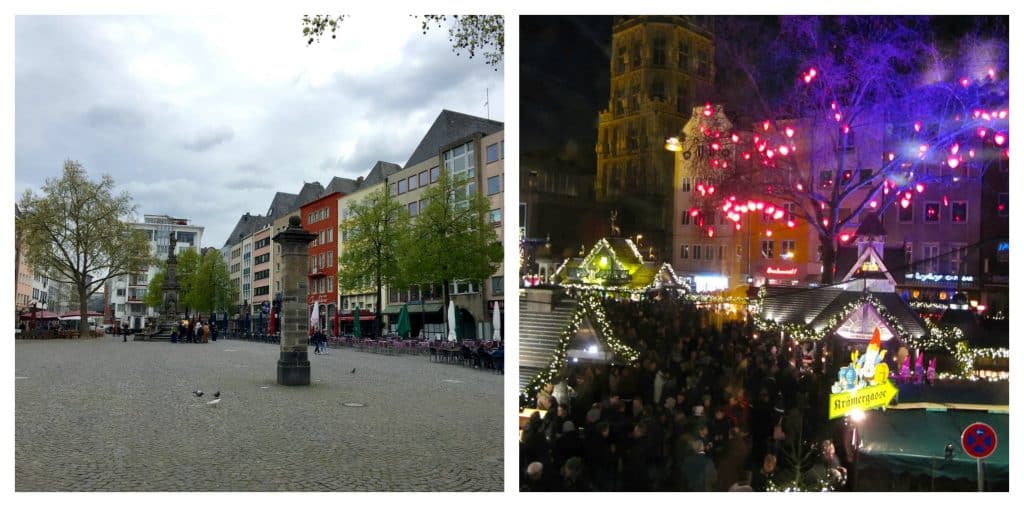 It was getting colder and seemed as if the rain was coming so we headed back to the AmaCerto, continuing through Old Town on our way to the ship.
Once again, we both felt so spoiled coming back to a wonderful lunch that had been prepared while we were exploring Cologne. One of our favorite things was having cheese available at every meal, and it was really good cheese, too. My mother was truly having the time of her life, and it was fantastic to see her truly enjoying the luxuries on her dream trip.
I also loved that there was usually a soup available and each one I had was delicious. This particular soup was a light broth with dumplings, which was great to have on another cold day.
We also had one of the best Indian meals I've tasted! I felt like I'd ordered it from my favorite Indian restaurant (the only one I go to because I'm picky.) I had so much to eat, but just had to go back for seconds because it was that good.
One of my favorite desserts is bread and butter pudding and the chef nailed that one, too–just look at this! And it wasn't overly sweet, so he gets points for that, too.
Enough about the food for now, as you're going to be getting hunger pangs if I continue, I'm sure.
We had been cruising since about half an hour after we boarded the ship (by the way, it is a ship and not a boat, the captain will tell you this) and were on our way to dock in Koblenz where we would spend the night. Speaking of whom, Captain Istvan was so friendly and very approachable, whenever we saw him. Of course, most of the time, he was navigating the Rhine to get us where we needed to be.
Most of the passengers, including my mother and me, spent our afternoon socializing in the main lounge and enjoying the views as we passed villages on the Rhine.
We began to see more elaborate architecture in the buildings, too.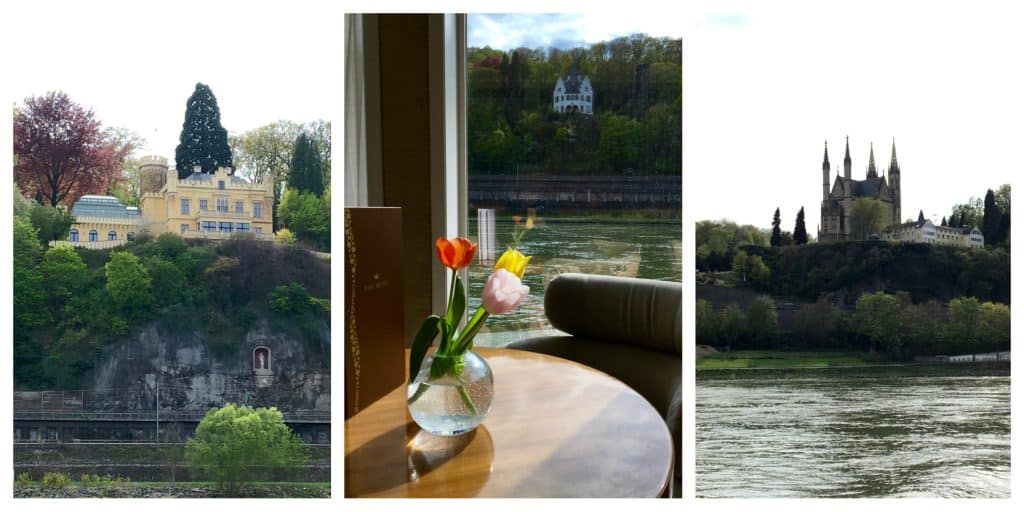 I also took the opportunity to stop my Berliner from going stale.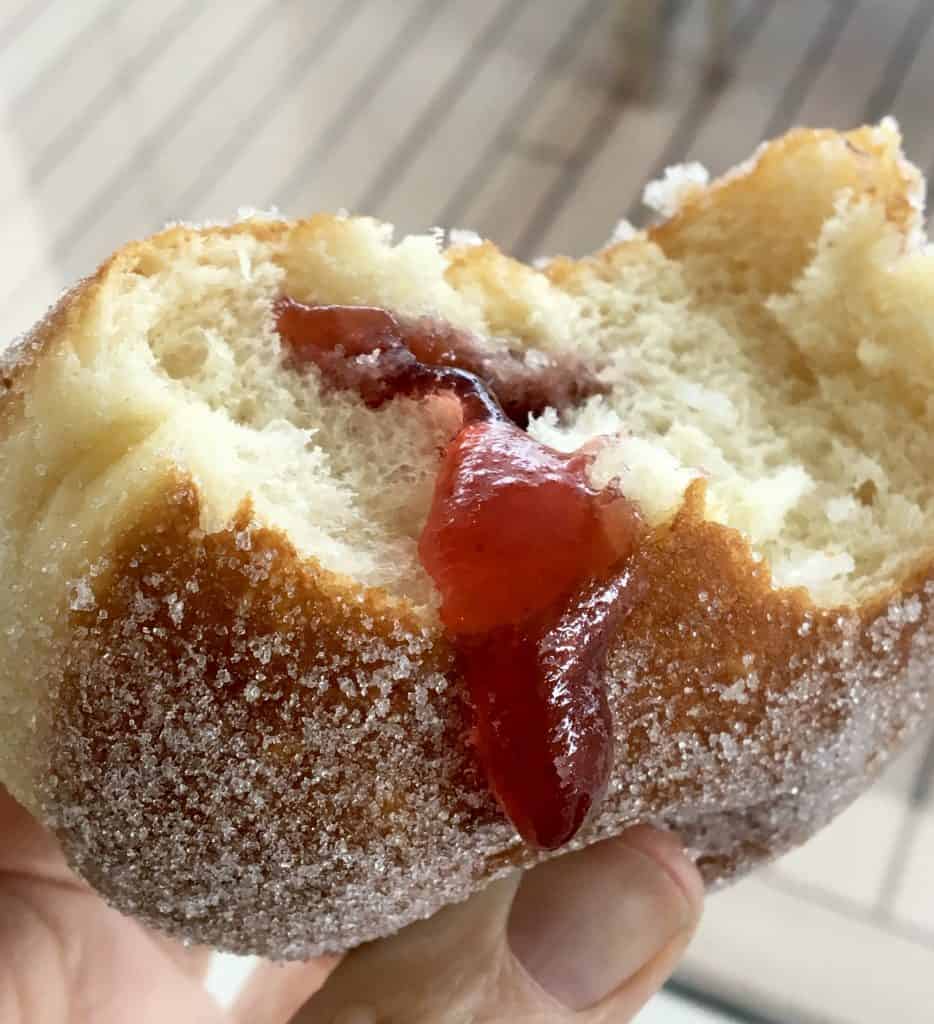 An announcement was made when we were passing the town of Remagen, which holds a very important part of history during World War II.
In fact, in 1969, a movie was made called The Bridge at Remagen, which tells the story of the importance of the Allies' capture of the Lundendorff Bridge. Many experts believe it shortened the length of WWII. The bridge was never rebuilt, but these photos show what remains on each side of the Rhine.
Later, dinner was served. I chose the Grilled Eggplant, Zucchini, Tomato, Mushroom, Mozzarella and Grissini antipasto, Grilled Sea Bass and Marinated Tiger Prawn, Leek Confit, Truffle Foam, and Herbed Rice with Primavera Sauce. For dessert, I chose the Pumpkin Parfait and Apricot Dumpling with Pumpkin Oil Espuma. Overall, another top notch meal which was served with lovely regional wines by very attentive servers, as always. My mother and our dining companions were all extremely happy with our meals and the service.
We docked in Koblenz in the evening and Edward was our tour guide for a stroll through the city that night. Luckily, it was a beautiful evening and wasn't even very cold.
Edward gave us a lovely tour and some background on the history of the charming town and some of the buildings, then whomever wanted to stay, could continue to explore on their own, with the instructions to be back on the ship by the time it sailed in the wee hours of the morning. Mum and I joined another three guests from the AmaCerto and we all walked through the town together, chatting and enjoying the sights.
Too bad we couldn't go shopping in this store as it had our name written all over it–sorry, I couldn't resist!
One last shot in Koblenz before we headed back onto the ship where other passengers were dancing the night away. The next day, we'd be sailing through the famous Rhine Gorge.
For more information about the beautiful AmaCerto or AmaWaterways Enchanting Rhine River cruise or any other of their cruise choices ~
Continue to Day 4: Cruising the Rhine Gorge, Castles, and Rüdesheim, Germany

Don't miss another travel or recipe post; sign up for my free subscription below!
(I promise not to sell or share your info, ever!)
______
Disclosure:my mother and I were hosted for an Enchanting Rhine river cruise courtesy of AmaWaterways.
No conditions were made for a review and as always, my opinions are solely mine.
I am posting this in accordance with FTC regulations.