I came up with this recipe for Scotch potato "eggs" because I've got "eggs-on-the-brain."
Disclosure: I was hired to create this recipe for the Idaho Potato Commission.
Everywhere I go, I see bunnies, and eggs, and chicks, and eggs, and chocolate eggs and Easter eggs. I even saw a photo of a bowl of eggs, labeled as "boneless chicken," which I thought was rather funny. Seeing all of these eggs has made me realize that that there's one kind of egg which I rarely (if ever) see here in the US, and that is a Scotch egg.
If you've never heard of, or seen an authentic Scotch egg, it is a sausage-wrapped, hard-boiled egg, with a lovely, crunchy coating which has been deep-fried, and they are totally delicious! Since the Idaho® Potato Commission asked me to create a recipe during this time of year, I decided to do a twist on Scotch eggs.
My version of a Scotch potato "egg" consists of an Idaho® potato in place of the egg!
It's a perfect for an spring-time breakfast or brunch, or as a snack; just look at how delicious they look in Peter Rabbit's basket!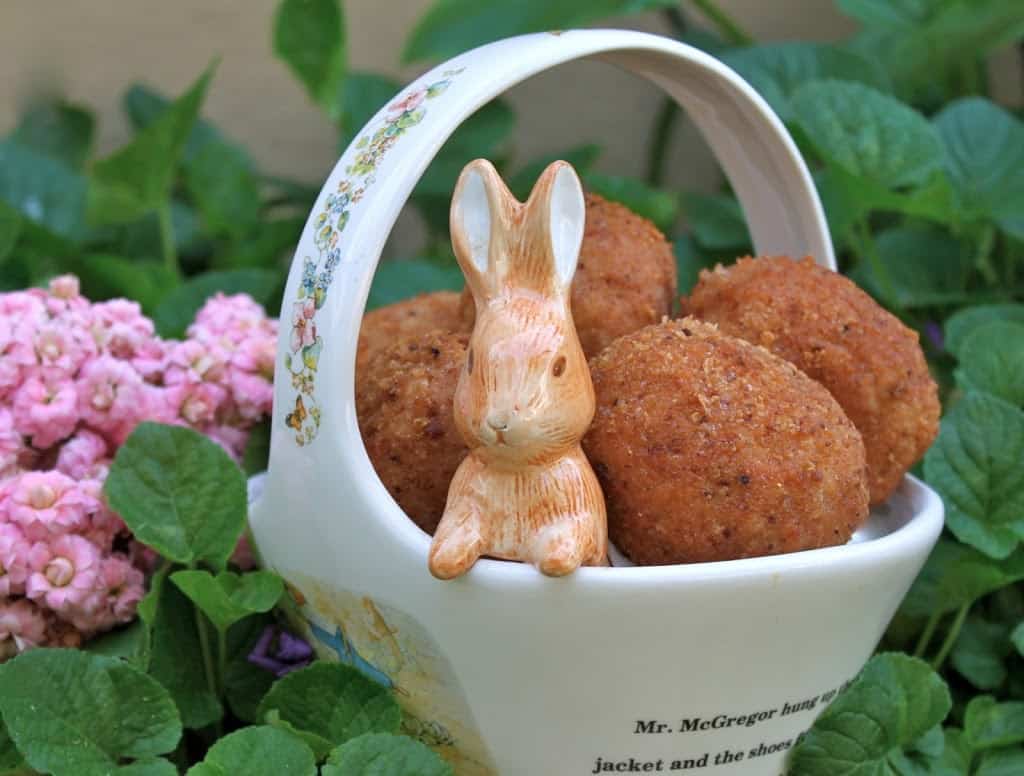 Yet, these Scotch potato "eggs" are great any time of year, because they can be eaten cold, as well as hot, which makes them great for summertime picnics. They are so simple to make; in fact, this recipe would be a fun activity for the whole family to make together (make sure young children are at a safe distance when deep-frying.) You can also make Scotch potato "eggs" ahead of time, then refrigerate, and re-heat in a 375º F oven for about 15 minutes, when you are ready to serve them.
You know how I rant about using quality ingredients when cooking and baking, so look for the Idaho® Potato seal, and you know you'll be buying top quality, nutritious potatoes.
Scotch Potato "Eggs"
makes 10 "eggs"
Ingredients:
10 small Golden Idaho® potatoes, (approximately the size of an egg) washed, boiled and cooled (cooked in salted water)
1 1/2 lbs breakfast sausage
1/2 cup flour
2 eggs, beaten
1 1/2 cups breadcrumbs
sunflower oil (or similar oil) for frying
Place some breakfast sausage into the palm of your hand, pressing into a flat shape.
Next, place a potato in the center of the sausage and wrap it around to cover the potato completely, forming it into an egg shape.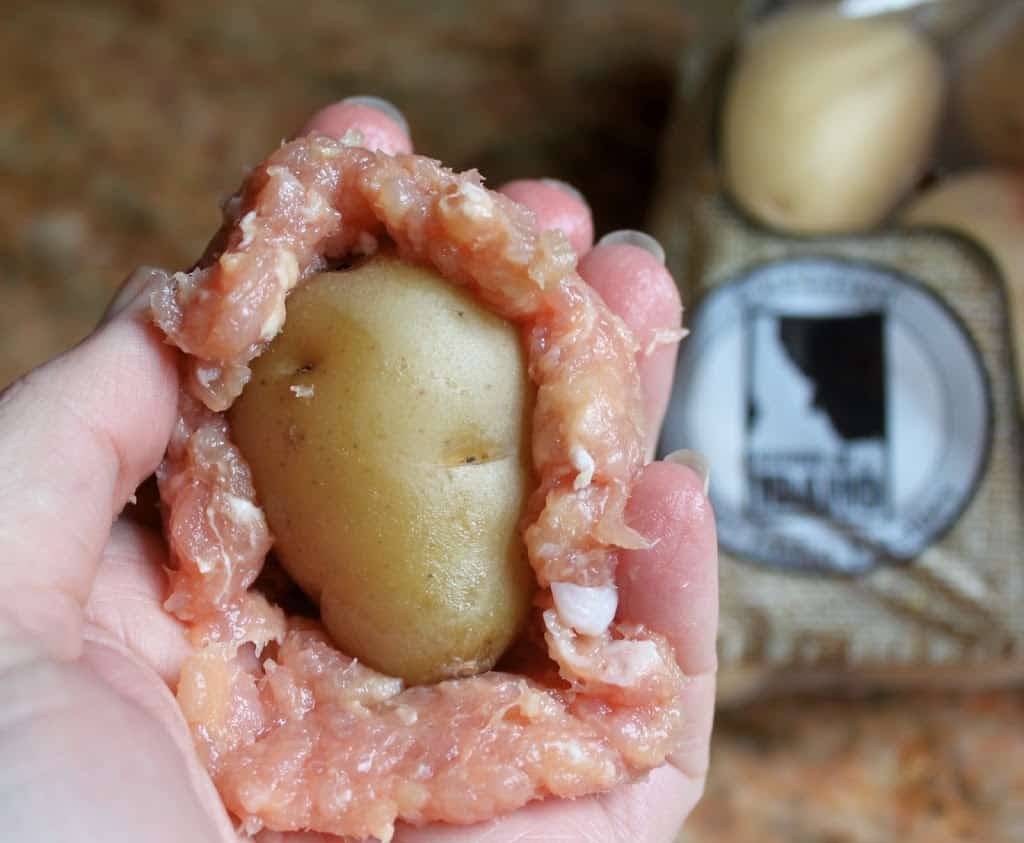 Roll the "egg" in flour, beaten egg, and breadcrumbs, then set aside on a tray. Repeat with the rest of the potatoes.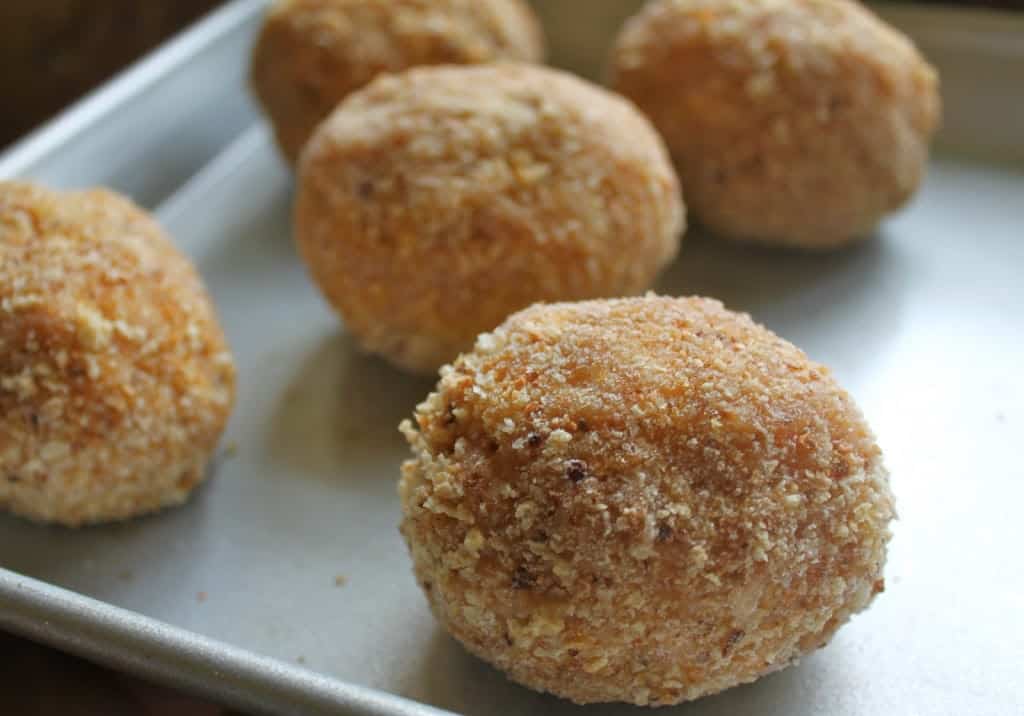 Place oil in a deep-fryer, or heavy pot (I used a wok) and heat over medium-high heat.
When the oil is hot, add the Scotch potato "eggs" carefully, with a metal skimmer, or similar tool, a few at a time, turning often until they are golden brown in color, and the sausage is completely cooked.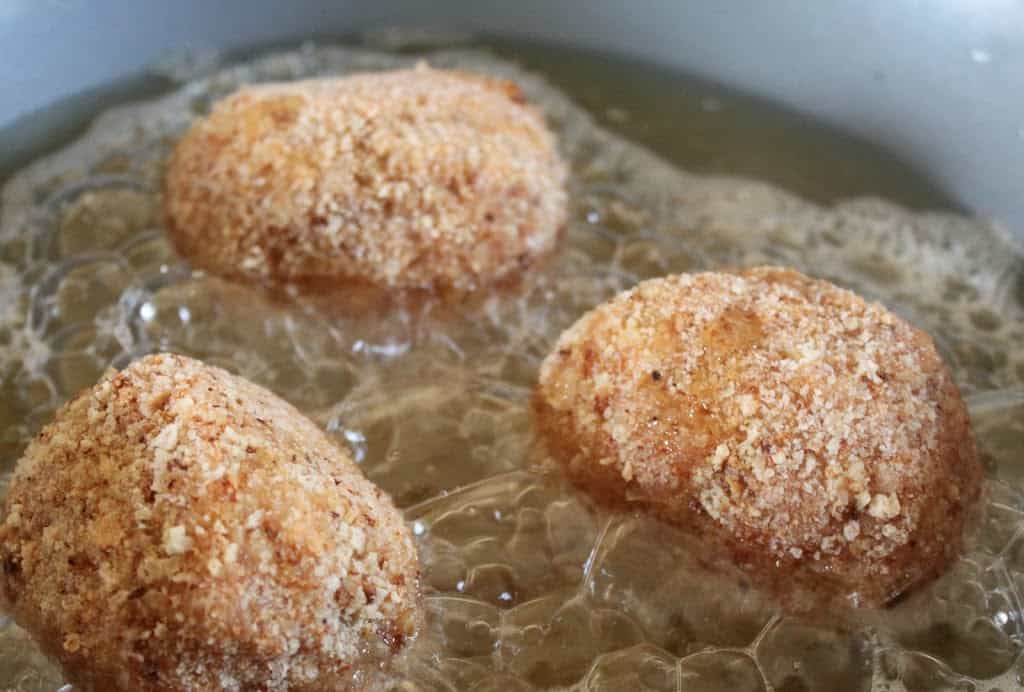 Remove from oil and place on paper-towel lined plate. Continue to fry the remaining Scotch potato "eggs."
Let cool slightly and serve for breakfast,  brunch, or as a snack or a side-dish.
The Idaho Potato Commission hired me to create this recipe.
* I only promote items I use, and truly believe in.
Don't miss another travel or recipe post; subscribe to my free subscription below!
I promise never to share or sell your information.