With this no knead pizza dough recipe, you'll never have to buy dough ever again. It only takes minutes to prepare and tastes so much better than anything you'll buy.
In honor of Mother's Day this month, the Food Bloggers of Los Angeles' meeting's theme was "food that our mothers used to make." There was some grumbling in the trenches as some bloggers claimed that that would mean that they'd have to bring overcooked chicken and frozen veggies, so the theme was given some latitude.
This post may contain Amazon affiliate links for your convenience, at no added cost to you.
Fortunately, I had the opposite problem as my mother was, and still is, the most incredible cook! She was born in a tiny village in Southern Italy, and had 6 older sisters (every single one of whom are also fabulous cooks.)
I really had a hard time narrowing it down to one thing as I could really choose from hundreds of things she has on her "mental menu."  Let's just say I didn't inherit my sweet tooth from my mother, so I narrowed it down to something savory.
Lidia's Mushroom and Black Olive Stuffed Artichokes
I finally decided on pizza; not just any pizza, but her favorite pizza, which has nothing but tomatoes as a topping. Since she grew up in Italy, one can only imagine that this is not strange, but perfectly understandable, as the flavor of the pizza crust and tomatoes alone is heavenly!
Of course, my pizza can't compete with pizza made in Italy, but using DOP (Italy's Federal government certification) tomatoes, top quality extra virgin olive oil, and fresh garlic, definitely helps.
I have recently started making Chef John's no knead pizza dough recipe from FoodWishes. The hardest part is doing the math to figure out when to mix the dough so that it is ready when you need it to be! It's the same ingredients I've always used, but just given much more time to rise with much less yeast (and less work!) The original recipe is here, but I make mine without any whole wheat flour (all white) and I increased the salt to 2 tsp as I found the dough a bit lacking in flavor the first time I made it. I also do not use cornmeal, but put olive oil on the baking tray; this adds more flavor too.
My Mother's Favorite Pizza with a
No Knead Pizza Dough Recipe
dough adapted from Chef John at Food Wishes (pizza by Lidia Conte)
Ingredients:
4 cups (18 oz) all-purpose flour (to make it even better use 00 flour)
1/4 tsp dry active yeast
2 tsp Diamond Kosher or sea salt
1/8 tsp sugar
2 tbsps quality extra virgin olive oil
1 1/2 cups (12 oz) warm water (Chef John's advice: if possible, use bottled water as chlorinated water can retard the yeast growth)
Place all the dry ingredients in a bowl and mix together. Make a well and pour in the water. Stir just until everything is thoroughly mixed into a slightly sticky dough. Cover with cling wrap and let rise for approximately 18 hours, or until doubled in size.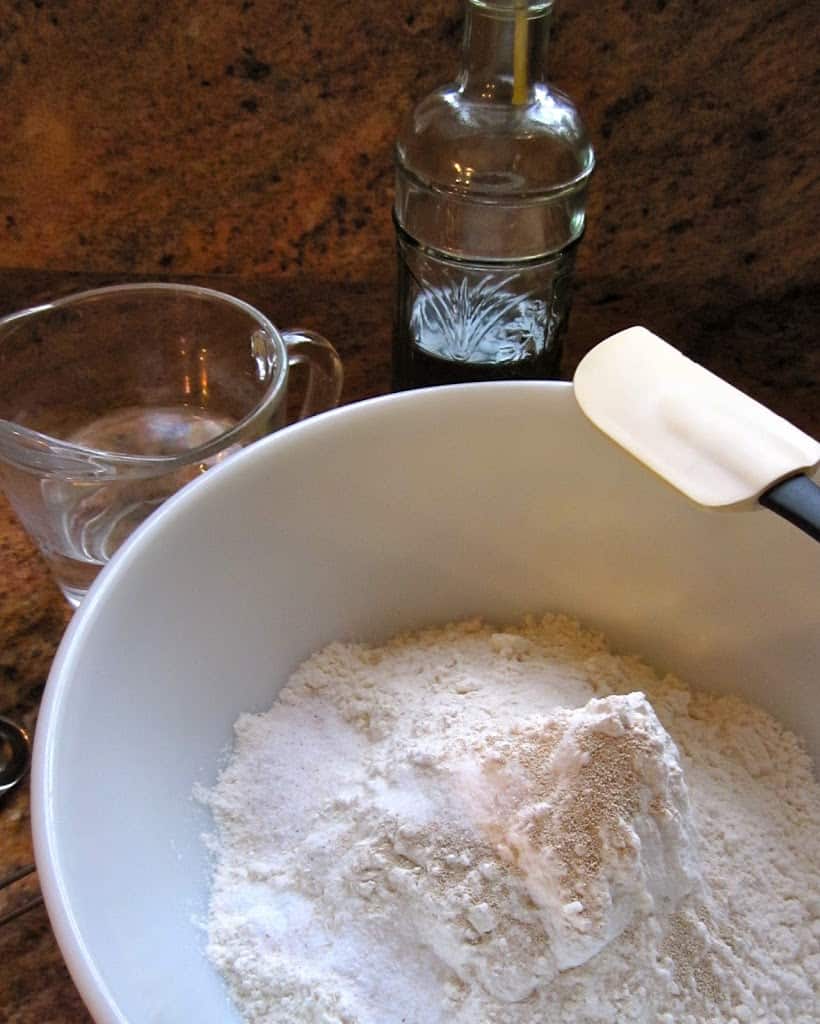 Tomato Sauce or Topping for Pizza
Place all ingredients in a bowl and mix well. Taste for saltiness, adding more if necessary. If you accidentally add too much salt, just add more tomatoes.
(Use an immersion blender to puree the tomatoes.)
Prepare two 12×16 (or smaller, if you like a thicker crust) baking trays by drizzling with some extra virgin olive oil, avoiding the edges.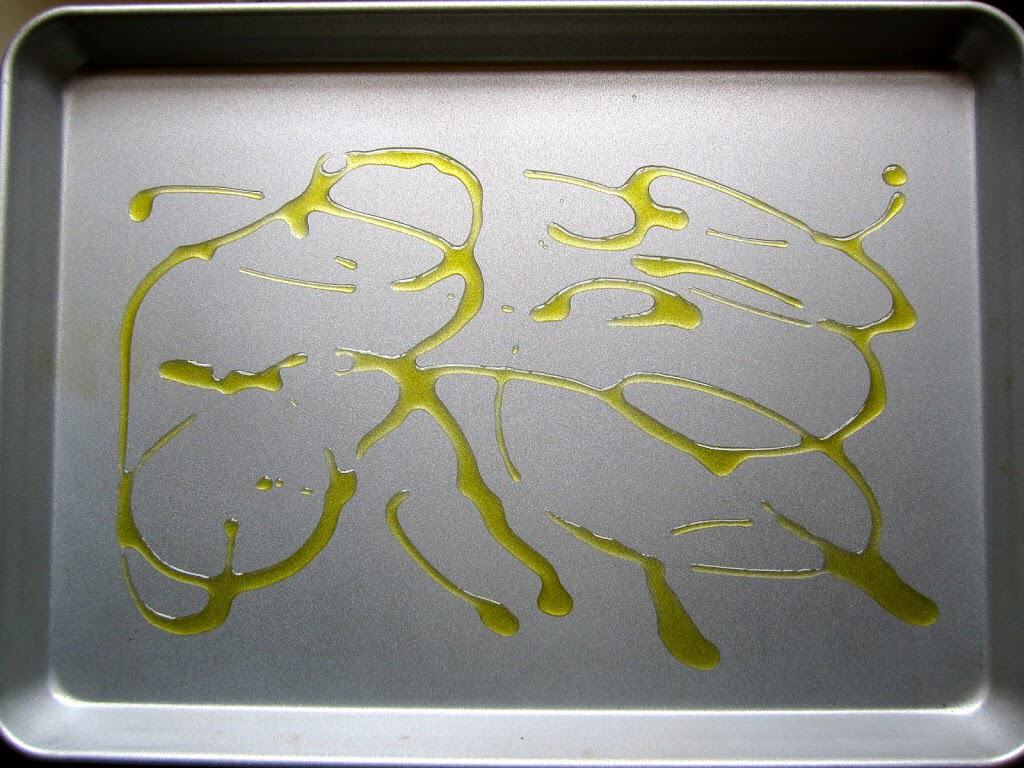 When the dough is ready, knock it down with a spatula, then place it onto a well floured surface and knead for a minute and divide into two equal pieces.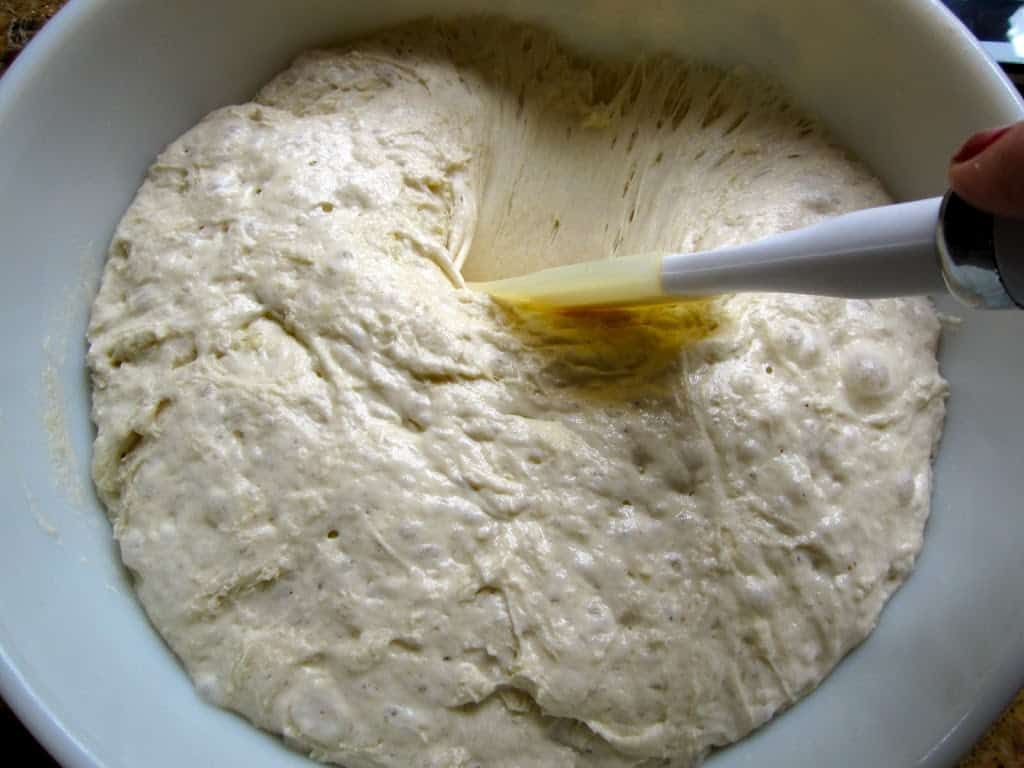 Shape the dough into 12 x 16 rectangles and place on each tray.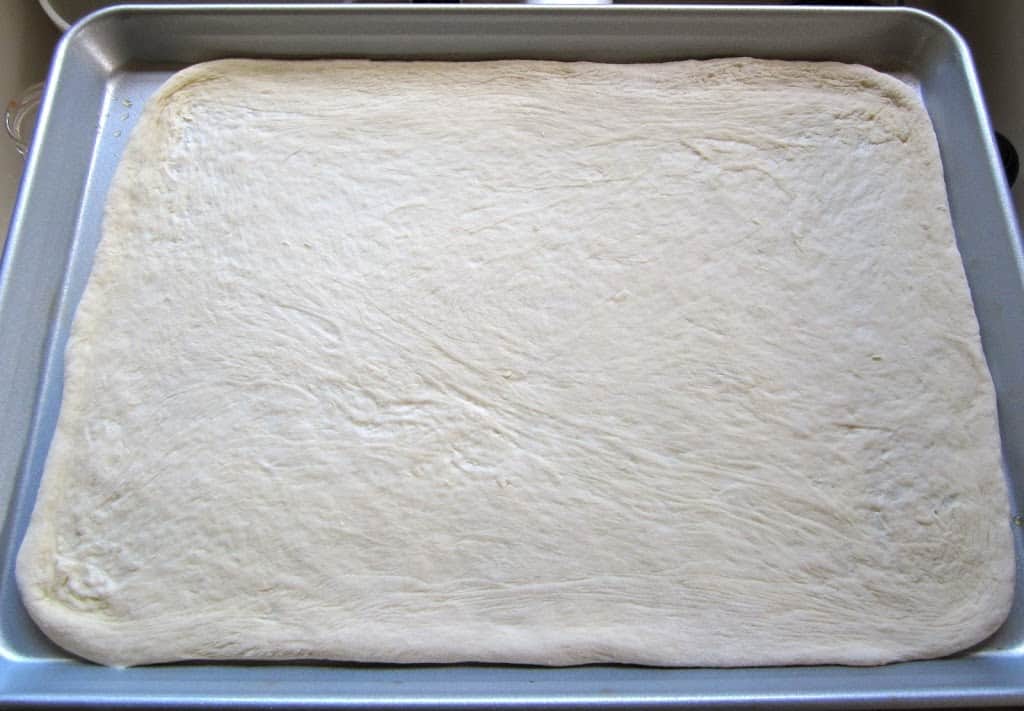 Then drizzle with some more olive oil, and rub all over the dough, again, avoiding the edges.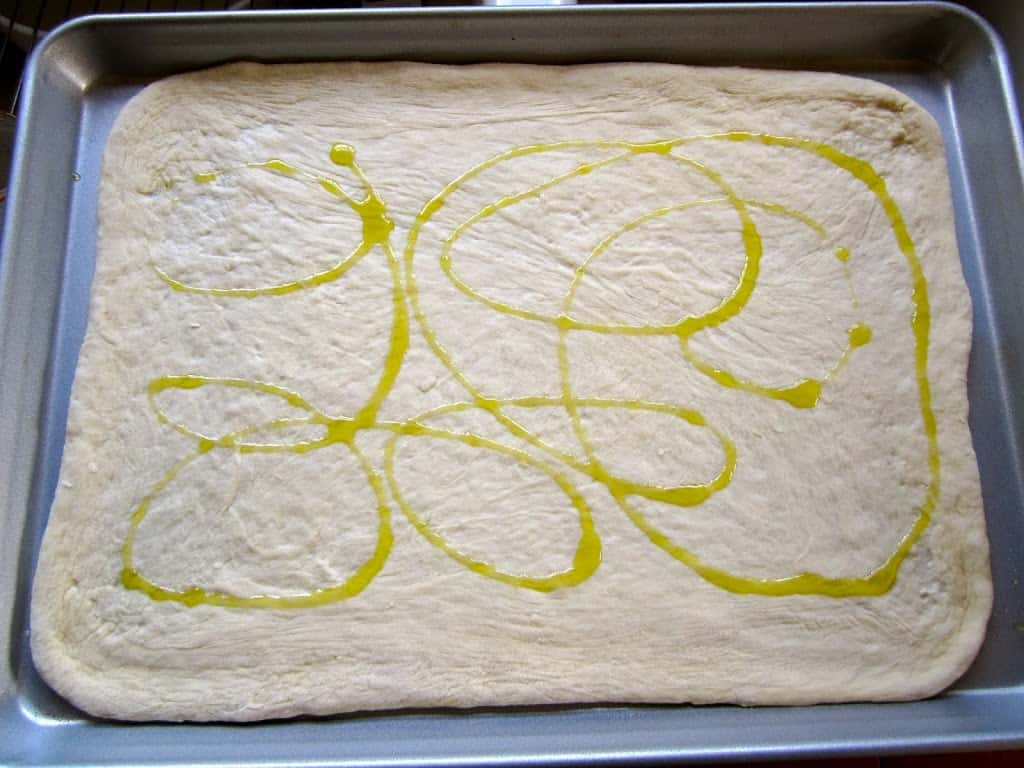 Let rise for about 10 minutes in a warm, draft-free place.
Heat the oven to it's hottest setting, minimum of 500ºF (260ºC) then evenly spread the tomato topping on the dough.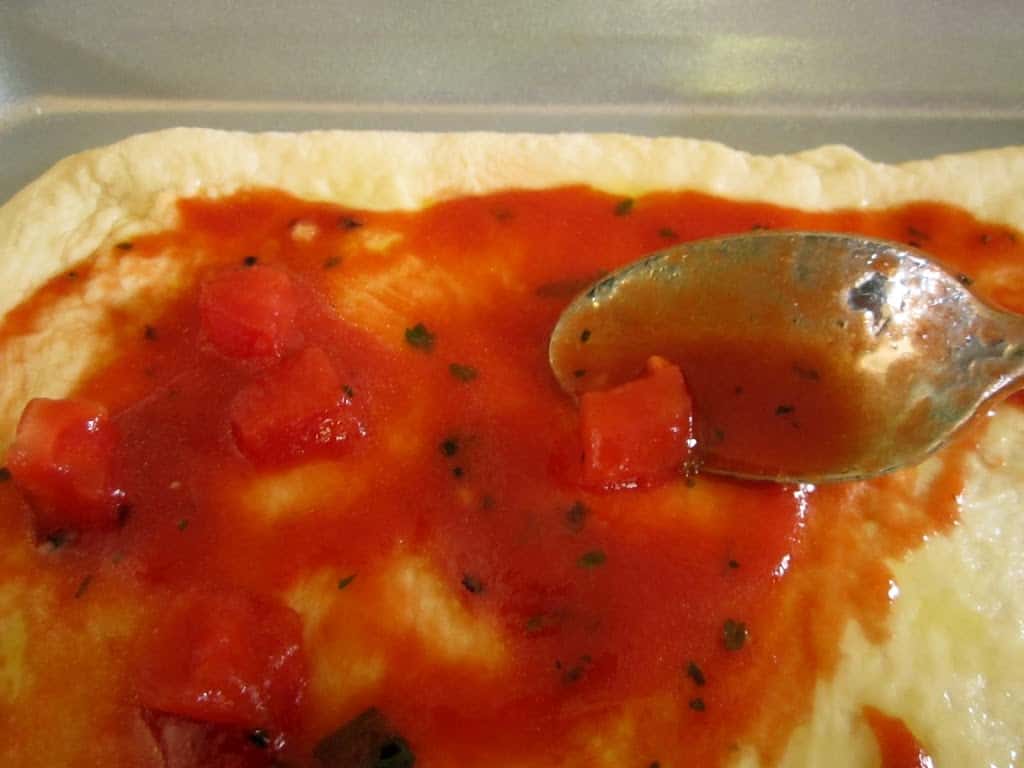 When the oven is ready, place one pizza on the very bottom of the oven for 4 or 5 minutes. Then move to the center of the oven for another 5 to 7 minutes. (These cooking times will vary depending on your oven and oven temperature.)
Just lift the pizza with a fork to peek underneath and see if the bottom is brown. The bottom should look like this when it is ready: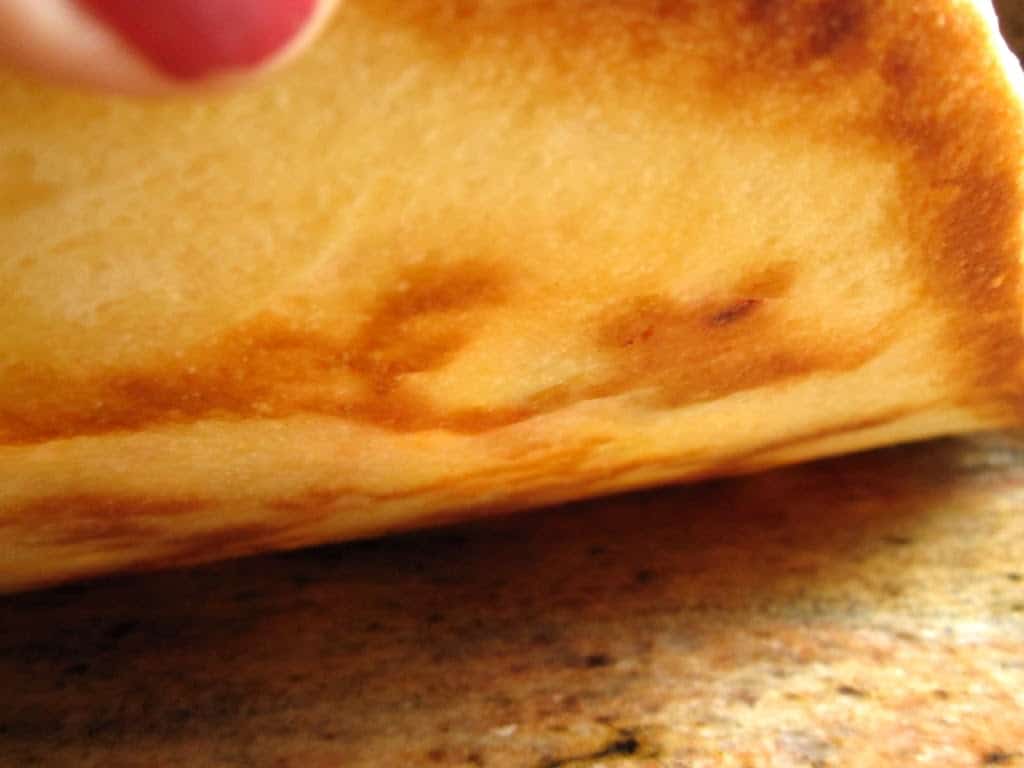 The pizza crust should be light brown on top too-I left this one a little pale as I was going to reheat it in the oven later.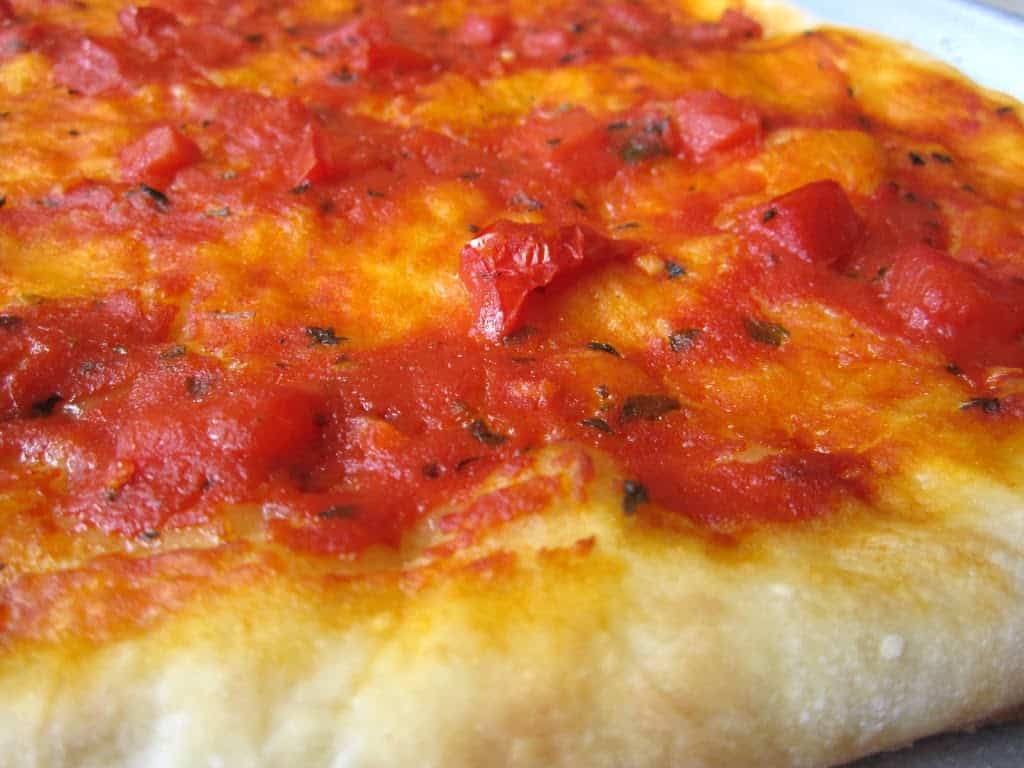 Remove the pizza from the oven, and place it on a surface on which to cut it.
Cut the pizza into larger pieces which can be folded in half and eaten this way.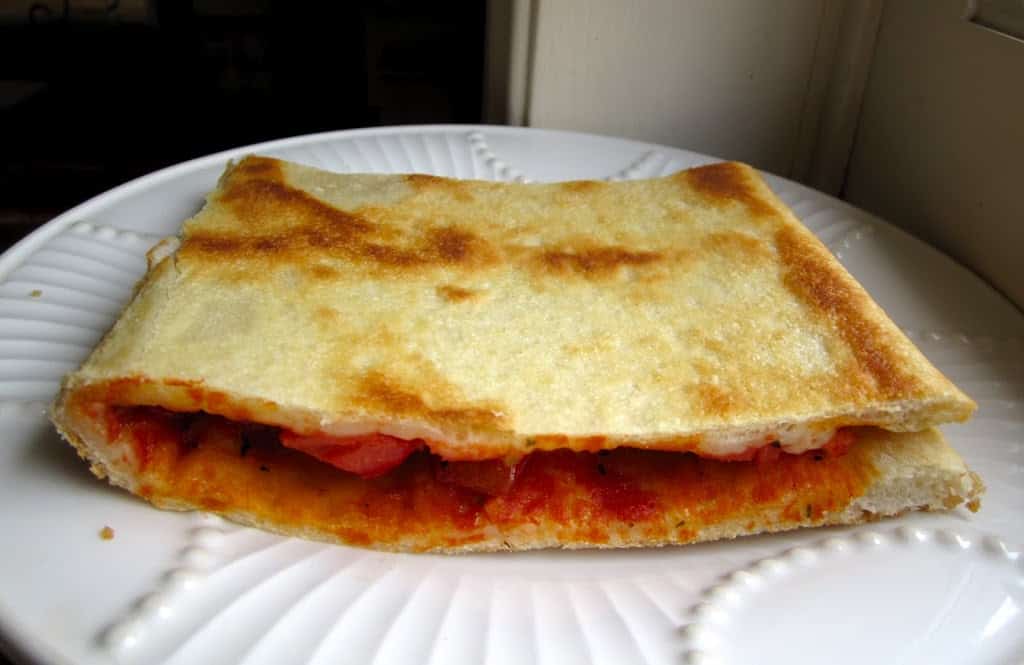 You can wrap the bottom part of the pizza in parchment, which is how pizzerias serve their "to go" pizzas in Italy (not necessarily in parchment, but in paper.)
Of course you can make any size or shape pizza with this recipe, and add some mozzarella and toppings too, but I hope you give plain a chance. ? I think you'll be pleasantly surprised–and you can thank my mother. I hope you enjoy this no knead pizza dough recipe as much as I do. You can also check out this No Knead Bread recipe.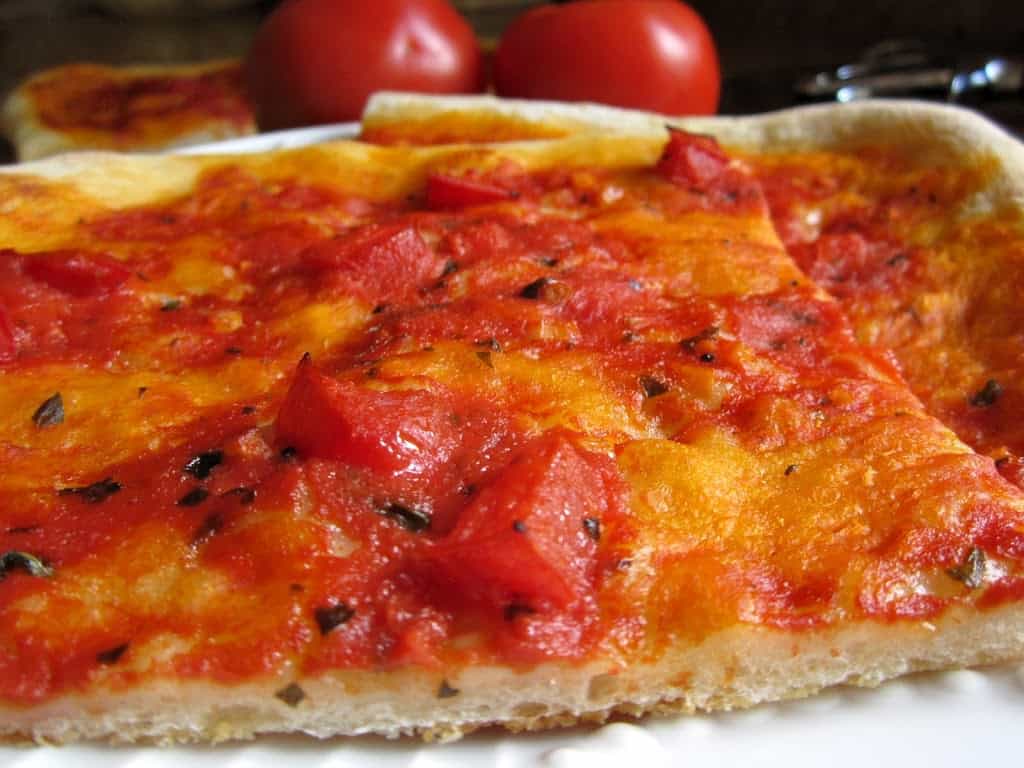 Pizzas with toppings:
 Don't miss another recipe or travel post; sign up for my free subscription below.
(I promise not to sell or share your info, ever!)