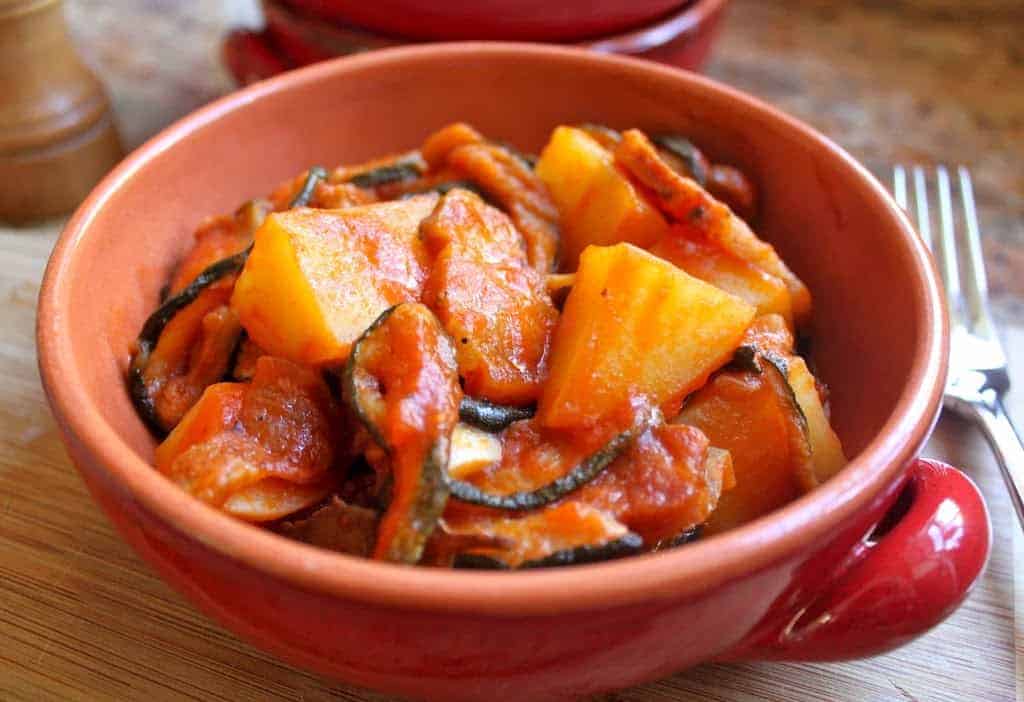 Last summer, I showed you how my family in Italy dries zucchini in the sunshine, and how I now follow the tradition in California, and promised a later post on how to use that dried zucchini.
Well, I had originally intended on writing the post in the winter (because that's when you want to eat the dried zucchini, not in summer when there's plenty of the fresh stuff around), but I just never did it. So here it is (better late than never), and I'm hoping that seeing this dish and how wonderful it looks, now, will inspire you to dry some zucchini for the winter (see, there is a method to my madness)!
Dried zucchini tastes completely different than fresh, and other than trying it yourself, I couldn't even attempt to describe the flavor, only to say that it is deliciously unique, and has a great texture, and isn't at all mushy, as fresh zucchini can get. You can make your own pancetta to use in this dish, or buy some instead (or skip it to make it vegetarian or vegan), but use good quality potatoes and tomatoes (fresh, or a jar from Italy) or you will surely be disappointed. I put the "tomato sauce" in quotes, because you can make this dish, without the tomatoes. I love it both ways, so give each way a try and see if you like one style better than the other.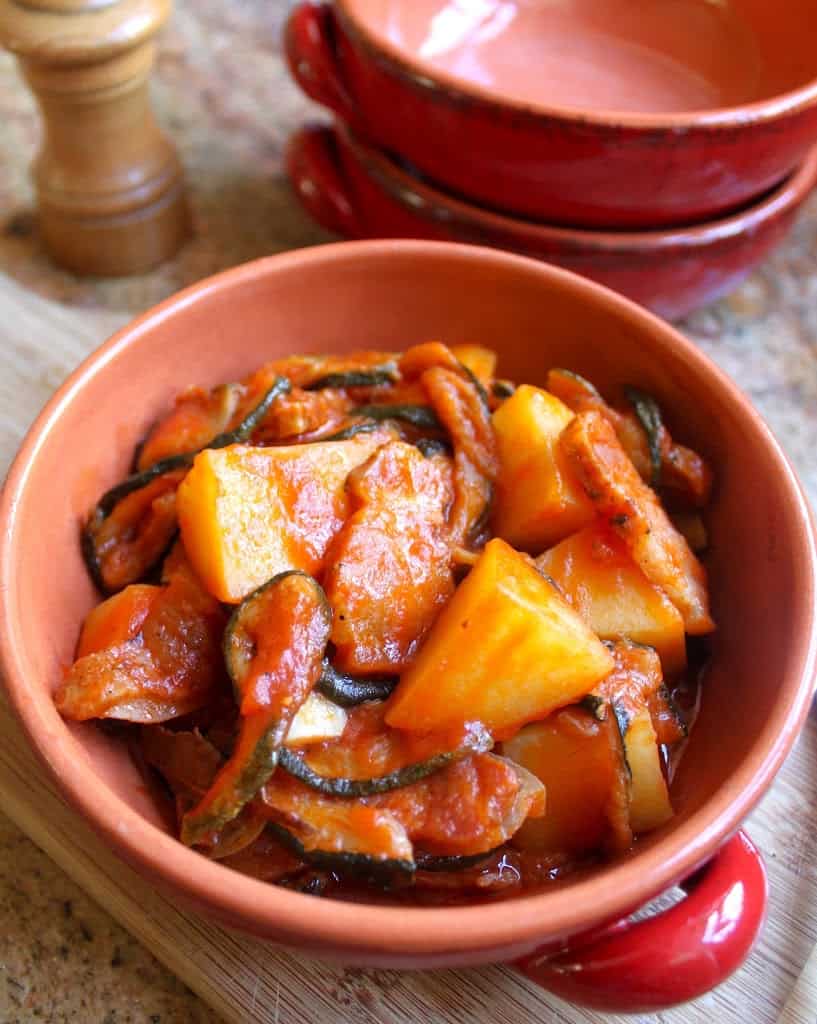 Dried Zucchini, Pancetta & Potatoes
(in Tomato Sauce)
Ingredients
2 cups (about 2 oz) dried zucchini
2 tablespoons or so of good quality extra virgin olive oil (like De Cecco)
2 or 3 large cloves of fresh garlic
hot pepper, fresh or dried (optional)
about 4 oz pancetta (omit if vegetarian)
2 or 3 medium to large, good quality potatoes
about 3/4 cup (6 oz) tomato puree (fresh or good quality tomato puree in jars)
about 3/4 cup (6 oz) water, or more
1 or 2 bay leaves
Kosher or sea salt
black pepper
Start by soaking the dried zucchini with very hot water (not from the tap-heat it up).
Set aside for about half an hour or until the zucchini has softened.
Meanwhile, slice the pancetta, and cut the potatoes into bite sized pieces and set aside.
(If the potatoes will be cut more than a few minutes ahead of when you'll be using them, keep them in a bowl covered in water, so they don't turn brown; this applies to every recipe).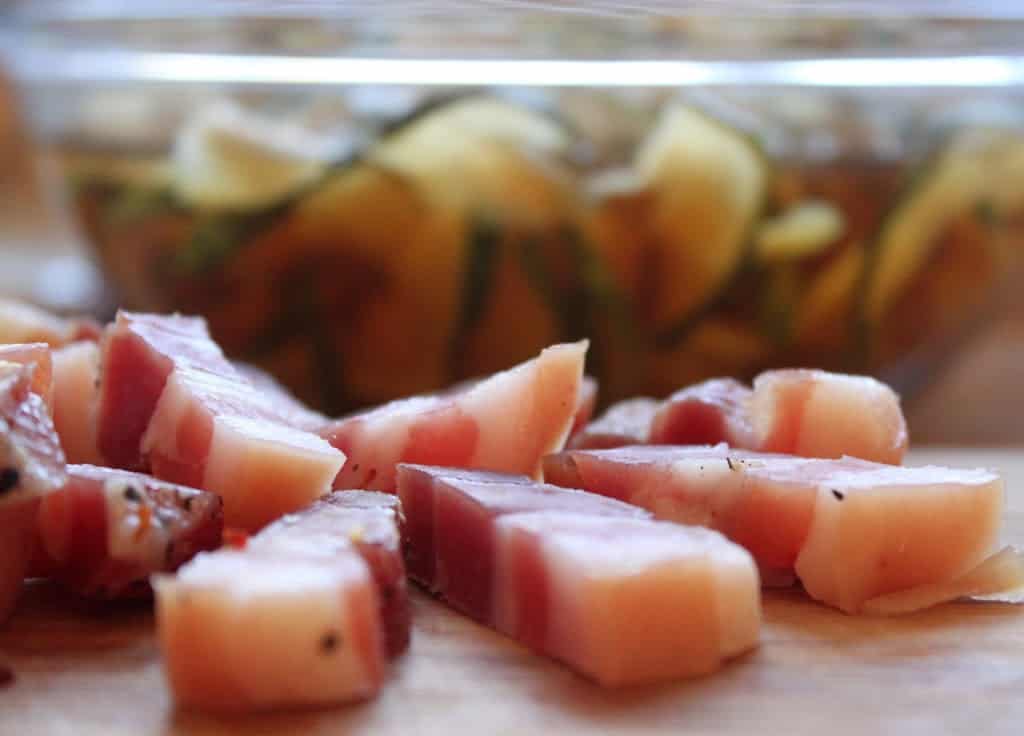 Rinse the zucchini and drain well; set aside.
In a medium sized pot over medium to medium-high heat, add the olive oil and fry off the garlic, bay leaves, pancetta and hot pepper, if using.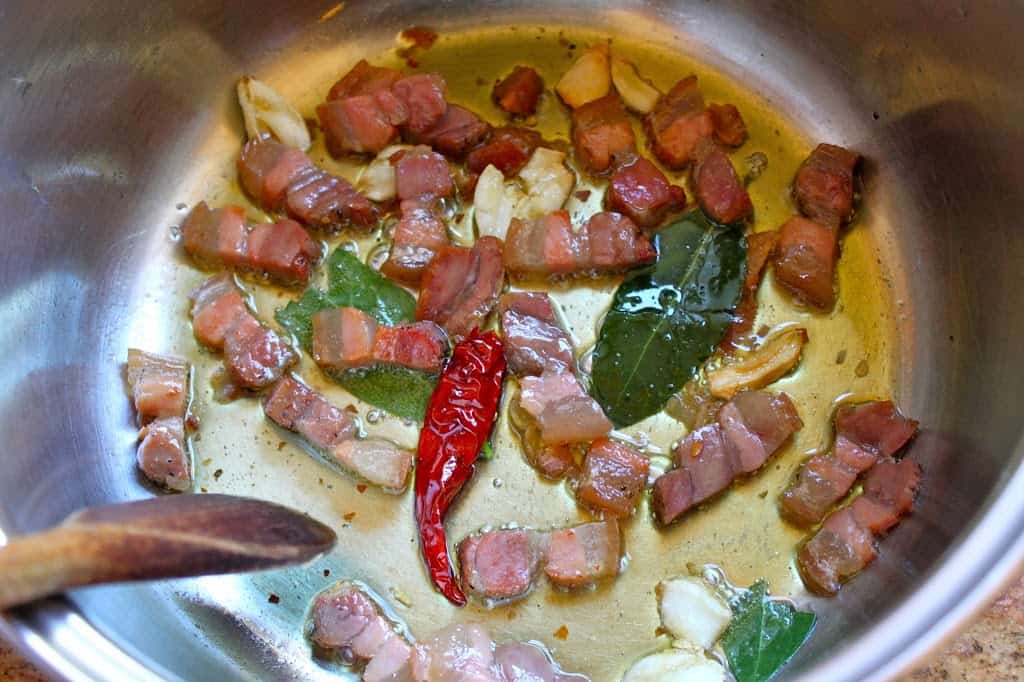 Brown the garlic and pancetta, just a little, then add the zucchini.
Next, add the tomatoes or puree and then the water (if you would like to make this without tomatoes, just add water at this point).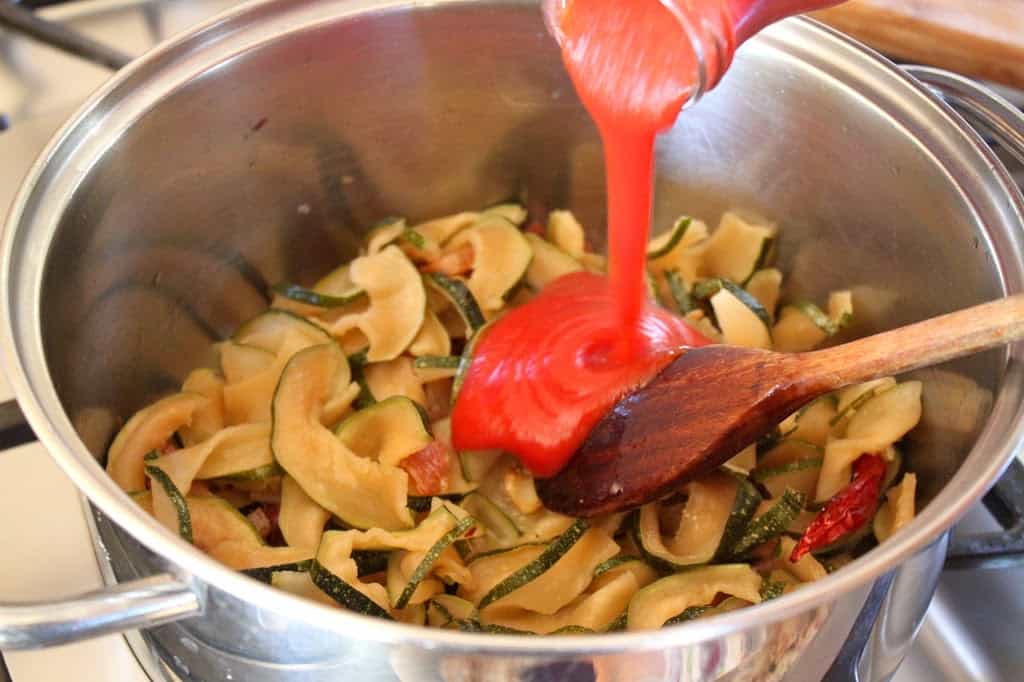 It will look like this. Add salt, and bring it to a boil; then lower to a simmer.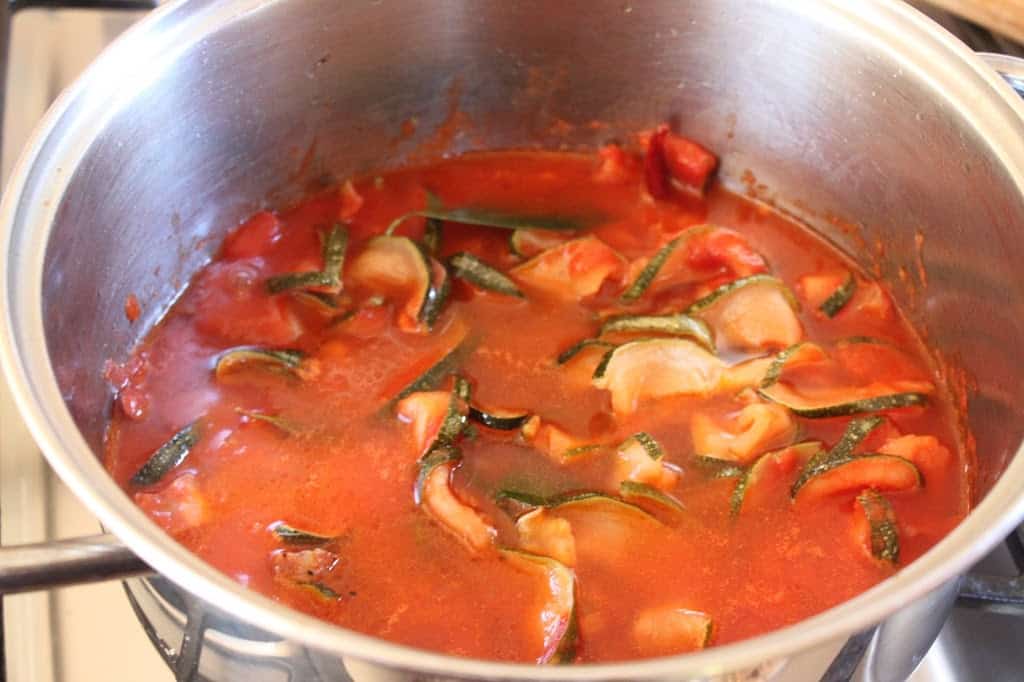 Add the potatoes, a little more salt, and stir well. Cover and simmer until the potatoes are cooked, stirring occasionally. If it is drying up too much and the potatoes aren't cooked, add more water as needed.
Remove from heat, taste to see if it needs more salt, and add black pepper. Serve hot.
Buon Appetito!!
Don't miss another recipe or travel post, sign up for my free subscription below!
I promise not to share or sell your email address, ever.