The Hermitage Hotel in Nashville, Tennessee is a truly luxurious and historic establishment which offers affordable luxury in the midst of country music's favorite city.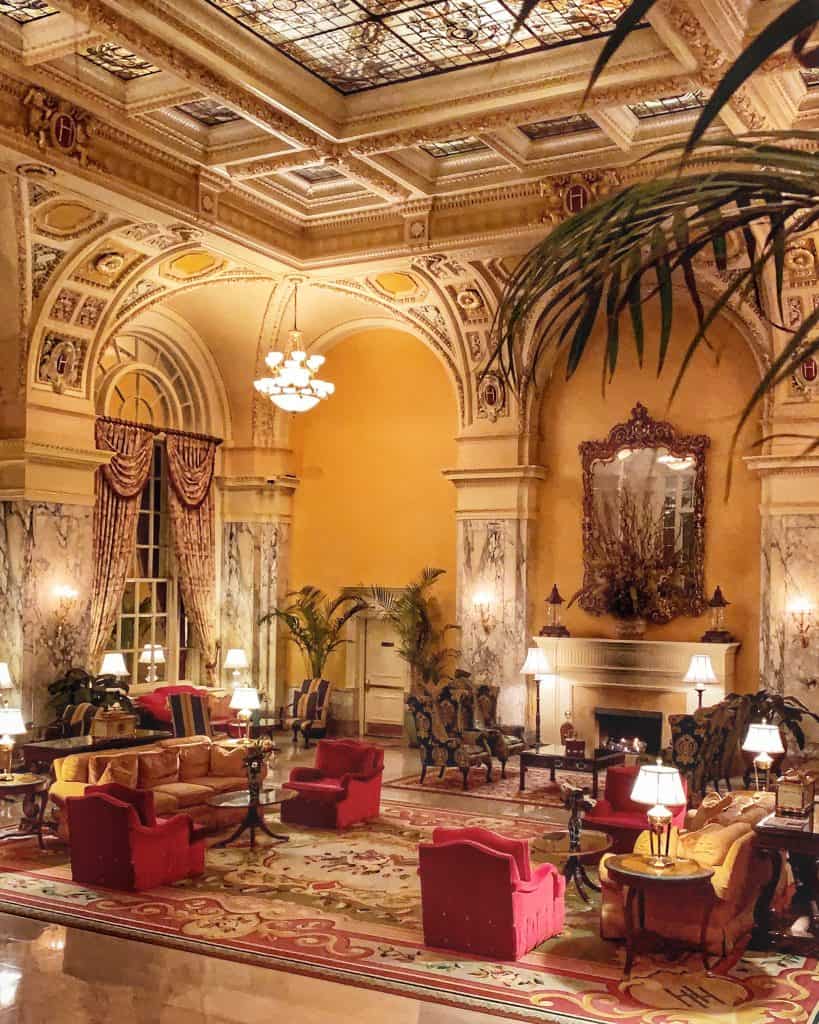 It was love at first sight when I saw the Hermitage Hotel lobby! I was so smitten, I returned to the Hermitage Hotel just over a week later with my parents.
Disclosure: On my first visit, I was hosted for two nights and breakfast, and dinner at the Capitol Grille. When I returned, I paid to stay at the hotel at a slightly discounted rate.
As an Amazon Associate I earn from qualifying purchases.
I was in Nashville in mid-November because my husband was there for work (he's an audio engineer and was there for the CMA Awards). I'll be sharing more on visiting Nashville (updated) soon, but first I have to tell you all about this phenomenal hotel.
I felt as though I was staying in a palace, but also as if I was a guest in a friend's home. The staff are so incredibly warm and welcoming, it's hard not to feel this way. Jeff, the porter was so friendly and helpful, as were both of the concierges I spoke to: Denise and Maurice. The front desk staff, Justin in particular, as well as Marco the maître d', and the bartender at the Oak Bar were all so accommodating!
NB ~ Just outside Nashville is The Hermitage, President Andrew Jackson's former mansion, and now museum. Be sure you have the correct "Hermitage" if you searching for information, or especially directions to the hotel.
History of the Hermitage Hotel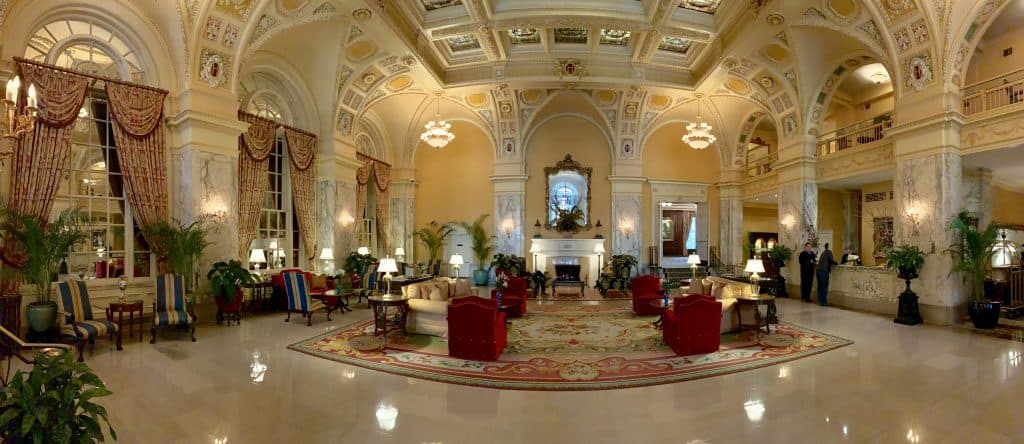 Built as a luxury Beaux-arts style hotel and first opened in 1910, the Hermitage has an incredible amount of history to share. In fact, I spent quite some time in a corner of the lobby dedicated to memorabilia of the hotel.
I loved perusing the old newspaper clippings, and the prices of rooms, and food on the menu.
The hotel architect, a Tennessee native, James Carpenter, studied in Paris. Apparently, he designed over 40 luxury, high rise apartments, many on Park and 5th Avenue, in New York City.
The Hermitage Hotel has welcomed many US presidents, politicians, dignitaries and celebrities over the years. (The hotel is located steps away from the state capitol building.)
The Hermitage Hotel
When I first walked up the steps and saw the incredible lobby, I was in awe. How could anyone not be in awe of this beauty?
During my first stay, there was an unusual cold snap in Nashville. I can tell you that a lot of my time was spent here, cosy and completely delighted, in this lobby. More specifically, I sat by the fireplace. I loved that hot apple juice and cookies were offered in the afternoon, especially on the frigid days. What a welcome treat after walking in the cold!
The ceiling of the lobby is mesmerizing and incredibly detailed.
However, it's not just the lobby that's stunning. Let me give you a little tour of the Hermitage Hotel which happens to be the only 5 star hotel in Tennessee. It's also a Historic Hotels of America property and listed with Forbes Travel Guide.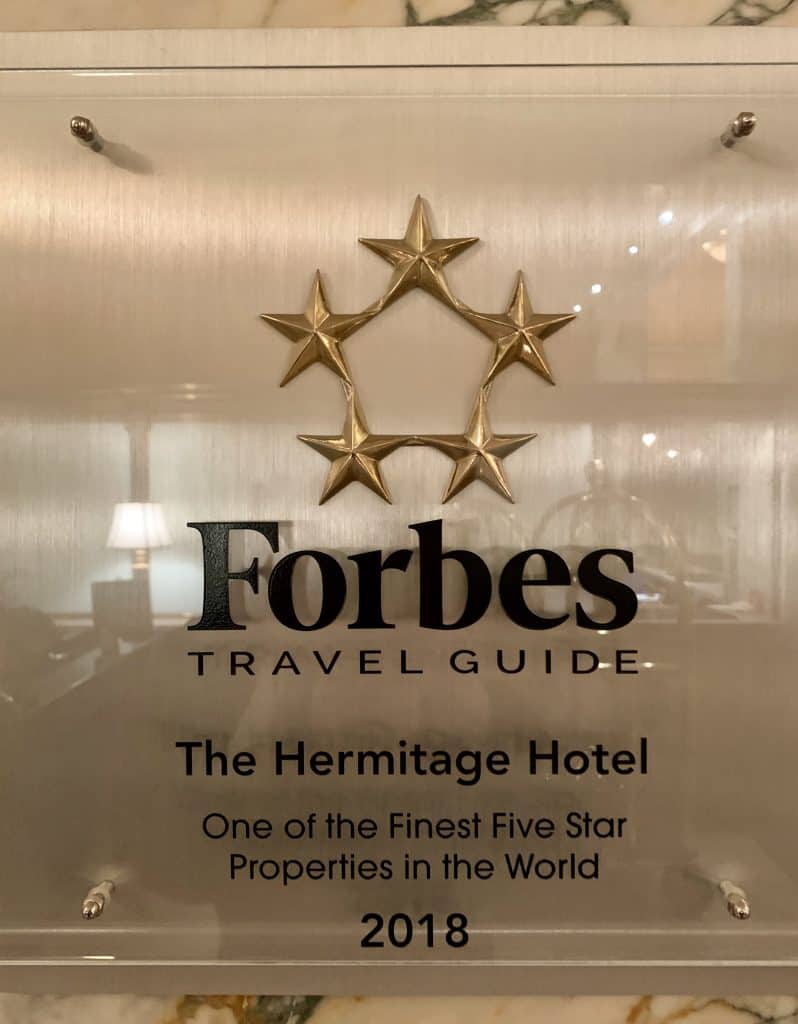 The Veranda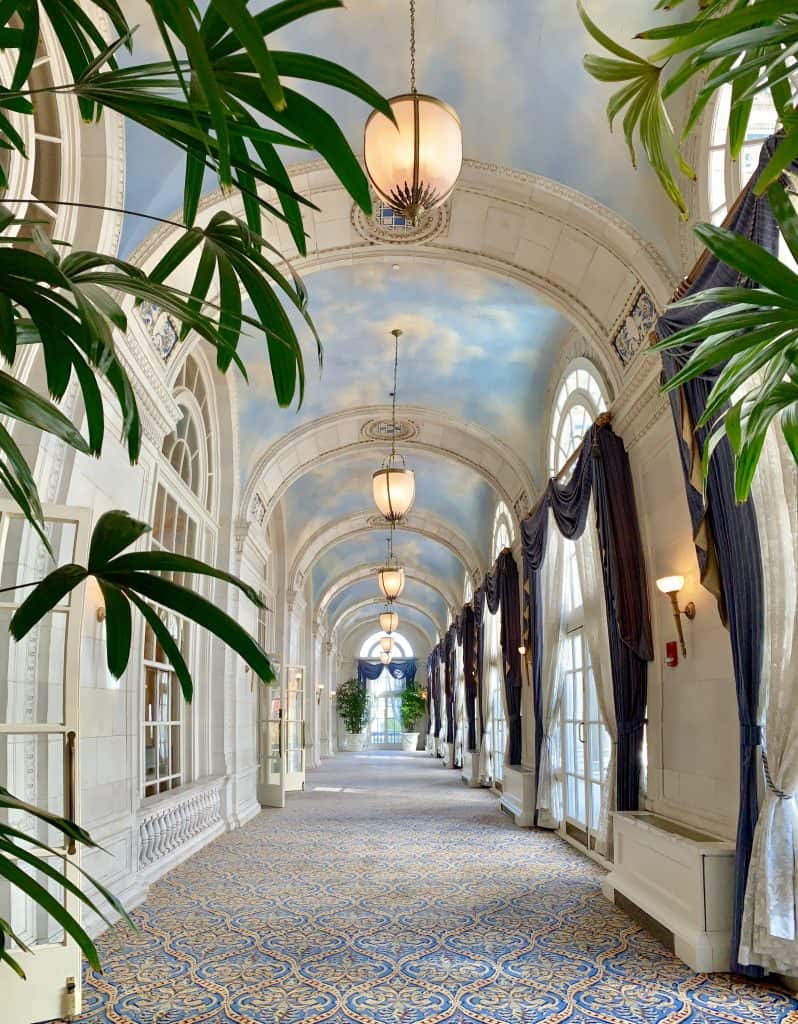 Weddings and events are held on the light-filled Veranda at the Hermitage. This was one of my favorite spots in the hotel.
The Mezzanine
Sit by the piano and enjoy a cocktail with some nibbles.
The Ballroom
I can only imagine attending a wedding or other celebration here! The entire hotel has such a European feel to it. Sometimes I forgot I was in Tennessee!
The Lobby Balcony
One side of the lobby boasts a beautiful balcony with game tables and seating. It's the perfect place for people watching.
Rooms & Suites
The two traditional rooms I stayed in were tastefully decorated. The bathrooms were decorated in marble and I took the opportunity to have a lovely bubble bath.
The elegant rooms were spacious, and each had a safe, robes, slippers and different pillows to choose from.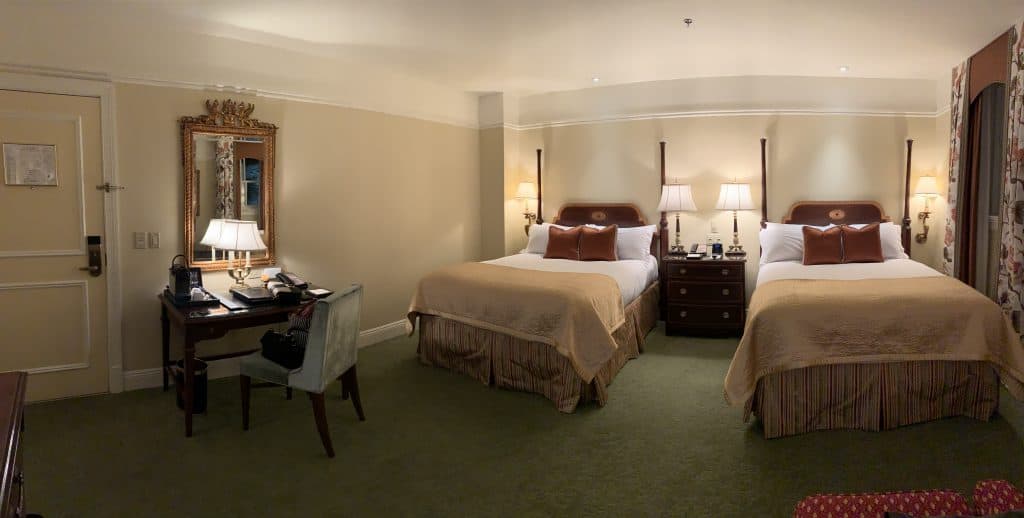 The attention to detail was evident throughout the hotel and in the rooms. I'm not a big coffee drinker, but since most people are, the Nespresso coffee machine was a nice touch.
Capitol Grille
I ate breakfast at the Capitol Grille, and took the opportunity to try the grits for breakfast since I'd never tasted them. I really liked grits! I also had bacon and eggs, so I was set for the day.
I also had dinner there one evening (when Reba McEntire happened to be dining there, too). One aspect that I absolutely love about the Capitol Grille restaurant is that they grow their own ingredients and raise their own cattle at their own HH Farm!
They are known for their steaks, and I understand why.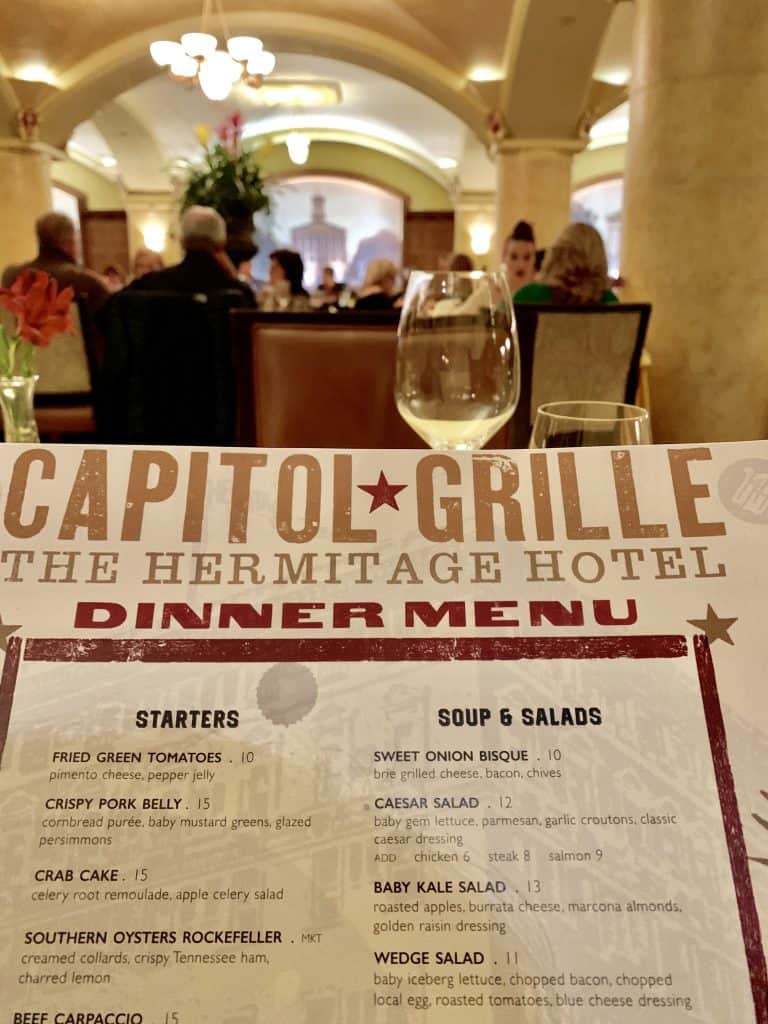 My starter was so delicious that I actually tried to re-create it for New Year's Day lunch! It was good, but not as good as the one I had at the Hermitage. I'm going to try to perfect it and then will share the recipe with you. Doesn't it look lovely?
What you can't see below the radishes, beets, hazelnuts and arugula is the wonderful fresh goat cheese. I absolutely adored this combination of flavors! For my main course I wanted to try the shrimp and grits, and I also enjoyed this dish. It was different than I had expected as there was a sort of stew that topped the grits, but it was tasty, and I enjoyed it with a glass of white wine.
Oak Bar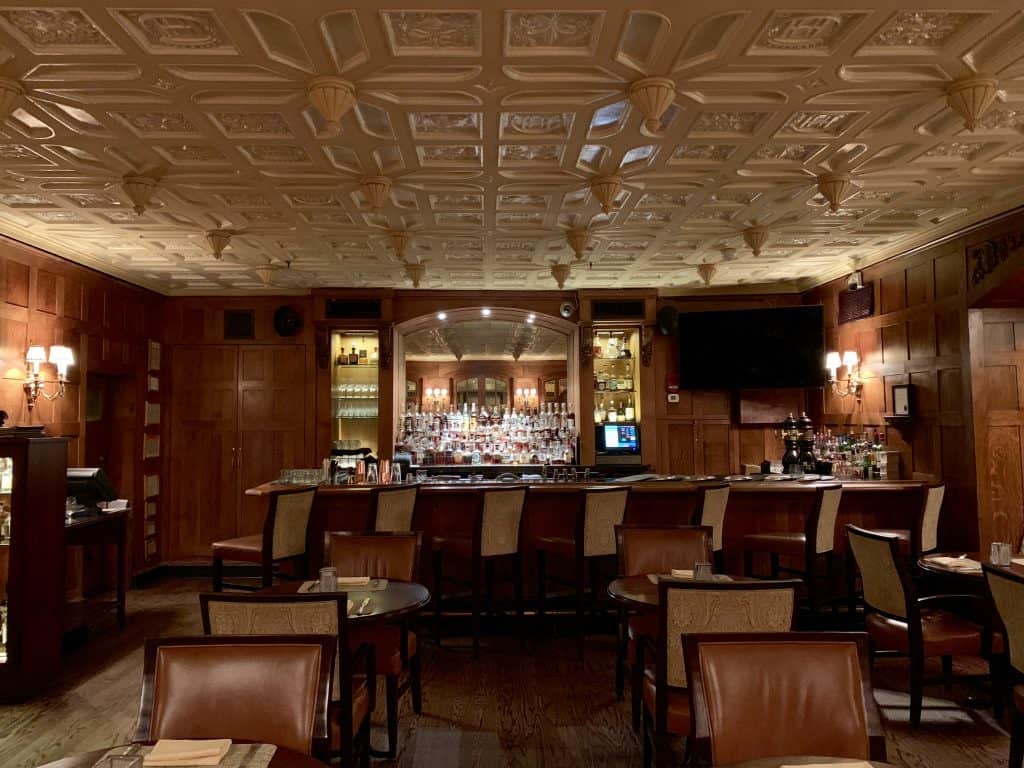 The Oak Bar is a cosy place to meet friends. I got a message from a reader on Facebook who told me to go and order an Old Fashioned there.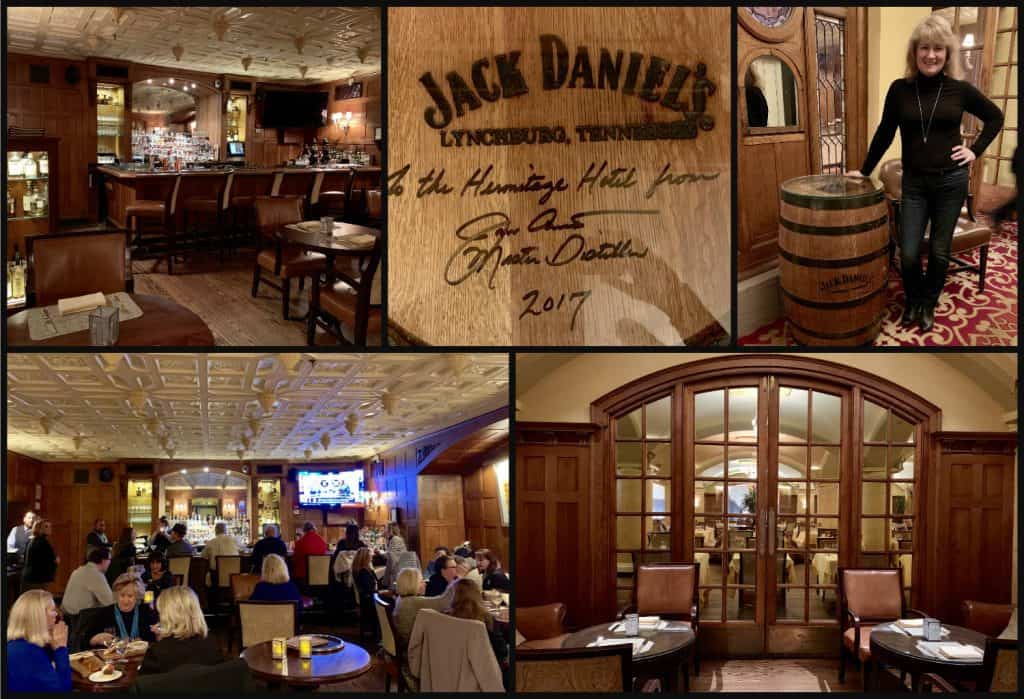 I had never had an Old Fashioned and figured this was the best place to have one for the first time as the Oak Bar is famous for them. I was not disappointed.
The Men's Bathroom
You might be wondering about this and why I was taking photos in the men's bathroom, right? Well, this plaque explains it quite well.
I just had to sit where President John F. Kennedy and Elvis supposedly had their shoes shined! We all had fun taking photos in the bathroom!
I will add that this is actually a functioning men's restroom! Ladies, please at least knock or have a male friend check that it's empty before walking in. I saw a woman walk right in without even knocking first. It's only common courtesy (and common sense).
Christmas Decor
I was delighted to see the Hermitage Hotel decked out in its Christmas finery on my second visit!
My parents were blown away with the Hermitage Hotel. I was so happy to be able to share it with them!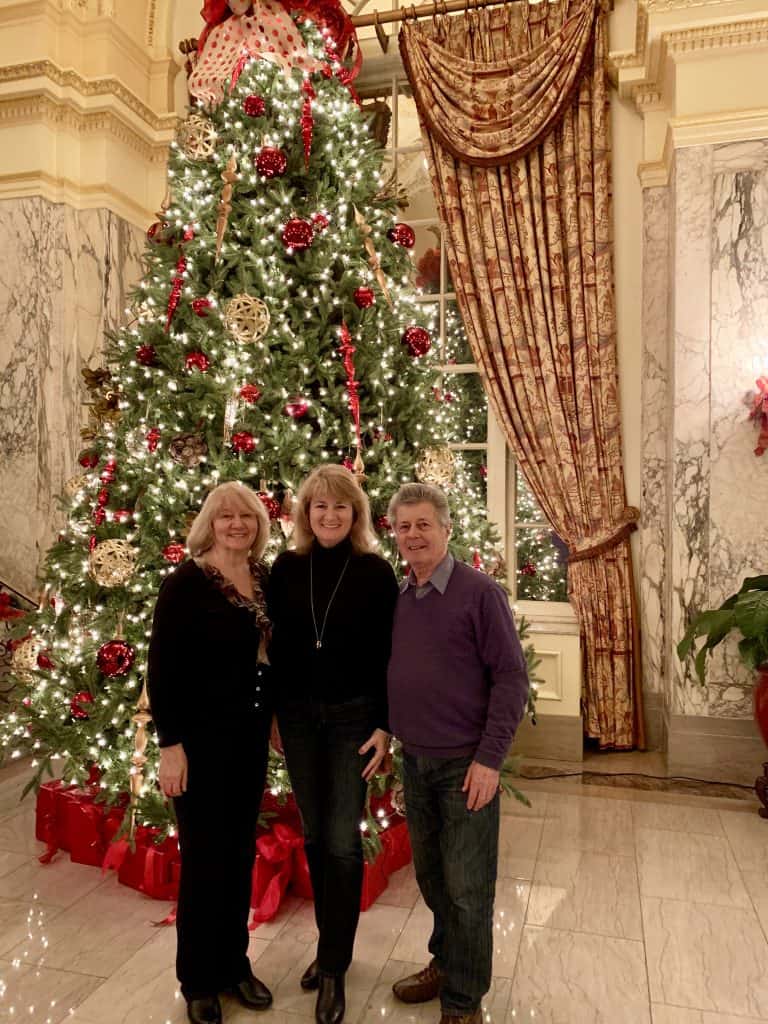 I hope you enjoyed this virtual trip to this European gem in downtown Nashville! If you are ever in the city, be sure to at least pop in to see the lobby. Better yet, have a drink at the Oak Bar, dinner at the Capitol Grille, or stay for a night or two. I can almost guarantee that you won't be disappointed!
Contact The Hermitage Hotel
Hotel:

615-244-3121 –

Reservations:

888-888-9414
My parents and I fell in love with the Hermitage Hotel and hope you will, too!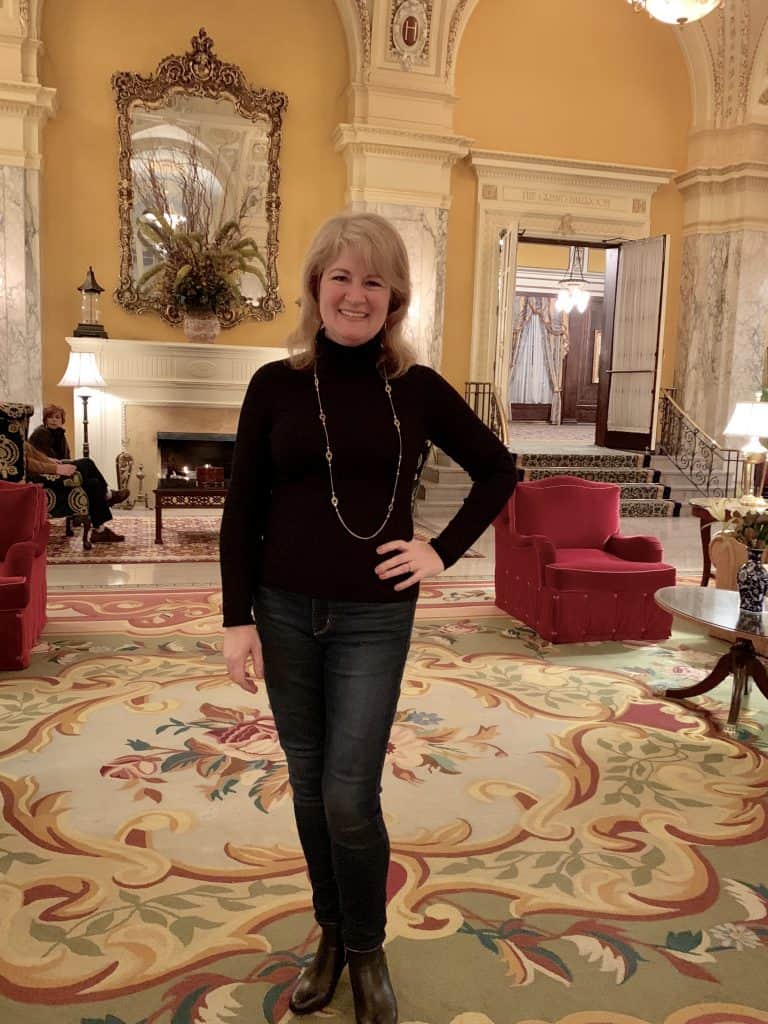 Stay tuned for more on what I did in Nashville during my two separate stays! So much to see and do in this city! UPDATED: Here is the post!
Christina's Cucina is a participant in the Amazon Services LLC Associates Program, an affiliate advertising program designed to provide a means for sites to earn advertising fees by advertising and linking to Amazon.com.