If you happen to visit St. Louis, Missouri, do not miss the St. Louis Union Station Hotel which is truly one of the most phenomenal hotels in the USA.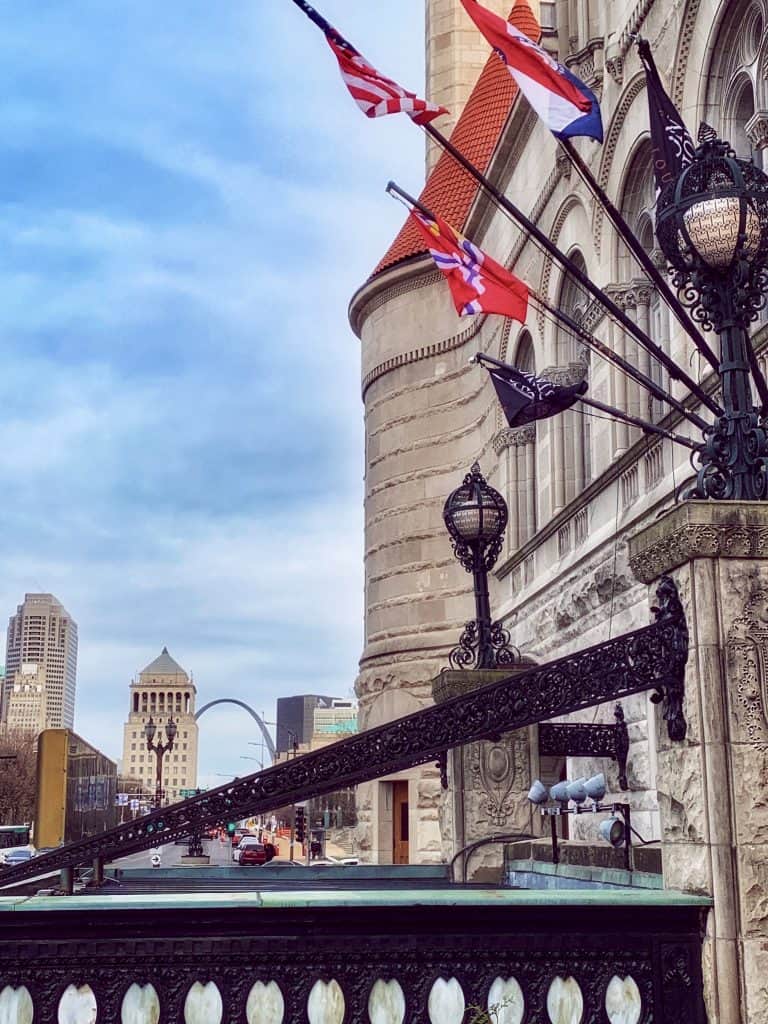 If you recall, I drove my parents from Michigan to Los Angeles last November, stopping in several cities, including Nashville, Memphis and Winslow (Arizona).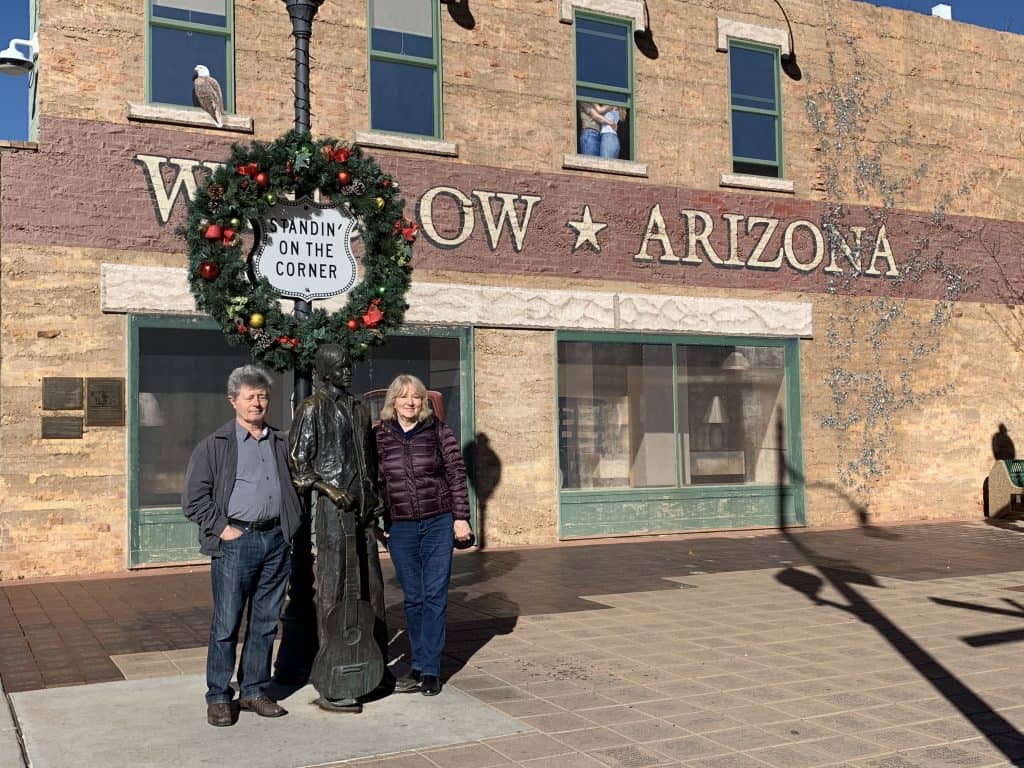 My parents and I were hosted for one night's stay, dinner and breakfast at the St. Louis Union Station Hotel. I initially paid for the room and restaurants, but was later reimbursed in order to compensate for my time in writing this review. I chose to write this article because my parents and I fell in love with the St. Louis Union Station Hotel. It's a gem of America's history. As always, all opinions are my own.
Somehow, I got roped into driving them back to Michigan in April, too! This time, we took the northern route, passing through several National Parks in Utah, through Colorado and stopping for our last night in St. Louis, Missouri.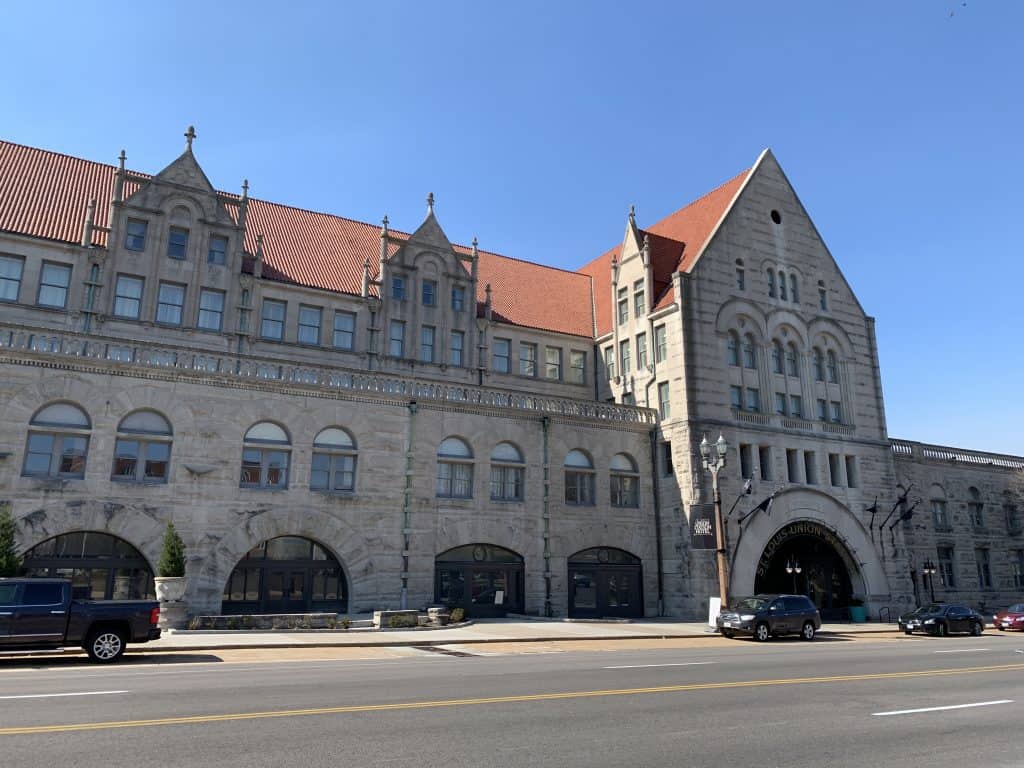 Due to the changeable weather conditions, we were booking our hotels as we drove. I had no idea that we would stay in St. Louis, but happened upon the Union Station Hotel in my online search, which looked marvelous. You've probably realized by now that I love to stay in historic hotels. The St. Louis Union Station Hotel has been a wonderful Missouri landmark since 1894.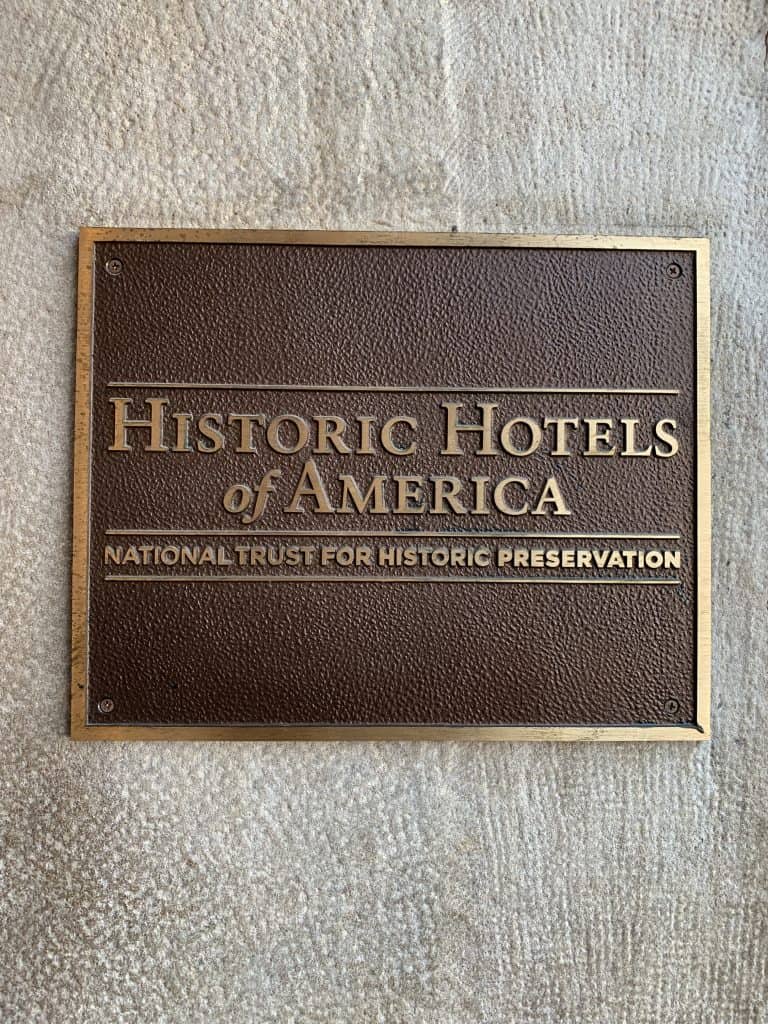 When we arrived, my parents stayed in the car while I went inside to check in.
Note: there's so much to tell you about this hotel that it's difficult to fit it all in. However, know that at the end of the post I will have a link to the Curio Collection by Hilton website where you can discover more details and all the information you could want about–
The St Louis Union Station Hotel,
Curio Collection by Hilton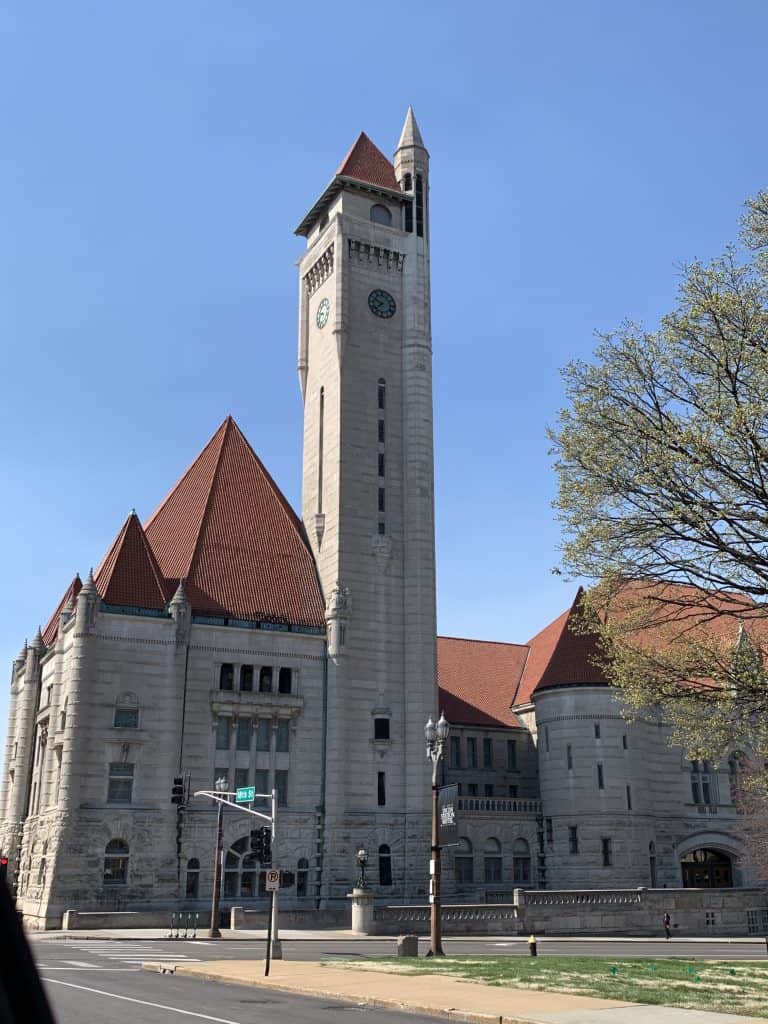 I was gobsmacked when I walked inside. I truly didn't expect this.
A former train station converted into the most beautiful hotel! It was impeccably restored to what looked like its original glory.
A convention was being held at the hotel that weekend, so there was quite a queue at reception. This just meant I had time to soak it all in.
After a few minutes of standing in line, the lights dimmed and I thought we were in for a power cut. However, I was sorely mistaken: the most incredible 3D light show began on the ceiling of the Grand Hall. It was breathtaking! Soothing violin music began playing and we were visually transported to a world beneath the sea.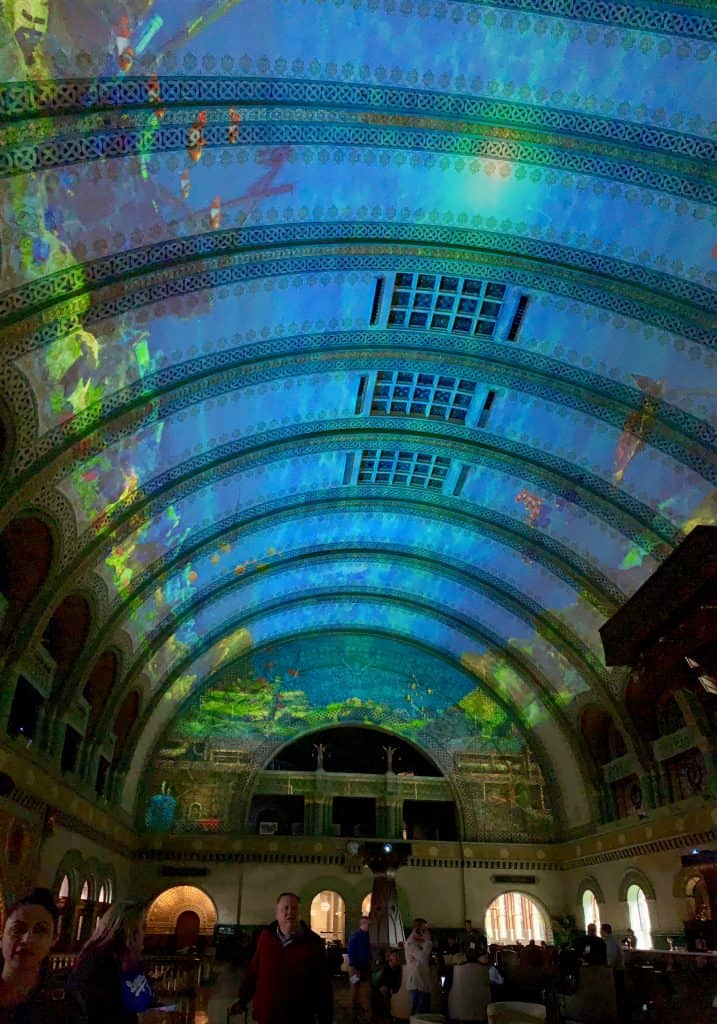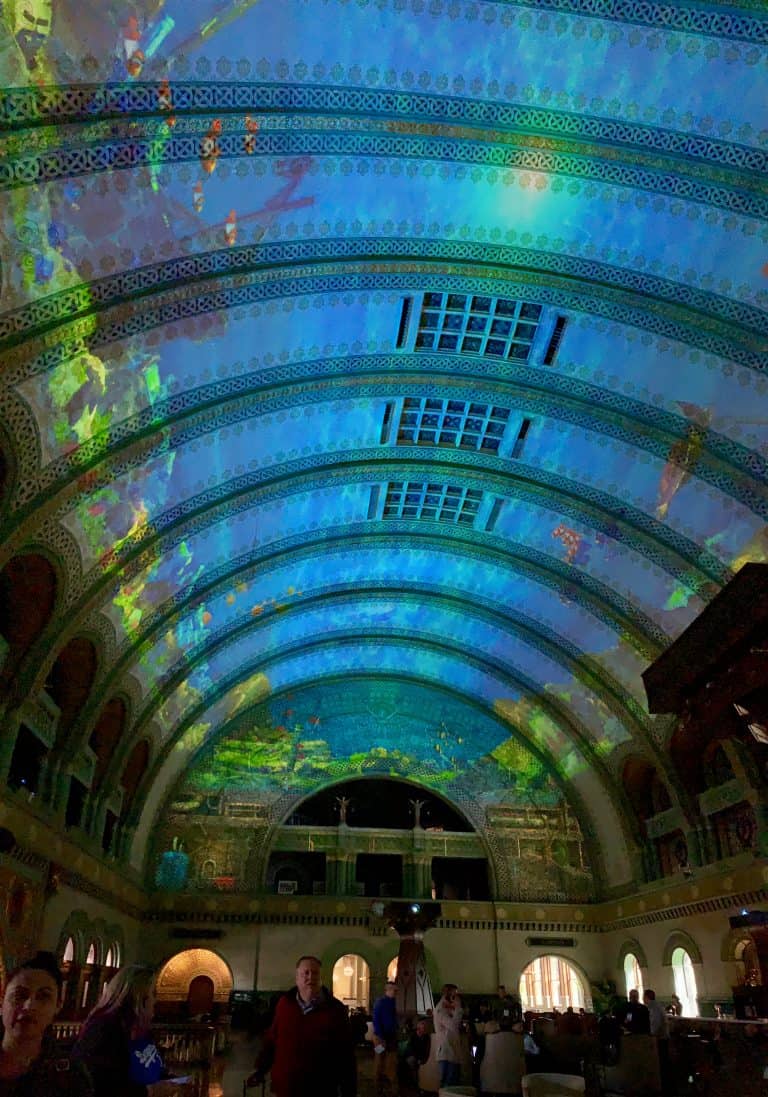 My first thought was to run out to car to get Mum and Dad to come in and see this spectacle because they had their phone off when I tried to call them! Then I realized I'd have to wait in the queue all over again, so I stayed in line. Fortunately, I discovered that there were several more 3D light shows that evening (each evening from 5 to 10 pm, on the hour). I was relieved, as I didn't want them to miss this amazing show!
After a friendly check in, I popped out to have Mum and Dad come in and parked the car. I was so excited for them to see the Grand Hall. Just as I had anticipated, their jaws dropped once entering the hotel (and the light show was over once they went inside, so I could imagine what they would think upon seeing the show!)
The Rooms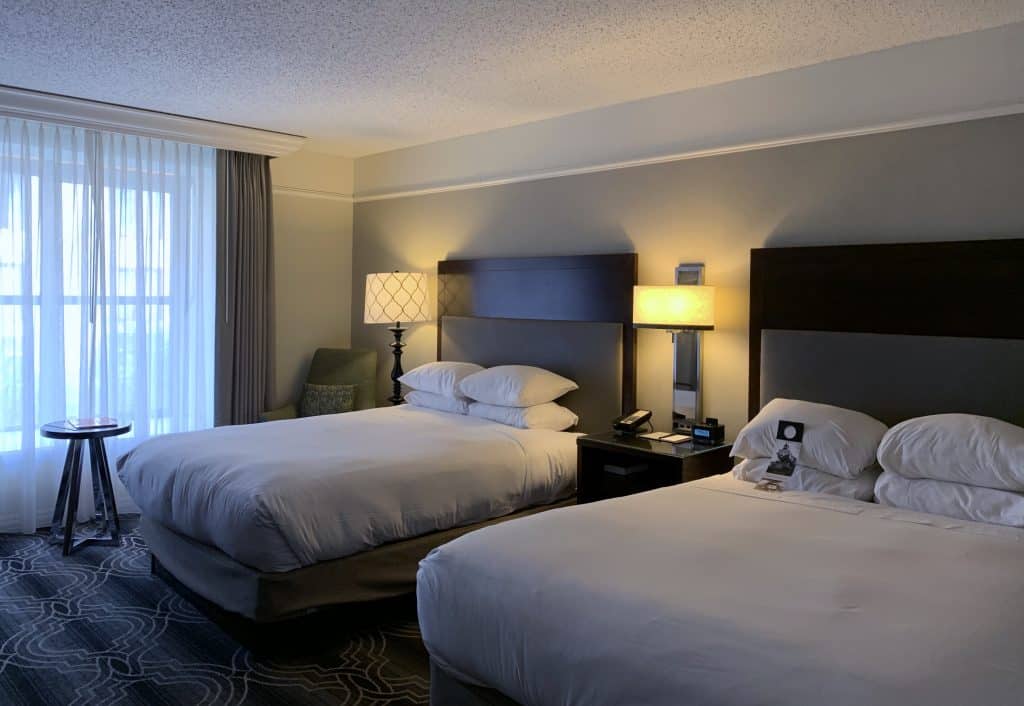 We stayed in the newer part of the hotel, which featured very comfortable beds with premium bedding, a soothing, muted color scheme, train-themed decor and a spacious, modern bathroom.
Our room was immaculate and included a flat screen TV, safe, mini-fridge, WiFi, coffeemaker, and ergonomic workspace. The suites in the original part of the train station are a bit more sumptuous, include a sitting area and some have hardwood floors. Guests are also given exclusive access to the historic side of the hotel. You can see the suites from the link at the bottom of this page.
The Grand Hall & Bar
This beautiful work of stained Tiffany glass depicts the three main US train stations during the late 1800s, in human form: San Francisco, St. Louis and New York. It is a remarkable piece of art. It's also located in the "whispering arch" of the hotel. One can whisper and be heard at the opposite end of the gallery.
My photos don't do the Grand Hall justice. It's a phenomenal lobby and so respectfully restored. Guests can order a drink and small plates from the comfortable seating before enjoying the 3D light show, or take a spot at the spectacular "mile long" bar. You may have a hard time choosing where to sit!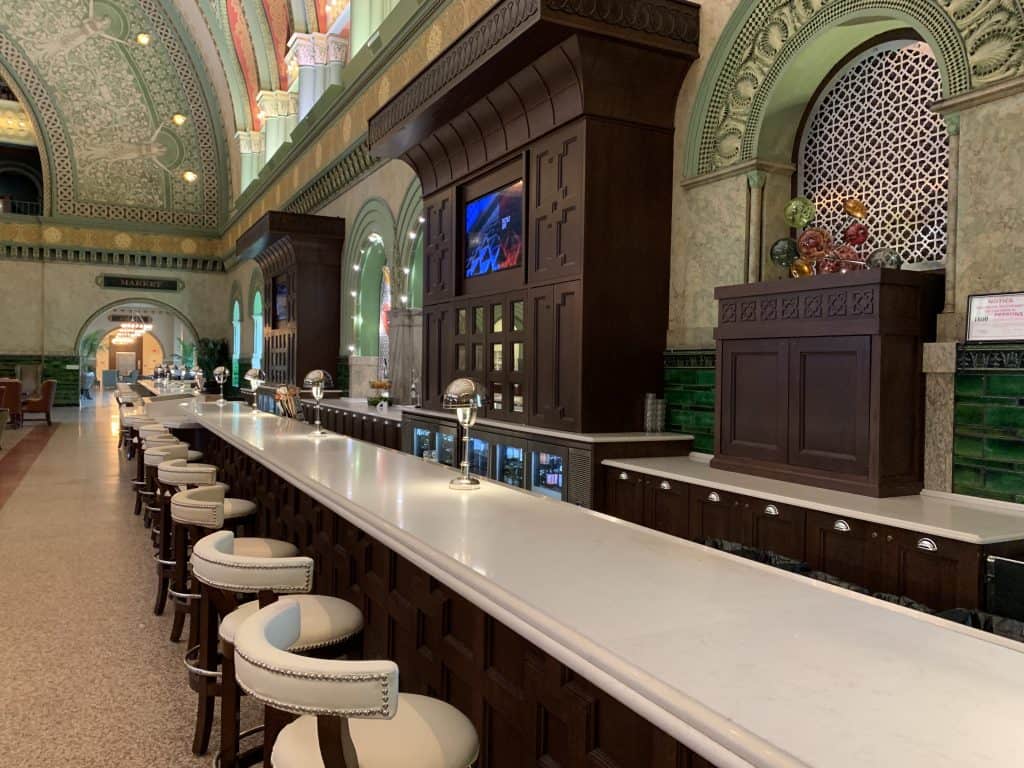 This is the view from the Grand Hall looking towards the entrance to the Station Grille restaurant.
Dining at the Station Grille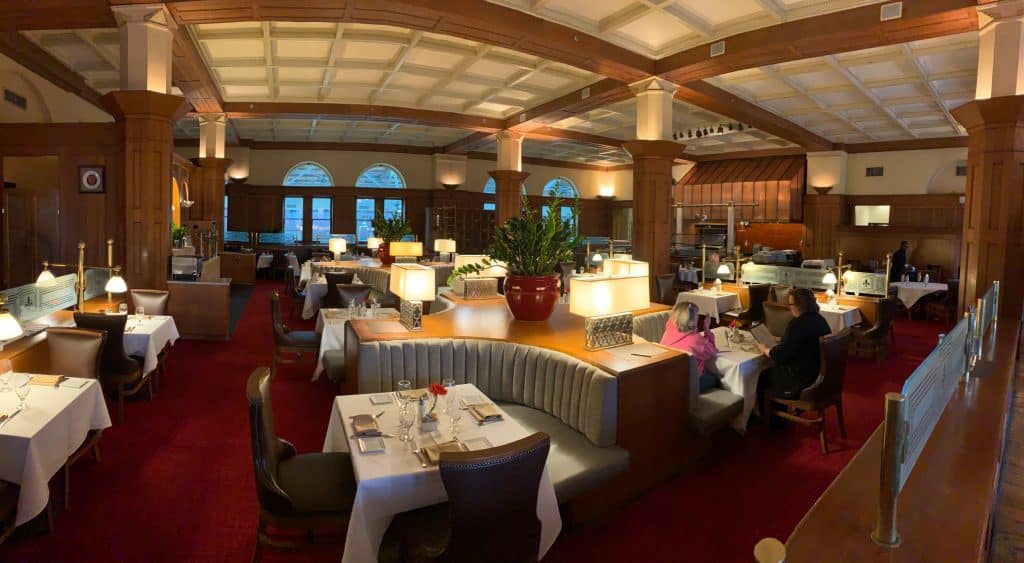 Mum, Dad and I had the loveliest experience dining at the Station Grille. Not only was the food tasty, but the staff and service were wonderful.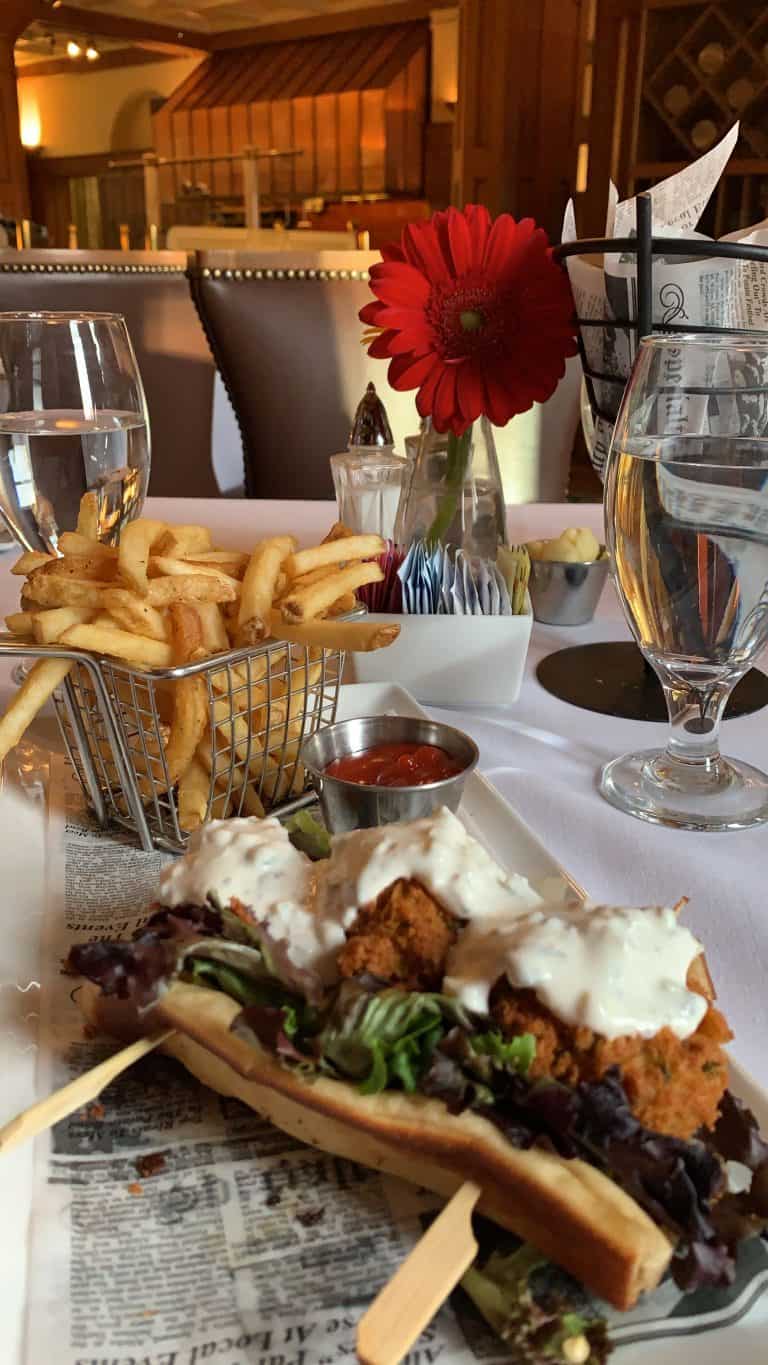 ✎ A historical note on the Station Grille: Fred Harvey, the original owner of the restaurant, revolutionized dining by letting train travelers order on board before arriving in St. Louis. The order was wired to the restaurant, and their food would be ready upon their arrival to the station–sounds like 2019! The movie, The Harvey Girls, starring Judy Garland, was based on the girls who greeted and waited on guests.
Our waiter, Cameron, was absolutely fantastic! He was so funny and entertaining, we wondered if he was a stand-up comedian when he wasn't waiting tables. Cameron did everything to make our meal perfect, and somehow, we had the pleasure of meeting the lovely Chef Kim Lewis, too.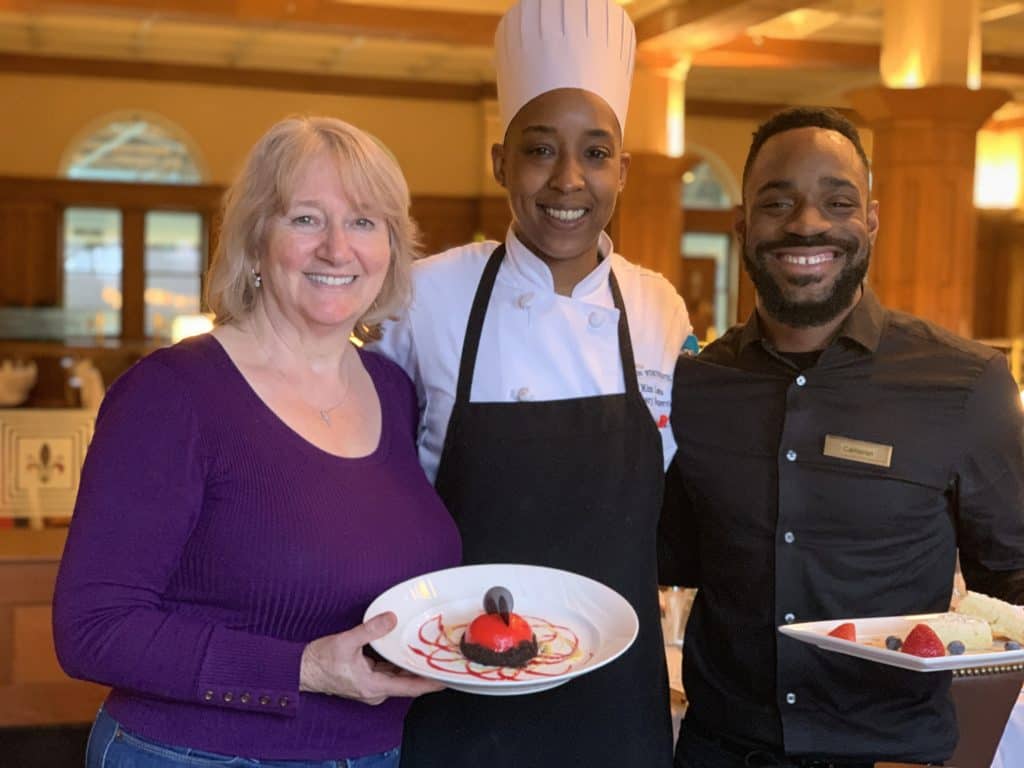 Chef Kim chatted with us about the restaurant, plans for future menus, and local specialties, including the famous Gooey Butter Cake, which wasn't as gooey as I'd pictured in my mind. It was a lovely cake, and I was really happy I was able to try it in St. Louis.
Chef Kim's own creation was a show-stopping Oreo crusted bombe, containing a lovely mousse interior.
At the end of our meal, we realized the next 3D light show was about to start in the Grand Hall, so Chef Kim and Cameron insisted on bringing our desserts out to us to enjoy while we watched the show. They insisted on carrying our treats for us which was so kind.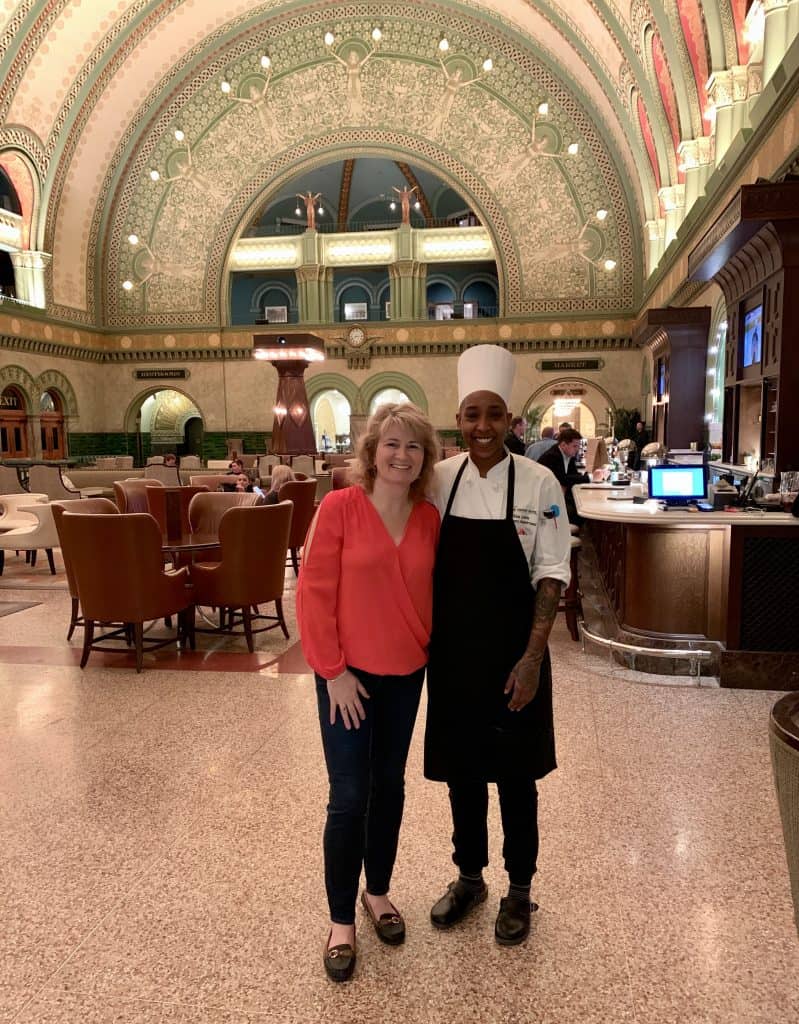 Other options for dining at the St Louis Union Station Hotel include Landry's Seafood Restaurant, and (opening soon) the Train Shed, and also 1894 Cafe for casual food and quick bites.
The Grand Hall Experience (3D Light Show)
I cannot tell you just how much my parents and I enjoyed every one of the 3D light shows at the St. Louis Union Station Hotel's Grand Hall! It was an audio/visual spectacle that was simply mesmerizing. All of the shows were incredibly creative and well presented.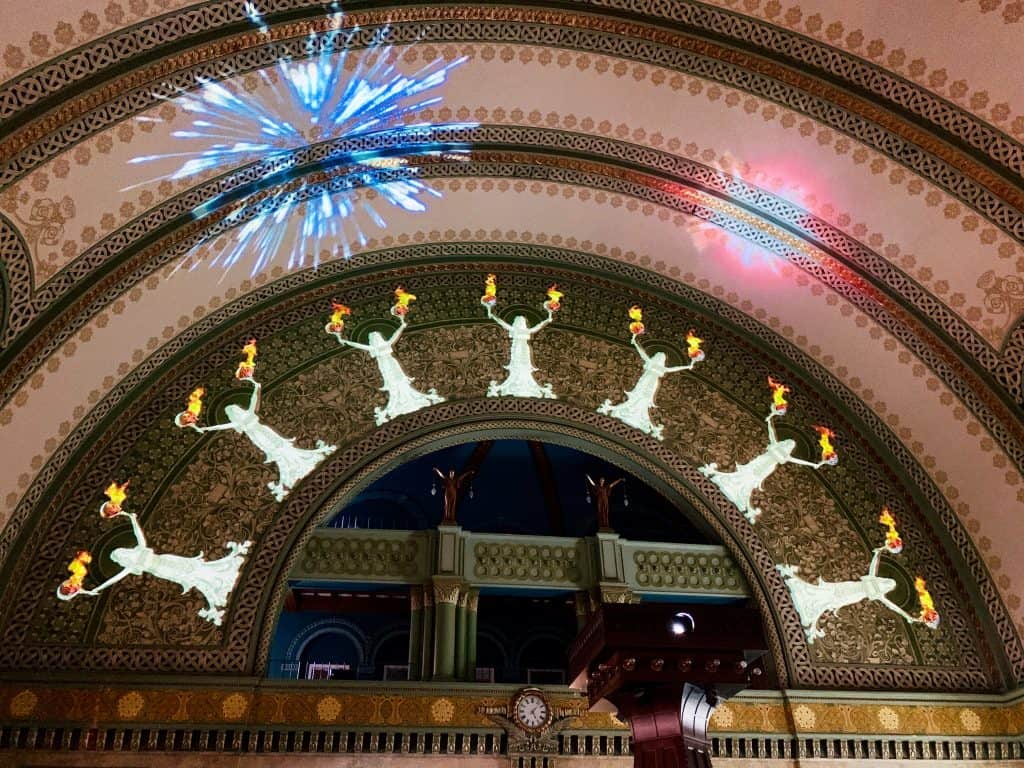 As I said earlier, when I arrived, the first show was an aquarium theme, although the photo below is from the Beatles show.
The other shows included a bird and nature theme, the Beatles, Queen, fireworks, floating lanterns, kaleidoscopes and more. "Created by Technomedia, an award winning collaborator with entertainment company Cirque du Soleil, the 3d light show is the first of its kind in the US." – Union Station Hotel website.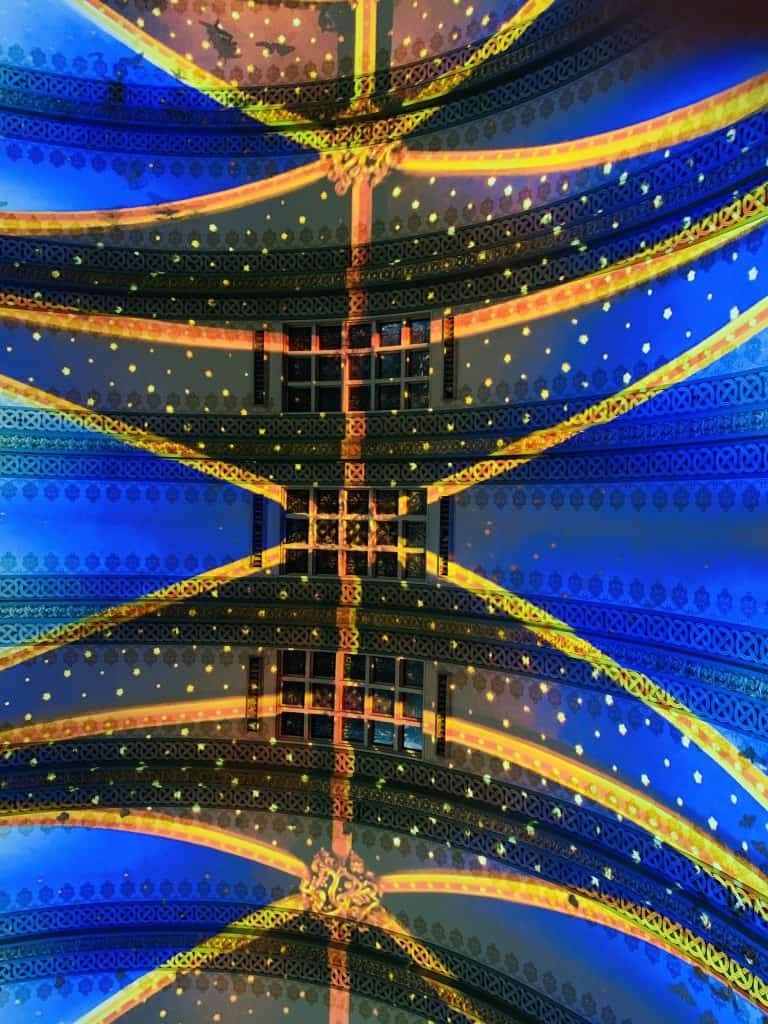 The shows are entertaining for anyone from 0-99! If I lived nearby, I'd be a frequent visitor, bringing anyone and everyone I knew to see the shows. Did I mention they're free?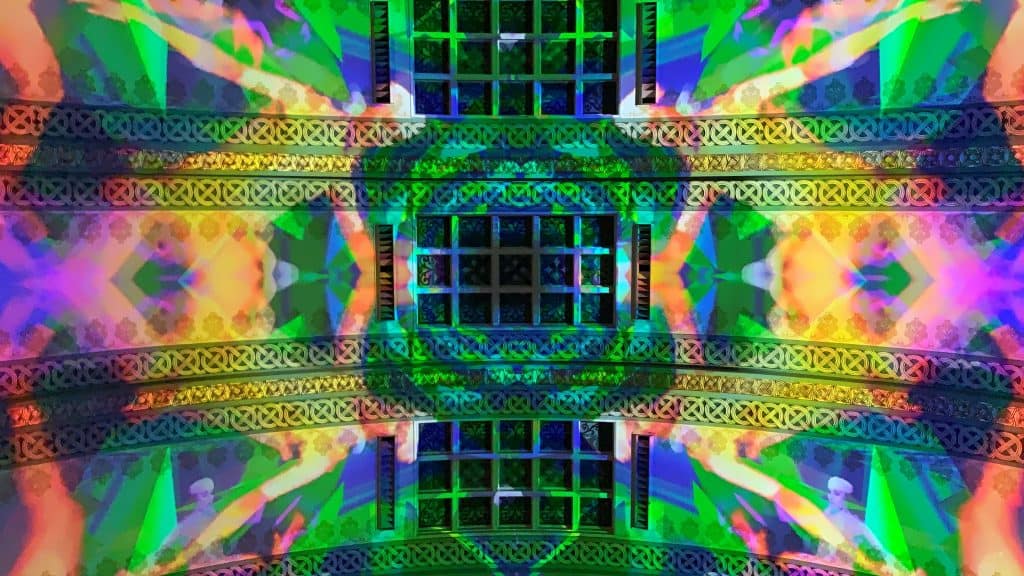 One of our favorites was listening to the Beatles while watching the old photos and colorful show depicting the band and their songs.
HERE IS A LITTLE TASTE OF THE BEATLES SHOW~
The Queen show was also spectacular! They were all so entertaining.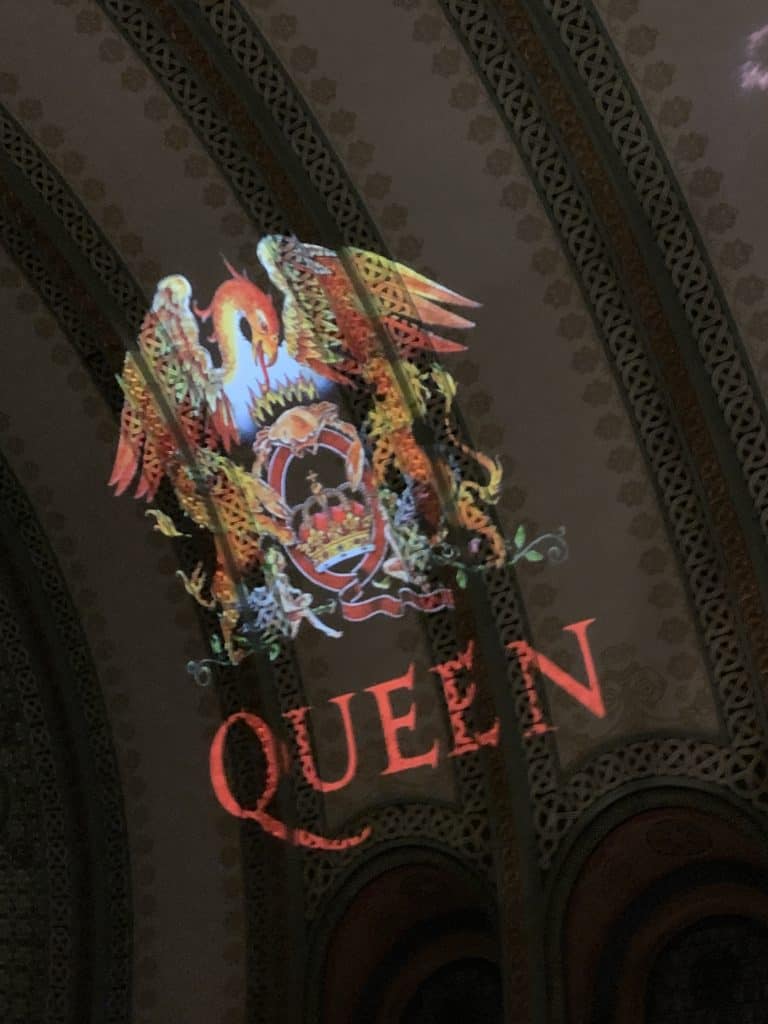 These photos and videos can't express what it's like to see these shows within the Grand Hall. It's a sensory experience to be enjoyed in person. Go if you can!
The Fire and Light Show (Outside)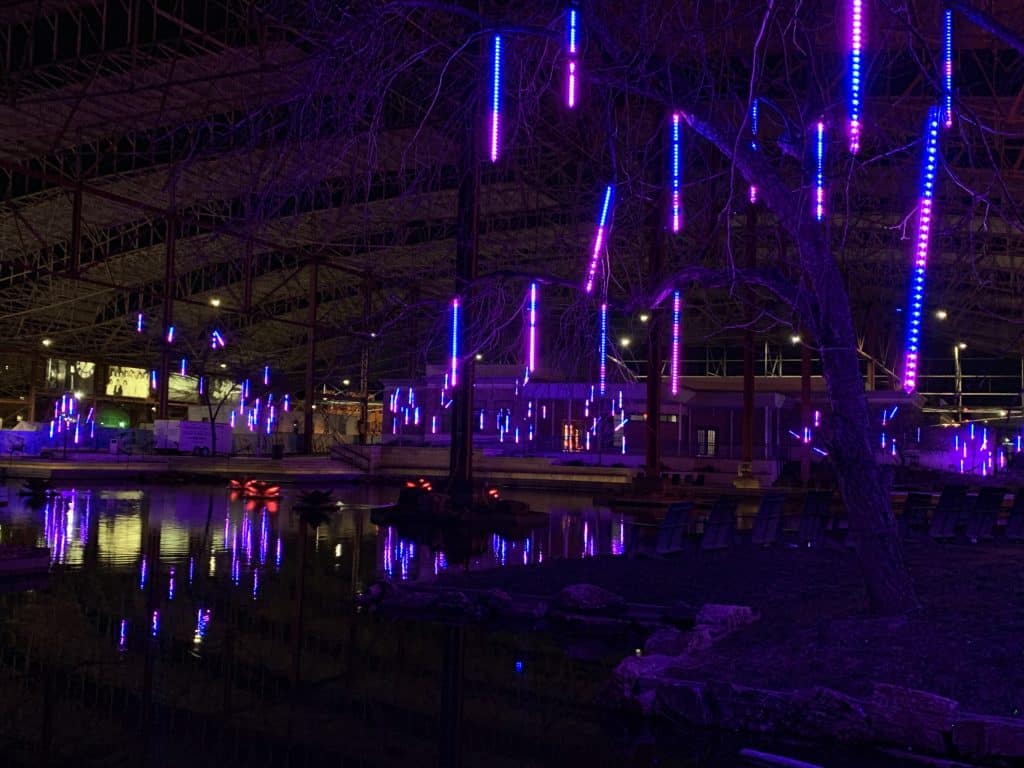 As if the 3D light show wasn't enough to entertain us, there's also a Fire and Light show outside the hotel in the rear (facing Landry's Seafood House). Again, music played in unison with a choreographed fire and light spectacle which was also free to watch.
Breakfast at the St Louis Union Station Hotel
Breakfast is served at the Station Grille.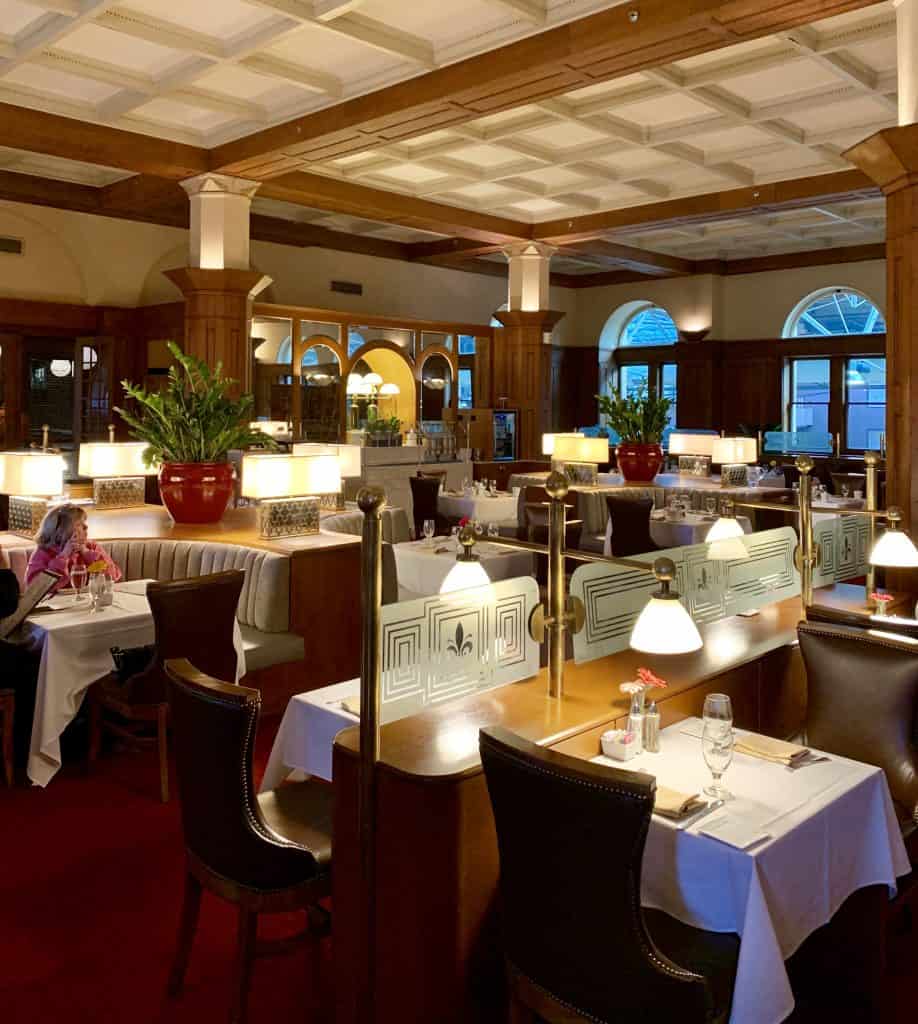 We had the 'all you can eat buffet breakfast' which includes omelettes, waffles, eggs, fresh fruit, pastries, yogurts, smoked salmon, and almost any type of breakfast food you can imagine. I usually don't have waffles when I eat out, as the syrup is inevitably a faux, corn syrup concoction. So you can imagine my delight when I discovered that real maple syrup was available alongside the jams and honey.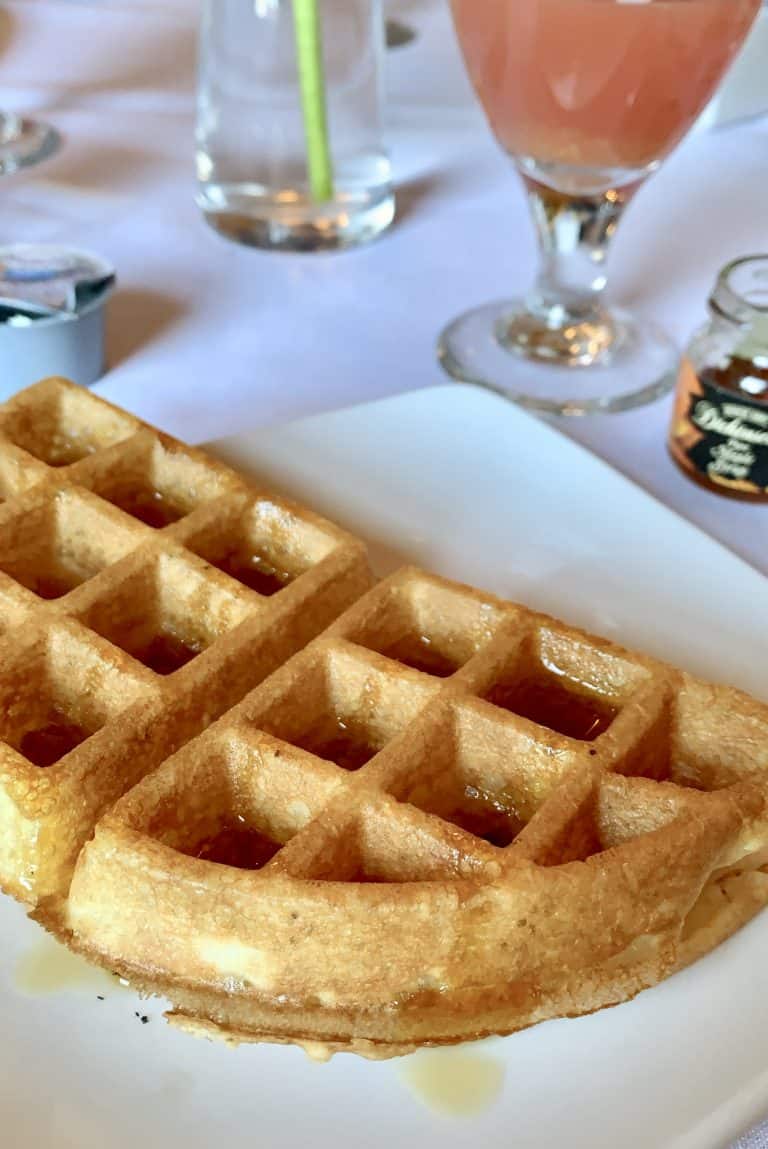 We were all set for our final day's drive to Michigan after our breakfast at the Station Grille. I must add, Jetnor was our waiter, and once again, our experience was enhanced due to the fabulous staff at the hotel.
Grand Hall Market and 1920s Themed Starbucks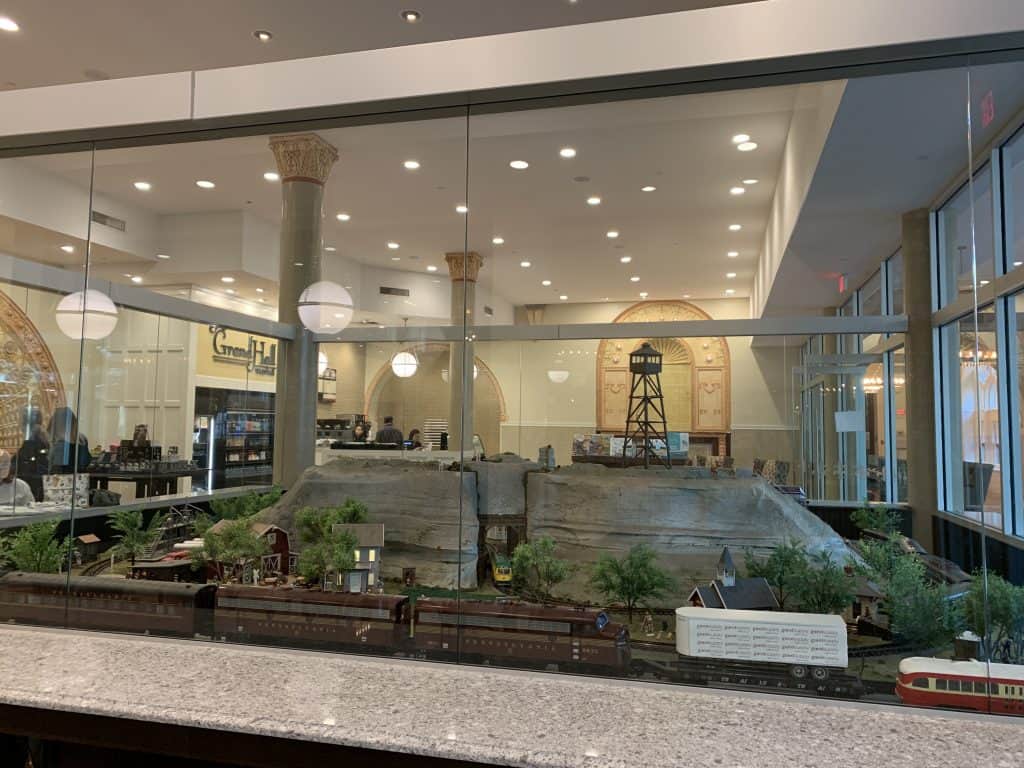 Need to pick up something or grab a coffee from Starbucks? No need to leave the hotel. There's even a gift shop area to buy lots of train-themed items.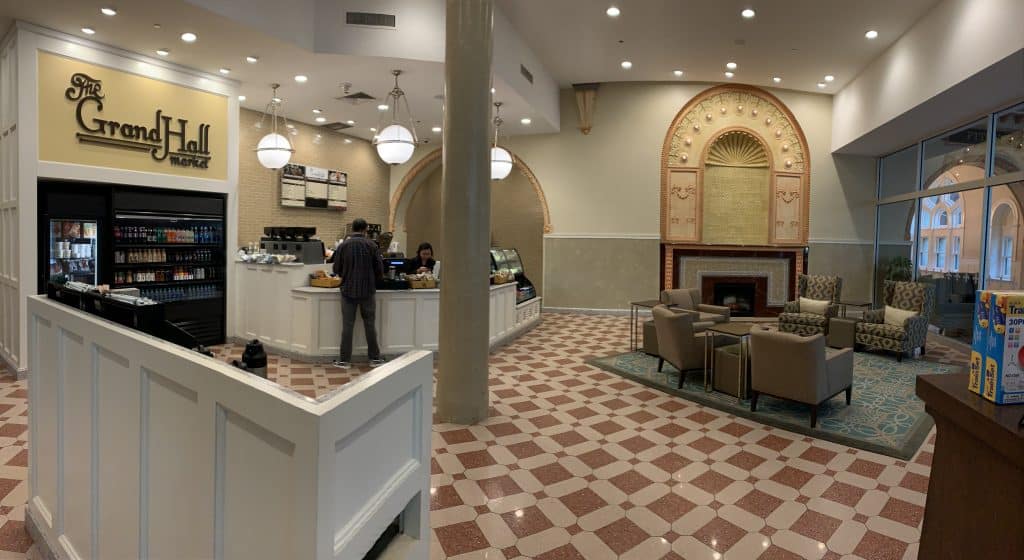 Exploring the St. Louis Union Station Hotel and its History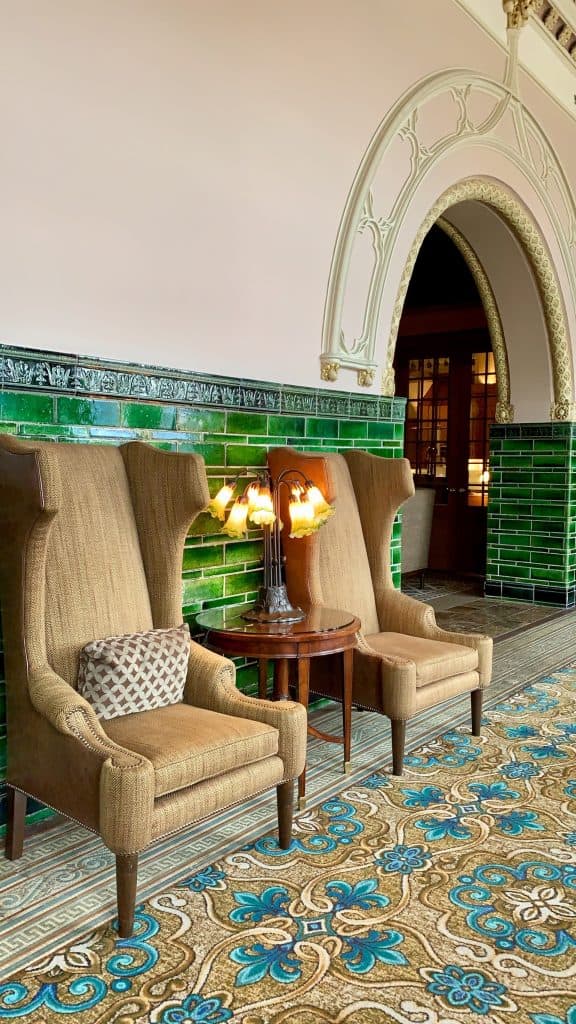 Mum, Dad and I took the time to explore all the public areas of the hotel, and I'd recommend doing this as there's so much to see. Architecture buffs and history hounds will fall in love with the Union Station Hotel.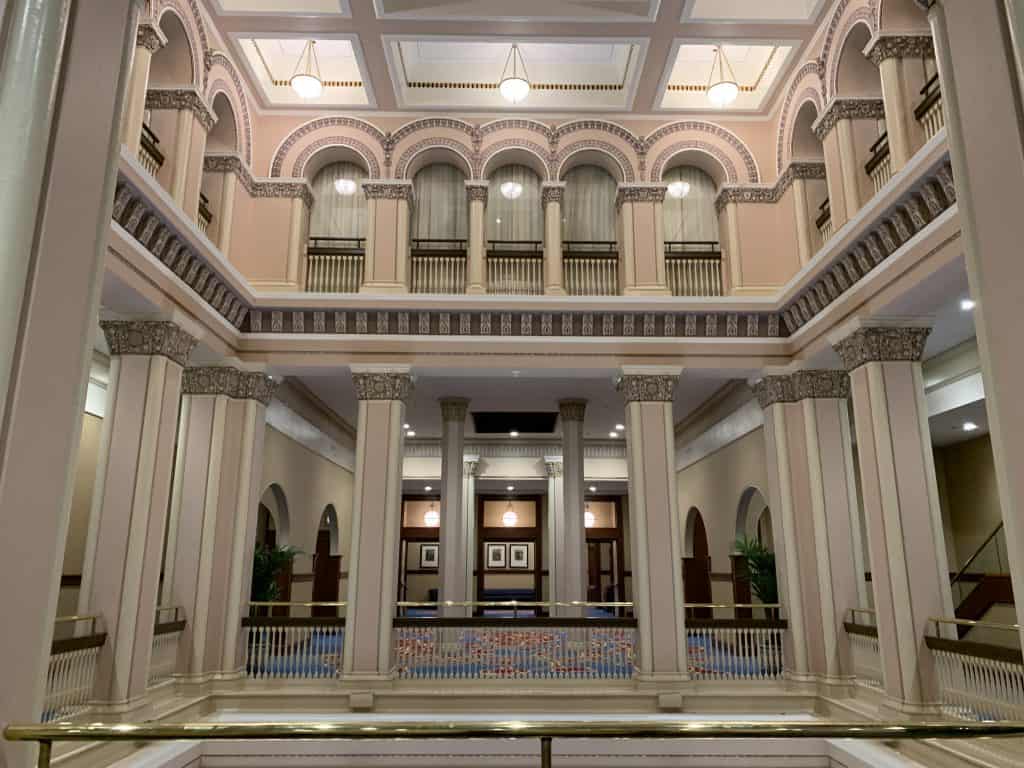 So many different atmospheres, design and charm within the same hotel; it's truly an architectural gem.
We could just imagine the bustling scene here at the train station in the early 1900s. 10,000 passengers passed through here on a daily basis in the station's early days.
There were some architectural drawings of the plans for the train station, as well as old photos which we enjoyed viewing. So much history lives in the building.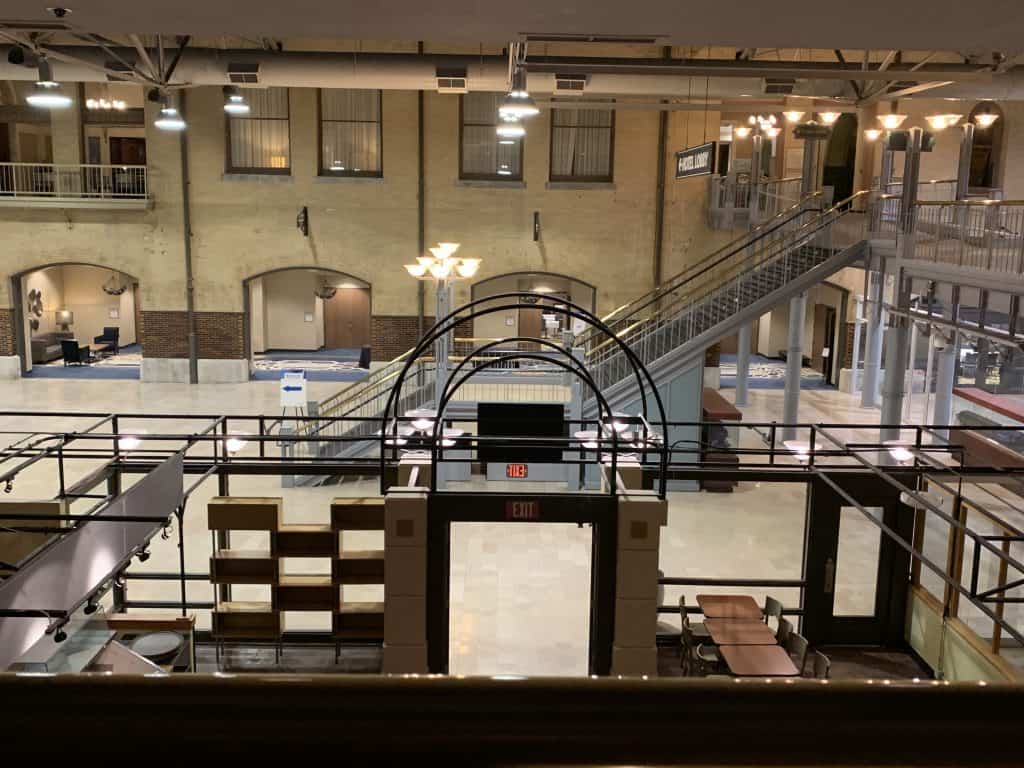 This is on the other side of the Grand Hall. It gives a little perspective on the sheer size of the St. Louis Union Station Hotel.
Lots of places to relax.
Or if relaxing isn't your thing, the gym is gorgeous!
Coming Late 2019: St. Louis Aquarium at Union Station
This is so exciting: a 120,000 square foot aquarium is opening inside the St Louis Union Station Hotel later this year! We never left the hotel while we stayed there, but can you imagine how wonderful it will be to take the family once the aquarium is open? See more about the world class aquarium in the link below.
Location in St. Louis
The St. Louis Arch is visible from the front of the St. Louis Union Station Hotel. It's a great base for exploring St. Louis, which we need to do because we were so smitten with our hotel, we never left!
I hope I've piqued your interest in this historic hotel and that you've added it to your list of places to visit? I know you won't be disappointed if you visit the St. Louis Union Station Hotel in Missouri!
For more information or to make a reservation at the Curio Collection by Hilton
St Louis Union Station Hotel, CLICK HERE.
For reservations at The Station Grille, CLICK HERE
To see the suites, CLICK HERE
For more on the Grand Hall Experience CLICK HERE
For more information on the St. Louis Aquarium CLICK HERE.