Villa Del Palmar at the Islands of Loreto All-Inclusive resort is a Little Bit of Heaven in Mexico Celebrity Pastry Week Baja California
Loreto, Mexico has been on my bucket list for years, and now that I've been to the all-inclusive Villa Del Palmar at the Islands of Loreto, I hope to be back soon.
Disclosure: I was hosted by Villa Del Palmar on a press trip for Celebrity Pastry Week, however, as always, all opinions are my own.
As an Amazon Associate I earn from qualifying purchases.
SEE BELOW FOR A SPECIAL DISCOUNT CODE (about 25% off)!
It was Celebrity Pastry Week at the resort, so we were geared up for sun, sea and baking! Sounds like something I would enjoy, right?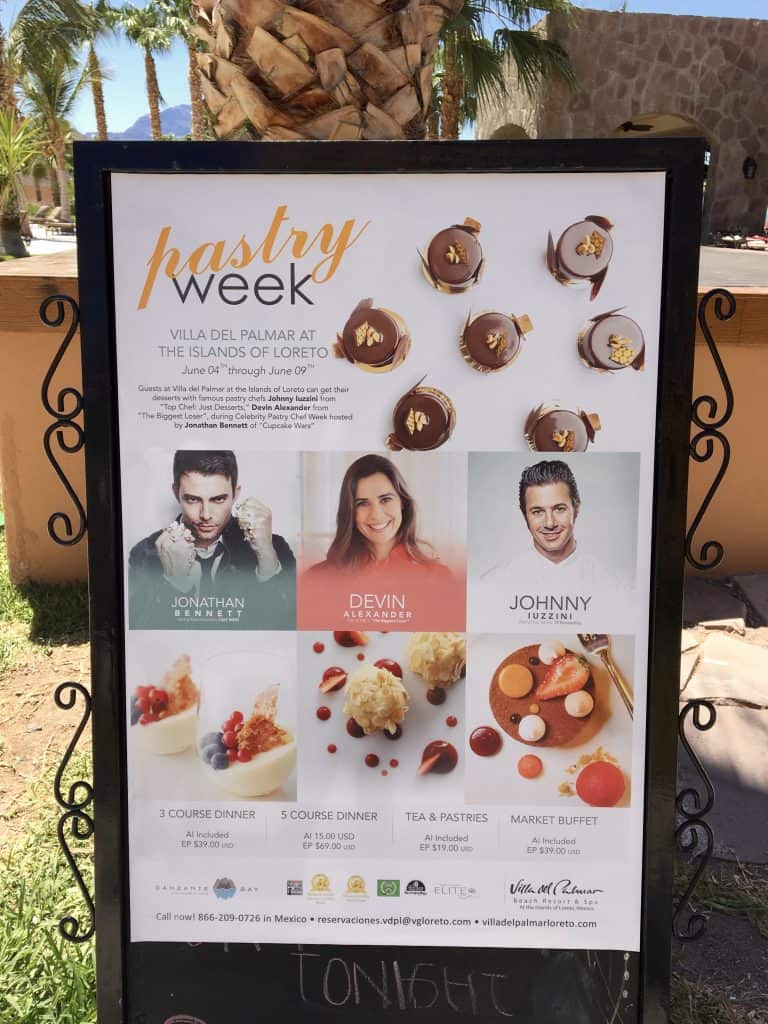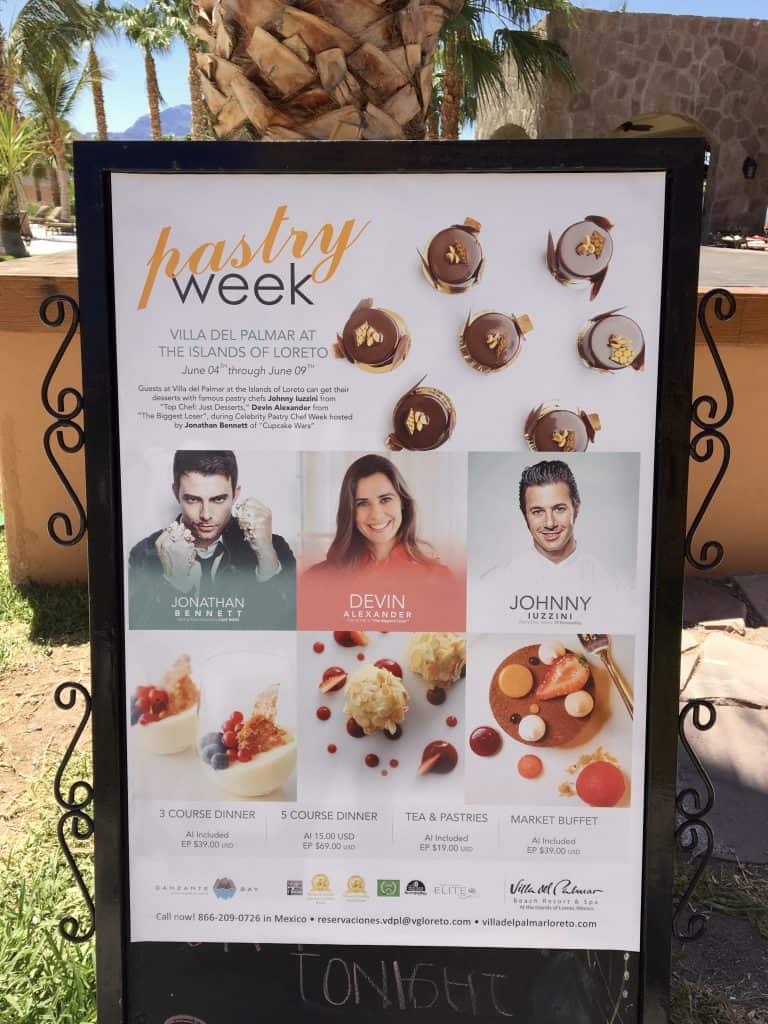 Arriving by Air
Loreto airport (LTO) is one of those intimate little airports everyone loves! We flew Alaska Airlines from LAX (Los Angeles International) which has direct flights arriving in under 2 hours. Look at this view walking from the plane into the airport.
From the Loreto airport, which is very close to the little town of Loreto, it's only a 25 minute drive to Villa Del Palmar Resort.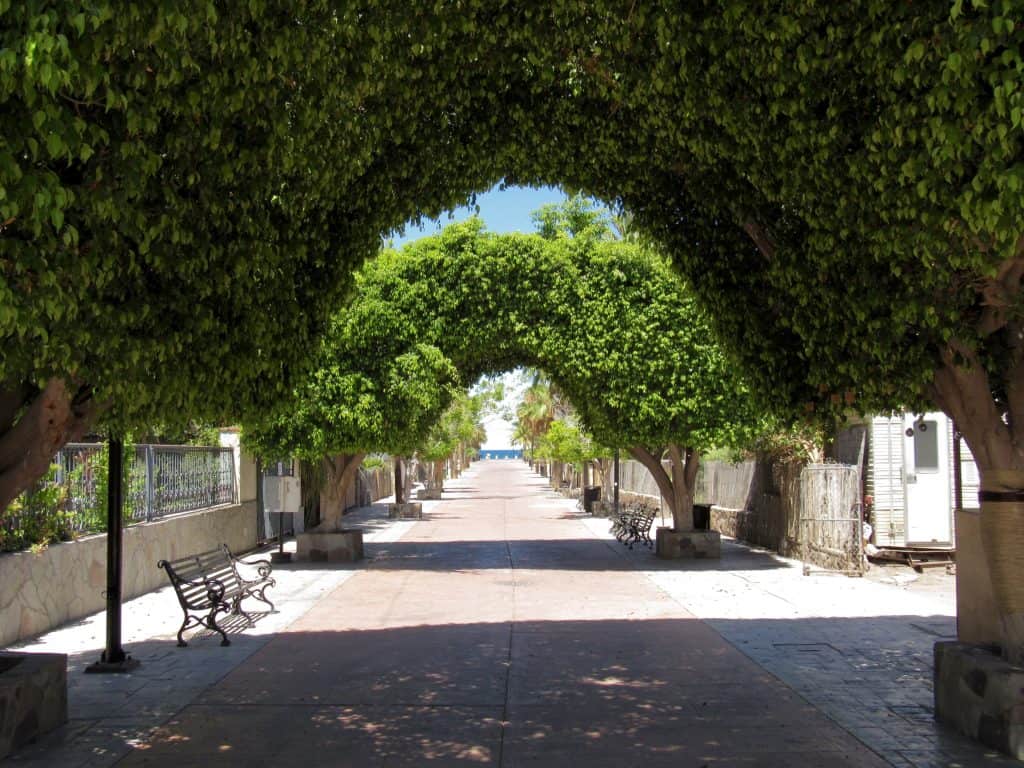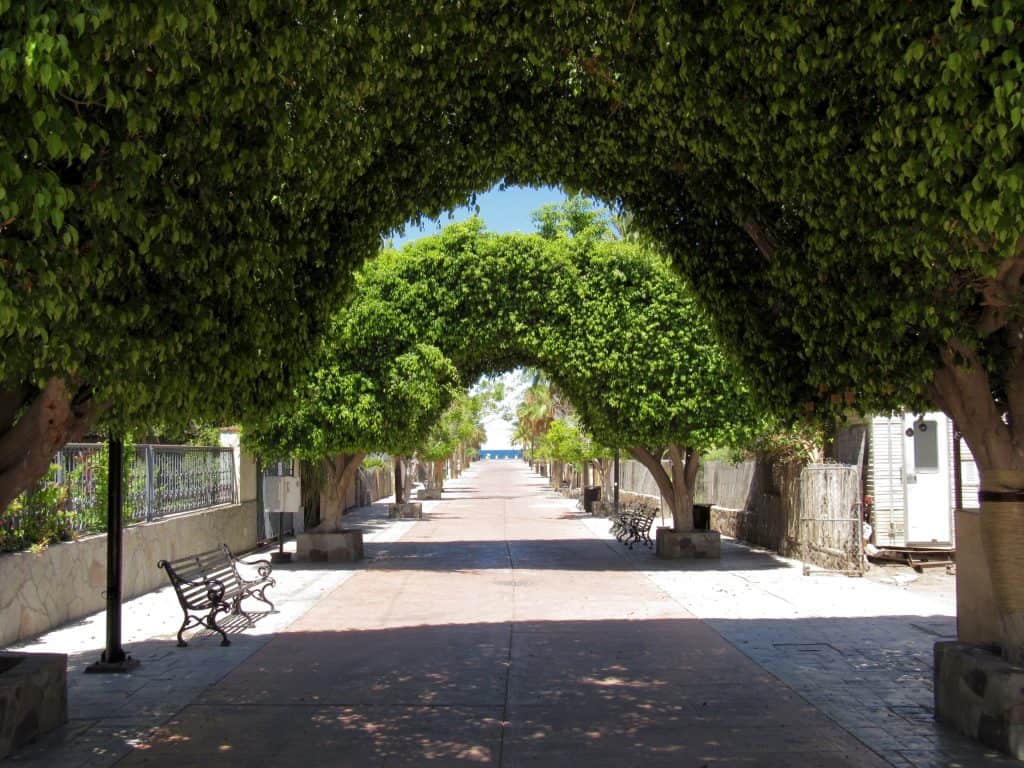 The Resort
As you can see from the photo of the resort below, this is a place to "get away from it all". This resort is geared for those who want to relax, do a digital detox, explore nature (both on land and in the sea), have a spa weekend, or golf on a world-class course (more on golfing below). Villa Del Palmar at the Islands of Loreto has won several travel awards, including "Mexico's Leading Beach Resort" in 2016.
The lobby is large, yet comfortable. The WiFi is good in this area, so we'd catch up on social media while we were here.
Compared to the other all-inclusive resorts I've been to, Villa Del Palmar in Loreto stands out for several reasons and one is the massive size of the suites and the BALCONIES! I have seriously never seen such massive balconies in my life, especially one that I could call my own!
The Suites
I don't even know if it can be called a balcony because it was like another outdoor room. Some corner rooms' balconies are twice as big and all have lounge chairs as well as a patio dining set. You can see better photos of the suites HERE.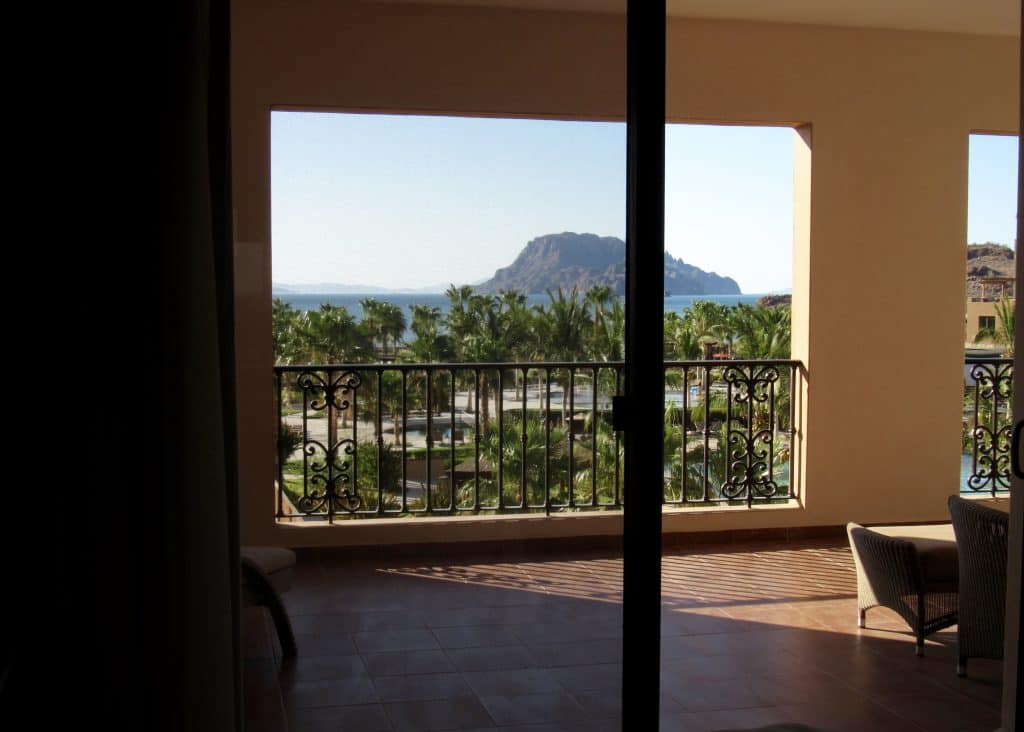 Yes, there's a kitchenette, and would you believe a washer/dryer, too? The suite is perfect for a family to enjoy a week away, and there are two options: hotel only rate or all-inclusive. So if you want to cook your own food, from time to time, you can. You won't ever find such a place with Airbnb.
In my opinion, the resort is large, without being too big. I never felt it was a bother to walk from one end to the other. The beach was a five minute walk and I was in the farthest building. One brilliant feature everyone loved was not having to carry a room key anywhere!
Everyone is given a wrist band (we had the all-inclusive bands) and when you want to go into your room, you just wave your wrist near the lock! This was such a novel feature that we were all discussing how brilliant it was, especially when you go to the pool, or participate in any water activities.
We all loved the spa bath and I took advantage of it by having a bubble bath twice! This is a luxury I have not indulged in lately because of our California drought. I also didn't feel guilty because Villa Del Palmar uses a desalination process for their water usage! They are ecologically friendly in many ways, such as using solar panels, recycling and growing some of their own produce, and I really like that.
The resort has a five different swimming pools (including an adult-only pool) on a prime spot on Danzante Bay with the mountains nearby. The landscaping is primarily coconut palms, aloe, agave plants and flowering bushes–it's just gorgeous.
Food and Beverages
There are three restaurants: The Market (buffet), Casa Mia and Danzante. We mostly ate at Casa Mia and Danzante during our stay. (Note: there is a $15 fee to eat at Danzante with the all-inclusive plan.) You can also order by the pool and have room service, if you prefer not to dine in the restaurants at times.
Here are the few of the dishes and drinks from my stay~
Beverages (except for premium liquors and the in-room mini-bar) are part of the all-inclusive plan. Be sure to get a fresh coconut from the bar on the beach. Once you've drank all the coconut water, the bartender will make you a drink in your coconut shell (see the photo below in the collage)!
He'll also cut up a fresh coconut and serve it to you in a cup with Mexican spices and sauce on top (I'm a coconut purist and ate it plain)!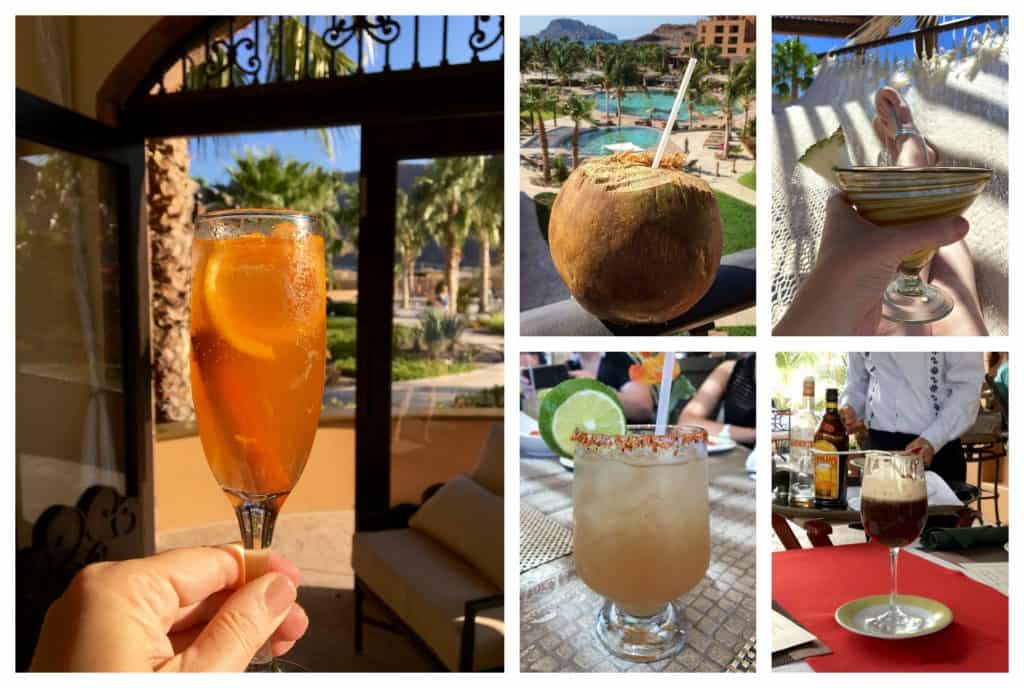 Sabila Spa & Gym
I had a very brief introduction to the 39,000-square-foot, luxury Sabila Spa, but I'd love to experience more. The spa is another standout at this resort. It is in a separate building from the main suites and is decorated in a fresh kelly green. The locker room, showers and wet areas were all very clean and inviting. I was able to spend a few minutes in the jacuzzi, then was treated to a 25 minute back and neck massage which was heavenly! I definitely could have used more time on that bed. :)
As you can see from the photos above, the treatment rooms at Sabila Spa were also massive. I've never seen such large treatment rooms in a spa, again, with great views.
I have to add, Claudine, the spa director, was very kind in giving me some cut up aloe to put into my bath after I got a bit of a sunburn on my back the first day. That's what happens when you spend a month in the UK then go directly to Mexico–oops!
The gym is in the same building as the spa, and was very spacious. The machines looked out toward desert, mountain or sea views (or a combination of the three).
Danzante Bay Golf Club
I have to preface this by saying that I am not a golfer and normally wouldn't even discuss the golf course, but I am compelled to tell you about this golf course! First of all, it's not even completed, and won't be until the autumn. So why is it so special? Well, it's absolutely stunning!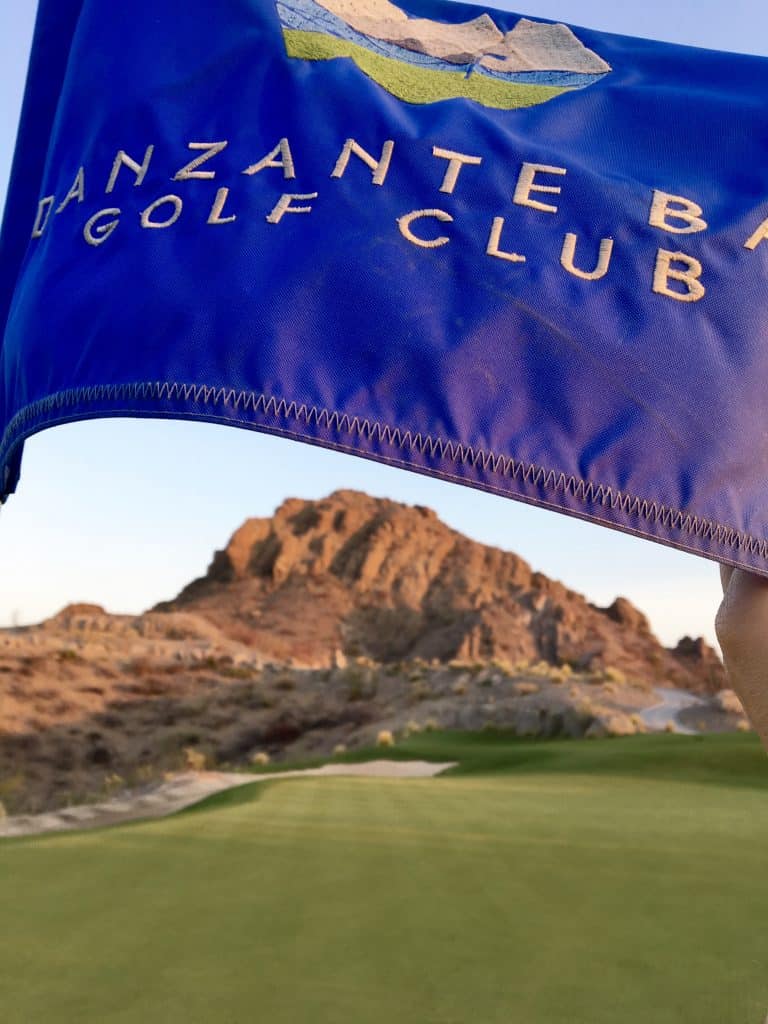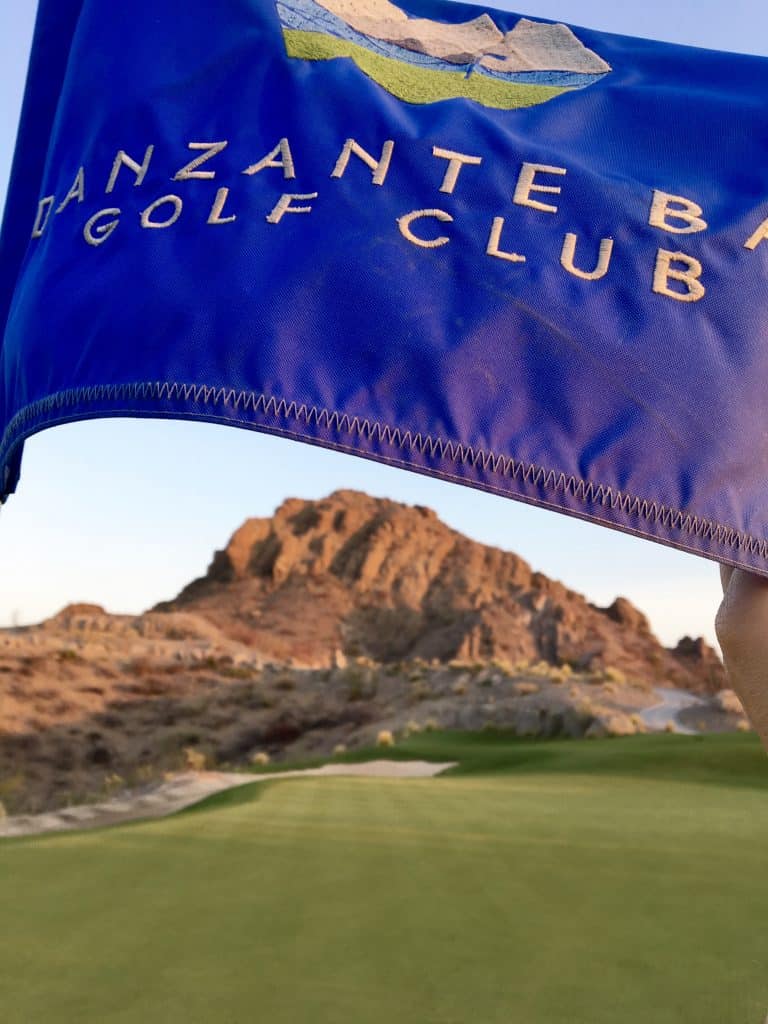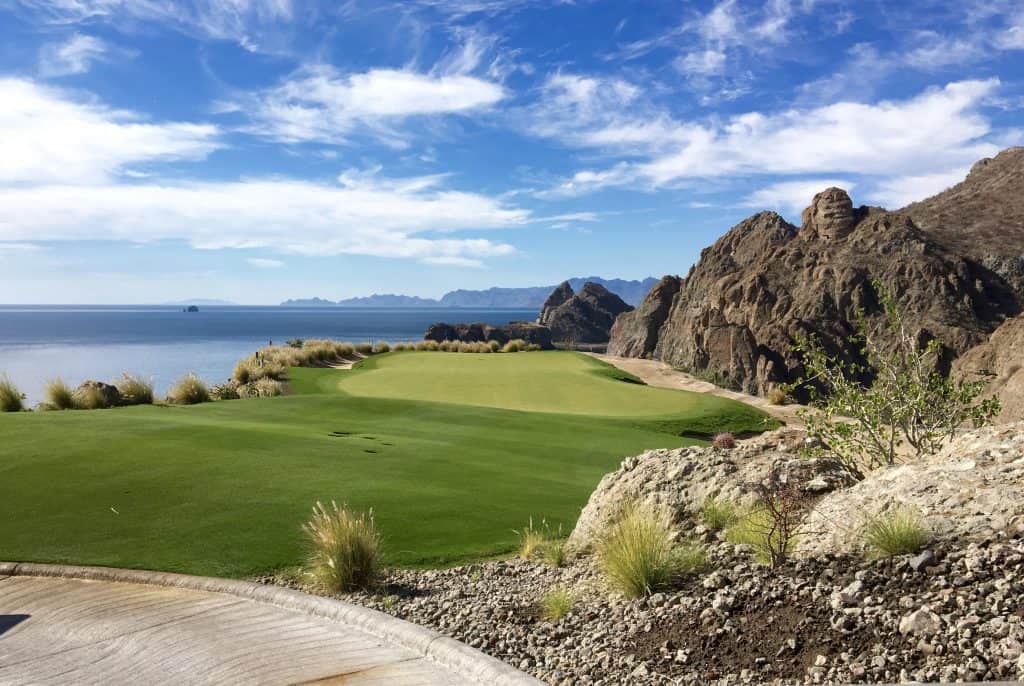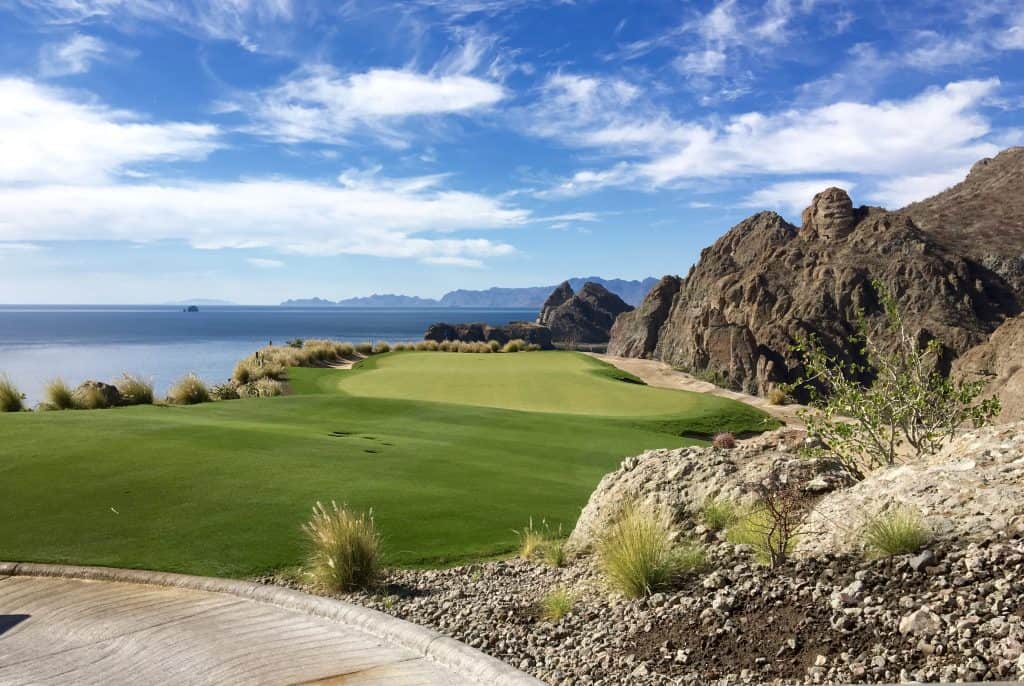 It is probably one of (if not the) most beautiful courses I've ever seen, and I was just at St Andrews. I got up before 6 am twice, just to watch the sunrise from the 17th hole! I am not a morning person, so that's really saying something!
If you are a golf lover, this Rees Jones designed course is going to be your next dream destination to play golf. So far, 11 holes are completed and can be played. The course is already receiving accolades from golf publications and more. I think it's going to be a hot ticket this fall (opening November, 2017).
Activities ~
Hiking, Kayaking, Paddle-Boarding, Snorkeling, Tennis, SCUBA Diving, Fishing, etc.
We started our first full day at the Villa Del Palmar at the Islands of Loreto resort with a short hike. Our guide, Carlos Alberto, was nothing short of inspiring with his explanations of all the different plants and their uses, and how to survive if one is lost in the desert (not that this was a concern)! There's also a place nearby to see a large collection of ancient cave paintings, estimated to be 1000 to 1500 years old.
Although I have been to all-inclusive resorts in Mexico several times, until this trip, I'd never been to Loreto. One thing I loved about the location is all the sea life, birds, and the local flora and fauna. In fact, Jacques Cousteau once called the Sea of Cortez "The Aquarium of the World".
During our trip, we were taken on a boat tour of the islands which included snorkeling, lunch on honeymoon beach and a few hours in the town of Loreto. What a great way to spend a day!

One of the main reasons I have always wanted to go to Loreto was to see the whales that arrive to birth their calves in the Sea of Cortez. The Baja Peninsula is actually known as Mexico's playground for whales. Unfortunately, we visited just a little late to see the whales, but since snorkeling is one of my favorite things to do, I was elated that I was able to go snorkeling twice.
We also saw a sea turtle swimming nearby, and lots of blue-footed booby birds, pelicans and other sea birds. (Here's a little clip from Kristie Hang who was also on the trip.)
After snorkeling, where I saw huge starfish, needlefish, and so much more sealife, we stopped for lunch on the beach with sandwiches, chips and guacamole, and drinks.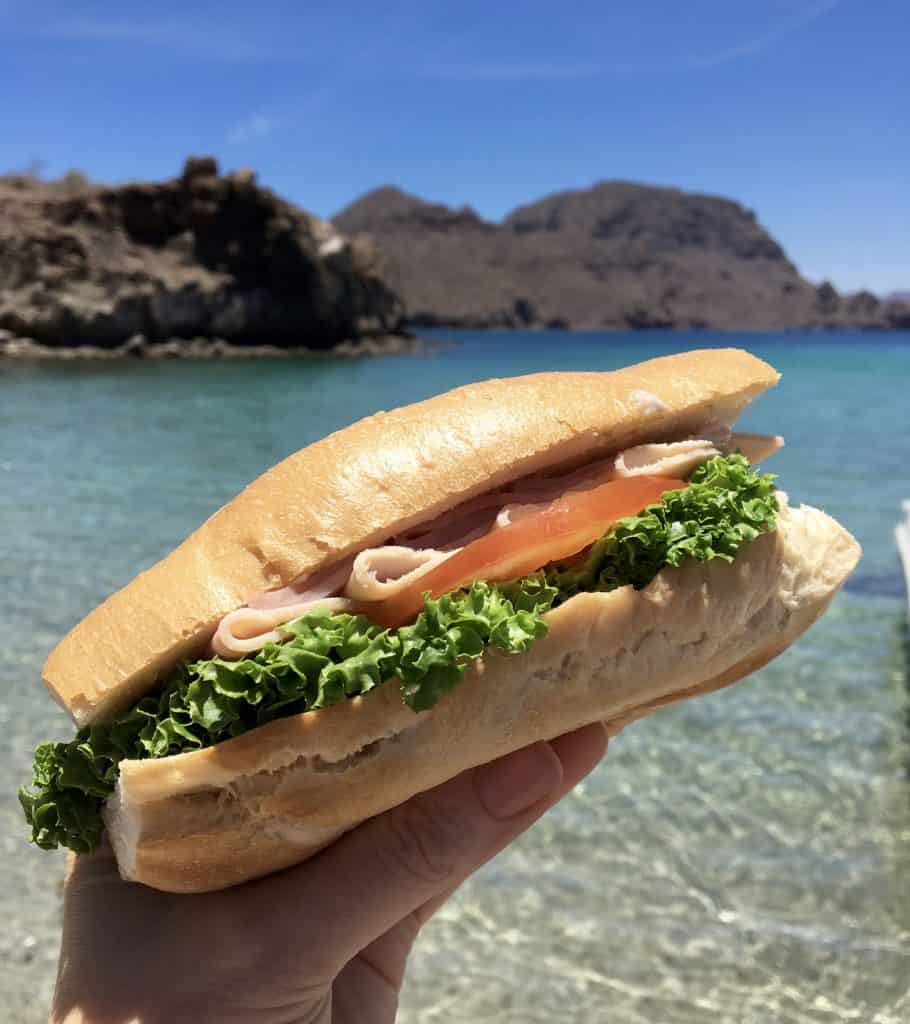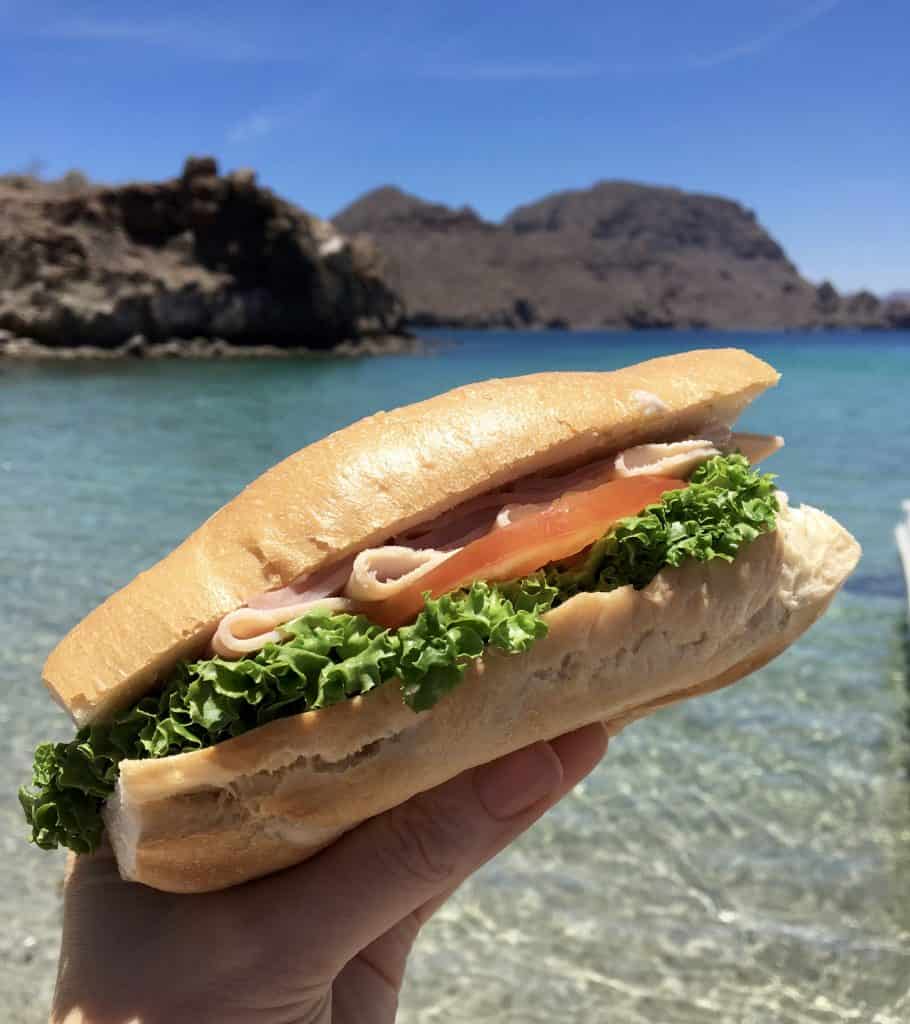 We were the only ones there; it was our own private island for the afternoon!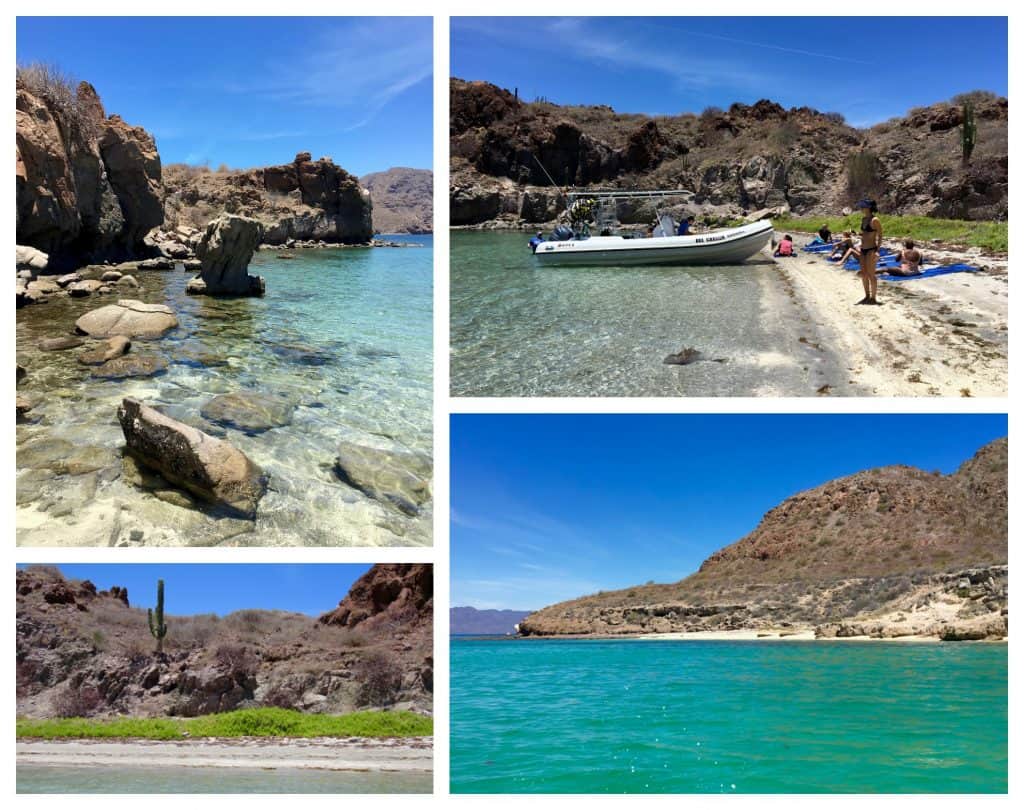 It would be very easy to spend each day doing a different activity at Villa Del Palmar at the Islands of Loreto. Another day we went kayaking and snorkeling on one of the nearby islands.
The Town of Loreto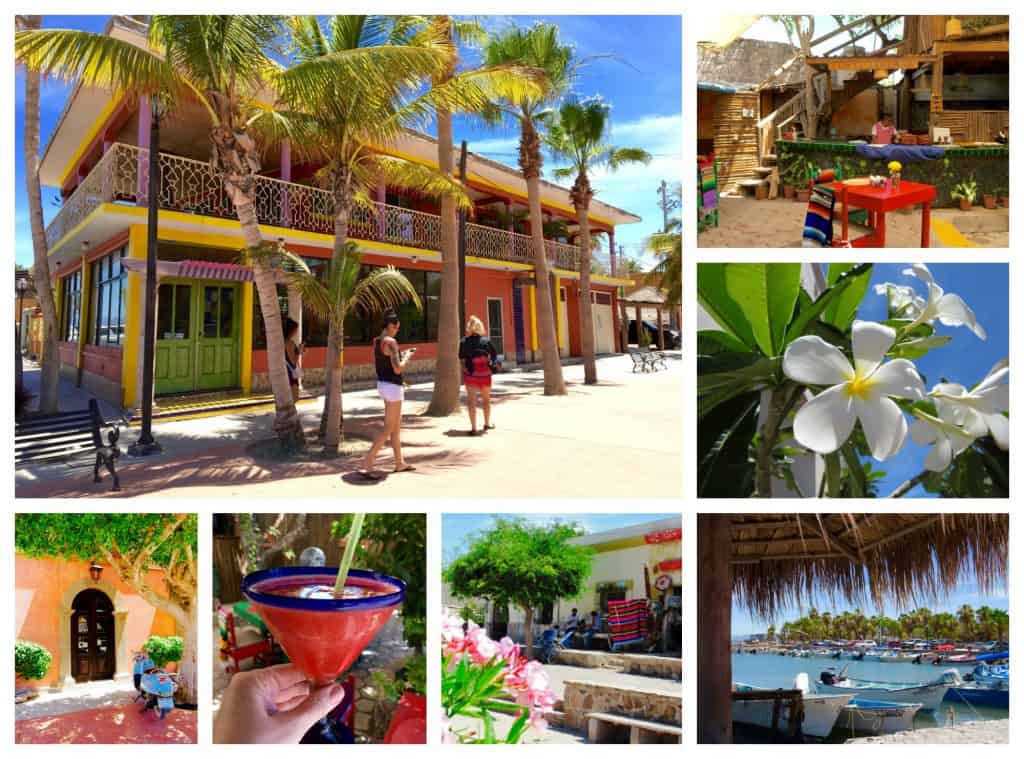 As you can see, it would be difficult not to fall in love with the colorful little town of Loreto! It is like walking back in time. Our group was about the only tourists who I saw there, and there was so little traffic going down the main street in the older part of town (there's only one stoplight in Loreto). I bought my niece a little dress and had a frozen drink with a few friends from the group (thank you, Eddie!)
I loved that the very first mission that was ever built on the west coast of North America in 1697 was right here in Loreto. It was great that I could visit such a wonderfully historical site on a trip to an all-inclusive resort!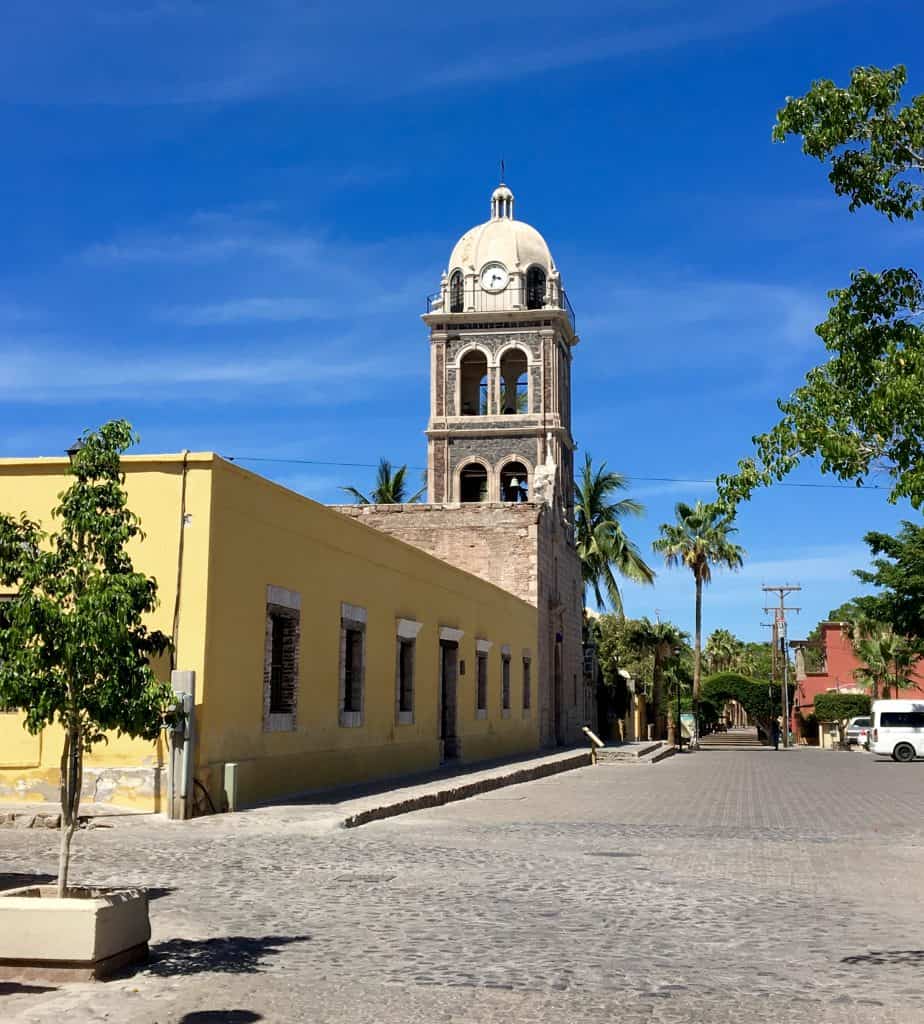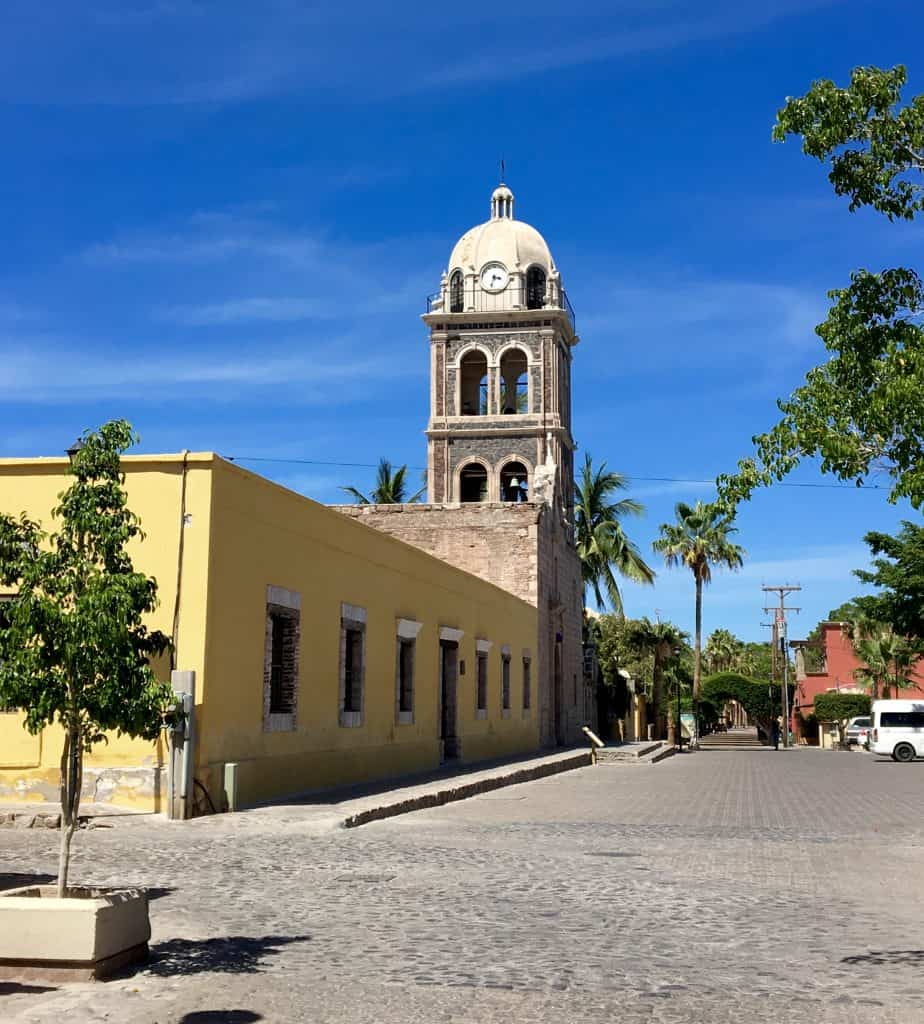 The Beach
These photos actually don't do this beach justice. The sand is soft and clean, but bring sandals or beach shoes as it gets extremely hot. You can start hikes from here or simply walk over to some beach chairs which are situated on a low bluff to enjoy the views from a different spot.
There's also a private, luxury tent near the beach which can be rented (honeymooners are the most usual guests).
Celebrity Pastry Week
Last, but not least, we had a good time getting to know the TV chefs and celebrities like Chef Johnny Iuzzini from Top Chef and The Great American Baking Show (amongst many others). Jonathan Bennett, host of Cupcake Wars, and Devin Alexander from The Biggest Loser were also at Villa del Palmar at the Islands of Loreto.
Click the photo below to see these guys in action!
Chef Johnny gave a very entertaining and educational cooking class by the pool one afternoon, where he made a chocolate sesame cake, and churros with dulce de leche. Both recipes are from his latest cookbook, Sugar Rush.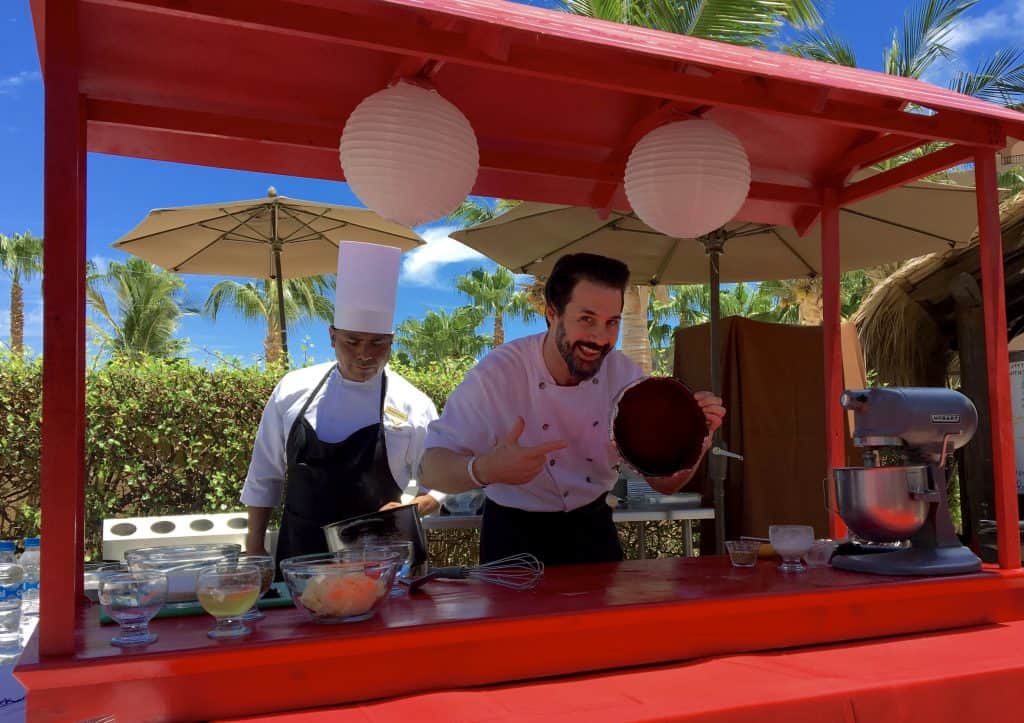 Pastry week included a buffet selection of 15 different chocolate desserts! There were actually too many to try, but we all did our best! Johnny's chocolate sesame cake was there along with "Not Only in Your Dreams" cake. There were many others from the chefs at Villa del Palmar at the Islands of Loreto.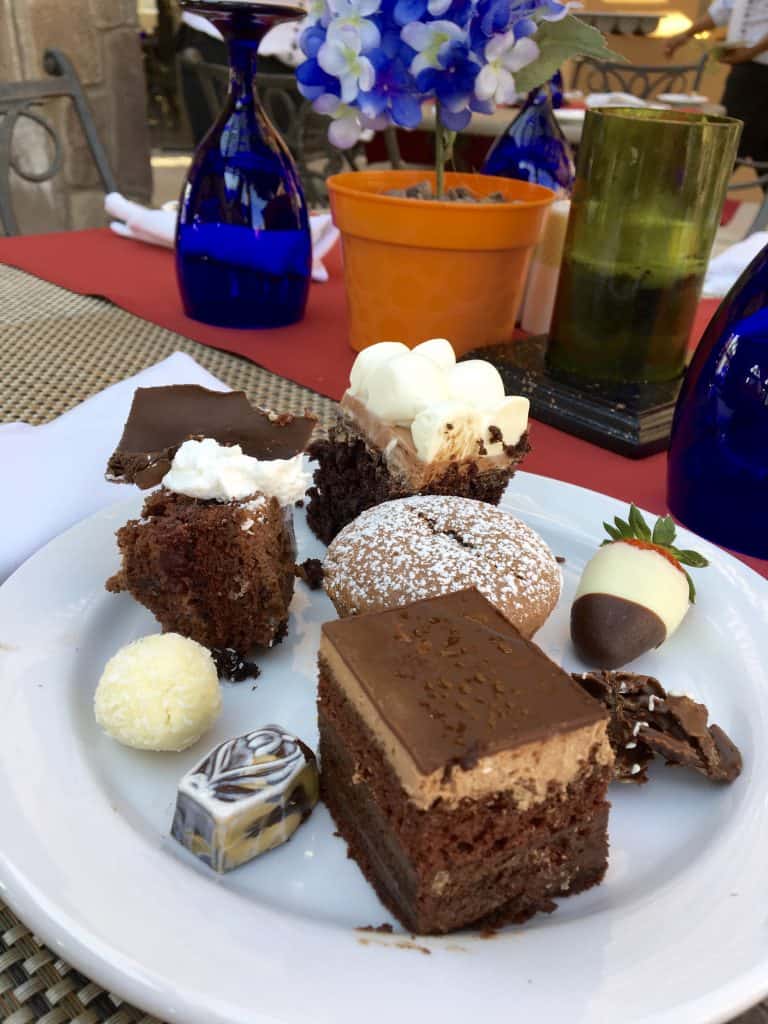 Tips Before You Go~
Bring lots of sunscreen (and aloe)! You'll need it for outdoor activities, especially during the midday hours.
Although I was able to get WiFi on my balcony, not everyone in my group could. WiFi is not available in rooms. (This is great if you want a digital detox or want to keep kids off the internet during vacation!)
There's an ATM in the lobby and Palmita Market on site to buy groceries or most things you may need during your stay.
There's a kids' club for children 5-12, open daily from 9:30 to 5:30 pm.
You can rent a car directly from the resort through Hertz.
IMPORTANT: when you enter Mexican passport control and customs, they will give you back a part of the form you filled out to enter the country. KEEP THIS PAPER SAFE! You will not be allowed to leave Mexico without it.
For more information click the link below~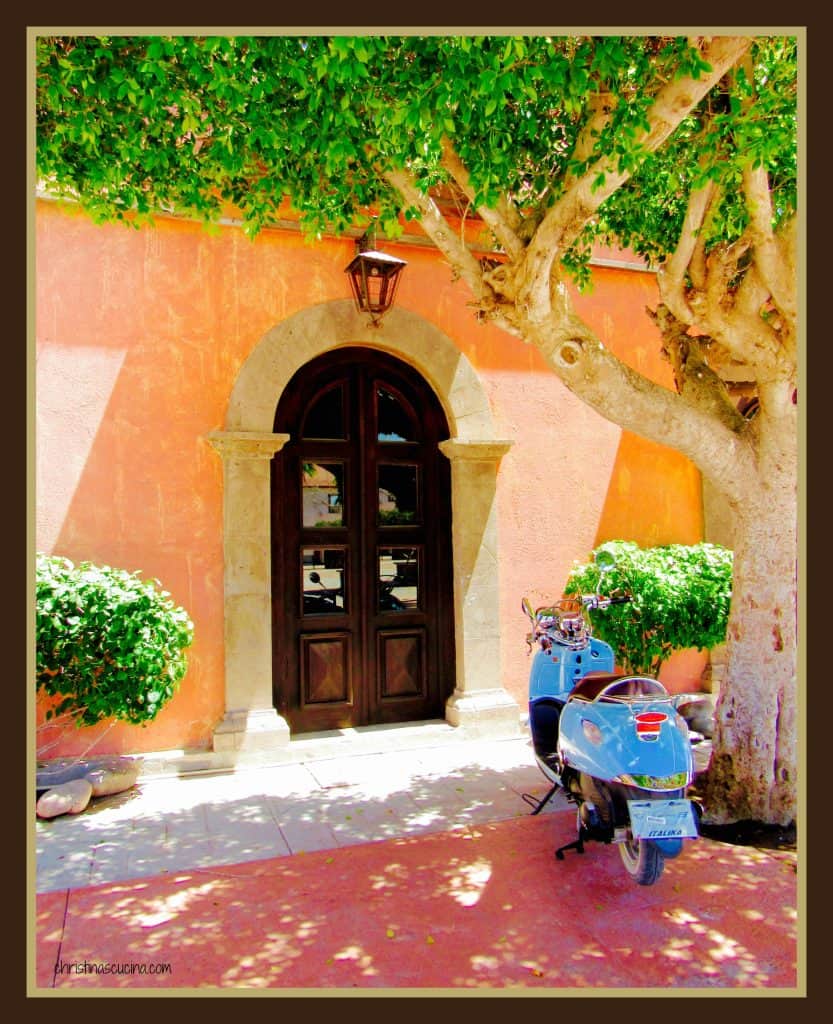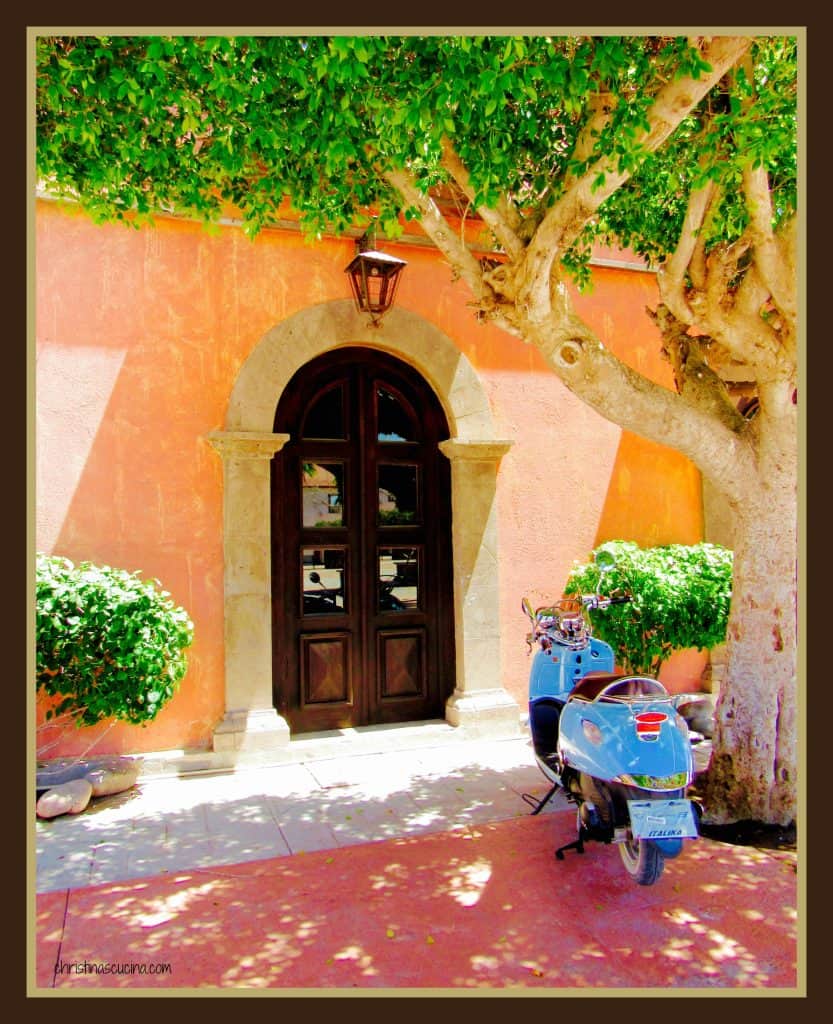 Don't miss another recipe or travel post, sign up for my free subscription below!
Christina's Cucina is a participant in the Amazon Services LLC Associates Program. This is an affiliate advertising program designed to provide a means for sites to earn advertising fees. This is done by advertising and linking to Amazon.com.