The historic Monterey Hotel is a wonderful place to stay to be centrally located when visiting Monterey, California. The accommodations, service, staff and location are all top-notch! You won't be disappointed.
Sometimes we make plans and things don't go our way, no matter how hard we try to control them.
Case in point: I was supposed be on the other side of the world a couple of weeks ago, but at the last minute, it didn't happen. Although I was incredibly disappointed, this change in plans meant that I was able to join my husband and daughter on a little California road trip they had been planning.
DISCLOSURE: I paid for one night's stay, and was hosted for one night's stay at The Monterey Hotel. I received two press tickets for the Monterey Bay aquarium (and paid for one ticket). As always, all opinions are my own.
My family didn't have any solid plans, so I suggested that we visit the lovely city of Monterey for a couple of nights before heading inland to the mountains, and that's exactly what we did. Here is our itinerary~
Day 1 LOS ANGELES -> (lunch in Santa Barbara) -> MONTEREY
Day 2 MONTEREY
Day 3 MONTEREY -> (lunch in Salinas) -> GILROY for garlic -SHAVER LAKE
Day 4 SHAVER LAKE
Day 5 SHAVER LAKE -> LOS ANGELES
Santa Barbara
I'm not sure if I've ever told you before, but one of my favorite nearby places is Santa Barbara, and I try to go any chance that I get. Before we left in the morning, I packed a picnic lunch to have in Santa Barbara as it's just such a beautiful city with so many gorgeous public areas; there's never a loss for places to picnic, that's for sure!
I'm sure you've heard about our drought, but even for those of us who live in this rain-forsaken state, it's shocking to see just how dry most of California is. However, we actually drove past the Andy Boy farm and saw rapini in the fields! I would have loved to have a whole row to myself!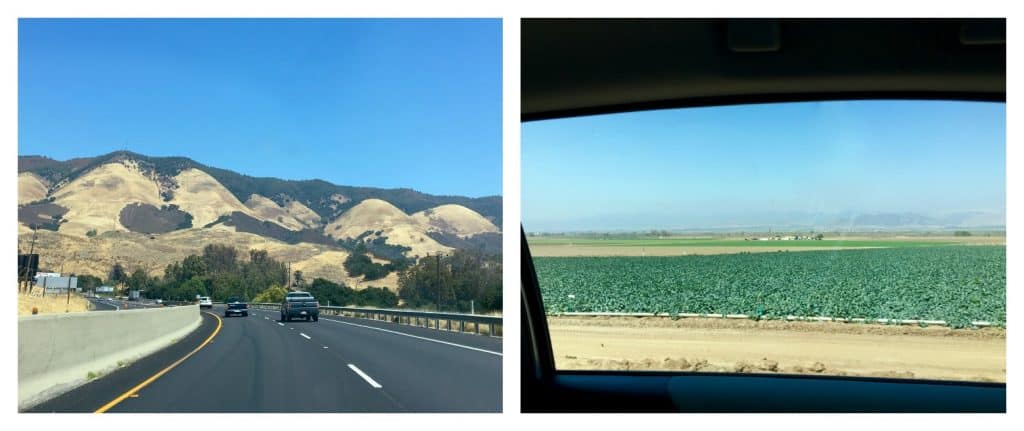 We arrived in Monterey about 4 pm and pulled up in front of the lovely building which is the historic Monterey Hotel in downtown Monterey. Two other guests were checking in and didn't mind the loading zone area they were parked in. This meant we couldn't really park properly. Immediately, a staff member appeared, apologized for the other guests and offered to help with our luggage. It was a wonderful first impression (they had no clue that I was a food/travel blogger).
The Historic Monterey Hotel
The historic Monterey Hotel was built in 1904 which was evident from the classical architecture and details like the massive fireplace in the lobby, coffered ceiling and arches and columns throughout.
Check in went seamlessly and we took the elevator up to our room. There was so much character throughout the hotel, yet everything looked so well maintained. There is also a new wing which is being completed at this time (we heard no construction noise, whatsoever).
I must say that I was not expecting to see what I saw when I walked into our room as it was completely updated and spacious for such a historic hotel.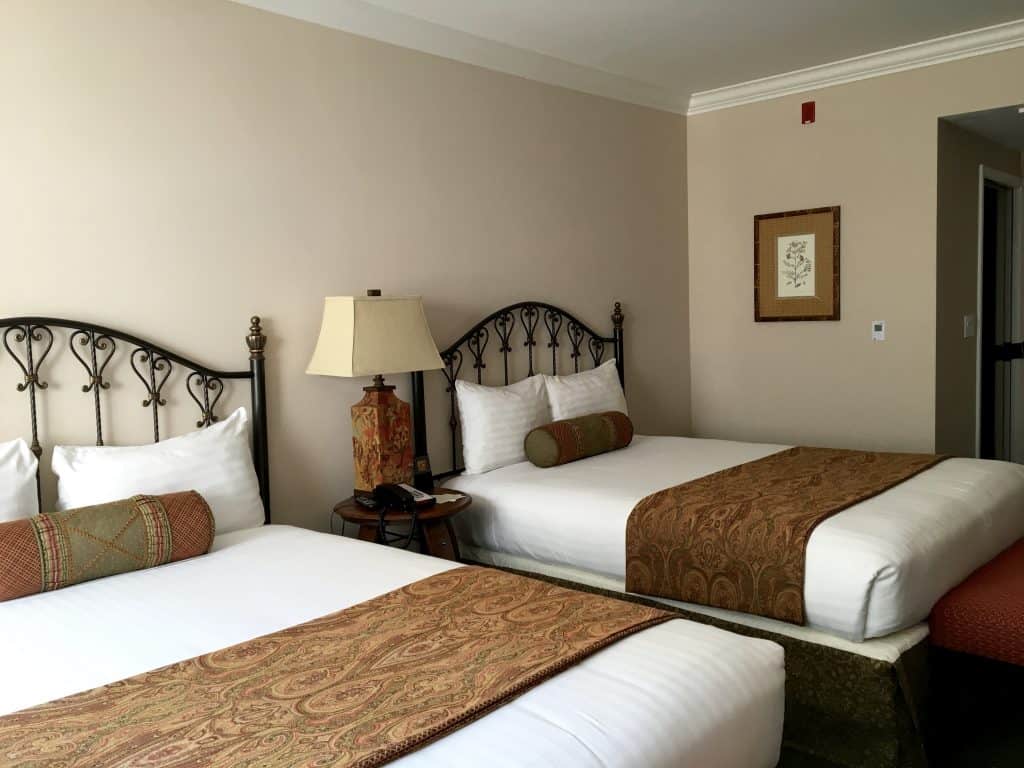 Not only was the room comfortable and immaculate, but there was a fireplace, a microwave and a good sized mini-fridge: all such nice amenities to have in our room.
My daughter and I immediately noticed a few other things that we loved: The Monterey Hotel recycles (!) and check out the ecologically friendly shampoo, conditioner and body wash dispensers in the gorgeous shower.
I was truly impressed with the historic Monterey Hotel and didn't hesitate to let the staff know. It's a lovely feeling to be welcomed into new surroundings and have it feel very "homey" within minutes.
The Monterey Hotel is located on one of the main streets in downtown Monterey, which is only a four minute walk to Old Fisherman's Wharf.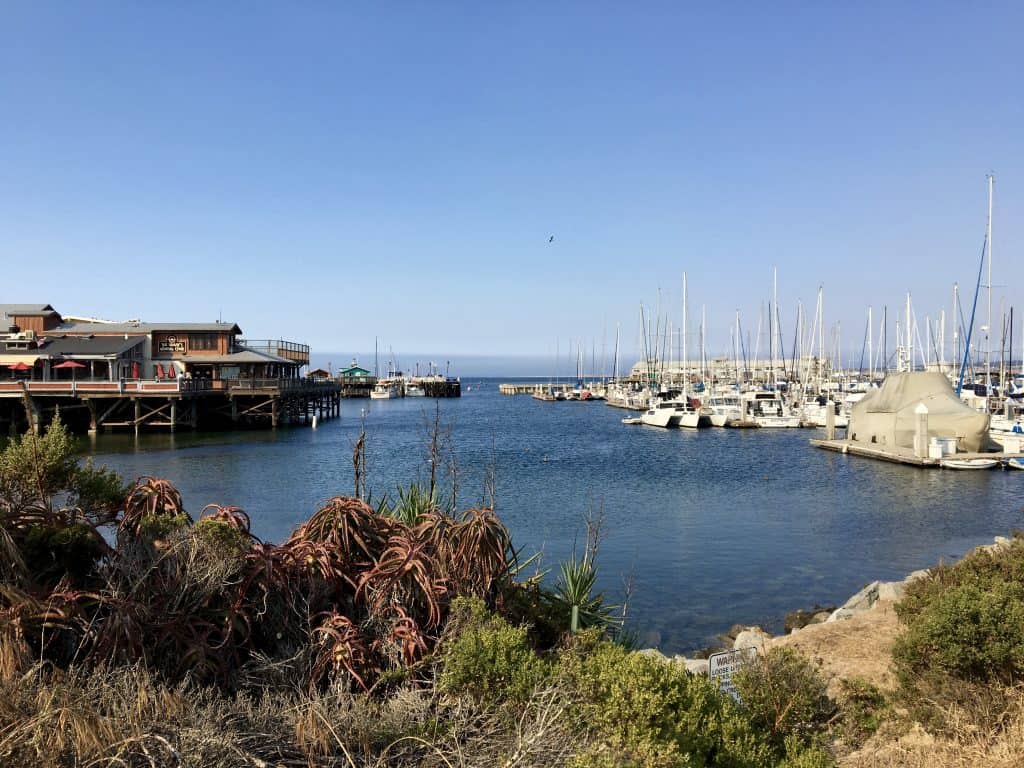 Monterey Free Trolley
It's also around the corner from the free Monterey trolley stop which means you don't even have to walk to Cannery Row or the aquarium if you prefer not to. We did both, so it's really nice to have the option and it was lovely that the trolley was free. My husband, daughter and I enjoyed exploring downtown, too.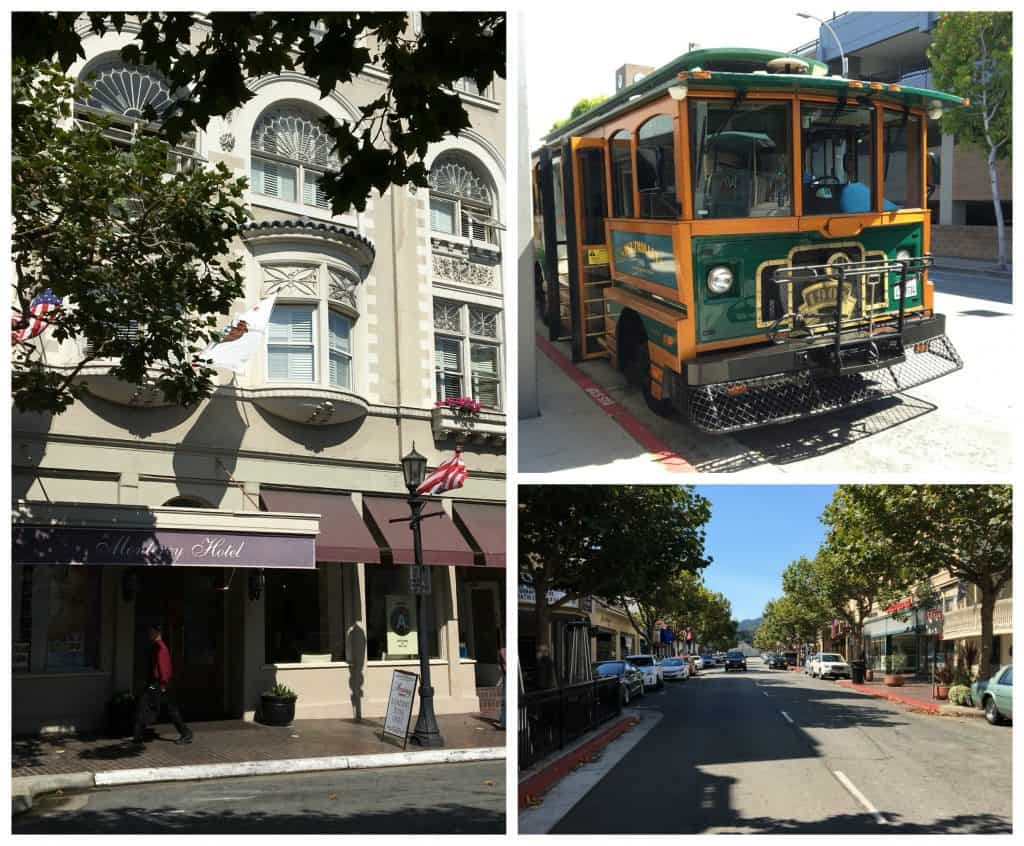 After checking in and spending a bit of time in our room, we decided to walk to Old Fisherman's Wharf and Cannery Row and decide on a place for dinner. There is no shortage of places to choose from, but seafood is definitely the main theme, understandably. I had some wonderful clam chowder, but my husband and daughter's meals were less than stellar, so I can't recommend the restaurant.
Directly across the street from the historic Monterey Hotel is a little coffee shop/restaurant called Caffe Trieste that had some really good coffee. I loved that they give a 50% discount to police officers, firefighters and veterans. Their staff was really lovely, too.
We had a great (quiet) night's sleep at The Monterey Hotel. The next morning, started our day with breakfast downstairs (included with the room rate). The breakfast room is located across from the check-in desk. Choices included, yogurt, fresh fruit, pastries, cereals (gluten-free option) and oatmeal. There were also bagels, toast and jam, juices, coffees and more.
Fort Ord Dunes State Park
Once we were fueled up, we decided to go to Fort Ord Dunes State Park which is just a few minutes north of Monterey. Supposedly, it was a great place to see otters. We didn't spot any, and although it was pretty, it was quite chilly for our LA blood (59°F 15°C) as the sun hadn't come out yet.
Monterey Fisherman's Wharf
Next on the agenda was lunch, so we drove back to Fisherman's Wharf. All three of us had clam chowder in a sourdough bread bowl which I would highly recommend! Most of the restaurants on the wharf give out samples, so you can choose the one you like best before ordering.
And what a view!
Afterwards, we were entertained by some sea lions in the water. Initially, I thought one was stuck, but after observing for a few minutes I realized that he was definitely there of his/her own accord!
Click the photo to watch the video of three sea lions.
Monterey Bay Aquarium
This only whet our appetite to see more sea life, so we took the free tram to the Monterey Bay Aquarium and spent most of our afternoon here. We have visited the aquarium in the past, but I don't think anyone could ever tire of visiting this world class attraction.
There was so much to see and we ended up staying until it closed (I would plan a minimum of three hours to see a majority of the exhibits, excluding any programs).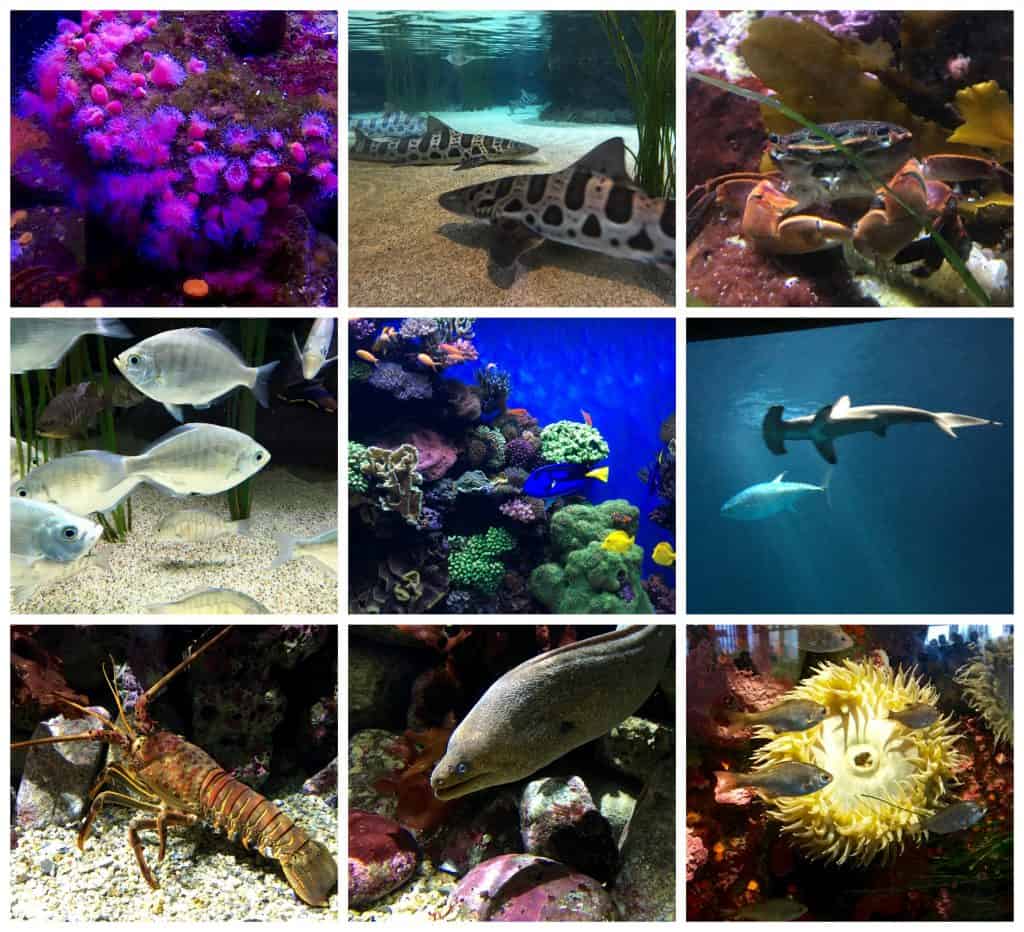 This is truly a place that will entertain everyone from 9 months to 99 years of age. In addition to the animals and sea life in the tanks and aquariums, there are auditorium programs, feeding sessions when the penguins, sea otters and fish in the kelp forest tank are fed. There are touch pools and a section just for children with so many activities they will love.
One of my favorite displays was the Jellies. Honestly, I could have stood there and watched them for hours. Click on the photo below to see what I mean.
And I wasn't the only one.
There were at least four different species, and I though this one looked like a UFO in outer space!
Another favorite of many of the visitors is the otter tank. They are just so adorable! Click the photo to see this one playing and washing herself in the water.
I could go on and on, but suffice it to say that if you visit Monterey you simply must go to the aquarium.
Honestly, the only reason we left is because they were closing! I would most definitely have stayed longer, however, there were still beautiful sights to see outside of the aquarium.
The Crown & Anchor Pub
After enjoying our time at the Monterey Bay Aquarium, we decided to try a British pub for dinner. There were two just around the corner from The Monterey Hotel; we chose The Crown and Anchor and were very happy with our decision. It definitely felt like a British pub and they even had HP Sauce! I enjoyed my fish and chips and (hard) cider.
You could really spend a week in Monterey as a home base as there is nearby Pacific Grove, Carmel-by-the-Sea (only 4 miles away), as well as the famous 17 Mile Drive, and if you venture further to Santa Cruz to the north or Big Sur to the south, and there are so many things to see, do and eat!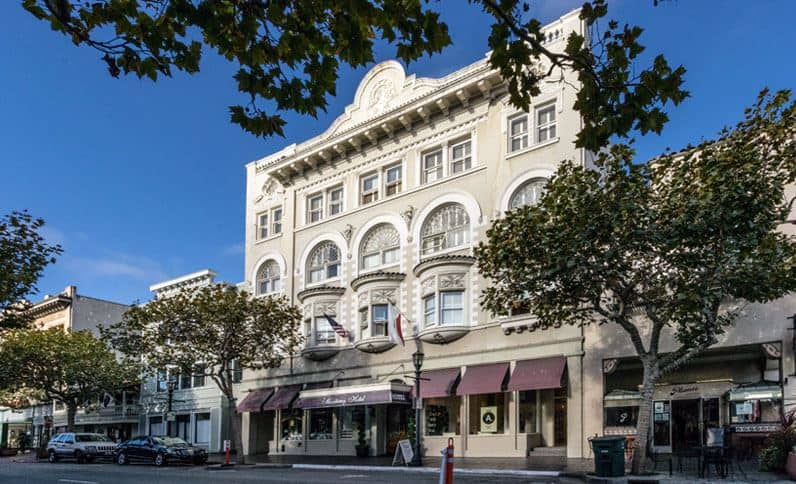 I would absolutely recommend The Monterey Hotel as the perfect location when staying in Monterey. Check into their Aquarium Package as they've partnered with the Monterey Bay Aquarium to save you money on a two-day pass which also bypasses most lines. Valet parking is available at the hotel for $21, but we chose to park around the corner in a garage for $7/day.
I love that these services are included in the room rate (these are just a few from a longer list):
High speed Wi-Fi
Complimentary breakfast
Fitness room
Therapeutic spa tub
24-hour front desk
We checked out the next morning and headed to nearby Salinas which was having a food festival along with a classic car show. We had a quick bite to eat and were on our way to Gilroy.
Salinas
Why Gilroy? We were on a mission to buy fresh garlic,! If you've never had really fresh garlic, you don't know what you're missing. It's juicy and so incredibly flavorful and makes everything taste so much better. (Remember: fresh, quality ingredients?) Coincidentally, Gilroy is the garlic capital of the world!
With our fresh garlic in tow, we were then on our way to Shaver Lake, which is in the Sierra National Forest, northwest of Fresno. We were staying at a friend's cabin, so we made a Trader Joe's stop on the way. Shaver Lake is under a four hour drive from Monterey.
Shaver Lake
I'll leave you with a few shots of us enjoying the lake. Highlights included kayaking, fishing (my husband did) off a pontoon boat that we rented (supposedly a great lake for trophy trout). We loved making S'Mores with Trader Joe's graham crackers and marshmallows (with no chemical ingredients) and dark chocolate. I lost count of how many of those I ate!
If you live in or near the LA area, this road trip to Monterey and Shaver Lake is a great getaway for a few days. You'll be able to enjoy both the seaside and mountains. Let me know if you have any questions about any part of our trip.
For more information, or to book a reservation at the historic Monterey Hotel
For more information regarding the Monterey Bay Aquarium
Don't miss another recipe or travel post, sign up for my free subscription below!
I promise not to share or sell your email address, ever.
Disclosure: I paid for one night's stay, and was hosted for one night's stay at The Monterey Hotel. I received two press tickets for the Monterey Bay aquarium (and paid for one ticket). As always, all opinions are my own. I am disclosing this in accordance with FTC regulations.