A simple, fresh and healthy garden salad can easily be a meal in itself. Enjoy with a piece of cheese and slice of crusty bread and you're all set.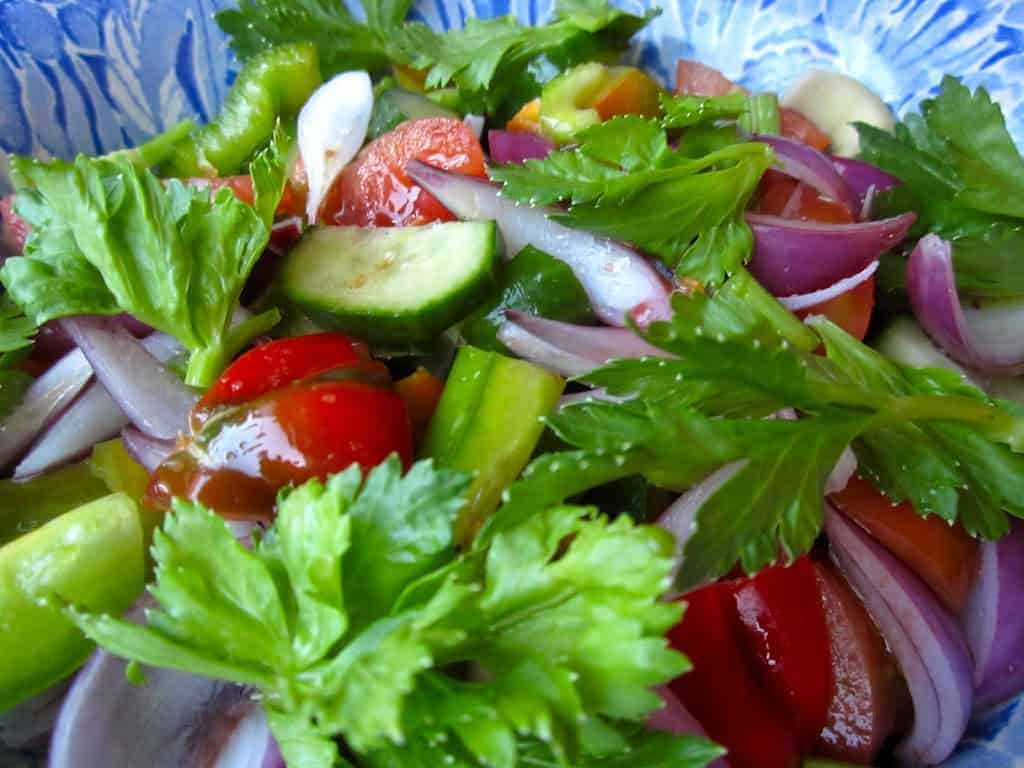 How many of you have joined the "October Unprocessed" Challenge this month?
There are over 5000 of us this year, and it's not too late to join!
Andrew Wilder began this healthy concept in 2009, and it's been picking up momentum each year.
As you probably know, I cook mostly with unprocessed ingredients every day…except my major guilt lies in white flour and sugar. Those are the hard ones for me.
So, in the spirit of healthy eating, I'm posting one of my favorite salads; one with no lettuce. When I am in Italy and make this salad with everything out of an aunt's garden, I swear that I tell myself if this was all I could eat for the rest of my life, I would be content.
I just went to the Santa Monica farmer's market yesterday and picked up some lovely heirloom tomatoes. I also had peppers, onions and celery from my mother's garden (she came to visit.) When you buy celery at the grocery store, the leaves have been cut off, but this is actually the healthiest part of the vegetable! If you can buy organic celery at a farmer's market, or fruit and veggie stand, wash the leaves well and cut them up into your salad or use them when cooking, in addition to the stems (however you would add them to your dish.) Not only are they good for you, but the leaves are delicious!
Panzanella- Traditional Italian Bread and Tomato Salad
Once you've cut up all the beautiful, fresh vegetables for the salad, STEP AWAY FROM THE REFRIGERATOR! Don't go for that highly processed salad dressing!
All you need is some really good quality extra virgin olive oil, Kosher or sea salt and good quality vinegar, or even lemon juice. Or, if you are a vinegar hater like my son, (I really should get his DNA checked to make sure he's really my child) you can omit the vinegar all together.
This is the standard Italian way to dress a salad; just pour the ingredients directly onto the veggies. There's no need to shake them up in a jar or bottle first. In fact, this somehow changes the flavor, and it's not in a good way. Just trust me on this one.
Simple, Fresh and Healthy Garden Salad
Ingredients (add or omit organic veggies according to your tastes)
organic, tomatoes (I like heirloom varieties) sliced
organic green and/or red peppers, cut into pieces or slices
organic celery with leaves, chopped
organic cucumber, sliced
organic onions, preferably sweet (green onions are also good) sliced
extra virgin olive oil (I like DeCecco)
Kosher or sea salt
wine vinegar (I love a strong wine vinegar, but you can use balsamic, or lemon juice or omit)
Place all the vegetables into a serving bowl.
Add the oil, vinegar and salt to taste (4 to 1 ratio for oil to vinegar is approximately what I do).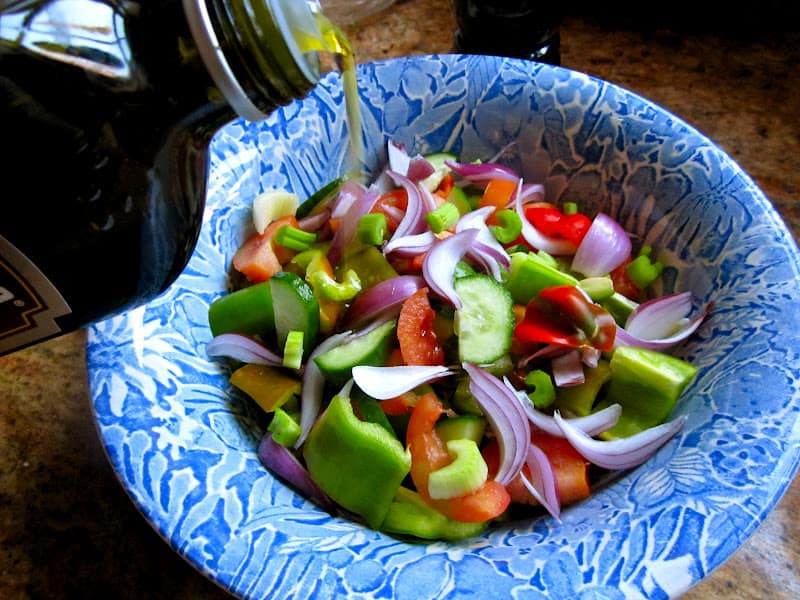 Mix well, and don't omit the salt as it brings out all the flavors of the vegetables, which you'll miss without it!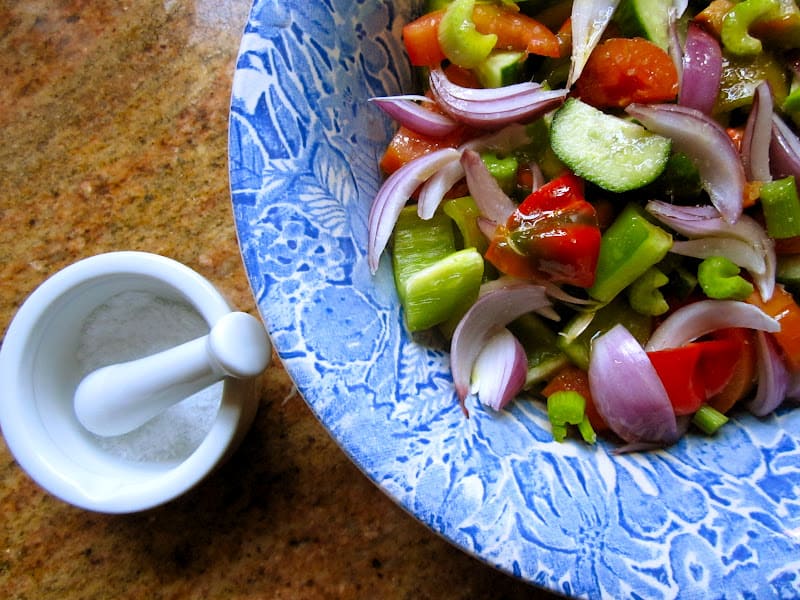 The variations of salads on this theme are endless. I just made a similar healthy garden salad the other day, but added a little endive and a few mixed leaf lettuce leaves, pickled peppers and crumbled goat cheese!
Luckily, I did snap a quick pic before I devoured it!
 Don't miss another post! Sign up for my FREE subscription below.
I promise not to sell or share your info, ever.