Rio Coverino is the type of place in Italy where you'll get a spacious, modest room, incredibly delicious food, and the type of environment and atmosphere that makes Italy simply magical.
Continuing on our road trip from Venice to Cervaro, my mother and I were last at the Bomarzo Monster Park.
As an Amazon Associate and Booking.com affiliate, I earn from qualifying purchases. This is not a sponsored post. I paid in full for our bed & breakfast and dinner at Rio Coverino Agriturismo, and received no compensation.
We had no accommodation for that night and it was mid-afternoon, so I got on the internet and found what I had thought was an agriturismo, and booked it. Don't ask me what or how I did this, but I had actually booked a hotel smack dab in the center of a tiny town called Collevecchio!
video
However, we didn't realize this until I was driving around the town in circles, panicking that I was going to damage my rental car in tight spots. The hotel I booked was nonrefundable, but I have to say, it was lovely that the manager at Relais Falisco didn't even bat an eyelash at refunding our payment when my mother explained what had happened. This may sometimes happen in the US, but I can assure you, it is not common in Italy, so bravo to them!
After getting a proper look at Relais Falisco online, it looks absolutely charming and it's a shame we cancelled our reservation, but we had our heart set on staying at an agriturismo that night. Although we didn't stay there, it's obvious that it's run by lovely staff and personally, I'd love to return one day.
What is an Agriturismo?
Agriturismi (plural) are government assisted farms, essentially, that provide tourism services such as accommodations and dining. It's like "agricultural tourism", but some of them are quite "high end" and not anything like you'd expect on a farm.
Sometimes, an agriturismo isn't up to snuff, which is why I entitled this post, "Rio Coverino, an Agriturismo as it Should Be". This will give you a good idea of what to expect from a proper agriturismo, if you've never been to one and have nothing to compare.
Finding Rio Coverino
We finally found our way out of Collevecchio (it was not easy). I recalled passing a sign for Rio Coverino Agriturismo on our way to Collevecchio, so that's what I put into Google maps.
Well, it isn't possible that we could drive from Venice all the way to the south of Rome without getting lost at least once, right? Wonderful Google maps directed us to the agriturismo via a different (back) road and after driving on bumpy dirt roads, through hazelnut orchards, and fields, this is where we arrived. This must be the rear gate into Rio Coverino's property; we were close, and yet so far!
The only good outcome from going this far off course is that I was able to capture the following photo, which I otherwise wouldn't have be able to do. I love it because it's just so Italian!
We turned around and went back the way that I knew was correct and arrived about 45 minutes later than we should have.
Rio Coverino Agriturismo
The Setting/Main Building
After going along a lengthy driveway with well manicured grounds and seeing the main building, my first impression was that of a Mayan temple! Such a unique architecture for Italy, but I loved it. I later discovered that Rio Coverino is an eco-friendly agriturismo with "heating supplied by locally-produced hazelnut shells and PV panels for generating electricity"! Then I loved it even more!
The Rooms
There are 15 rooms at the agriturismo. Ours was spacious, very clean and minimally decorated. The bathroom was very nice and both Mum and I were quite happy with our accommodations. The rooms are originally from the abandoned potash mine where Rio Coverino was established.
The Restaurant
The restaurant is in a separate building, but on the same grounds as the main building; literally, a one minute walk from where we were staying. We were there as soon as they opened, and it filled up quickly.
Although we ate outside on the patio, the inside of the restaurant also looked inviting.
Until now, you may have been wondering why on earth we just didn't stay at the hotel in the small town where I'd accidentally booked us? Well, now I'm going to show you why: the food at a proper agriturismo is usually phenomenal. We were right on the money as Rio Coverino's menu was nothing short of brilliant.
Nicola was our wonderful waiter and he took very good care of us. Mum and I took many of his recommendations as we simply wanted to order everything on the menu! We started with the bruschette (broo-skay-teh – plural). They were topped with extra virgin olive oil, lardo (a thin slice of lard) and tomato; heaven on earth!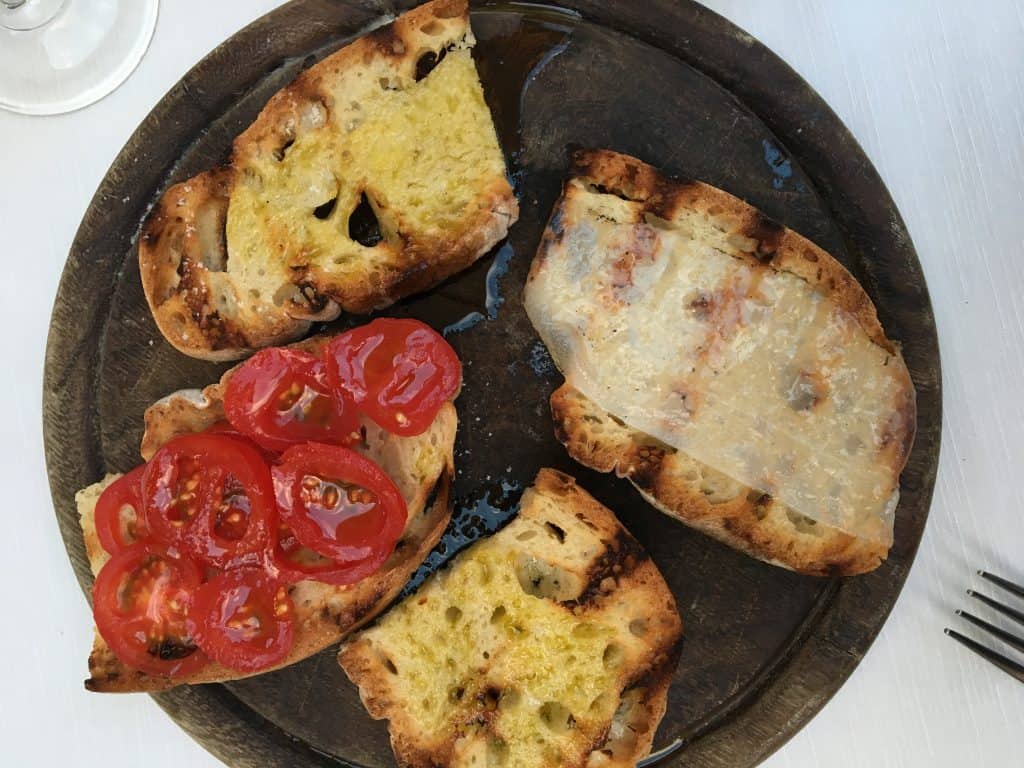 Now I wish I really had this in front of me again!
And we had to have the salumi!
If you've been to Italy and had this type of food, especially at a quality establishment, you're probably drooling all over your phone or computer right now: right? If you haven't, I cannot even begin to tell you what you're missing.
For our main course, we decided on the mixed grill. Neither Mum and I are big meat eaters, but when it comes to meat like this, we've got "carnivore" written all over us! All the different meats were incredibly flavorful, from the chicken to the pork. There was some game in there, too, which I now don't remember what it was, except that we ate every last morsel.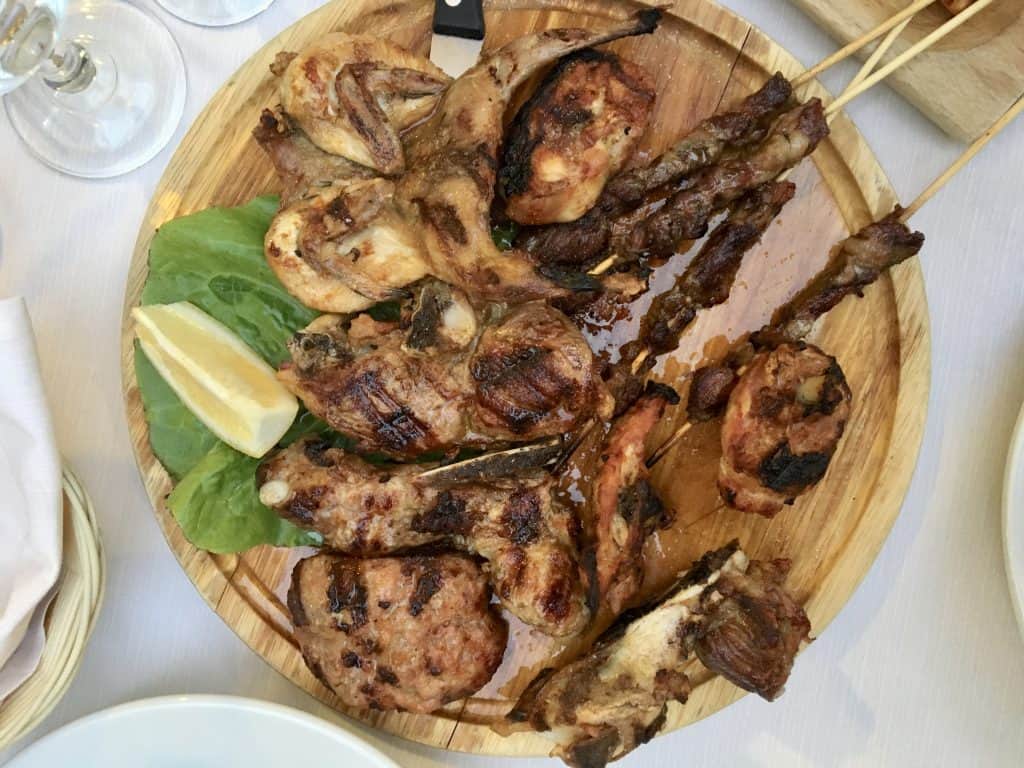 Oh and lets not forget the potatoes and greens!
Remember, all of these dishes are made/grown at Rio Coverino or locally sourced, so when I tell you our meal was exceptional, I'm not exaggerating.
The wonderful wine we had was from the nearby region, also. I won't include the photo of my mother covering her face in shame as I polish off the bottle we "shared". Don't worry, I did use a glass! 😂
Breakfast
Breakfast is included with the room and is very typical of an Italian breakfast: hot beverages, pastries, fruit, etc. Everything was fresh and delicious, which is not always the case, so that was a plus.
And that setting! We ate on a terrace of the main building, and our only complaint was that two ladies who were staff members sat at a table and smoked while we were eating breakfast. If they had been guests, it would be one thing, but to have staff smoke next to non-smokers at breakfast was something I didn't enjoy.
It is incredibly bewildering to me to be in Italy eating the best quality food and breathing the cleanest of air, only to have toxic cigarette smoke blown our way. In 2019, I don't understand how this is still possible, but that's just me. Europe has a long road ahead of it in comprehending that smoking kills, and I think it's very sad.
Off my soap box to show you our view from the bathroom!
And peeking out the front door, ready for a quick walk up to see the pool.
The Pool Area
Although the pool area was closed (I shot this through the fence), we wouldn't have had time for a swim as we had to leave that morning. Just an FYI: the pool area is not solely for guests. Anyone can pay to enter, so it's similar to a public pool and am relatively sure it would be bustling in the summer months.
At the prices Rio Coverino charges for their rooms including breakfast, I totally understand why the pool is not exclusive to guests. I wanted to share this information since this is not a normal scenario for many hotels. Remember, this is an agriturismo, which is different than staying at a hotel or bed and breakfast.
In addition, even if you are a guest at a hotel in Italy, you may still be asked to pay to use the pool at your own hotel. I was rather taken aback the first time I discovered this at a hotel I where I stayed.
Apparently, the Rio Coverino estate offers country walks as well as archaelogical sites to discover. That's not something you get at your run of the mill hotel, either!
That morning we set off for our final leg of our trip, southward to Cervaro (the closest town to my mother's village) to visit my aunts, cousins and friends. It is only a two hour drive, so I won't hesitate to return to Rio Coverino in the future, even if it's only for a meal!
To book accommodations at Rio Coverino, see the Booking.com map below.
Christina's Cucina is a participant in the Amazon Services LLC Associates Program, an affiliate advertising program designed to provide a means for sites to earn advertising fees by advertising and linking to Amazon.com.