Learn how to eat Prosciutto di Parma; the best way to eat it may just surprise you. You'll also get a tour of a prosciutto factory just outside Parma.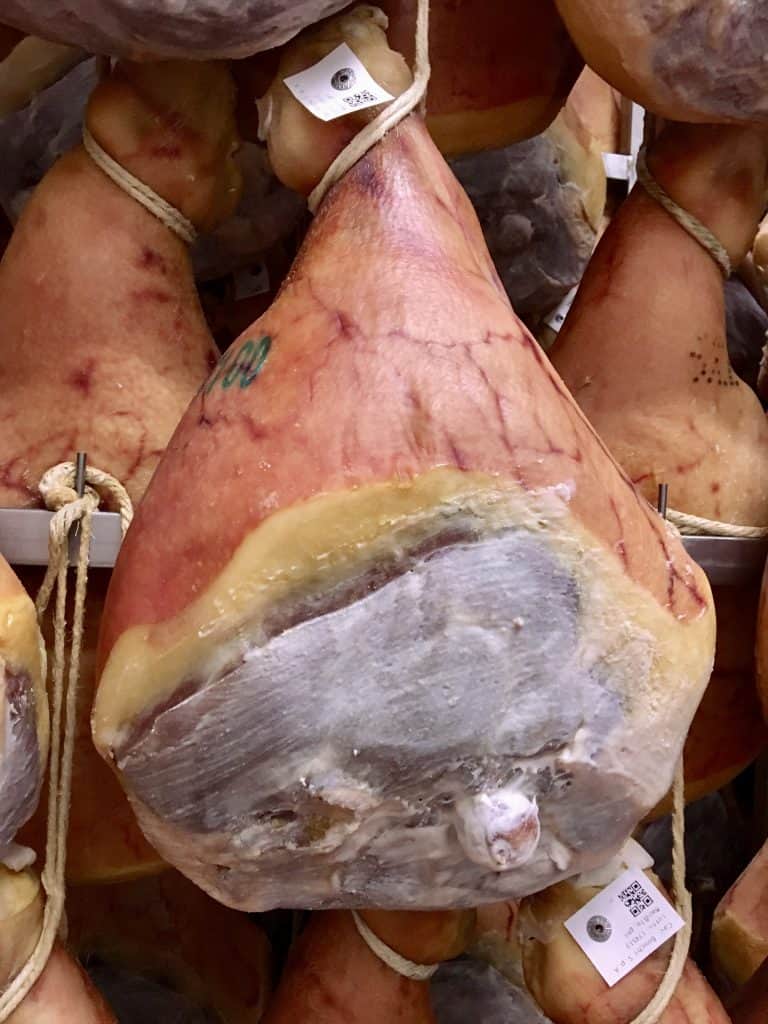 In June, Mum and I were able to check a culinary wish off our bucket list: visiting a prosciutto factory near Parma.
Our current trip itinerary
If you've been following along, you'll know that I won a trip to Venice with Valdo Prosecco. We then went to Sirmione sul Garda for a night, then onto delicious Ferrara. Our next stop was Parma where we had a wonderful tour of the city, and then a Verdi tour with Food Valley. My last post was all about culatello and Antica Corte Pallavicina which brings us to our Prosciutto di Parma tour.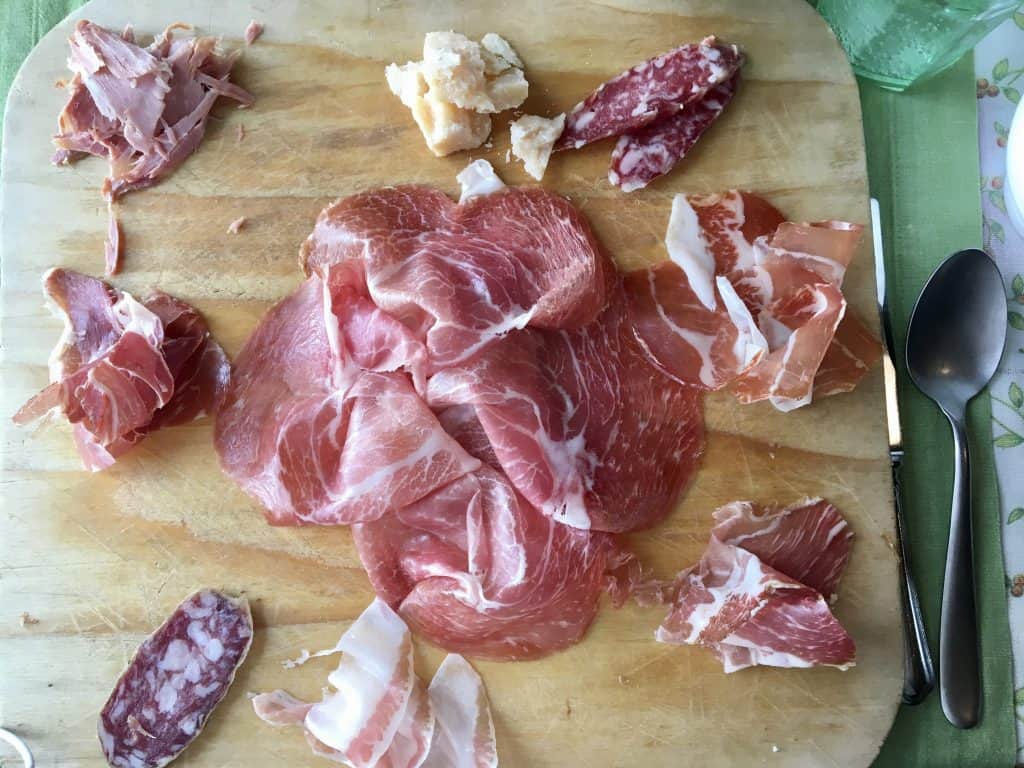 My mother and I were hosted for a tour of Cavalier Umberto Boschi (this is done regularly for the public, from time to time). We were given a few samples of Prosciutto di Parma DOP along with aprons. However, I was not compensated for this post, and all opinions are my own.
I'll take you on the tour first, then we'll get to the best way to eat prosciutto.
Driving to Felino
Mum and I (reluctantly) checked out of Palazzo dalla Rosa Prati the morning of our third day in Parma to drive to a prosciutto factory about 40 minutes outside of the city. If we could have, we would also have gone to visit a Parmigiano maker. However, we simply couldn't fit everything in during our short stay.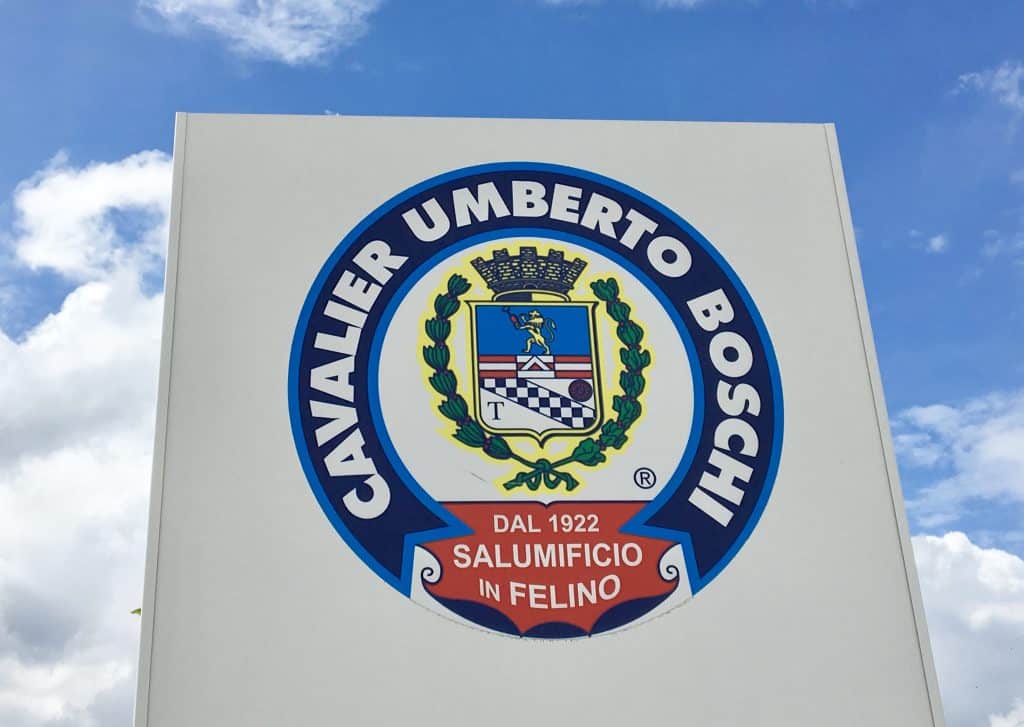 The drive to Felino was through beautiful Italian countryside. I couldn't believe that we passed right by the MUTTI factory; it was a good thing I didn't crash! 😂 This is one of my favorite brands of tomatoes so we called to ask about a tour, but they required reservations to be made by a previous arrangement. Such a bummer!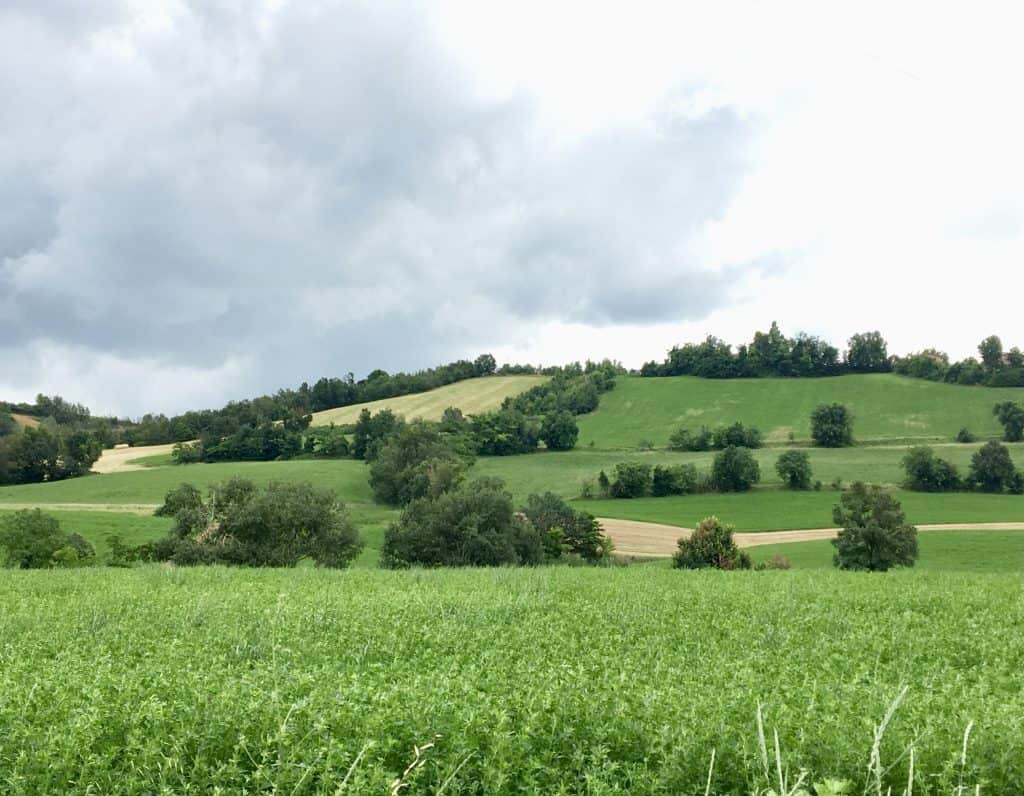 Chiara, from the Prosciutto Consortium, was waiting for us once we arrived at Cavalier Umberto Boschi. This is the name of the prosciutto maker we were visiting. She took us inside where we met Lorenzo Boschi, the manager of the facility, and son of Umberto Boschi. Lorenzo had us "suit up" with hair nets, booties and cover ups, as he was going to be our tour guide.
Before we get to the tour and the best way to eat prosciutto, I want to give you some background on why many of the foods from Italy are of such incredibly high quality. I've discussed this before, but there's a good chance you didn't see one of these posts. For example, when I discussed Parmigiano Reggiano DOP on my pasta and beans recipe post, and Valdo Prosecco DOC. These products are held under the strictest requirements by the EU.
From the Prosciutto Consortium's website:
The Consorzio and the Protected Designation of Origin
"The tradition of Parma Ham is safeguarded by the Consorzio and reflected in the coveted Protected Designation of Origin status, the E.U.'s guarantee of quality and authenticity for those traditional products that are from a specific geographical region. Indeed Parma Ham can only be produced in the hills near Parma and all authorized producers must be located inside this area."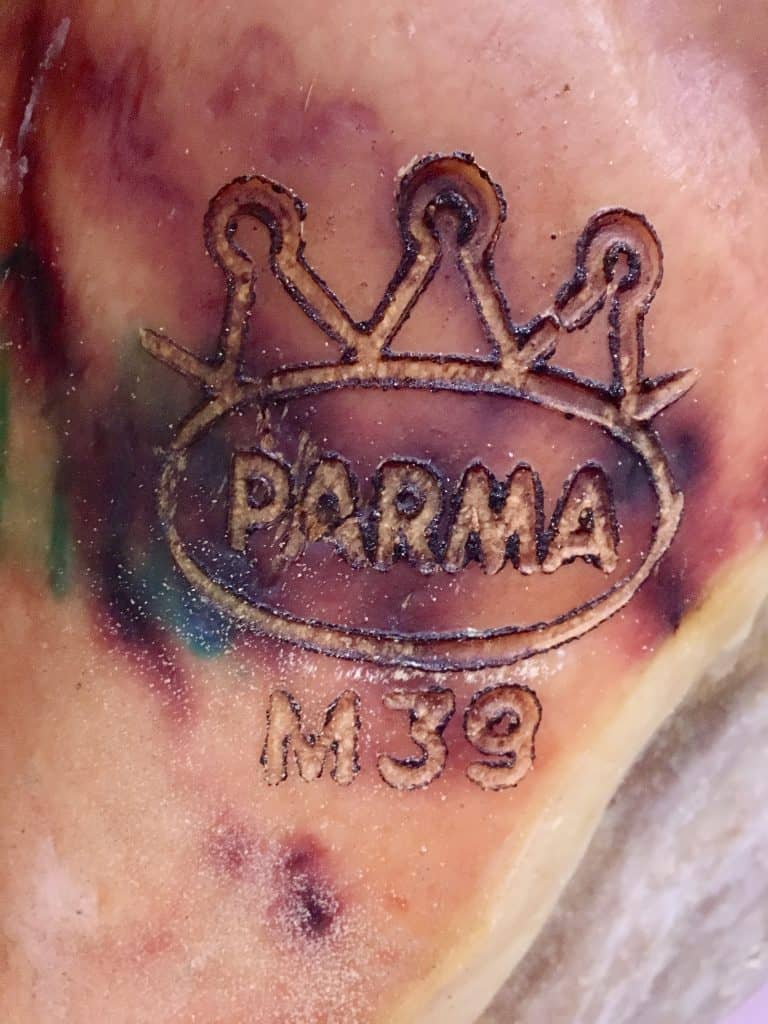 This means that when you buy Prosciutto with the Parma and crown logo stamp, you are guaranteed that it is the authentic and genuine product. It has been made within the area allowed, and according to all the standards which are required. And believe me, the rules and regulations are many; it's truly impressive. If you want to learn how to eat prosciutto, scroll down.
Please note, due to the lighting inside the factory, the color of many of the photos is a bit "off".
Prosciutto Factory Tour
There are 10 stages in the process of making prosciutti. We didn't see the first three because the first is the butchering of a certain quality of pig from central Northern Italy. The pigs have to be over 9 months old, about 160kg (no less than 144kg) and not have eaten for 15 hours. The legs are then separated to become proscuitto.
Stage 2 is the cooling process. The legs are left for 24 hours to cool so they are easier to trim. The next stage is the trimming of some fat and skin to give the Parma ham its recognizable "drumstick" shape.
Salting the pork legs
The pork legs arrive from different locations within Italy and weigh about 15 kg. Only the hind legs are used to make Prosciutto di Parma. The fourth stage in the prosciutto making process is for the pork to go through a salting machine.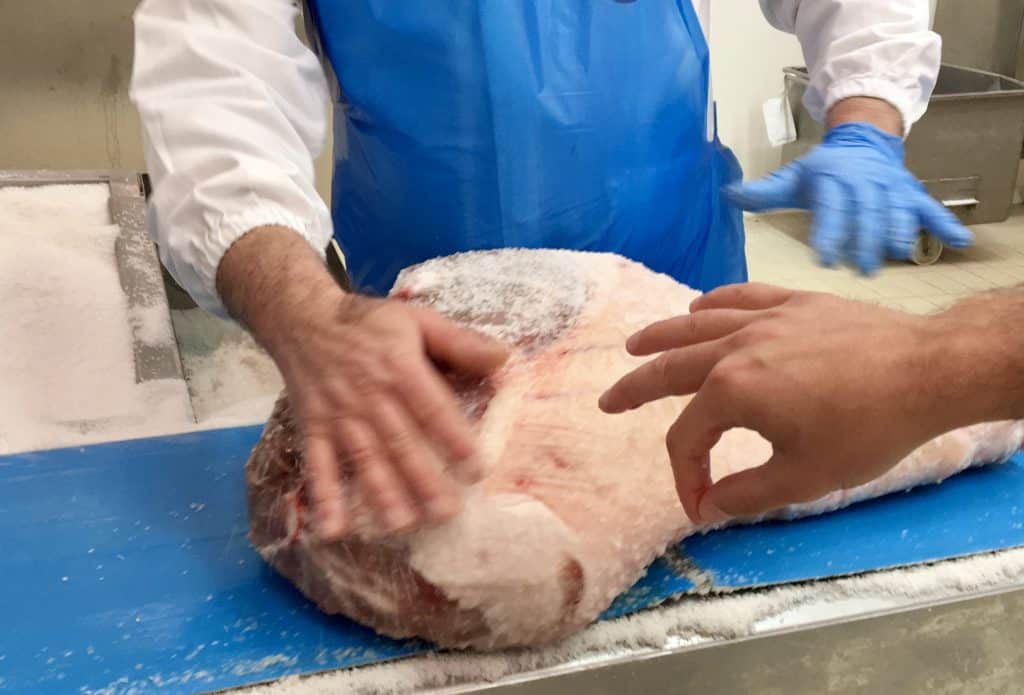 As soon as the legs come out, more salt is added by a professional (master "salatore") who knows exactly how and where to add the salt in places that the machine misses.
Refrigeration/Resting
They are then taken to be refrigerated for about a week. This is the fifth stage of the process.
Washing and drying.
Stage 6. After a week, the hams are washed to remove excess salt and impurities. The legs dry naturally unless it's cold, wet or humid and then special dryers are used.
Pre-curing.
Stage 7. A second light coating of salt is given to the hams after residual salt has been removed. Note: not all of the legs become Prosciutto di Parma, DOP. Next, the hams hang in specially controlled rooms for almost 3 months. Airflow is critical during this phase. Weight loss during this time is about 8-10%.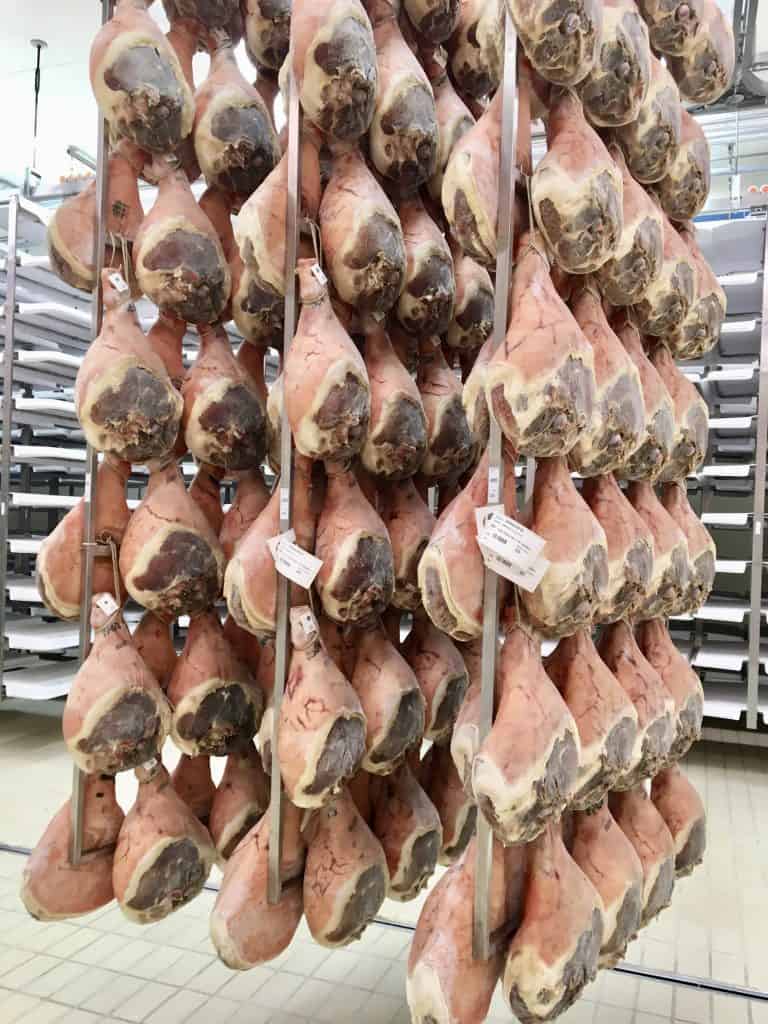 Greasing with lard and the second cure.
Stage 8. Once the hams leave this room, the hardened part of the ham is covered with a coating of lard, salt and pepper. This prevents the outside part of the leg from drying too quickly.
After this, the hams are moved to larger cellar rooms that are "room temperature", which is well-ventilated. The air from the local area cures the meat to give it the flavor for which it is renowned. This is why Prosciutto di Parma can only be made in this region, due to the very unique conditions. This is also where Mum and I were so excited to see the incredible "sea of hanging hams"!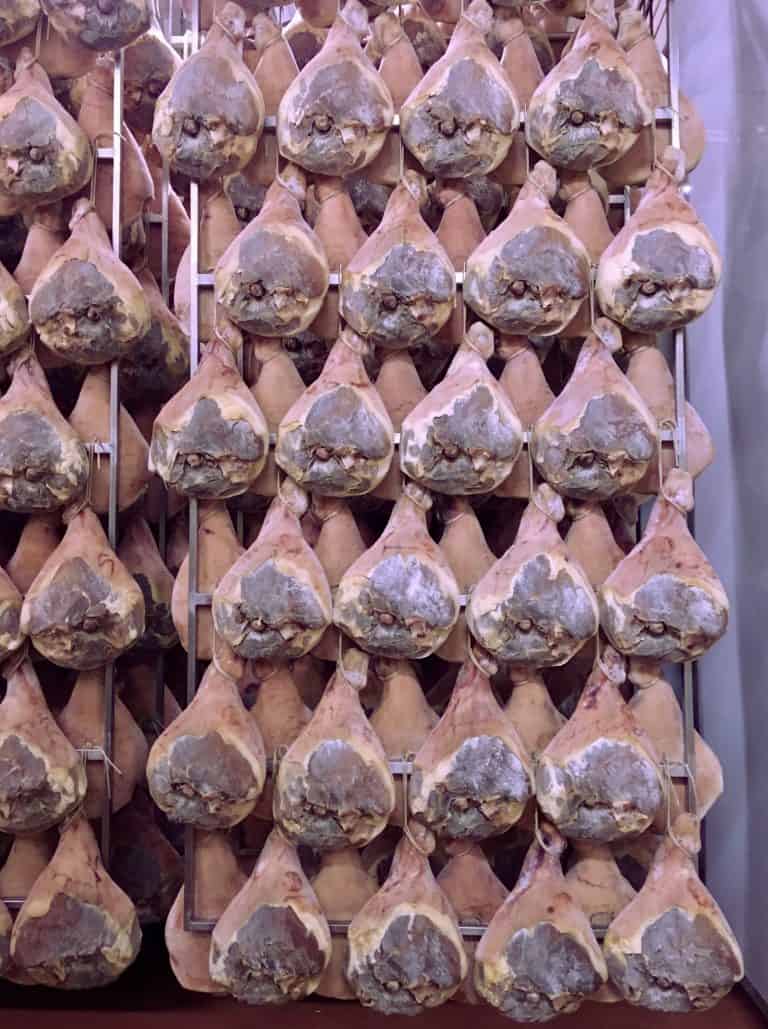 The final cure.
Stage 9. They are then placed in their final destination before become official Prosciutto di Parma hams. This is a darker, cellar like room where they will cure for a minimum of 12 months to 3 years.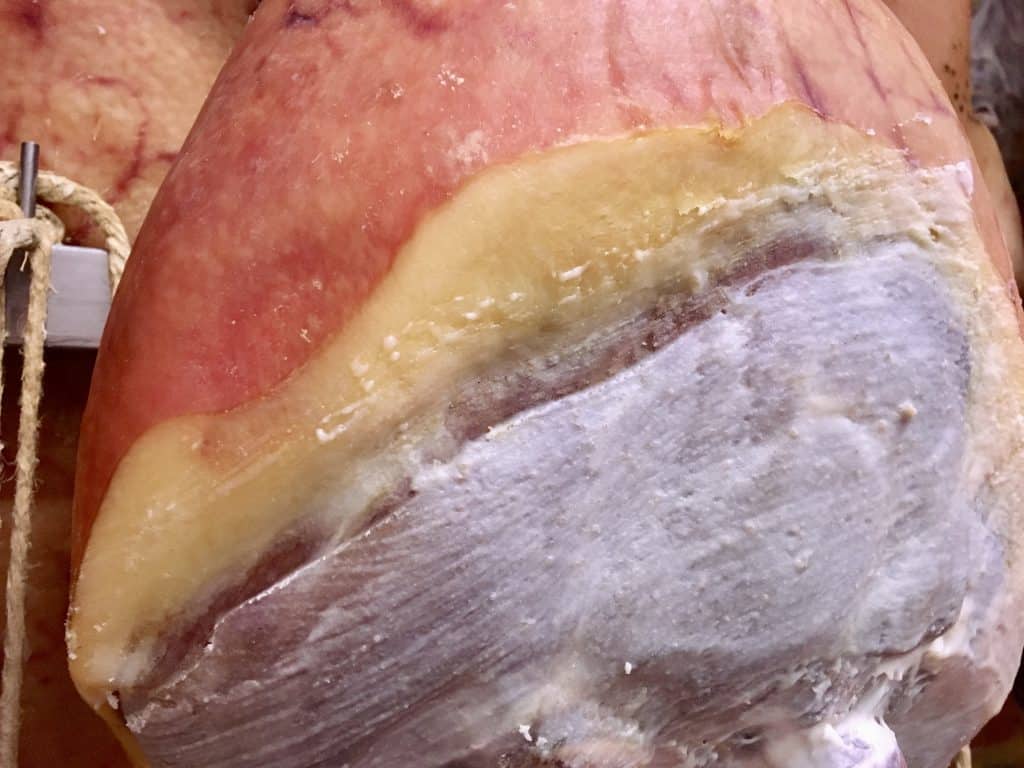 Can you tell that my mother was happy to be here? Coincidentally, my brother gave my mother an entire Prosciutto di Parma for her birthday the month before. We had no idea then that we'd even be visiting Parma!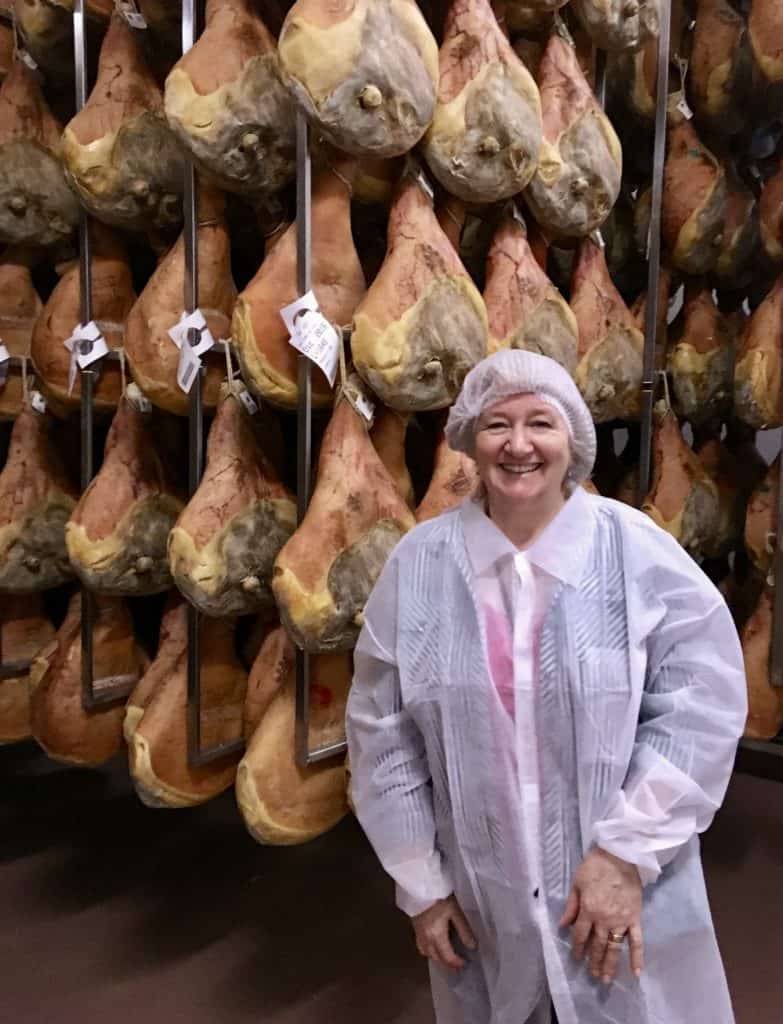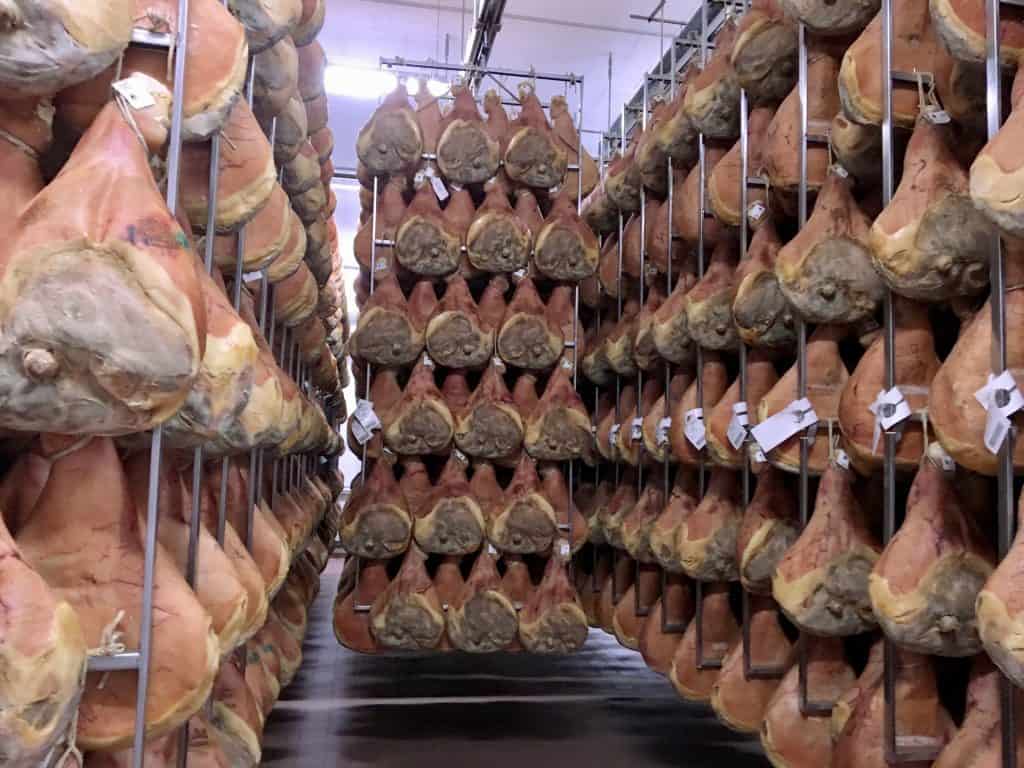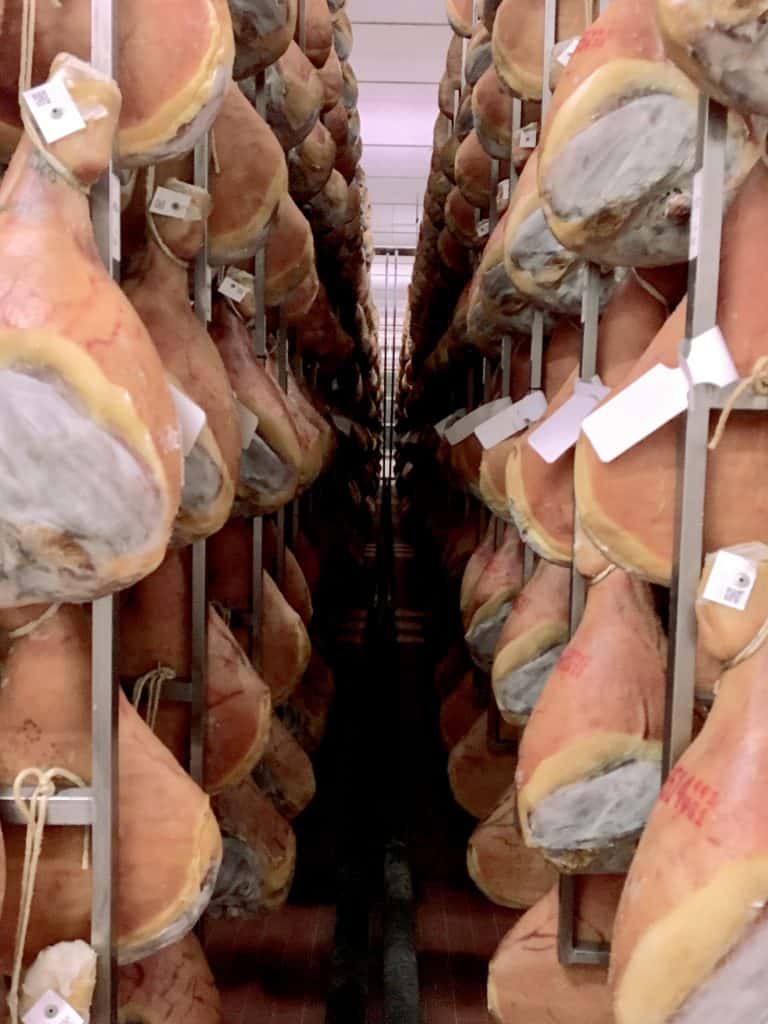 Quality control check and branding.
The 10th and final stage at the end of the yearlong curing process is done by an inspector. He/she must do a quality control check on the prosciutti. A horse bone needle is inserted into five specific places in the ham, and the inspector smells each point. Horse bone is used because it absorbs a scent, but loses it immediately. Lorenzo demonstrated this for us and you can see it in the video below.
Prosciutto di Parma, DOP
Only after it passes inspection is the second and final stamp with the 5 point ducal crown given to the ham. This assures the buyer that it is in fact, Prosciutto di Parma, DOP. Only a qualified inspector from the Istituto Parma Qualità can give the brand stamp of approval.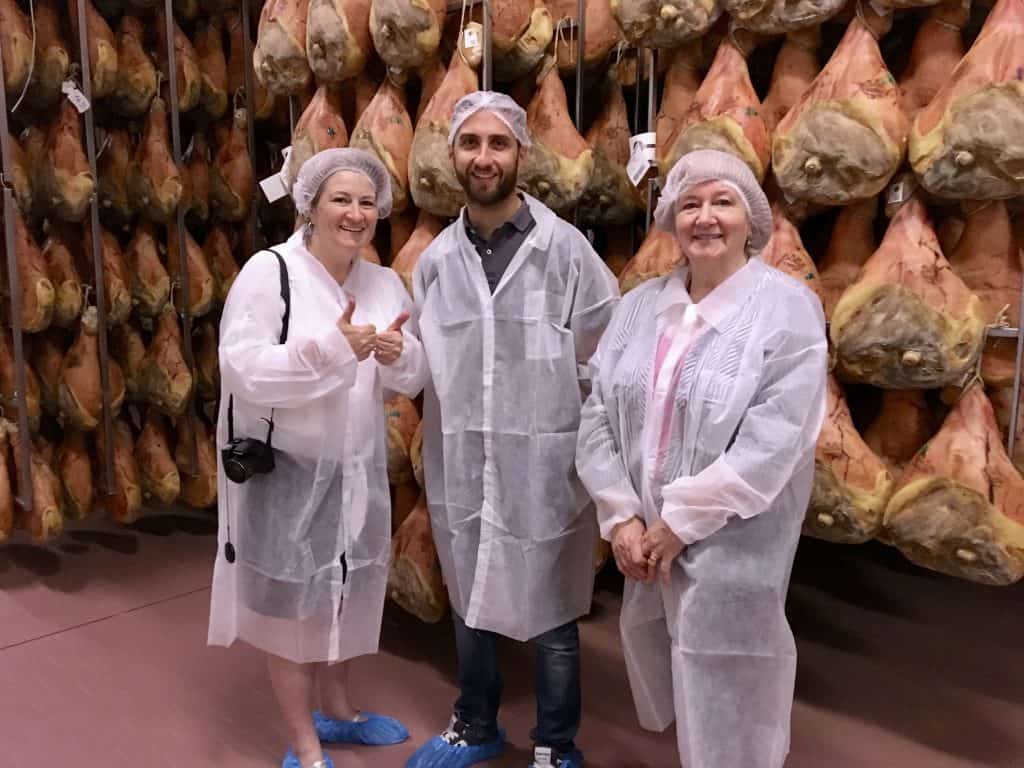 Now, let's get to the other part of this post ~
How to eat Prosciutto di Parma.
This is simply my opinion, but given what you've just seen in the process of making this incredible culinary creation, how would you think the best way to enjoy it would be? For me and many others, it is simply as is. In fact, in Parma, we were told that picking it up with your fingers and having the heat of your hands on the meat enhances the flavor. So put that knife and fork down; that's not how to eat prosciutto!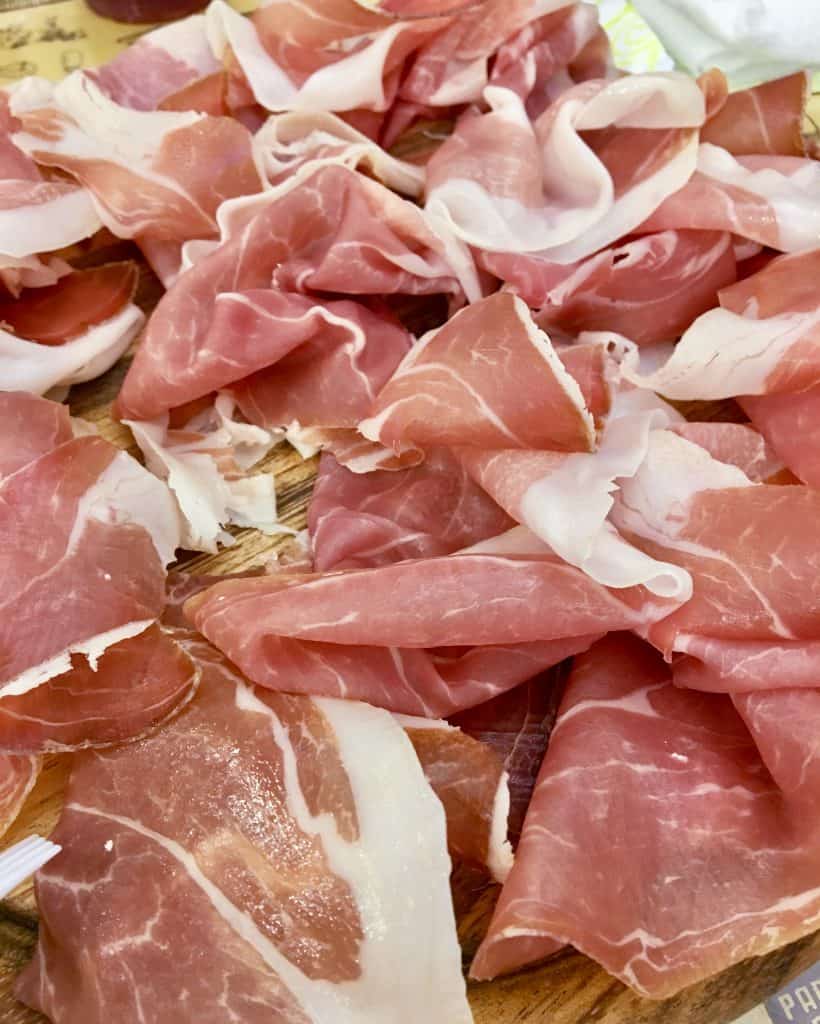 Others might answer how to eat prosciutto, or the best way to eat it is in a sandwich, cooked in their favorite dish, on pizza and who am I to say they're wrong? I just think you want to taste all that it has to offer, along with some bread, cheese and a nice glass of wine, right?
The classic: prosciutto and melon.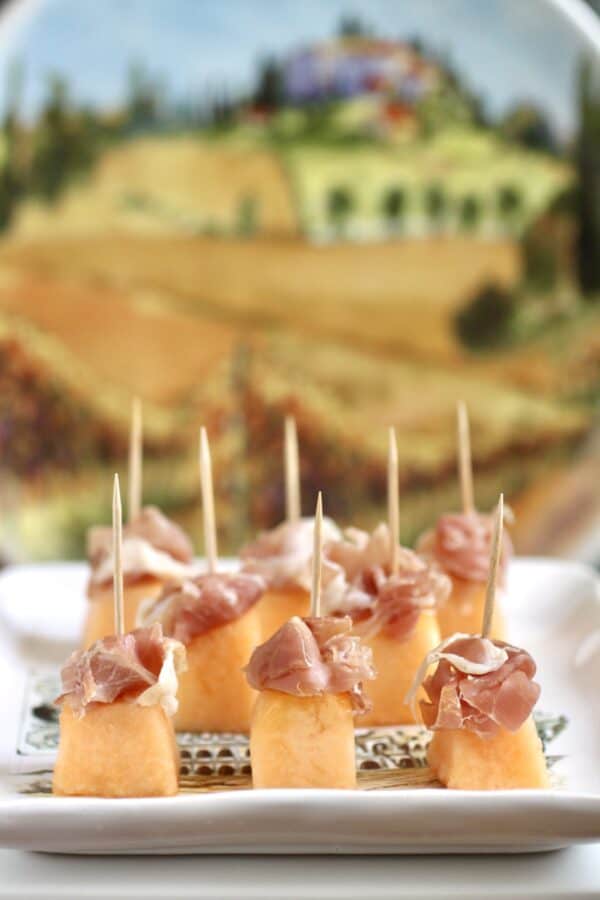 Maybe a simple dish where the flavor of the prosciutto is allowed to shine like this burrata and prosciutto foccacia.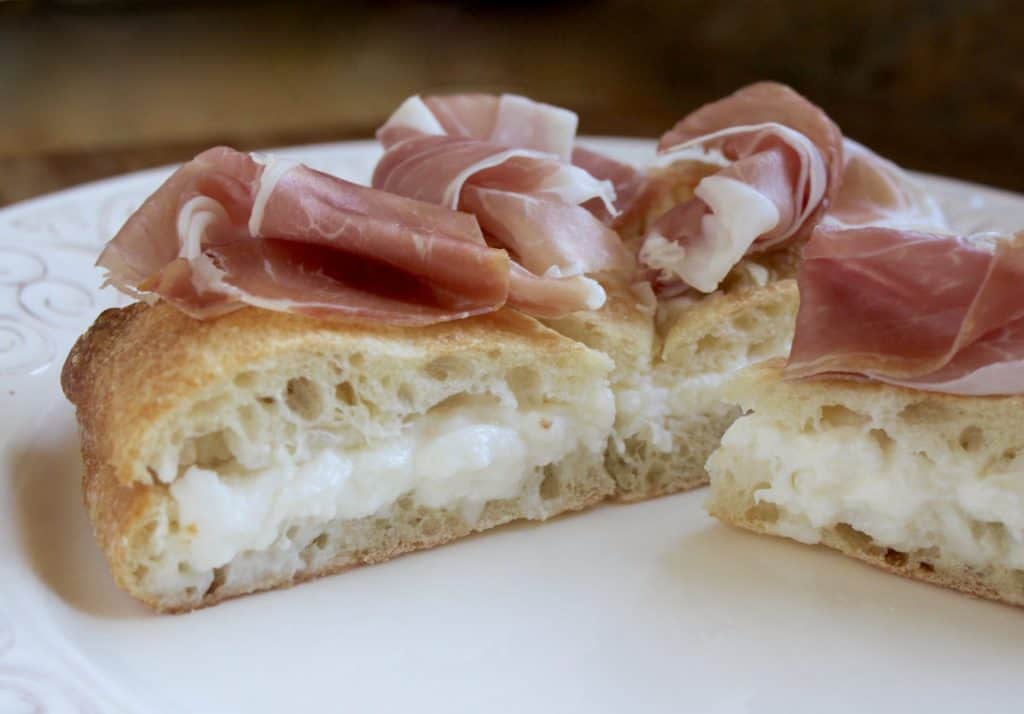 What is your favorite or best way to eat prosciutto? Let me know in the comments below.
Learn more ~
Watch this brilliant little video on how prosciutto is made (only 2 1/2 minutes).
To see my visit with my mother, and a much less professional video quality, you can watch my Instagram story (about 2 minutes).
For more information on prosciutto and salami maker, visit: Cavalier Umberto Boschi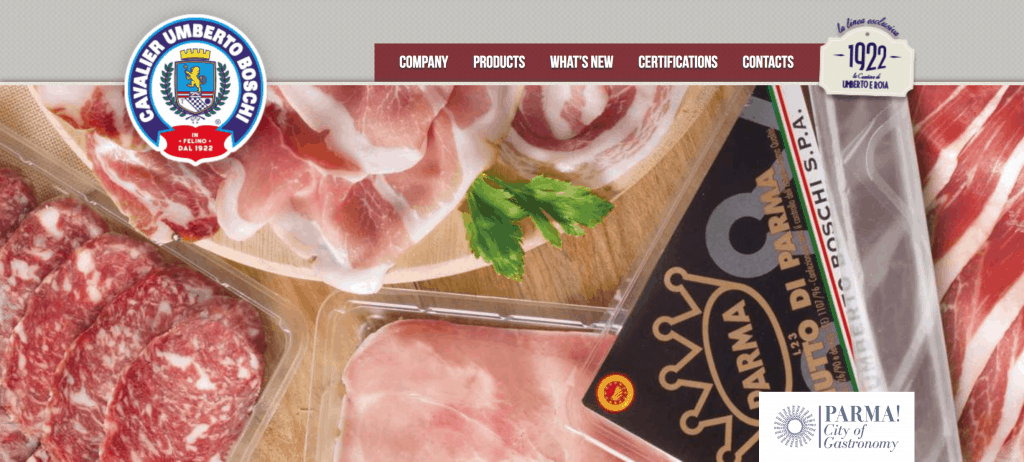 You can also discover more about the Emilia Romagna Region by visiting In Emilia Romagna.
GRAZIE!
Many thanks to Chiara for arranging the visit and joining us at the factory, and for the delicious packets of prosciutto! We enjoyed them with our family! Much appreciation to Lorenzo from Cavalier Umberto Boschi for taking time out of his busy day to give us such an educational tour. We thoroughly enjoyed it!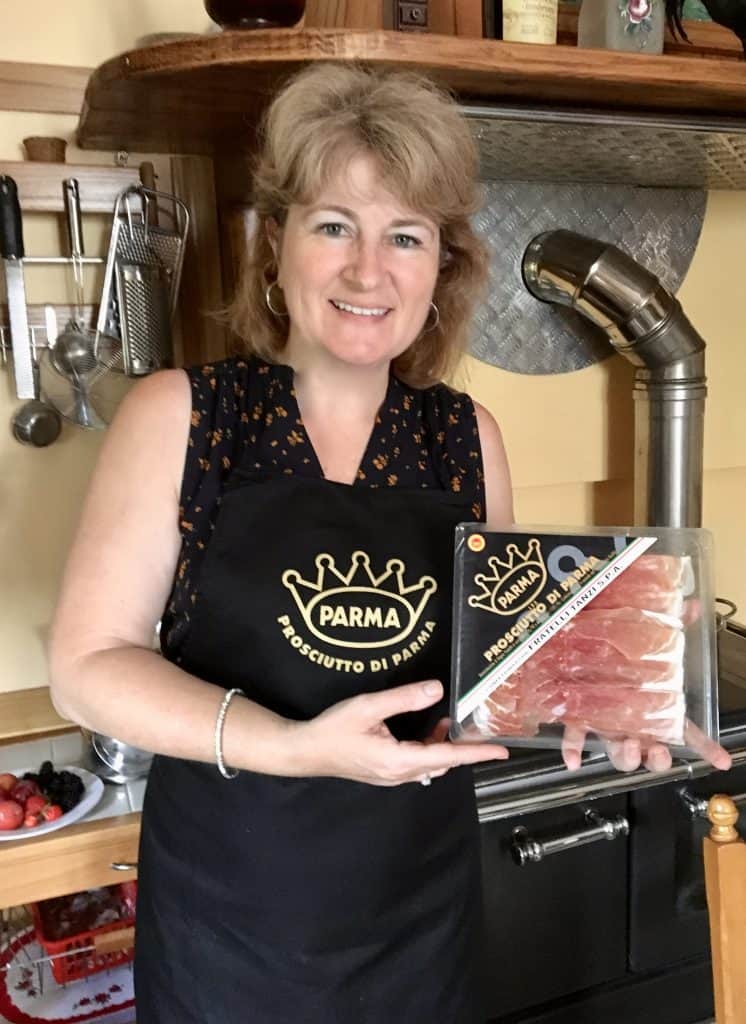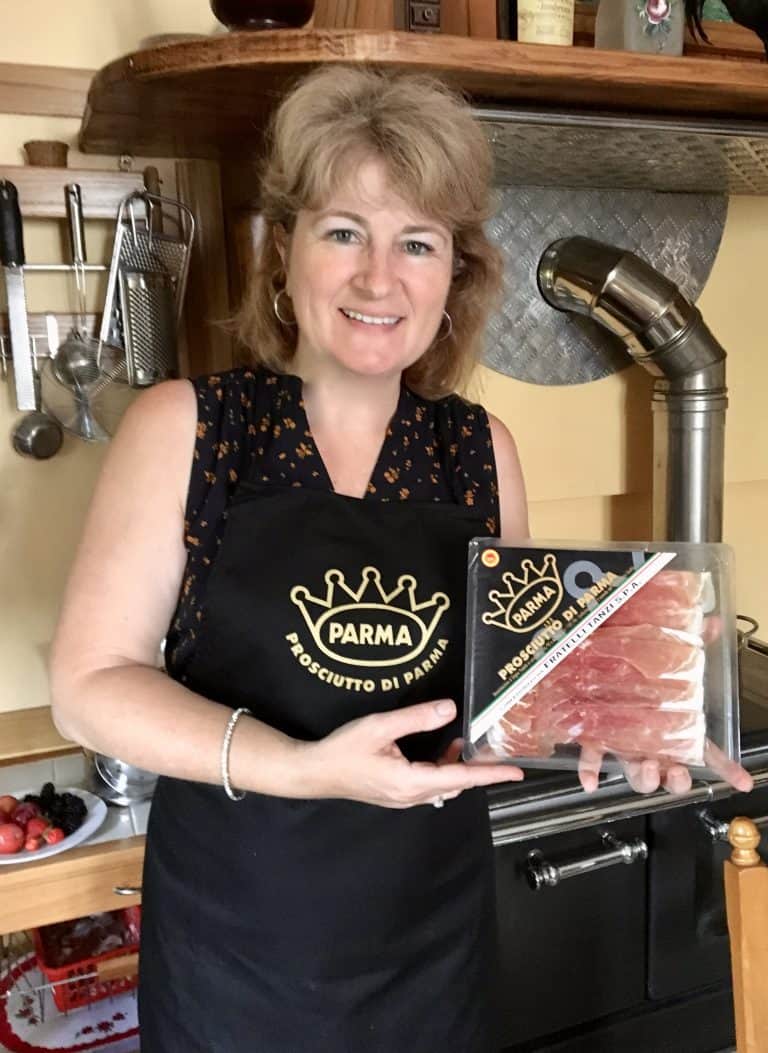 how to to eat prosciutto