Most of you know "orzo" as the rice shaped pastina which is cooked in soups or made as a pilaf, for example.
However, orzo, in Italian, means barley, and the type of orzo I'm going to tell you about is a caffeine-free barley drink, which is very popular in Italy. My children grew up having "toast and orzo" for breakfast, and the photo you see above, is my breakfast from a few days ago (adult version of toast and orzo, you'll see the children's version below.)
Nestle's brand of orzo drinks are called "Orzoro" and come in different grinds and flavors (there's an orzo and cacao blend, which I also love, but cannot find in the US).
This is another brand of Orzo I buy; this "solubile" is made in a normal pot, however there is another type, "tostato, macinato" which can be made in an espresso coffee maker. The products have no added sugar: the only ingredient is barley.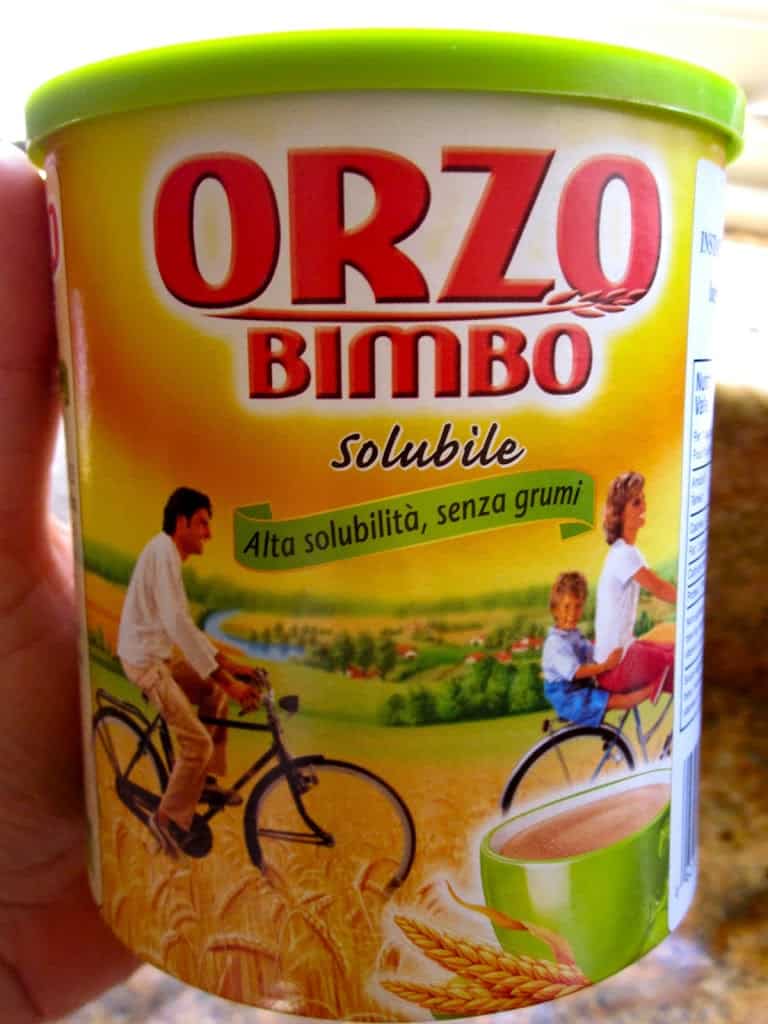 Orzo is much like coffee, but milder, and caffeine-free, making it a perfect beverage for children and those who want a coffee substitute. I don't drink coffee (my aunt says this makes me "un-Italian"), but I love orzo. The best place to look for orzo products would be in your local Italian market, however, Amazon does sell it too, albeit at a much higher price.
How to Make Orzo (Beverage)
Ingredients
Orzo barley powder
milk (or water)
sugar
(toast-optional)
With the "solubile" type of Orzo, there's no need to premix and add to the milk or water, you can just add it directly to the cup full of liquid (like instant coffee), but if you don't have this kind, you'll want to make it the way I show below.
Heat the desired amount of milk in a small pot.
Meanwhile, mix 2 to 3 teaspoons of orzo powder per cupful of milk (or water) with just enough liquid to form a runny mixture.
When the milk is hot, add the orzo mixture and stir well.
Continue to stir over medium high heat until mixed well. Add sugar to taste.
Serve hot in a cup or mug, or if making breakfast for a child, break up pieces of toasted bread into a bowl and pour the orzo over it.
Serve immediately, or for a very young child, let cool slightly.
Don't miss another post! Sign up for my free subscription for recipes and travel below.
I promise not to sell or share your info, ever!
Christina's Cucina is a participant in the Amazon Services LLC Associates Program, an affiliate advertising program designed to provide a means for sites to earn advertising fees by advertising and linking to Amazon.com.