Soft boiled eggs with soldiers is a British child's classic breakfast and we hold this as comfort food, long into our adult years.
Soft boiled eggs with soldiers continue to be popular in our household, despite the "salmonella" threat of eating eggs which aren't thoroughly cooked. It's not that I don't believe that one cannot contract salmonella from eating uncooked eggs, but like anything else, if common sense is entertained, it makes a world of difference.
This post may contain Amazon Affiliate links for your convenience, at no additional cost to you.
For one thing, we have wonderful friends who give us fresh eggs from their own chickens, from time to time, which I even allow my son to eat completely raw (I would never allow this with an egg from the store). I think certain range free, organic eggs from a store like Trader Joe's or Whole Foods are also safe to use for "dippy" or soft boiled eggs. However, if you have any doubts, or a weakened immune system, then obviously, it's best not to venture into "soft boiled egg country" at all.
Now as far as the "soldiers" go–if you're from the UK, there's no explanation needed, but for everyone else: when soft boiled eggs are served to little ones in Britain, the toast is cut into long strips which everyone calls "soldiers," apparently because they're so straight. These are used to "dip-dip" in the yolk! Soft boiled eggs with soldiers holds a special place in a Brit's food memories. If you don't believe me, ask any Brit, (especially ex-pats) you know.
Here's how I make perfect soft boiled eggs (or hard boiled, so they aren't rubbery.)
Perfect Soft Boiled Eggs with Soldiers
fresh, organic eggs, preferably from a local farm
buttered toast, cut into "soldiers"
salt
(pepper)
Special equipment: egg cups
Place the eggs in a pot and cover with 1″ of cold water.
Bring to a boil over medium high heat, and as soon as the water comes to a boil,  remove from the heat, cover the pot and let stand: 1 1/2 to 2 minutes for soft boiled (I did two minutes for large eggs) less time for smaller eggs, more for larger or 12 minutes for hard boiled eggs.
For soft boiled, remove and serve immediately in an egg cup.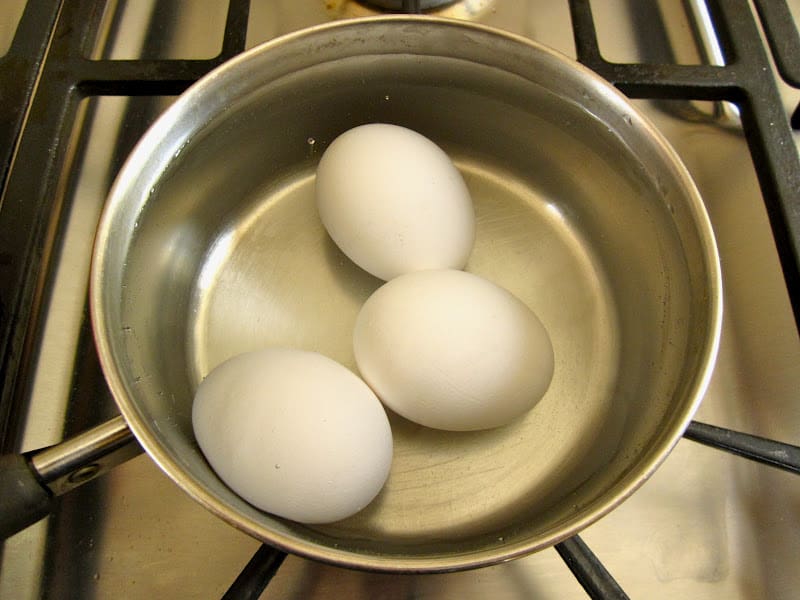 Serve soft boiled eggs with soldiers, with salt and pepper, and a nice cup of tea!
Yummy, dippy egg!
Don't miss another recipe or travel post; sign up for my free subscription below!
I promise not to sell or share your info, ever!
Christina's Cucina is a participant in the Amazon Services LLC Associates Program, an affiliate advertising program designed to provide a means for sites to earn advertising fees by advertising and linking to Amazon.com