Pear nectar is a refreshing way to enjoy a fresh fruit beverage without any added sugar or unnecessary ingredients.
When I was a little girl, my parents used to drive our family to Italy in the summer to visit my maternal grandparents, and many of our relatives.
As an Amazon Associate I earn from qualifying purchases.
Memories from Italy
It was so wonderful for me for so many different reasons: the weather was fabulous compared to Scotland; I was allowed to run around the village unsupervised; we would go to the beach, and I could actually go into the water (not like the lochs in Scotland, which were always freezing!) and of course, the food was incredible!
One of my best memories is of Zia (Aunt) Maria going under my nonni's (grandparents') exterior stairs where there was a little storage cupboard, and pulling out tiny homemade bottles of "succo di frutta" ("fruit juice" but it means fruit puree) for my brothers and I to drink on a hot day.
She used to make peach, apricot and pear, and to this day, I can remember exactly how they taste. Each one was better than another, and I never could decide which was my favorite, because they all tasted like nectar from heaven!
I was in an Italian grocery store last week and I spied this little bottle of "succo di frutta" made from pear, and it reminded me of when I was very young. It was made in Italy, and I bought it thinking it would taste like my Zia Maria's, however, I didn't read the ingredients until I arrived home. What a disappointment!
Like everything else, so many things change, and often not for the better. This pear nectar contains sugar, glucose-fructose syrup and other added ingredients! What a shame, when all that is really necessary is some tasty fruit, the way it used to be made.
Pear Nectar
makes two servings:
2 large, organic, ripe pears
a few ice cubes
Just blend! No need to add any sugar, as pears are sweet.
This is what the pear nectar looks like; so delicious! This must be enjoyed immediately, as the drink will get thick and turn brown if left for some time, which won't be very appealing!
You can do the same with apricots or peaches, or really any fruit you enjoy. There are some fruits to which you'd really like to add some sweetener to, such as strawberries or rapberries. However, remember to keep your options open to things like honey or maple syrup, which are all fabulous when used in smoothie and blended drinks.
Don't miss another recipe or travel post, sign up for my free subscription below!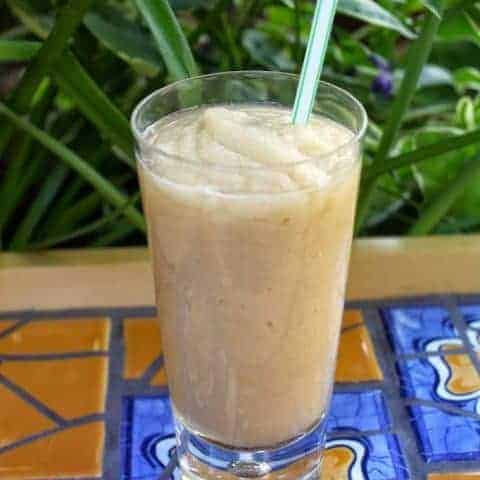 Pear Nectar
A super easy smoothie that has only one ingredient!
Ingredients
2 ripe pears
a few ice cubes
Instructions
Just blend! No need to add any sugar, as pears are sweet.
Nutrition Information:
Yield:

2
Serving Size:

1 glass
Amount Per Serving:
Calories:

95
Total Fat:

0g
Carbohydrates:

25g
Protein:

.5g
Christina's Cucina is a participant in the Amazon Services LLC Associates Program, an affiliate advertising program designed to provide a means for sites to earn advertising fees by advertising and linking to Amazon.com.