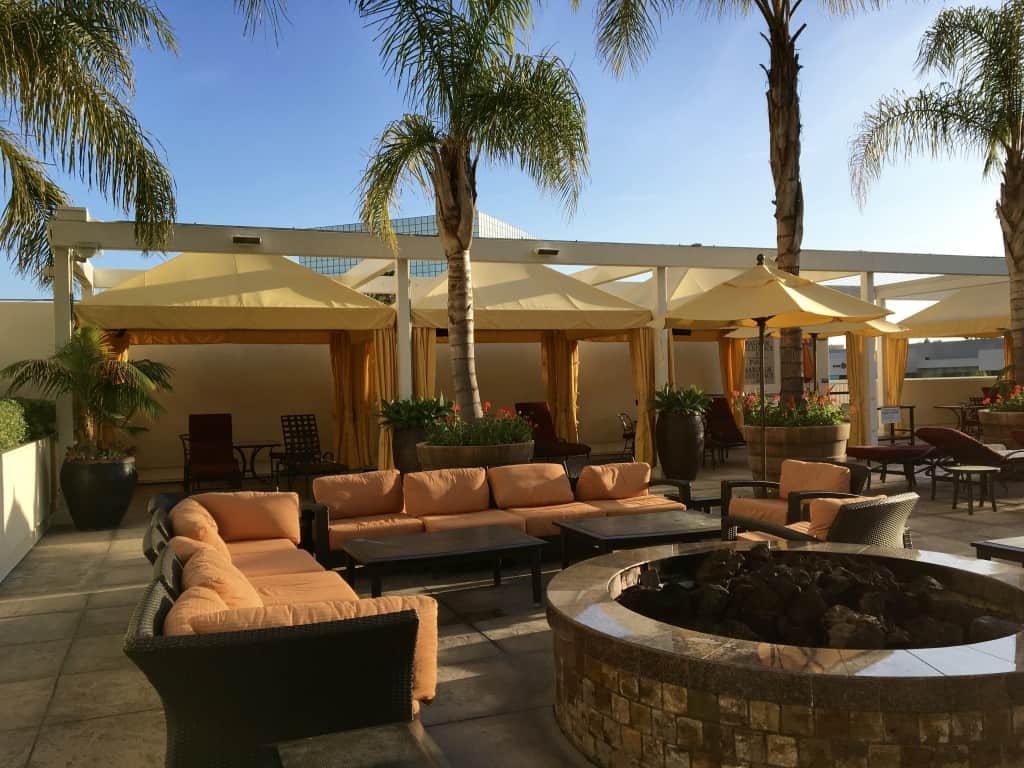 I'm very fortunate to be able to write about travel destinations near my home for a couple of reasons:
 Los Angeles is a massive city with millions of people, so many of my readers live nearby.
 Other readers from cities all over the world (there are a lot of you in the UK and Australia) have a higher probably of planning a visit to Southern California, than to Dubuque, Iowa (no offense to Dubuque as I've never visited, but it's the first, random US city that came to mind!)
My point is that what I post here can be useful to those who live near and far. And there's so much I could share–I've lived here for over 25 years, and my list of places I have yet to see is very long!
Disclosure: I was hosted for two nights (with one breakfast) at Fairmont Newport Beach. All opinions are solely my own.
So let me introduce you to a fabulous hotel, the Fairmont Newport Beach, just in case you will be visiting and possibly doing some "touristy" things in Orange County, the home of the Happiest Place on earth: Disneyland! The Fairmont Newport beach is truly a wonderful hotel to use as your home base.
I had my first Fairmont experience at the Jasper Park Lodge in Alberta, Canada a few years ago. All I could think of was, "Wow." Just take a peek.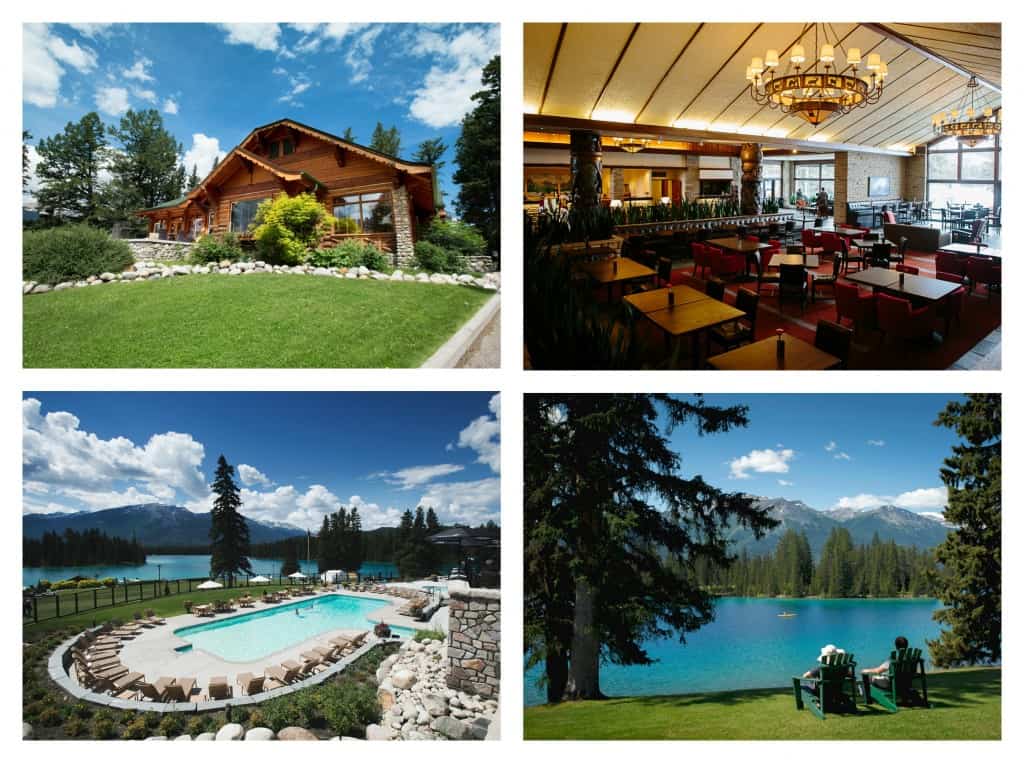 Two weeks ago, my friend and fellow food/travel writer, Cynthia, from What a Girl Eats, and I were heading to the Women In Travel Summit which was being held in Irvine (Newport Beach's nextdoor neighbor.) When I noticed how close the Fairmont was to the venue, I didn't need to look any further. Reservations were secured!
_____________________
When we arrived, Cynthia and I were welcomed to our room with a lovely surprise: a cheese and fruit tray, with a small cruet of honey (at this point we had no idea that the honey was from a hive on site!)
After some nibbles and settling into our lovely room with a view, we decided to explore before going to our first event at the conference. The pool area is smashing! It honestly didn't feel as if I was so close to home.
Both Cynthia and I loved the heat lamps that were around the seating areas! We've never seen anything like them before and we were smitten; they look like oversized table lamps!
Back in our room, we got ready to leave, but not before snapping some shots to share with you. By the way, the linens were immaculate (I always check, and you should too) and the bathroom spotless.
That night, both Cynthia and I slept right through the night. No doors banging,  noises from next door neighbors or outside the hotel. This is a huge plus for me when sleeping at a hotel; I'm sure most of you can relate: an interrupted night's sleep can mean having a rough time the following day.
The shower was wonderful, but I kept mine short as I do at home, since Southern California is still in a major drought, and we're all encouraged to save water. I truly try to do my best, as I remember turning on taps in Italy when I was younger and having nothing come out. It's a terrible situation, and I think most people think it can never happen to us, which is simply untrue.
Next stop was breakfast! Cynthia and I both had no idea what we were in for when we went downstairs.
The food at the Fairmont Newport Beach that morning, was nothing short of impeccable, yet delicious! The service was top-notch too, and we were treated to a lovely triangular pastry tray, filled with delectable breakfast treats, homemade marmalade, butter and jam, as well as some stunning gold flecked, chocolate-covered strawberries!
Cynthia ordered the Eggs Benedict as she can never pass them up, and I chose the breakfast buffet. I was so impressed with the quality of the dishes and all the ingredients. The scrambled eggs were "free range", the bacon was so meaty, with hardly had any fat (major points here) and the fruit and granola parfaits were beautiful, but they tasted even better than they looked. We were told the granola was homemade as was the fruit sauce, and drizzled with honey from bees that was taken from hives on site! Now that's impressive!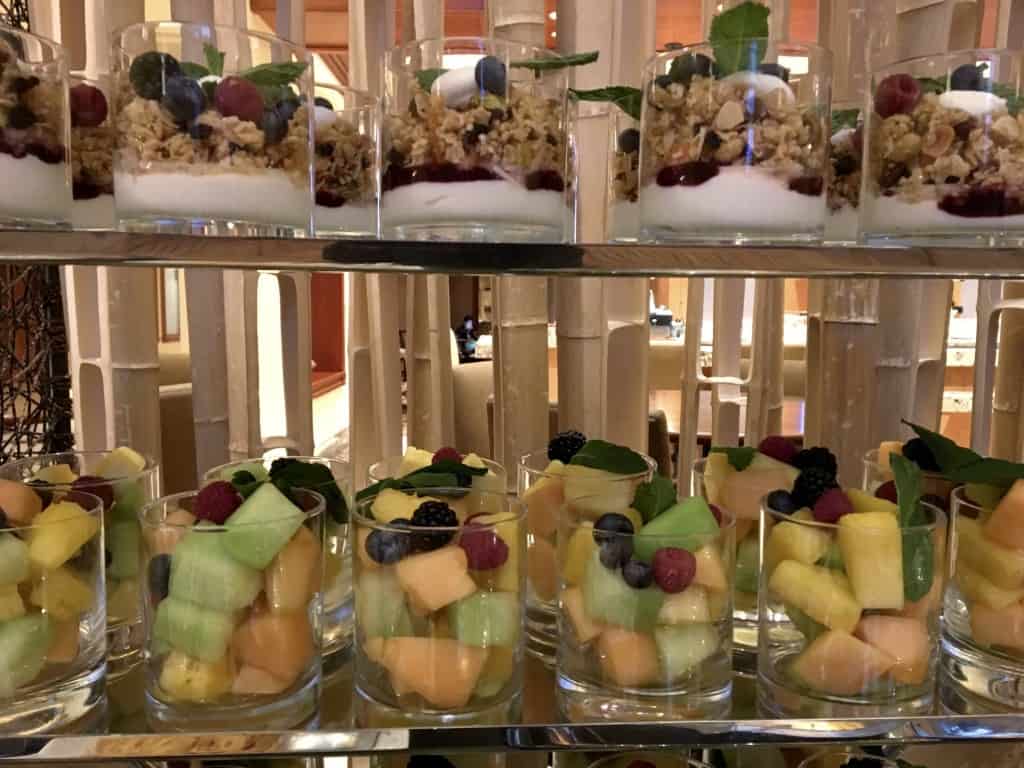 Both Cynthia and I were truly impressed by the breakfast fare, but you know me and my sweet tooth: I had to end with one of the most delicious things I ate that morning, a pecan roll. Just look at this beauty!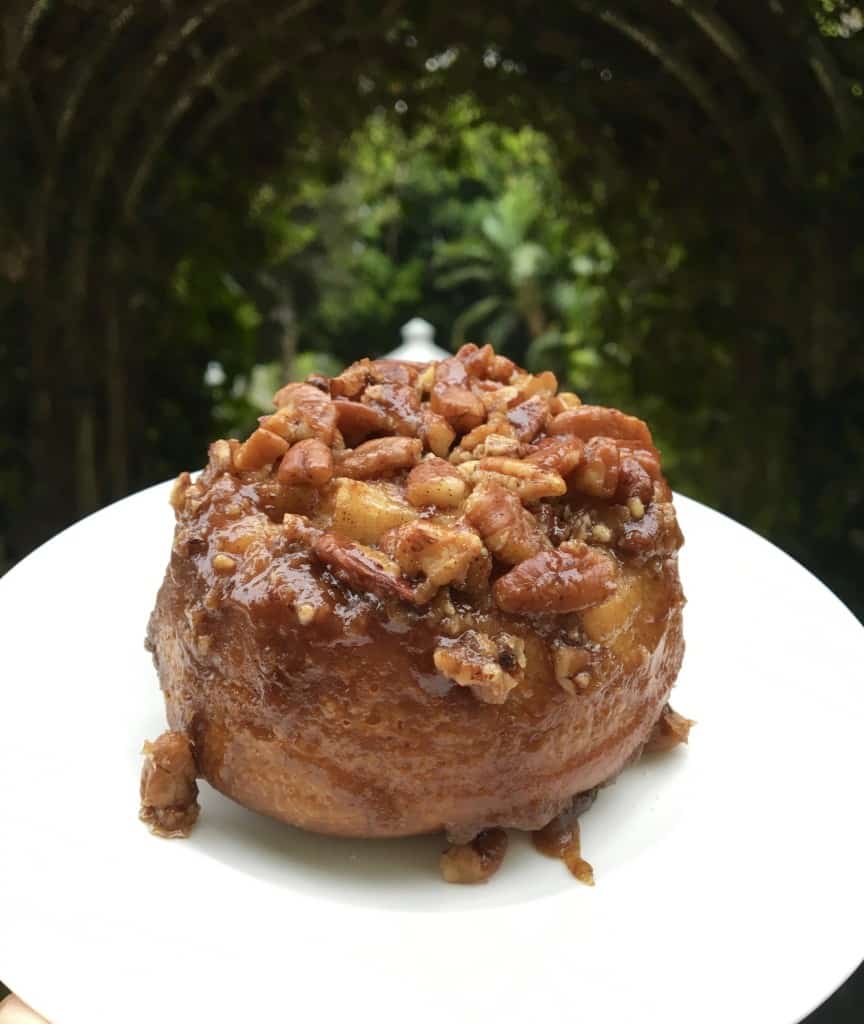 And here's an amazing fact: exactly 26 years ago to the day, I was at this exact Fairmont Hotel, except I hadn't realized that I'd been there before because it wasn't a Fairmont at that time. Why was I here? It was my friend Elizabeth and David's wedding day! You remember Cream Puff Dave (he's going to kill me for that)? And this is the exact spot where they tied the knot! Isn't it an exquisite location?
And here it is 26 years ago! There were no digital cameras then.
Besides weddings, Cynthia and I decided that the Fairmont Newport Beach would be a perfect idea for a Mother's Day treat. Bring Mom for brunch, lunch or even dinner. You could even give her a gift certificate for a different day, if you don't want to go out on Mother's Day, which is something I prefer.
You probably won't believe that this type of luxury is so affordable because the Fairmont also has a 4th NIGHT FREE OFFER: after a 3 night stay, your 4th night is free!
I'd like to add, the valet parking ran seamlessly. The valets were all very professional and took no time to bring my car around each time we had to leave.  It was sad to leave such a luxurious environment after the conference, but all good things come to an end–at least that's what they say.
Have you ever stayed at a Fairmont property? If so, what did you like the most?
For more details and to book a room at the Fairmont Newport Beach, CLICK HERE.
Don't miss another recipe or travel post, sign up for my free subscription below!
I promise not to share or sell your email address, ever.
Disclosure: I was hosted by Fairmont Newport Beach, but did not receive any compensation. All thoughts and opinions are mine alone. I am disclosing this in compliance with FTC guidelines.