Rye, England is one of the most historic and charming towns I've ever visited. You'll be consumed with the cobblestone streets, marvelous sights, and Tudor and Georgian architecture, and want to return over and over, just like me.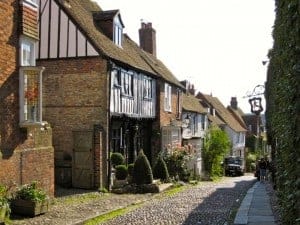 Originally published December 6, 2014
I have been visiting Rye, England since I was a baby.
As an Amazon Associate I earn from qualifying purchases. Disclosure: The Royal Oak Foundation provided me with two Individual Memberships for my mother and me while traveling in the UK last autumn, however, I have purchased family memberships for years and as always, all opinions are my own.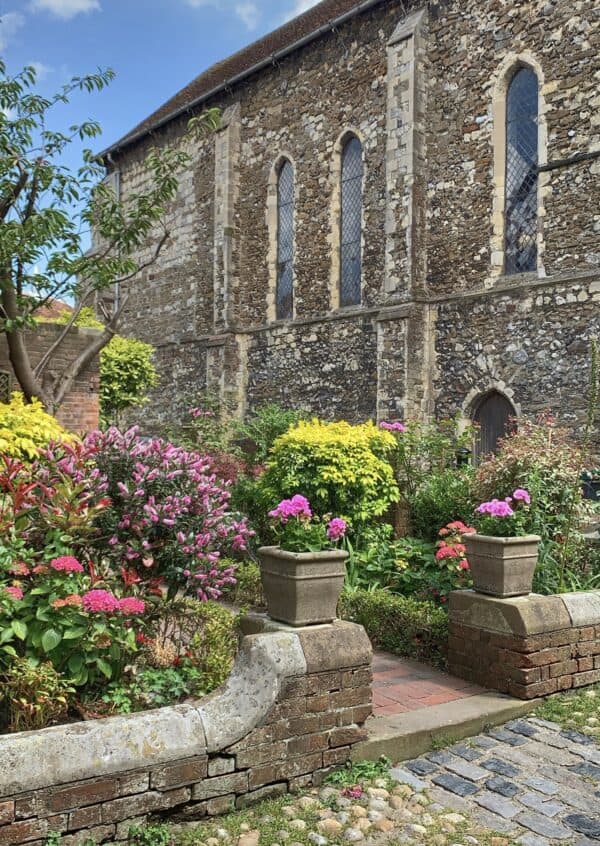 Rye is one of five ancient ports called Cinque Ports (French). This is an example of typical pub in England, which is located in Rye.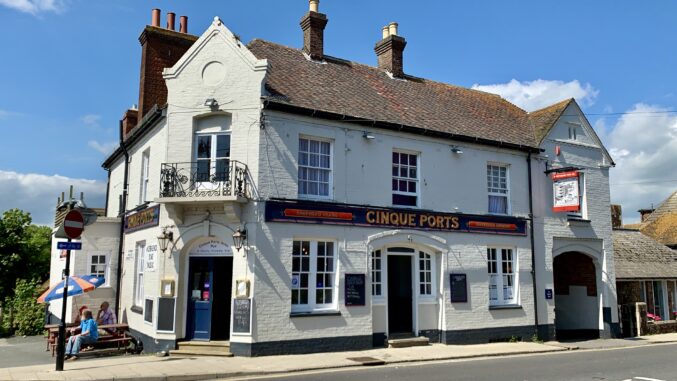 Rye, England
You'll remember that I wrote a little about Rye, England in my post about the wonderful Mermaid Inn.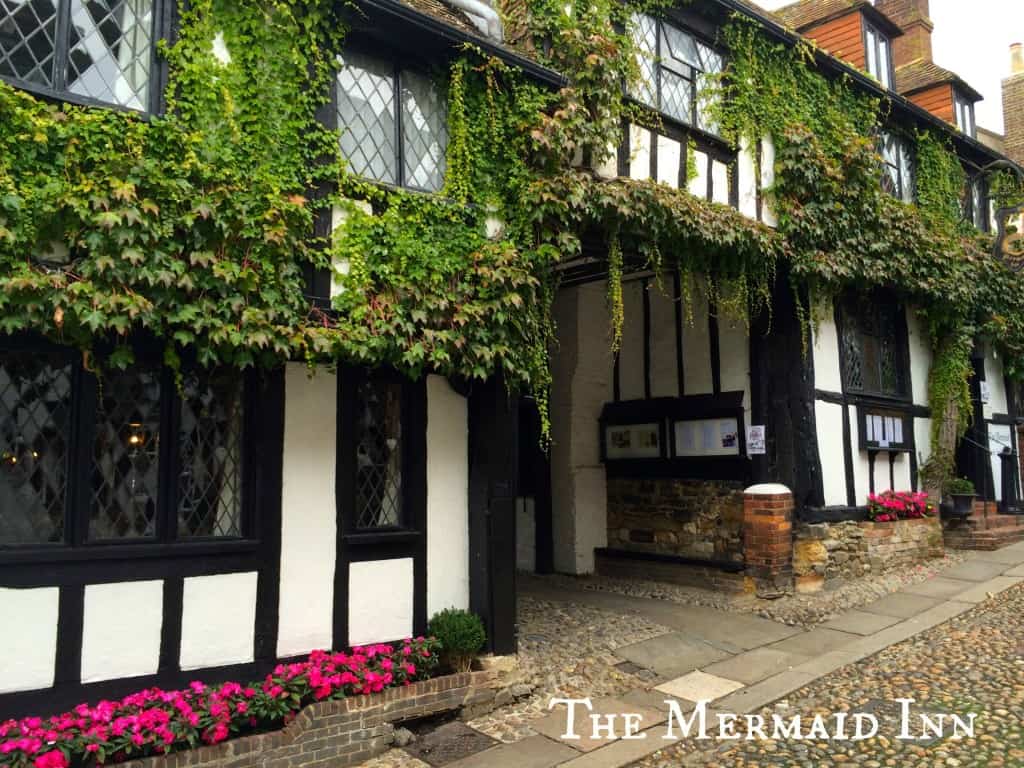 This is a town I've been visiting since I was very young, because my Aunt Rosa lives there.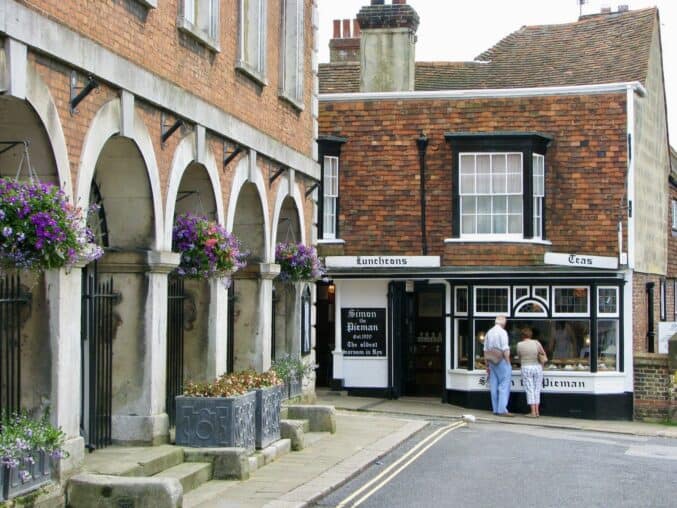 It is one of the most beautiful towns I've ever seen, with its cobblestone streets, Tudor and Georgian architecture and hilltop location overlooking the English Channel, and sometimes even sharing a peek at France.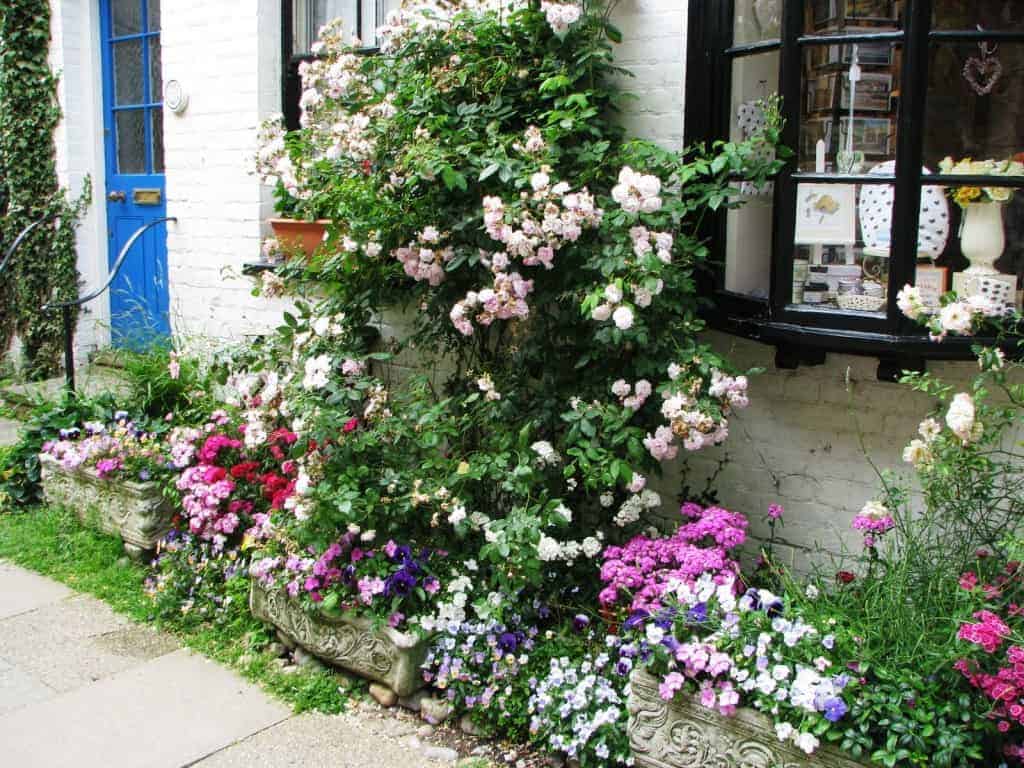 It's truly a place to add to your travel bucket list. (Updated Oct. 13, 2023: I am heading back to Rye this next week and will update here with more photos!) Follow on Instagram and Facebook for more.
When I'm in Rye, I love to wander around the historic streets, popping into food shops, charity shops, and gift shops. My friend Suzanne lives nearby, and has a great list of the best things to do in Rye.
One of my favorite things is peeping at the treats in bakery windows–taking photos every step of the way!
I spied these Eccles Cakes and now have a recipe to share with you.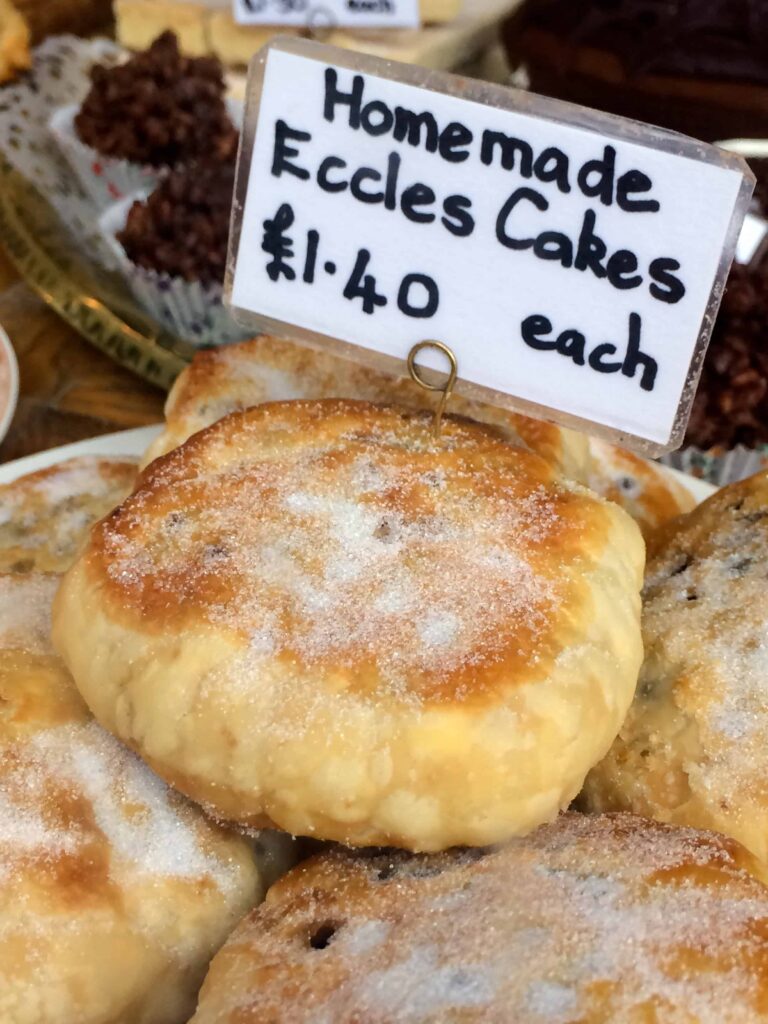 You could say that Rye is one of my "happy places".
Another place I love to go to in Rye is Lamb House, which is part of Britain's National Trust–similar to our US National Park system, but it includes so much more. The National Trust protects British…
Houses & buildings
Gardens & parks
Nature & wildlife
Coast & countryside
Collections
Sites & monuments
Lamb House, for example, is the former home of American-British writer, Henry James.
The Royal Oak Foundation
I don't know about you, but I just never tire of learning history when I travel, especially since the US is such a relatively "young" country. However, the reason I'm telling you all about the National Trust is because I want to introduce you to The Royal Oak Foundation (Americans in Alliance with the National Trust of England, Wales and Northern Ireland), which is based here in the US and is a sister organization to the NT.
I don't remember how I originally discovered the Royal Oak Foundation, but I have been buying a family membership for many years whenever we visit the UK. The annual membership saves us a lot of money because it provides 2 adults and their children full admittance to every National Trust property in the UK (reciprocal benefits with the National Trust for Scotland, too) and a parking pass, too!
Here are just a few photos of the many places we've been to with our Royal Oak Membership~
The Hill House, Helensburgh, Scotland.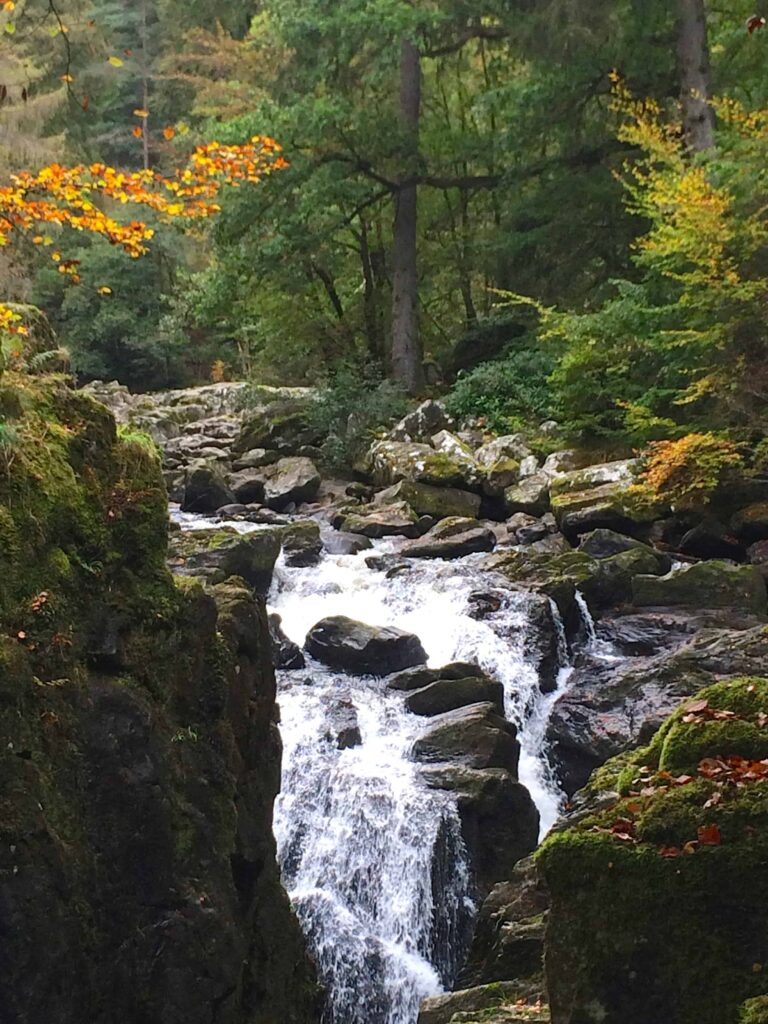 The Hermitage, Dunkeld, Scotland.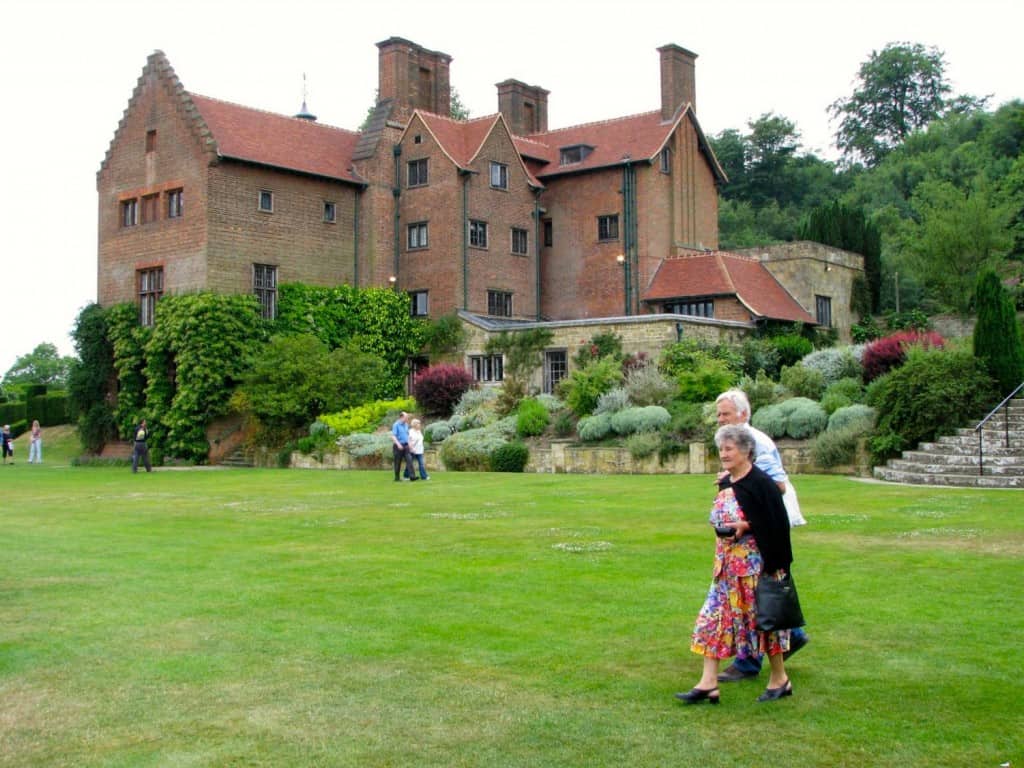 Chartwell, Winston Churchill's home in Kent.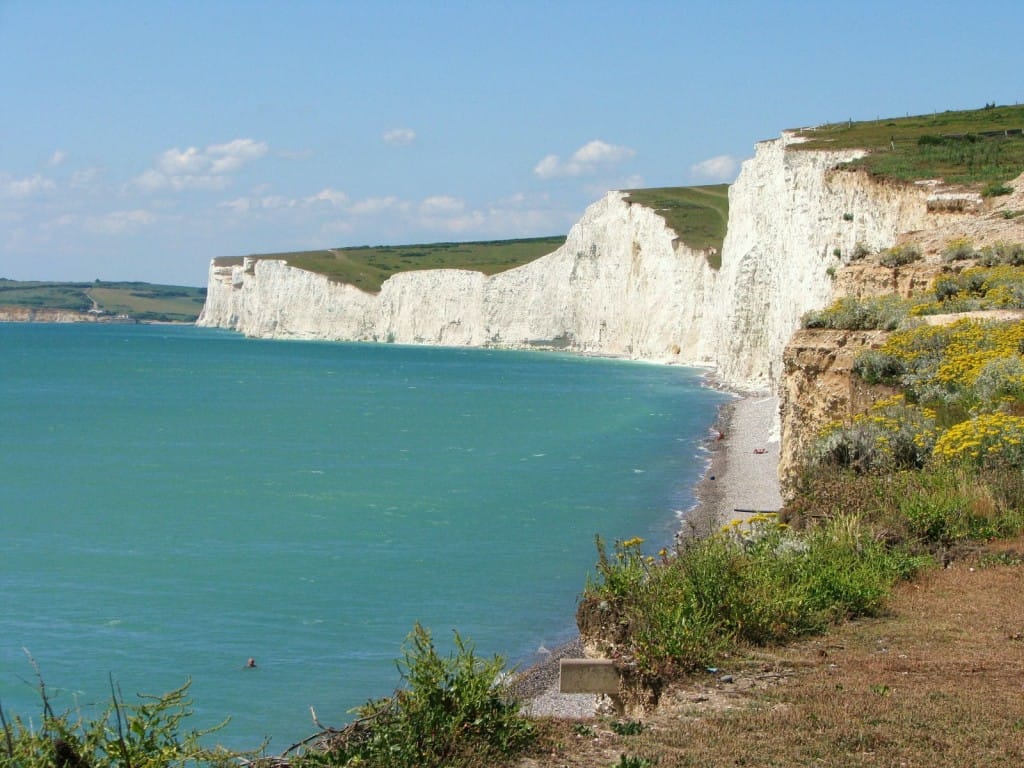 The Seven Sisters, East Sussex, England.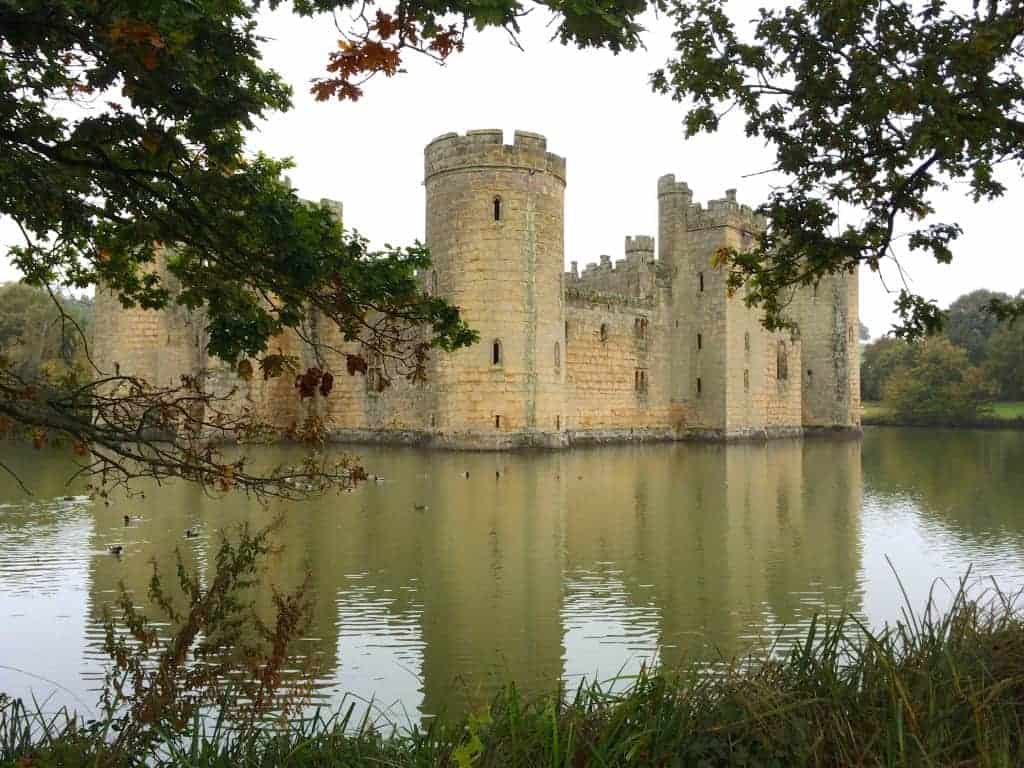 Bodiam Castle, East Sussex, England.
We've been to so many other places, too, including Stourhead, where part of the 2005 Pride and Prejudice movie was filmed, Bateman's (Rudyard Kipling's home) as well as Lacock Abbey, one of the filming locations for Harry Potter, Chamber of Secrets; my kids loved this!
If you are heading to the UK this year, I have some great news! Just for being one of my readers, the Royal Oak Foundation is offering you a DISCOUNT CODE FOR 10% off MEMBERSHIPS!
Thank you for helping to support an organization I truly believe in!
Join The Royal Oak Foundation
No admission fees. No waiting on lines. Just quick and easy access to the best of Britain!
ALL membership levels provide:
Unlimited entry to over 350 properties of the National Trust of England Wales & Northern Ireland
Unlimited entry to 100 properties belonging to the National Trust for Scotland
Reduced admission price for U.S. lectures, tours and other programs
Tax-deductible member dues
10% Discount on Royal Oak merchandise
Remember to use Promo Code: "CUCINA" for a 10% discount on annual memberships.
Now you know so much more about Rye, The Royal Oak Foundation and Eccles Cakes, right? Education is never a waste of time!
Don't miss another recipe or travel post; sign up for my free subscription below.
Christina's Cucina is a participant in the Amazon Services LLC Associates Program, an affiliate advertising program designed to provide a means for sites to earn advertising fees by advertising and linking to Amazon.com.