German food is fabulous! Let's go beyond bratwurst, and ever popular pretzels. Discover authentic German dishes, and you'll realize that this European cuisine is highly underrated. Why not visit Germany for a culinary adventure?
Germany is one of my favorite European countries, and German food and wine are two of the top reasons for this choice.
Disclosure: I was invited on a 5 day culinary/wine press tour by SouthWest Germany. No conditions were made for any reviews, and as always, all opinions are my own.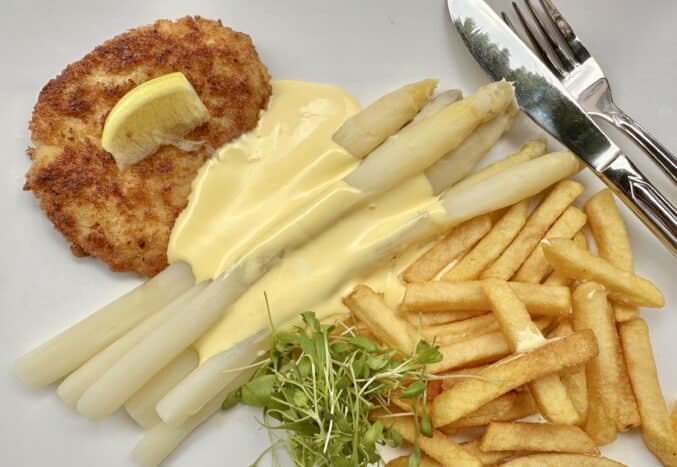 Note: I want to note that although I'll be highlighting German food, most of these dishes which follow are from the SouthWest Germany region. This is the map and route that I took on the trip through SouthWest Germany.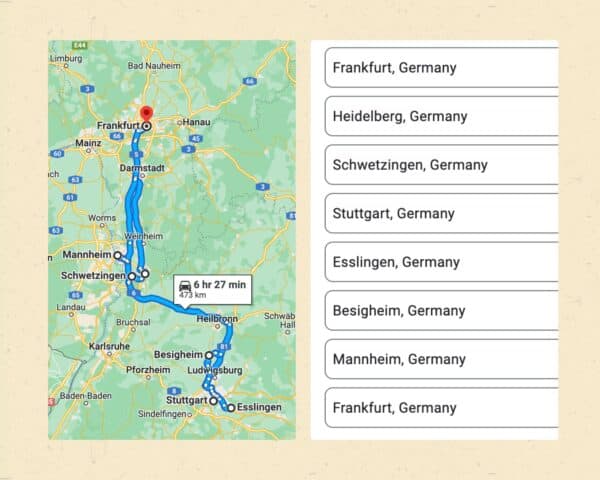 I truly adore visiting Germany, and was fortunate to spend a week at the Christmas markets in Cologne a few years ago. Check out my list of top 10 reasons to visit the German Christmas market which of course includes grilled bratwurst and onions!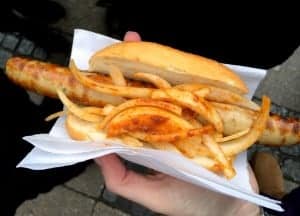 German Food: A Culinary Adventure
in SouthWest Germany
Pour yourself a Reisling, enjoy some photos, and learn about German food for a spell. I think you'll enjoy it! My next post will highlight the places we visited, and wine tasting along the route. I believe there is something special about German food, and I want you to believe it, too! Prost!
German Food
A note about the quality of German food: if you have never visited Germany, one of the first things you'll notice about the produce, meat, cheese, dairy, and all the food in markets, and dishes in restaurants–is that it is of an extremely high standard.
I was constantly aware of the quality in everything I tasted, even something as simple as an apple.
You can smell, see and taste the superior quality. I think you'll even be able to see what I mean in the photos which follow.
Starting from the Frankfurt airport, we drove a short distance to Heidelberg. I chose weiner schnitzel for my first meal in Germany (on this trip). A colleague ordered a radler, which is simply a German shandy. She had never had one before and immediately fell in love with it! More on schnitzel below.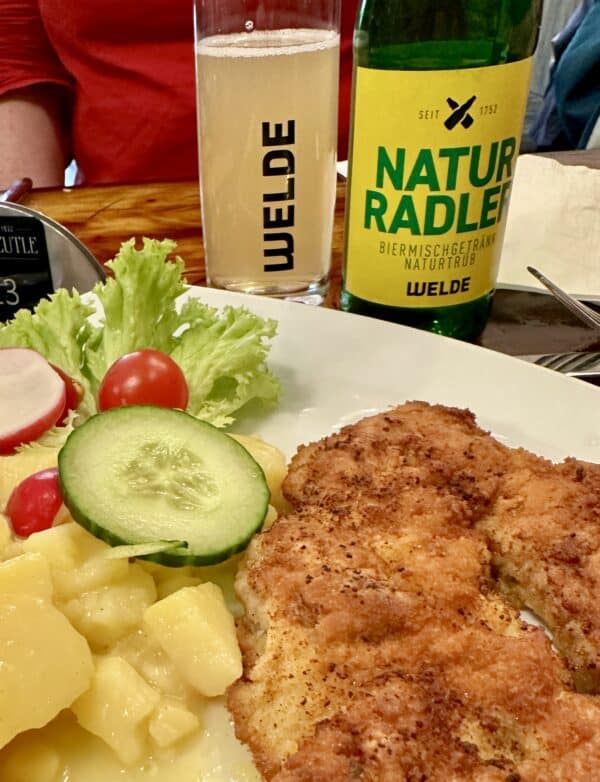 Asparagus
A highlight of visiting SouthWest Germany in springtime is that it coincides with asparagus season, known as "spargelzeit" in German. When is asparagus season in Germany? Spargelzeit runs from Mid-April to about mid-June. White asparagus is an incredibly prized vegetable in Germany. I am not sure I can sufficiently describe the fervor and feeling that Germans hold for this pale stalk! I must add that while I'm not a fan of green asparagus, I too, truly enjoy white asparagus due to it's mild and delicate flavor.
There are entire menus in Germany devoted solely to white asparagus while it is in season.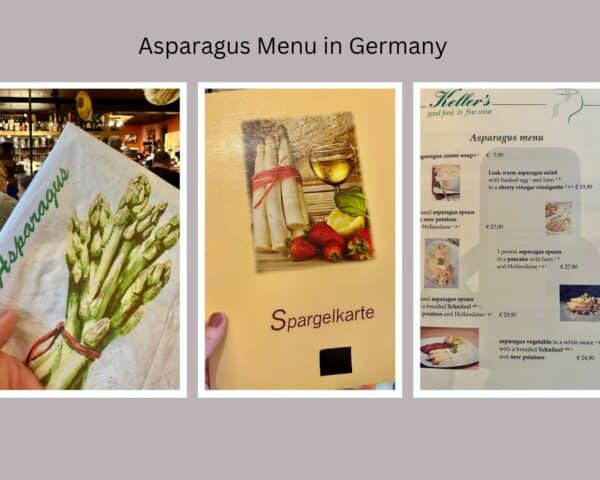 It's made into asparagus soup, added to appetizers, served as a side dish, added to flammkuchen, and much more.
Believe it or not, white asparagus even works it's way (literally) into liqueur!
I tried to think of something to liken it to in the US so that you can understand its' appeal in Germany, and the only vegetable that comes to mind is the Hatch chile pepper. During Hatch chile season, many of us go "mad" for this pepper grown in a specific region of New Mexico. There are Hatch chile roastings across the country, and those who know and have tried Hatch chiles, can't get their hands on enough of them. This is similar (on a lesser scale) to the white asparagus grown in specific regions of Germany.
There are even "asparagus roads" which run through Baden-Württemburg and other regions that encourage asparagus tourism. Schwetzingen, which isn't too far from Heidelberg, likes to lay claim to the title, "asparagus capital of the world." The town holds an asparagus festival, and also crowns an Asparagus Queen!
I visited this little town, which boasts the spectacular Schwetzingen Castle, with impressive gardens, and I would most definitely recommend it to anyone wanting to get off the beaten track in Germany (more to come).
While in Schwetzingen I visited family run Fackel-Kretz spargelfhof (asparagus farm) when the last of the day's harvest was being brought back to be washed, sorted, peeled and prepped to sell. The farm has been in the family since 1899, but It was one of the most interesting processing for a vegetable that I believe I've ever seen!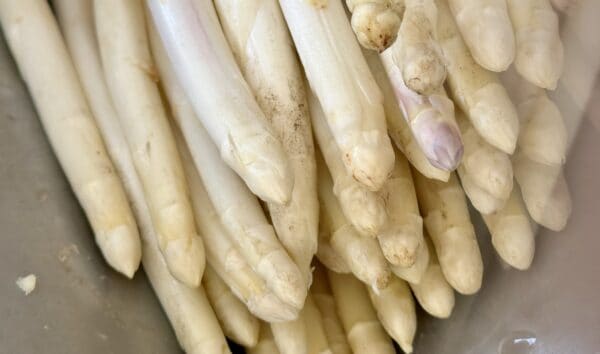 The asparagus peeling machine alone was worth the visit! Did you know that white asparagus lacks pigment because it's grown completely underground? I must highlight one specific asparagus dish because it really made an impact on me, as well as others in our group.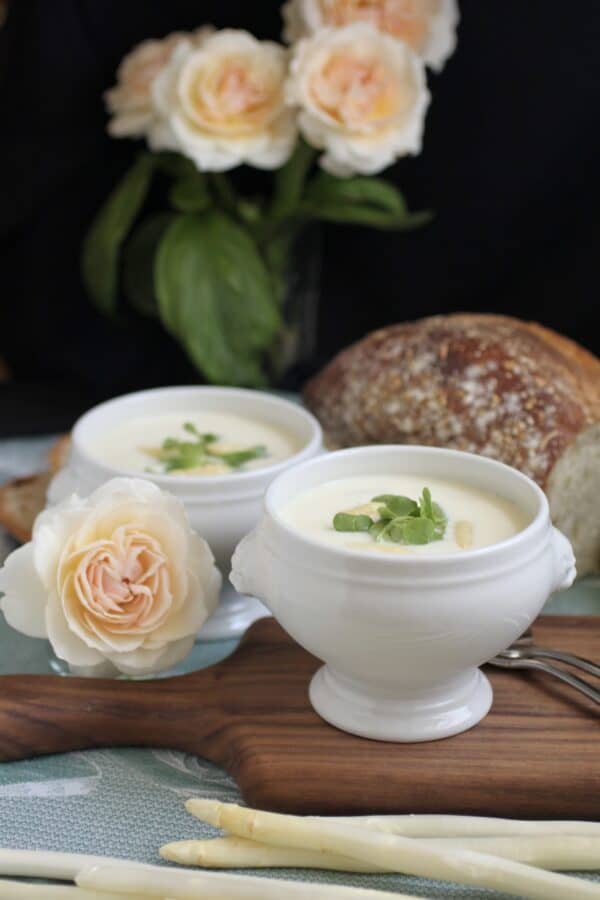 Asparagus Soup
One of my favorite discoveries on this trip to SouthWest Germany was asparagus soup. Who knew such a simple, pale-colored soup could pack such incredible flavor? You may recall that when I returned from my trip, one of the first things I did was to recreate the dish in my kitchen. I found an authentic German recipe for asparagus soup, and am extremely pleased with the end result after several (delicious) batches of testing.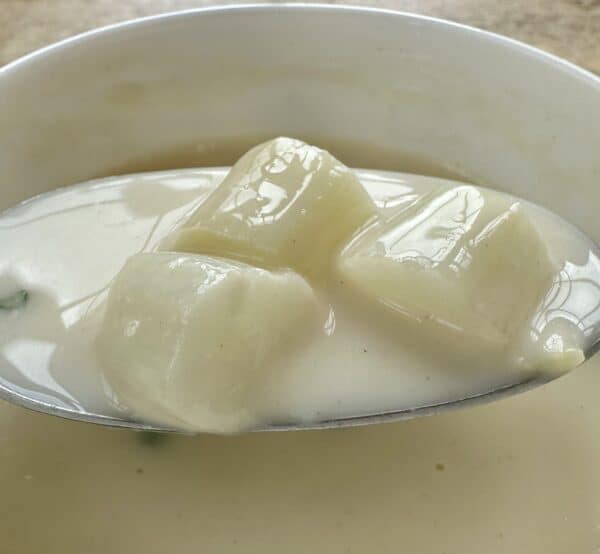 Maultaschen
I have heard so much about maultaschen for years and they've been so interesting to me because of the foklore that accompanies them. Apparently, they were first made by monks who, during Lent, would fill the ravioli type creations with meat. The pasta hid the meat from God's view. 😂 For those of you who are not familiar with Catholic monks and Lent, meat is not to be eaten during Lent (the weeks leading up to Easter).
Now, there are an incredible variety of fillings for maultaschen, including vegetarian and vegan ones (which would be approved during Lent without hiding the filling)! They can be served as a starter in a broth, a main course, or even as dessert when made with a sweet filling and/or sauce.
Spaetzle

This German egg noodle is very popular as a side dish, but if you haven't ever had it with cheese and onion, you're missing out! (Sorry, the photo was taken inside at night.)
Wiener Schnitzel
While the origin of schnitzel is disputed between Italy and Austria, Germany also makes a mean schnitzel and I order it often when I travel there. As you can see above, it was served with asparagus and Hollandaise sauce, and below it was served the same way, but with sauce on the side.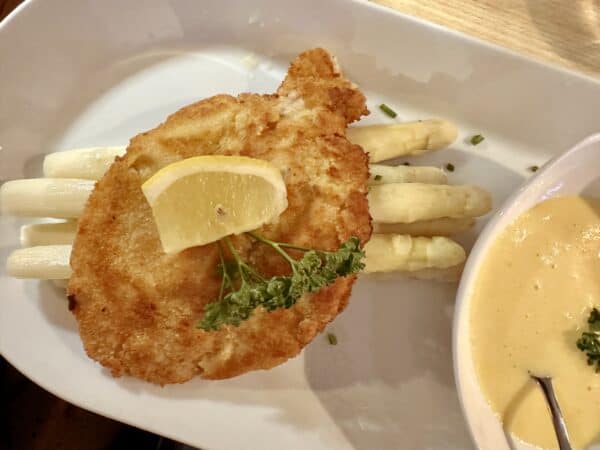 Sauerbraten (a Most Popular German Food)
Sauerbraten is one of the most popular national dishes of Germany. What is it, you ask? It's meat that's marinated in wine/vinegar or may be considered pickled (when using vinegar) and cooked slowly. It's often served with potatoes, potato dumplings or spaetzle (German noodles).
Serviettenknödel
This was a new dish for me at the Schwetzingen Brauhaus zum Ritter, which I really enjoyed. I'm the person at Thanksgiving who doesn't care much for the turkey, but wants seconds and thirds of stuffing. If this is you, you'd love serviettenknödel, too! I asked about the dish and was told it's made from stale pretzels, and served with gravy! It really reminded me of stuffing, so I want to try making it myself. I even came home with a recipe.
Schweinshaxe (Pork Knuckle)
If you know me, you'll know that pork is by far my favorite meat. So when I saw the option for half portion of schweinshaxe, or pork knuckle on a menu in Stuttgart, I was thrilled! This was definitely one of my most enjoyable meals.
The entire portion would be much too big for me, and I hate to waste food, especially meat.
Blutwurst
I understand if this dish may be off-putting to many Americans. Blutwurst is what I call black pudding, but you may know it as blood sausage. I grew up eating it in Scotland so I don't have the same aversion to this , in fact, I love it! This dish was my lunch in Rotenberg, just outside the city of Stuttgart. I enjoyed this dish, but if you're used to British black pudding, it's a little less firm.
German Seafood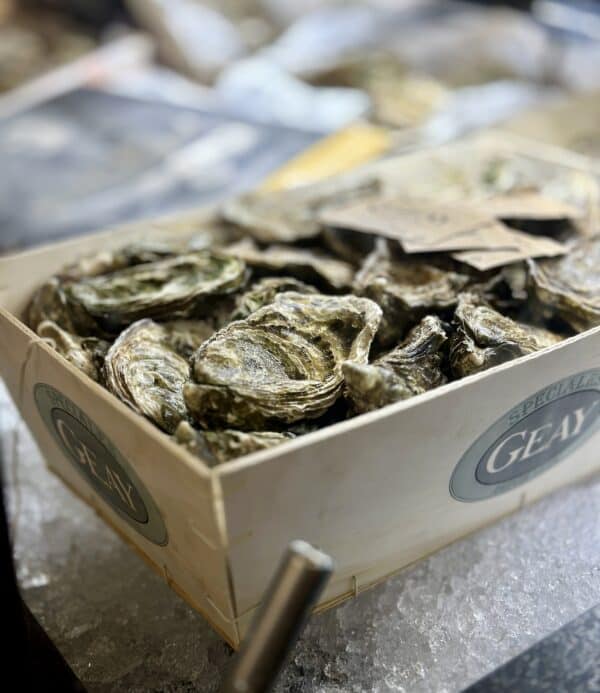 If you're pescatarian, or simply enjoy seafood, you won't be disappointed in Germany. There were many options in markets and menus.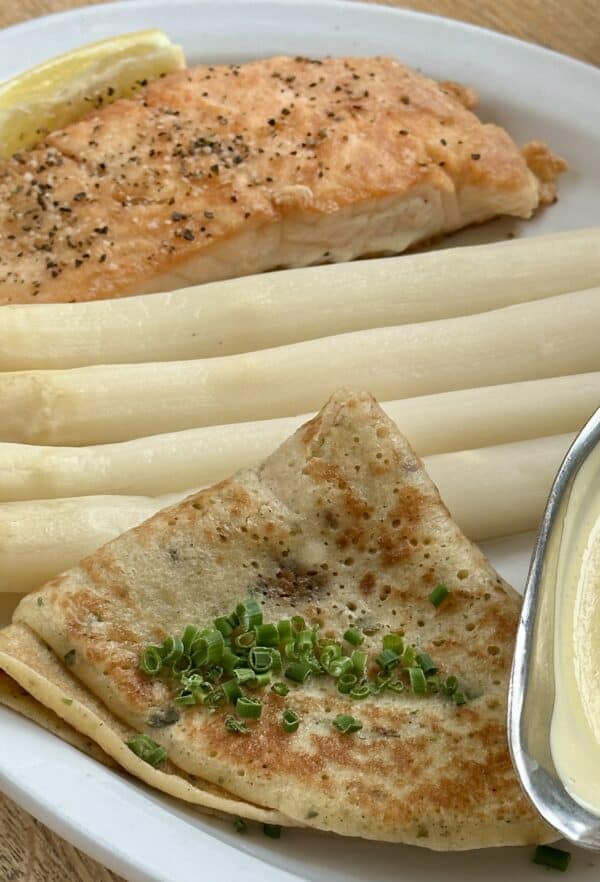 While the most popular fish in Germany is salmon, you'll find trout and many types of smoked fish, too.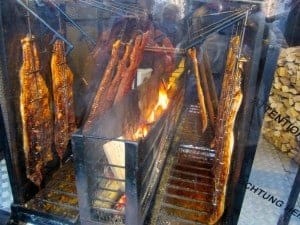 This photo was from my trip to the German Christmas market where there were many stalls smoking fish.
German Desserts & Baked Goods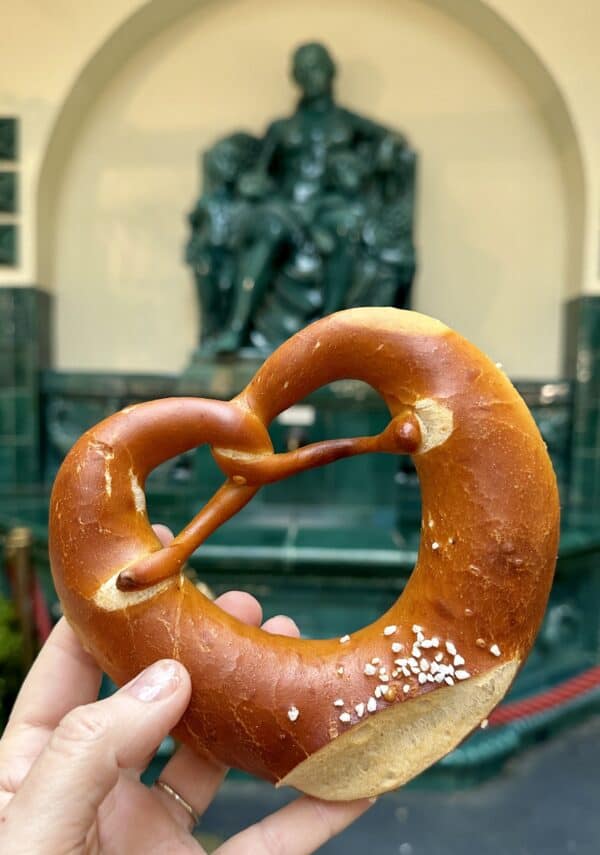 You can't go to Germany and not have a pretzel! I had a few and they never fail to please! And just so you know, I'm holding back on posting everything I want to share here because it'd simply be too much, but I have to tell you, when I landed in Germany and was walking through the terminal, I passed by a bakery and I cannot describe to you how much the scent of baking bread filled the area.
I smelled it before I saw the bakery. I've never had this experience in an airport terminal, not even in Italy. My advice: do not miss the baked goods when you are in Germany.
Luckily for me, rhubarb is popular in Germany, and I visited during rhubarb season. This is a simple pastry topped with rhubarb and a crumble topping–delicious! I brought it on the Riverboat Heidelberg cruise not realizing they'd wine and dine us like royalty!
You'll never be far from glorious sweets and bakeries. German food has many creations which appeal to those of us with a sweet tooth (or two)!
For example, schneeballen, or snowballs, are a unique deep fried pastry in the shape of a ball. I discovered these in a shop in Heidelberg years ago, and had to pop in this trip. The lady in the shop told us the lovely history on the pastry which originated over 400 years ago in Rothenburg ob de Tauber.
A poor mother wanted to have a gift to give friends and family on the occasion of her daughters wedding, to share the joy of the marriage. She prayed to ask for a sign on what she could do because she was so poor and it came in the form of her younger children having a snowball fight. They were so full of joy, that she realized that if she could make something to symbolize the snowball, that would be the key. Since she had chickens and many eggs, she set about making a pastry only two days before the wedding, and came up with this recipe for schneeballen. With the exception of butter, the recipe is still the same today, and the pastries come in many flavors. It is very similar to Italian cioffe or frappe, but shaped into a ball before frying.
Rhubarb Tart
I was already in the process of writing a rhubarb tart recipe when I was invited on this SouthWest Germany press trip, so it seems that it was meant to be! This is a very popular bakery option in this area.
If you're a rhubarb lover, you definitely would be in your glory eating this tart!
Apple Tart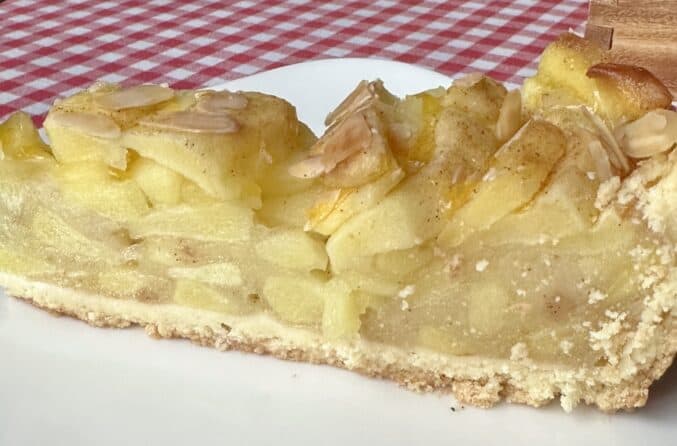 This was a vegan apple tart that was part of the breakfast buffet at Park Inn, Stuttgart. I raved about this to everyone on the trip! The apple flavor was incredible, and not too sweet. I would love for everyone to taste an apple tart like this one at least once in their life. I make a similar apple pie, but the apples I can source have nothing on these.
Curd Dumplings
These curd dumplings are made with quark (a type of cheese) with an apricot filling and served with a vanilla sauce (like custard).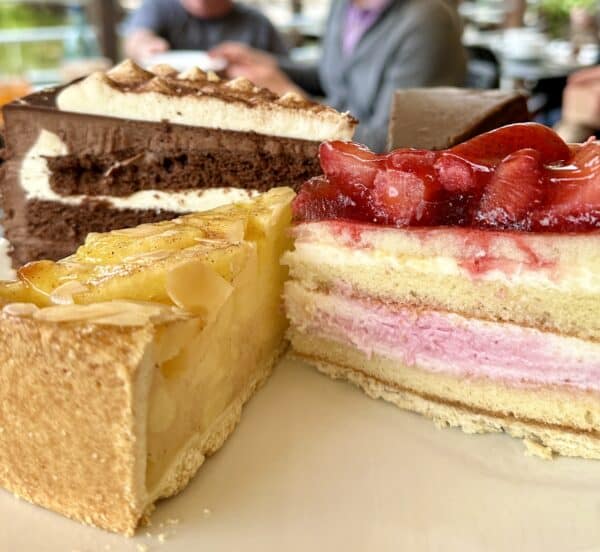 German bakeries often include European varieties of pastries.
But also boast local specialties like these simple wibele cookies which are from the Baden Württemberg region.
Black Forest Tiramisù
While Black Forest cake is the traditional, regional cake of South West Germany, I was delighted to try a Black Forest tiramisù given that I am part of the Tiramisù Academy California, and judged the Tiramisù World Cup in Treviso last year! It was very good, and I'd love to make this version at home! Would you like a recipe?
Spaghetti Eis
Although there are many more desserts, sweets and baked goods that are served throughout Germany, including apfelstrudel or apple strudel, one of the most famous treats, specifically from Baden Württemberg, has to be spaghetti eis from Fontanella in Mannheim.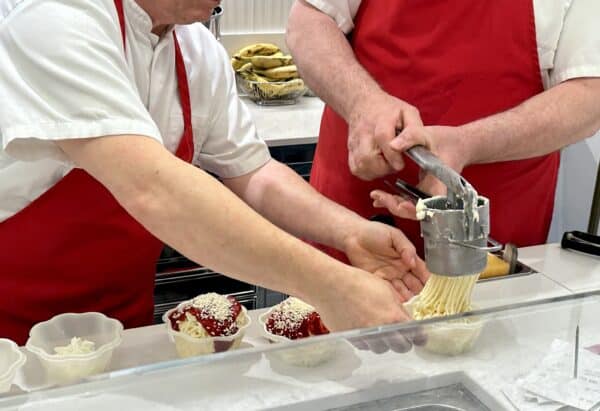 Dario Fontanella, a 17 year old Italian whose father owned an ice cream shop in Mannheim, created the idea for an ice cream treat made to look like spaghetti, topped with a strawberry sauce to look like tomato sauce. The crowning glory is grated white chocolate which imitates Parmigiano Reggiano cheese!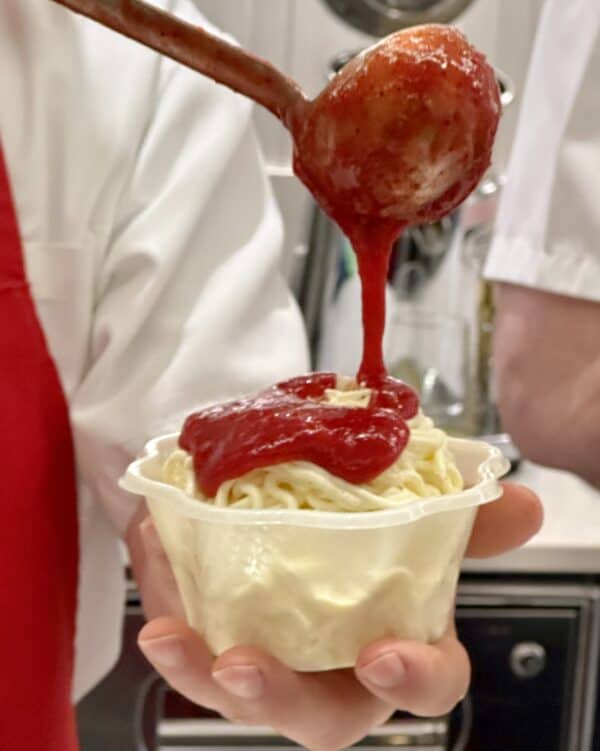 I have to tell you that I had heard about this treat many years ago, my expectations about the actual enjoyability (flavor-wise) were quite low. However, I was really bowled over when I tasted it! I honestly expected a very sweet, not too flavorful treat that would be something children would enjoy, but I loved it! The combination of the delicious and uniquely textured vanilla ice cream, and the fantastic strawberry sauce (remember how good those strawberries were?) was simply, surprisingly good!
Zimtsterne
Visit SouthWest Germany, or any other region, during Christmastime and you'll be sure to see zimtsterne, or cinnamon stars! They are a delighfully spicy (cinnamon spicy) star-shaped cookie that is a huge tradition in homes, stores, bakeries and Christmas markets! You can use this recipe to make your own zimtsterne. They're naturally gluten free, too!
Cheese Plate
If you're not a fan of sweets, have no fear: there's always delicious cheeses to choose from! This is a selection from the restaurant Rheinterrassen in Mannheim.
Vegetarian and Vegan Dishes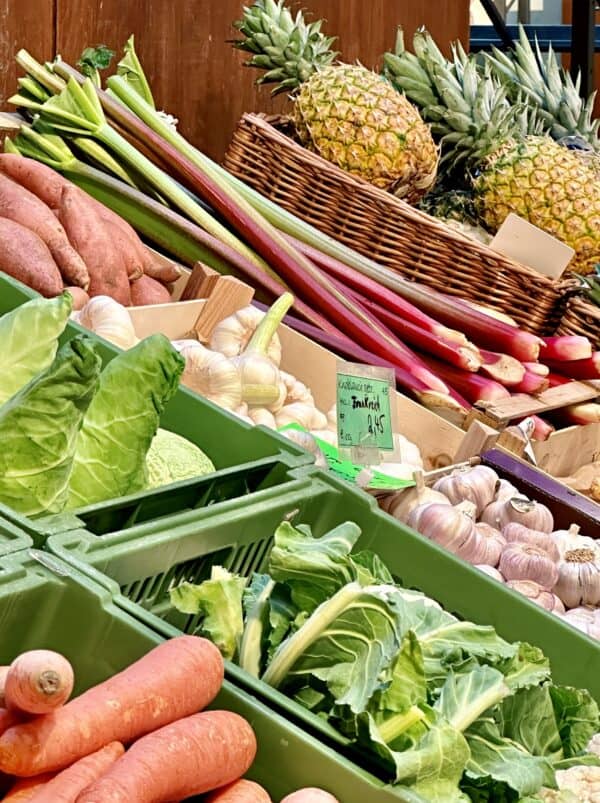 If you have the common misconception that German food is mostly comprised of meat-based, and heavy dishes, you are very mistaken. In recent years, Germany has had an explosion of vegetarian and vegan options, restaurants and eateries focusing on meatless menus.
In fact, Germany has the highest number of vegetarians and vegans in Europe, and more people are opting for plant-based cuisine according to the USDA Foreign Agricultural Service.
As I noted above, the quality of fruits and vegetables is fantastic.
All of us raved about the local strawberries that were left in our rooms at the Park Inn Hotel in Stuttgart. They were addictively delicious and so sweet!
Even a simple side dish of potatoes can satisfy a hungry carnivore (yes, me!) when the flavor is sublime!
Stay tuned for the wine tasting part of the my tour, as well as the highlights and hotels where I stayed (and can recommend). I can tell you I rode side-saddle on a tractor with a glass of wine in hand which is not something you do everyday!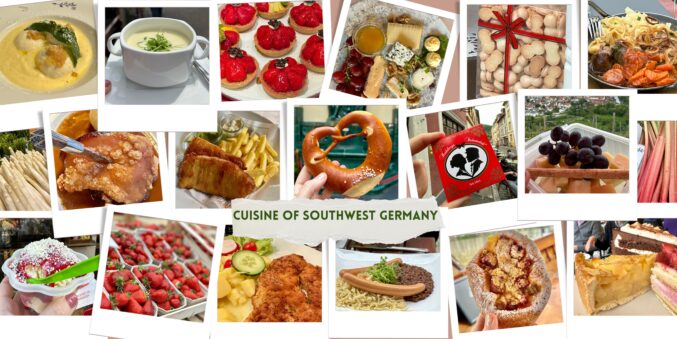 Disclosure: I was invited on a 5 day culinary/wine press tour by SouthWest Germany. No conditions were made for any reviews, and as always, all opinions are my own. I am including this according to FTC regulations.