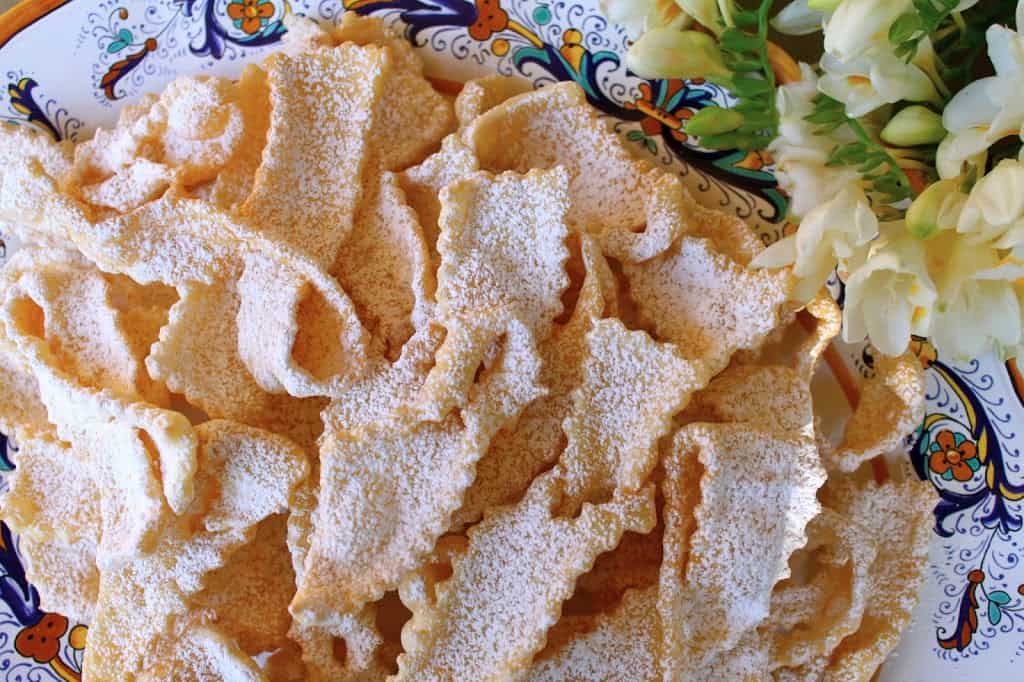 Ask 10 Italians what these lovely, crispy things are called, and I bet you will get close to 10 different responses including Frappe or Cioffe.
What are Frappe or Cioffe?
Depending from where their family originates, and what their own family's ancestors named  them, they can be called: Frappe, Cenci, Chiachierre or so many other names. My immediate family calls them "Cioff" (pronounced CHOFF) which means "bows" in the dialect we speak, but is really an abbreviated form of "cioffe". They are usually made with some sort of liquor, like marsala or rum, but I've made them with good old Scotch whisky, so they're like me: SCOTTISH-ITALIAN! ;)
Frappe or cioffe are a traditional sweet which are usually made for Carnevale, or just before lent, but I grew up with my mother and aunts making them all during the year. Everyone who tastes these light and crispy pastries just can't stop after eating only one!
For other traditional Italian recipes which are made at
A few weeks ago, I received a Facebook message from a Pauline living in Australia whose name I didn't recognize (this may seem off-topic, but stay with me).
She asked if I was related to an old neighbor of hers from Scotland (my Aunt Virginia.) I wrote back and told her I was, and the next thing I knew, Pauline was describing how my aunt used to make these things called "choffs" which were little strips of sweetened dough, with the edges "pinked" and she'd dot them with colored icing. She said that my aunt would give them to her and her mother, and they were such a treat! Who knew little fried pieces of dough could make such an impact?
Well, Pauline, here's the recipe for frappe or cioffe, so now you can make them for your own family (and neighbors)!
Frappe or Cioffe
a family recipe handed down from my Nonna
Ingredients
3 large eggs
1/4 cup (2 oz) sugar
1/4 cup (2 oz) Scotch whisky (or any similar, clear liquor)
1/4 tsp salt
2 3/4 cups (12 oz) flour
oil for frying
powdered (confectioner's) sugar for dusting
Using a Kitchenaid mixer, place eggs, sugar, salt, and whisky in a large bowl and mix for two minutes or so (if making by hand, combine the ingredients, and stir well with a wooden spoon.)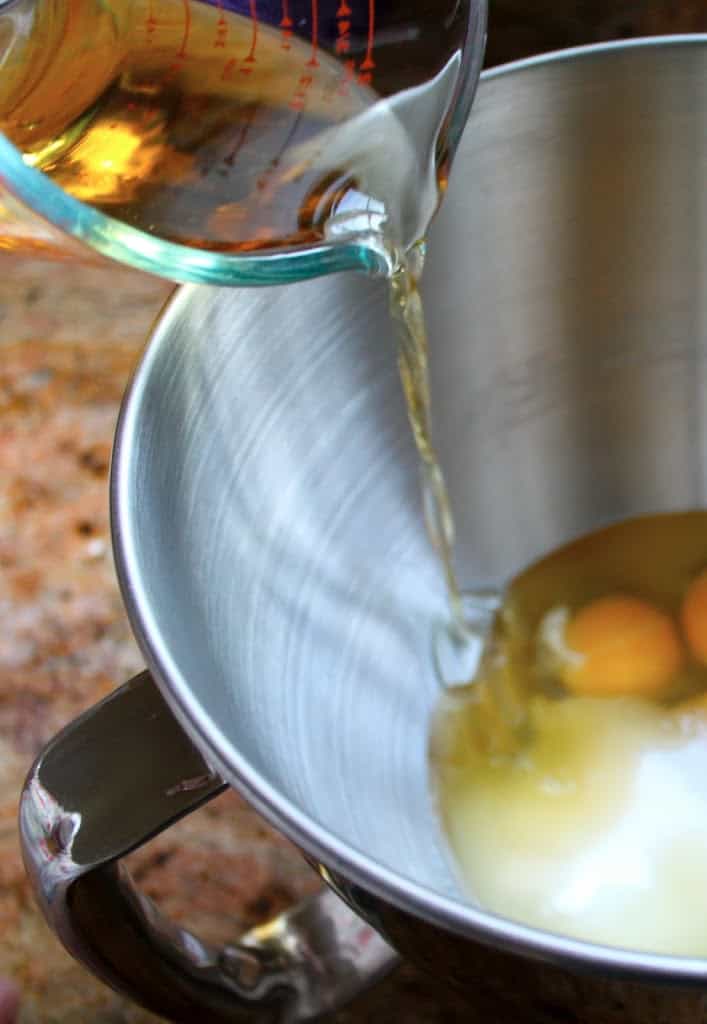 Add one cup (in UK, just use a regular cup-no need to measure) of flour and mix well.
Add the remaining flour and mix until a slightly sticky dough forms.
With hands, shape dough into a ball and refrigerate, covered, for about an hour.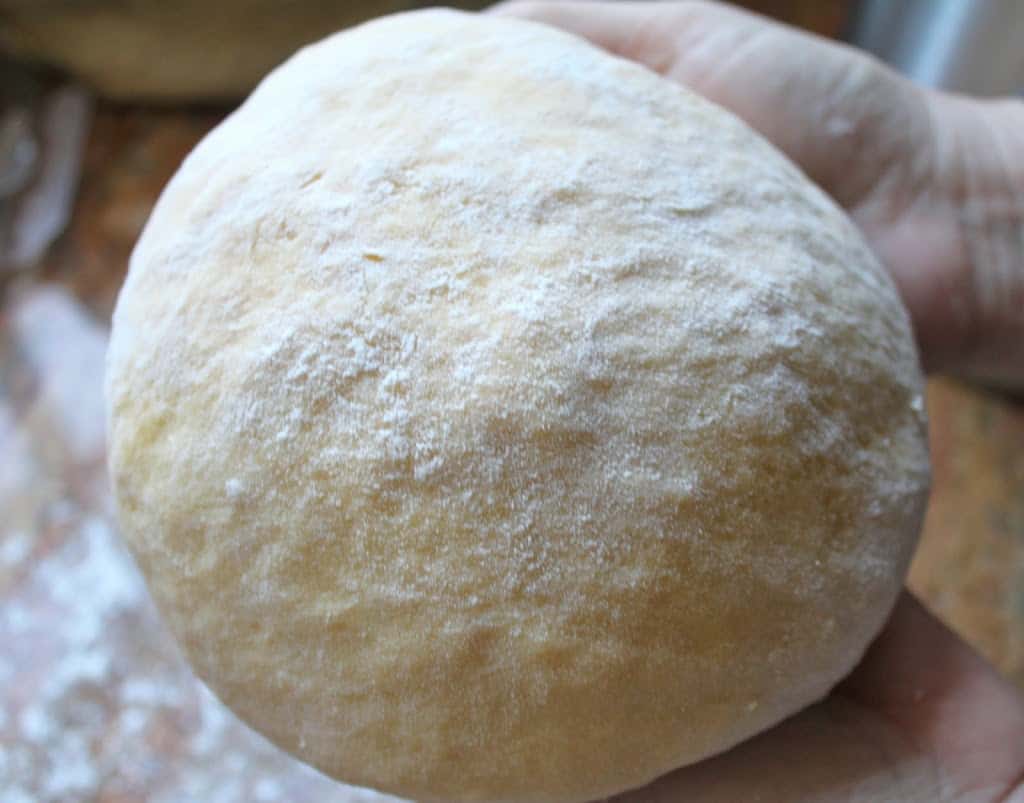 Remove from fridge and cut dough in half and roll out one piece very thinly, on floured workspace.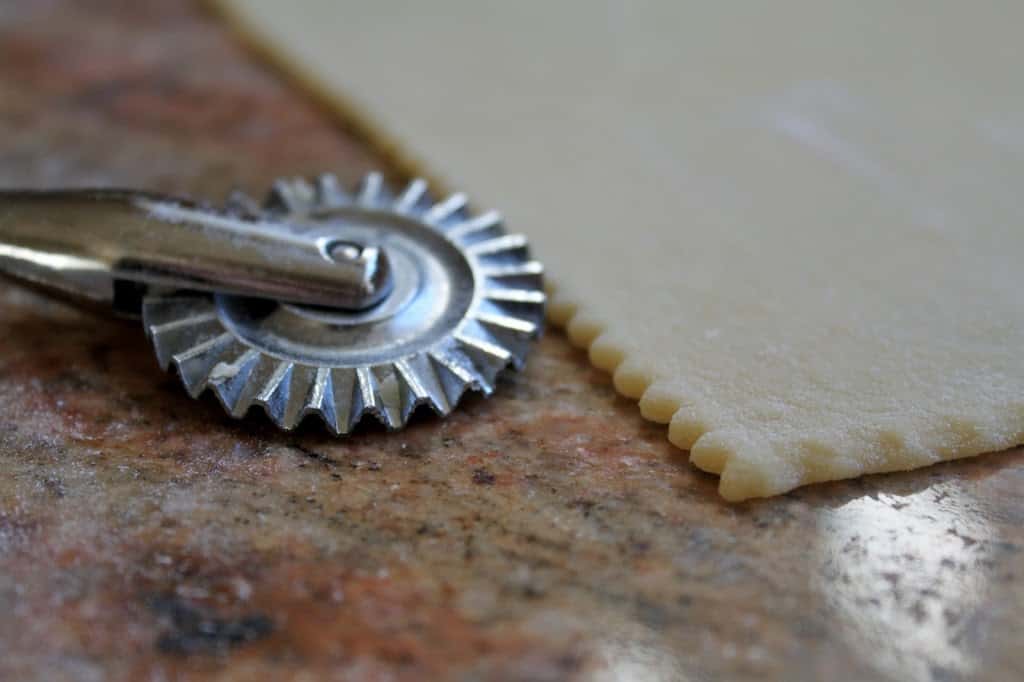 Dough will be elastic, but re-roll it if it gets too thick. Using a knife or cutter (shown in photo) to cut into strips.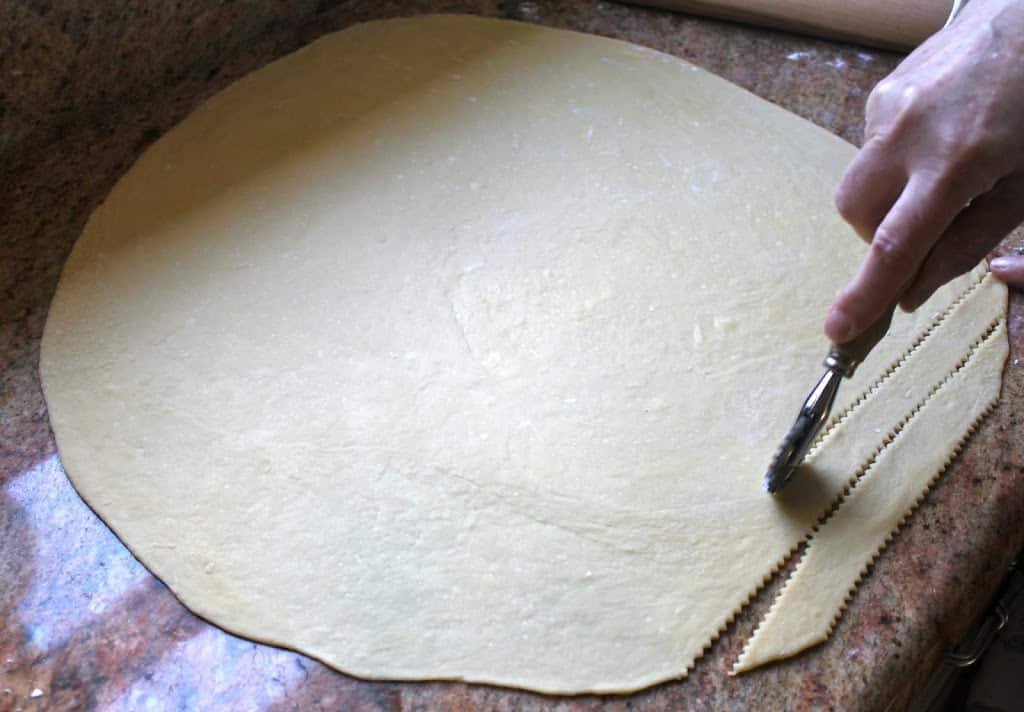 Cut a strip: no size is right or wrong, but about 6 or 7 inches is a good size. Make a little cut towards one end.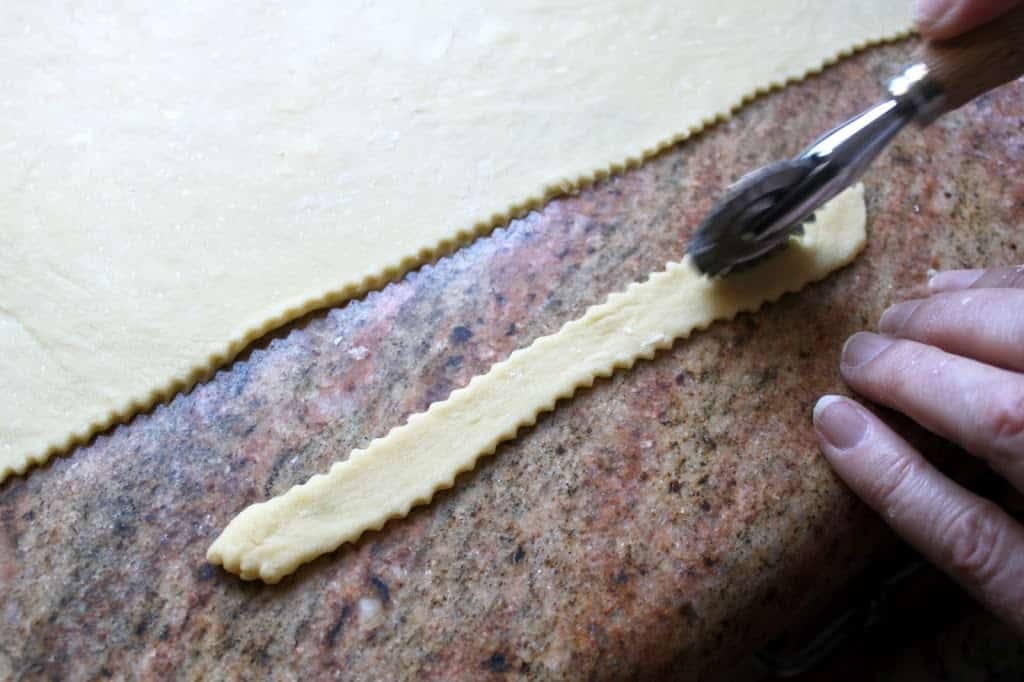 Now place the opposite end through that slit, and pull through to make a ribbon shape.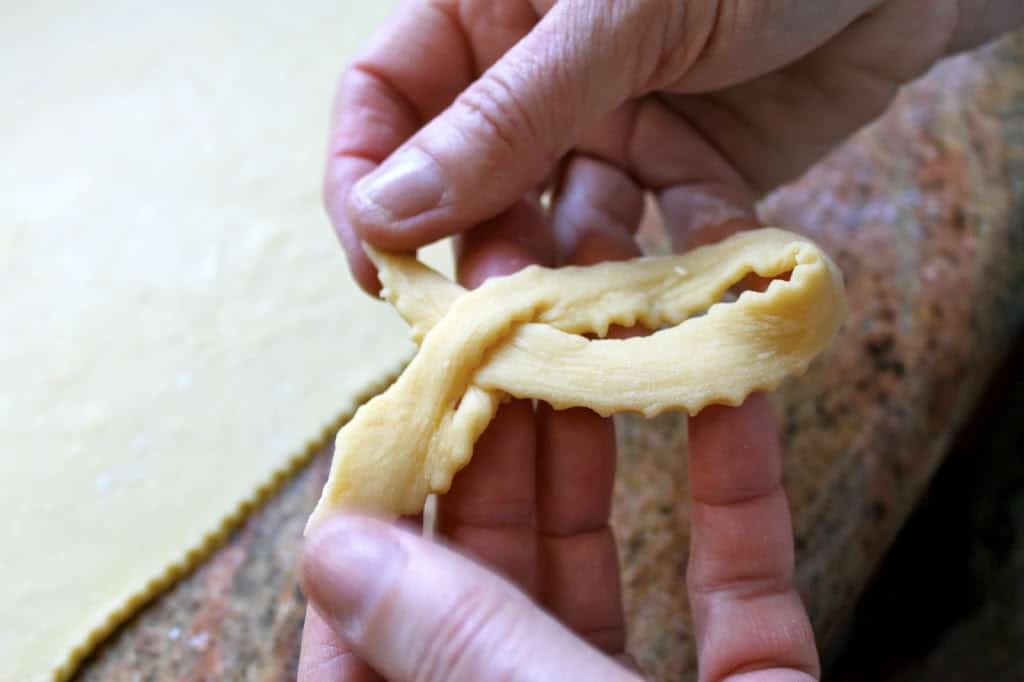 So it looks like this.
Another way to make these is to make a slit in the middle of a shorter strip, then…
take one end and actually pull it through the hole completely. Repeat, until all of dough is used.
Meanwhile, heat some oil in a pot or deep fryer (I use a wok) until hot. Before dropping the pastry in the oil, pull and stretch each one, so that it is thinner (as they shrink after being shaped) then begin frying the pastries until puffed and light brown on each side.
Remove and place on a paper towel lined plate to cool.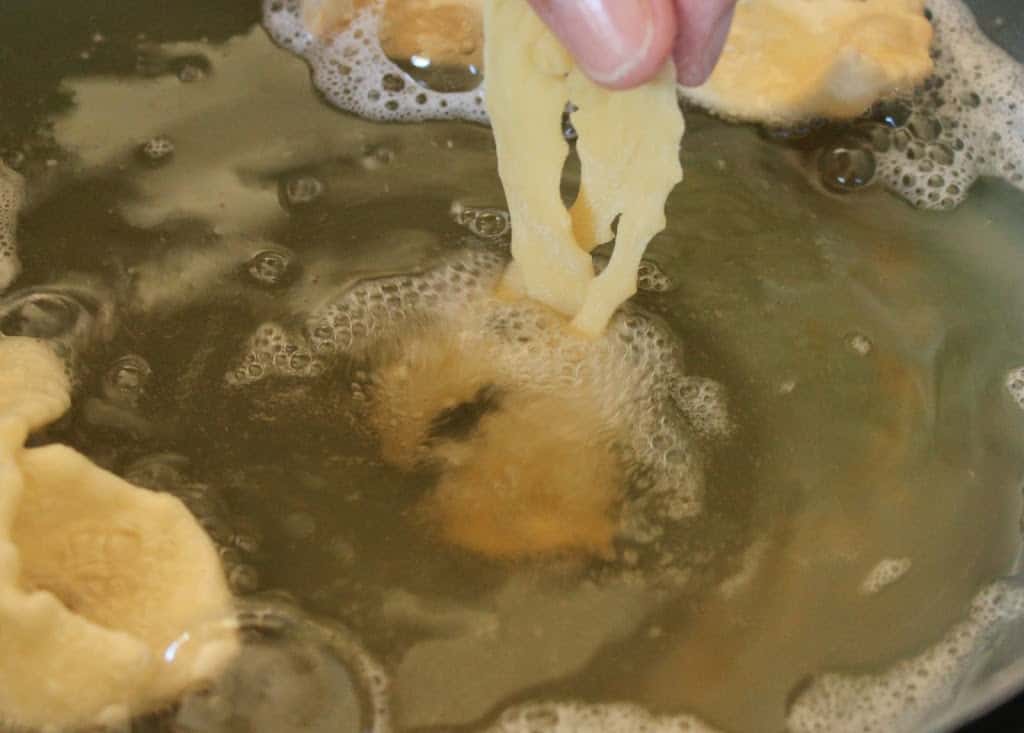 When cool, sprinkle with powdered sugar (or decorate with icing, or honey.)
My mother got creative when I went to a Food Blogger meeting and made these incredibly beautiful pastries. She cut thin pieces of dough, braided them and fried them in the same manner as the larger ones. I love the super-light, crispy texture!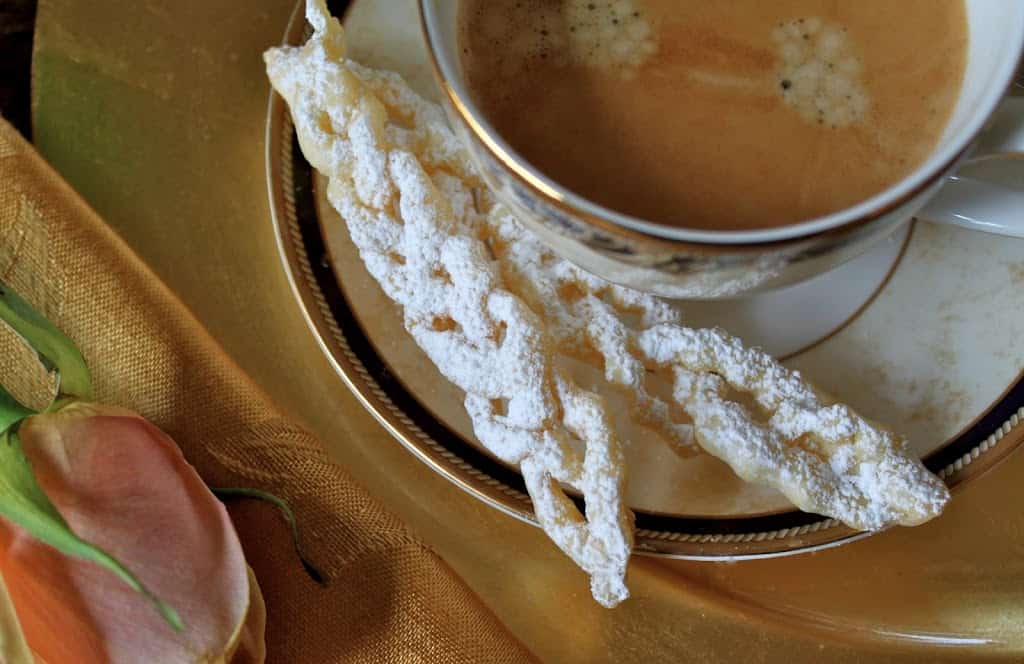 Don't miss another recipe or travel post by signing up for my FREE subscription below!
I promise never to sell or share your information.
Frappe or Cioffe: Bows and Ribbons of Fried Sweetened Dough
Ingredients
3 large eggs
¼ cup (2 oz) sugar
¼ cup (2 oz) Scotch whisky (or any similar, clear liquor)
¼ tsp salt
2¾ cups (12 oz) flour
oil for frying
powdered (confectioner's) sugar for dusting
Instructions
Using a Kitchenaid mixer, place eggs, sugar, salt, and whisky in a large bowl and mix for two minutes or so (if making by hand, combine the ingredients, and stir well with a wooden spoon.)
Add one cup (in UK, just use a regular cup-no need to measure) of flour and mix well.
Add the remaining flour and mix until a slightly sticky dough forms.
With hands, shape dough into a ball and refrigerate, covered, for about an hour.
Remove from fridge and cut dough in half and roll out one piece very thinly, on floured workspace.
Dough will be elastic, but re-roll it if it gets too thick. Using a knife or cutter to cut into strips.
Cut a strip: no size is right or wrong, but about 6 or 7 inches is a good size. Make a little cut towards one end. Now place the opposite end through that slit, and pull through to make a ribbon shape. Repeat, until all of dough is used.
Meanwhile, heat some oil in a pot or deep fryer (I use a wok) until hot. Before dropping the pastry in the oil, pull and stretch each one, so that it is thinner (as they shrink after being shaped) then begin frying the pastries until puffed and light brown on each side.
Remove and place on a paper towel lined plate to cool.
When cool, sprinkle with powdered sugar (or decorate with icing, or honey.)