Heidelberg, Germany is one of the stops on AmaWaterways' Enchanting Rhine River Cruise, and you won't ever forget this beautiful city. It's a wonderful way to see and taste what Heidelberg has to offer.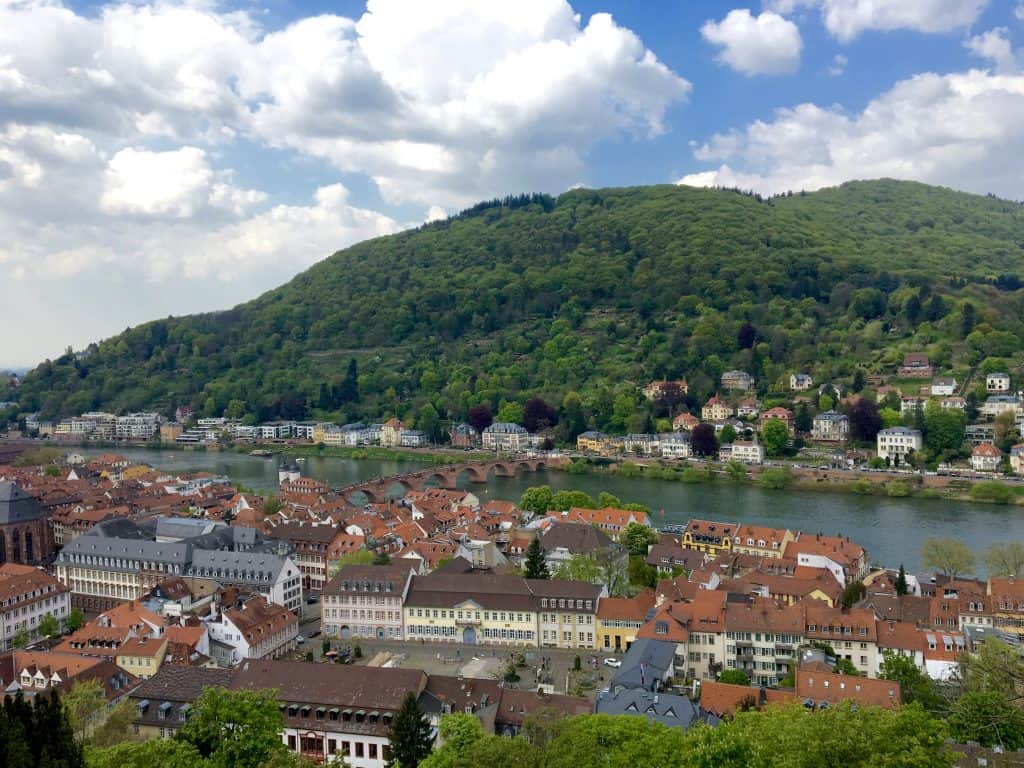 After leaving Rüdesheim, the fifth day of our AmaWaterways cruise would take us to dock in Mannheim and a day trip to Heidelberg (or for those who opted for the other choices: a walking tour of Speyer (one of Germany's oldest cities) or the Heidelberg Philosopher's Path AmaHike.
Disclosure: my mother and I were hosted for an Enchanting Rhine river cruise courtesy of AmaWaterways. No conditions were made for a review and as always, my opinions are solely mine.
Of course, our day began with a sumptuous breakfast, along with my daily croissant with Nutella (among other offerings!)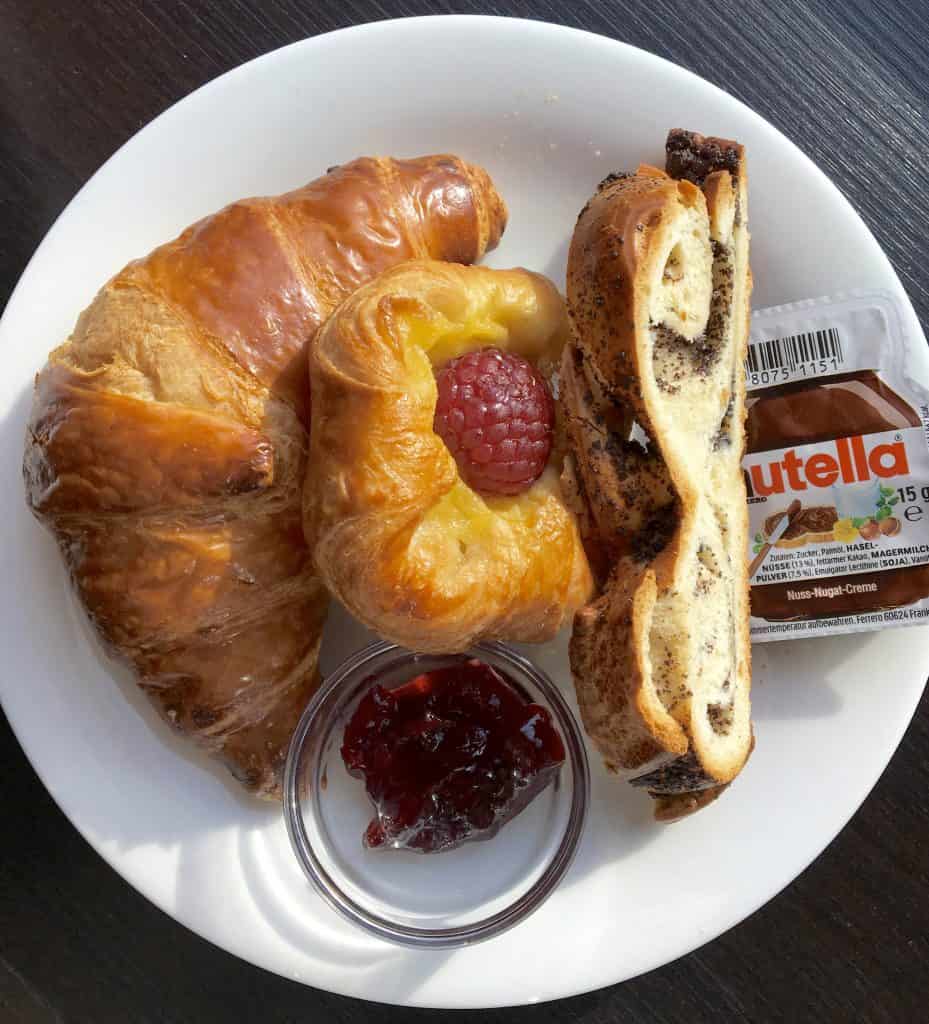 I showed you our stateroom earlier in this post, but let me share a few photos of the inside the elegant AmaCerto. This is the reception area, the main entrance to the ship and rather like the lobby of a hotel. The reception desk is on the right and there are glass doors on each side of the ship.
These were the two smiling faces that were always there to greet us at the reception desk: Christian and George. Christian was absolutely unbelievable in the fact that he always addressed us by name and also remembered our room numbers. I mean everyone on the ship, not just my mother and me!
There are three decks (plus the sun deck on top of the ship) on the Amacerto. In addition to the stairs, there is the glass elevator for anyone who needs to use it.
This is one of the dining tables in the main restaurant. Tastefully decorated and lovely atmosphere, just as it is in the rest of the ship.
One of the details I loved was the fresh flowers and orchids throughout the ship. My mother is getting a snack in the lounge in the photo below. It seemed as there was always some sort of presentation of light refreshments in the main lounge, whether it was cookies and fruit, or finger sandwiches and soup for those who didn't want to eat in the main restaurant. Afternoon tea was served everyday as Orlin played in the lounge.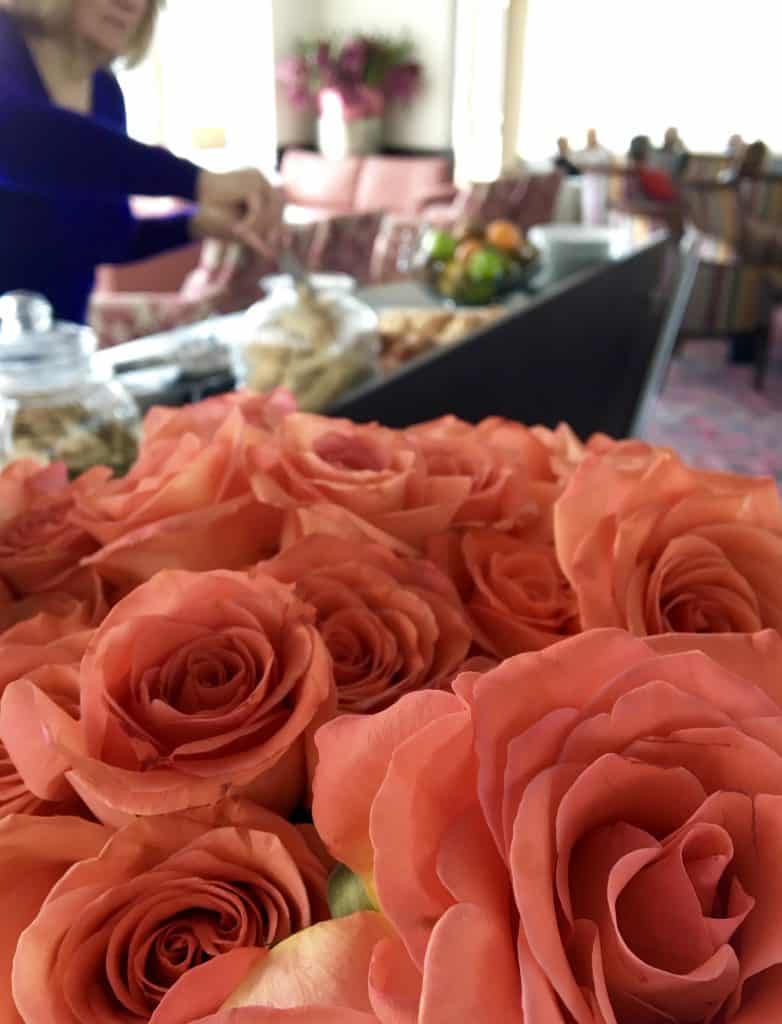 Here is an example: homemade shortbread biscuits (mum and I gave them 5 stars!) They were so buttery and had the perfect texture!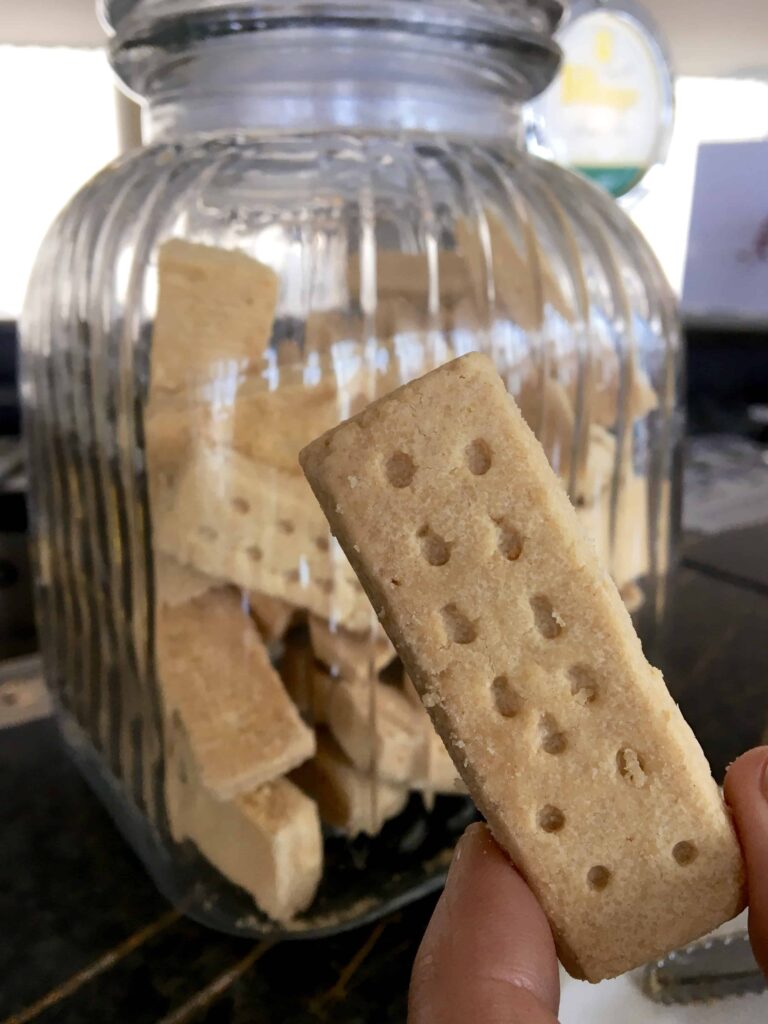 Now lets get back to our day in Germany. As we travelled down the Rhine, we had another delicious lunch before reaching Mannheim. This is part of what I chose that day: pork, potatoes, corn and slice of flammekueche, which is French/German-style savory pizza. It is traditionally topped with creme fraiche, lardons (bacon) and onions and it is fantastic! I also took advantage of having chips/fries with HP Sauce (many of you know how much I love HP and they had it on board!) I also had to have dessert, right?
We arrived in Mannheim, the second largest river port in Europe just after lunch. We were to leave the AmaCerto to take the bus to Heidelberg at 1:30 and would return at 6:3o in plenty of time to prepare for our very special Chaîne des Rôtisseurs dinner that evening!
Both my mother and I had been to Heidelberg in the past, but once again, we were so excited to return. The last time I'd gone was over 1o years ago, so I was due for another visit. It was about half an hour's drive from Mannheim to Heidelberg and our tour guide had already been telling us so many interesting facts on the way. As we reached the city, we learned that the owner or selling price of the homes in Germany is not public information as it is in the US.
The main attraction in Heidelberg is the ruins of the castle, so that's where our guide took us first. She gave us a wonderful tour of the castle and ruins, explaining some of the complicated history behind the building, then gave us suggestions for the rest of our time in the city on our own. The view from the castle is unparalled with the city and Neckar River just below.
There was so much to see, and every part of the tour was so captivating, given the compelling history of the castle.
We went inside and both my mother and I saw something we'd never seen before (and I'd been to the Heidelberg castle twice before): the largest wine barrel in the world, with a capacity of 58,000 gallons! You can see the scale with the people at the bottom and near the top.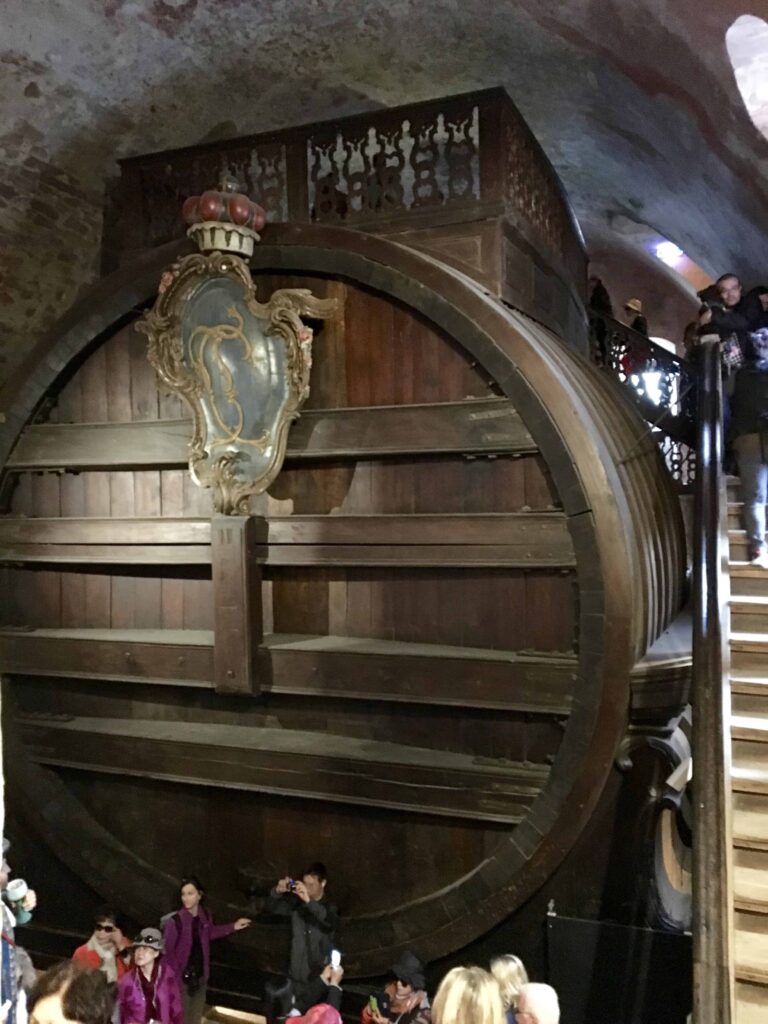 We both put our foot into a footprint indentation on the castle balcony which has a story behind it. Apparently, the castle was on fire and a knight couldn't find his way out, so he jumped from above, and the footprint supposedly marks where he landed (I wondered why only one footprint?) If you place your foot into the imprint, you're supposedly ensured a return trip! Mum and I didn't chance it.
Our tour guide walked us back down to the city and told us where we should meet to catch the bus back to the ship, then gave us a tour of Heidelberg's highlights. These are some of the sights on that gorgeous day (the sun was blessing us with its presence, finally!)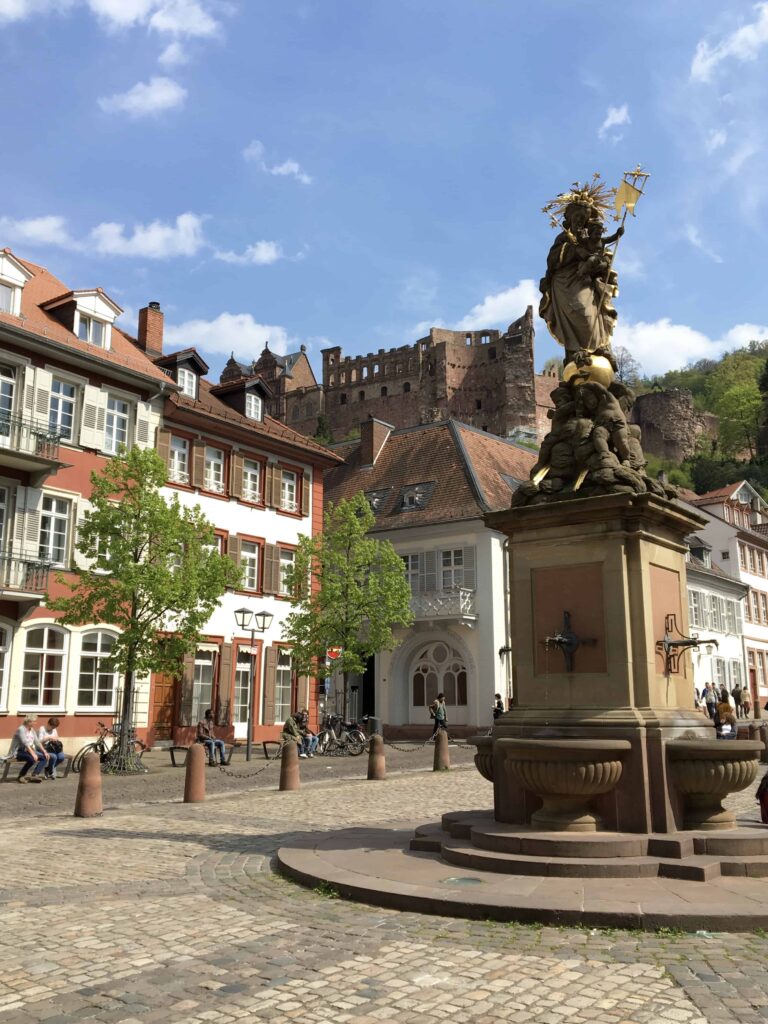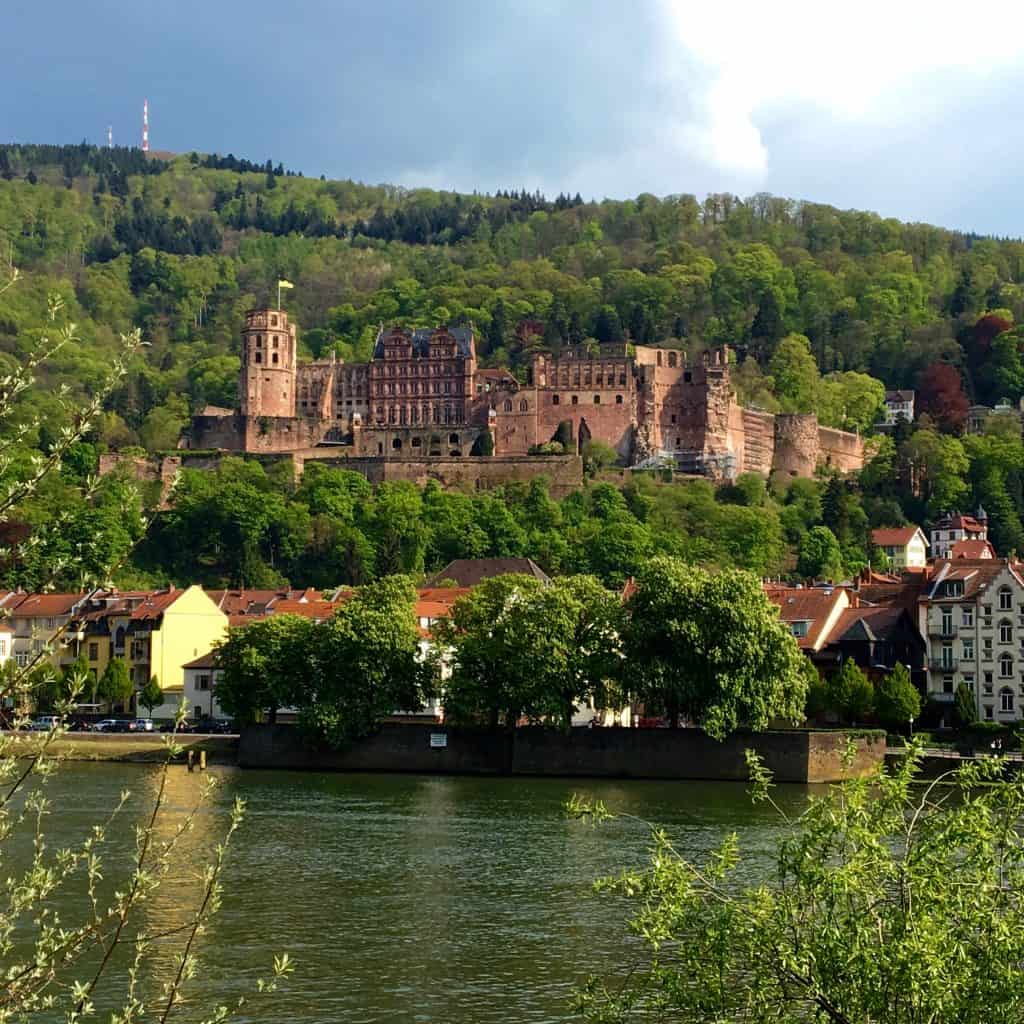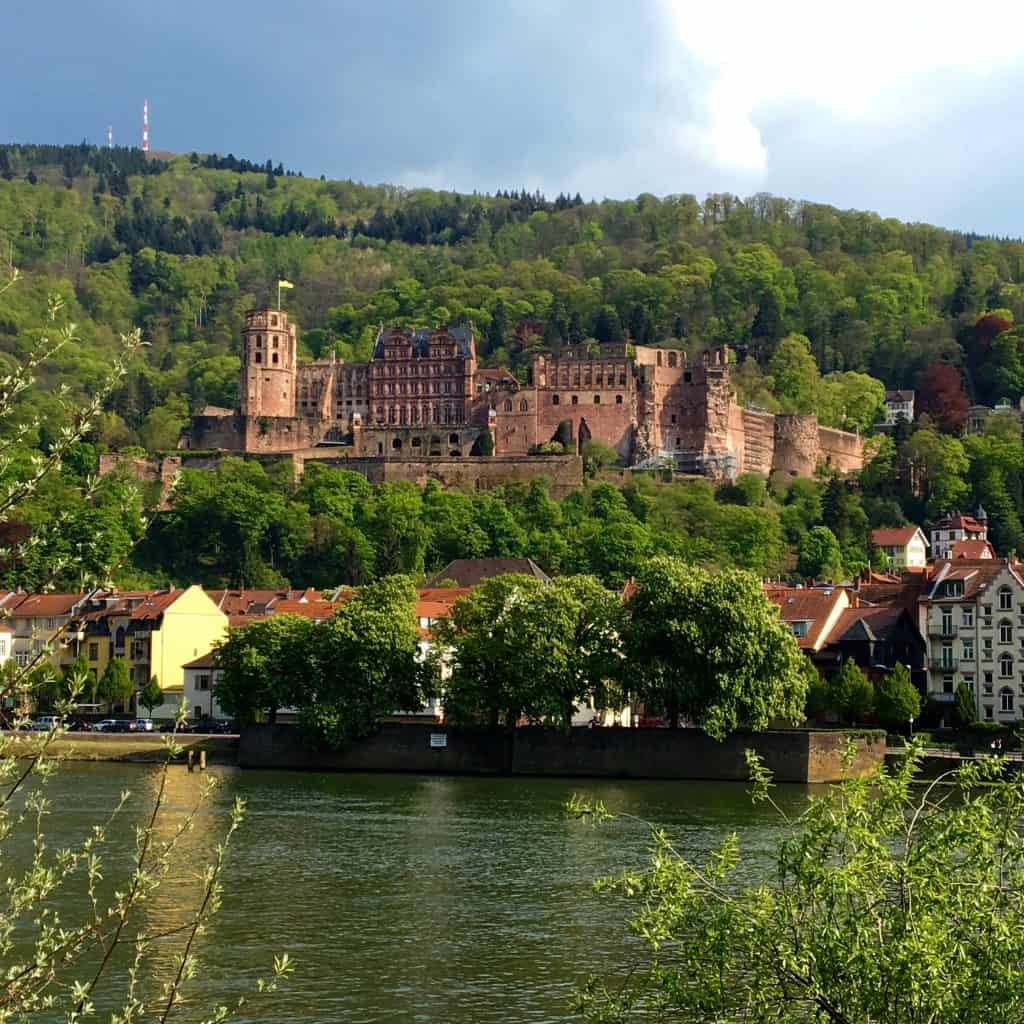 After walking over the bridge, we went back into the city to stroll down the Hauptstraße (main street) which runs 1.6 km, making it the longest pedestrian zone in all of Europe. It is filled with shops, cafes and restaurants and hotels.
Oh, and did I mention ice cream shops? You know the weather's better when you can eat ice cream!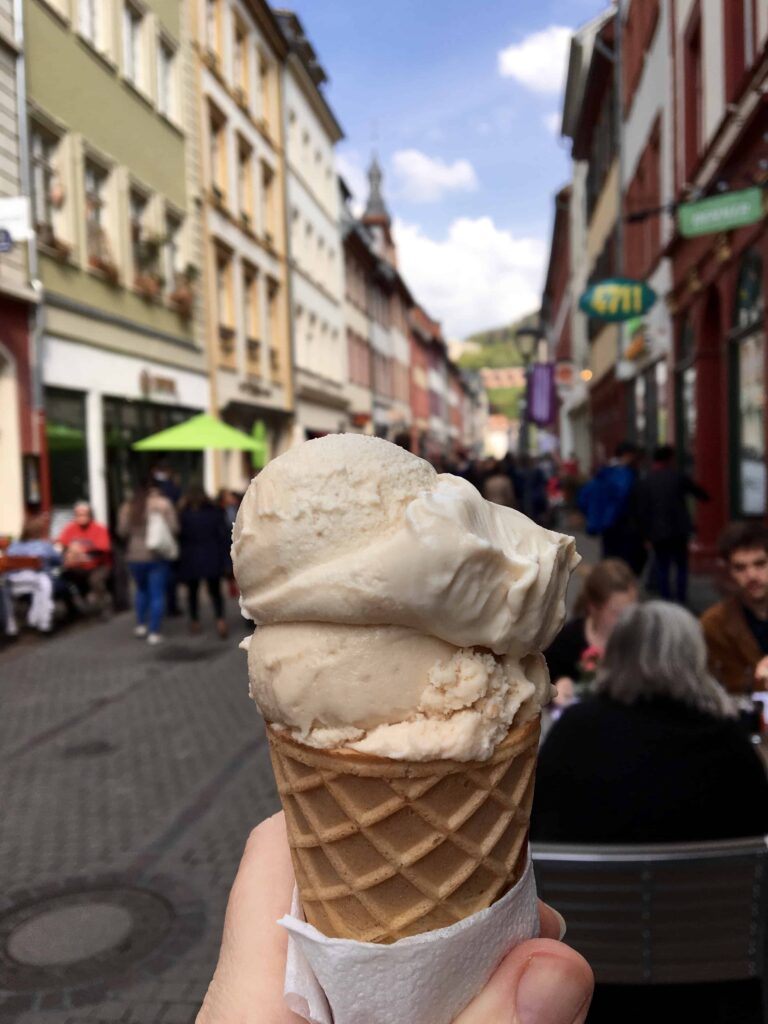 The photo of the brass cobblestone plaques are "stolpersteins" (stumbling blocks) or reminders of the Jews who were taken from their homes and workplaces.
Our guide had showed us these mementos, and told us they are still being placed all over Europe (in 18 countries so far), initiated as the world's largest decentralized memorial by German artist, Gunter Demnig. My mother and I found them very moving and a brilliant way to remember those in the last place that they themselves chose to be.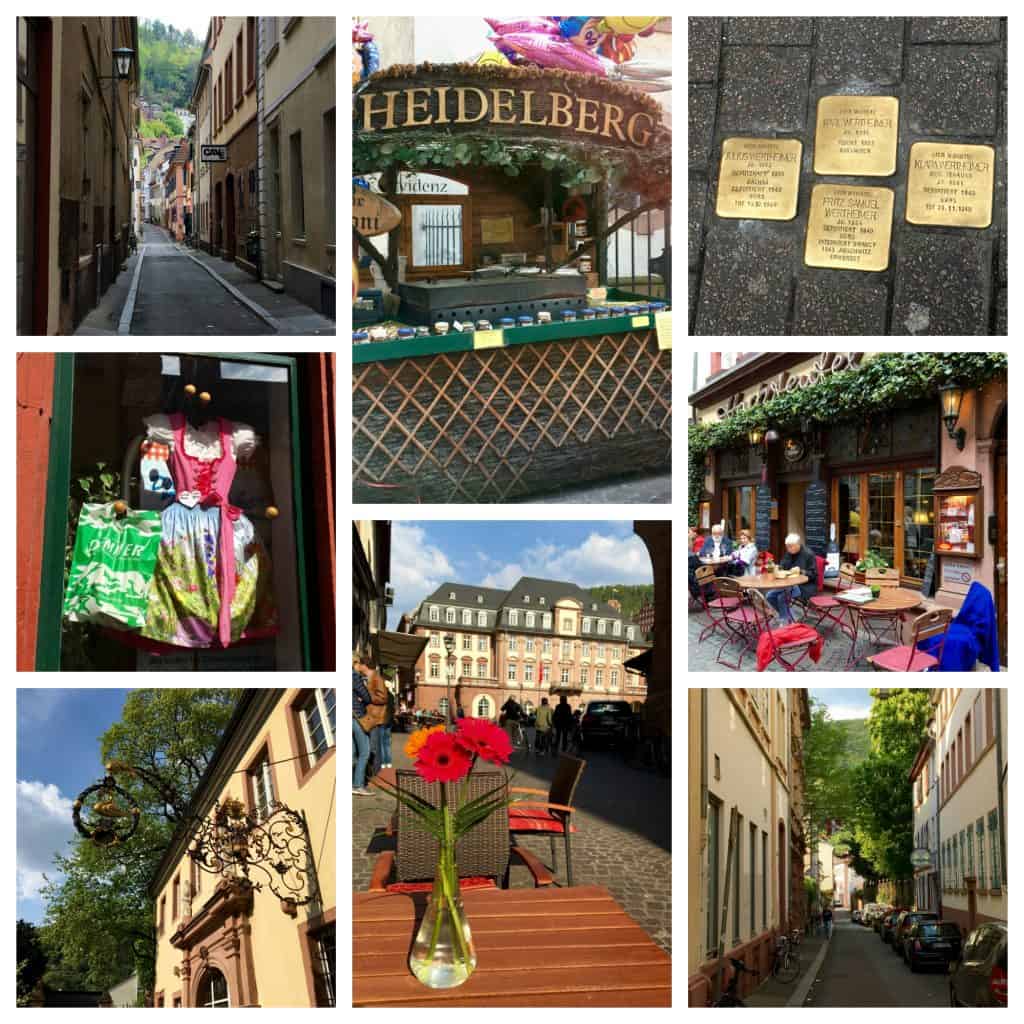 One very famous place that I wanted to visit was the sweet shop which still produces the original "Student Kiss". I had read about it before our trip, and our tour guide had also pointed it out to us. The story behind the chocolates goes back to the 1860s when the owner of Café Knösel noticed that many of his customers were young male students who would flock to his shop because of the young women who would frequent it. Unfortunately, they were always with their governesses, so the owner decided to make a chocolate "kiss" which the young men could give to the ladies as a token of their affection. These are still made by hand according to the original recipe, by the descendants of the original owner!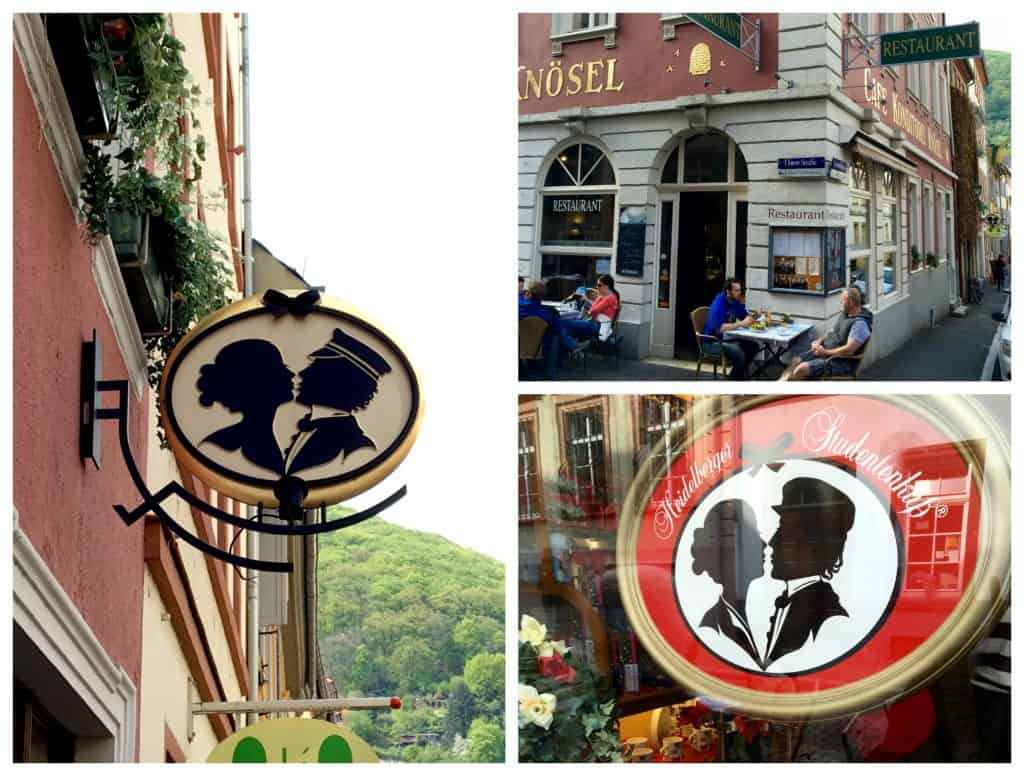 Here is what I bought, a beautiful tin which comes with the original story. The chocolates were absolutely fantastic! Dark chocolate with a milk chocolate praline truffle filling. I'd go back for more.
We also went to see the Jesuit church which was one of the brightest and most beautiful churches we'd ever seen.
We had a fabulous afternoon and after a few more side streets and stops into shops like this Schneeballen eatery (cannot believe I didn't buy one to try), we headed back to the bus.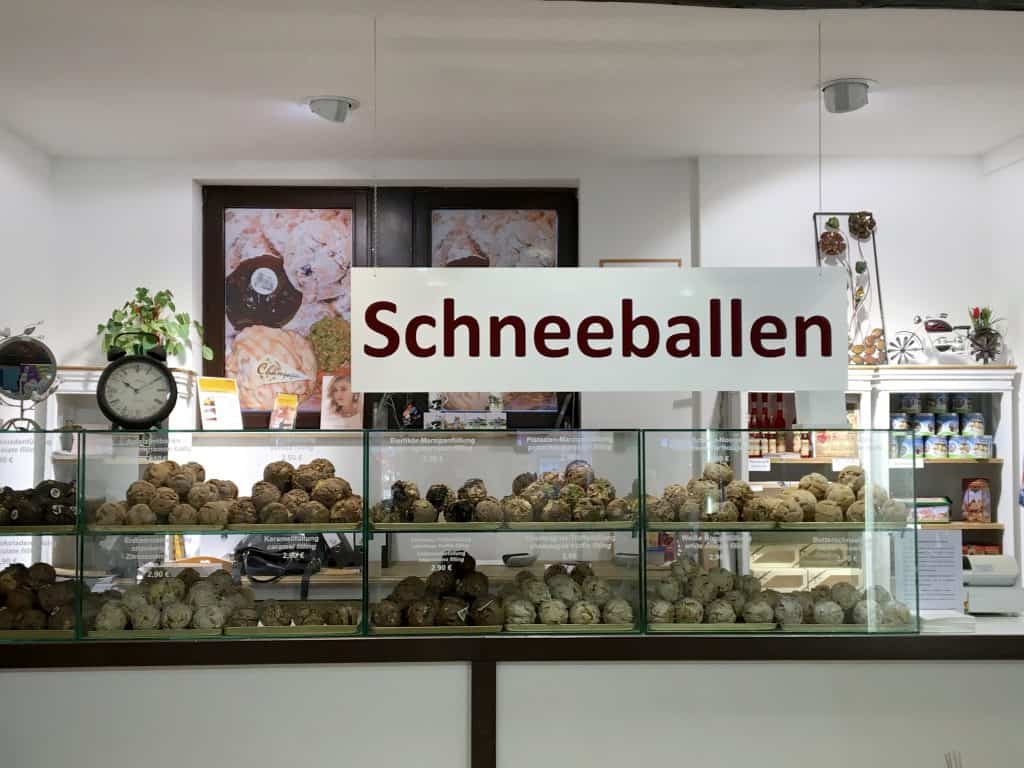 One last Heidelberg Castle view.
As soon as we boarded the AmaCerto, we were offered a refreshing drink. We were truly spoiled all week!
We had plenty of time to rest and get ready before our special dinner on this evening. I explained the Chaîne de Rôtisseurs in another post, but here is the description on the website:
With over 25,000 members, the Chaîne des Rôtisseurs is an International Association of Gastronomy now established in over 80 countries bringing together enthusiasts who share the same values of quality, fine dining, the encouragement of the culinary arts and the pleasures of the table. The distinctive character of our association is to bring together amateurs and professionals, from all over the world, whether they are hoteliers, restaurateurs, executive chefs or sommeliers, in the appreciation of fine cuisine.
AmaWaterways is the only river cruise line to be invited to join this esteemed association. Every meal so far had exceeded my expectations, so I could only imagine what tonight's culinary creations would showcase.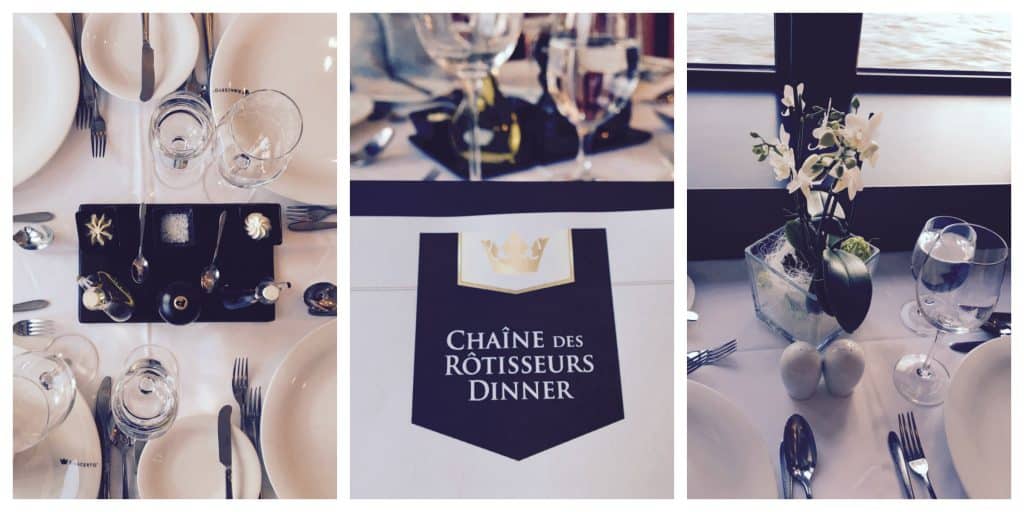 Here is the menu, along with the Chef's recommendations~
The salad was divine, with Camembert and seasonal white asparagus, which I learned that I really like, as opposed to the green kind which we usually have in the US. Accompanied with a lovely glass of Silvaner and the sunset, we were off to a lovely start.
Both Mum and I chose the lamb for our main course, and again, it was so perfectly prepared and no "lamby" taste whatsoever. I loved the Dauphinoise potatoes, which is one of my favorite ways to have them. Doesn't this look phenomenal?
I caught this reflection in the window during dinner.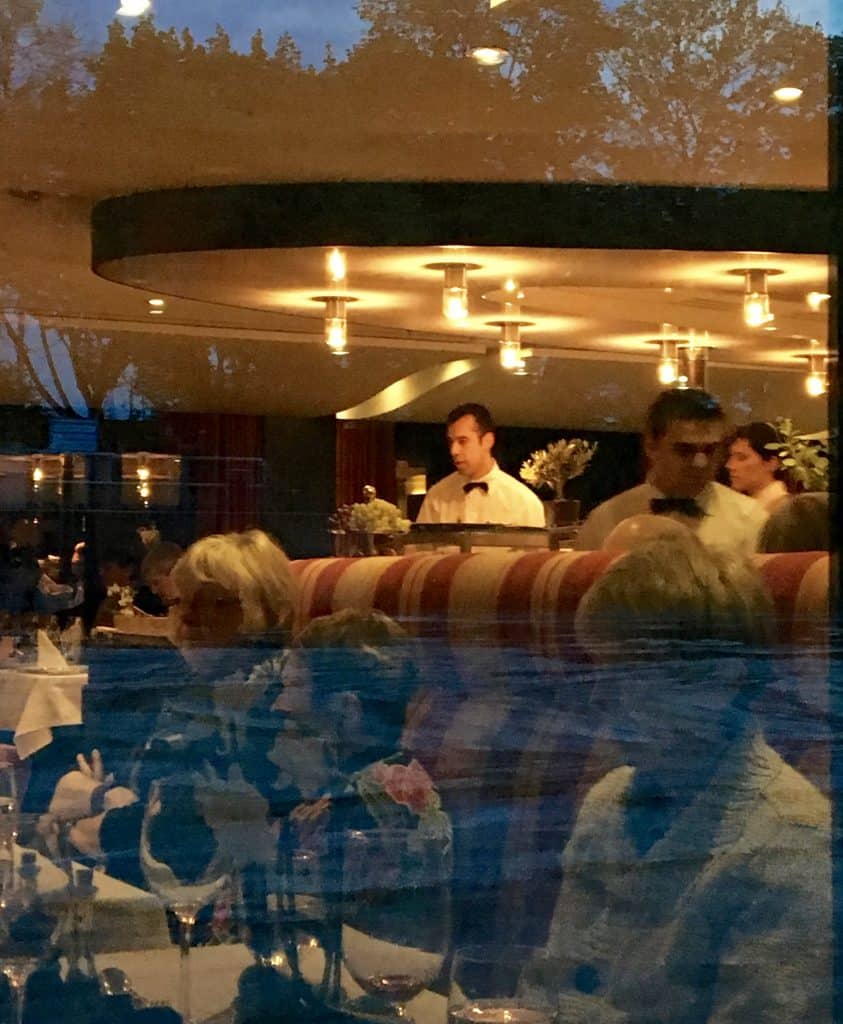 Again, my mother and I chose the same dessert, the Creme Caramel, Amadeus Chocolate Cake and Peach Fruit Sorbet and were not disappointed!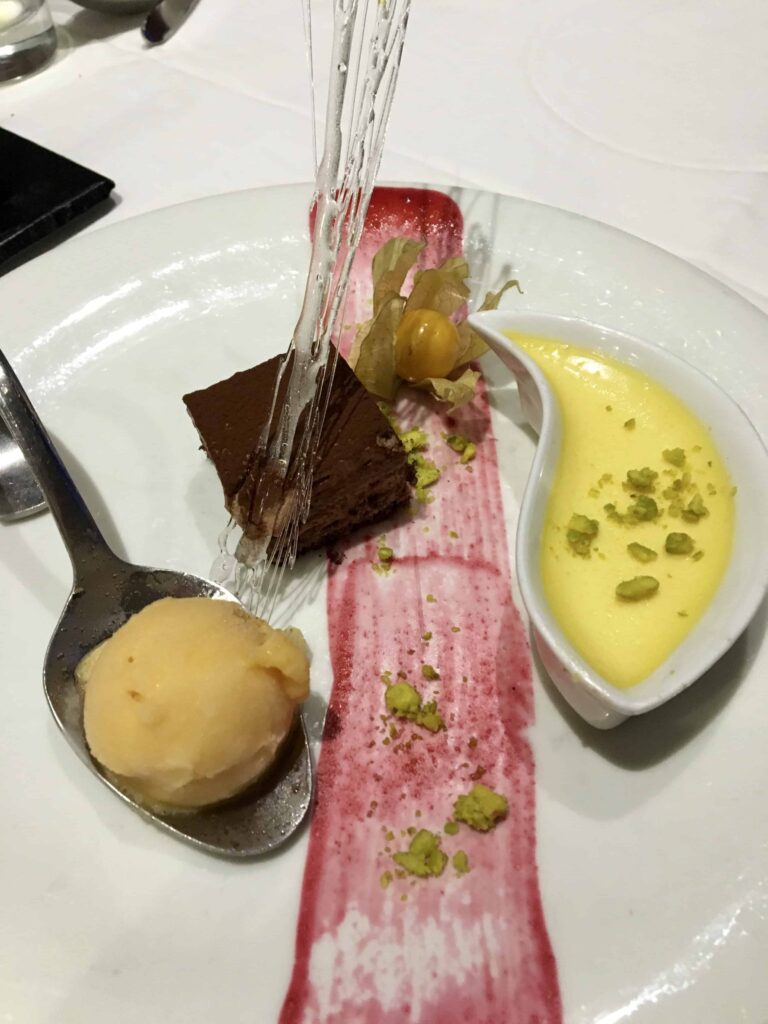 I must mention our maître'd, Alex, who was such a sweetheart and always a joy to see in the restaurant. During the first day or two, I had spotted the HP Sauce and asked Alex if they happened to also have Typhoo or PG Tips tea (tea most Brits have in their homes.) Alex said they didn't, but wanted to know more about these teas. I told him not to worry about it, as it wasn't anything important and not a special tea, but he insisted, wanting to know how Typhoo was spelled.
Later that evening he came to me and told me that when we'd docked someone had gone into town to try to find one of the teas, but they were unsuccessful. I was shocked that they'd go to such lengths over something I just casually asked about!
This is the AmaWaterways manner of doing business and later I learned not to be surprised anymore. Alex showed me another brand of tea and asked me to try it, and since I liked it, this tea was always served to me. Talk about feeling special. :)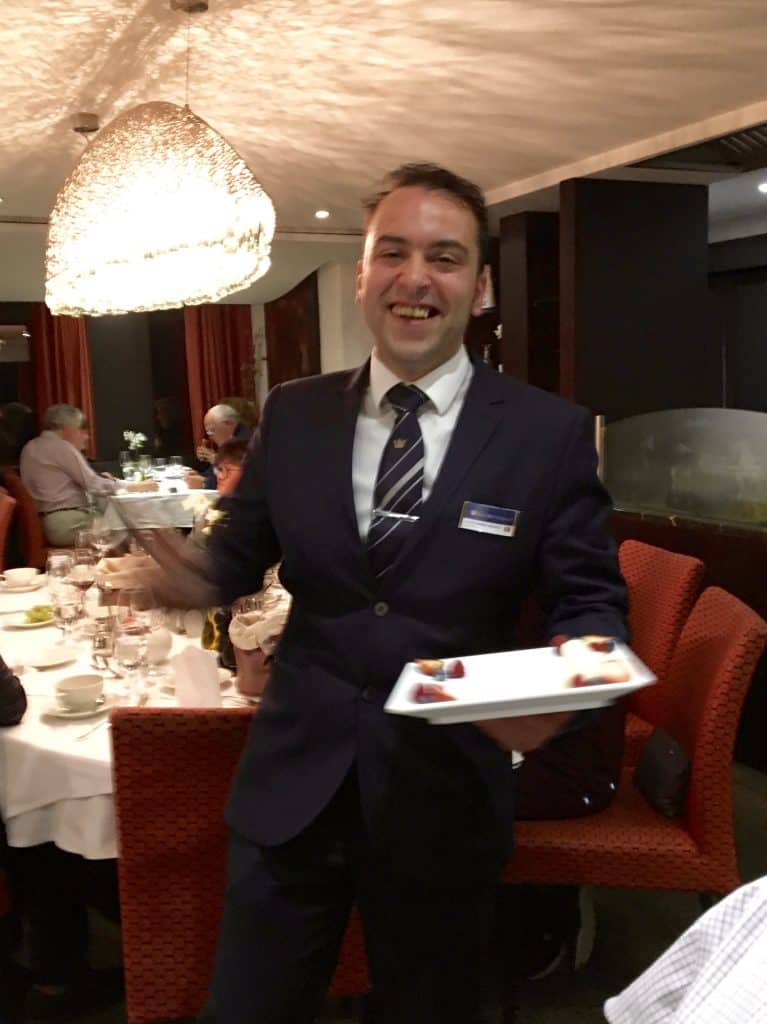 After relaxing in the lounge with other guests, my mother and I were ready for a peaceful night's rest in our stateroom. The next day we were off to Strasbourg, France!
More information about the beautiful AmaCerto or AmaWaterways' luxurious river cruises
Don't miss another post! Sign up below for my recipe and travel posts.
Continue on to Day 6: Strasbourg, France
______
Disclosure:my mother and I were hosted for an Enchanting Rhine river cruise courtesy of AmaWaterways.
No conditions were made for a review and as always, my opinions are solely mine.
I am posting this in accordance with FTC regulations.