What to do in Barcelona, you ask? There are definitely some places that you should not miss on your first (or second) visit to this Catalonian city, so let's explore!
Barcelona is a bustling, but beautiful European city you should set out to discover.
As an Amazon Associate and Booking.com affiliate, I earn from qualifying purchases.
Years ago, my friend Cathy predicted I would fall in love with Barcelona, and she was right. Not only did I fall head over heels with the actual city, but with so much of the Spanish culture as well. The architecture, the climate, and its food, like the ever so popular patatas bravas–a simple potato tapas–made it difficult not to be smitten.
Since my first trip, I have boomeranged back to Barcelona several times. I simply can't stay away. I took my cousin Denisa once, and my mother another time.
I want to share my tips for first time visitors to Barcelona, however, I'm not attempting to tell you all about a city where I don't live; you can visit Catalunya.com for that. Nevertheless, for some basic, overall advice I give my friends and family, here are my tips for what to do in Barcelona. You could also say it's my "don't miss" list for this Spanish city.
Walk the Streets of Barcelona
Barcelona is a very walkable city, and I saw so much more than I would have if I'd taken a taxi or the Metro. Obviously, in most large cities you'll have to take some form of transportation for longer distances, but if you're someone who likes to walk (and is able), be a pedestrian as much as you can. I felt comfortable walking the city alone, but you do need to be vigilant about keeping your purse/wallet/phone close to you.
My cousins used the Metro as they stayed outside the center of the city, and they loved it to get back and forth from their hotel which was less expensive than those in the city center. The following photos give an example of some sights along the streets of Barcelona.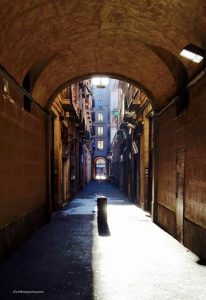 TIP: when you have WiFi, download the Google map of the city to which you are traveling. Then, even when you don't have Wifi while you are in that city, you can still use your offline map for directions.
As I'm writing this, I have my son and daughter in mind as they are both traveling in Europe next month and will meet each other in beautiful Barcelona! I'm going to buy them tickets to visit La Sagrada Familia so they can visit together. I want to make sure they don't miss it (more to come on Gaudi and his incredible cathedral which is pictured below).
On my first trip, the weather during the second week of December was almost exactly what it had been in Los Angeles: in the mid 60s Fahrenheit (high teens in Celsius). There were several aspects about Barcelona which reminded me of Los Angeles.
For example, as I sauntered through Parc de Joan Miró one morning, the cacophony of parrots squawking in the palm trees was similar to what I often hear outside my own windows. Of course, the palm trees made me feel right at home, too. Read on if you're wondering what to do in Barcelona for 3 days or 10.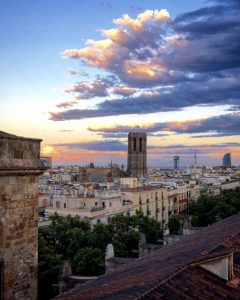 What to do in Barcelona
La Sagrada Familia
Hands down, La Sagrada Familia Cathedral, which translates to "The Holy Family", should be at the top of your list of what to do in Barcelona, Spain. If there is only one thing you can do whilst visiting, this is it.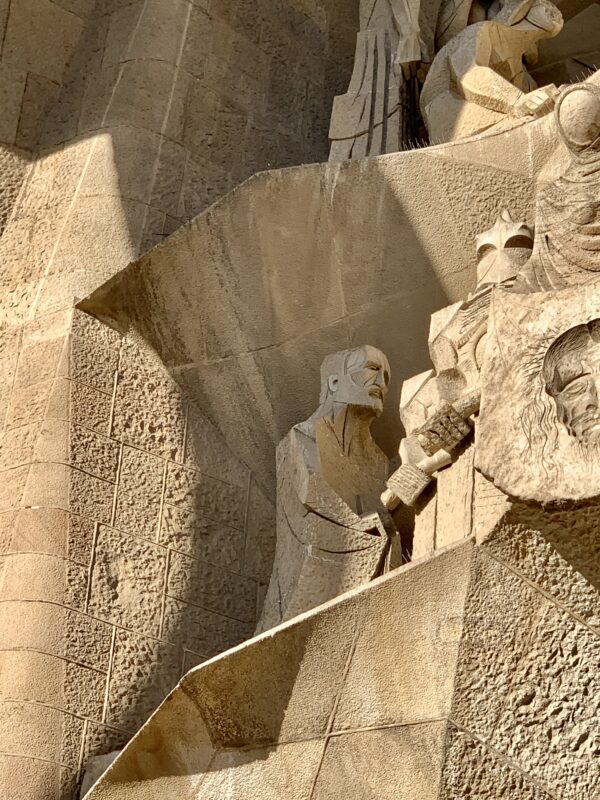 Tip: when standing at the modern entrance (the opposite entrance is very ornate and different than this side) of the cathedral, look up to find this figure: Gaudi added himself to the structure. Do not miss this incredible work of architecture which is expected to be completed in 2026. (Admission charge goes towards the completion and upkeep of the cathedral.)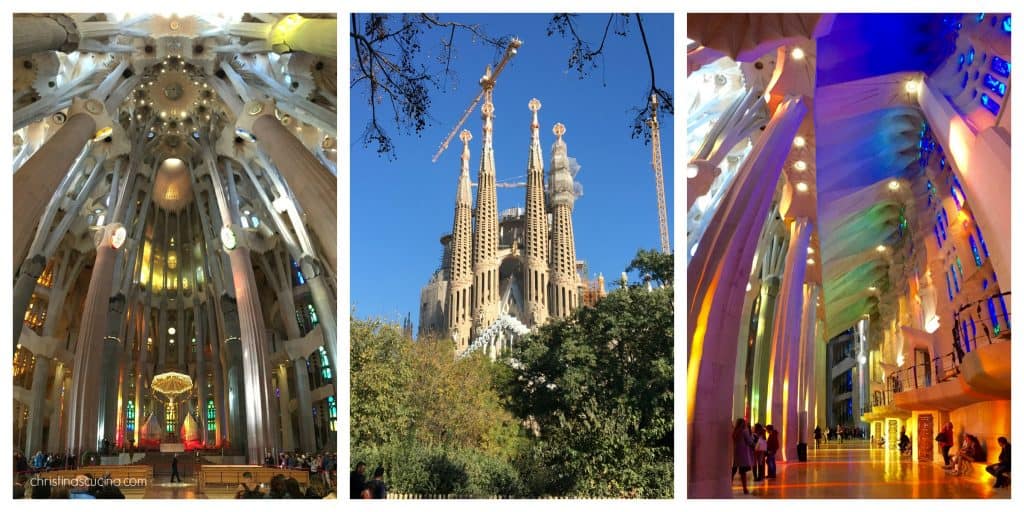 There are no words to describe the sheer brilliance and the details that have gone into this masterpiece. You simply have to see it to believe it.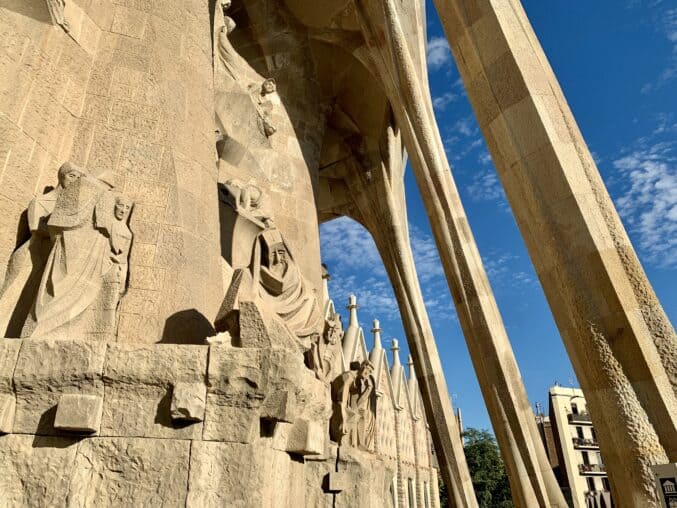 La Boqueria Market
One of the most colorful and vivacious markets I've ever seen, with vast amounts of top quality foods, beverages, and places to eat.
Talk about sensory overload!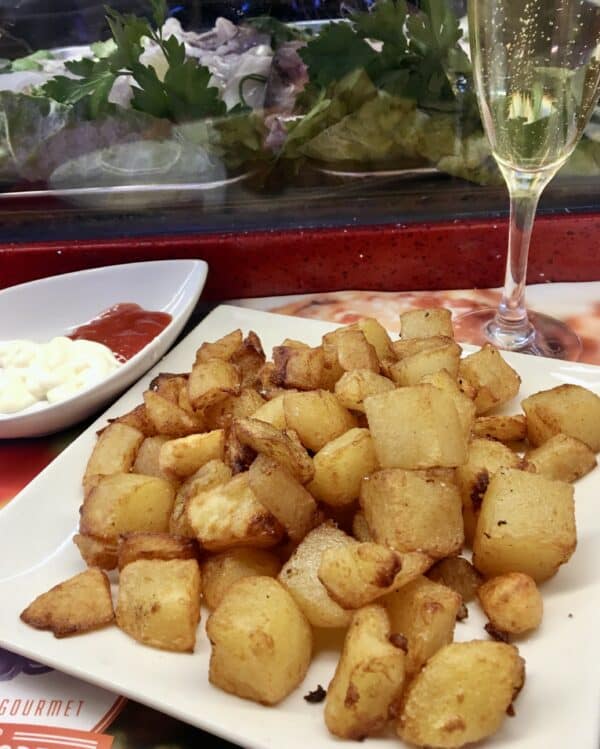 You could probably spend an entire day here, there's so much to see (and eat). (FREE entry) Here's the recipe for patatas bravas which I highly recommend.
Parc Güell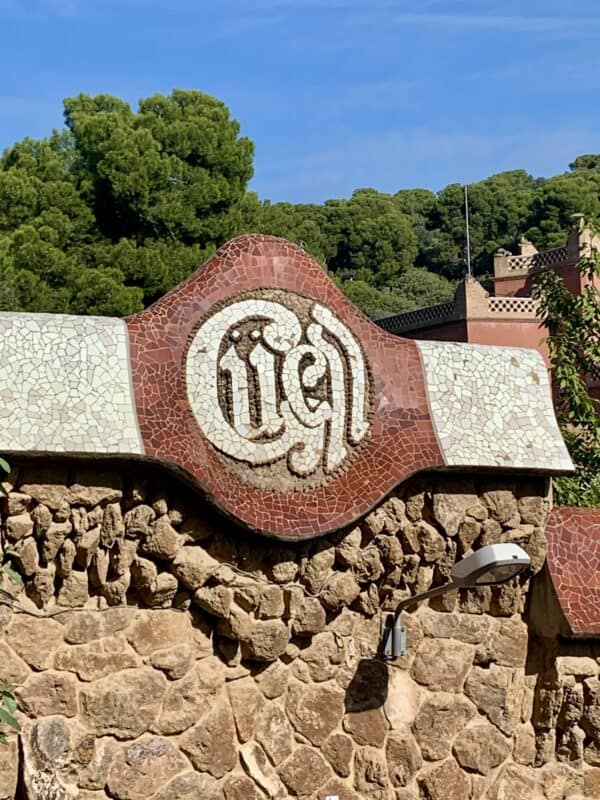 Originally intended as a housing development in growing Barcelona which didn't come to fruition, it was turned into a park. Antoni Gaudí's artistic talent is seen throughout Barcelona, but this park is one of his most famous attractions, although it's not entirely his design. Read more about Gaudi before going to Barcelona.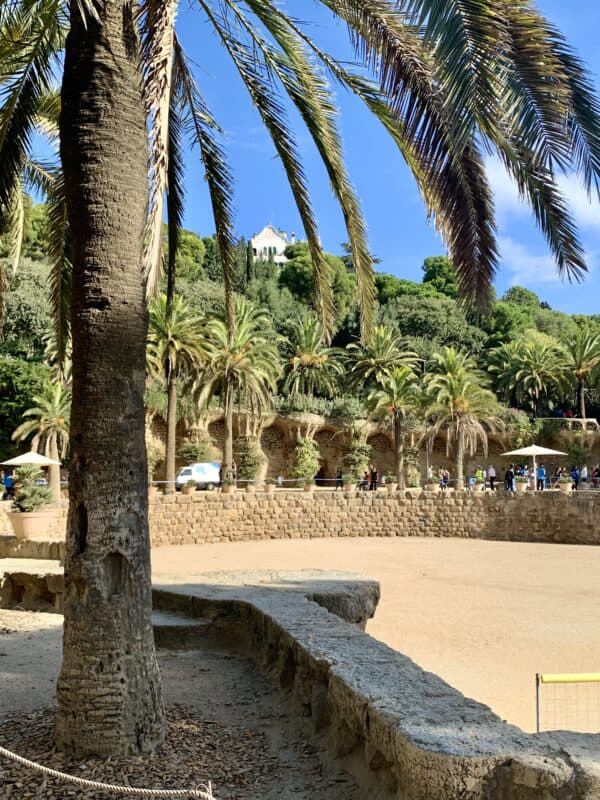 It is the location of one of the most iconic views of Barcelona as one can see much of the city, and the sea from this vantage point.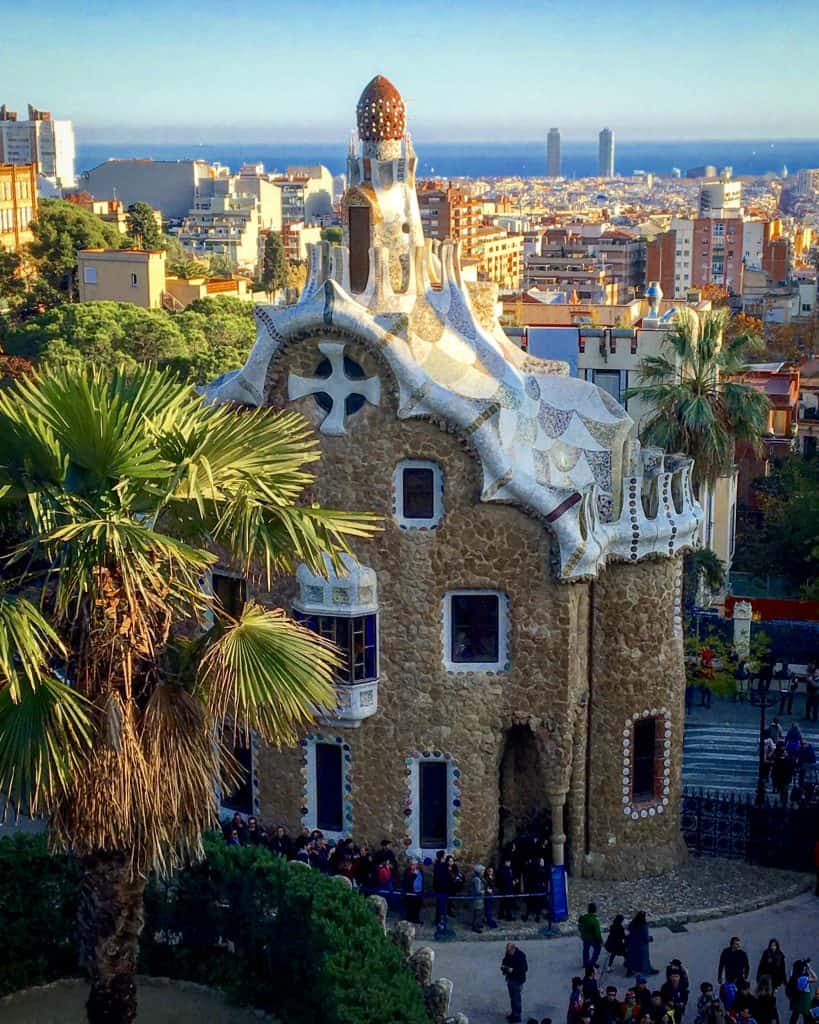 Gaudí actually lived in the house that is adjacent to the park for many years, before moving into accommodations at La Sagrada Familia, until his death.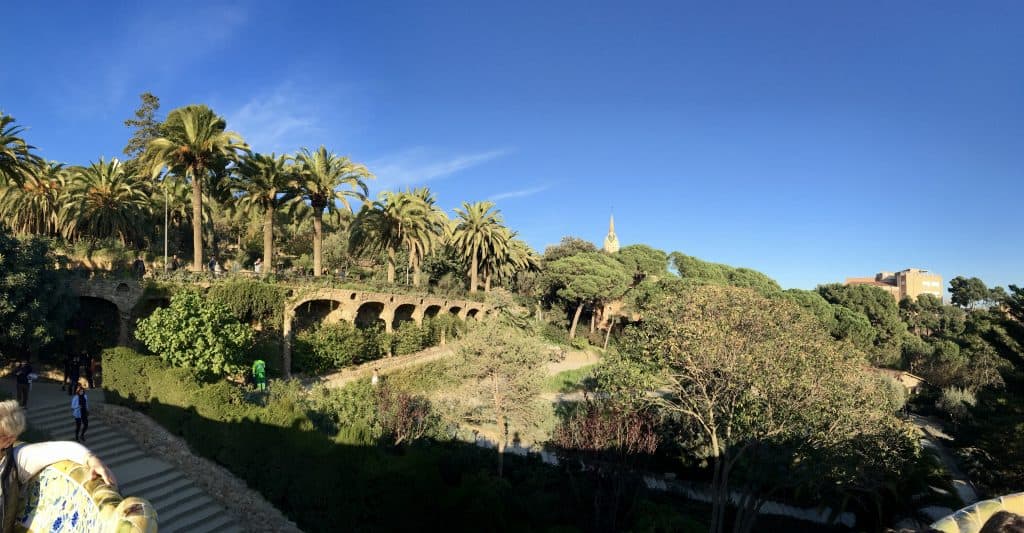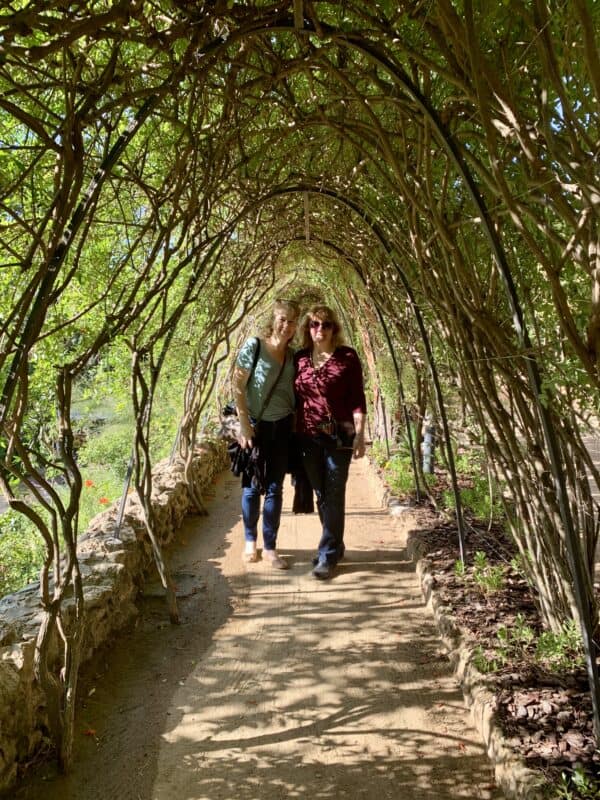 (There is an admission charge for both the park, and Gaudí's former residence.)
The Magic Fountain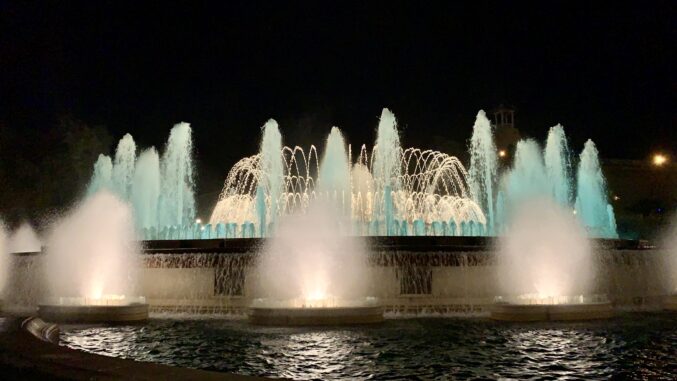 Known locally as La Fuente Mágica de Montjuïc, this fountain will mesmerize young and old, alike. Just be sure to check the times of the music and colorful light show at the fountain, as it varies by day and season.
I would also plan to be there earlier than the show begins. When I visited in December, there was a sizeable crowd. I was able to go twice, once alone, and then with my husband, cousin and her husband. Everyone loved it and there is no charge. I've since returned during each visit. (FREE.)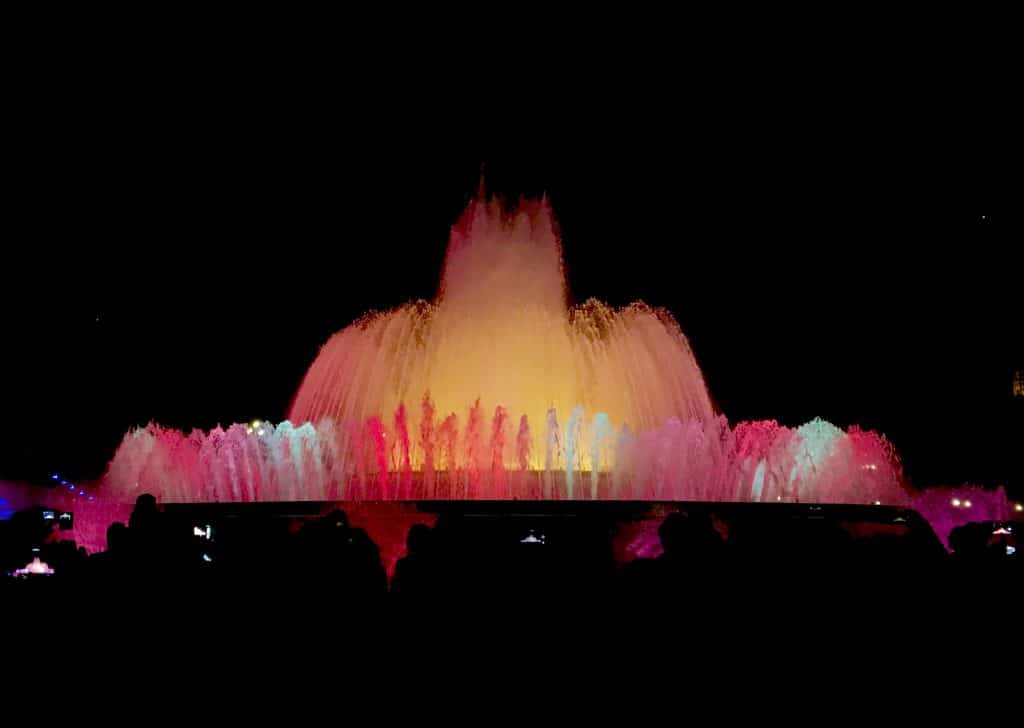 The National Art Museum of Catalonia
I know some people aren't interested in museums, but besides the fact that this one holds more than a quarter of a million works of art, the building itself and view from the top are two other solid reasons to go. It's easy for me to say that I loved The National Art Museum of Catalonia, and my husband really enjoyed it, too. Inside and out, the building itself is simply stunning.

It was serendipitous for us that I asked a staff person a simple question about the museum. My query led to us discovering the top of the museum which affords the most amazing views of the rear of the museum's gardens, and the city of Barcelona from the front. Nowhere did we see that we could venture there.
TIP: You may also want to download an app for the museum, as none of the artworks are described in English.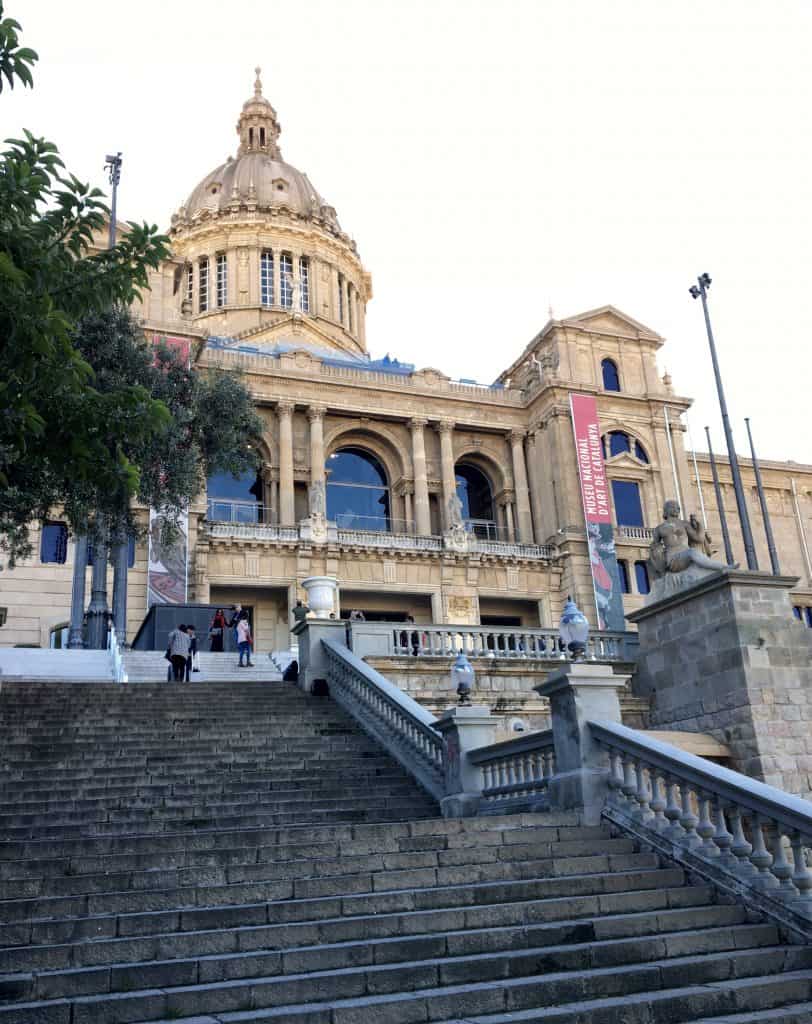 My husband and I hadn't planned to spend as much time as we did at The National Art Museum of Catalonia, and in the end, we had to pry ourselves away to see other attractions.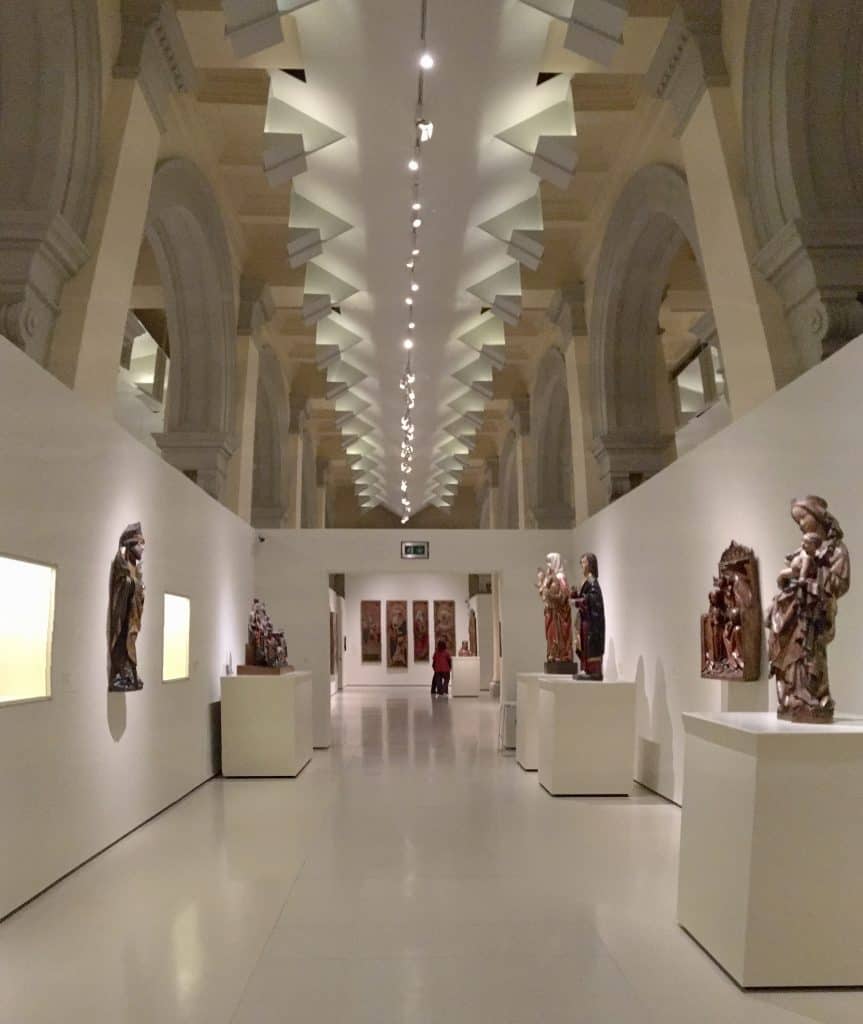 If you have the time, plan to spend at least 3 hours here. If it's raining, this is the perfect outing when you think about what to do in Barcelona.
We also noticed the museum's restaurant also has incredible views from expansive windows which we would have loved to try.
(There is an admission fee for this museum.)
Speaking of views…
The Columbus Monument
Believe it or not, you can go up to the top of this Columbus monument in Barcelona. I don't think too many people know about it because at one point, I had it all to myself! You'll get some of the best views of the city and waterfront!
The Gothic Quarter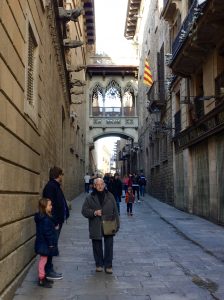 A central part of Barcelona, with many ancient buildings, including some from Roman times. The Barcelona Cathedral is located in the Gothic Quarter and it's just a place with its own unique atmosphere that is different than any other part of the city.
I was there before Christmas and there was a Christmas market on, although it wasn't anything like the markets I'd visited in Germany.
Christmas markets in Barcelona have a very specific theme of selling mostly Christmas decor, such as nativity sets and Catalan Christmas logs for children.
A strange Spanish Christmas custom is that of the "caganer", translated to "the pooper" which is a figurine (ranging from the traditional man, to Star Wars/movie/cartoon characters, or heads of countries) who is squatting and pooping. I must say, I was rather surprised by these stands.
This "caganer" is placed somewhere near the nativity set and it seems to be that if he/she is missing, it can bring bad luck. As I said, to me, it was very strange, but then, many customs and traditions are rather bizarre if we think about them (like Santa Claus and the Easter Bunny).
Palau de la Música Catalana
This inspirational music venue is absolutely breath-taking. From the colorful glass ceiling to the varied architectural designs and details, it's worth a visit even if you're not going for a concert.
Cascada Monumental
Definitely worth a walk to, and through, the park where la Cascada Monumental is located.
The Waterfront/La Barceloneta
This is yet another unique part of Barcelona which feels like a completely different area, altogether. Although very close to the Gothic Quarter, the beachfront was totally redeveloped for the 1992 Olympic Games. Two miles of beachfront was created in the process, and it's now an area to enjoy a lovely seafood meal or walk on the beach. I did both with my cousin Denisa and her husband, Duncan, while my husband was at work.

Barcelona Bus Turistic (Barcelona Tour Bus – Official) for What to do in Barcelona
Although in December only two routes were running on the hop-on hop-off bus, the other two routes cover a majority of the city (the green route by the waterfront doesn't run year round). It's really a great way to cover seeing a lot of sights if you don't have a lot of time in Barcelona. This is also a must if you or someone you are traveling with can't walk too much or too far. The three photos below the map were all taken from the tour bus.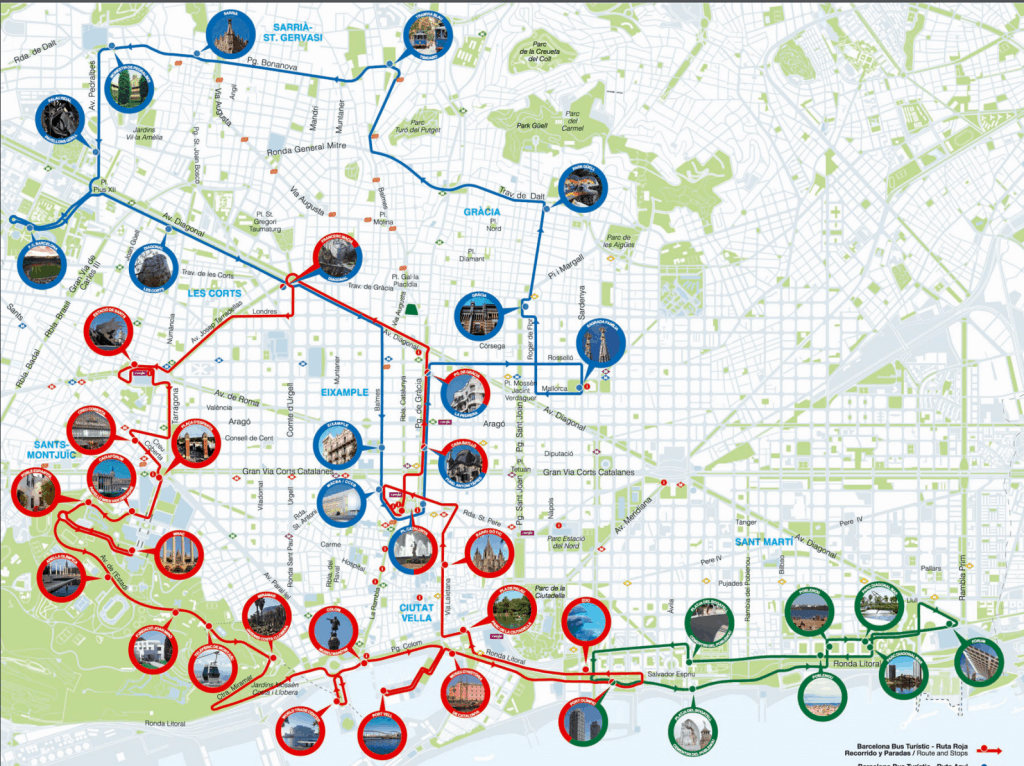 I took the following photos on the Barcelona Bus Turistic.
You are able to scope out places you'd like to visit, just by getting an overview as you drive by.
As noted above, I have returned to Barcelona several times since 2016, and so has my daughter. She discovered a restaurant and fell in love with another type of potato tapa! I hope you it, and will also suggest these amazing leek croquettes!
Food and Beverages to Try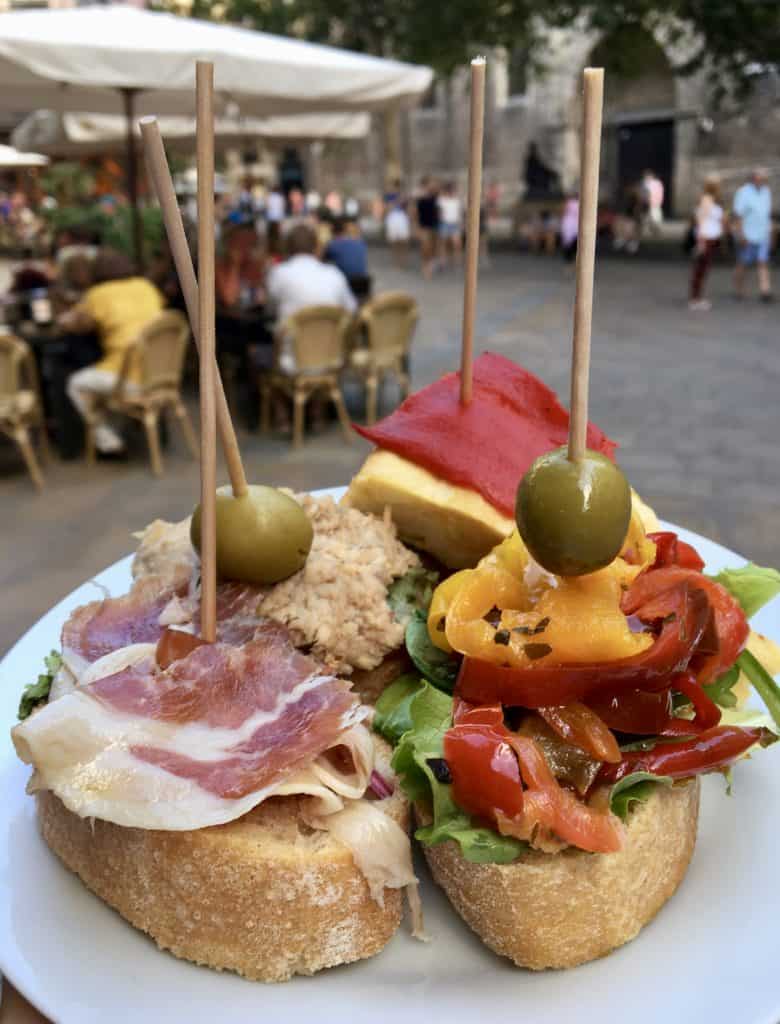 Like many visitors, I mostly ate tapas while visiting Barcelona, so I'm sharing a few of my personal favorites. I wanted to ask for an authentic patatas bravas recipe, but am so happy I found one when I came home! I do enjoy sangria whenever I make a tapas dinner at home, too.
(Photos are arranged clockwise in the collage below.)
Pan con tomate – I could eat this simple toast and tomato tapa until I die. Seriously, it's so good!
Tortilla – a thick, potato and egg dish. It reminded me of a very thick frittata and tasted very similar.
Jamón Ibérico (or Serrano) – you cannot travel all the way to Spain and not try their famous jamon!
Cava – Spain's wonderful sparkling wine. Enjoy it with your jamón.
Paella – a traditional rice dish made with seafood, chicken, or even vegetarian-style.
Sangria – a fruit filled, sweet wine concoction that is dangerously easy to drink.
Pastries – from Torta de Santiago, to crisp, breakfast treats, there weren't many I didn't enjoy!
Spanish patatas bravas – last, but not least, one of my absolute favorites: spicy sauce on deep fried potatoes! (Click the link for the recipe.)
A pin for What to Eat in Barcelona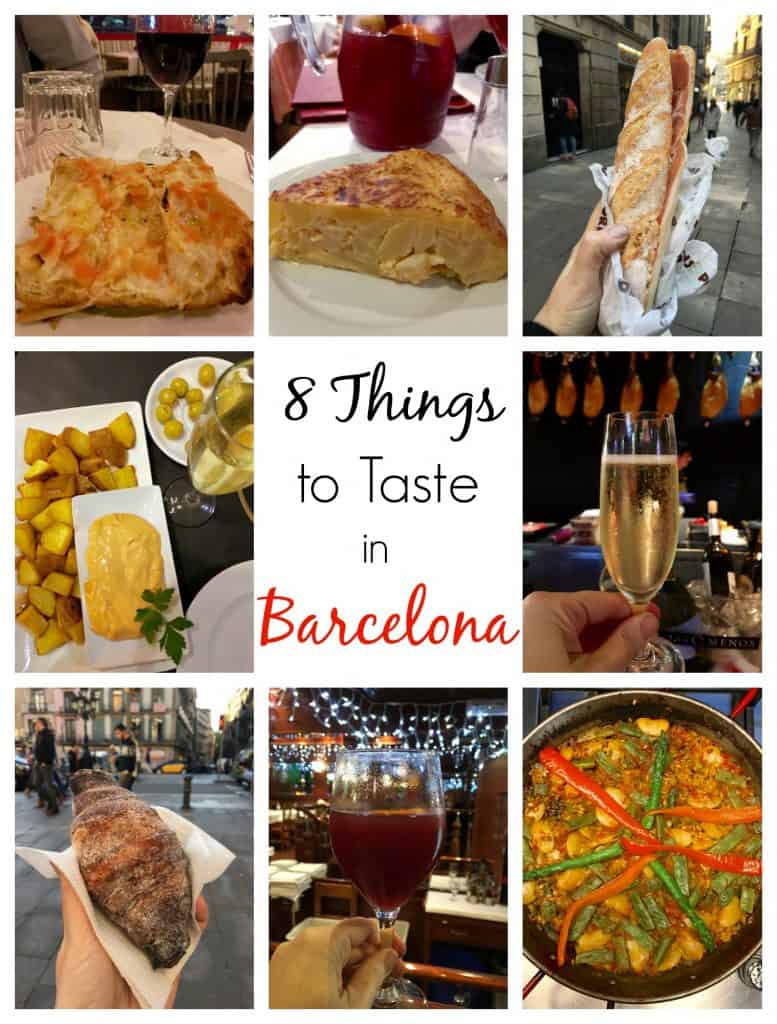 If you have extra time…
Head to Montserrat if you have an extra day or two to go afield from Barcelona. You won't regreat this day trip as it is an extremely unique place and monastery. I visited with Castlexperience, and would highly recommend their food and wine tour.
You won't need to think about anything except enjoying the full-day experience.
Keep in Mind…
When visiting Barcelona, be vigilant with your purses, wallets and valuables, and don't carry lots of cash. Although I have never had an issue, I've had quite a few friends who were pick-pocketed in this Spanish city. One acquaintance had her purse (containing passports and a lot of cash) stolen right from under her nose. She was amazed that they were able to do so, and has no idea how they did it.
Be especially careful while on Las Ramblas, a popular shopping street in Barcelona, and on buses and public transportation, but realize that this tip applies to most large cities.
Where to Stay in Barcelona
I would recommend booking and staying in a hotel versus an Airbnb for two reasons. Barcelona has been at odds with Airbnb for many years because it has made it much more expensive for locals to rent and buy property. My own personal experience with the stay from hell with Airbnb is another reason. I wouldn't want anyone to go through what my family and I went through, especially overseas. Airbnb is not customer service oriented so you've been duly warned.
And a quick "where to stay in Barcelona" would have me tell you that I loved Hotel Granvia, Barcelona.
For more information on visiting Barcelona and the Catalonia region of Spain, visit the tourism board's site:
Catalunya.com and Barcelona Tourism
Christina's Cucina is a participant in the Amazon Services LLC Associate Program, an affiliate advertising program designed to provide a means for sites to earn advertising fees by advertising and linking to Amazon.com.