Visit Montserrat with a full day food and wine tour from Castlexperience in Barcelona when visiting the city. You don't have to plan a thing, and a full day of touring, food and wine is yours to enjoy!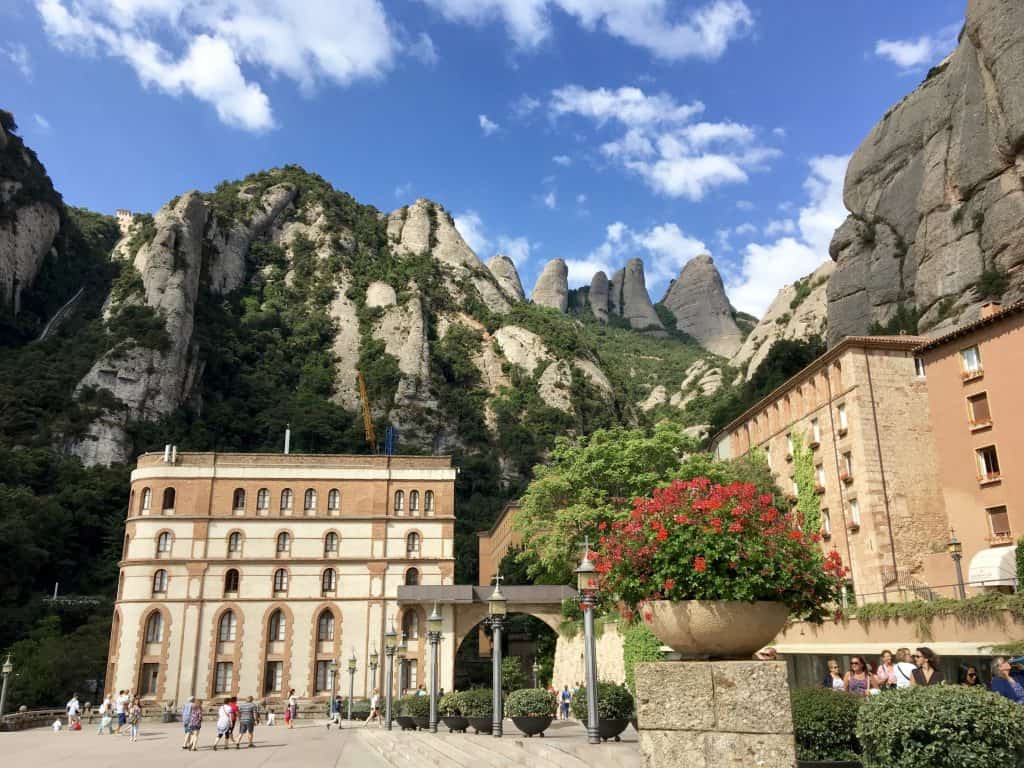 Once I had booked my $299 roundtrip flight to Barcelona (from LAX), I knew there was one place I had to see: I wanted to visit Montserrat! I am elated that I saw it via the Castlexperience Full Day Montserrat, Food and Wine Tour. I would have missed so much if I had gone on my own.
As an Amazon Associate I earn from qualifying purchases.
Disclosure: my cousin and I were hosted by Castlexperience for the full day Montserrat, food and wine tour. No conditions for a favorable review were made and, as always, all opinions are solely my own.
Castlexperience Montserrat and Wine Tasting Tour
Let me tell you about our tour and you can decide if this is for you. If you think a day tour is too long, maybe the half-day Montserrat, Tapas and Wine tour is a better fit. Love golf? The Castlexperience team can arrange that, too! These are not large group tours as you sometimes see in cities. The maximum number in a group is 15.

Transportation to Montserrat
Roundtrip bus transportation from Barcelona is included in the tour. Plaça Catalunya is a central square in Barcelona where the Castlexperience tour begins.
We were asked to arrive about 10 minutes early (good advice as we might have been late) around 8:35 am. The meeting spot is in front of the Hard Rock Cafe, so it was really easy to find. My cousin Denisa and I checked in and were told we'd be in Marta's group as she was leading the full day tour.
All the staff were very friendly and helpful from the beginning. We boarded a very comfortable, clean and air-conditioned bus and were on our way to Montserrat within minutes.
This bus ride was around an hour, and we could definitely tell when we were getting close to Montserrat, which, incidentally, means "serrated mountain". These mountains are so unique.

Visit Montserrat
To sum up the history of this Benedictine monastery without writing pages would be a feat, so I won't try. You can always turn to Google for that. What I will tell you is that Montserrat has been a place of religious significance since Roman times. The Black Madonna which is kept above the altar of the abbey dates back to the late first century and is the patron saint of Catalonia.
Benedictine monks live at the abbey, as well as 50 young boys. They comprise the oldest, and probably best, boys' choir in Europe, The Escolania de Montserrat. From ages 9 to 14, these boys live on the mountain, singing and going to school until they are 15 years old.
I was disappointed to learn that the boys' choir was on tour when we visited, but then learned they were touring in the US! You can imagine my even greater disappointment when I finally remembered to check their schedule and learned they'd performed in Pasadena, about a week before! They had been 10 miles away and I'd missed them! ?
Marta pointed out that the formations in the mountain above the hotels (yes, there are three hotels here) looked like humans. It was very easy to see what she was showing us, however, I couldn't help but recall a cartoon my children used to love, called The Iron Giant! Does anyone else remember this animated film?
Marta gave us a brief tour, but explained a lot about the Benedictine Monastery before we went inside.
It was truly awe-inspiring. The detail inside the monastery was phenomenal, and I thought about the location where this place of worship had been built. This seemed even more incredible!
After Marta's tour, we had over two hours of free time to visit Montserrat ourselves. She gave us options on what we could do, and a time and place to meet to return to the bus.
A Hike to get a Different View
Denisa and I decided to take a hike to a St. Michael's Cross to get a good view of the Monserrat Monastery from another angle. It's not a difficult hike at all as it's mostly all paved, and there are beautiful views along the path.
We were rewarded with these views upon reaching St. Michael's Cross.
Denisa and I went just a bit further on the trail and came to a small chapel.
We could have done a loop, but we both decided it was a bit too hot and returned to the the meeting place via the same path.
There are many hiking trails in this area. In fact, my son had done the more difficult San Jeroni hike in March, which is definitely more than a two hour hike, but the views are amazing, as you can see.
If you are not interested in walking or hiking, you can take the funicular railway to a higher point without any effort on your part.
There's the Museum of Montserrat, which I would have loved to see. There are also shops where you can go wine tasting, a restaurant and even a makeshift market of locals selling their cheese, fruit, nuts and other artisanal products.
The next thing on the agenda was lunch at Oller de before heading to the castle for wine and cheese tasting later in the afternoon. The bus ride was only about half an hour, but the views were spectacular.
Lunch is Included with your Castlexperience Tour
Denisa and I were both hungry and really looking forward to what would be on the menu for lunch. We were told we would be having a three course traditional Catalan lunch. However, later we realized it was so much more than three courses!
The Castlexperience Montserrat, Food and Wine Tour continued at the beautiful Oller del Mas Country Club. This is where we ate our meal al fresco. You can see the jagged peaks of the Monserrat range in the first photo below.
Our first course was a cold, smooth gazpacho served from large terra cotta jugs. On such a hot day, it was absolutely perfect and oh, so delicious, to boot!
The wine was already flowing and baskets of beautiful bread were strategically placed between diners.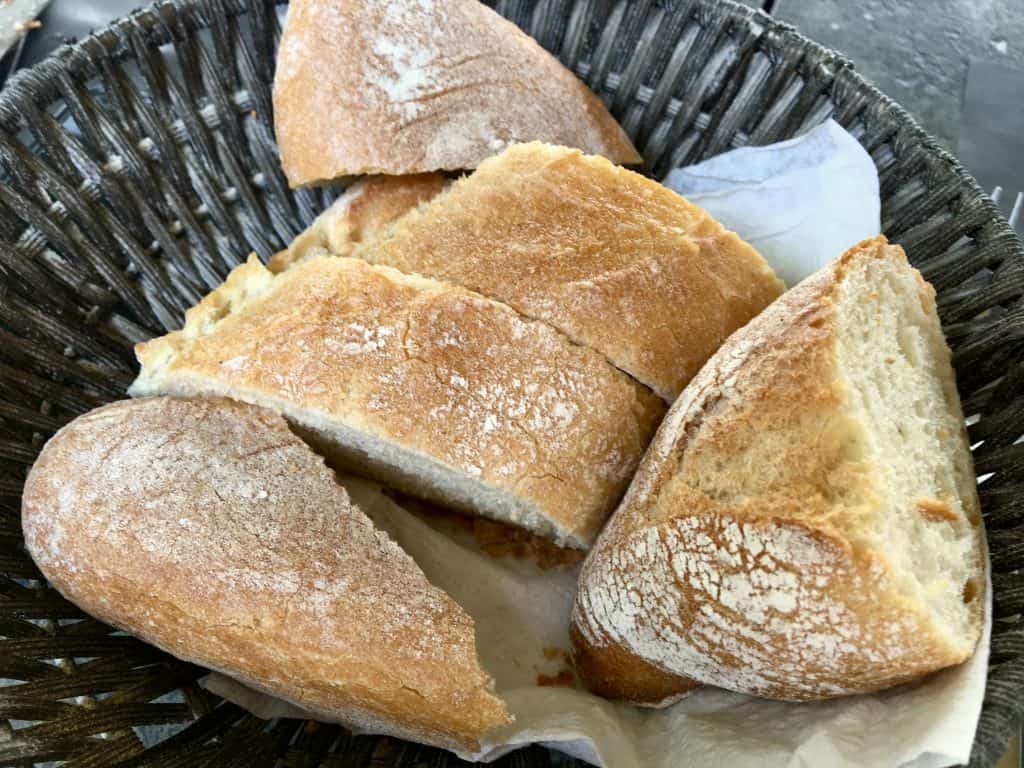 It wasn't long before a gorgeous salad was served. My table mates were quite understanding of my request to take photos before they could dive in. It was difficult for me not to just start eating, especially when the coca with jamon arrived! Everything was so fresh and flavorful, the way food should be.
Denisa and I were really enjoying our meal and we got to know some of the other guests at our table a little more. It was funny that besides my cousin, everyone at the end of our table was from California!
I must say, I was ecstatic when my favorite, Patatas Bravas came out to the table! They did not disappoint and I will admit, I had more than one helping!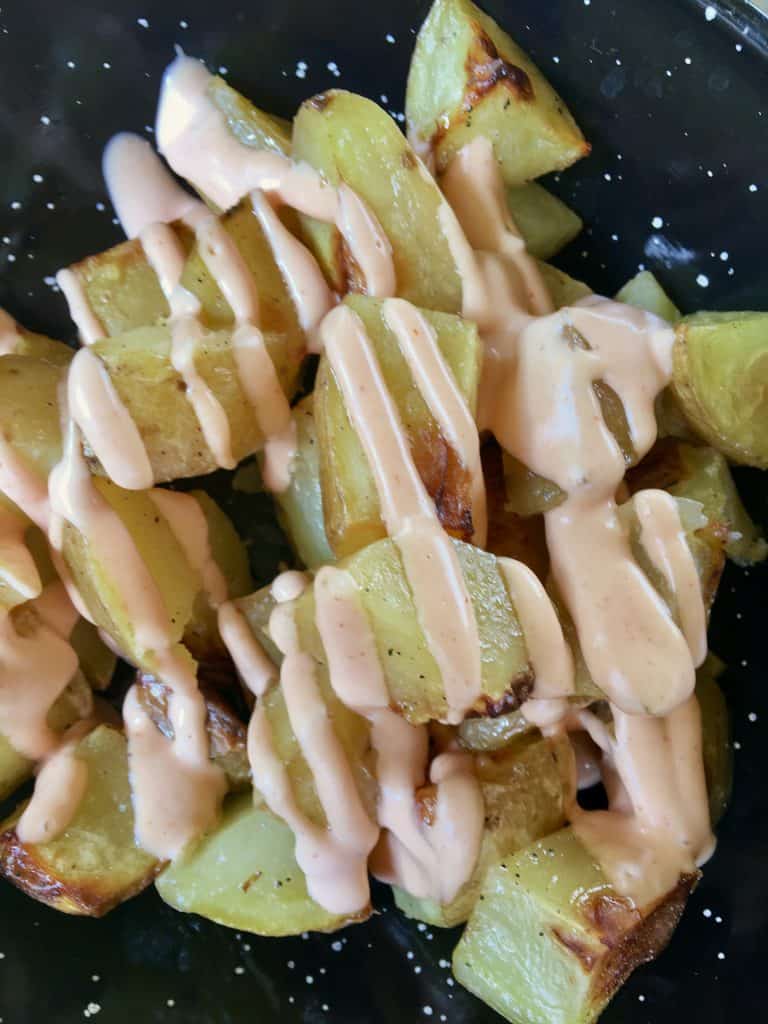 Next came a lovely piece of hake served with a chunky tomato and vegetable sauce. I couldn't resist taking a really nice shot with Monserrat in the distance before digging in to this gorgeous dish.
We were all quite surprised when "round 2" of our main course arrived: chicken leg with a pine nut sauce served on mashed potatoes! This entree was flavorsome, too, and although I was reaching capacity, I still managed to clean my plate.
Last, but not least came dessert–a square of cheesecake with a berry sauce–delectable!
We were completely satiated! After we'd finished eating and had been chatting for a while, Marta gathered our group (we were never rushed at any point of the day) to lead us through a vineyard and woods to the Oller Del Mas Castle nearby.
The Vineyard and Winery Tour
I was glad that we were going to have a tour of the vineyard and castle before having our wine and cheese tasting session after our wonderful meal. Oller del Mas is one of the trendy wineries in Pla de Bages region and is housed in a 10th century castle which has been in the same family since that time. The winery bottles about 150,000 bottles a year. It's interesting to note that the original owner was a potter.
We were able to walk in the vineyard and take photos, but unfortunately, the grapes had a long way to go before being ripe. It was still extremely hot so we didn't spend much time in the vineyard and were quite happy to head into the cool castle.
Marta gave us a rundown of the history of the castle which included history of the region and of Barcelona. It was truly interesting. This is one aspect of tours that I enjoy most because I can appreciate what I'm seeing more than just visiting an old building.
We began in the cellar, and Marta described wine making process, as well as showing us the barrels where the wine is aged, how long the barrels are used, and what happens to them after they are spent for the winery.
She then led us through other parts of the winery before heading up to the room where our group would have our wine and cheese tasting.
Somehow it looked as though they had been expecting us.
Wine Tasting with Castlexperience
By this time, everyone was talking and joking with each other. We were also ready for the cheese and wine tasting having had some time after our lunch. Marta explained each wine that we were tasting, and the 3 types of cheese that we could sample. We all chose our favorites, and everyone seemed to have one.
One of the wines that we tasted had the cutest label I've ever seen. Since the tradition in the family is for the eldest male child to inherit everything (ugh!), the winemaker decided to give his youngest (5 year old) son his own wine. He also let him design the label. How adorable is this?
The wine flowed and we tasted and tested for the next hour or so. Let's just say that I didn't taste a wine I didn't like. We were also able to taste one of the top wines in the world (in the top 9%) which is a 95% merlot, 5% picapoll. It was interesting to learn about the different wines made at the castle.
I really enjoyed all the wines, and it would have been difficult to choose a favorite. My cousin Denisa isn't a big wine drinker, so I helped her "taste" hers. I was proud of her for trying all of them (four in total)!
The views from the wine tasting room were pretty fantastic.
However, when we had finished wine and cheese tasting, we climbed up the stairs to the top of the tower for even better views.
After some time, Marta announced that it was time to head to the bus, so we made our way down from the tower. The bus was waiting for us just outside the castle walls. It had truly been a joy to spend the day learning so much about Catalonian history, culture, food and wine from Marta. Everyone agreed, and we couldn't have asked for anyone more knowledgable, yet personable.
Back to Barcelona
On the ride back to Barcelona, Marta pointed out some historical places in Manresa, one of them relating to St Ignatius of Loyola. (My son went to Loyola High School here in LA, so I loved hearing this historical morsel.)
We were back in Barcelona just after 7 pm. What a brilliant way to spend a day when visiting this city! I hope you enjoyed sharing my Castlexperience tour and if you have any questions, I'd be happy to answer any that I can.
Here's the day's itinerary, but for more detailed information, prices and reservations, visit Castlexperience.
Castlexperience Schedule and itinerary
8:45 Departure from Plaza Catalunya, 21 (in front of Hard Rock Café)
9:45 Guided tour of Montserrat, the magical mountain
1:35 Departure for Oller del Mas winery
2:15 Multi-course Catalan menu at Oller del Mas clubhouse
3:45 Extended visit to Oller del Mas Winery
4:45 Wine tasting (3 wines) and cheese tasting
6:00 Departure for Barcelona
7:00 – 7:30 Arrival in Barcelona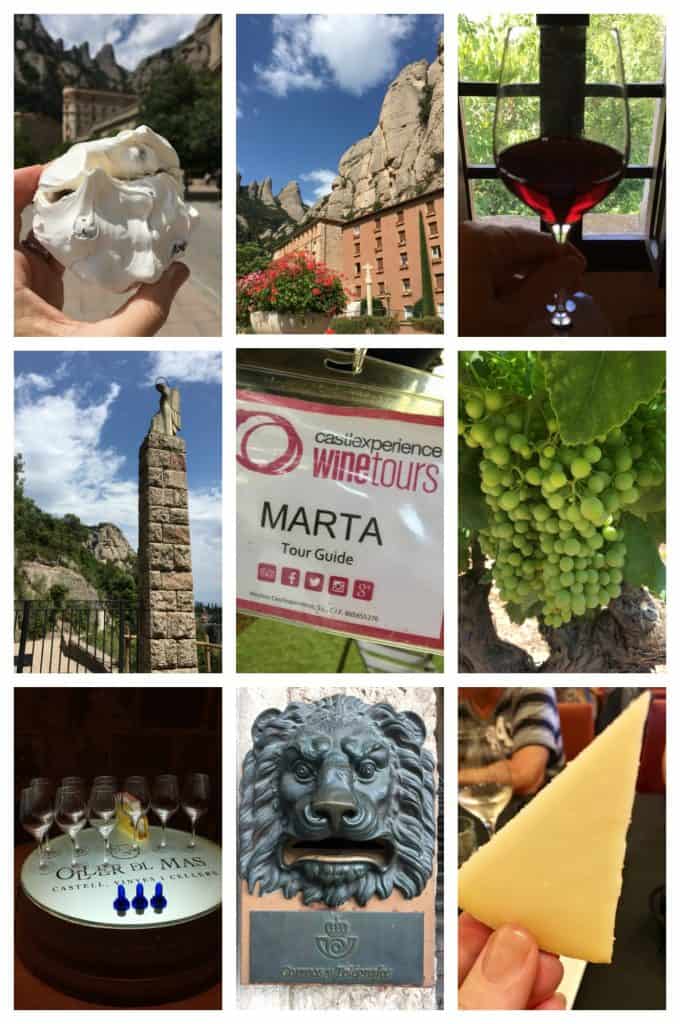 Don't miss another recipe or travel post, sign up for my free subscription below!
I promise not to share or sell your email address, ever.
Disclosure: my cousin and I were hosted by Castlexperience for a full day Montserrat, Food and Wine tour. however, no conditions were made for a favorable review. All opinions are my own. I am disclosing this in accordance with FTC regulations.
Christina's Cucina is a participant in the Amazon Services LLC Associates Program, an affiliate advertising program designed to provide a means for sites to earn advertising fees by advertising and linking to Amazon.com.