Pimm's Cup is a quintessential English beverage traditionally served during Wimbledon's tennis tournament. I describe it as an English sangria. It goes well with strawberries and cream which are also served during Wimbledon.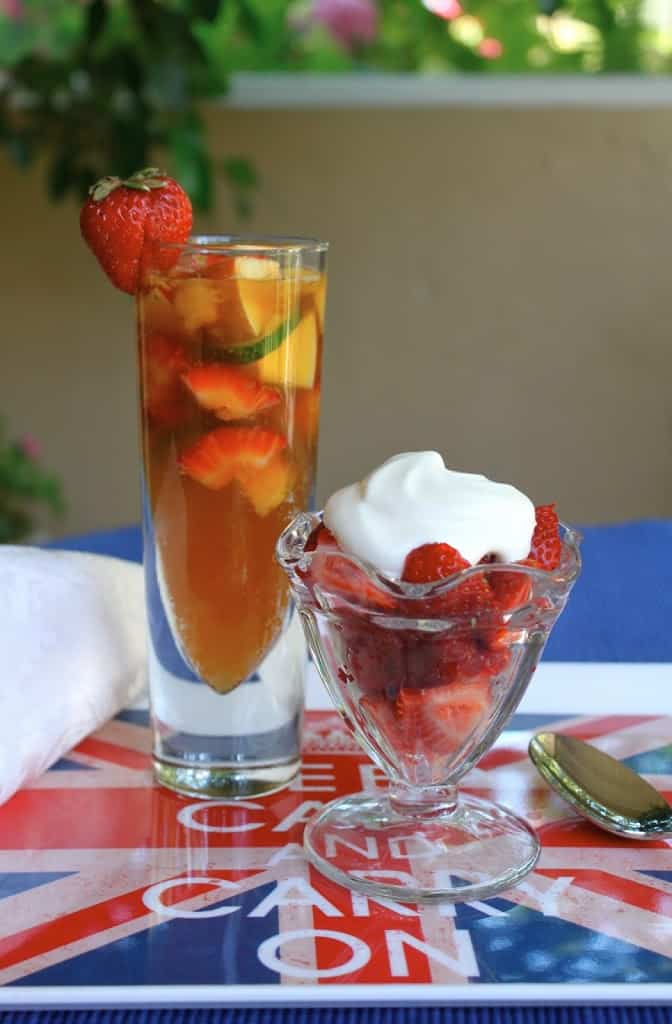 Would you like to watch Wimbledon the way they do in London?
As an Amazon Associate I earn from qualifying purchases.
Well read on, as all you need is a bottle of Pimm's No. 1 Cup, white wine, some fruit, and cream and BevMo! wants to help you with that list of ingredients! (SEE GIVEAWAY BELOW)*
An English Tradition
Having a Pimm's Cup with strawberries and cream is the equivalent to having a hot dog and beer at a baseball game in the US. Last year, the Olympics banned Pimm's from Wimbledon, which prompted the UK's number one tennis player, Andy Murray's mother to say, "No point going then." -from Reuters.
If you're not from the UK, you're probably wondering what Pimm's No. 1 Cup is, right? It is an English liqueur which is used to make the British equivalent of a Spanish sangria (lovely with tapas)! It's not too strong and has some light herbal flavors; but don't let this scare you as it has a lovely flavor.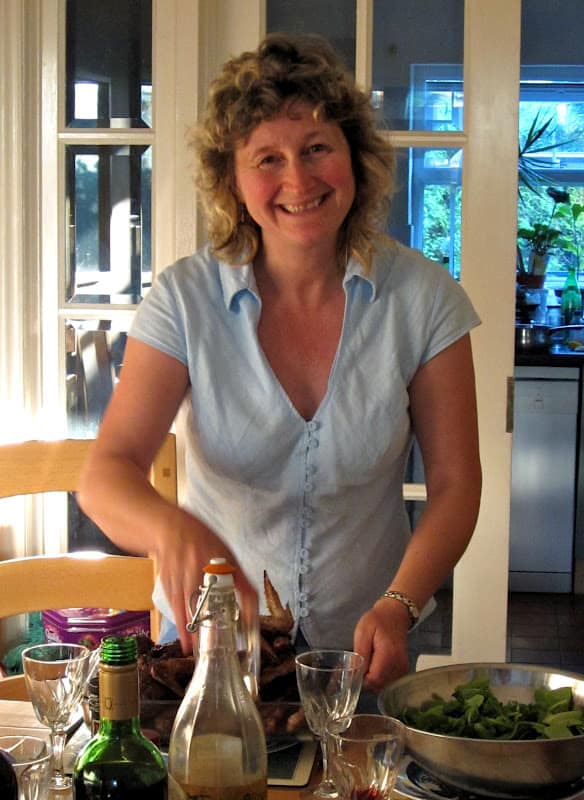 My English cousin, Denisa, who I introduced you to with my chocolate bread pudding recipe, makes a fabulous Pimm's Cup. I know this, because I've tasted it, and everyone who has it, asks her for the recipe. In fact, when I was asking her permission to write this post, she laughed and said someone had just asked her for the recipe that day!
Denisa's fruits of choice are nectarines, apples, grapes, bananas and strawberries. Cucumbers are lovely for a bit of contrasting color in the drink, but both Denisa and I prefer the flavor of just the fruit. Feel free to use whatever fruit you like, as you really can't go wrong.
Denisa's Pimm's Cup Punch
Recipe by Denisa Lee serves 8-10
FULL PRINTABLE RECIPE BELOW
Plan to make this in advance as the fruit needs to steep.
Prepare the fruit for the Pimm's Cup.
Place all the cut up fruit in a large bowl or punch bowl, then pour the bottle of Pimm's over the fruit, cover and set aside for 2-3 hours. Keeping it refrigerated is preferable, but not necessary.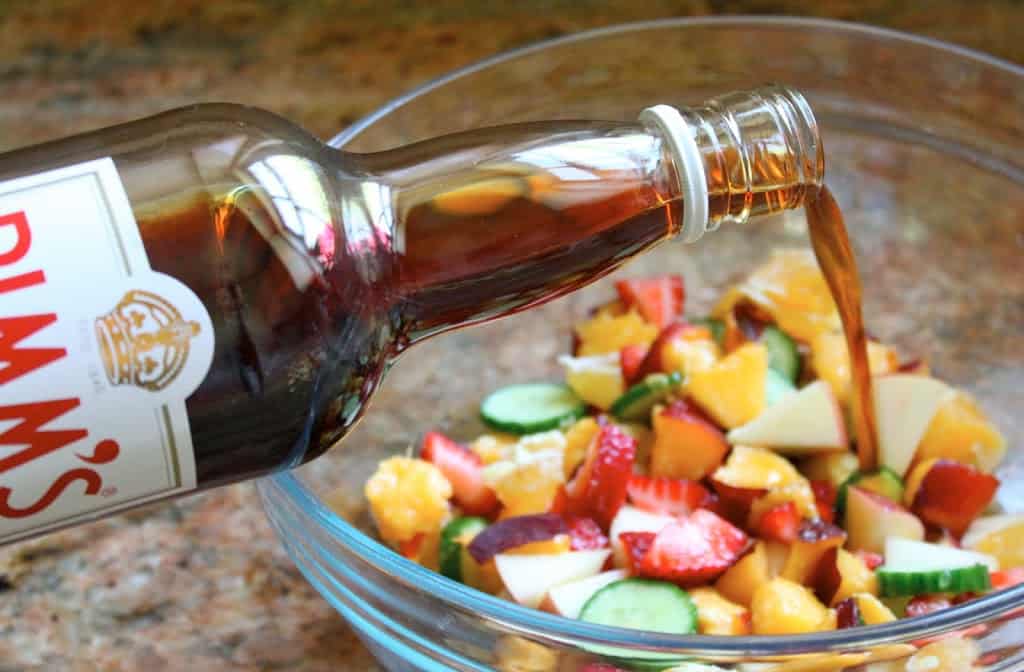 Now add the chilled white wine and lemon-lime soda, and serve in tall glasses.
Pimm's Cup
Total Time:
3 hours
10 minutes
A Pimm's Cup recipe from my cousin, Denisa in England.
Ingredients
1 bottle Pimm's No. 1 Cup Liqueur (available at BevMo!)
2 nectarines, cut into nibble size pieces
1 apple, cut into nibble size pieces
small bunch of grapes, cut into halves if they are large
1 banana, cut up
strawberries, cut up
(optional: one small cucumber, sliced)
2 bottles of dry white wine
2, 12 oz cans lemon lime soda (with sugar, no high fructose corn syrup)
Instructions
Place all the cut up fruit in a large bowl or punch bowl, then pour the bottle of Pimm's over the fruit.
Cover and refrigerate (if possible) for 2-3 hours.
Now add the chilled white wine and lemon-lime soda, and serve in tall glasses.
Notes
Mix and match the fruit to your liking.
Nutrition Information:
Yield:

12
Serving Size:

1 glass
Amount Per Serving:
Calories:

232
Total Fat:

3g
Saturated Fat:

2g
Trans Fat:

0g
Unsaturated Fat:

1g
Cholesterol:

12mg
Sodium:

32mg
Carbohydrates:

22g
Fiber:

1g
Sugar:

17g
Protein:

1g
Nutrition information is estimated.
Strawberries and Cream
fresh, organic strawberries
organic, fresh whipping cream*
Cut up the strawberries and place in serving bowls. Whip the cream lightly, and pour/dollop on top of the strawberries.
*In the US, we don't have the choices that the Brits have when it comes to types of cream, so the best we can do is buy organic, and lightly whip it. It is much too runny to pour over strawberries and other fruits/desserts like they do in Britain. :(
Now go an enjoy Wimbledon like an Englishman (or Englishwoman)!
Here's your chance to indulge in this English tradition courtesy of BevMo! and Christina's Cucina!Winner will be sent a $50 gift card directly from BevMo!. *entrants must be 21 years of age or older and a resident of California, Washington or Arizona
(states with BevMo! locations).
The giveaway has ended.
Don't miss another recipe or travel post; sign up for my free subscription!
Christina's Cucina is a participant in the Amazon Services LLC Associates Program, an affiliate advertising program designed to provide a means for sites to earn advertising fees by advertising and linking to Amazon.com.