Visit Torrance, California for an undiscovered part of Los Angeles for locals and tourists, alike. I recently spent three days discovering all it has to offer! You'll want to visit, too!
After living in Los Angeles for over 25 years, I just "discovered Torrance" last week!
I was a guest of Discover Torrance and hosted by the Torrance Marriott Redondo Beach for two nights. As always, all opinions are my own.
Honestly, when I was asked about visiting this city in my own "backyard," I was a bit confused as to what I would do in Torrance. I've only ever driven through this city on the way to or from a destination, but it was never a destination in itself. Well, who knew that I've been missing out on so much?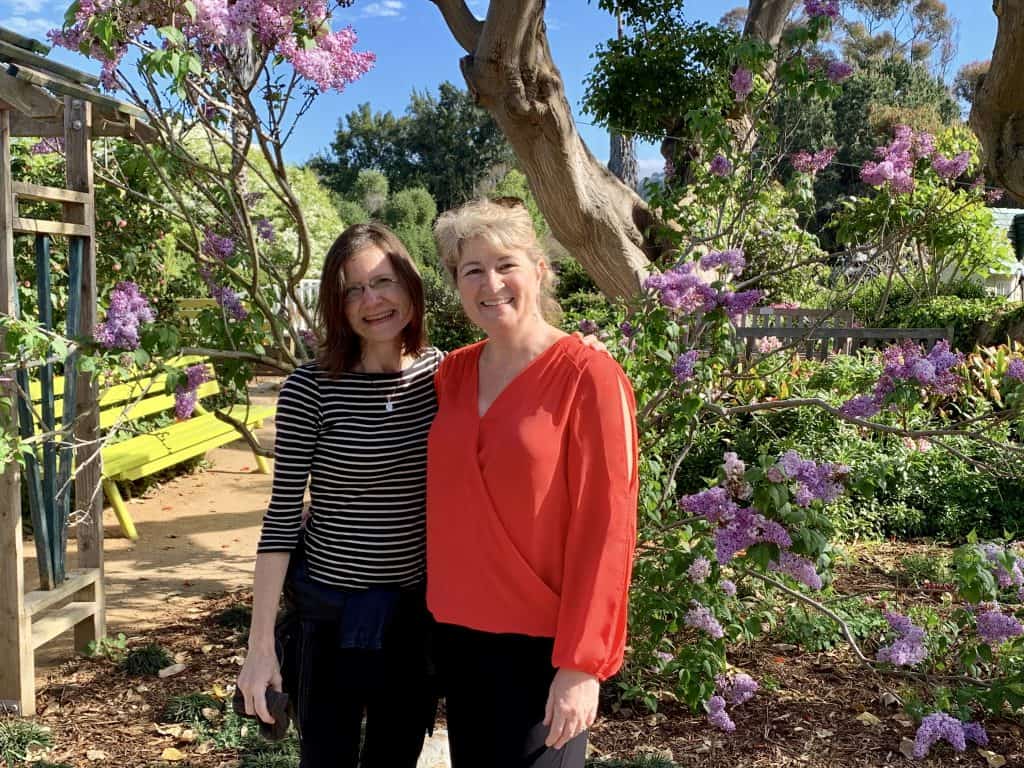 My friend Maria (an LA native) joined me and we made a it a girls' getaway trip. Afterwards, she completely agreed: there is so much to see and do in Torrance! I've decided to share 10 reasons to visit Torrance, but in all honesty, there are many, many more. Enjoy, and remember to keep Torrance in mind when you come to Los Angeles (or make it a point to visit, if you already live here)!
I can definitely recommend the Torrance Marriott Redondo Beach for its location, comfort, lovely staff and even its views. Maria and I really enjoyed having it as our "home away from home" for two nights. I am a Marriott Bonvoy member so our internet access was free, which is always nice.
The Torrance Marriott Redondo Beach offers valet or self-parking (which is conveniently located steps in front of the hotel). Although we didn't take advantage of the pool and recreational area, it would definitely be a place to hang out in the sunshine in between jaunts around the city.

10 Reasons to Visit Torrance, California
1. A Public Beach that Feels Private
When Maria and I went to Torrance Beach, it felt so different than the beaches in Santa Monica, Venice and Malibu, for example. The 1.5 mile stretch of beach is much more secluded and much less crowded.
✦✧✦
2. Restaurants, Breweries and Bakeries Galore
I had no idea that Torrance was such a happening spot for craft breweries: 11 of them to date. There are also 400 restaurants to choose from and I can tell you, it was difficult to narrow down where we wanted to eat! We had our heart set on having Korean barbecue one night, but ran out of time if you can believe it. However, we did enjoy gyros and falafel at King Mediterrano, where the food was incredibly tasty, and filling.
Madre came highly recommended from several sources, including my good friend, Sanam, who lives nearby. Maria and I really enjoyed the unique regional Mexican cuisine and the atmosphere in the restaurant. This restaurant has been featured recently in Los Angeles magazine for their selection of Mezcal: over 3oo varieties!
Restoration Kitchen and Wine was also a hit with both of us. It features seasonal small plates, charcuterie boards, a fine selection of wines and locally sourced micro-brews. Their desserts weren't too shabby either: the bread pudding served with cream and caramel sauce was simply decadent!
I had my first delicious cronut at Torrance Bakery, a local favorite in old town Torrance. Make sure you try one when you visit Torrance!
However, my favorite bakery was the French-inspired Pinwheel Bakery!
Their bread was fabulous, and they had such an array of choices of French pastries. It was really difficult to choose, but I had to narrow it down to one. I chose the apple tart and it did not disappoint.
Din Tai Fung, an internationally acclaimed Taiwanese restaurant was fabulous. Maria and I had a light and healthy meal and we wouldn't hesitate to return. Fresh and spicy vegetables, sweet and tender pork and savory kimchi dumplings were all so incredibly tasty.
We didn't have one bad meal over the course of our three days in Torrance.
✦✧✦
3. A Touch of Hollywood
Hollywood is only a few miles away, so it's not surprising that it's had its impact in Torrance, too. Torrance High School was used for Beverly Hills 90210 and Buffy the Vampire Slayer, just to name a couple of examples.
Even if you're not into the TV shows, Torrance High School is worth visiting simply for its gorgeous architecture. You can read more about what TV and film sites are located in Torrance, here.
✦✧✦
4. History and Culture
Both Maria and I love history and learning about the background of areas we visit, so one of our stops was to pop into the Torrance Historical Society. There is no entry fee, and although it's small, there's a lot to see. One of their most famous installments are the Louis Zamperini displays. Many of the famous WWII veteran and Olympian's belongings are here.
You can read about Louis Zamperini's life in Laura Hillenbrand's Unbroken: A World War II Story of Survival, Resilience, and Redemption which was made into a movie and directed by Angelina Jolie.
Tom and Janet were the lovely volunteers at the Society that day and we chatted about Torrance and they explained many of the displays to us. We also discovered something that isn't well known about Torrance: their Remington sculpture collection! Tom told us they are displayed in City Hall and we were so grateful that he told us.
✦✧✦
5. International Food Markets
You know me and how much I love international food, grocery stores and simply visiting normal food shops anytime I travel outside of the LA area, so I was overjoyed at finding all sorts in Torrance! Maria and I first spotted The British Connection as we were driving back to the Marriott on our first day!
British ex-pats in LA, this is for you: they carry BLACK PUDDING!! Of course, they have almost everything a Brit could want, too!
Just down the street was Giuliano's Italian Deli! So we just had to go see what was in store. Again, so many authentic Italian products which make everything taste so much better! If you don't start with quality, you don't end with quality!
Maria and I also visited the Alpine Village store, which is a haven of German delights! However, I discovered that they are much more than just a German grocery store as they carry many other European products like Stroopwafels, many types of European chocolates, Italian products and even Scottish biscuits!
We didn't have enough time to visit a few other international shops like H-Mart, a Korean grocery store, Mitsuwa Marketplace (Japanese), and Indian Sweets and Snacks. These are just a sampling of the incredible number of international food stores that you can visit in Torrance!
✦✧✦
6. Nature Preserves and Gardens
Torrance isn't all concrete and urban living, either. Maria and I were so surprised at learning about the Madrona Marsh, for example. Yes, this truly is in Torrance, for those of you Angelenos who are doubting these photos right now!
There are so many parks in Torrance! And just a few miles away is South Coast Botanic Garden. I cannot express to you how much Maria and I enjoyed these gardens! Truly a sight to behold, especially with so many spring flowers in bloom; it was an absolute joy. Just take a look.
We walked and walked and still didn't see a major part of the gardens. Do plan to spend a few hours here when you visit.
✦✧✦
7. Afternoon Tea
This is only my opinion, but a girls' getaway is only complete if afternoon tea and a spa are involved! Maria and I thoroughly enjoyed our time at Chado Tea Room in Torrance. They have other locations around LA, but all have different "personalities."
✦✧✦
8. World Class Art
Had Tom and Janet from the Torrance Historical Society not mentioned this amazing collection of Remingtons at Torrance City Hall, we never would have known about them! Not only are they one of the best collections of Remingtons in the world, but they are completely free to see: just walk into Torrance City Hall!
Of course, there's also the Torrance Art Museum, Chen Art Gallery featuring over 1000 artifacts from 5000 years of Chinese history, and many other museums to visit in Torrance, too.
✦✧✦
9. Shopping to your Heart's Content
The 3rd largest mall in the US, Del Amo Shopping Center is located in Torrance (across the street from the Torrance Marriott!) Although Maria and I didn't do much shopping outside of the food markets, we did visit the mall. There's something for everyone here and so many more shopping choices in Torrance!
✦✧✦
10. Day Spas and Relaxing
As I said earlier, a girls' getaway needs to include a spa component, in my opinion–don't you agree? So, as our last treat, we headed to Burke Williams Day Spa, which is one of my favorites, for some time to relax in the saunas, steam room and pool. The waiting area is a lovely place to relax in itself.
We then had a lovely, relaxing facial. Maria couldn't get over the fact that it was just a "facial" because attention is also given to neck, shoulders, hands and feet! It was marvelous. Obviously, I can't share spa photos with you, but we couldn't have picked a better way to end our trip.
✦✧✦
I must add, Maria and I both happened to notice that almost everyone we came in contact with was extremely outgoing, helpful and kind. From the volunteers at the Torrance Historical Society, to wait staff at restaurants, and even people on the street, there's more of a "small town feel" to Torrance.
Old Torrance was one of our favorite parts of the city, and where Madre, Torrance Bakery, the Torrance Historical Society, Restoration and Chado Tea Room are all located. It was the most perfect getaway, and both Maria and I felt relaxed, yet energized, at the end of our time away.
Did you know that Torrance is only 15 minutes away from Los Angeles International Airport? No excuses when you fly in! You'll find all the information and links to all of the places I mentioned in the link below.
✦✧✦
Thanks to Discover Torrance for hosting my friend Maria and me for the lovely stay. SO glad I was able to discover Torrance! I'll definitely be back soon!