Hotel Genio Best Western in Turin, Italy is nothing like you would ever imagine a Best Western to be (if you live in the US). The Turin Epicurean Capital Event is a food lover's weekend extravaganza! Don't put off visiting Turin as you'll kick yourself later!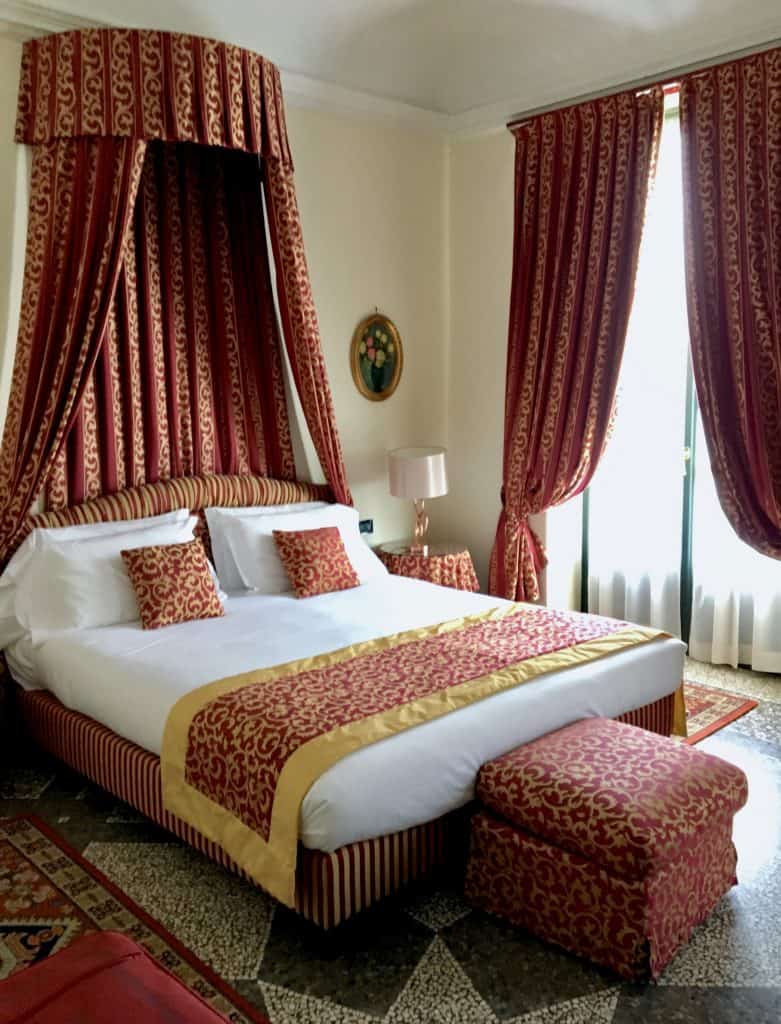 When I was told that I'd be staying at The Hotel Genio Best Western in Turin for the Turin Epicurean Capital event, I had some thoughts.
As an Amazon Associate I earn from qualifying purchases.
Disclosure: I was hosted by the Hotel Genio, Best Western for 3 nights as I was invited for the Turin Epicurian Capital Event, 2017. I paid for 2 additional nights' stay. No arrangements were made for a positive review; as always, all opinions are my own.
The Best Western Reputation in the US vs Europe
I will admit, they weren't the best thoughts. My first one was, "I don't think this will be a good fit for my site". As you know, the most important thing for me is quality. Good quality ingredients are important when cooking or baking, good quality accommodations when staying at hotels, and more, right?
I'm going to be brutally honest here: the US Best Western brand conjures up an image which doesn't really fit my idea of "quality". They are the type of hotels that I've stayed in during a coast to coast road trip. You know, where you basically just sleep there and leave the next morning after a disappointing breakfast.
So you can imagine my surprise when I went online and saw the photos of Hotel Genio and their breakfast buffet. I was even more shocked when I arrived in person!
When I say "shocked", I mean it in the best way possible. All of my expectations went out the window as I discovered that Hotel Genio was originally built as a palace! From a palace to a Best Western? It took me a while to process this, but it was a good thing to process.
After speaking to a few friends and relatives about Best Westerns in Europe, I discovered a trend. Apparently, there is a large discrepancy between the Best Western hotels there and those in the US. This is good information to have!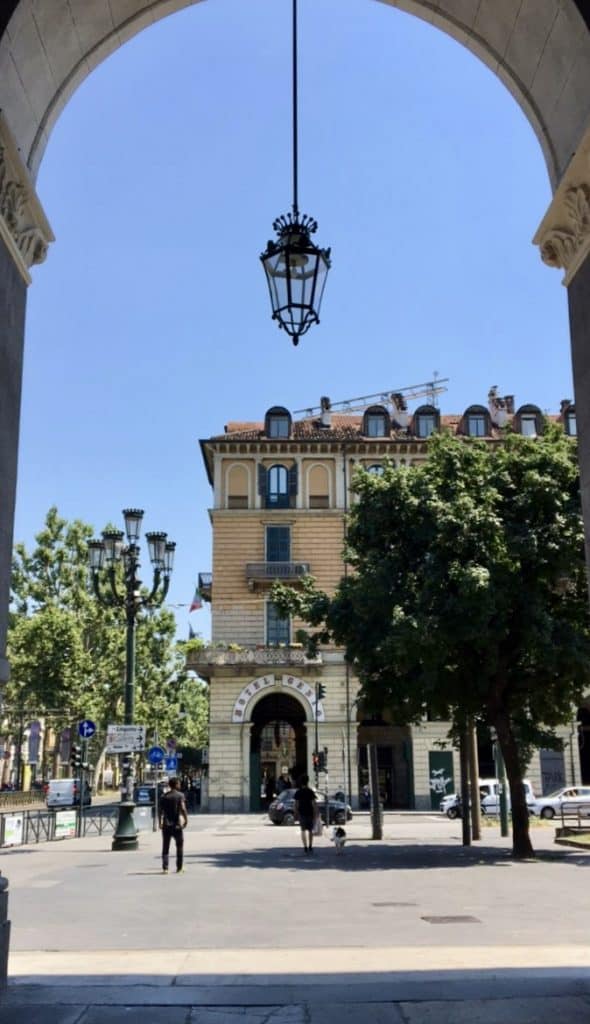 Best Western Hotel Genio
The convenience of the proximity of Hotel Genio to one of the main train stations in Turin is a great reason to stay at this Best Western. In addition to trains, the bus I took to and from the airport stopped right in front of Porta Nuova train station.
Let's talk about my room, a superior double on the fourth floor. It came with a view of the beautiful Porta Nuova train station just across the street. Here's the view from my balcony.
The high ceilings in the room were perfect for the canopy over the bed, which really made the room feel quite royal, indeed! I was literally walking on art in my room as the floor was a gorgeous mosaic made from pieces of stone found in the Po River.
Built in the late 1800s, many of the rooms have been decorated in this classic, royal style, while others have been updated to a more modern look. I loved my accommodation for its style, view and cleanliness. It was a lovely haven to come back to after sightseeing around the wonderful city of Turin.
Breakfast Buffet at Best Western Hotel Genio
Breakfast each morning was one of the highlights of my day, and others' too, I soon learned! It was honestly one of the best hotel breakfast buffets I've enjoyed. Each day there were a plethora of choices, but it was the quality of the food that was the best part.
I couldn't resist focaccia with mortadella every morning! Sometimes, I'd have scrambled eggs (real eggs!) or hard-boiled eggs with the tastiest bacon, a roll and some fresh fruit. The bread, rolls and pastries were fresh and delicious, but there was also cheese, sliced ham, salami, yogurts, granola, muesli, and more. Of course, there were lots of beverage choices too.
Did I mention that breakfast is included in the price of the room?
There are lovely sitting areas as well as a small spa and workout room in Hotel Genio. Although we only used the sitting areas, I did take a peek at the spa and gym.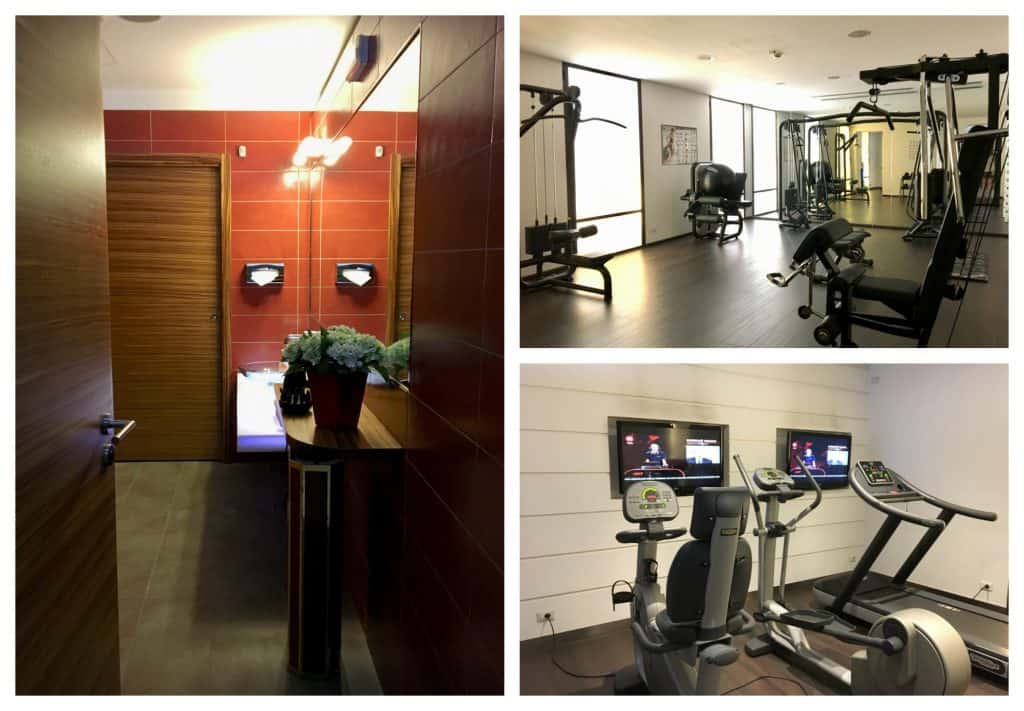 Turin Epicurean Capital 2017
Why was I in Turin in the first place? I had been asked last year to take part in the 4th annual Turin Epicurean Capital event, hosted by Lucia Hannau from Turin Epicurean with assistance from Alberto Bonis. Having never been to Turin, I made it a point to try my best to make it to the event and join in the round table talks, and the other fabulous events.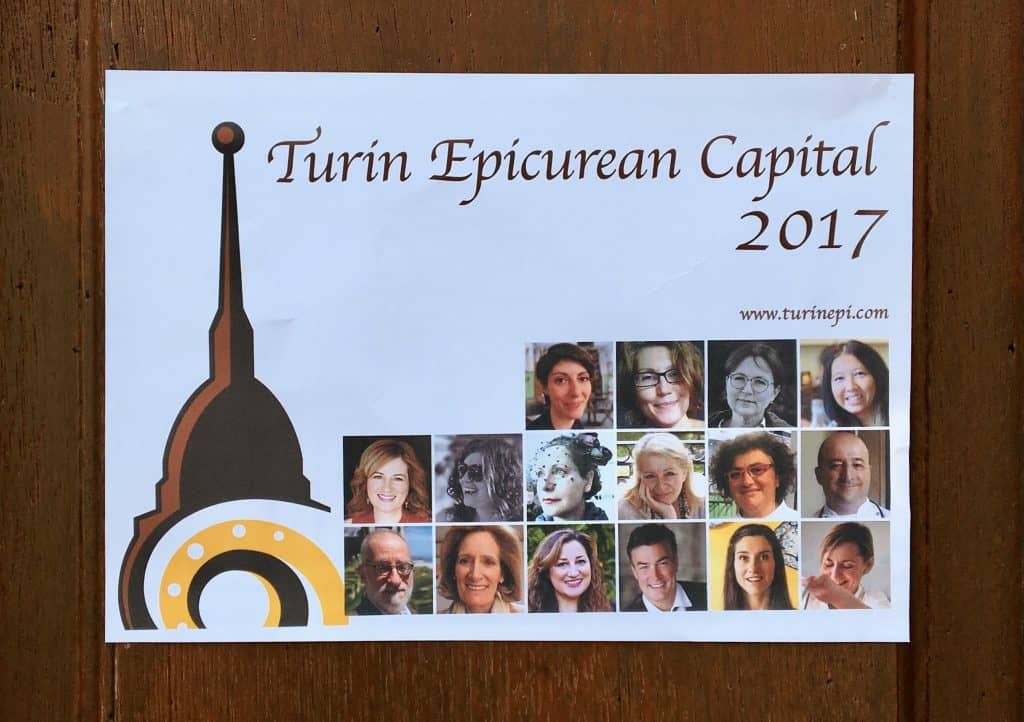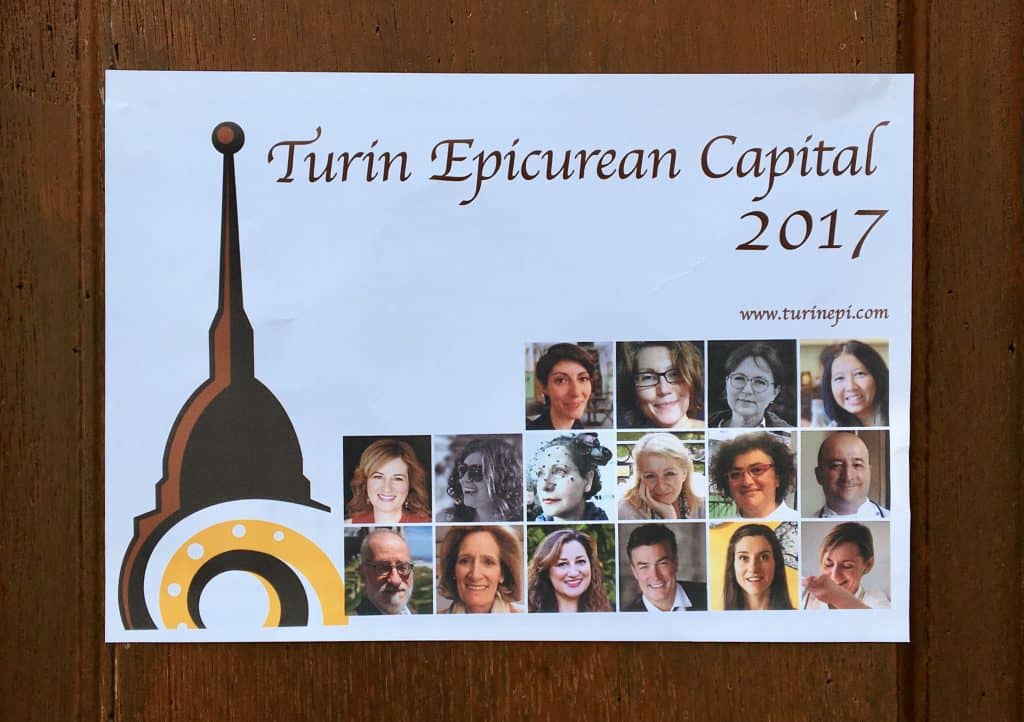 When I found a $299 nonstop, roundtrip flight from LA to Barcelona on Scott's Cheap Flights, I booked it immediately! I knew I'd be able to book a very inexpensive roundtrip flight from Barcelona to Turin on a no-frills European carrier, and I did. (Plus, I was able to visit Barcelona again!)
I was honored to be in the company of so many other talented and interesting guests. When I discovered that Sanam Dabiri Lamborn from My Persian Kitchen was one of them, I was elated! We had met a few years ago at another blogger event as we both live in Los Angeles. It was wonderful to re-connect in Turin at breakfast, bars and restaurants!
Turin Epicurean Capital is an event to celebrate all things "Torinese"*, like food, history, culture, fashion and more food! We all came together from different parts of the globe to share common interests in a beautiful and historical city. The Turin Epicurean Capital event is always held for the three days just before the feast of St. John the Baptist, who is the patron saint of Turin.
On the stage
Sanam and I were both on the roster to speak on the very first day. The round table events took place at Collegio di San Giuseppe (St. Joseph's College), which was only a few minutes' walk from Hotel Genio. One of the things I loved about Turin, was its walkability as a city.
On the stage with us were passionate food and wine connoisseurs, Margaret and Bill Goldstein from the US.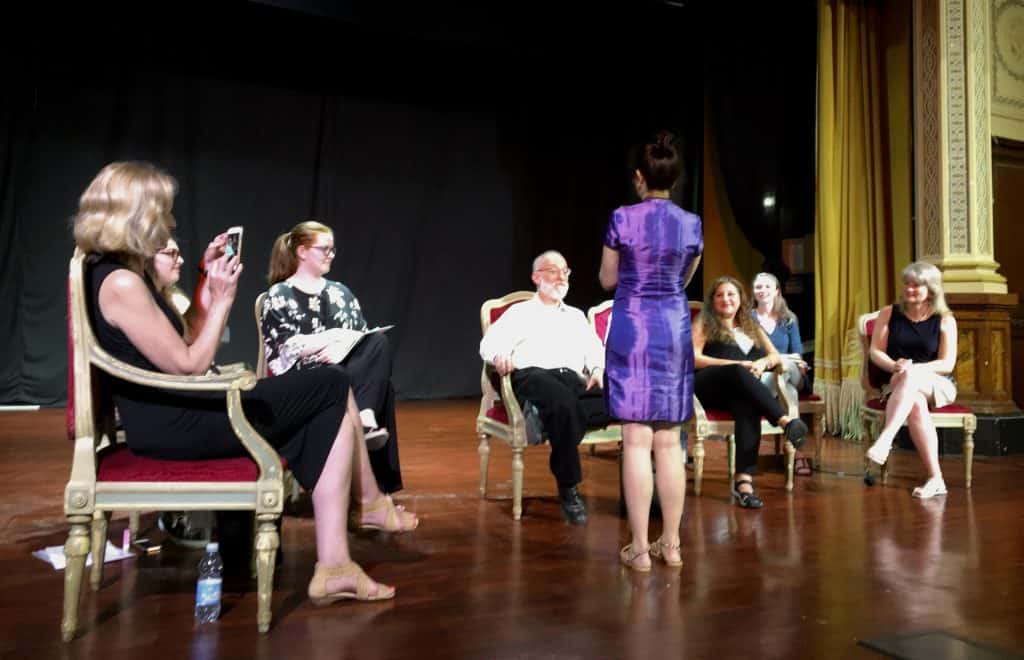 We discussed all things food and wine (everyone, except for Sanam, needed interpreters for our English to be translated into Italian). In the photo above, Lucia–in purple–was recording little interview clips after the round table discussion, to post on social media.
There were three days of round table discussion (for the full schedule for each day, see Lucia's site at Turin Epicurean). Among the other guests was Patty from Foodie Sneak Peaks who is even more multi-cultural than me: she has Chinese parents, was brought up in Peru, married a Swiss-Peruvian and has been based in the Swiss Alps for more than 20 years!
Jan from The Watchful Cook, based in London and Milan, and another Londoner, Carolina from Tastes of Carolina spoke at the event. Daniel McVicar, who used to be in the daytime drama, The Bold and the Beautiful and once based in LA, is now a Turin resident, and joined the Epicurean event on the second day. Amanda from Amanda's Wine Adventures also used to be a LA girl!
Don't visit Turin without a stop at Al Bicerin for a Bicerin and slice of this hazelnut cake!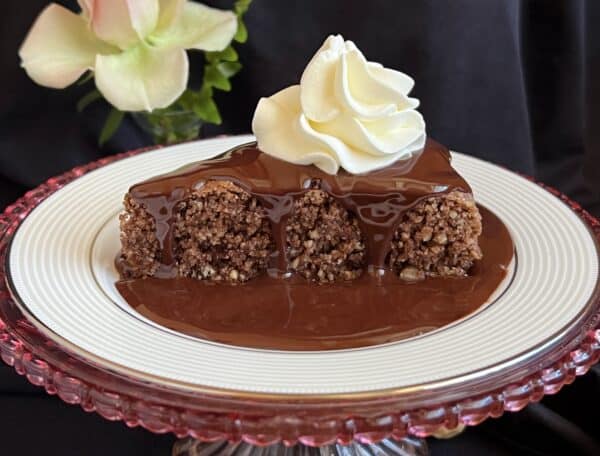 Lunch in Turin
Afterwards, we all ate lunch together at a nearby restaurant, chosen by Lucia. On the first day, I wondered if she had ulterior motives after seeing what she ordered for lunch!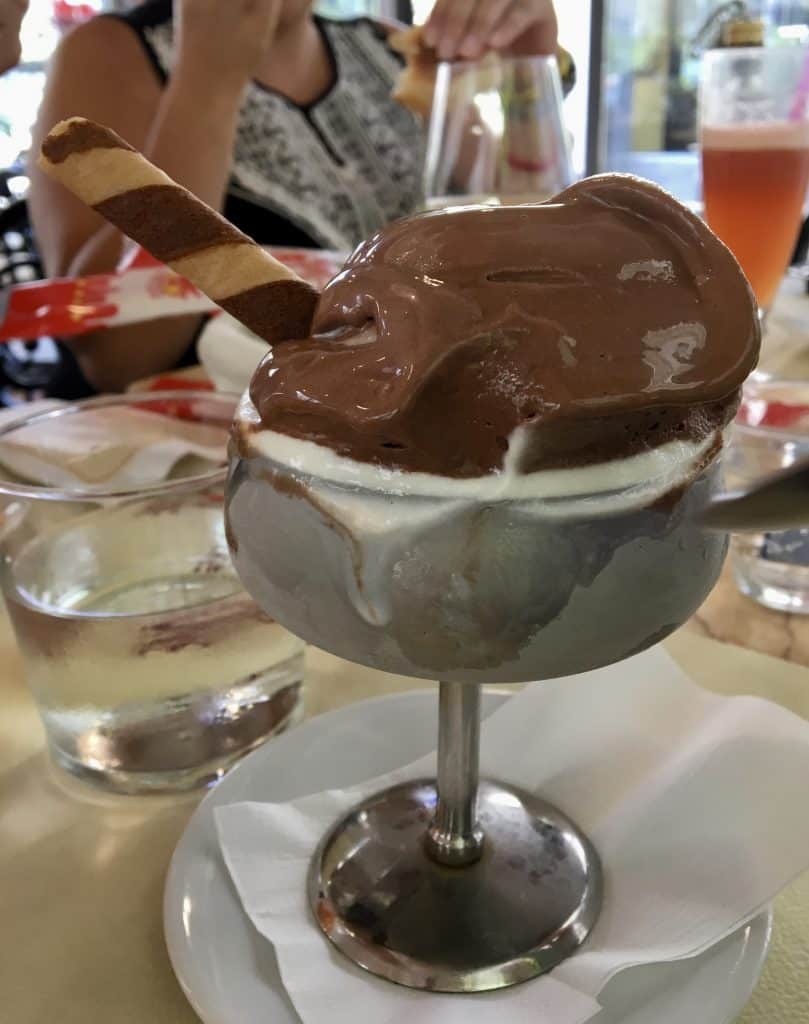 Cooking class at Qubí
We were then free for the afternoon to explore Turin. On our first day, our international group would meet for a cooking class that evening at Qubí Torino with Chef Marco Giachello and Margherita Frari.
Together, they taught us how to make this fantastic three course meal, all from local produce and products.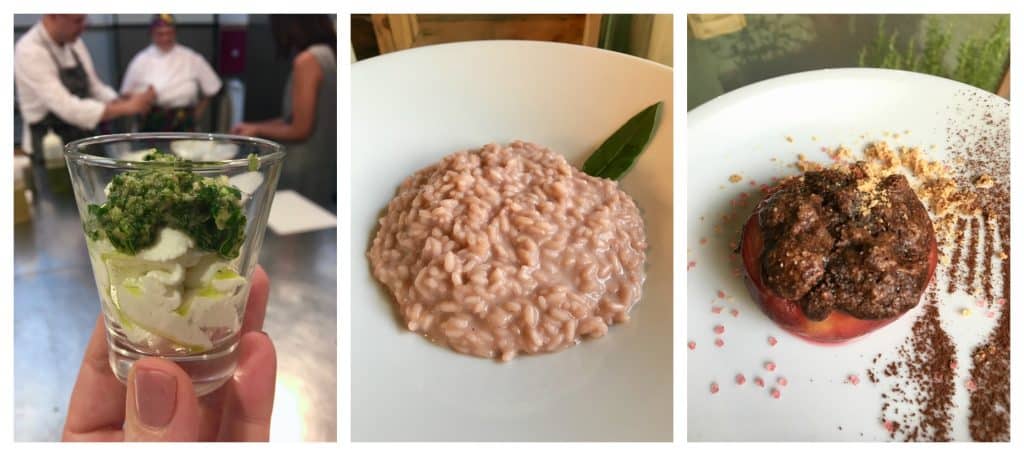 We were all so excited for our hands-on cooking class. Margherita first taught us how to make a delicious bagnetto verde (little green bath) which is a parsley based chopped or blended sauce with anchovies, capers, and vinegar-soaked bread. It is then topped onto a creamy tomino cheese which is piped into serving glasses, making it look almost as good as it tasted! It was fabulous, and I'm not an anchovy lover.
Next, Chef Marco taught us how to make a red wine risotto, using a local Barolo wine. I've really been so fortunate to have so many cooking lessons while traveling. Just two weeks before, I had a cooking lesson in Mexico! I learned a lot from Chef Marco as he explained the science behind cooking the risotto a certain way.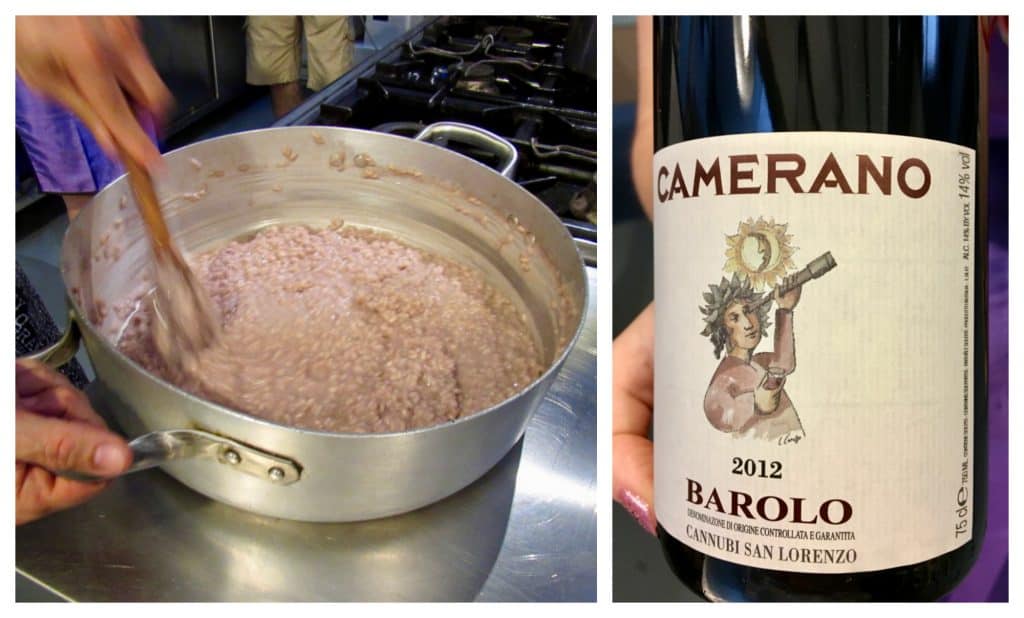 Lastly, we all pitched in to make the dessert: freestone peaches stuffed with an amaretti, rum and chocolate filling! Although, I'm not a fan of amaretti cookies, I will be making this dessert at home, just substituting another biscuit. They were a lot of fun to put together, but also very easy to make.
Afterwards, we all enjoyed our delicious meal together, in proper Italian style!
A sensorial aperitif
We came together for lunch and dinner again the next day, however, we had a sensorial aperitif before digging in the next evening. This mindful eating exercise was led by Dr. Lucia Andriolo, once again, at Associazione Qubi.
Dr. Andriolo led us through tasting exercises, focusing on one sense at a time and discussed how rushed and harried eating leads to weight gain and other health issues. Afterwards, Margherita had prepared the most wonderful aperitivi to enjoy with a glass of wine. As you can see, I'm not too picky when there's really good food involved!
It was a great experience to enjoy such exceptional food with a group of like-minded food lovers in a magical city like Turin!
A Walking Tour of Turin
For the third and last day, after the round table talk, Lucia gave us time to have lunch wherever we chose. After a walking tour of Turin later in the afternoon, we met for dinner for our final farewell. Our walking tour was given by a lovely guide from the GIA Tour Guide Association named, Laura Sgarlazzetta. She showed us so much in such a short time.
It was exceptionally hot and humid during our time in Turin, which was very abnormal, especially for June, so all the covered porticos and cool churches were a blessing.
Stay tuned for an upcoming post on Turin for more on this wonderful walking tour. Don't think that all we did was eat during our time in Turin! I can't wait to share all the places I discovered, and the ones I missed. I definitely will be returning sometime soon!
Thank you to Lucia for inviting me to take part in the Turin Epicurean Capital Event 2017 and introducing me to what quickly became one of my favorite cities, Torino!! Also, thank you to the Best Western Hotel Genio for the most surprisingly wonderful stay! Keep up the good work!
For more information or to book a reservation at Hotel Genio
Book a cooking class at Qubi – Quanto Basta, Associazione Culturale Torinese
For another perspective on Turin and information about another Torino Best Western,
check out my friend Kelly's post from Italian at Heart!
✦
Don't miss another recipe or travel post, sign up for my free subscription below!
*Just to be clear, in case you don't know, Torino is the Italian name for Turin.
Christina's Cucina is a participant in the Amazon Services LLC Associates Program, an affiliate advertising program designed to provide a means for sites to earn advertising fees by advertising and linking to Amazon.com.